Our homes, and especially our bedrooms, are our safe-havens. Without necessary preparations, our havens could easily turn into a living hell. While sleep is essential for our bodies to relax and recharge, many people struggle with sleeping issues. While this might be caused by several reasons, ensuring that your house is a relaxing-inducing zone where you can easily kick back and get enough rest should be prioritized. Creating this perfect sleeping environment will eradicate many of the reasons that lead to lack of sleep.
Without making sure that your house has enough helpful elements that make you feel more at ease, not only will your physical health suffer, but also your mental and emotional wellbeing. To help you get the deep rest you deserve, here are some practical home solutions that will help you relax better at night.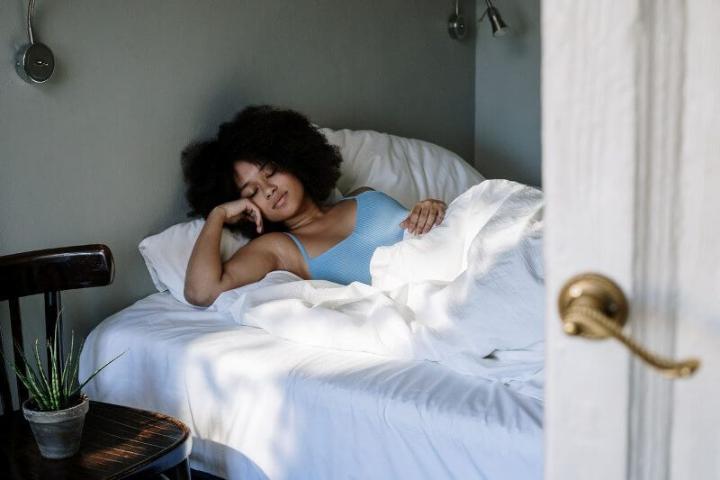 Start With The Lighting
As for color theory and psychology state, white lamps and blue lights should be kept outside of bedrooms. It has been scientifically proven that white light can slow down the production of melatonin, or as it is often referred to as "the hormone of darkness". Without releasing enough melatonin, the body usually suffers because of the disturbed circadian rhythms. Therefore, it is essential to ensure installing a source of warm light that resembles natural light. This way, you will rest assured that your melatonin levels will not be affected by your bedroom lighting.
Your Bed Is Your Kingdom
Picking the most comfortable mattress, bedding, sheets, and covers should be on top of your priority list when you are setting up your bedroom. The foundation of a good night's sleep can't be mentioned without a cozy bed that can provide you with enough comfort and eases to be able to recharge and relax. To ensure you get a good nights sleep, picking a comfortable mattress that fulfills your needs is a must. Some people prefer mattresses that lie more on the soft side. Others prefer firm mattresses that can provide enough support for their backs and bodies to be able to relax.
The choice between soft and firm mattresses is determined by the way you tend to fall asleep. For example, firm mattresses are better for stomach sleepers while soft mattresses work best for side sleepers. Some people prefer buying a firm mattress and topping it with some comfortable bedding and layers to get the best of both worlds. In the end, the choice depends on your sleeping habits and preferences.
Silk Is Your Best Friend
Silk bedding and pillowcases have been gaining more attention lately as people have begun realizing their importance in maintaining the body and hair's moisture. However, silk comes in handy for other purposes. Other than the added luxurious element that silk has the power to immediately add to your room, silk is also great for creating the perfect sleeping atmosphere that can help you relax and easily slip into a deep slumber.
Scented Candles and Essential Oils
This solution is not for people who suffer from allergies or sensitive noses. However, for other people, adding a few drops of lavender whether by spraying it on the bed or by using a diffuser can do wonders. Lavender has been scientifically proven to reduce stress levels and helps the body relax. Other people might prefer adding a scented candle or two to their bedrooms to create a more relaxing atmosphere that can quickly put them to sleep.
Temperature Is Everything
Many people struggle with frequent wakeups through their sleeping time without understanding the reason. If you tend to toss and turn before you wake up shivering to add another layer to your covers, or you find yourself covered in sweat when you wake up, then you need to set your bedroom to the perfect temperature before you go to bed. While the perfect temperature may vary from one person to another depending on their usual body temperature, it's been known that the perfect temperature you should set your thermostat to is 65 degrees Fahrenheit, which is 18.3 degrees Celsius. This way, you will ensure that you fall into a deep slumber without tossing or turning. Getting quality sleep is even more important than the number of hours you sleep.
The quality of sleep affects the overall quality of life. The lack of sleep doesn't only affect the body and its physical wellbeing, but it can lead to mood swings, decreased energy levels, and emotional turmoil. Therefore, it's essential to make sure that you have prepared the perfect sleeping environment for yourself in order to get good nights' sleep that can get you through the day.