Having a patio or deck in the garden can make this space a great place to spend time during the warmer months and provide much more space for garden furniture and space off of the grass. While these garden installments can certainly improve your life and home, they are also subject to the outside elements which means that they can start to look worn after time and particularly after the harsh winter months.
So, how can you restore these features to their former glory?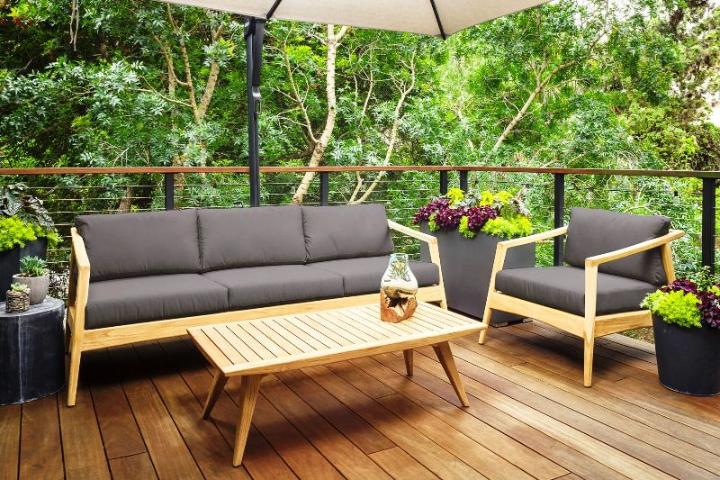 Patios
Patios can be both practical and attractive whether they are made from stone, slate, or concrete but you will also find that they can pick up a layer of mud, grime and debris over time. This can cause the original colour to go dull and make space look less inviting, but fortunately, it can be relatively easy to restore a patio.
One of the best ways to restore your patio is by finding out which pressure washer will be suitable for your patio – this will depend on the material that you use. You will want one with high water pressure but not so high that it cracks or damages the material.
For hard-to-reach cracks and gaps you can also use an air compressor with a nozzle attachment to clear out debris from any gaps where pressurised water may be damaging to the material, such as painted wood or near electricals.
Speaking of which, you should regularly examine the patio for damage and replace damaged slabs or fill them with filler. You might also find that a slab can become unstable and loose over time, in which case you should pull it up and lay fresh cement before re-laying it and allowing it time to set.
Outdoor Privacy Screens
Keep your yard and home private with these cheap outdoor privacy screen ideas that include detailed plans, videos and other tips to help you. These privacy screens can be used outside your home to protect you and your family from nosey neighbors, mosquitoes and other bugs.
Decking
Decking can look fantastic in the backyard and bring the inside out, but it can also become worn over time and especially after the winter months. Again, decking is prone to a thick layer of mud and grime which can easily be washed away with a pressure washer (this can also be immensely satisfying!). If your decking is painted, you will want to lay on a fresh coat at the start of spring to bring it back to life.
Another common problem with wooden decking is rotting, which can occur after heavy rainfall if the water is not brushed off the surface. You can prevent this by treating the decking, but if you do find rot (you can test by seeing if you can sink the tip of a screwdriver in) then you can easily replace individual planks and use paint to match the colour.
This post should help you to restore your patio or decking and ensure that these features look their best-come spring and summer. They can be a brilliant addition to your home and provide you with a comfortable space for relaxing or socialising outside, but they can also be damaged over time by the elements so proper care is vital.