It's not a lie when we say that jackets, especially leather jacket are one of the staple apparel in a male's wardrobe. They are one of those clothing articles that will never go out of style and have been trending since the beginning of their times. Be it any season or occasion, you can count on a leather jacket to help you out.
Their astounding versatility, incredible charm, and extreme stylishness are only a handful of reasons as to why they're loved worldwide by both males and females alike. You can pair them with anything you want, jeans, shorts, tees and they'd look good. Their ability to complement outfits and simultaneously elevate a person's entire look is out of this world. Based on your preference you can dress it up or dress it down and the end result of both combinations wouldn't fail you like ever.
However, sometimes it's very confusing for a person to properly style their jacket casually. Knowing what looks good with a leather jacket is an art in itself and we are here to show you how it's done. In this article, you will find a couple of styling ideas that you can implement, and the best thing? You don't have to spend a single penny. So without further ado, let's get started!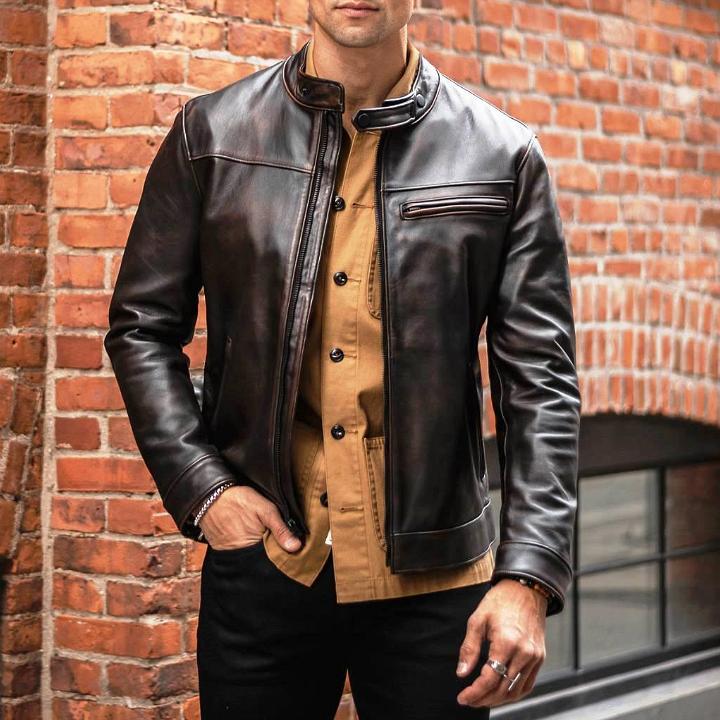 What Leather Jacket Should You Choose?
Before we dive right into the style guide, you may want to look at different styles of leather jackets to decide which one is the closest to your preference. Since the time of their origin, leather jackets have evolved so much to the point that you can find a variety of different styles available in a plethora of different colors. We have listed some of them down below.
#01: Biker Jackets
If your style borders on the darker and edgy side then this is the perfect style for you. Biker jackets were initially for motorcycle riders however they became a fan favorite very quickly due to their charming appeal. Biker jackets are cropped in length and include an adjustable belt at the waist. One important thing to note when you're styling biker jackets is they're worn fitted, so whatever inner garment you pair it with has to be very lightweight.
#02: Suede Jackets
Oftentimes disregarded for their presumed effeminate fabric, suede jackets are one of the finest pieces of outerwear. The delicate and soft material of the fabric gives a luxurious feel and ties the look together. In addition to them being lightweight, these jackets are incredibly versatile and can be worn all year long without a problem. The thin fabric prevents the wearer to feel hot during summer, autumn, and spring, you just have to make sure to layer up correctly in the winter.
#03: Aviator Jackets
Originating from a military background, aviator jackets are distinguished by their raised fur collar and rugged appearance. These jackets are perfect for the transitional weather, winter, and fall because of the warmth and comfort their quilted padding provides. If you want functionality, practicality, and stylishness all packed in one jacket, this is the one for you. The various designs these jackets are offered in as well as their smooth finish makes this jacket a force to be reckoned with.
#04: Bomber Jackets
Arguably one of the most popular styles of leather jackets out there, bomber jackets are a staple in both men's and women's wardrobes. This jacket is loved by everyone because of its ability to complement any and every outfit. Furthermore, the jacket is so lightweight that it's very easy to wear in any weather. So, if you're looking for a jacket that can make any outfit presentable with minimal effort, you have yourself a winner.
How to Style a Leather Jacket Casually
If you have trouble styling your leather jacket on a daily and you're confused with all the options you have, that's where we come in. We will be providing you with some easy to style tips that you can follow very easily.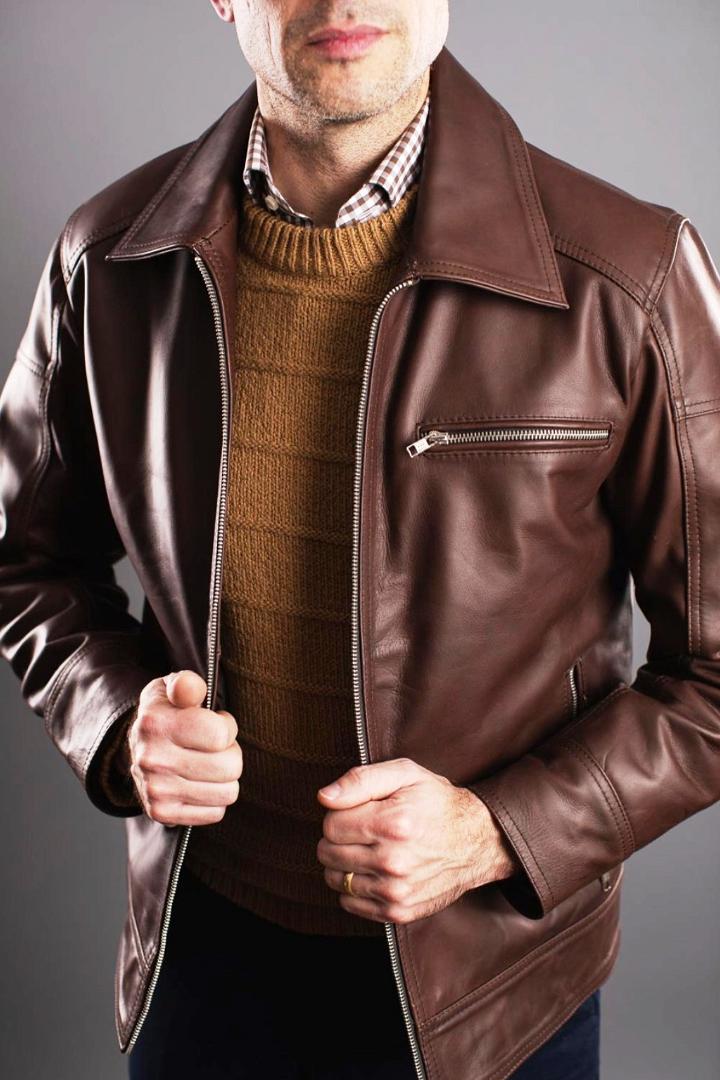 #01: Neutrals all the way
In order to style leather jackets casually, you should always opt for tees that are available in neutral colors so that your jacket can be the highlight. Monochrome outfits are a blend of sophistication and minimal effort while also being appropriate for all age groups.
Simply style your black bomber jacket with a white tee and denim jeans, and be prepared to woo everyone. Just a simple combination of tee and jeans can be elevated by adding a stylish leather jacket. You can also customize your colors by going for color combinations like, black and grey, burgundy and brown, black and white, etc. All of these combinations can make your outfit polished and charming with zero effort.
#02: Denim Jeans
Denim jeans are kind of a cheat sheet when it comes to casual dressing. Recognized as one of the most classic pieces of bottom wear out there, denim jeans never fail to amaze us with their versatility. Whatever style you have or you're thinking of, be it casual, business casual, or even boho, denim jeans will cater to every style seamlessly.
For a casual outing, pair a white washed denim jeans with a white polo shirt and slip on a black leather jacket for added effect. You can always trade your simple leather jacket with a printed one if you're feeling bold for the day.
#03: Everything Black
Arguably one of the most popular looks out there is an all black look. The color black has always been a fan favorite and it is also one of the most prominent colors in the fashion industry for its grandeur and elegance. A complete black outfit gives a modern and polished vibe with equal masculinity. For this outfit, you just have to pair your black leather biker jacket with a black turtle neck and black jeans. In case you want to polish the outfit even more, simply put on black boots, and there you have it, the perfect ensemble for a casual night out.
#04: Comfy All the Way
Although seldom heard of, this combination is the most comfortable outfit ever. You just have to pair your brown bomber jacket with a neutral colored sweatshirt and you have an ensemble that is the perfect remedy for a fashionable as well as a comfortable outfit. It also can be your go to choice for a grocery or errand run when you have no idea what you should wear. Finish off your look with a pair of sneakers and you're ready to go.
Summing Up the Guide
Leather jackets have proved from time to time what a difference they make when added to an outfit. With their versatile and charming features, leather jackets are an investment everyone should make simply because they're worth it.
This was our take on how to style a leather jacket casually, however at the end of the day it is the wearer's personal preference that wins. Just as there is no limit to the variety of designs and styles of a leather jacket, similarly there is no limit to the different styles and outfits that can be put together.
You should always try to tweak your outfits and style them according to your preference as there is a style out there for everyone.