Upcycling draws on people's creative side – perhaps one they didn't know they had. You don't necessarily need to be creative or an artist to upcycle; you only need to visualize how you want something to look and transform it.
Many people value areas of and items in their room more than others. Some decisions are made because of a trend, others transcend those trends. Upcycling allows people to reinvent what it is they feel has aged, that needs a new lease of life. For instance, the cheap laminate flooring they bought is something they're still in love with, and, now, they want to keep it as is, but upcycling the bits of furniture around it to give the flooring a new context to thrive.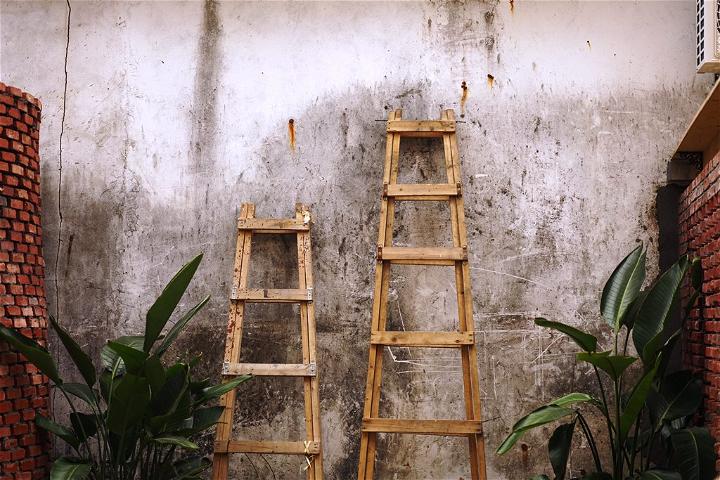 Tons of articles online can help you, in detail, to upcycle the individual items we're going to list in this article. Below, we'll list some of the things around your home that you can upcycle, some of which can completely transform the aesthetic without spending too much money. Read on to find out more.
Upcycling Old Ladders Into Bookshelves
Upcycling old ladders into bookshelves is a unique idea that gives a quirky and almost vintage aesthetic. Granted, people who aren't handy with hanging things up might need a hand with this one. If you don't have an old ladder lying around, find one on Facebook marketplace or buy a cheap one in a store. The older and tattier it looks, the better. The idea behind this upcycle isn't to make it look brand new but rather to create a vintage-looking bookshelf.
The ladder needs to be long enough to saw in half as ideally, this idea should be complete so that the two halves connect at the corner of a wall to create an L shape. The ladder also needs to sit slightly away from the wall, which you can achieve with brackets. Allowing the ladder to sit further away from the wall creates enough space for the books to rest – having it fixed straight onto the wall won't provide enough of a ledge for the books to rest.
Curious about how to create this look? Youtube upcycling old ladders into a bookcase and tons of tutorials will show you different variations of how to achieve it.
Upcycling Your Bath Into A Sofa
This one is rather unique, but you have to trust the process. And, you have to be willing to get rid of your bathtub and turn it into a sofa. If you really like the sound of this idea, you can look online for people selling old bathtubs.
The idea is relatively simple. Find an old bathtub – if you don't already have one that you're willing to remove a chunk out of and put a cushion inside. Cut out one of the sides of the bath in a shape that you desire – it has to be big enough for you to comfortably sit down and get up as though it was a normal sofa. Find a cushion without a cover online that's bigger than the length and width of the tub. Finding a cushion bigger than the tub will allow you to cut it down to size.
Once you've sized it up and cut out the required sized cushion, stitch a chosen material of your choice onto it, and then slot it into the gap you've created in your tub. Again, if you're not a textiles expert, you might need a hand stitching to material onto the cushion. Accessorise with more standard sofa cushions from a store, and you've created yourself a sofa out of an old bath. Again, if you need to visualise it, there are plenty of guides on YouTube.
Upcycling is a great way of saving time and money, and it's fun in the process. In addition to the upcycling ideas above, there are tons of everyday household items that you can upcycle and repurpose. From the cardboard in toilet rolls that can become drawer organisers to old glass bottles that can become candle holders – there are tons of things to upcycle.