Using a spatula, bench scraper, wax paper, avoiding scooting, applying the crumb coat, maintaining frosting thickness is crucial to the perfect frosting.
Birthdays, New Year's Eve, Christmas, homecoming, hangouts, and any kind of celebration feels empty without a cake.
As one of the most popular (if not the most popular) dessert items of all time, cakes have massive appeals to everyone.
However, if you are an intrigued artist who loves to go the extra mile for cooking, you may find baking dismal. The main reason for saying such is that here in baking, you can't just independently sprinkle something of this & that here & there. Baking is a science.
You have to be precise & accurate in measuring & selecting the right ingredients. However, you have the freedom to decorate the cake as you please.
That's when frosting & icing comes to play their parts. Throughout this article, we will cover some tips that can help you create the perfect frosting and design on your special cake!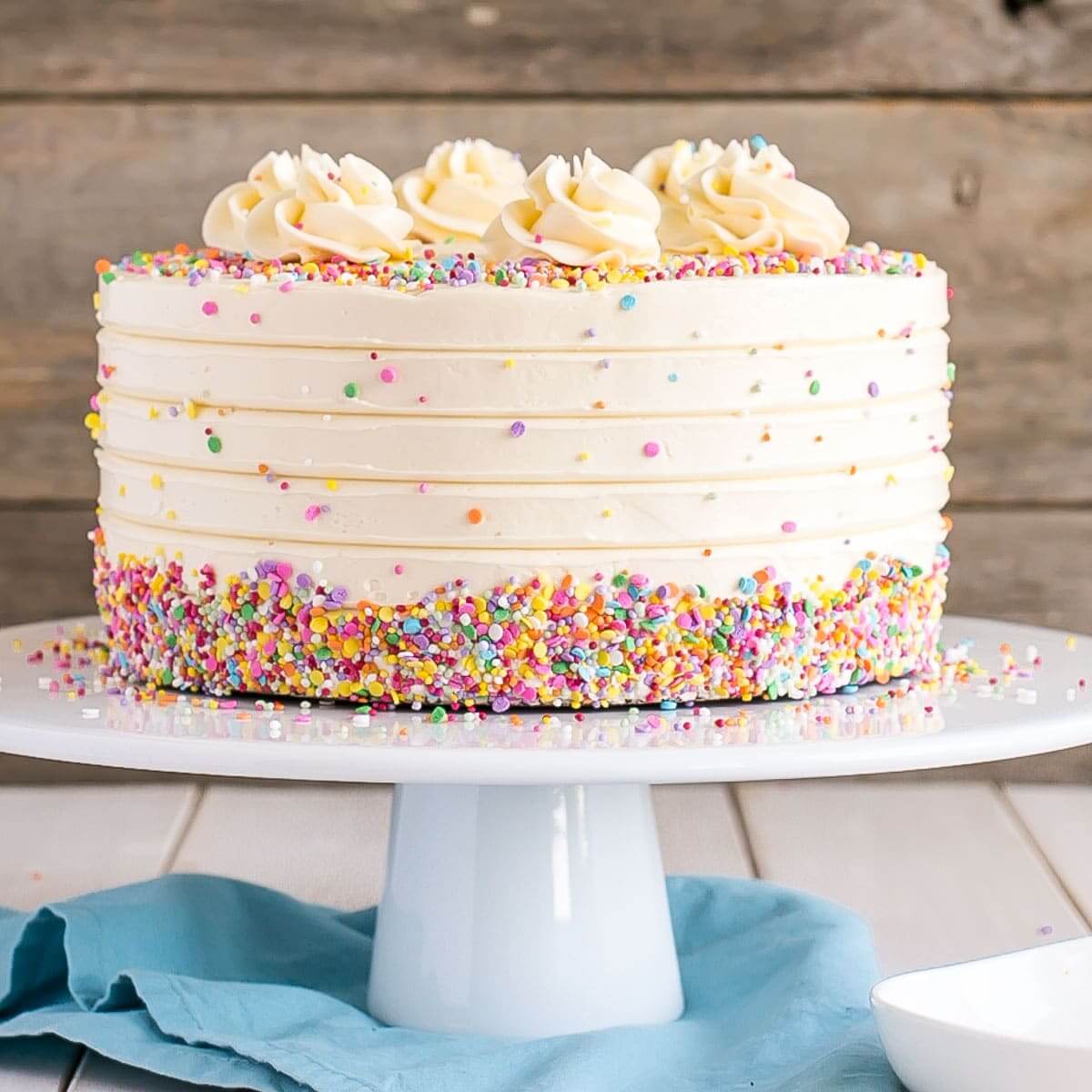 What Is Frosting?
The frosting is a decorative purpose that people do on a baked cake. It includes making a deep, thick layer of cream on top of the cake.
You can make the cream in various ways. You can use fats, butter, sugar & other flavors to create a frosting cream.
You can also buy whipped cream, buttercream from the grocery store & then add flavors like vanilla, chocolate, lemon, orange, butterscotch, black forest, etc., to the cream to create an alluring frosting.
Here are the 13 essential tips to help you with the perfect frosting.
1. Keep the Cream Frostings Cool
It's a prerequisite to keep the frosting creams in the fridge. That way, they maintain their shape & viscosity & you don't end up having a thick or thin layer of frosting over your cake.
It would help if you did this for all creams, namely whipped cream, meringue buttercream, basic buttercream, & cream cheese.
You can substitute the cream cheese with Mascarpone cheese, Neufchatel, and other similar cream cheese substitutes for the frosting for something more unique.
2. Add Variety with Buttercream Flavor
Most people use vanilla & chocolate for frosting. These two flavors don't need to be universal. There are plenty of other flavors, too & you are free to use them.
For instance, you can try giving the buttercream flavor to your cake. Making buttercream is no daunting task. For this, all you need is butter. Peanut butter is also an excellent choice if you have one.
You can use peanut butter along with regular butter. Beat the butter for quite some time & then let it rest.
Once you have the perfect cream, add blackberries or strawberries – and voila, you will have a blackberry buttercream flavor.
You can also try lemons, oranges, or other edible flowers to add flavors and make a festive cake.
3. Prevent Scooting
Scooting is a common problem that most bakers face. Scooting is the state when your initial baked cake doesn't sit properly on the table or plate.
As a result, when you frost, it becomes loose & the frosting becomes uneven & messy. If you plan to make a two or three-layered cake, it becomes more challenging with scooting.
However, there is a simple solution to this issue. Take a small scoop or dollop of your frosting cream & put it on the cake plate.
After that, put the first layer of your cake on that plate. The pre-added frosting will work as a glue of foundation to the cake.
It will prevent the tilting of the cake & then you go for further layers.
4. Wax Paper Is A Must
The next tip to a perfect frosting is to use wax paper. Wax paper makes sure the place stays clean and helps you with any sudden cake plate movement.
Usually, cooks or bakers don't like to transfer or change trays before serving. There's a significant chance of your turn-table or plate looking messy with dollops, creams, sprinkles & small crumbs of the cake.
To prevent such uncanny incidents from happening, use wax papers.
To use it efficiently, line the edges with wax papers finely. Once you have finished decorating, remove the wax papers & voila! You have a clean tray.
5. Give the Cake Some Chill Time
Warm cakes are your enemies if you plan on making decorative cakes. Always let the cake cool down & come to room temperature.
If you do frosting on warm cakes, the frosting will melt away. You will lose the shape & can add no further layers to it.
A cold cake keeps its position & gives you a firm foundation for frosting. To prevent the cake from melting the icing, let the cake settle & chill in a cold state.
You can use the refrigerator to cool down the temperature. Once the cake is thawed halfway, start frosting. Frozen cakes are easy to work with.
You can either wait for the cake to come to room temperature or start frosting once it wore off the warm state.
6. Maintain Frosting Thickness
Maintaining frosting thickness is a top priority. Otherwise, you won't have a solid decoration & the cake will start loosening quickly.
That's why you need to be precise about the frosting thickness. If you make the frosting too thick, add milk or cream slowly.
Use teaspoon measurements to get the most accurate result. You can judge if the stiffness is right by taking the bowl upside down.
If the cream sticks too tightly like glue, that means you still need to work on making it thin.
So, what should you do if it is thin cream? First, apply the above method of putting the bowl upside down & see if the cream is sliding down the bowl.
If it is, keep adding confectioners' sugar. Take a quarter cup of sugar & add at a time until you get the desired thickness.
7. Ganache for Perfect Dripping
Most people struggle with drip cakes. The main reason is that they are doing the entire process wrong. It would be best if you used ganache to make a perfect drip cake.
Ganache is a type of whipped chocolate cream. To make a ganache, you need cream & chocolate. Melt the chocolate first & then mix it with cream. Chill it for some time.
Once the ganache is cool, pour it over the cake. Start from the middle.
Don't overdo the pouring. The mixture will automatically spread over the cake & drip. Start by pouring a little & see how far it goes. A perfect ganache drip will ensure the extra layer of decadence to your cake.
8. Apply Crumb Coats
Crumb coats are essential parts of a proper decoration. Crumbs are small flurries of cakes. By applying a thin layer of frosting over the crumbs, you assure the firmness of frosting.
Honestly, nobody likes a crumbly cake. As crumbs are natural to occur when baking cakes, you need to make sure they remain hidden & settled on the cake.
So, apply a thin layer of frosting once you notice crumbs. Let it rest in the fridge for half an hour. You need to use a spatula to spread the frosting over the crumbs evenly.
9. Sifting Cocoa Powder
If you are torn between making vanilla buttercream and chocolate buttercream for your chocolate brownies, don't worry.
Cocoa powder is there to rescue you always. Just apply cocoa powder to a buttercream & turn it into a chocolate buttercream.
As cocoa powder has a clogging nature, sift well before you insert it into the piping.
10. No Compromise with The Spatula
The most crucial arsenal to make your cake look astounding with frosting is the spatula.
That said, there's no possible alternative to a spatula.
Spatulas are long metal blades mostly made of wood, metal, rubber, or silicone that are not sharp but flexible & work like a charm in chilling or smoothing the cake batter.
You can spread the frosting cream evenly with the help of a spatula. If you feel that you have excess creams dropping from all sides, you can clean them up from sides using a spatula.
Again, if you don't have any piping tubes to apply the cream on top of the cake, use a spatula to do it.
Spatulas evenly smooth & chill the cream & give your cake a fantastic finish. You cannot do such things with butter or regular knives or spoons.
So, stop hesitating & buy yourself a quality spatula.
11. Bench Scraper for Smooth Sides
If you exaggerate the frostings, you may have overwhelming situations all over the sides. However, using a spatula won't work correctly.
For this, you need a bench scraper. This dull, bland tool will keep the frostings even & smooth. You can further use this tool for crumb coating or naked cakes.
12. Finishes on Sheet Cakes
Sheet cakes are less fussy, as you don't need to worry about making layers. But you can do frosting on them too, just like layer cakes.
After chilling the sheet cakes, apply a deep frosting with the help of a spatula.
Once you have finished, make a swirling pattern with the spatula to make the sheet cakes alluring.
13. Side Decoration
Sidewise decoration enhances the beauty of any cake. You can go for the sprinkles, cookie crumbles, nuts & press them sidewise.
Use a bench scraper to trim off the edges. Don't forget to use wax paper to maintain tidiness.
Final Thoughts
Although baking is pretty straightforward, you have a lot to do with the decoration. Keep in mind these quick tips for doing frosting right & making your cake stunning.