The home is not just a building, it's your safe space and abode; it's an extension of yourself. It is where you relax, bond with your family, entertain guests, and spend most of your time.
Though the needs will be different for everyone, there are some things that are standard requirements to form a perfect home. If you have spent years living in your house or apartment, you will probably realize that it needs some sprucing up.
When you are doing the redecorating, you have to keep in mind that it is an investment, not just a home-improvement project. Even though it may seem expensive in the beginning, in the long run, when you readjust your utility bills and save money on other costs, it will prove to be beneficial. You need to research your potential changes thoroughly and consider the long-term benefits of each change you want to make. Here are some tips that you should take into consideration if you plan on sprucing up your home.

Balance Your Lightning
The balance of lighting is an important determinant for the appearance of any room. If you have light fixtures that are too bright, it will be uncomfortable to stay in the room or look at your beautiful decor. You need to consider the type of lights that you want to use and how much lighting you'll need for each area.
The best way to balance lightning is by using table lamps. You can point them towards the ceiling or shade them so that they shine downwards, which will provide good illumination without being headache-inducing. Another option you have is light fixtures. If your room has a high ceiling, then opt for chandeliers instead of flush lights that are attached to the ceiling.
Try Colorblocking
If you want to add some color and flair to your home, then color blocking is an excellent idea. For example, if you want to add some red accents in your living room, instead of painting the walls red, simply paint a single strip of wall red. It creates a mental color comparison image in the mind of your guest. This will easily draw attention to that specific feature without making it all too overwhelming.
Add Greens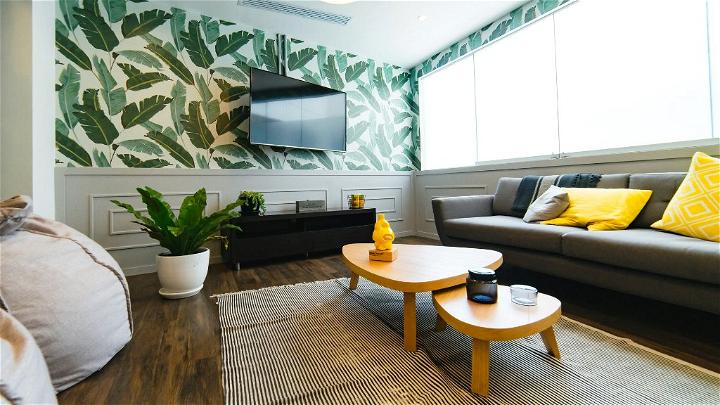 Adding houseplants to your home is a good way to improve indoor air quality. You can place them in your living room or bedroom, but if you have a small space, then placing them on the patio will be better because it has a larger area for fresh air circulation. Additionally, don't forget about your office! Indoor plants will not only look beautiful but will also serve as a source of motivation for you to study hard.
Changing the Ceiling Color
Adding color to your ceilings is one of the easiest ways to spruce up your home. It's simple yet has an incredible effect on the appearance of each room. You can opt for lighter or darker tones, depending on what you prefer. If your ceilings are made of dark wood, painting them a lighter color will give the room an airy and relaxed vibe. You can choose a color that corresponds with the walls or other items in the room because it will pull everything together.
Add Little Touches of High-end Materials Where Possible
For a truly luxurious and expensive look, it is vital that you add high-end materials to the design of your home. It gives each room an authentic appeal and contributes to its overall appearance. Some places where you can include these items are Dining tables; Coffee tables; Kitchen cabinets; Countertops in your bathroom or kitchen; Mantelpieces; Closets; and Bedside tables.
Changing the Flooring
Flooring is usually overlooked when looking to upgrade your home. There are so many choices available, including wooden floorboards, laminate, or carpeting. Each has its benefits and disadvantages, but remember not to compromise on the quality of your floors because you will be walking on them throughout the day. If you want to put in a lot of effort, you can even add in a tile or stone surface in your bathroom.
Stick to Classics
When designing your home, it is important to remember that you are looking for practicality, comfortability, and aesthetic appeal. Instead of choosing more modern themes which can get tacky really quickly, stick with classic designs that will always look sophisticated. You can add in some contemporary features if you want to spice things up a little bit, but make sure that you balance it well with the classic features.
Add a Personal Touch
No one appreciates a home without any character or personal touch, so make sure to add in your own unique style and flair. You can incorporate some items from your travels, use family photos as decoration, or anything else that's special to you personally. This will give your home a really welcoming and peaceful feeling, as well as allow you to display important memories.
If you're looking to spruce up your home, there are a variety of ways that you can do so. This article has provided tips you can consider but if you feel the need to get more creative, don't hesitate to do some more research.