Want to keep your furniture pieces in top shape for as long as possible? Then you have to know how to take proper care of them. In this guide, we share some useful tips and advice on how to clean and care for your furniture the right way.
Most people invest a good deal of time, effort, and money into decorating their homes and creating the perfect indoor ambiance, and choosing the right pieces of furniture plays a very important role in it. If you've managed to bring your décor vision to life, now all you have to do is relax and enjoy your oasis of peace and comfort.
However, considering all furniture pieces are subject to wear and tear over time, you also have to take maintenance into consideration. Taking good care of your furniture is important not only because many of these items come with a hefty price tag and you probably can't afford to replace them all the time, but also because you can get emotionally attached to certain pieces and they become so much more than mere decorative objects in your home.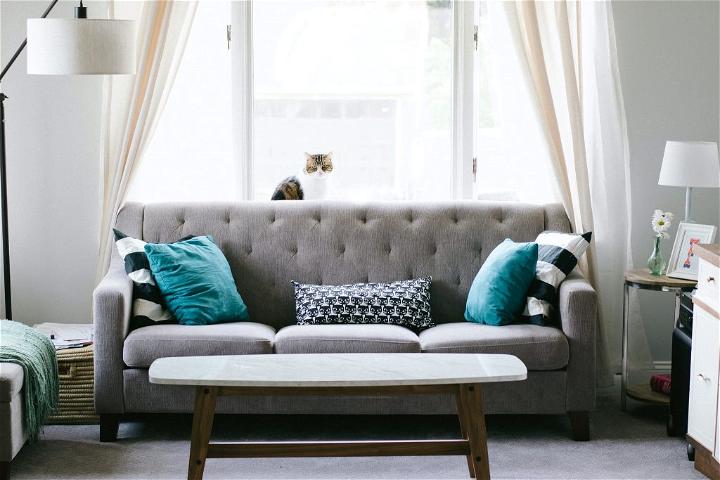 So, if you want to protect your favorite pieces of furniture and keep them looking great for longer, these clean and care tips might just come in handy.
Choose Your Furniture Pieces Wisely
If you want your furniture to last a lifetime, you should opt for pieces that are sturdy and made of quality materials. Obviously, it can be tempting to buy furniture that's cheaper, especially when you're on a tight budget, but you have to take into account how that will affect you long term. You might be able to save some money at the time of the purchase, but if you have to replace the pieces after just a few years, you're actually going to spend a lot more money in the long run.
It's best to look for furniture with a good price-quality ratio than fall into extremes and buy either very cheap or very expensive pieces. If you take the time to shop around, you'll be able to find quality furniture that's stain resistant, and child and pet friendly at reasonable prices. This will make it infinitely easier for you to clean and care for your furniture, and enjoy it for years to come.
Pay Attention to the Care Label
Every furniture piece comes with its own care label, and some companies will also offer you a care kit to help you keep it in top shape. Even vintage items often have care instructions attached. Since every piece has specific care requirements, it's important to take the time to read these labels carefully. They will tell you exactly what steps you should follow to keep each individual piece looking new and fresh.
If you use random cleaning solutions, you risk causing damage to your furniture. So, based on the care instructions and taking the material and age of the piece into account, you can choose the right cleaning methods and solutions to maintain it in good condition.
If your furniture doesn't have a care label, here are some tips that will help you clean it the right way:
For wood – you can remove dirt and debris from your wood furniture by using a mild cleaning agent. You should use a damp cloth to clean and a dry one afterward. You should also polish your furniture every once in a while, to protect the surface.
For leather – leather should be dusted prior to cleaning, and then, using a damp cloth and an adequate cleaning solution, you should start cleaning it. Use a dry cloth to wipe it at the end.
For fabric – you should first vacuum the fabric to remove dust and debris. Before you use a solution to clean the entire piece, test it on a small area to see if it's suitable for the fabric or not.
Avoid Direct Sun Exposure
Although having a home that's flooded with natural light is an ideal home design scenario, your furniture won't appreciate it. Direct sunlight can cause significant damage to your furniture pieces, such as fading, cracking, or drying out wooden surfaces.
It can be difficult to reconcile these two things, as you don't want to ruin your furniture, but you don't want to give up on natural light either. The middle ground would be to keep your pieces out of direct sunlight or rotate them regularly if they're placed near a window. Rotating your furniture will also reduce wear and tear in the same places, thus slowing down the process of aging.
Protect Surfaces
No matter how careful you are, you still have to take accidents and the occasional spills into consideration, so you should take a few measures to protect surfaces. For starters, you should use coasters to keep watermarks from ruining your tabletop. You can also use tablecloths, runners, or glass coverings to avoid stains or damage from everyday usage.
Upholstering your sofa and armchairs in stain resistant fabric is another great solution to protect your furniture from spills and stains. This will make it a lot easier for you to clean your furniture and have it looking like new for longer.
Hire a Professional Cleaning Service
The dusting and cleaning you do on a regular basis might not be enough to keep your pieces in the best condition. Sometimes they require a deep clean to get rid of the pesky debris and dirt that accumulates over time. And while you can handle most of the clean and care tasks yourself, when it's time to give your furniture a deep clean, it's best to call in the professionals.
Apart from taking the burden off your shoulders, furniture cleaning services have the necessary equipment, tools, and techniques to offer your furniture pieces the care they require. Therefore, hiring a professional will ensure great results and give you the peace of mind you need.