The gold color is something that looks elegantly beautiful as well as glamorous and unique from all other colors. We have already shared some amazing and interesting ideas of making and transforming boring and simple objects into some incredible cool items with less expense and time.
Want a pencil or stationary holder? Go grab some useless empty containers and a golden colored spray to create your own gold foil to impress your friends when they visit you for a combined study. All these ideas are so amazing to try them real soon. If your children are bored with their multi-colored legos, have you not tried painting or spraying them all, in perfect and extreme gold color, if you haven't then done it today. They will surely look more exciting for not only the kids but also for the adults to play and make structures with them.
Most of the people if not everyone must have some kind of bear jars at their homes or in the stores of their kitchens or pantry, these are honey or candy jars. What you can do with these empty jars is paint them golden and use them as artificial plant vase on the side tables of your living rooms. In the same living area, the pillows can also be dramatically transformed into fabulous DIY gold foil pillows. These Top 15 DIY Gold Paint Project With Tutorials are so cool to handle alone, you can enjoy doing them with your friends. If you are a painting lover and can handle canvas artistically, add some creativity with your artistic skills to create a basic canvas painting with a touch of gold.
Try doing the DIY gold paint projects to your wardrobe too. Why not turn the sneakers into gold sneaker by simply spraying or painting them in golden color. Do you have bar stools at home? I bet you have never thought of doing something creative to them. So here we present to you the idea of painting the seats of the bar stools golden. Looking for a touch of gold for the centerpiece in your formal living area? Try painting some smooth rocks golden and decorating them in a tray with the candles to create a perfect decoration item. You can also paint decoration bowls into golden color to match with the gold theme. Mirrors also look finished and formal if given a gold touch on the frame. If you have some useless bulbs at home that are not working turn them into a gold-dipped bulb vase for a change.
Try these ideas on weekends and enjoy a different look to your wardrobes, lounge, study tables, and much more depending on your own creativity you can alter the DIY ideas accordingly.
Rose Gold Foiled Pencil Cup: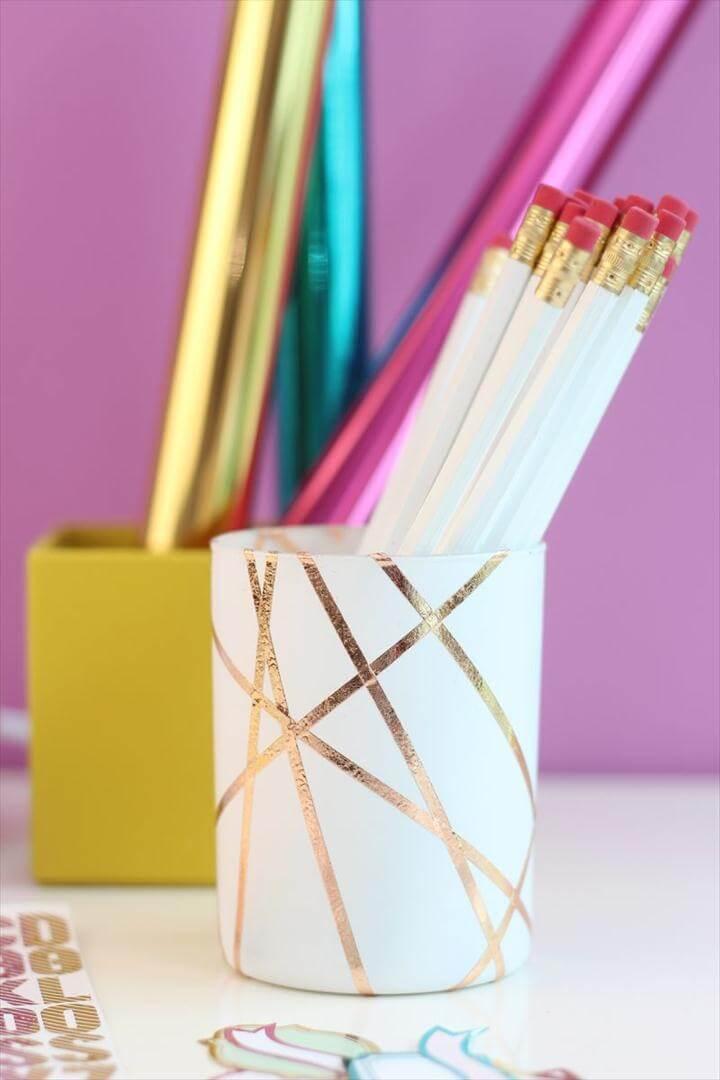 Bring some golden beauty to your art and craft table with this rose gold foiled pencil cup. Using the white spray paint, scor tape, and the gold minc foil you can easily glam up this simple cup with golden stripes. You can perform this art on your plain vases too and make them look so rocking and chic. Details here!
Image: damasklove
Gold LEGO's

: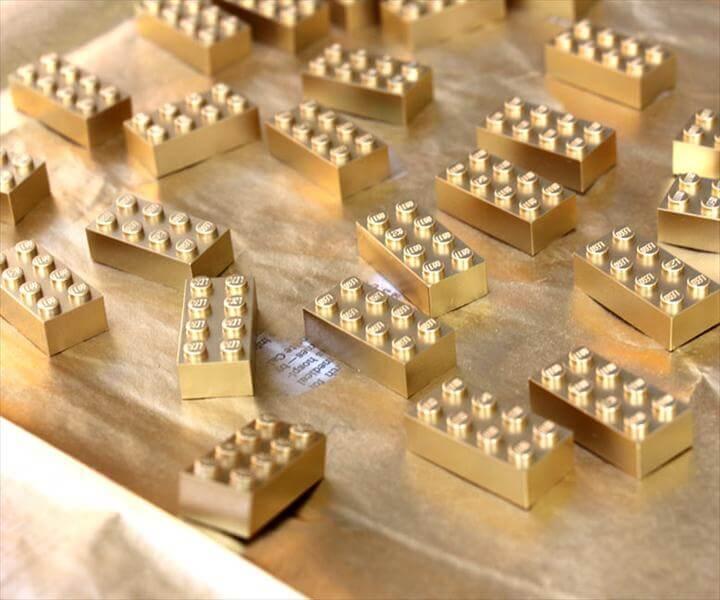 There is a kind of charm and richness about the gold so make your favorite things look gold just like this gold legos. You can take spray paint in gold and then paint a bunch of the lego pieces with it. You can use these gold lego pieces as the boundary of your mirror to let it turn out so gorgeous and decorative.
Image: ournerdhome
Gold Honey Bear Vase: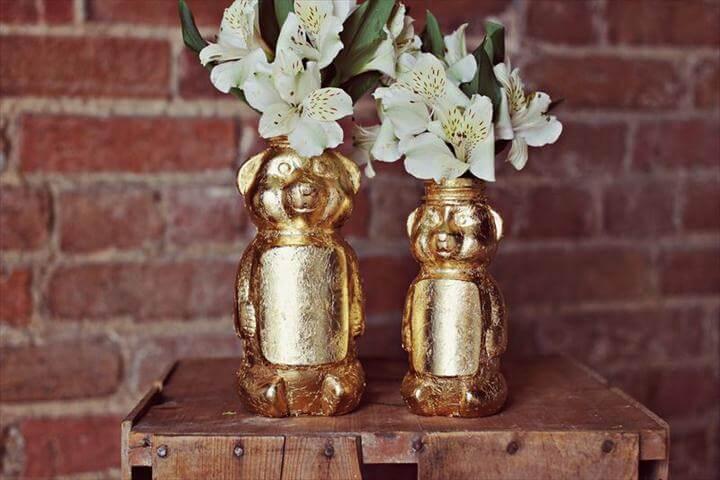 Make the most cutest vases for your tables with this gold honey bear vase project. You need to two bear honey bottles in small and large size and get them coated with adhesive. Once the adhesive is dry cover them with the gold leave start kit and get the most gorgeous and stunning vases to hold your flowers in.
Image: abeautifulmess
Gold Foil Pillow: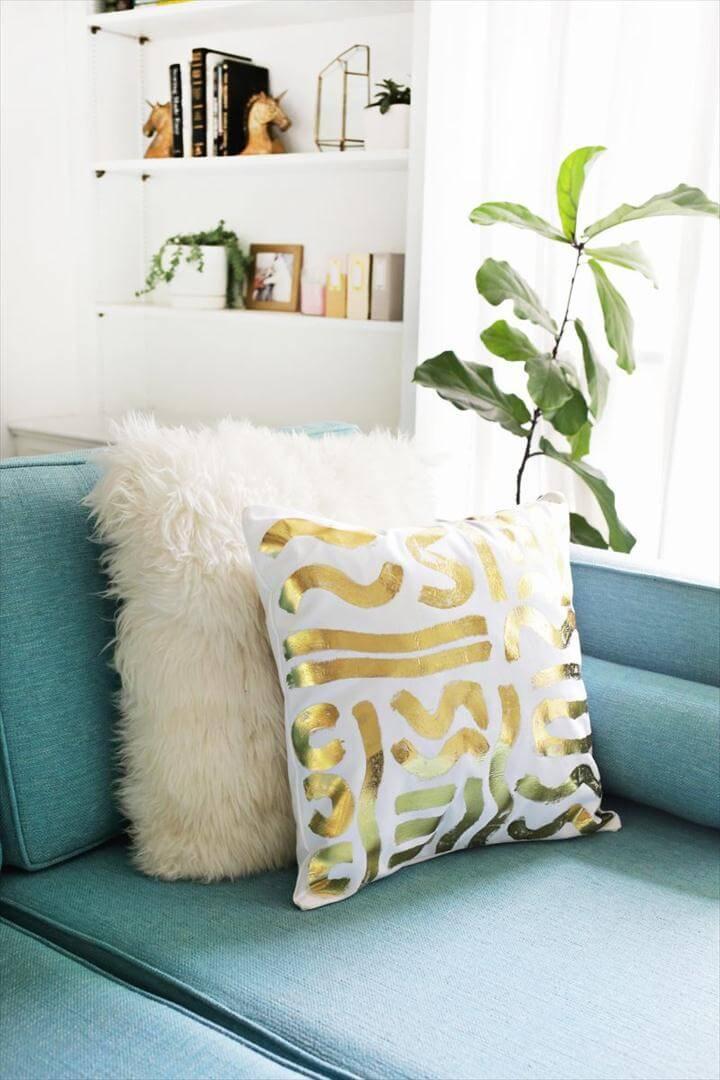 Bring some bright and cute vibes to your living with this idea of the gold foil pillow craft. Using the gold foil, foil adhesive, brushes, parchments paper, and the iron you can easily work up your pillows with any of the design and pattern to create with the gold foil. This craft is fun to have lavish pillows for your spaces.
Image: abeautifulmess
Basic Canvas Painting

: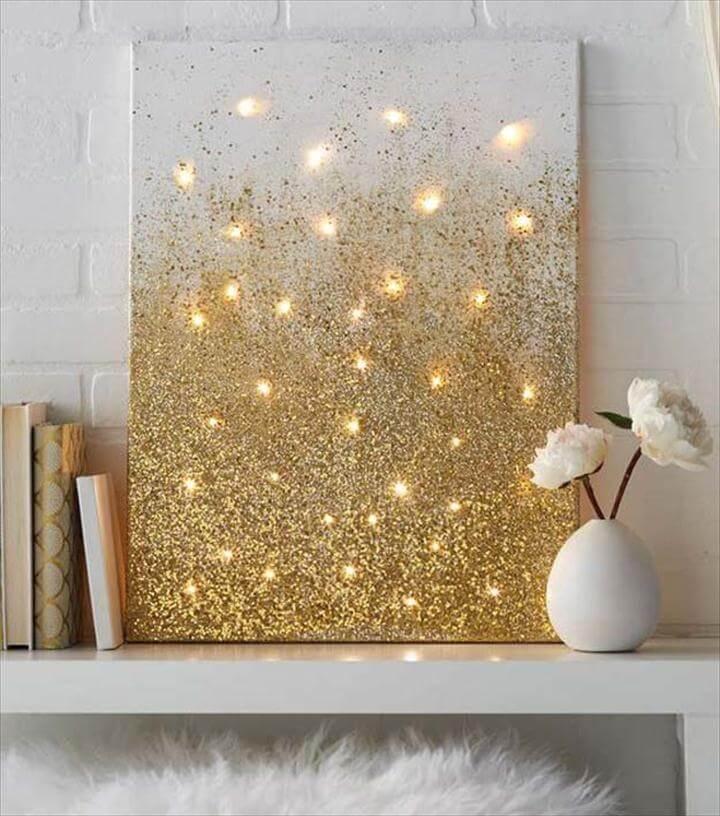 Here is how you can bring the gorgeous gold beauty to your home with this basic canvas painting. A simple and plain canvass has adhered to the gold glitter and at the back of it LED lights have been installed. This lovely basic canvas painting is really going to bring oodles of charm to your home style statement. Easy details here!
Image: joann
Gold Sneaker: DIY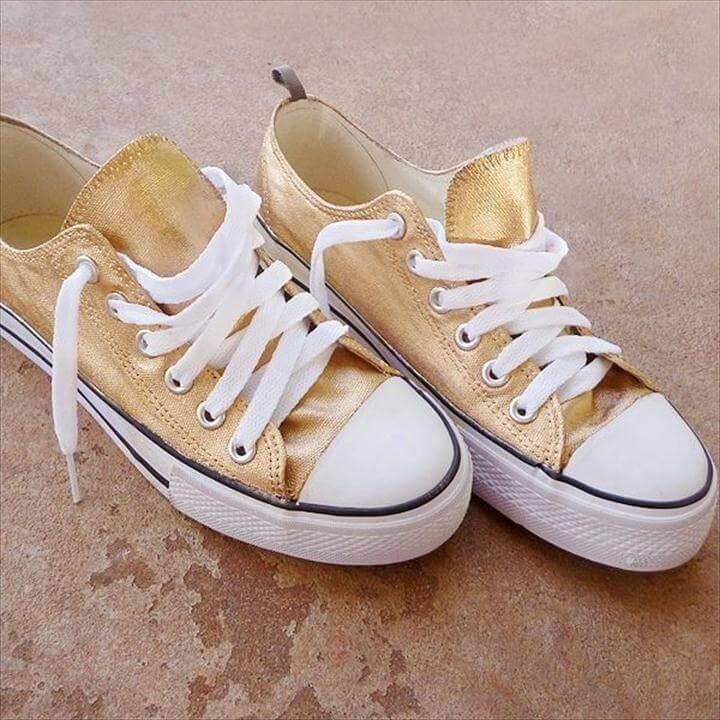 It's time to make your favorite old sneakers to look super cool and new with this idea of the gold sneakers DIY. Just grab some gold paint and pain it on the top section of your sneakers and make them look super cool and boho with this new look. You can do this gold makeover to others of your old shoes too.
Image: dreamalittlebigger
Gold Accents Barstools: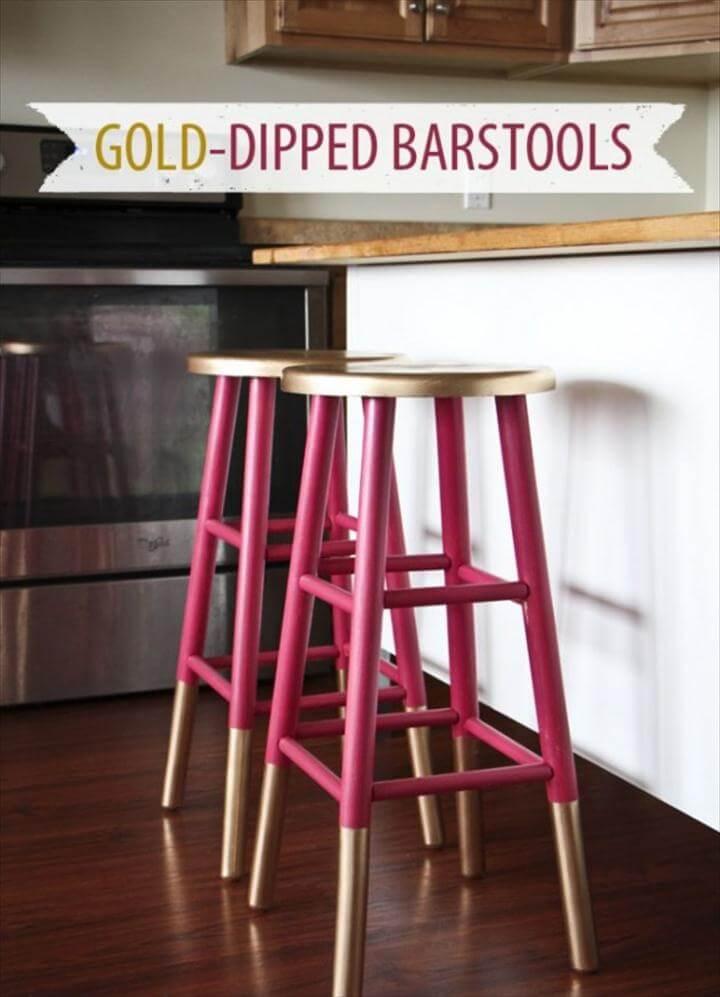 These gold accents barstools are making a very strong style statement and you can achieve it on your own too. The barstools have been painted in raspberry pink and then made to look bold with the gold spray paint at the round seat and the bottom of the legs. Grab the easy tutorial details right here!
Image: honeybearlane
Gold Spray Painted Vases With Fake Flowers

: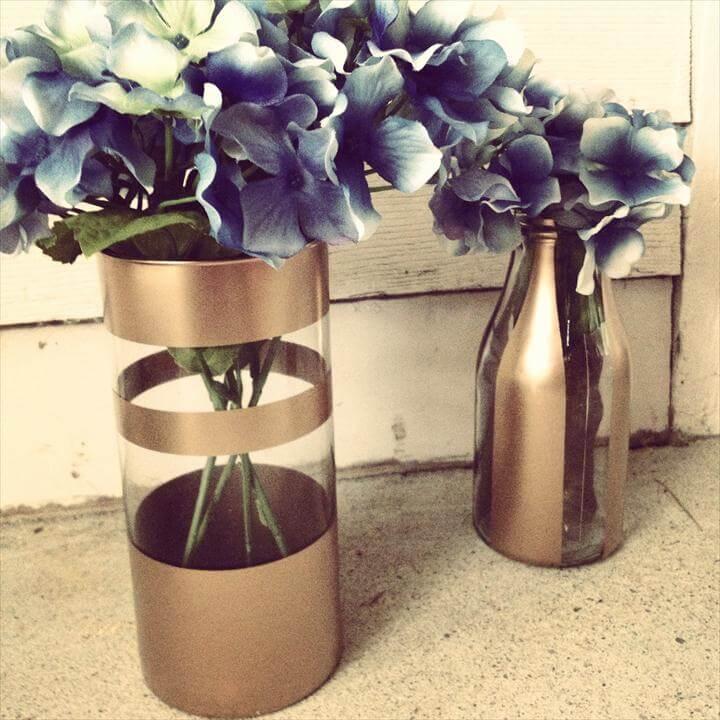 You can make those expensive-looking vases at home at the cheapest of the rates now. Here are these gold spray painted vases with the fake flower to boost up the beauty and décor of your spaces. Just grab a simple glass vase and add gold spray to it using the tape to create wide spaces stripes on it. Details here!
Image: brittanyestes
Gold Rock Candle Centerpiece

: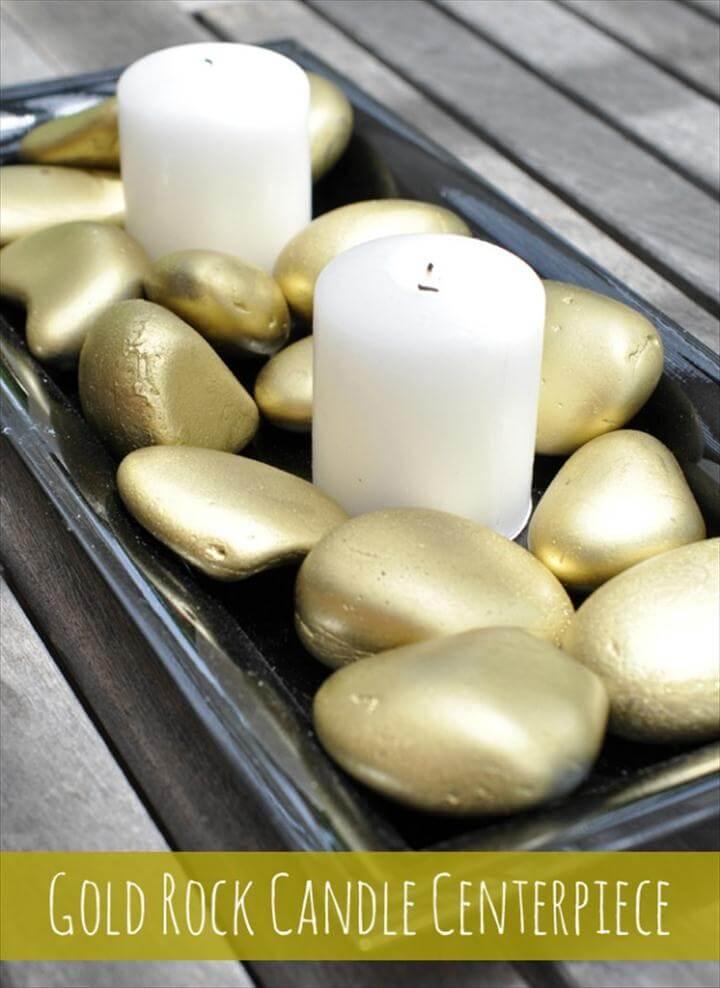 Get your table ready for the dinner night with these lovely and simple gold rock candle centerpieces. A cute tray has been loaded with a bunch of rocks that are spray-painted in gold. Hold your candles in this tray in between the rocks and you have got your lovely dinner table centerpiece ready. Details here!
Image: chicacircle
Gold Sequin Heart

: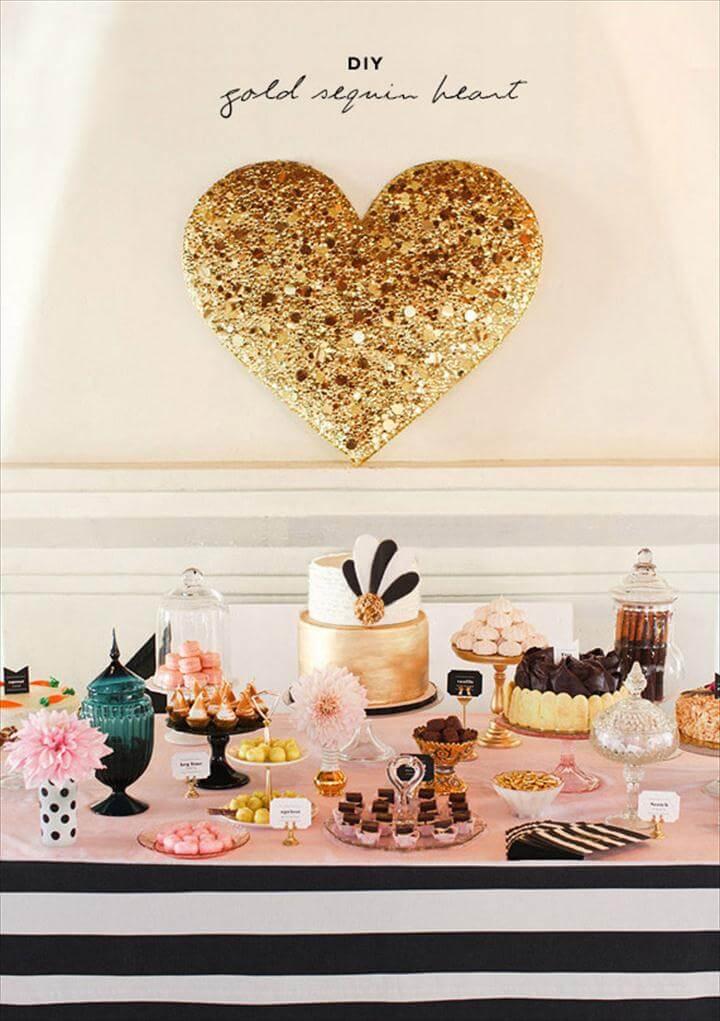 Here is how you can bring some glam and beauty to your party with a simple and cheap project of décor. Making this lovely gold sequin heart and hanging it over your dessert table is a great way to add some glitz in the party décor. Cut a heart out of cardboard, paint it in gold and add gold sequins to it all over and it's done.
Image: 100layercake
Painted Bowls

: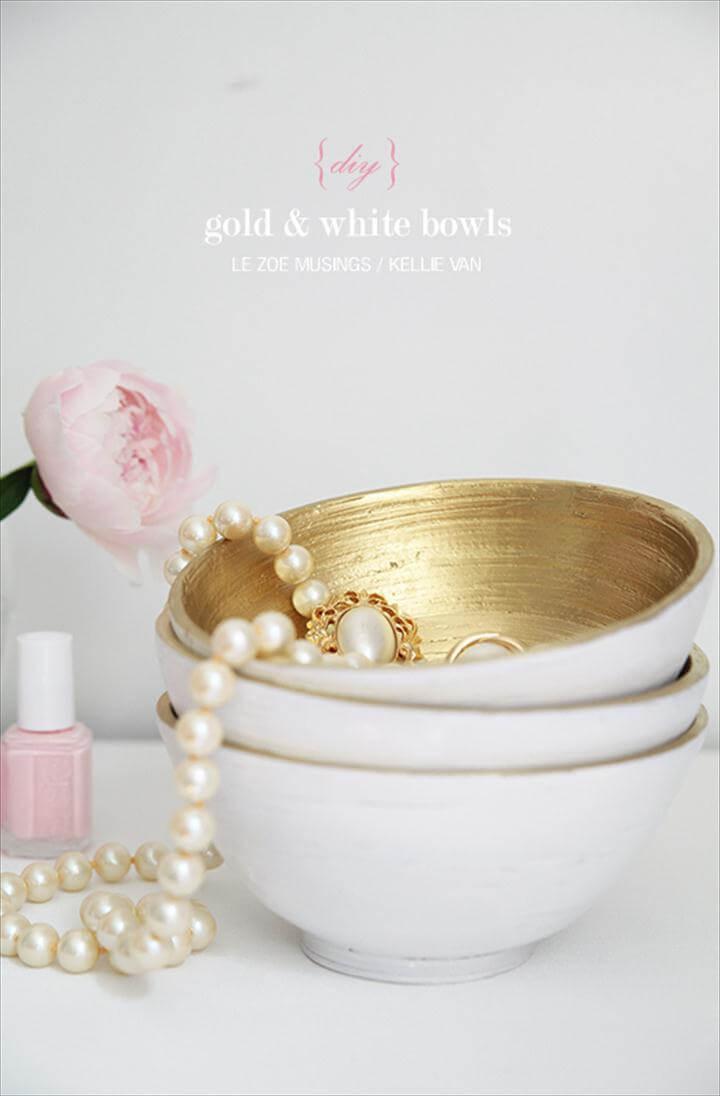 Make the most gorgeous jewelry organizers with these painted bowls in gold. So grab some ceramic bowls in small size and paint them white first all over. Then get your hands on the gold paint and paint inside the bowls. Once dry these painted bowls are ready to hold your jewelry in them. They would make a great gift idea too.
Image: lezoemusings
Non Toxic Paint Vases

: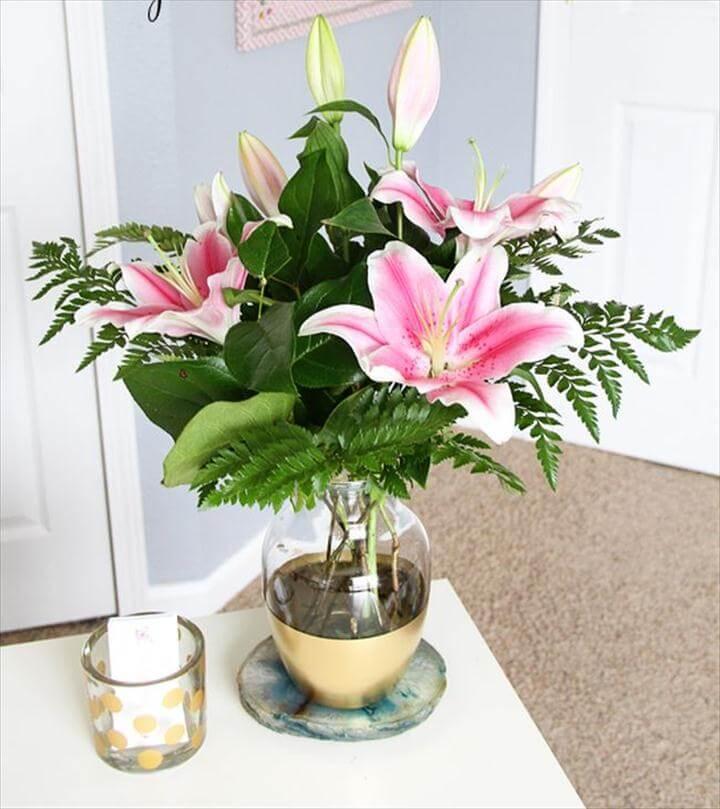 If you think there is a lack of that WOW factor in your home décor then grab this non-toxic paint vases project to get that impact. So all you need is some plain glass jars in a variety of shapes to get painted with gold polka dots and bottom dips in gold to turn out as the prettiest and coolest vases ever. Details here!
Image: twotwentyone.net
Gold-Dipped Mirror: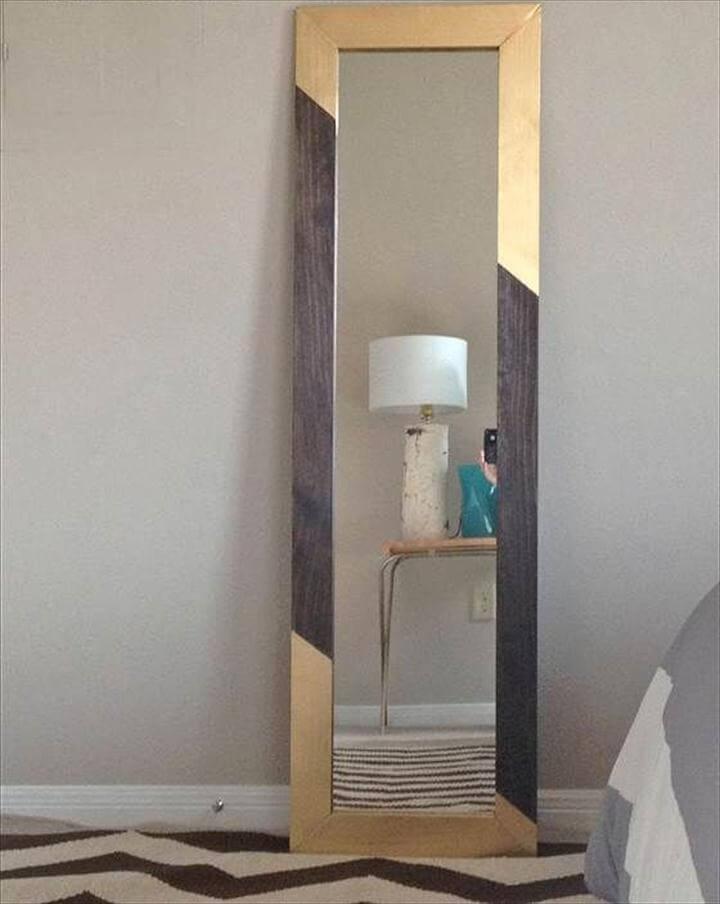 Make your rustic wooden boundary mirror look super glamorous and chic with some gold-dipped effect. Yes, paint the top and bottom edges of the wooden mirror boundary in gold and bring the perfectly bold style statement in your home décor. The idea is too easy and fun to work on and here are the details of it.
Image: prettyprovidence
Wall Art Gold Leaf

: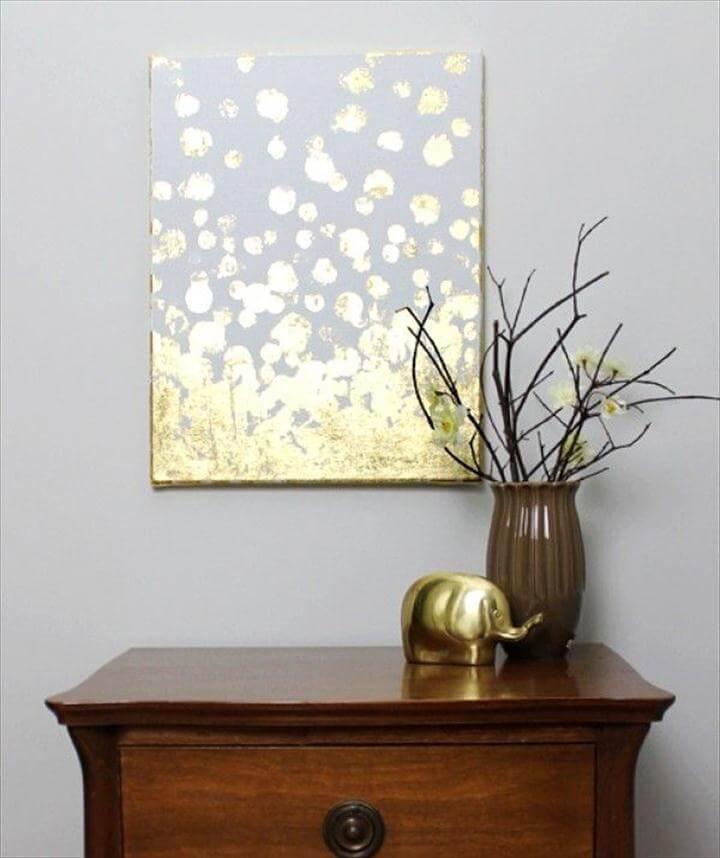 The addition of a little gold can really create a huge impact in your home décor from making it look lustrous. So here is this lovely and simple wall art done with the gold leaf to bring some chic appeal in the home décor. Just grab a canvas and the gold leaves to create this lovely random art on your own. Details are shared here!
Image: ohcuriosity
Gold Dipped Bulb Vase: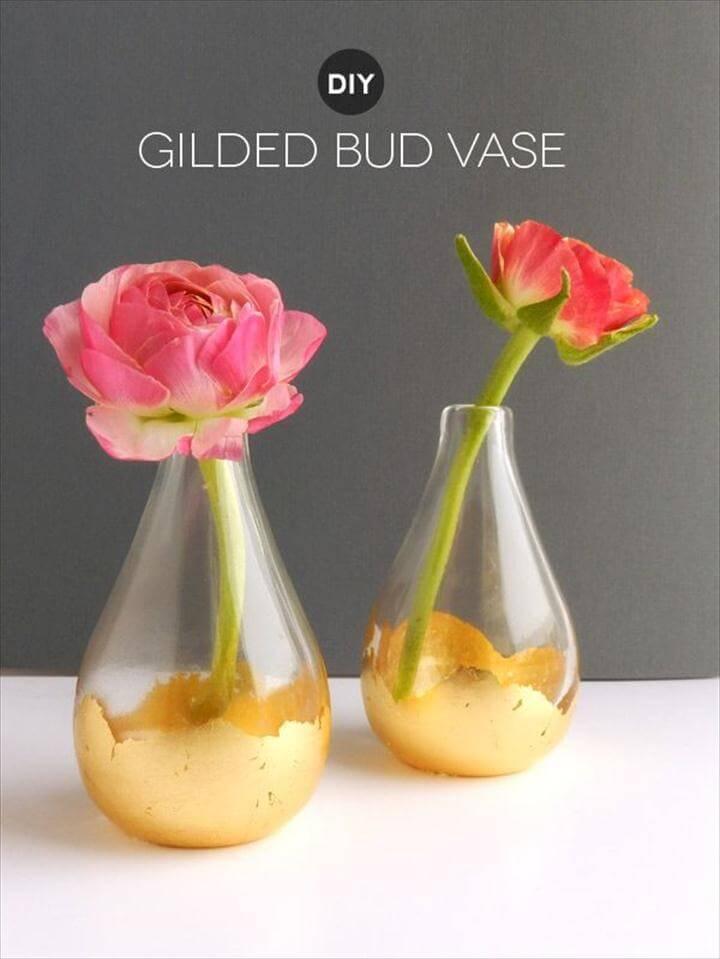 Have some fused bulbs lying around? If yes then you can pull off this gorgeous idea of the gold dipped bulb vases out of it. Yes, remove everything from the bulbs and dip their round bottoms in the gold paint. Use these gold dipped bulbs as the cutest and the quirkiest vases for your living or bedroom. Follow the details here!
Image: sasandrose