Get yourself amazed by some of the craziest crafts made with macramé. Top 20 DIY Macrame Projects will surely be very helpful in fulfilling different tasks.
The first idea that we share with you here is a macramé hummingbird feeder, which is truly nothing less than a blessing for the birds. Next is a macramé dip-dye necklace and is totally unique and attractive for teenage girls. You can also make bottle vase hangings with macramé like you can see over here. They not only serve the purpose of holding the bottles but also look amazingly creative and gorgeous.
One of my personal favorite ideas of these is a macramé hanging basket perfect for your washroom, trust me, it's amazing and can be of great help in terms of storage and holding basic items for a washroom. You can also make a wall hanging with macramé like you can witness a gorgeous pink macramé wall hanging here which truly decorates the whole wall.
Next, is a knotted chevron necklace made with macramé by following some very easy steps? Why not make a macramé handbag? Here is an easy technique of making a trendy bad made with macramé. It's a lightweight handy bag that can casually carry anywhere. Besides all this tree are several other pictures of the same ideas that we have already discussed over here like macramé wall hangings, macramé plant hangers, etc.
Let's transform your house this time with a little touch of macramé and impress every macramé fan out there.
Macrame Hummingbird Feeder

: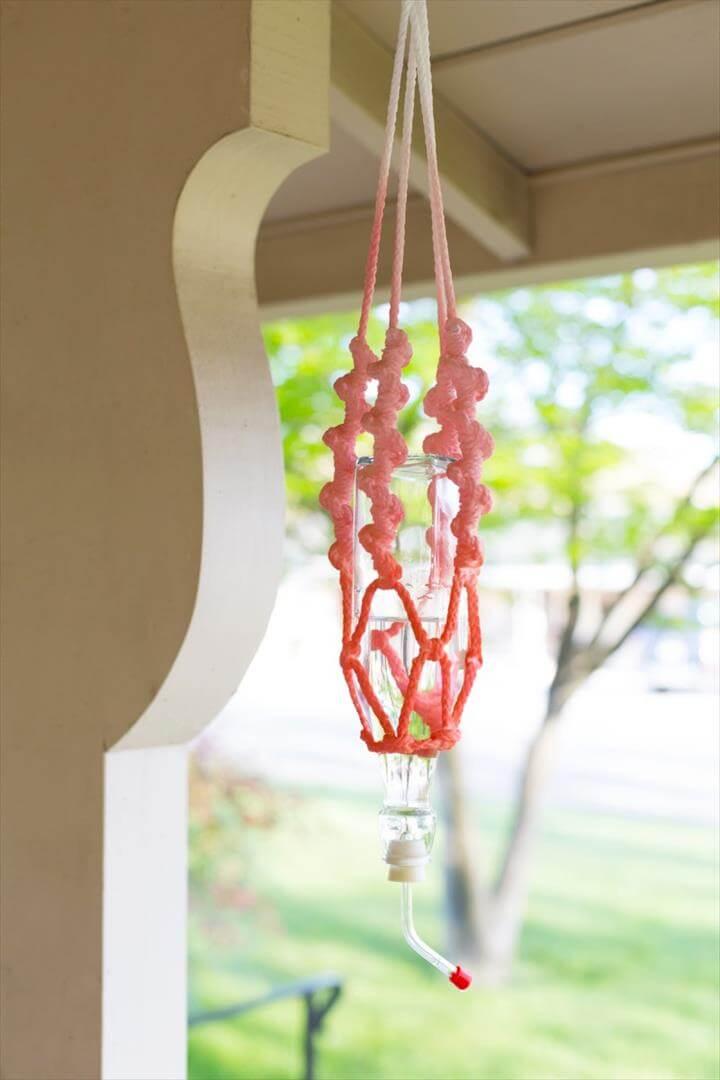 Planning to install a bird feeder in your spaces? If yes then do it in style with this gorgeous macramé hummingbird feeder. With some rope and fun knot tying, you can easily make this lovely macramé hummingbird feeder. The best thing is that the macramé has been painted in peach ombre to look super decorative for your porch.
Image: lovelyindeed
Anthropologie Dip-Dyed Necklace: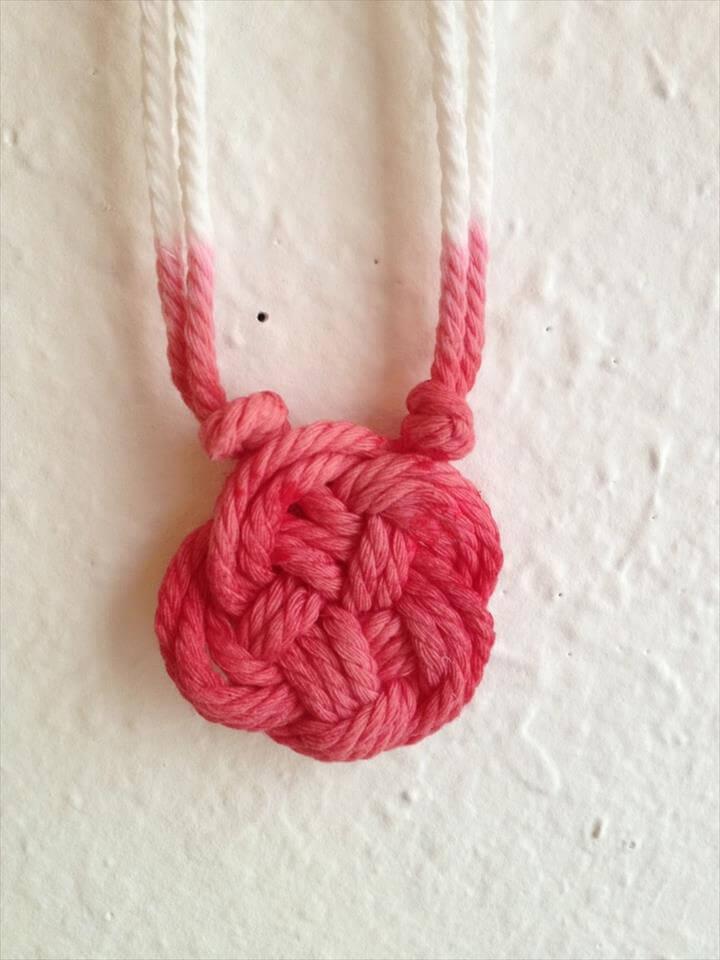 Give your summer fashion a little more boho appeal with this anthropology dip-dyed necklace. Using white rope and tying a few knots in the macramé style you can easily make this pretty necklace. To make it look fancy just dip dye it in your favorite colors to look just so cute and fun. Check out the details here!
Image: encouragefashion
Macrame Bottle Vase Hanging: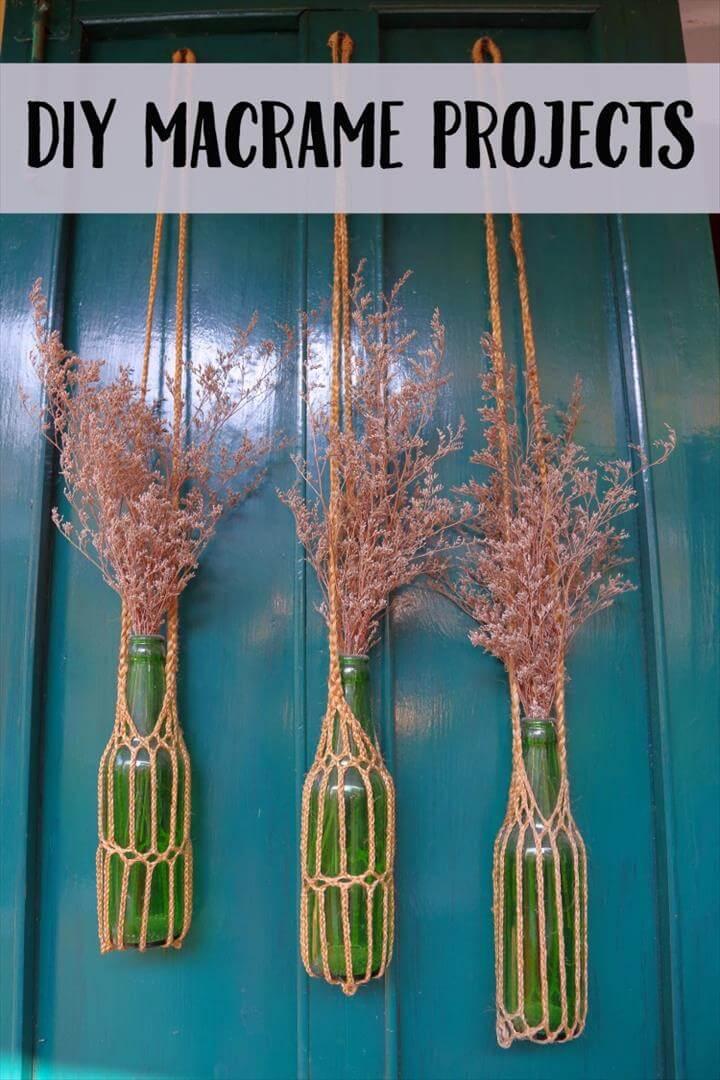 You can make the best use of your macramé skills by adding oodles of charm to your décor with pretty macramé projects. Here is this lovely idea of macramé bottle vase hanging to get your hands on. Yes, the gorgeous macramé holders hold the vases and have been hung over the doors to replace the wreaths so beautifully.
Image: pinkheelspinktruck
Macrame Hanging Basket: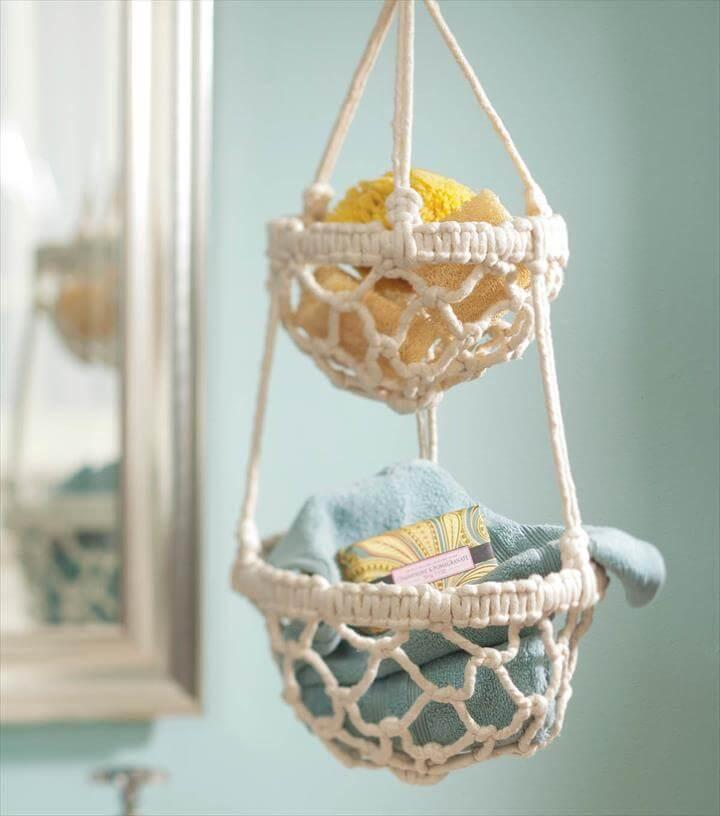 A hanging pot looks all the way more beautiful and decorative than the simple pots resting on the tabletops. So here is this lovely planter basket adding oozes of décor to your places by nicely hanging in a macramé. Even the beginner can make this lovely hanging basket with a rope and some knot tying tricks. Details here!
Image: twelveonmain, joann
Macrame Hot Pink Wall Hanging

: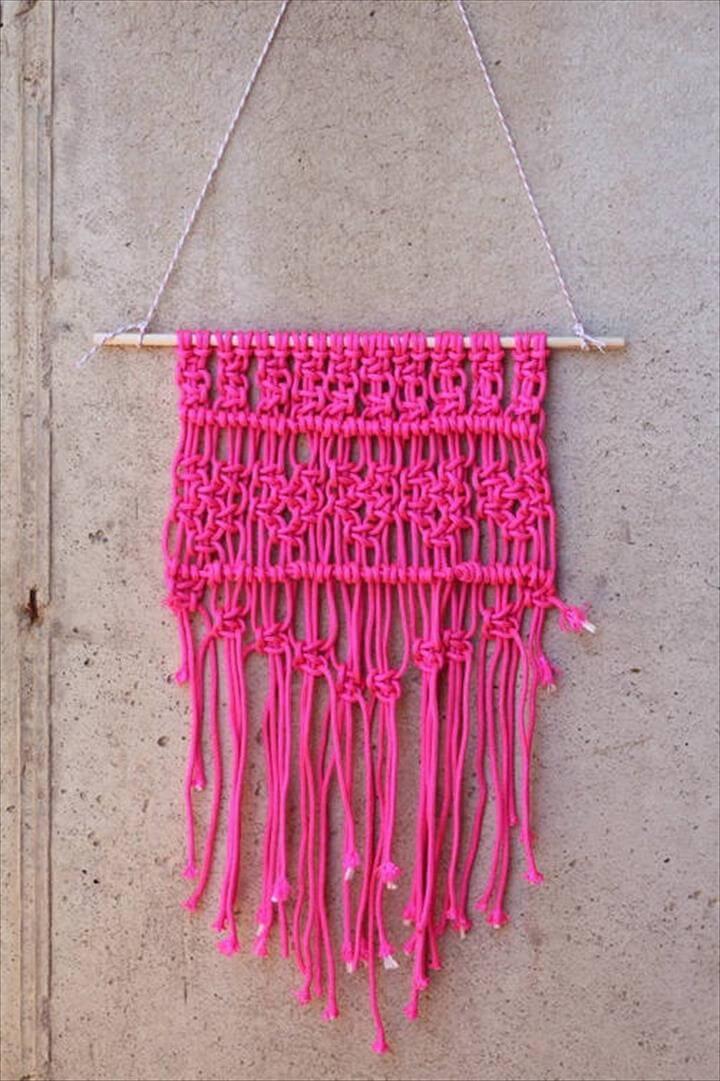 Make this gorgeous macramé hot pink wall hanging to bring some bold and beautiful vibes in your summer home. So get your hands on the paracord in pink and the wooden dowel to work up this pretty wall hanging. Using the rows of square and double half hitch knots you can easily create this fun macramé wall hanging.
Image: craftsunleashed
Macrame Hanging Wall Pattern

: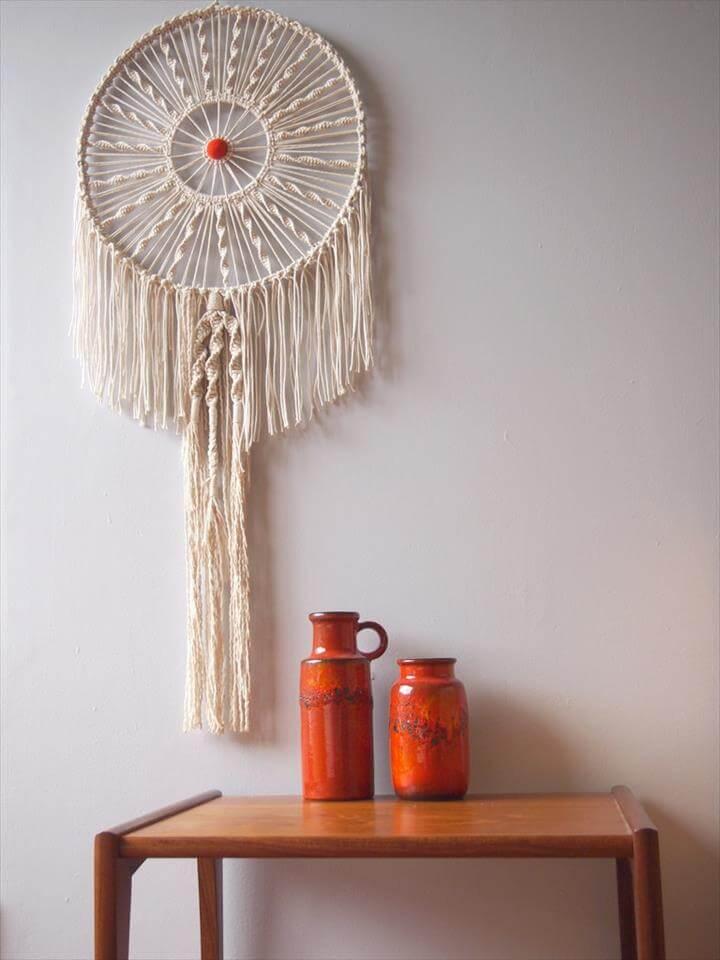 You can make this gorgeous macramé hanging to use as the perfect summer dream catcher for your spaces. A gorgeous round macramé art piece has been created using an embroidery hoop. The hanging strings under the round part complete this lovely wall macramé hanging. The white color of the yarn makes it look dainty. Learn all its details right here!
Image: apairandasparediy
Knotted Chevron Necklace: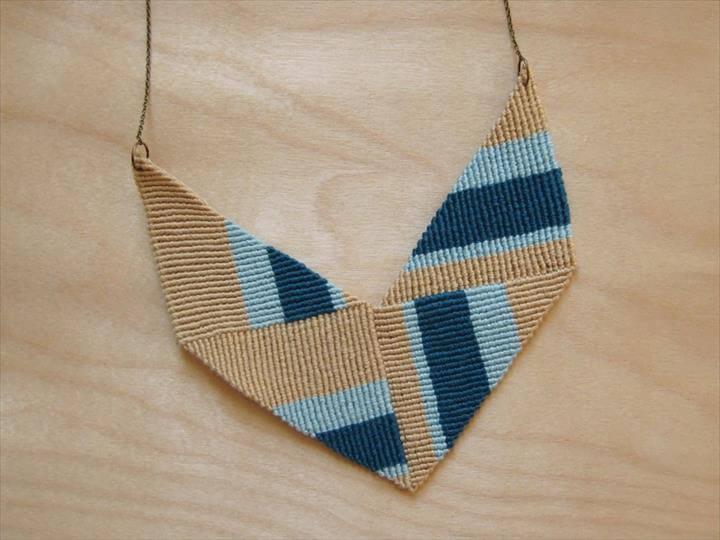 Bring some dazzle to your jewelry collections with this petty knotted chevron necklace. The lovely knotted chevron necklace is made with the thin yarn of two colors and that too using the half hitch knot. The arrangement of the knots is a little different in this necklace than other macramé projects. This necklace would make a great gift idea. Learn more here!
Image: howdidyoumakethis
Yoga Mat Strap

: Macrame Strap Bag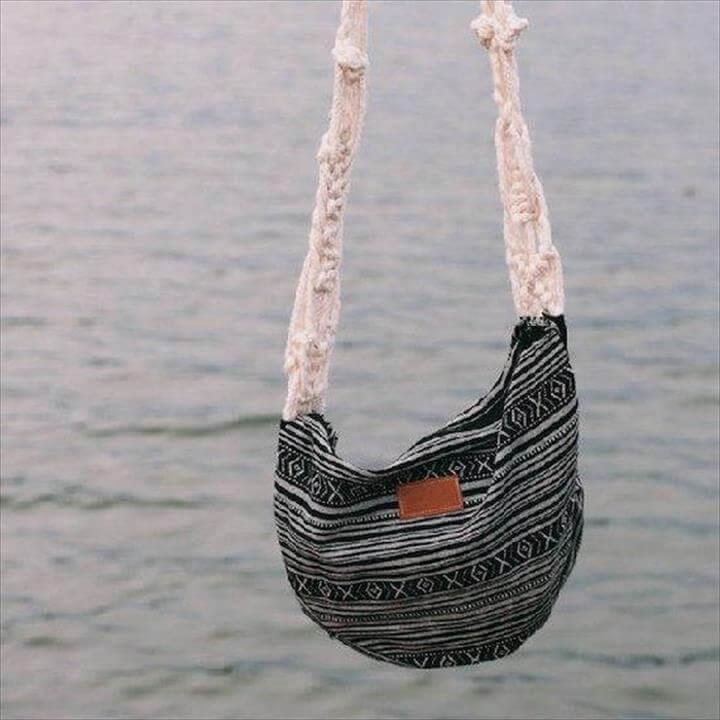 Making bags at home is the best thing to customize your bag fashion especially for the summer. So if you make a cute fabric at home then add more handy appeal to it by creating the bag strap in macramé style. Yes, grab some white rope and start with the easy macramé skills of tying the knots to create the pretty strap for the bag. Details here!
Image: alwaysrooney
Macrame Plant Hanger Blue

: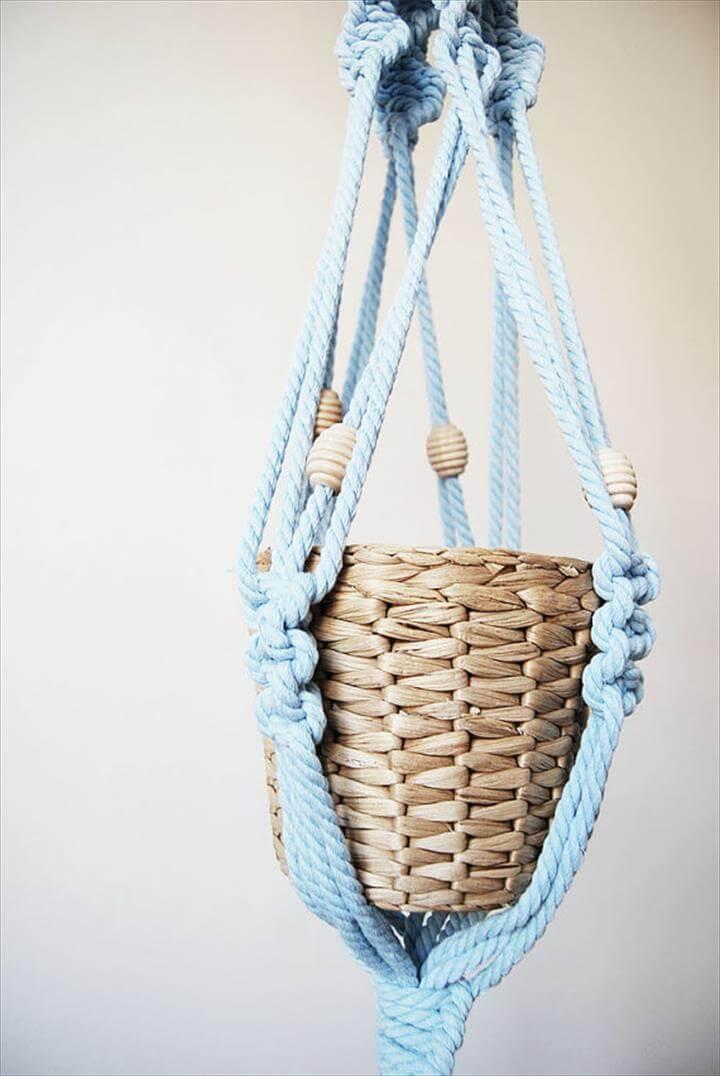 Blue is the color of the summer season so if you want to add some blue in your summer home then make this pretty blue macramé plant hanger. The pretty plant hanger is easy to make with blue rope and some wooden beads. If you do not get the blue rope you can take white and dye it blue too. Details here!
Image: theedit.com.au
Macrame Dreamer

: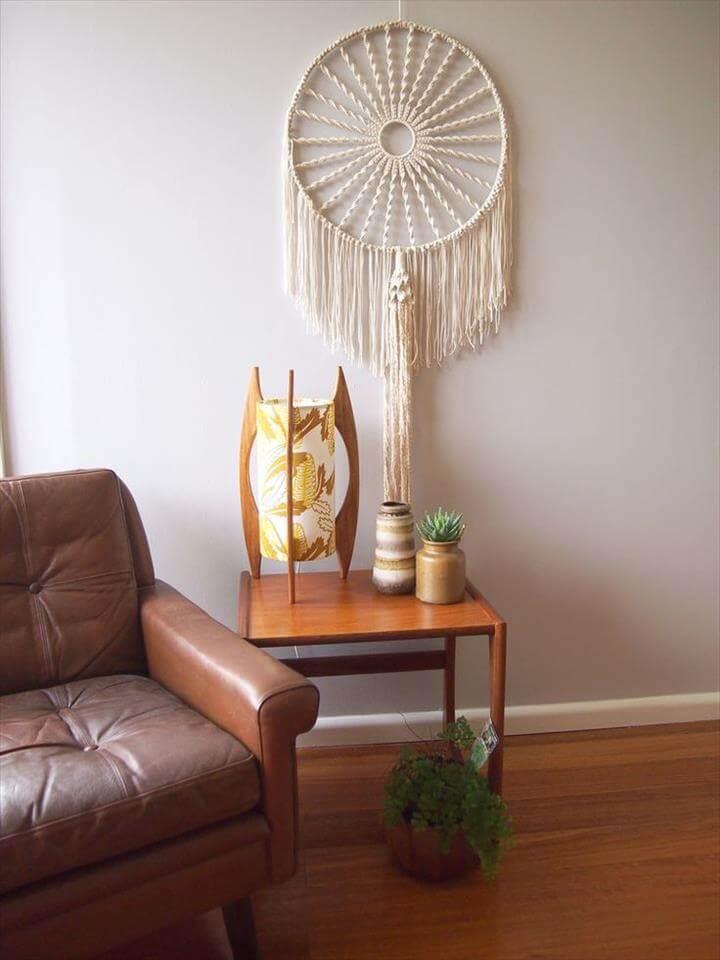 Make your summer home look more pretty and styled up with this adorable macramé dream catcher hanging proudly over your walls. The pretty macramé dreamer is made out of the white yarn and the embroidery hooks with moderate macramé skills. This is a perfect piece to bring chic and boho vibes in your spaces.
Image: apairandasparediy
Orchid Dyed Macrame Planter

: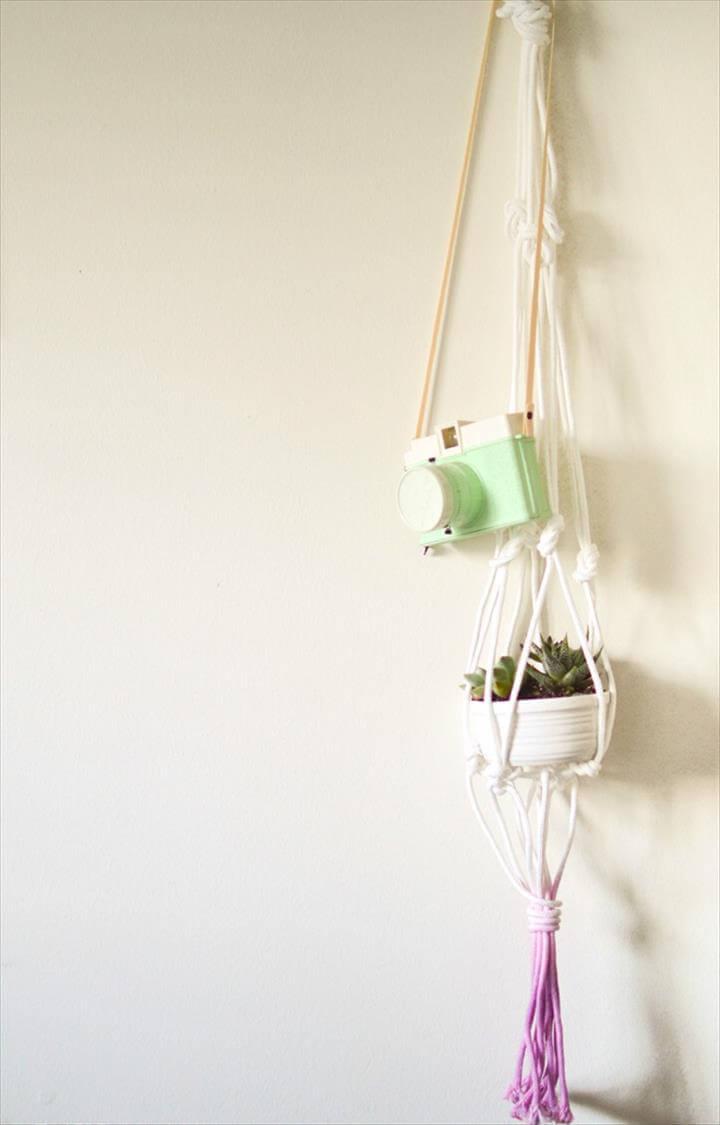 Bring more chic and elegant décor vibes to your home décor with this orchid dyed macramé planter. The gorgeous white planter is made to hang in a white rope made macramé planter holder. The eye-catching factor of this macramé planter is the bottom tassel having been dyed in purple to add a little pop up of color.
Image: vintagerevivals
Macrame Wall Hanging

: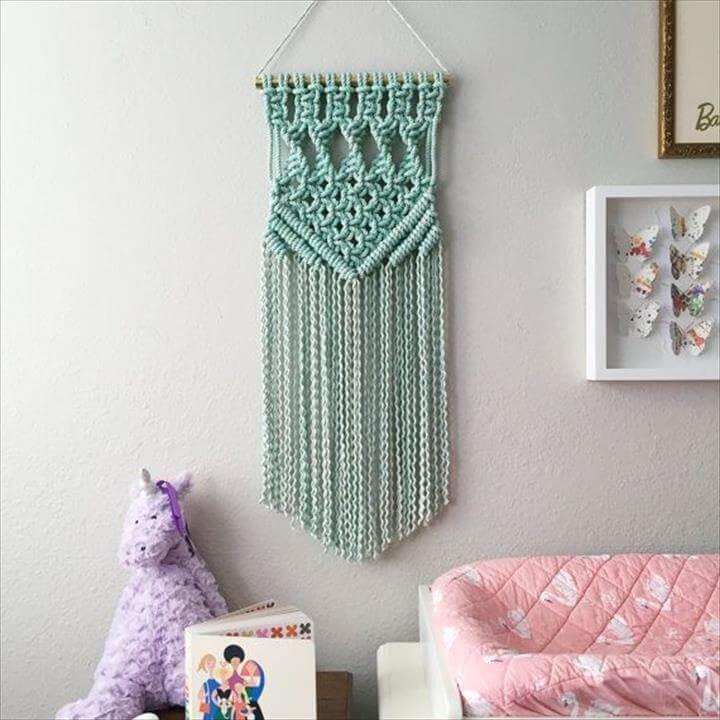 A touch of the vintage beauty to your modern home is going to really jazz up the beauty and style of your spaces. So grab some pretty yarn and work up your macramé skills to make this pretty wall hanging. The green yarn and the easy knot tying macramé technique is really going to make you this pretty wall hanging.
Image: notonthehighstreet
Scandinavian Style Knotted Trived: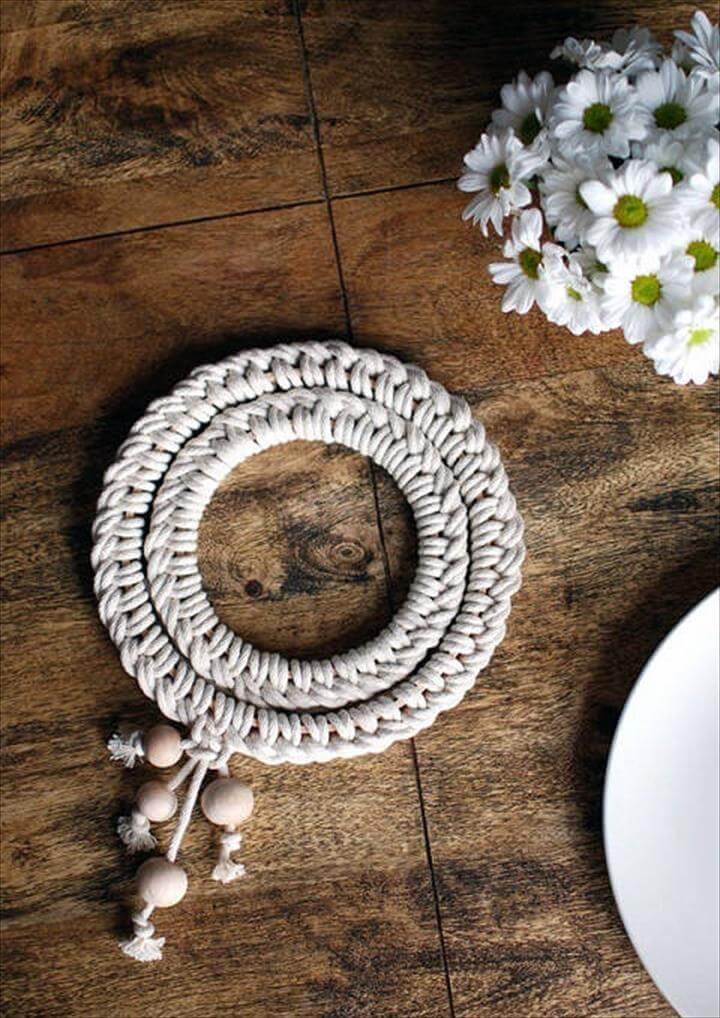 This Scandinavian styled knotted trivet looks just absolutely aesthetic and decorative. You would need two embroidery hoop, white rope, and the wooden beads to work up this gorgeous trivet to use in your kitchen and the dining. Using only two simple knots of the macramé you can easily work up this trivet. Details here!
Image: we-are-scout
Macramé Wall Hanging Pattern: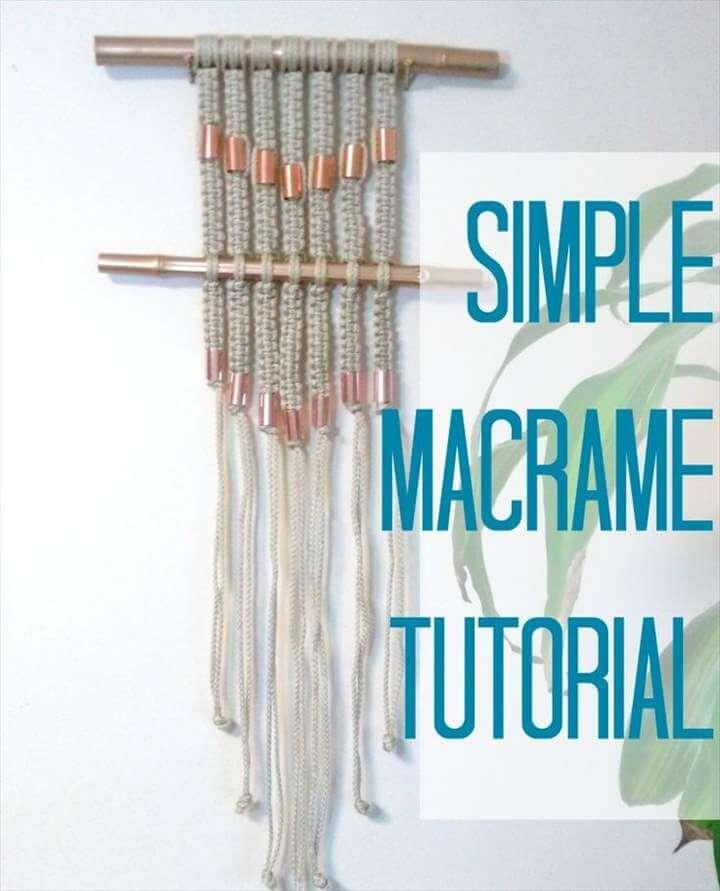 If you want to bring some extraordinary appeal to your walls then make this lovely macramé wall hanging. This shabby chic macramé wall hanging is made out of the copper pipes and the white rope to look just absolutely gorgeous and fun. Hang it over your living room tables, foyer tables, and bring some really cool vibes to your spaces.
Image: abeautifulmess
Macrame Curtain: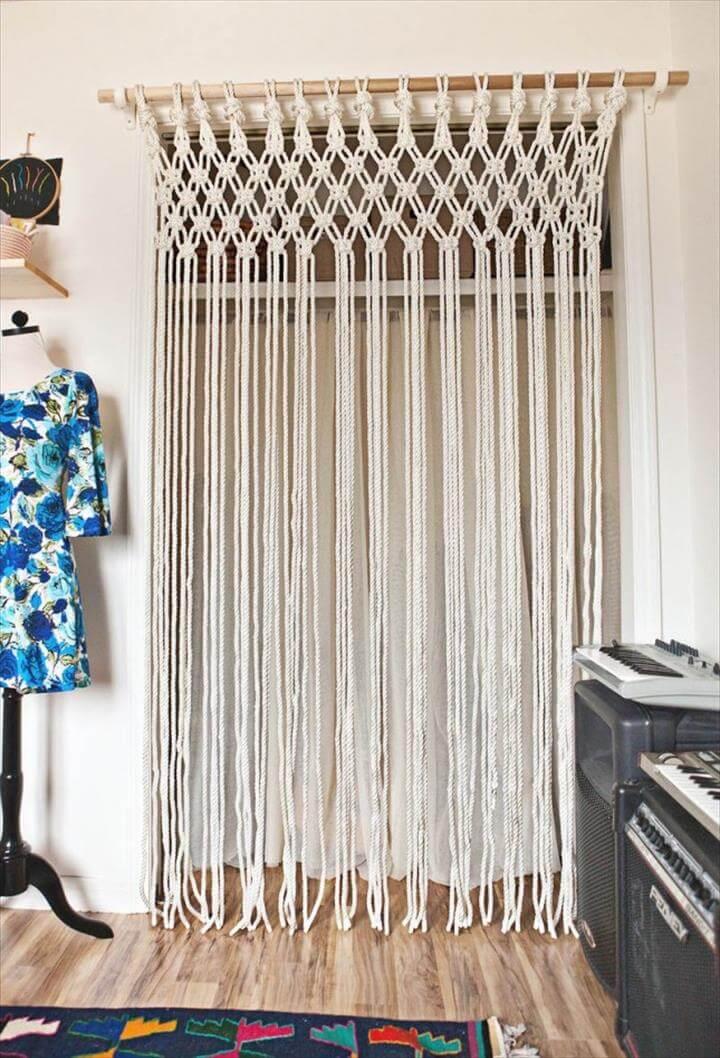 If there is some need of the curtains in any area of the house then make this lovely macramé curtain to fill your needs in style. Use a fabric curtain and then add this pretty macramé rope curtain ahead of it and let your spaces look so accent and elegant.  So grab a lot of white rope and the wooden dowel to work up this macramé curtain via knot tying.
Image: abeautifulmess
Project Lamp: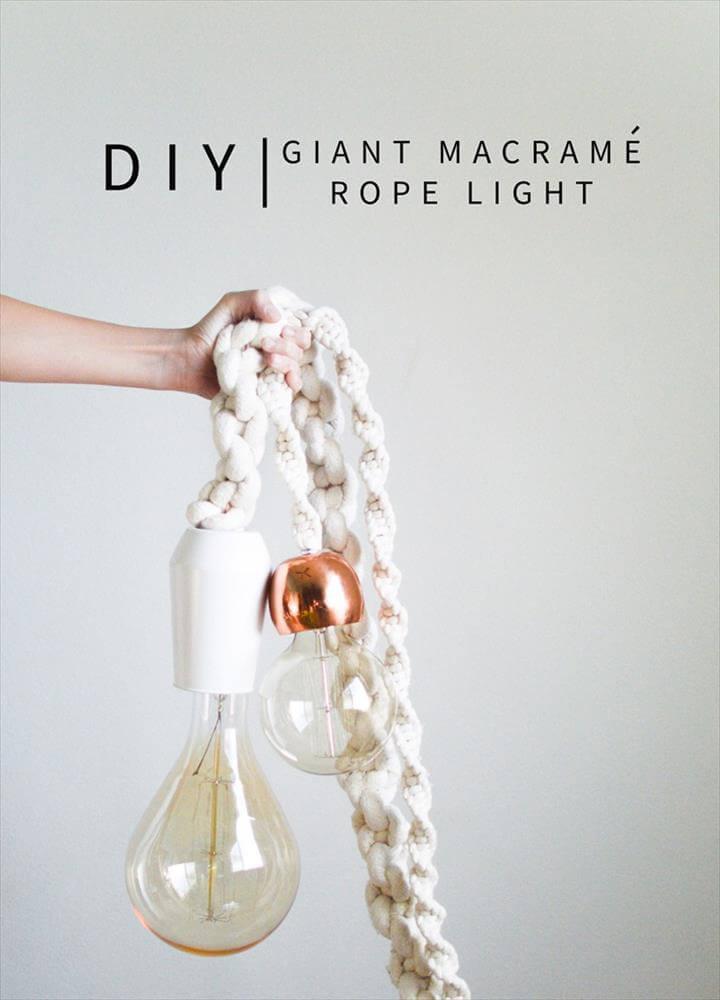 Need to install a lamp in your spaces? How about giving your lamp project a twist with the macramé rope? Yes, you can use a gorgeous white hanging rope to hang this lovely lamp in your spaces. This way you are going to get a stylish source of light for any of your spaces. Check out the easy and fun details of the idea here!
Image: rennes.us
Knotted Macrame Bottle Vase

: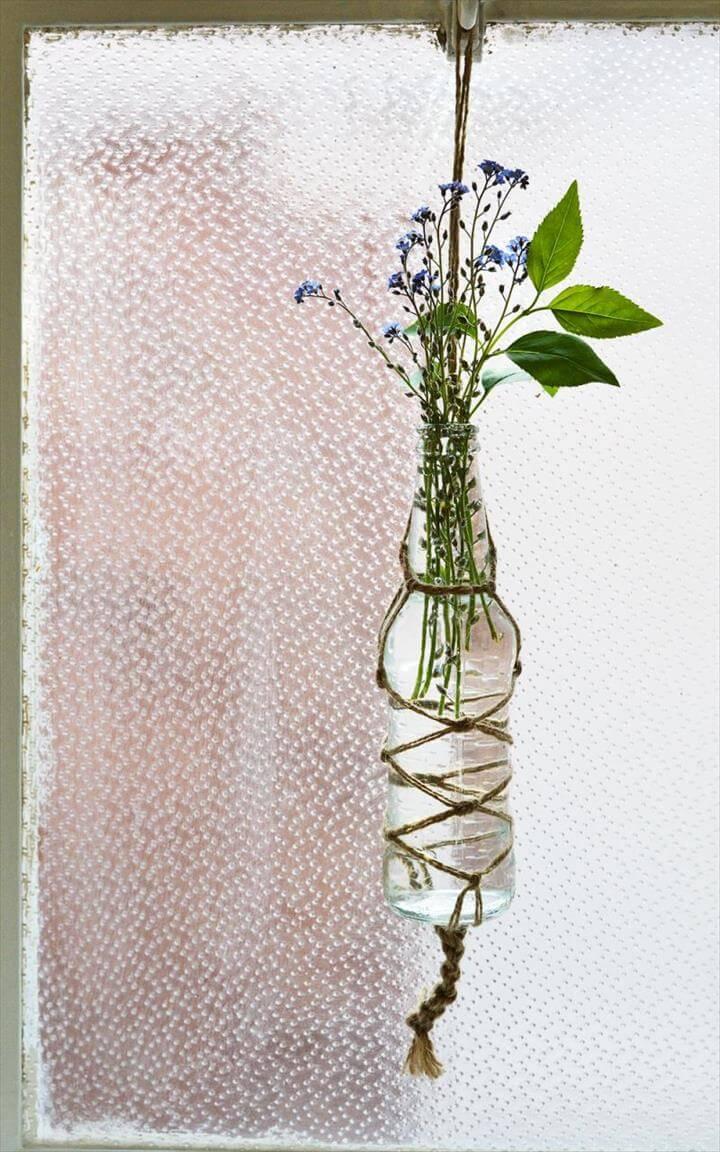 A simple bottle vase can be made to look super chic and spiced up with a macramé holder. Yes, if you have recycled the old bottles into the pretty vases then adding the knotted macramé would really jazz up their decorative value. So grab some rope or yarn and you can make the perfect macramé bottle holder using simple knots.
Image: craftingfingers.co.uk
Giant Macramé Rope Lights: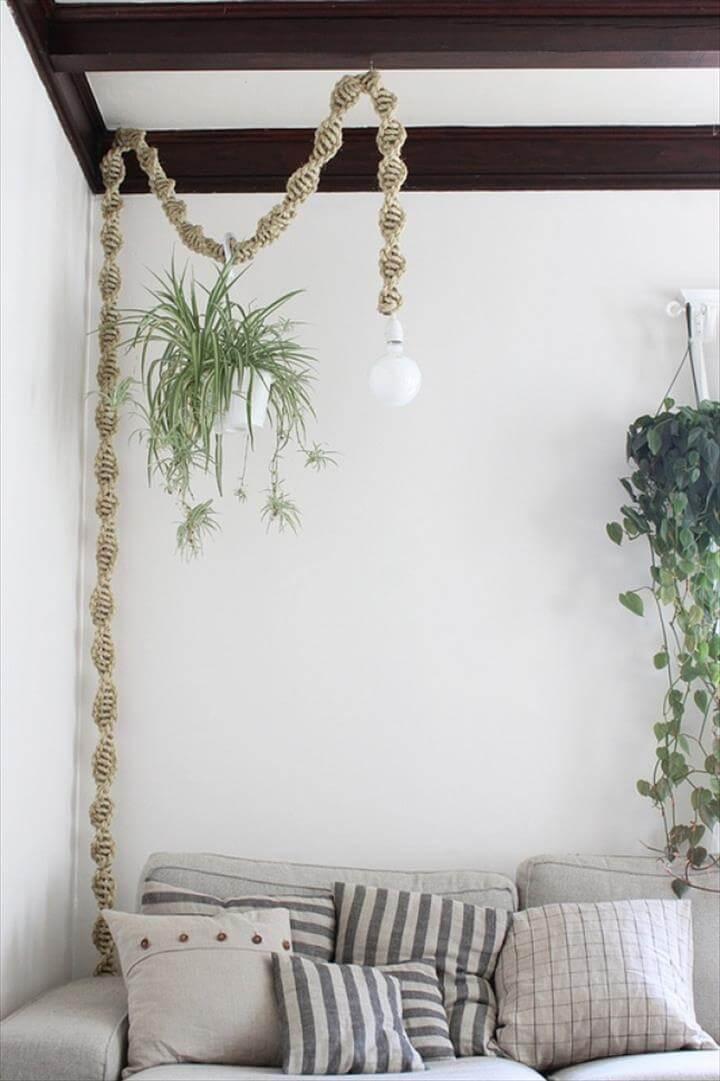 Want to make your spaces look elegant yet chic and cool? Then get your hands on this giant macramé rope lights idea and make your modern home look a little boho and fun. The giant bulbs have been adorned with pretty rope support to be super decorative and stylish for your spaces. Follow the details of the idea here!
Image: vintagerevivals
Macrame Fringe Table Runner: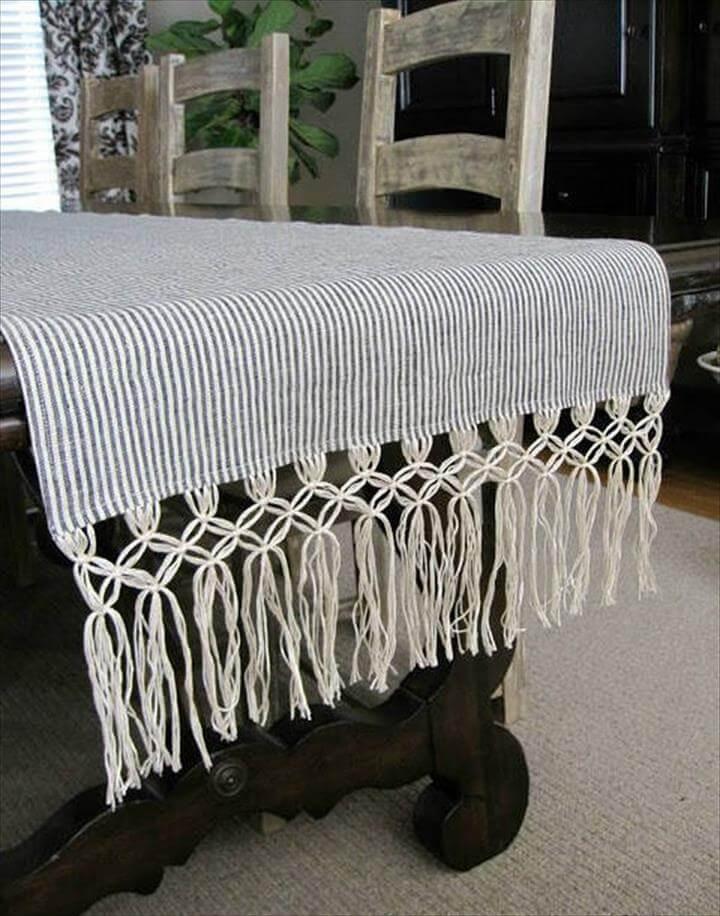 Bring some vintage beauty appeal to your modern dining table with this lovely macramé fringe table runner. So grab some white yarn and with simple knotting, you can create a pretty pattern at both edges of the table runner. The pattern is ended with the pretty fringes to look more interesting and fun. Details here!
Image: drivenbydecor
Wonderful DIY Cute Macrame Owl

: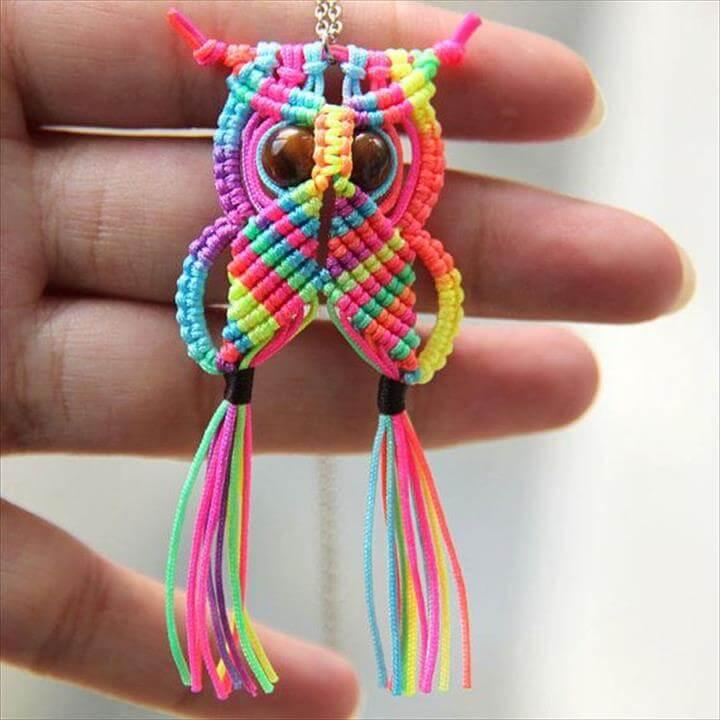 Now you can create your favorite animal shapes out of the macramé technique too. So grab some colorful embroidery floss and some beads to shape up this lovely owl with the thin and small knots. You can use this lovely macramé owl to have a charm for your car, keyring and so much more. Follow the details here!
Image: free-macrame-patterns