Rainbow is surely something that attracts every being and gives a warm feeling every time we see it. It always gives relaxation to see the rainbow colors as they are all so cool and attractive. It's a great idea to make crafts with a rainbow theme. Your kids will love these 25 rainbow crafts to make in rainy seasons.
The first project that we have here is the cake pops that you can see over here made with rainbow colors, and they surely look exclusive and impressive. When you want to make candles, do not forget to make them with crayons of rainbow colors, and you will realize how miraculous this thing can be. The next project that we share with you is an artistic masterpiece done based on abstract art, which consumes colorful crayons, and the project has been completed with the help of a hairdryer. Try painting rainbow colors on the shoe sole and make them look funky and unique. This project shows how you paint the sidewalk in rainbow colors with spray paints. Try doing some jewelry crafting with the rainbow theme by making a bubble gum necklace. The next project is wands made with rainbow color ribbons, and they are absolutely adorable and exciting. Try making some book covers also with the same theme of rainbow colors. These book covers are unique and cultured, as you can witness in the pictures and the tutorials attached in the link below.
Here are some bracelets for you made with the rainbow color beads. Dahlia flowers have lately been the latest trend in decoration, so try making some of them with rainbow color scrap paper or chart paper. You can also make some key chains in different shapes and sizes with the rainbow theme. Magnets have also shown how they can be made with extreme creativity, and here are some DIY bottle cap rainbow magnets. If you plan for a birthday party or any other occasion, do not forget to make some rainbow wreaths to add some spark to the party. Some watercolors with the rainbow theme have been used in the next project to add sizzle to the plain old bag pack.
Rainbow colors are something that all of us get attracted to. We have decided to do some exciting projects related to the rainbow theme so that the rainbow colors can share their spark in other items.
The first project will grab your kids' attention as these are ruffle rainbow cake pops with beautiful rainbow colors and looks catchy and impressive. Look at this next project: crayon candles you can easily make at home with just a few crafts using the crayons of rainbow colors. This melted crayon project has been trendy these days, making it a part of this rainbow project list. This is super easy to do, and the end product is so cool and fun. What about adding some rainbow touch to your shoe collection? Try doing dome rainbow coloring to your shoe soles to make them look great and better than ever. Next, we have some chalk paint, including all the rainbow colors, and you can paint the sidewalk with these amazing rainbow colors to create a fascinating look. I think it's a good idea to add some color and starry look to your jewelry collection, so we have shared an idea to make a bubble gum necklace using all rainbow colors as per the theme of these projects.
The next project that we have here is fair wands made with ribbons of rainbow colors, as you can see over here.  Next, we have book covers made with the same theme and given beautiful rainbow colors. Also, try to make some leather rainbow bracelets and make your hands look striking with them. Do not forget to make some dahlia flowers using rainbow colors as they look stunning for decoration purposes at any party or occasion. Next, we have some bead key chains made with rainbow colors and rainbow shapes and look funky yet trendy. We should not ignore the project to make a pom pom wreath with the same theme as it looks so superb, and it's easy than any other wreath, as you can see in the tutorial attached with the picture in the link below. Next, we have a project that the kids will be more interested in, and it's a watercolor backpack that is only a typical backpack first and is then turned colorful using watercolors of the rainbow theme.
Here we come up with this time's most favorite activity that kids enjoy these days, and it's slime, so here we have shared a rainbow slime recipe with you and the tutorial and descriptions. Our next project is basically a rope basket that we have also shared in our previous articles, but the rope has been dyed with rainbow colors to make it like this, as you can see here in the picture. You can also make pillows with the same theme and enjoy this amazing creativity that too done by you only. Then we have some other rainbow projects with a combination of rainbow colors and crochet crafting. Here we also have some origami stars in the rainbow colors.
Try these rainbow projects, and you will definitely be amazed because rainbow colors can do wonders for so many projects.
1. Rainbow Craft for Window Display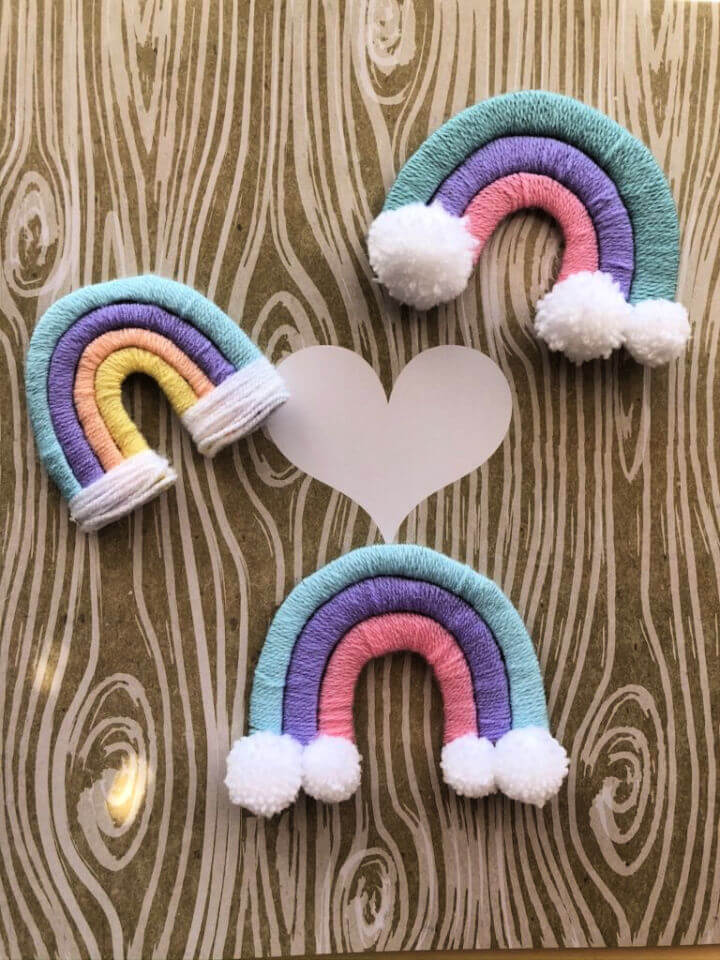 Rainbow crafts are trending everywhere for home decoration especially, in the spring season. Craft this versatile and charming window display or décor piece using your macrame skills. You can display it directly on the windows or with the curtains. Use DK weight yarn in different colors to make this rainbow macrame craft. Additionally, use cardboard for creating the structure. All you need to do is wrapping the cord over this rainbow frame to get your hands on this beautiful piece of art! tonirainbows
2. DIY Rainbow Bag Charm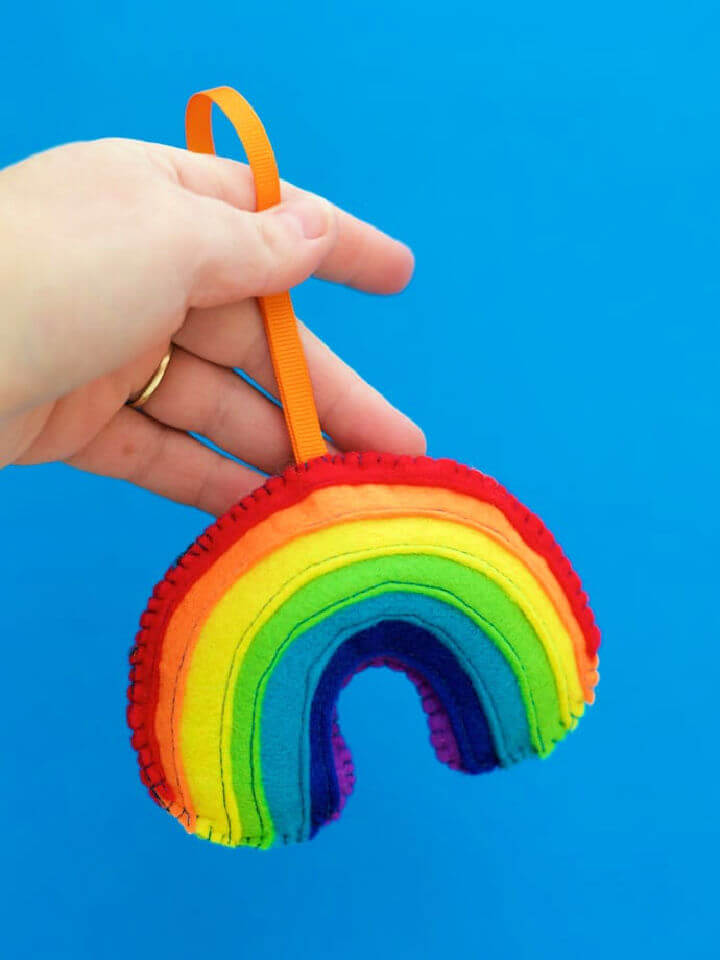 Children love the rainbow due to its attractive and charming colors. You can let your kids create this stylish and super adorable bag charm with leftover felt scrap. This craft is much pretty to excite and make your kids happy. Use the felt sheet in red, blue, orange, yellow, green, and dark purple colors with hobby filler to make this bag. You can help your kids to sew this bag! mypoppet
3. Paper Plate Rainbow for Preschooler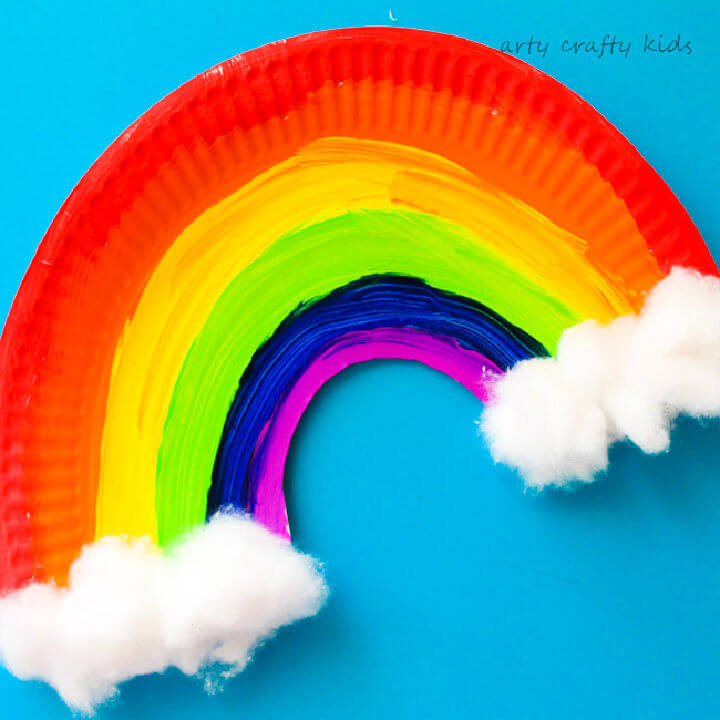 No doubt, children and elders get excited when seeing the rainbow in the sky. Now, you can make your own rainbow with recyclable food plates. Use a paper plate to make this rainbow craft to display on the windows or in your car. Moreover, paint the cut pieces of a plate with all rainbow colors. Give this craft a more realistic look with cotton wool on the edges. artycraftykids
4. Paper Rainbow Gift Box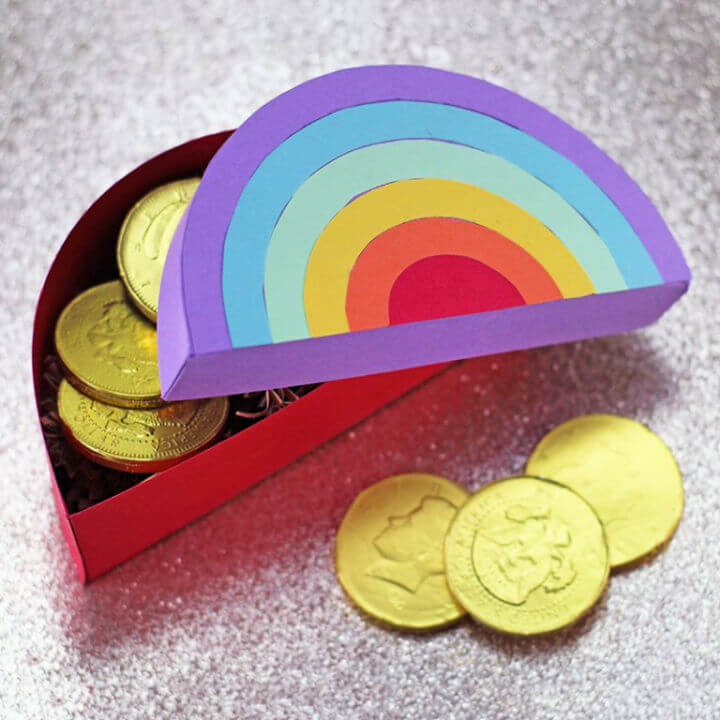 Wrap your gifts differently and lovably with this good-looking rainbow gift box. You can create this box by yourself instead of buying expensive wraps from stores. It would be the best choice to pack St. Patrick's Day and Christmas gifts. Additionally, you can utilize this box for the packaging of wedding favors. Use hard card stock for wrapping on a simple cardboard box and color it with all rainbow colors. essyjae
5. Paper Plate Sun And Rainbow Craft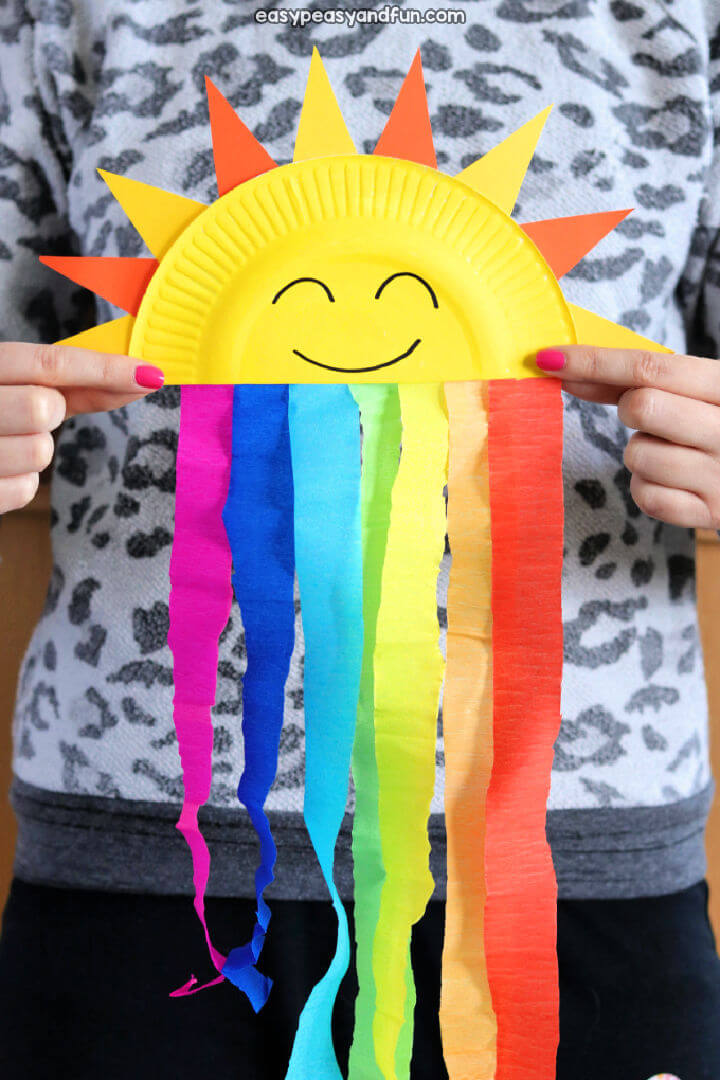 Welcome this spring season with this vibrant and charming rainbow plate. Excitingly! You can create this craft in no time and effort for your nursery décor. Kids can also work on this colorful activity for a color's day in school. Reuse and recycle scrap material to make this art. Teach your kids paper cutting, but if you want. Otherwise, you can do it yourself and ask the children only to glue them together. easypeasyandfun
Watch This Video: Rainbow Crafts (02 Minutes 14 Seconds)
6. Rainbow Rhinestone Pumpkin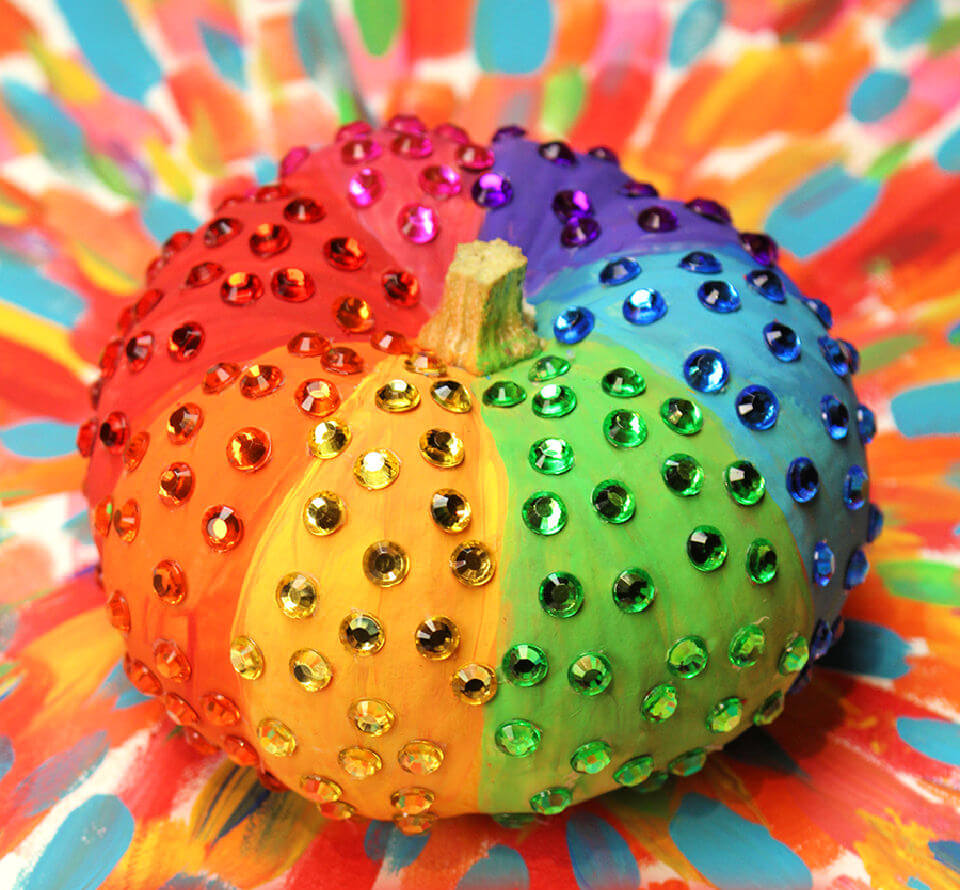 We all are familiar with pumpkin décor for Halloween celebrations. Now, we need to decorate our home for this night uniquely and stylishly. Craft this wonderful and magical pumpkin décor effortlessly. You can use the rhinestones from your craft supplies and beautiful paint colors to create this art. Instead of using the real pumpkin, you can go with faux pumpkin. In this way, you can use this artificial pumpkin décor again and again. theswelldesign
7. Paper Strip Rainbows in 10 Minutes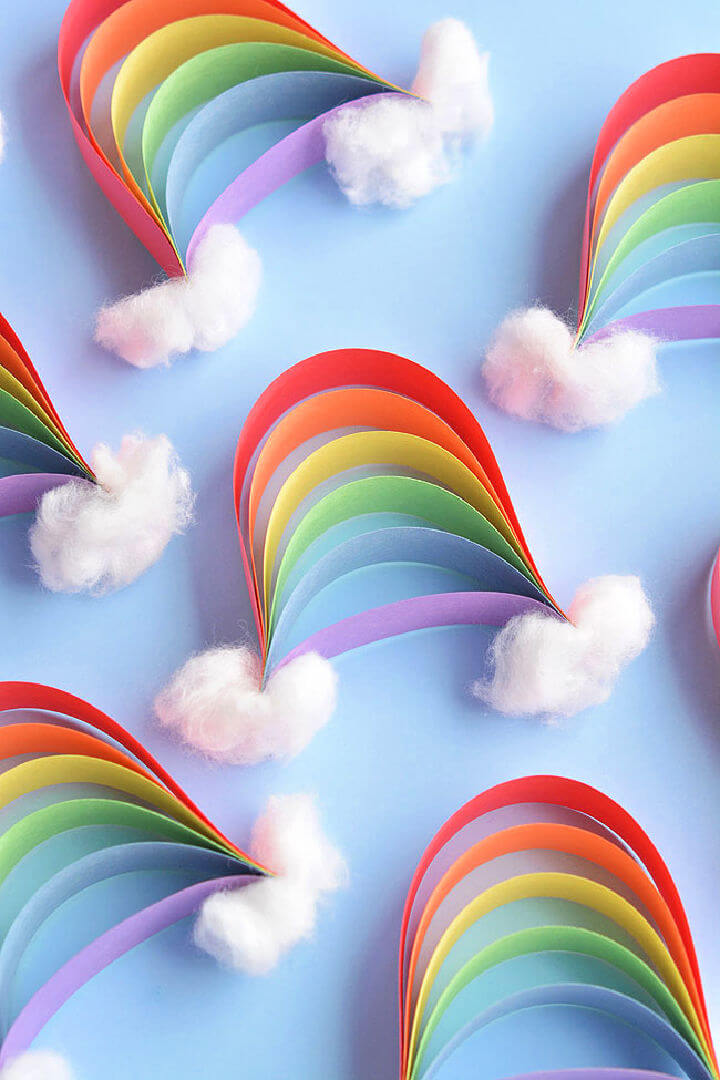 Crafting the rainbows with colorful paper is full of fun and excitement. Kids would love to work on this DIY rainbow craft idea. Luckily! You don't require too many supplies to make this new style of décor. Reuse your construction papers to work on this 10-minute craft. Use the stapler to pin up all the papers in a rainbow shape efficiently. onelittleproject
8. DIY Rainbow Craft for Toddlers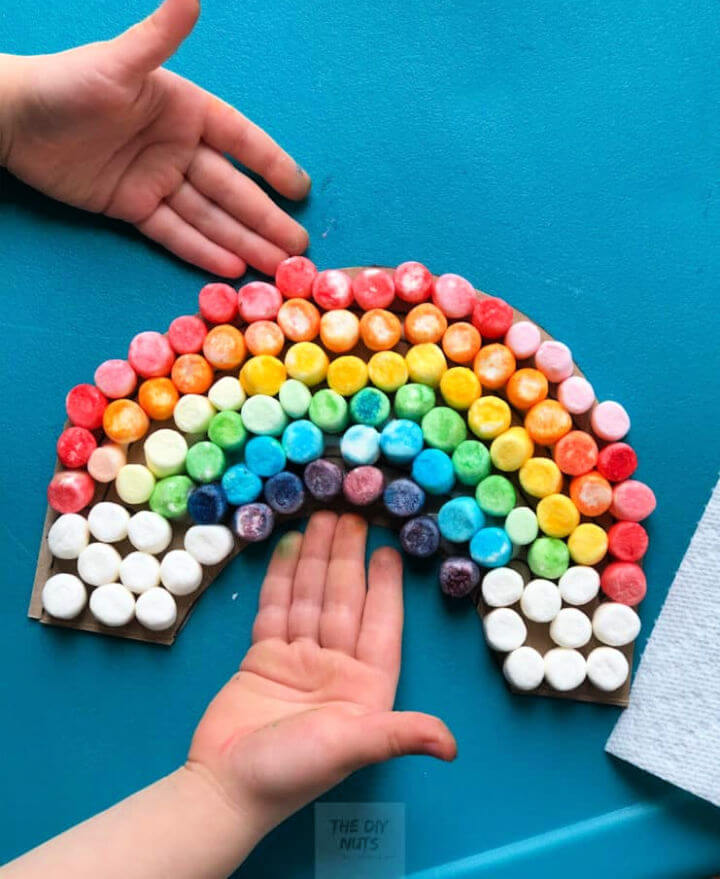 If you are looking for an easy and quick DIY craft for your kids, nothing would better than creating rainbow art using marshmallows. Kids already love eating marshmallows. But they can also use them for creative activities. Provide your kids with marshmallows, food colors, and curve cardboard to make this rainbow. If you are using colored marshmallows, there is no need for food coloring. Let your kids arrange puffs on the board and stick them with glue. thediynuts
9. Rainbow Tissue Paper Craft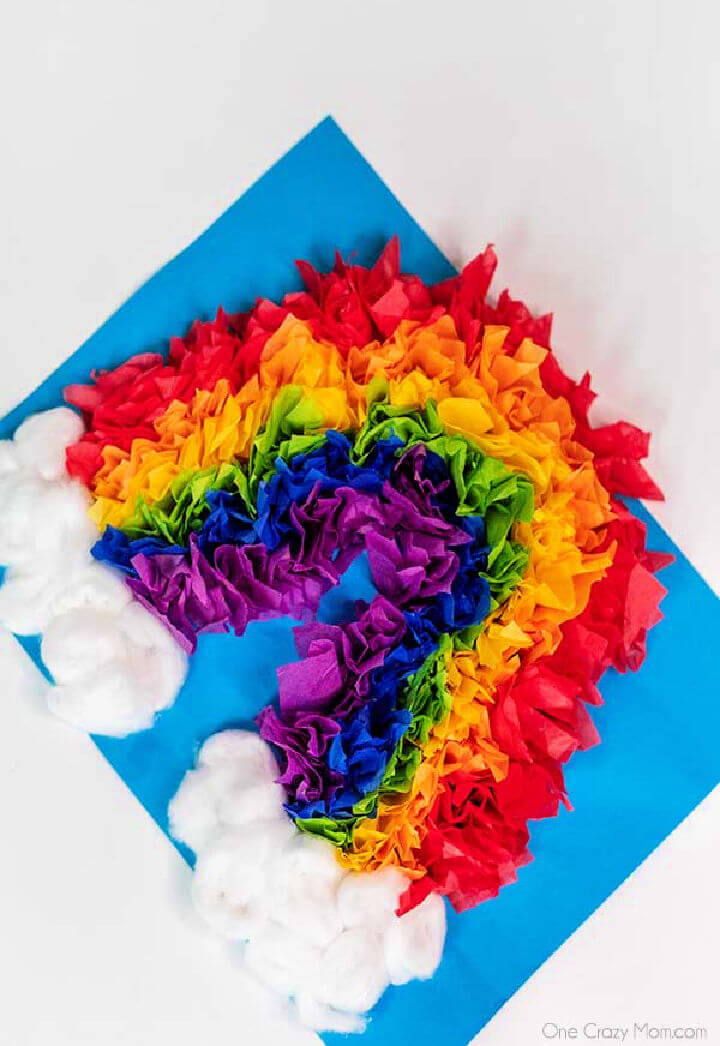 Want to engage your kids in a creative indoor activity? They would love and have fun working on this full of colors craft. Create this super cute and fancy rainbow art using colorful tissue paper and kraft paper. Not only to entertain your kids, but you can also teach them colors name by involving in this activity. They would enjoy making this tissue paper rainbow and learning creatively. onecrazymom
10. Cupcake Liner Pot of Gold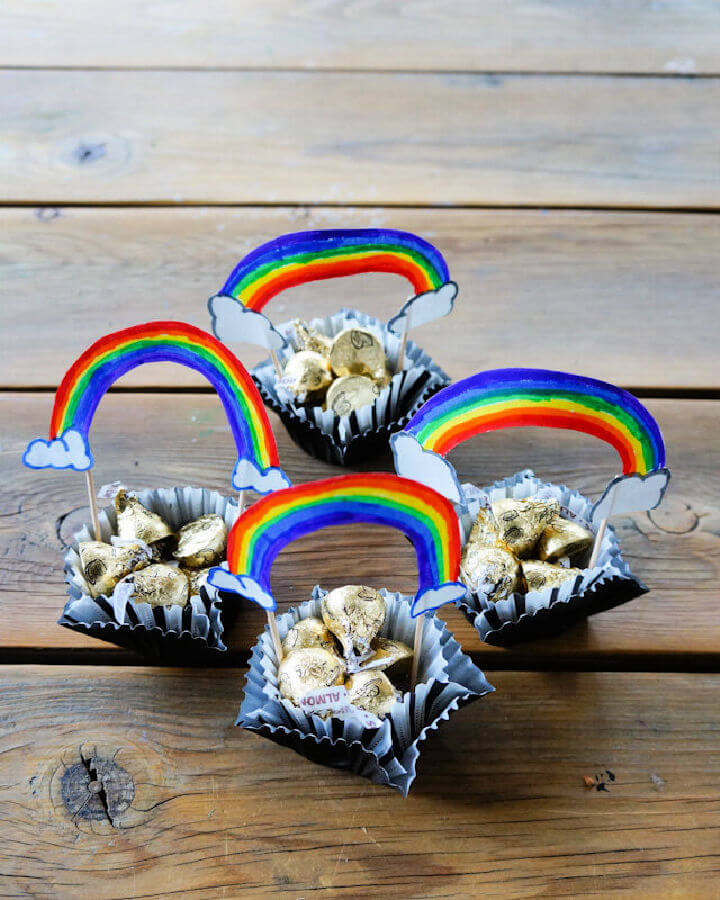 Pack your wedding and birthday favors in a new way with these rainbow cupcake liners. You don't need to buy ready-made favor boxes expensively.  Create your own decor and favor packs innovatively and budget-friendly. These cupcake liners can also consider for the birthday table décor. A construction paper, a bag of cupcake liners, color markers, and toothpicks are all supplies to work on this easy and fun-loving art activity. Craft them and give your event's décor a personal touch with these rainbow cupcake liners. allabouthope
11. DIY Rainbow Popsicle Stick Wreath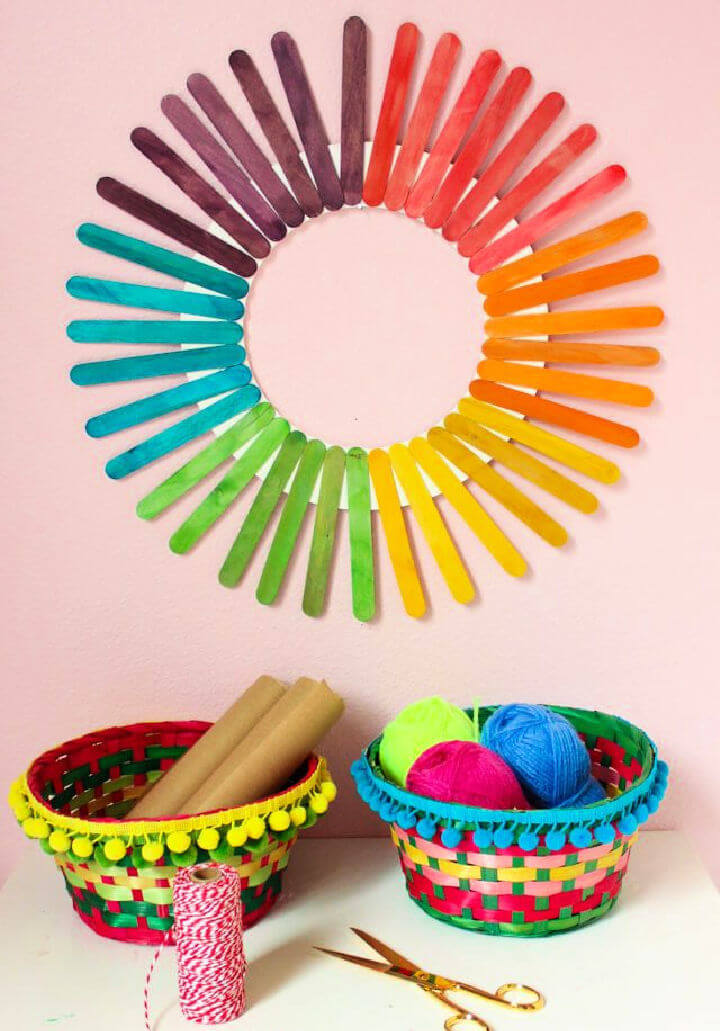 If you are looking for rainbow statement décor for your room and living area, this popsicle stick wreath is the most adorable option to consider. The best thing is that you can make this craft in no time and effort with minimal supplies. Additionally, you can hang this wreath in your room separately or in a mirror. You would love it in both ways. Use a woodcraft ring to complete your popsicle garland effortlessly and efficiently. designimprovised
12. Pipe Cleaner Rainbow for Kids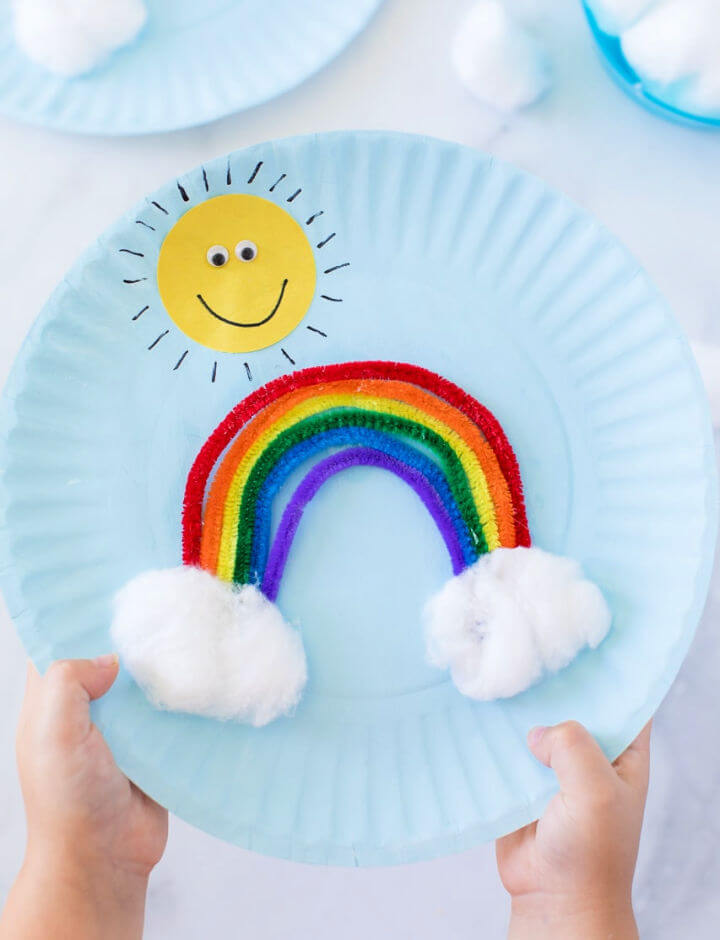 While using the pipe cleaner for the rainbow craft, you don't need to do anything extra because of its color and party cracker appearance. This tiny and yet full of entertainment craft is all about kids. Provide them with a paper plate, pipe cleaners, cotton, and glue to make this easy décor art. Give this rainbow art a complete spring look by creating a Sun with google eyes on the plate top. madetobeamom
13. St Patrick's Day Rainbow Windsock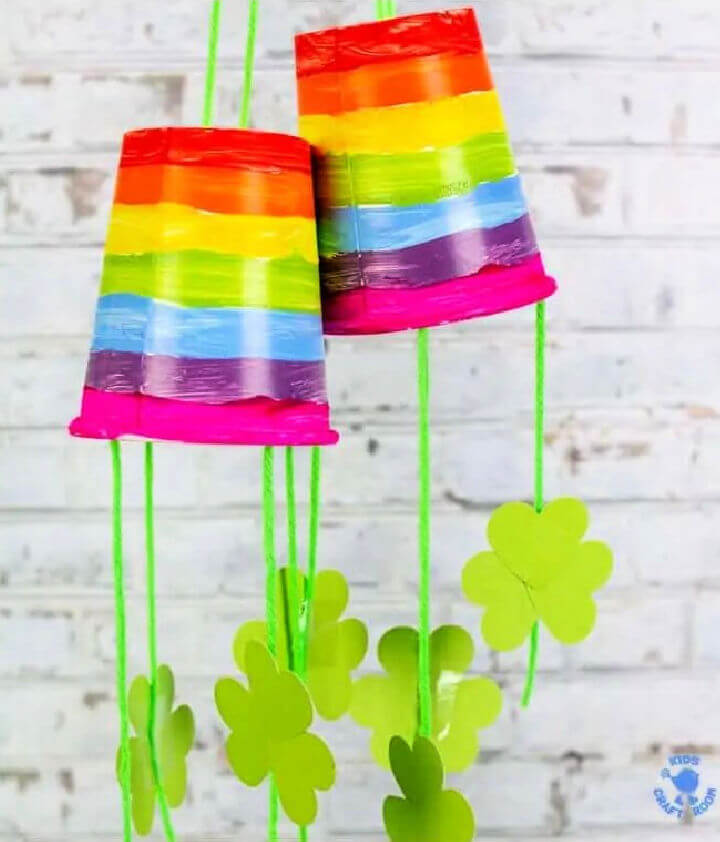 Let your kids add their craft skills to their room decoration for St. Patrick's Day celebration. This rainbow color windsock with a paper cup would be the most entertaining craft activity for the kids. They would love to paint the cup with their favorite colors and making the flowers dangling for it. Instead of painting the cup directly, kids can also paint it on paper and then glue them on the cup. kidscraftroom
14. Felt Rainbow Cloud Pen Topper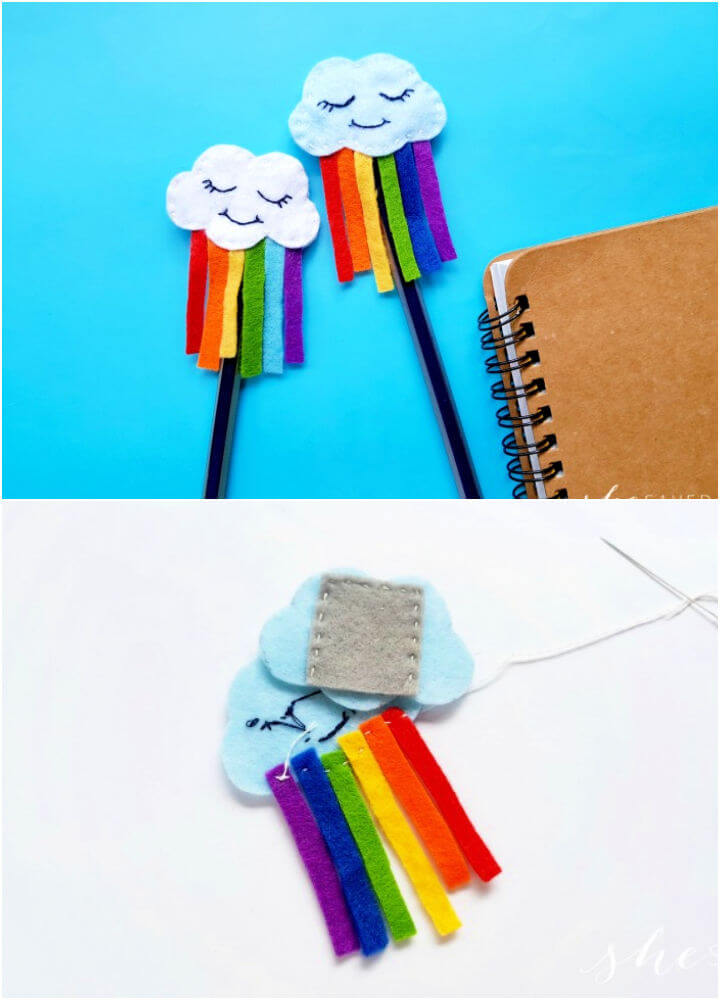 Have you ever seen anything cuter than this felt rainbow cloud pen topper? If not, it's the right time to create it and surprise your kids on their first day at school. Kids can also work on this craft if you provide them with felt fabric, felt markers, and a needle for sewing it.  Keep in mind, don't involve the kids while sewing this patterned pen topper. Give this rainbow craft a more versatile look with a free printable. shesaved
15. Cereal Box Leprechaun Trap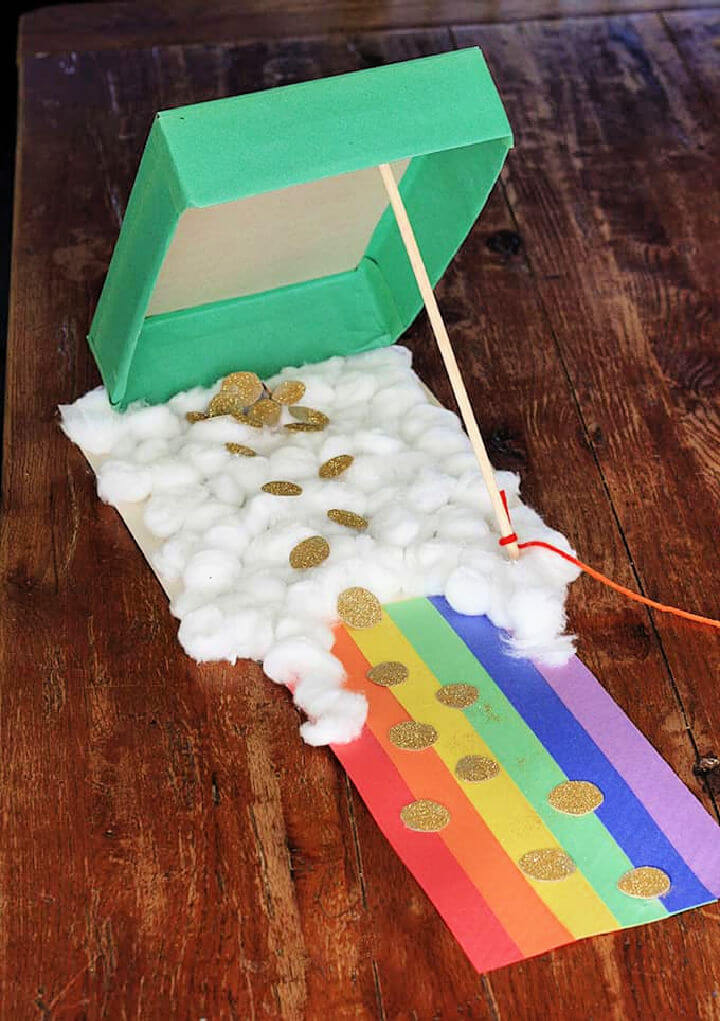 Well, it's challenging to trap the Leprechauns, but you can try it with this colorful rainbow trap using a cereal box. You would love crafting and trapping these super quick Dwarves with your kids. Not only at home, but teachers can also engage their students exceptionally in this activity. Use colorful construction paper, gold glitters, cotton balls, and a wood stick with a cereal box to make this Leprechauns trap. craftsbyamanda
16. DIY Rainbow Plant Picks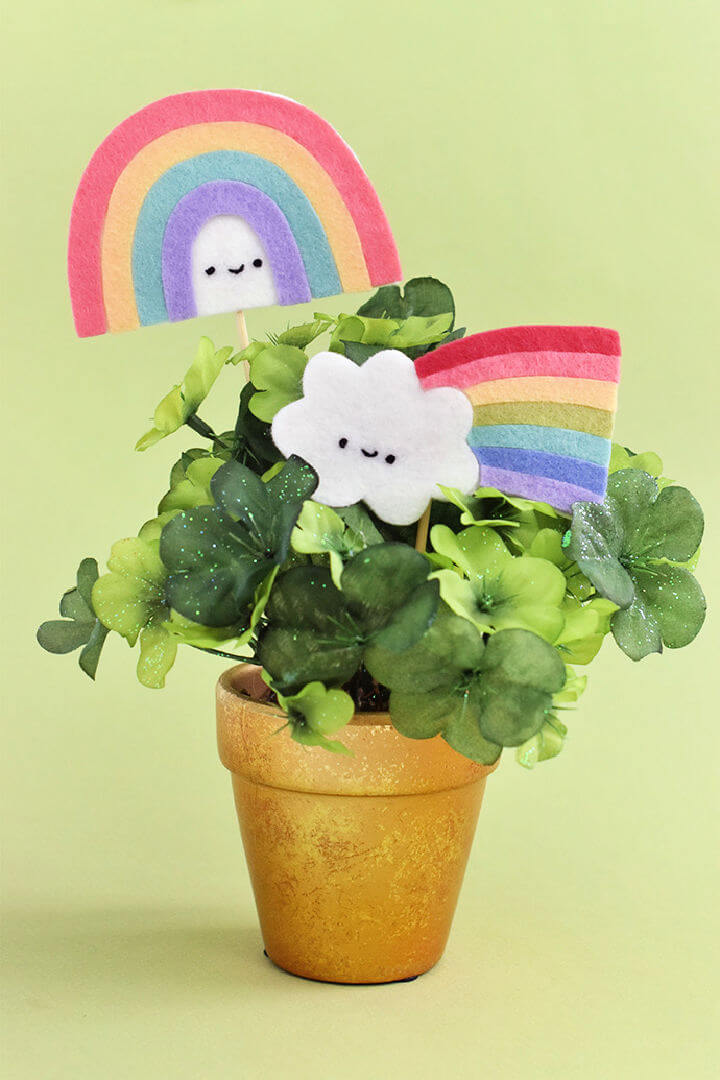 Wonder to know about what's at the end of the rainbow? Of course, the mini potted plants. Give these rainbows craft a little more magic with green plants at the end. It's not necessary to use traditional colors to create this craft. You can go with the color of your choice to make these rainbows picks for plant pots. If you are not keen on drawing, download the free printable template and enjoy making this attractive rainbow ends. handmadechar
17. Rainbow Beaded Safety Pin Bracelet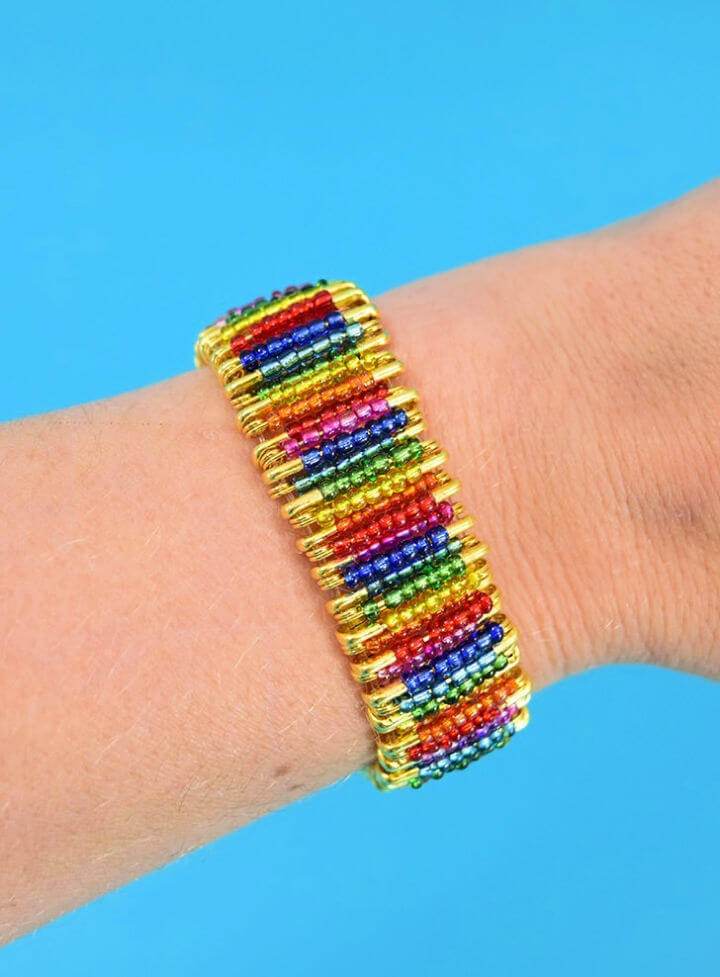 Looking for an attractive and unique style DIY piece of jewelry? Nothing would be more beautiful and impressive than this beaded safety pins bracelet. Use colorful beads and pearls from your craft collection with a bundle of safety pins to make this inspiring armlet for a spring wardrobe. Moreover, you can use a thin copper wire for assembling all the beaded safety pins and join them with a pair of clasps ring. dreamalittlebig
18. Clay Leaf Art Decoration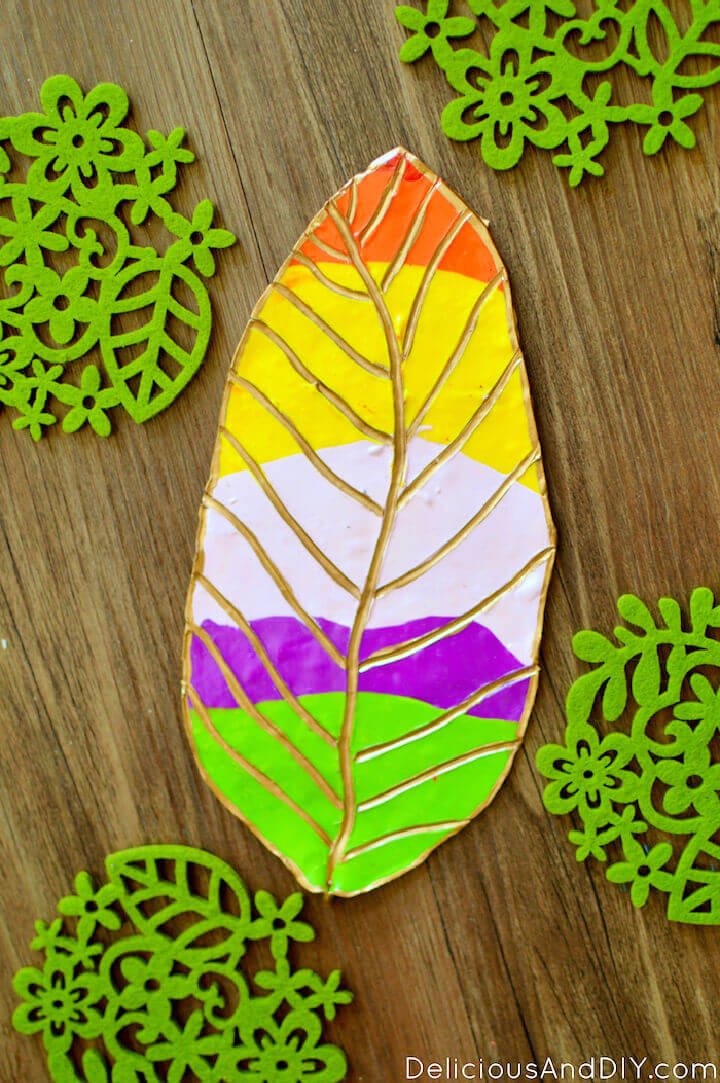 Engage your class students in a creative and innovative activity to make this classy clay leaf. Not only for the kids, but you can also create this leaf décor with molding clay for your home's decoration. If you familiar with molding projects, go with oven-bake clay. Use a leaf-shaped molder to make it and paint it with a thin brush. Additionally, give this clay leaf décor a smooth finishing with liquid gold gliding. deliciousanddiy
19. How to Make a Rainbow Fish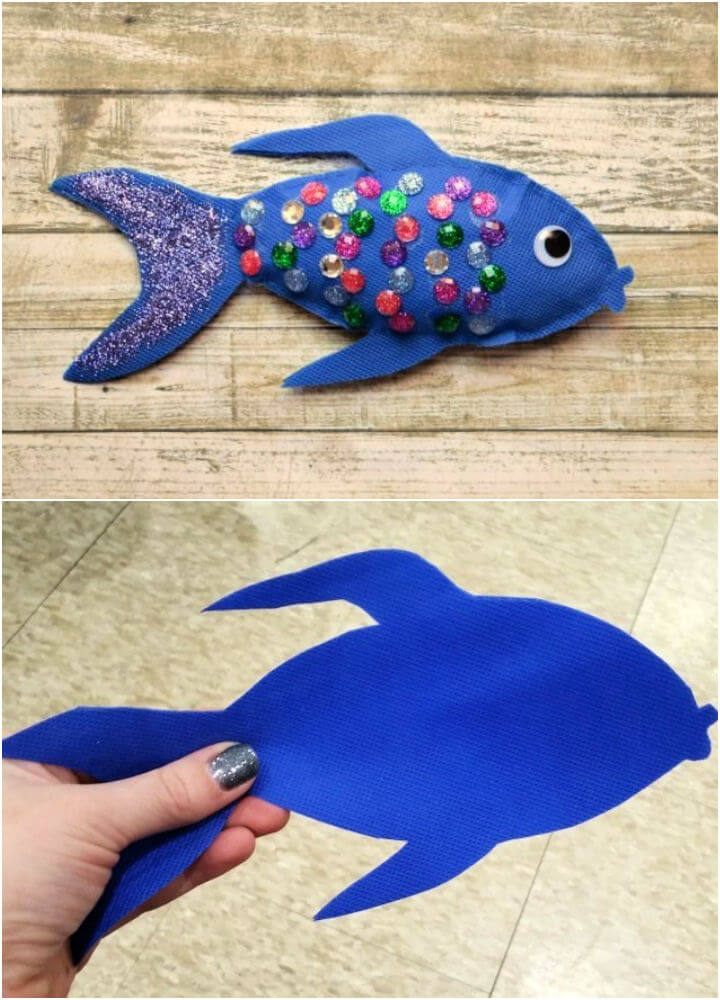 Let your little crafter make this super cute and adorable rainbow fish with felt fabric and colorful rhinestones. Elders can also work on this art project efficiently. All you need to do is cutting the fish pattern on the felt fabric. Embellish it with colorful rhinestones and pearls. Moreover, you can sew it with a machine or hand using a needle after filling the cotton in this felt fish. Use google eye to give this rainbow-felt fish a complete look. amylattacreations
20. DIY Rainbow Necklace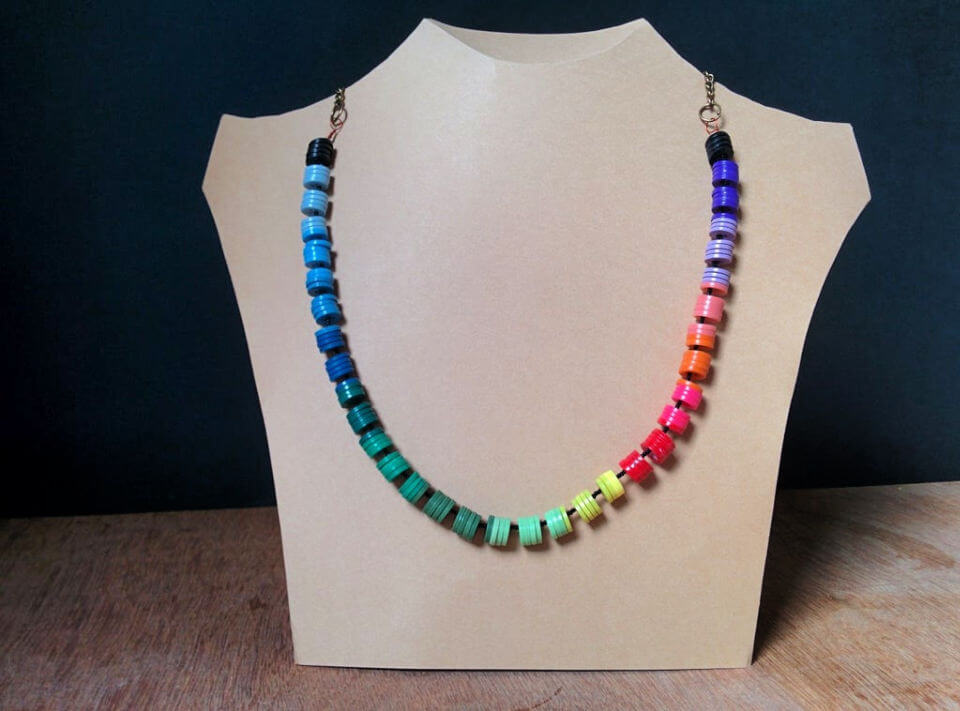 No matter what's your age, we all get excited when seeing a rainbow. You can get all these colors and rainbow shades in your jewelry, as well. Create this colorful and DIY necklace with red, yellow, orange, purple, and blue color beads. Reuse an old pendant chain to assemble all these beads. Furthermore, use the clasps rings to join both ends of this rainbow necklace. You would love to wear it with your spring party outfit to get an inspiring look. instructables
21. Make Your Own Rainbow Unicorn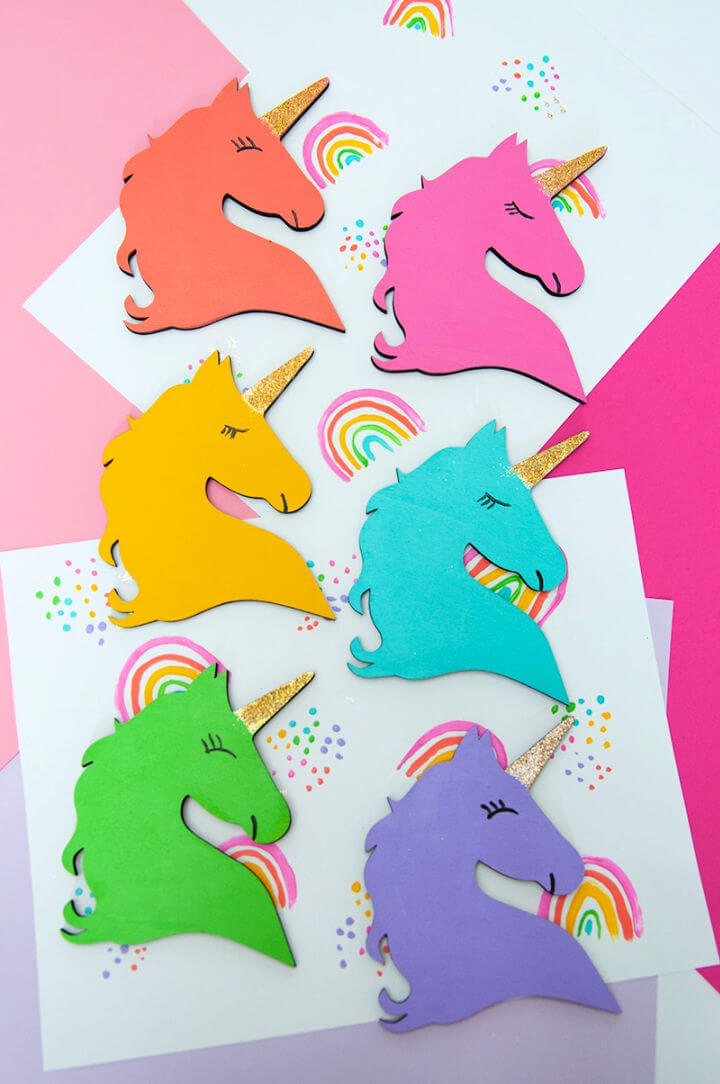 Little girls are mad about unicorn craft and stuff. You can decorate your little princess's birthday table with this DIY rainbow unicorn craft. To make this unicorn art, you can get the unfinished wooden unicorns from a craft store. No wonder you would love glittering the unicorn horn and painting their bodies with red, blue, orange, yellow, and purple colors. craftsbycourtney
22. DIY Rainbow Pencil Toppers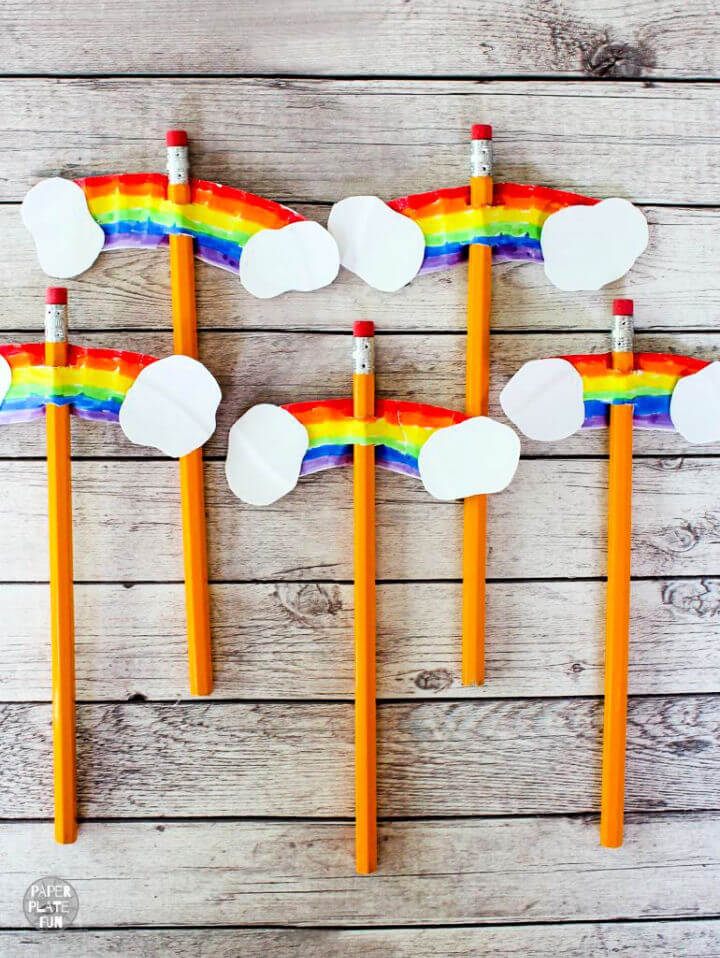 Pre-schoolers also love crafting and creating colorful stuff for their use. If you are looking for an attractive and dreamier craft activity for the schoolers, provide them with this idea of creating rainbow pencil toppers. They can make these colorful toppers easily and effortlessly with a writing paper. Let them paint these paper-cut rainbows with their favorite colors instead of traditional colors. Tell them to use plain paper for making the clouds instead of cotton for their ease. paperplatefun
23. Rainbow Under the Sea Pillow Drawn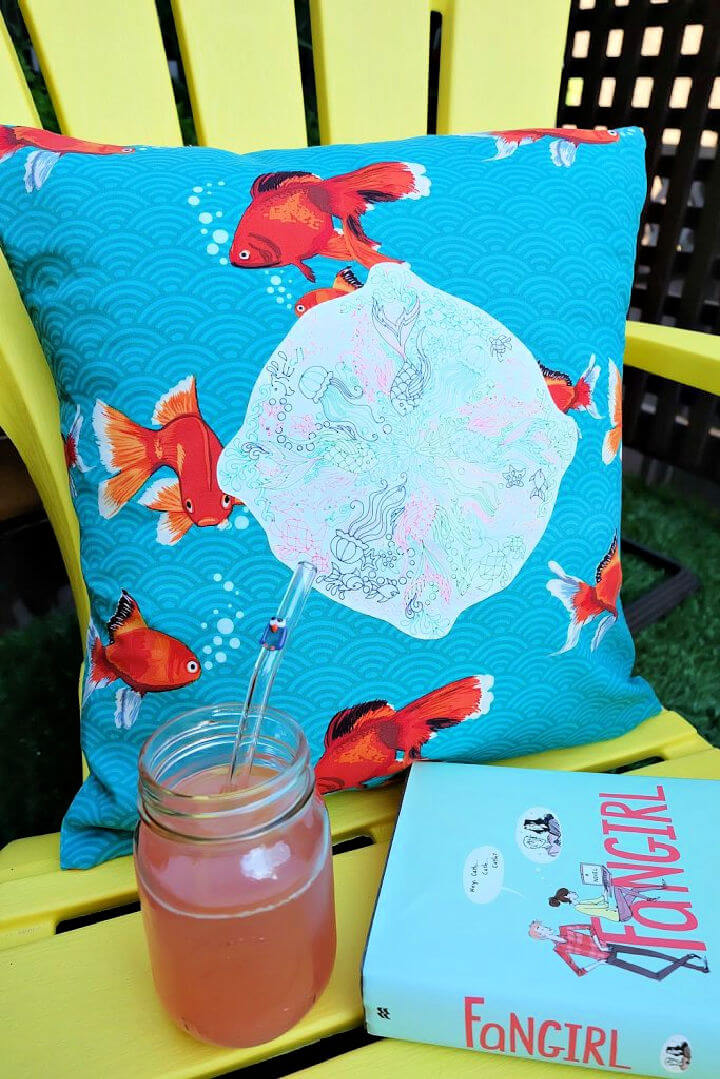 Use the circuit point pen set for coloring the sheet with all the rainbow colors. All you need to do is printing these painted sheets with a circuit machine or printer. Excitingly! You can print the sketches in the required size for your ease. Once you have done making and printing the desired art, transfer it from the circuit sheet to your pillowcase. You have a colorful and vibrant pillowcase for your living area sofa's makeover! hellocreativefamily
24. Homemade Pom Pom Rainbow Art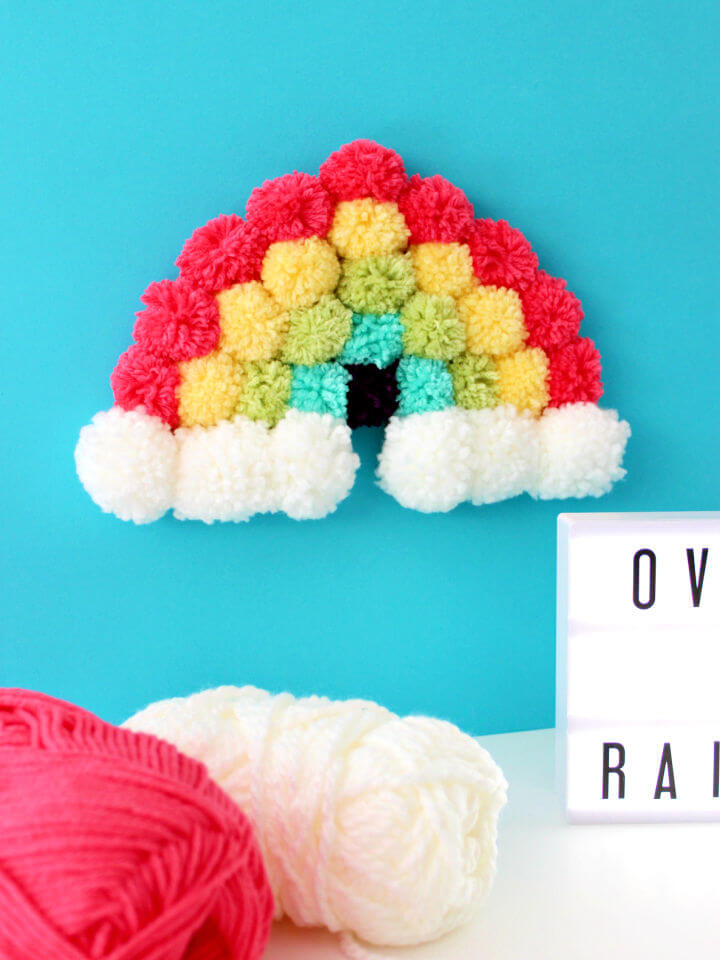 Pom poms play a vital role in the home decoration, as well as the event décor. Create this pom pom rainbow to display in your room or hanging on the entrance door. Use yarn in red, blue, orange, yellow, green, and purple to create handmade pom using a pom-pom maker. Once you have done making these colorful pieces of art, assemble them on curve cardboard to give a rainbow shape. Moreover, you can stick them using a mod podge or glue on the board. whitehousecrafts
25. DIY Rainbow Flower Chandelier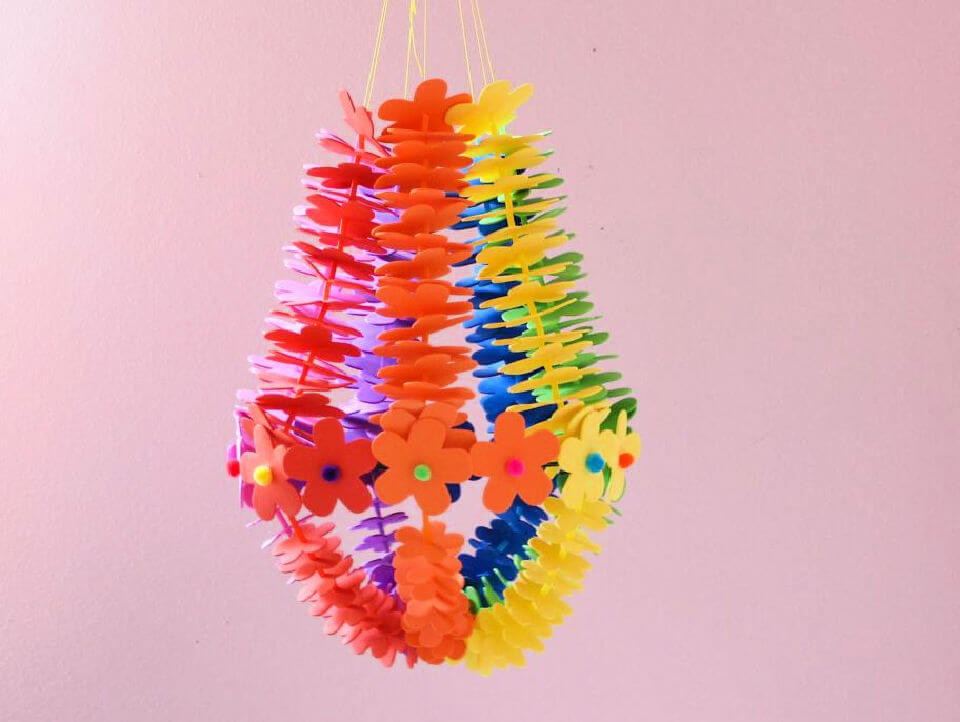 No one thinks about a complete spring decoration look without a chandelier. Well, you don't need to invest higher in buying the ready-made chandelier for spring decoration. Create this super funky and adorable rainbow chandelier with flower lies and a wreath base. You can make these flowers by yourself with a felt sheet. Moreover, you can also get a free printable flower template to make this DIY rainbow chandelier. fun365