We can often look at our plain walls and think, gosh, what a bore! But, a plain room is the perfect canvas to let your creativity run wild. There are so many directions you can go in when redecorating an unadorned space and sometimes choosing an avenue to go down can be extremely overwhelming.
From murals and wall art, shelving to paneling, or just a splash of bold, bright paint, we've put together our absolute favourite ways to decorate plain walls. Here are our top 4 hacks to decorating a blank canvas: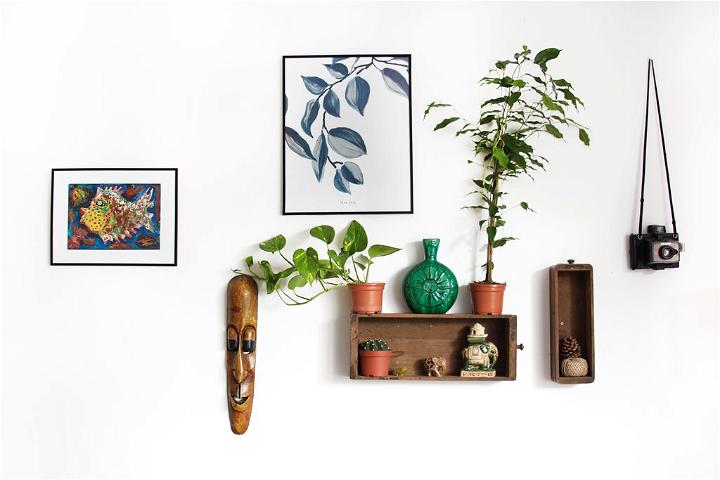 1. Add Wallpaper
Wallpaper might sound like it's been done to the high heavens. But, the truth is, the options with wallpaper are limitless! You can cover the entire room, half the room, create a focal wall, wallpaper the ceiling, wallpaper wooden furniture. There is literally nothing you can't do!
Dated wallpaper is a thing of the past, as we head into the era on two extreme ends of the spectrum: both minimalism and 'more is more'. There are so many styles and designs to choose from, from an abundance of patterns and colours, to neutral, natural textures such as brick, wood pane or simple designs.
If you're not keen on applying wallpaper to an entire room, why not create a focal point to draw the eye to. You can do this by wallpapering one feature wall to make it stand out from the rest. If you're decorating plain kitchen walls, try adding wallpaper to the cabinet walls to create a focal backsplash.
You can also apply wallpaper to the areas in between your cabinet shelving, if you own something like a bookcase. This turns your furnishings into the focal point of the room, giving them character.
If you're onboard with wallpapering your furniture, you can add wallpaper to all different areas of furnishings to create a unique style. Add wallpaper to the sides of your pull out drawers, the front drawers of your cupboards, the insides of your glass cabinets, your wardrobe doors – of course it's best to choose one as a main focal point, rather than wallpapering everything in sight.
If you like the look of your plain walls, but still want to add something a little different, try wallpapering your ceiling instead! A great way to add an accent to any plain room. The cost of hiring a decorator to hang wallpaper completely depends on the size of the room and the amount of wallpapered space required, however, costs can be kept low by DIY'ing the job!
2. Create Wall Panelling
Wall panelling is extremely popular in recent times in the world of interior design. Panelling can be constructed in a wide variety of styles and decorated in a range of colour to create almost any aesthetic.
Panelling is a great way of creating a focus point within a room, or you can create a design that flows by installing panelling across all walls in the room. You can panel half of a wall, to create some depth between the lower and upper half of the wall, or you can panel up to the picture rail to add height to a room.
Panelling can be styled in a range of different ways, from a rustic, white french-style cabin or natural wood cottage feel, to a minimalist, sleek neutral design, or you can paint your cladding with a deep hue to create a contemporary, classic feel.
3. Design A Mural
Murals are a fun way to jazz up your space on a budget! If you have that artistic flare, they can be easy to DIY to add that little bit extra to any room.
Use complimenting or contrasting shades to create a range of interesting shapes on a feature wall, and match home decor accordingly. Wall murals can be as simple or as intricate as you like, depending on the aesthetic you're going for. If you're not great with a paint brush, you can hire a local artist to bring your ideas to fruition, or you can shop some fun wallpaper murals instead – shhh, we won't tell!
4. Add Shelving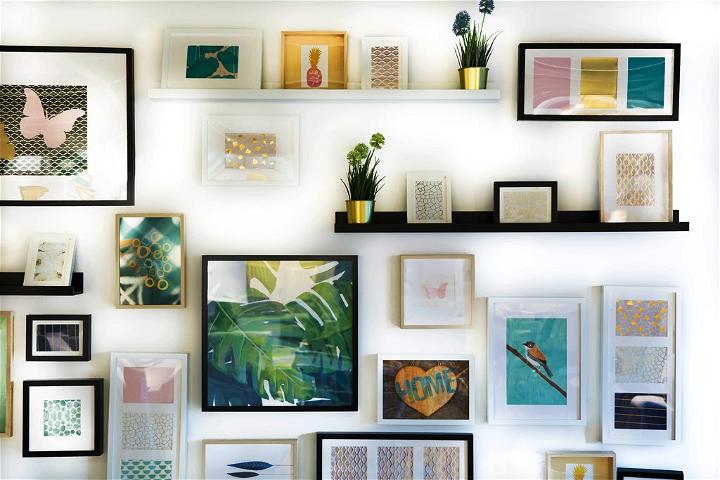 Shelving is a quick, easy and affordable way to add depth and dimension to a basic room, without the fuss and mess of paints and extensive DIY jobs. If you're looking for something simple yet effective, invest in some floating shelves, and display all of your much-loved decor and belongings for family and friends to see!
Shelving can be picked up at an affordable price from the likes of IKEA and Dunelm, and installation doesn't need the help of a pro!