We have always felt that the walls at our houses deserve to be well decorated with some exciting stuff as this makes the house look more attractive and cozy. Wall clocks are something that not only serves the purpose of making you aware of the time but also the purpose of decorating your walls intelligently. Here we will share 10 Unique & Impressive DIY Wall Clocks exciting and cool idea to make some eye-catching wall clocks for the house.
The first project that we have to make an easy and low budget wall clock is a chalkboard wall clock which is actually very convenient and easy to handle so try it out soon. The next one is a crochet retro wall clock which is also very attention-grabbing as it's colorful and cute. We have also shared an idea to make a clock out of books. Besides this, we have some other artistic clocks which are colorful and attractive. You can learn the procedures through the tutorial in the link given below the picture.
Next, we have a domino clock that you can see over here which is also easy to make and fun to use. We have also shown how color blocks can be used for this purpose so beautifully. You can also utilize your crochet expertise to create a gorgeous wall clock through a simple method as you can see over here.
You must give all these ideas a try and create some masterpieces for the walls at your home at a much low cost than the readymade clocks you buy from the stores. These ideas will help you make some beautiful pieces of art for your house, increase its beauty, and take the concept of wall clocks to the next level.
Chalkboard Clock: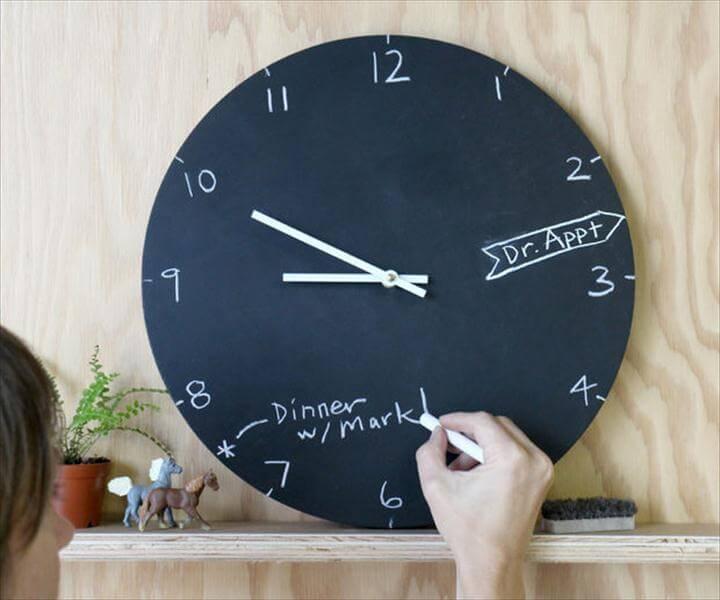 Bring a lovely clock to your homey walls and charm up the décor of your spaces more. Here is the idea of making this chalkboard clock to make and write up your appointments and schedules for the day. The lovely clock needs a plywood circle, clock body, clock movement pieces, and the chalkboard paint as the basic and main list of supplies.
Image: instructables
Crochet Colorful Retro Wall Clock: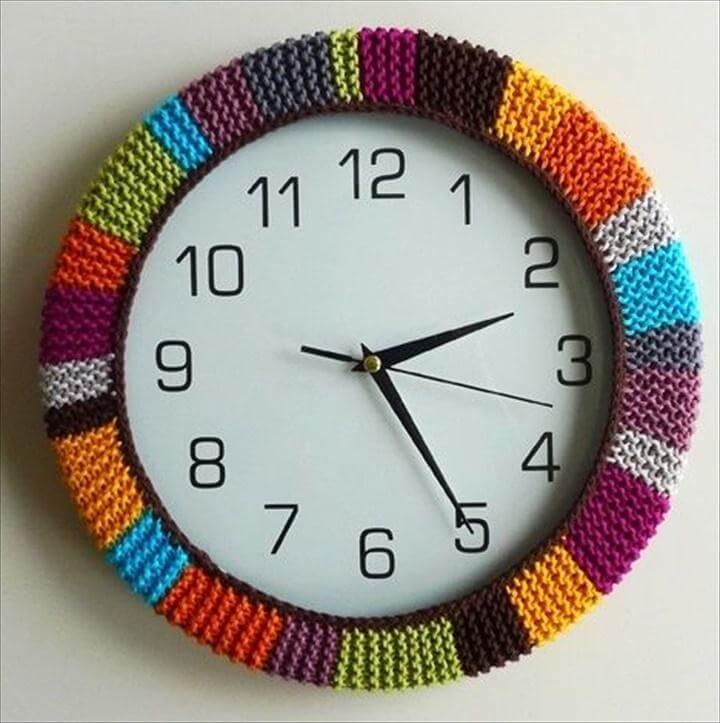 Use your crochet skills to bring some colored beauty to your walls with this cute and retro-styled wall clock. The colorful yarn piece has been worked up together to shape up the boundary of this lovely round wall clock. This pretty clock is sure to bring some liveliness to the dead summer walls. Details here!
Image: retrobabydesign.blogspot
Vintage Book Clock Table Number: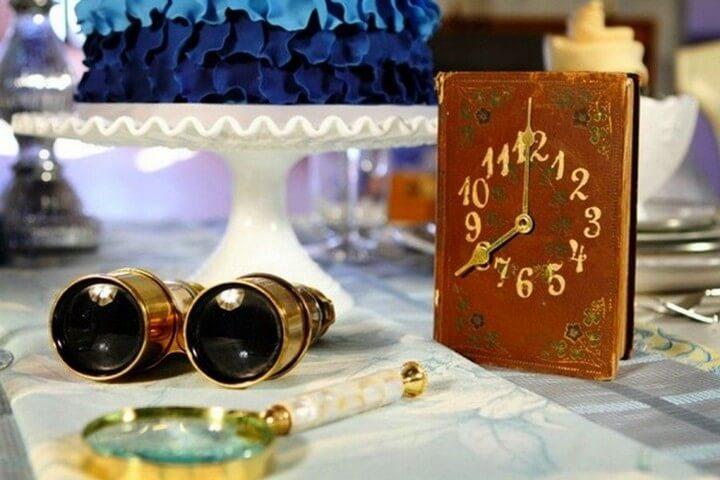 If you are planning to toss off that vintage book of yours then it's time to change your mind as you can make this gorgeous vintage book clock table number out of it. The gorgeous and totally vintage book clock table looks so stunning resting on your side tables. Just get the number stamps, clock hands and the gold dabber to make this unique clock ever.
Image: hillcitybride
Artist's Clock

: DIY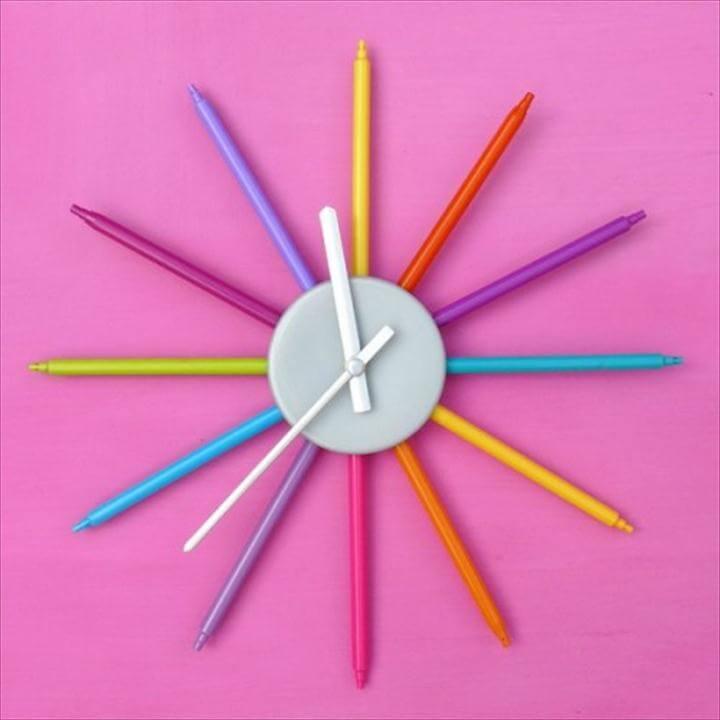 Here is this simplest artist's clock that even the kids can make and feel proud of. With the wasted materials of your house, you can make these super cute and colorful artists clock on your own. So grab a plastic lid and drill 12 holes in it to let the colorful markers pass through. Lastly, add the clock mechanism and your clock is ready to dress up your walls.
Image: homedit
Domino Clock

: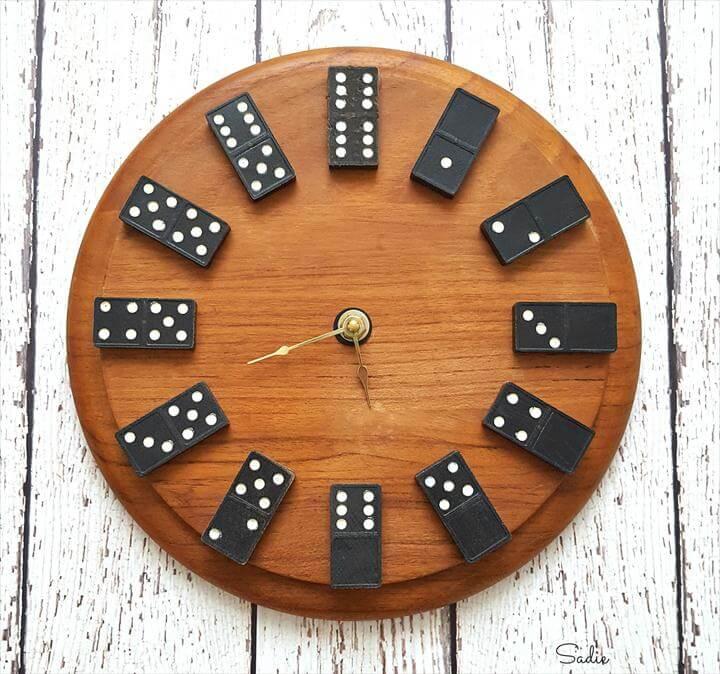 The gamers are going to love this adorable domino clock for being too pretty and vintage. You need only three types of materials to make these lovely domino clocks. Just grab a round wooden circle first to use the clock face with vintage dominoes serving as the numbers and of course a clock mechanism in the center.s
Image: sadieseasongoods
Colorful Books Wall Clock: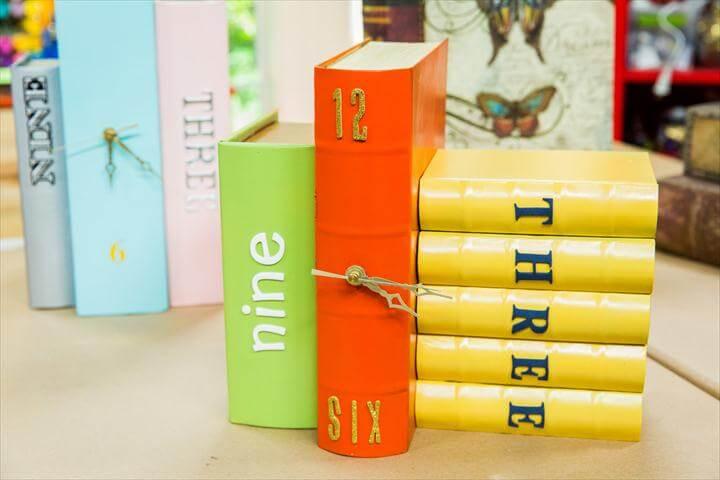 With this colorful book wall clock idea, you have two benefits. One of the gorgeous display of the books on your table and the other is having the pretty and unique clocks to tell the time. So you need three side books to spell THREE a centered with clock hands and the numbers six, 12, and a book at the right to say nine.
Image: hallmarkchannel
Color Block Wall Clock: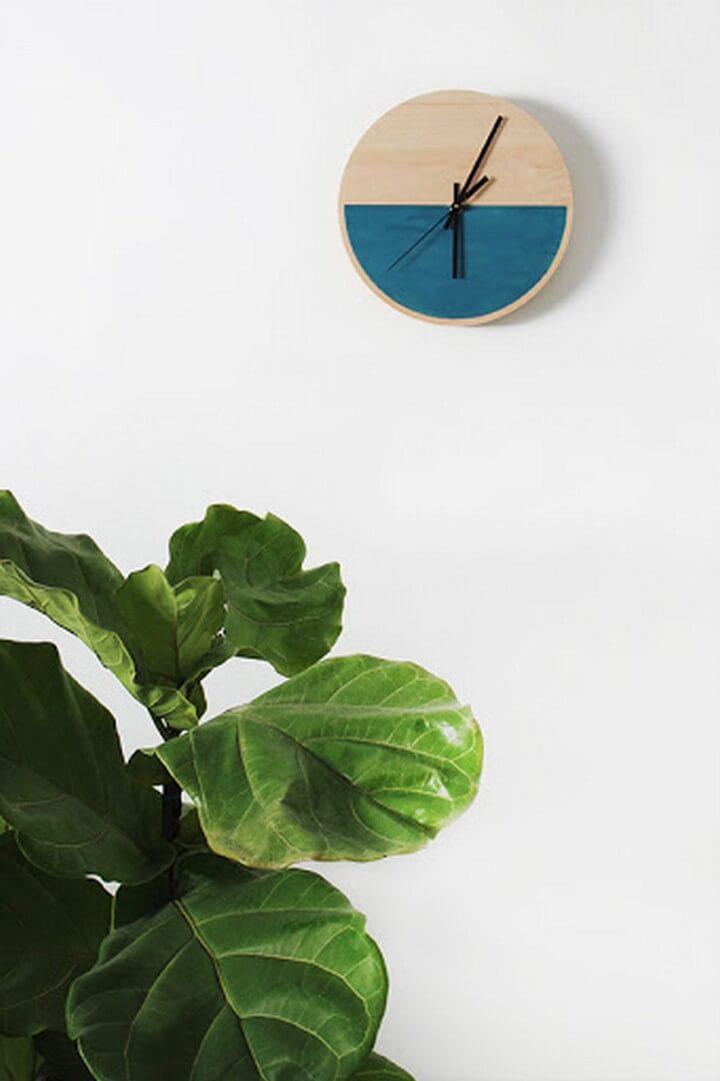 Here is the simplest yet the richest in style color block wall clock to make and enjoy an elegant addition to your wall décor. First of all, grab a wooden round circle and drill a hole in the center to place the clock and mechanism. Then paint half of the clock with blue paint to make it look so chic and trendy.
Image: almostmakesperfect
Minimal Wall Clock

: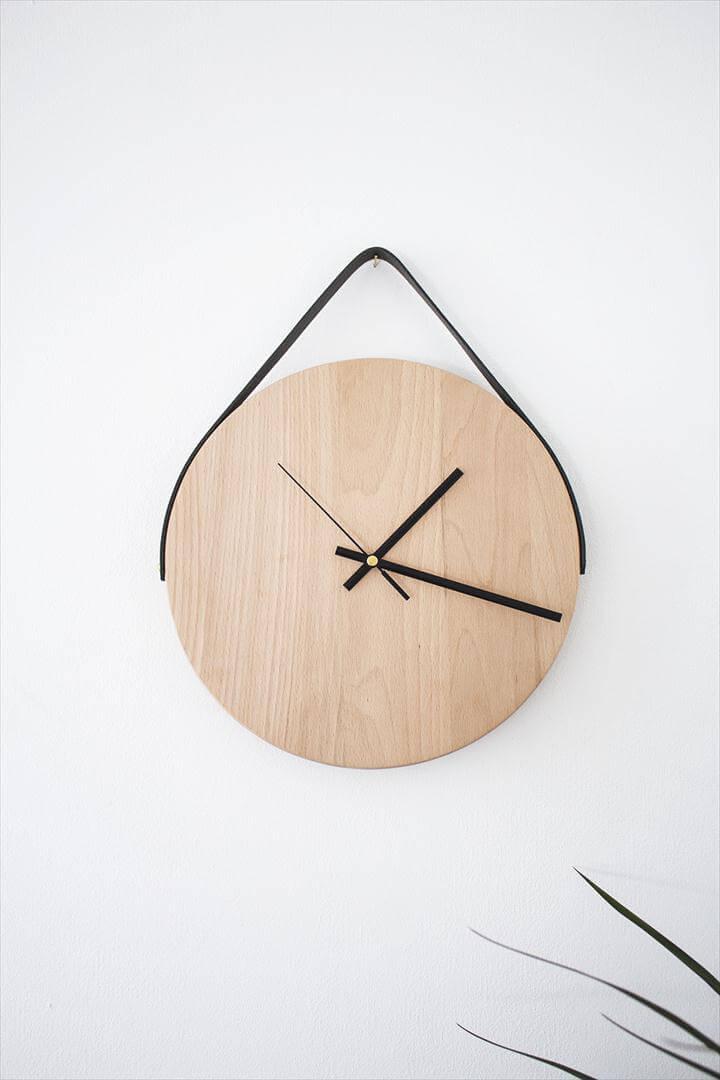 If you think that the clocks belong to the old school wall fashion then here is this minimal wall clock to completely change your point of view. Yes, the clock is quite rich in style and totally minimal in its style and fashion. It only has a wooden round base, clock hands with mechanism and the leather strap to hang it over the walls.
Image: thelovelydrawer
Turn Cork Trivets Into Color Block Clocks: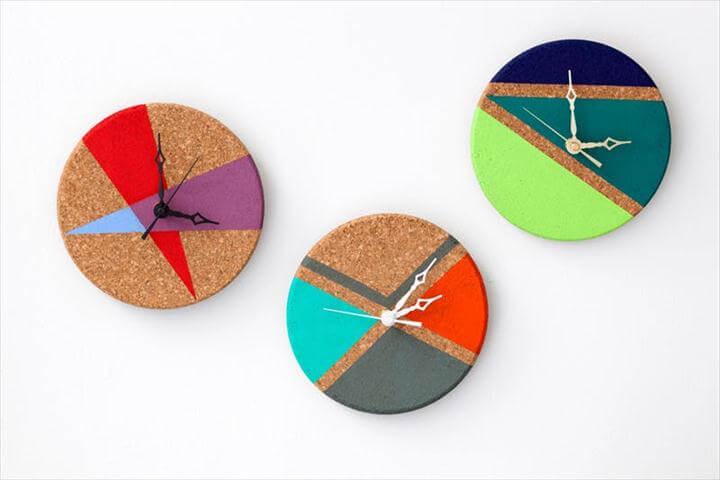 We love playing with the paint and here is how you can do it productively by making thee adorable cork trivets into color block clocks. Just take the round cork trivets and drill the hole in the center to adjust the clock hands and the machinery. Use colorful paint hues to create geometrically shaped blocks on the trivets and they are ready to rock the wall décor.
Image: diycraftproject, brit.co
Crochet Clock Pattern – Knit Or Crochet A Rainbow Mouse Clock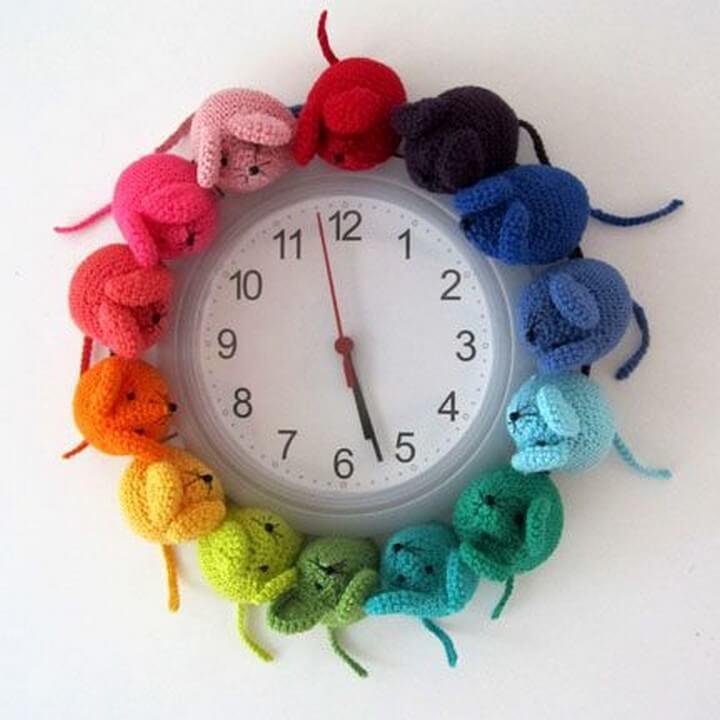 This is the cutest kind of clock that you are ever going to witness. Not only cutest but the quirkiest too. All you need to do is make the rainbow-colored crochet mouse in a bunch and then let them sit all around the clock. This super cute and lovely clock is really going to grab every visitor's attention.
Image: planetpenny.co.uk