Clocks have also meant to serve the purpose of not only telling the time but also of decorating the walls at our houses. The wall clock design has always been changing with the passing time and the latest trend is funny, funky, and unique wall clocks. For this reason, we have provided here some of the most unique and fruitful ideas of DIY clocks which are amazing and easy to make.
The first idea here is the balloon clock idea which is perfect for your kid's room and also for party time. Next are the color block wall clock and its urban contemporary style. The wooden block is half colored in a bright color and half in raw original wood color. This is a unique one of a kind paper plate clock that can be spray-painted in your favorite color and the clock needles and battery can be attached after that and you are all set for a new handy, lightweight DIY funky clock.
The next is an abstract clock which is also made with the help of different colors of paints and it's done on a woodblock too. The next here is one of my personal favorite ideas and it's a vinyl record wall clock done on an old music record disc and looks classic.
Next is a rustic wood plank clock which again involves wood. Besides these, there is also a craft whack cool clock which is so colorful you cannot resist trying it soon. This is an elegant faux ship-lap clock which is simple and pretty.
The next here is an embroidered clock made on a fabric with a very cool design and battery along with the needles attached. The next is also for the kid's room and it's made up of clay cars. Besides this, there is a printable learning clock for the young kids, rusty gear wall clock idea for the machinery lovers, picture clocks for the memory makers, embroidered basket clock for simplicity lovers, record clocks for the love of music, star clock and wheel clock.
Do try at last one if not all of these beautiful and great 17 Funny & Simple DIY Clock Ideas and decorate your homes in a completely different way altogether.
 Clock Balloons: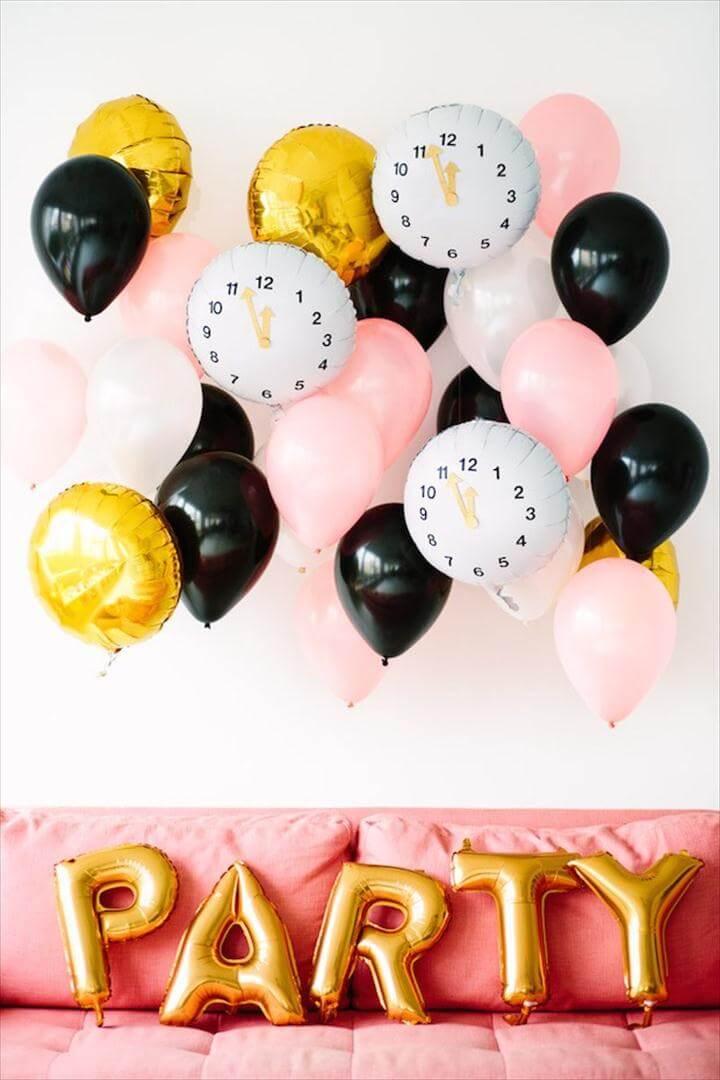 We love the New Year night and especially the countdown moments to welcome the next year with so much joy and hope. So to add in the décor and fun of your New Year décor you can now make these adorable clock balloons. Along with your simple and plain balloons, these clock balloons with near to 12 times are going to add so much excitement to the décor.
Image: studiodiy
Colorblock Wall Clock

: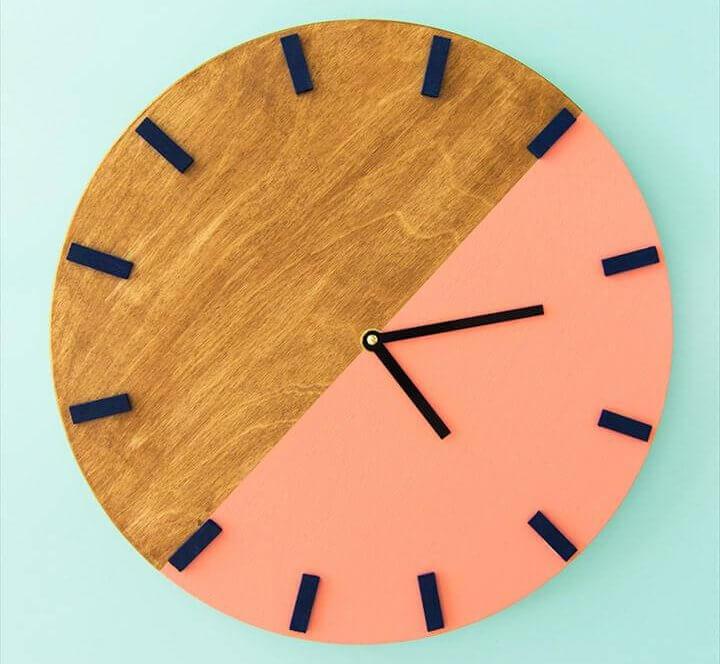 Here is how you can combine the charm of the tradition of clocks with the chic wall art with this idea of the color block wall clock. The pretty color block wall clock is super easy and cheap to make on your own at home. The lovely clock is made out of the wooden circle, having balsa wood numbers, clock mechanism, and the lovely color block pattern with wood stain and the chic paint.
Image: sarahhearts
Paper Plate Clock: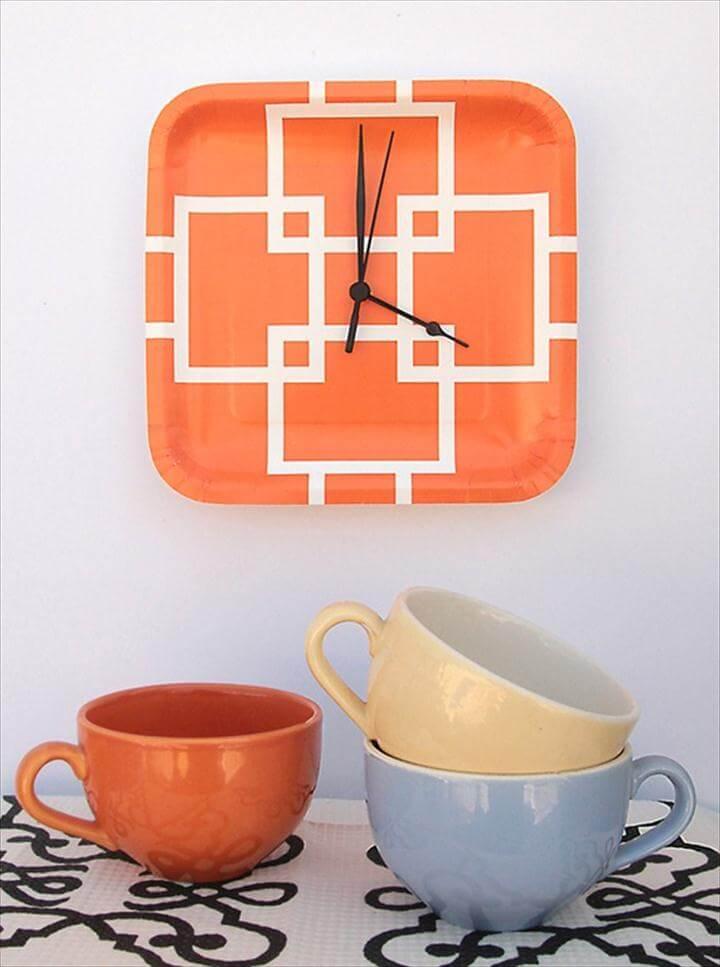 Here is a clock that you can make in just minutes. So grab the paper plate and the clock mechanism to make this simplest yet prettiest clock ever for your homey walls. From the kitchen and bedroom to the dorm room and living rooms this paper plate clock can rock all the places with its chic look.  You can choose the plate per your décor choices.
Image: creativejewishmom
Abstract Clock: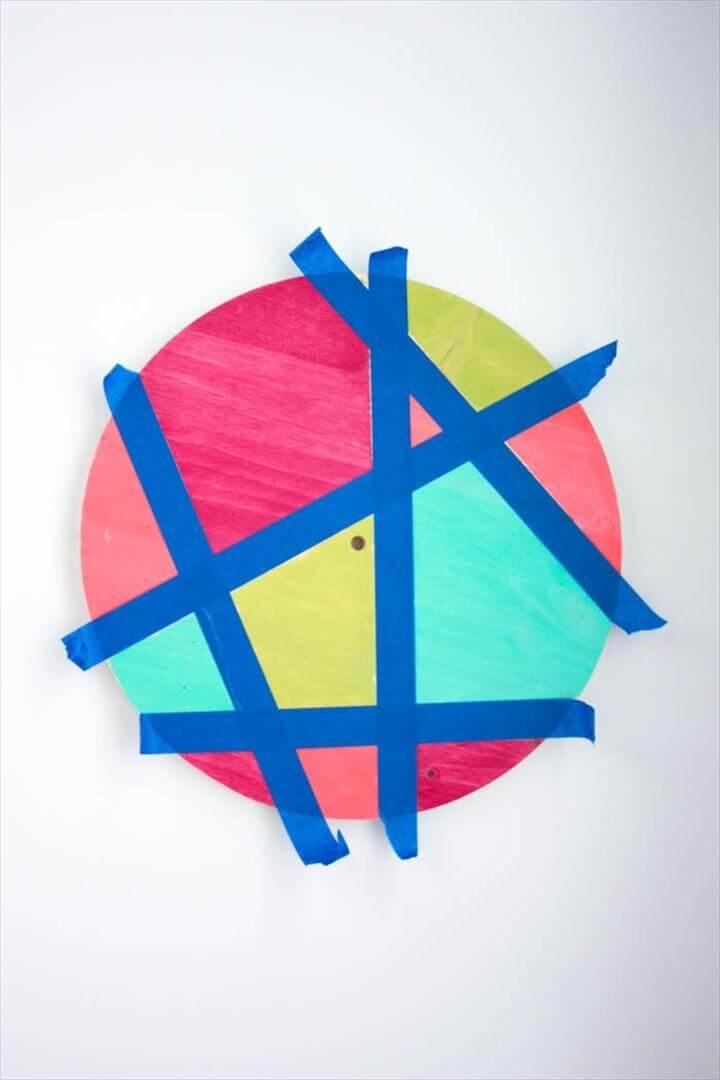 If you are in search of an abstract wall art then make this lovely abstract clock to fulfill y our desire. The pretty abstract clock is super easy to make with a wooden round. Grab some painter's tape and create multiple sections on the clock. Fill these sections with bold and bright paint hues to make the lovely abstract clock for the walls.
Image: amber-oliver
Vinyl Record Wall Clock: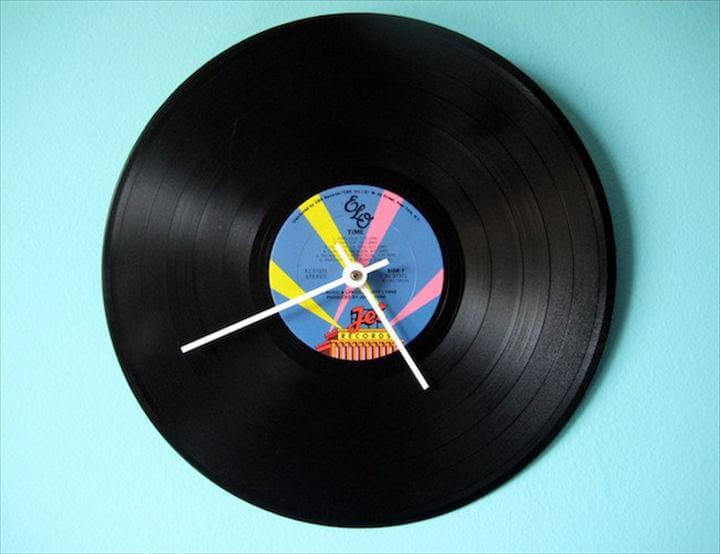 You can make the most out of your old vinyl records lying uselessly around by making this pretty wall clock out of it.  The idea is super simple to work on. All you need to do is drill a hole in the center of the vinyl record and add the clock machinery to it. It is going to look so graceful and fun over your walls. Follow the details here!
Image: youtube
Roman Numeral Clock DIY: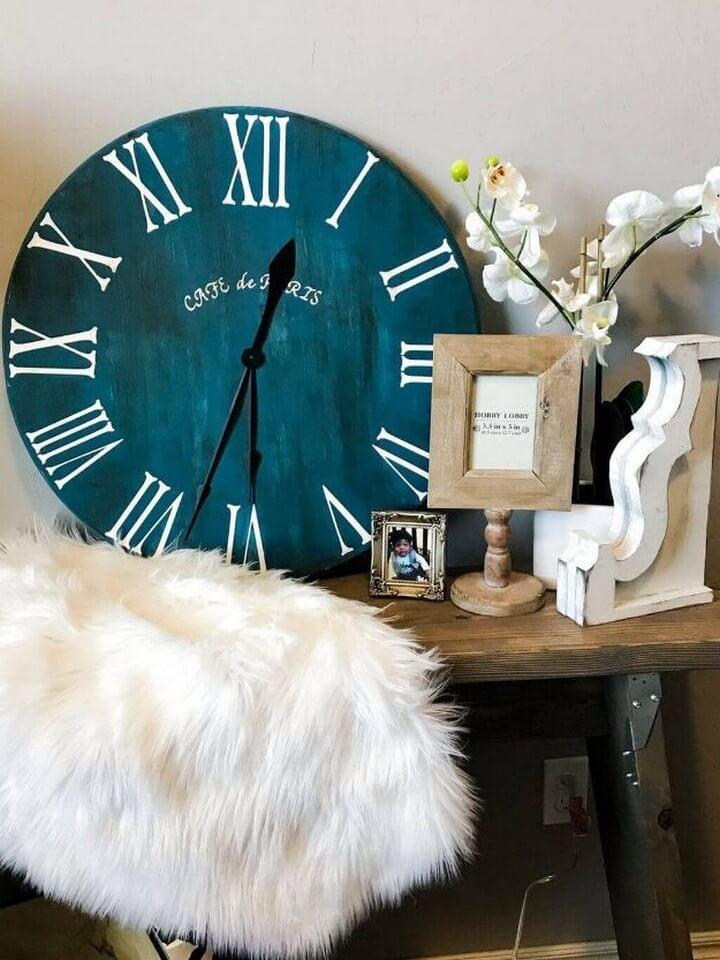 Bring some charm of vintage beauty to your walls with this easy and fun looking handmade roman numerical clock DIY. You can easily create this lovely Roman numeral clock using the wooden round of 24 inches, a decal with roman numerals, paint hues in the blue and white, and of course some basic tools. Follow the details here!
Image: handmade-haven
DIY Wooden Clock: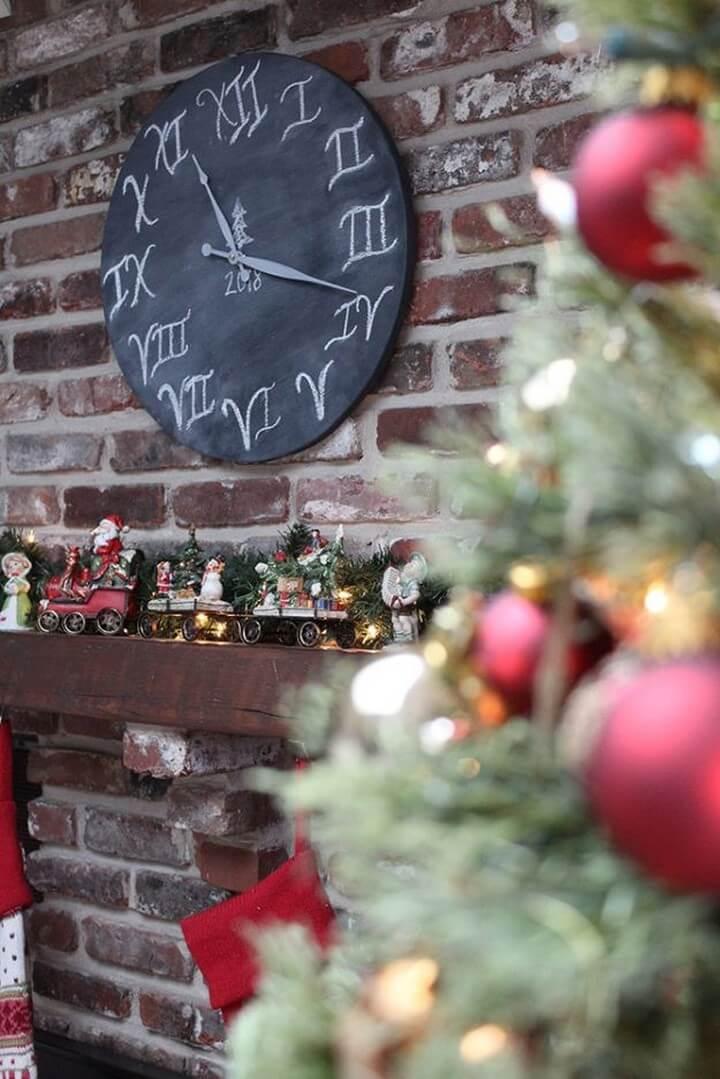 Make your own favorite Vintage looking clocks with this DIY wooden clock craft idea. The pretty DIY wooden clock is easy to make with a wooden round being painted with chalkboard paint. Then get the decals for the roman numerals to write them off with the chalk using your own hands. Install the clock mechanism in the center and you are done. Details here!
Image: justmeasuringup
Faux Shiplap DIY Clock: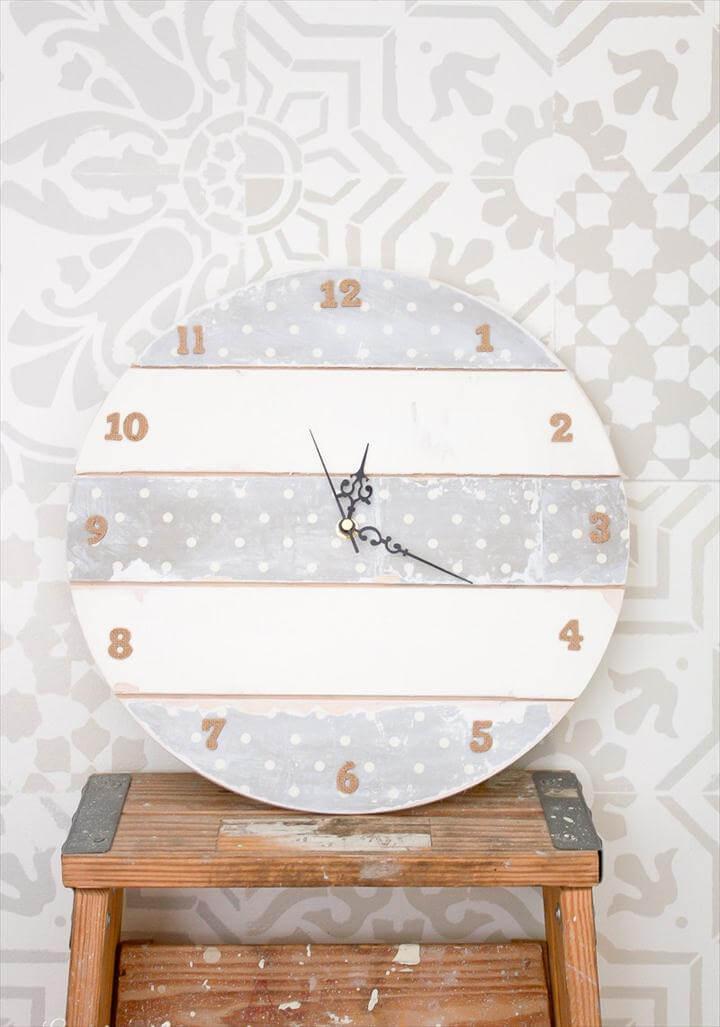 Make your farmhouse décor look rich in style with this easy handmade faux shiplap DIY clock. To make this rustically chic clock the wooden round is used as the panels in it. Then take white and grayish paint hues to alternatively paint the clock panels along with some polka dots. The numbers are actually the golden stickers. Add the clock mechanism in the center and you are done with a lovely shiplap DIY clock.
Image: makingitinthemountains
DIY Hexagon Marble Wall Clock: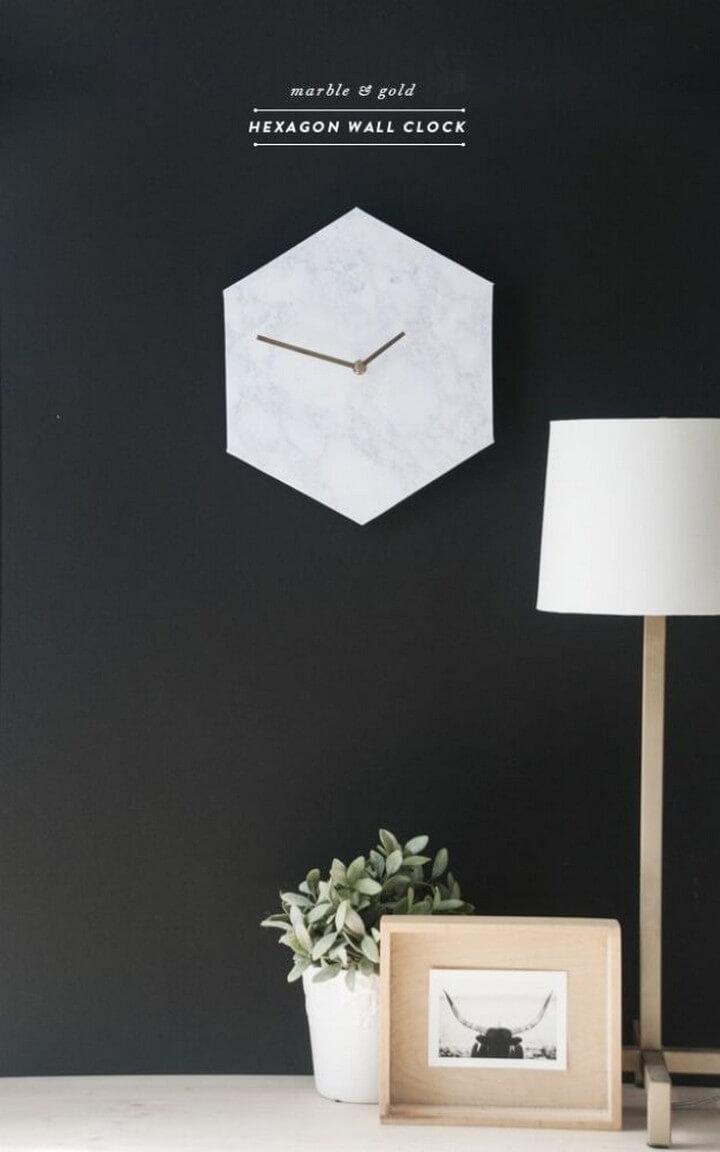 This lovely DIY hexagon marble wall clock is really going please your aesthetic and beauty sense for being too minimalist and cute. The clock is made out of the foam core with a hexagonal shape and then wrapped with the marble paper. Add the clock kit in the center and you have the chicest clock to adorn your lovely walls with. Details here!
Image: earnesthomeco
Car Clay Clock

: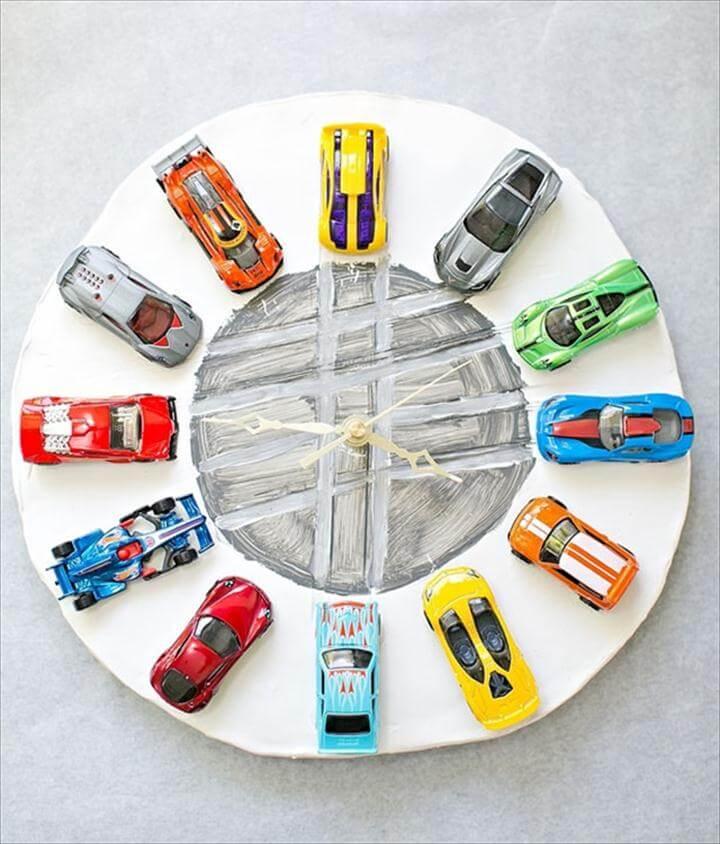 If you are looking for a family project that you can do with your kids then get your hands on this adorable car clay clock that looks just so unique and fun. The clock round is made out of the oven-baked clay and the numbers are represented by the lovely 12 colorful toy cars. Instead of these mentioned items, you need a clock kit for the center, and you are done with a lovely and funky clock.
Image: hellowonderful.co
Printable Learning Clock

: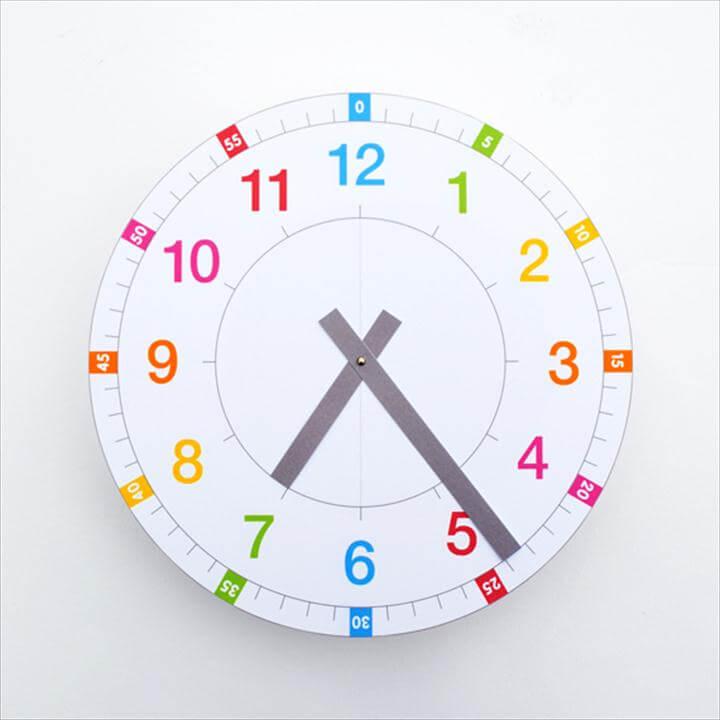 Kids love to learn the time and now you can make this printable learning clock which is going to help them learning time fast. You need only four things to make this printable learning clock on your own. So get your hands on the good quality A4 cards, scissors, compass, and the small split pin. Check out the details of the idea here!
Image: minieco.co.uk
Turn A Placemat To A Minimalist Wall Clock: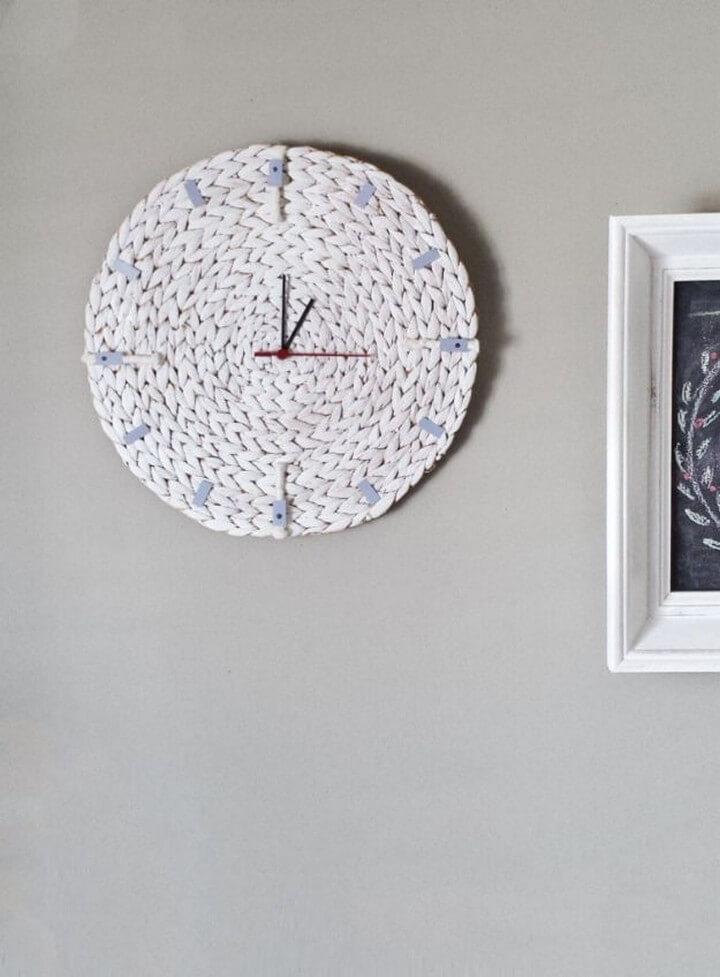 This gorgeous and cute clock is made out of the placemat and you are going to love this transformation. So get your hands on a simple woven rustic placemat and cover with the white paint all over. Then add the clock mechanism in the center and four pieces of rope to work up as the numbers. Check out details here!
Image: fancymomma
Picture Clock: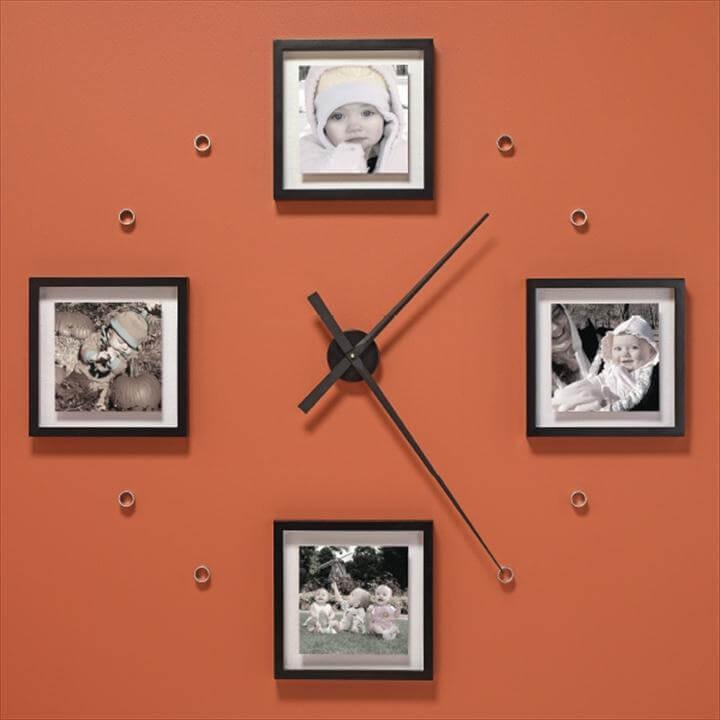 This lovely picture clock is cool and cute enough to lose your heart to it. It would not only work as a time teller but also a lovely picture memory wall art too. You need four of your favorite pictures with frame, a clock mechanism kit in the center and a few small silver rings to form the numbers in between the pictures. Check out more of this project here!
Image: myhomemystyle
Embroidered Basket Clock: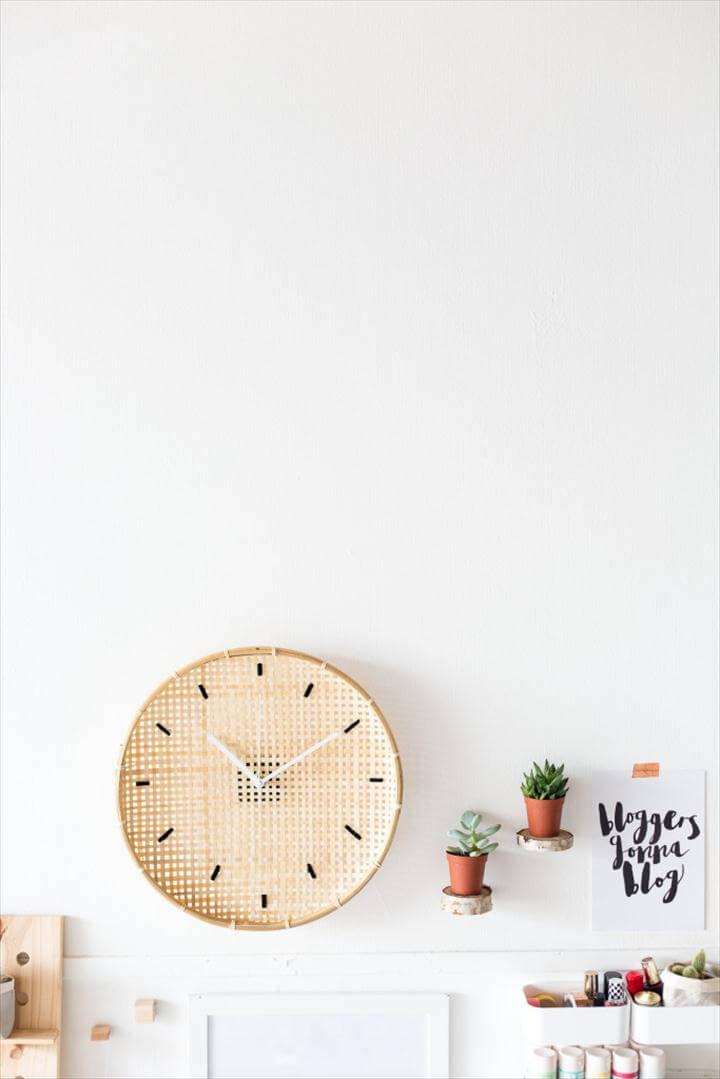 Bring the chic yet quirky appeal to your homey walls with this lovely embroidered basket clock. You need only a few things to make this adorable embroidered basket clock. So collect the supplies including a round woven basket from IKEA, clock hands, and the clock mechanism. This pretty and decorative clock is going to make a great gift idea too.
Image: fallfordiy
Record Clock

: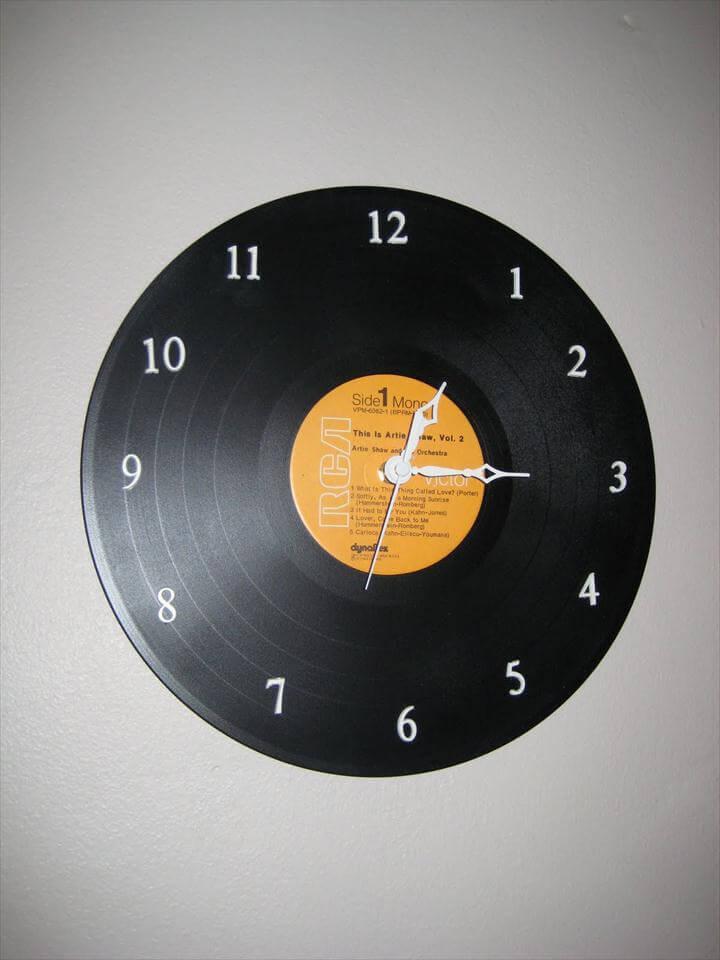 If your grandparents have left some music records with you then its time to make yourself some crafts out of them. All you need to do is make a hole in the center of the clock and then add the clock mechanism to it and your simplest yet prettiest clock is ready to deck up your walls with. You can follow the details here!
Image: suiterevival.blogspot
Make A Clock With Driftwood: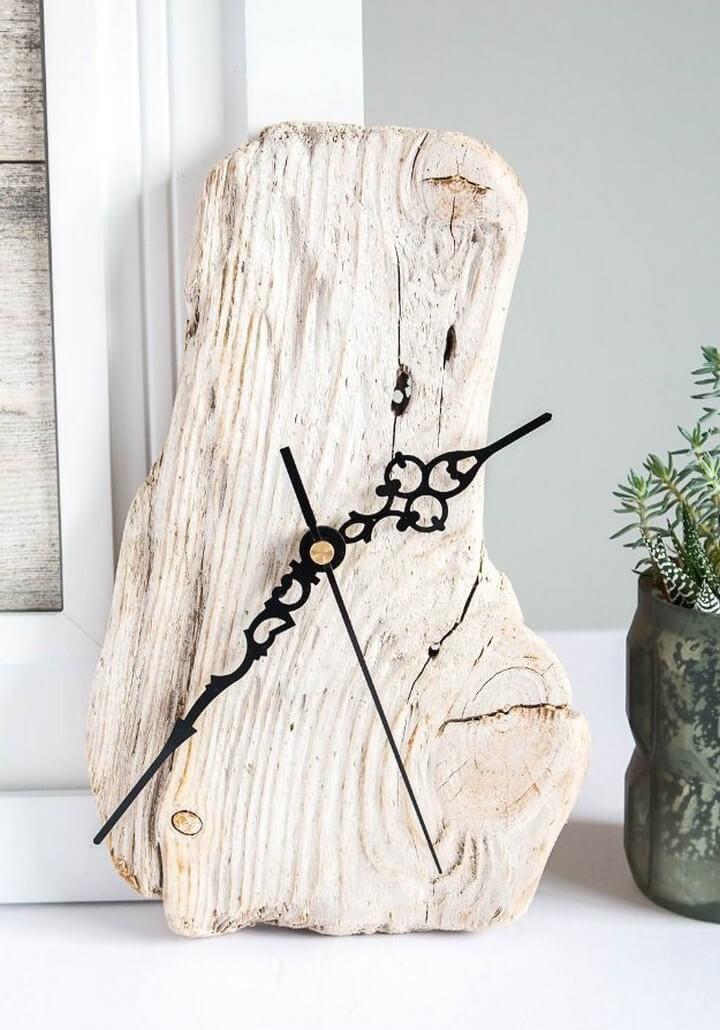 If you love beachy vibes for your summer home then make this lovely DIY clock with the driftwood and get the gorgeous beach décor look. You need a thick wooden driftwood piece and then add the time machine to it. For that, you need the cutting and drilling tools. Check out the step by step details here!
Image: sustainmycrafthabit
Bicycle Wheel Clock: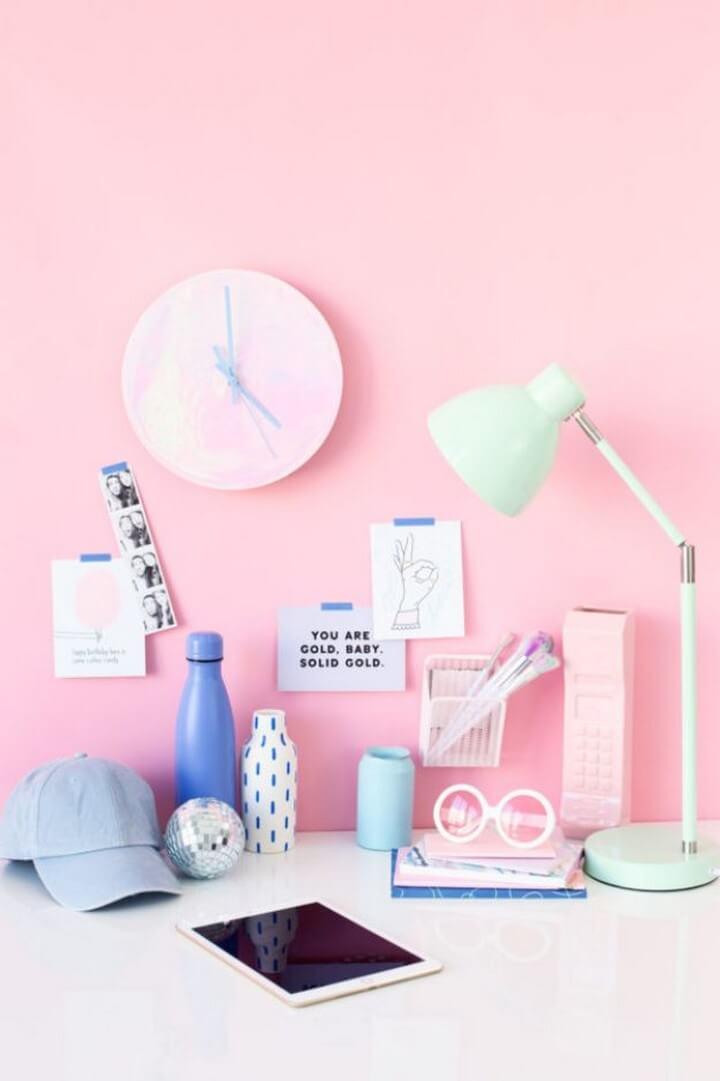 Nothing is a waste when you are a fun crafty person just like this bicycle wheel clock. So make the most out of your old bicycle by using its wheel for the making of the lovely wall clock. You would need wooden handmade clock hands, washers, time mechanism and the numerals stickers to work up this lovely wheel clock project.
Image: thistlewoodfarms