Shout out to all the pet lovers out there as this time we have come up with some crazy pet bed designs done with crochet. It's because we want you to give your pets the comfort that they deserve.
See this amazing mega chunky bed design for your cute pet. It's so comfy and cozy that they cannot resist sitting and sleeping in them. This is a cat igloo pattern which is so adorable that as soon as you will make this your cat will not leave it empty for even a while. All these 15 Amazing Crocheted Pet Bed Designs are very eye-catching and pleasing that you will want to spare some time to make these. This is again for your lovely cat, and it's a giant chunky knit bed for her.
Although a whole lot of yarn has been used over here it's all worth it. There are some other designs of DIY Crochet chunky pet bed below in different colors. Now besides an igloo, we also have a cave for the cats done with crochet where she feels privacy and it's too comfortable not to stay in there for the whole day. This one is a pattern pet bed with a cushion inside and a crochet cover outside. Look at this adorable bed which is being shared by both the cat and the dog in the picture, it's also an amazing bed for them to relax.
Try at least one if not all of these pet beds for your pets to sit back and relax this winter. These are so interesting and you will definitely enjoy making this and watching your pet being cozy. Always remember that you are the only one in the world who can give them their due respect and comfort as you own them. Try making them as comfortable as possible. Go one little extra mile for their comfort and relaxation and let's do this.
Personalized Mega Chunky Pet Bed: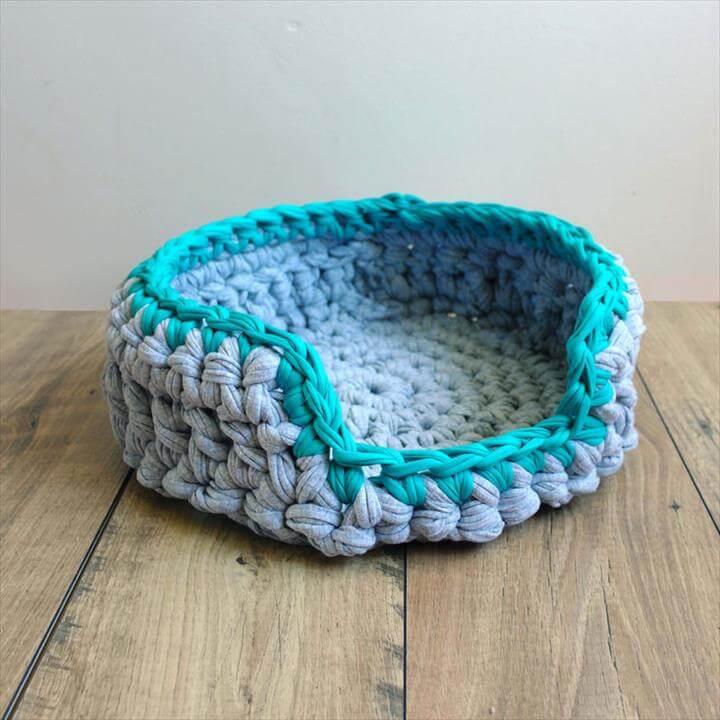 Crochet bed to keep your pets comfortable and warm! This is good for small cats or dogs because it is an excellent travel bed for pets! Animals are so cute! This is ideal for any type of cat or dog. Check out more detail here!
Image: youtube
Crochet Cat Igloo Pattern

: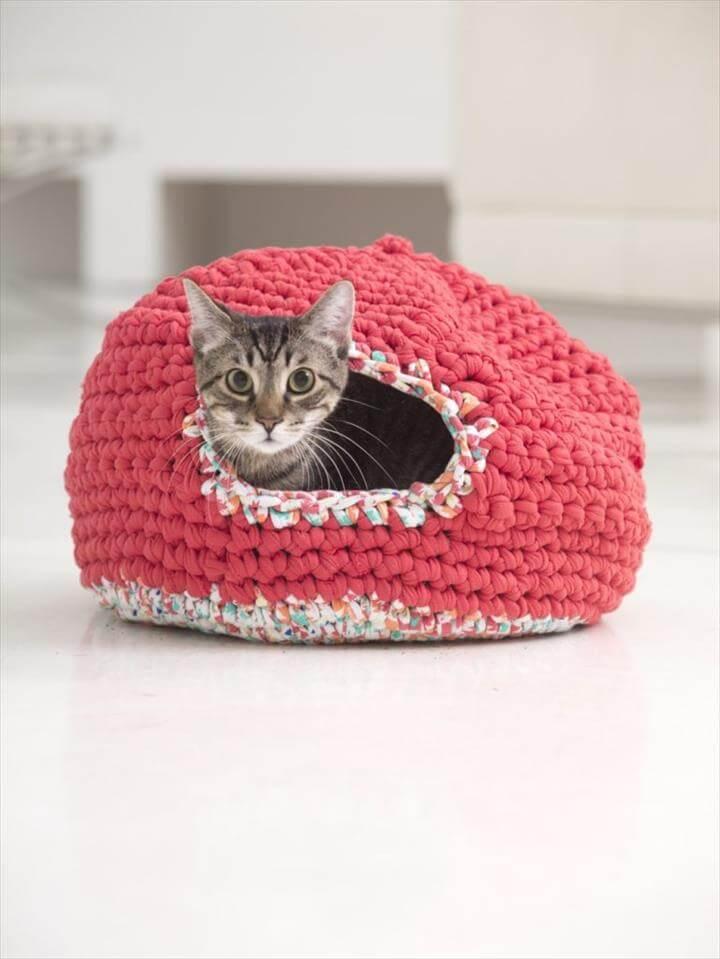 Here is the cutest crochet cat igloo bed design to easily work up at home and make them feel so warm and cozy. This pretty crocheted cat igloo is made out of the fabric yarn so you need bigger crochet hooks to work it up. Being so pretty in colors this cat igloo is going to perfect addition to your home décor too. Details here!
Image: lionbrand
Giant Chunky Knit Pet Bed

: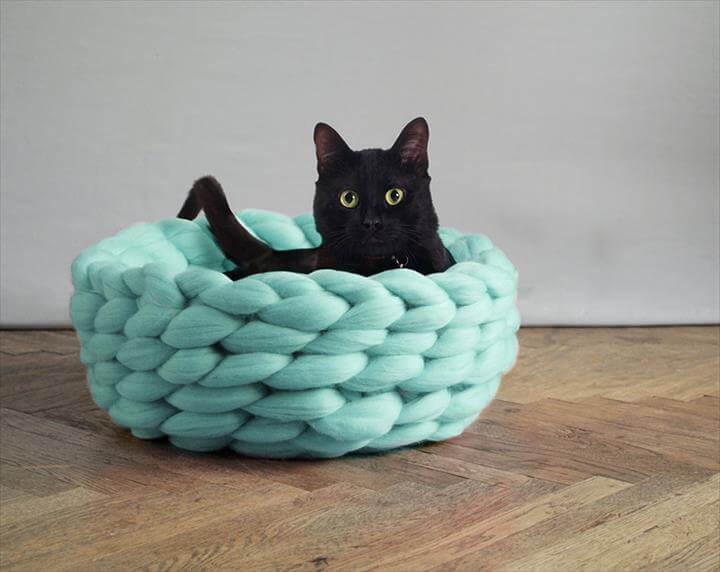 Make your pets feel the comfiest and the coziest with this giant chunky knit pet bed. The gorgeous and brightly colorful crochet pet beds are best to work up for the summer. So grab the bulkiest yarn and the bigger wooden hooks to knit them easily. If you do not have those giant hooks you can your hands and arms too. Details here!
Image: boredpanda
Personalized Mega Chunky Pet Bed: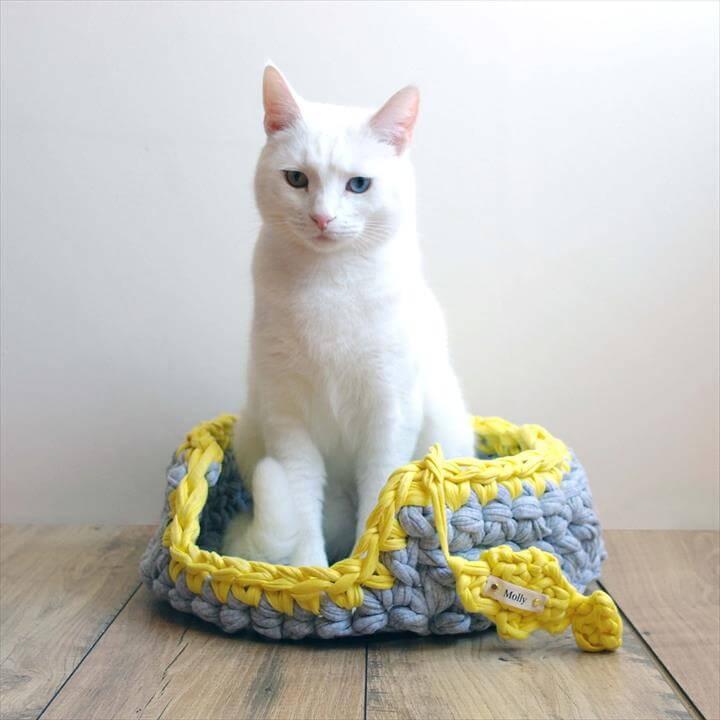 Here is this pretty personalized mega chunky pet bed to easily make as the birthday gift of your cat. The pet has a custom shape with a name tag to look super personalized. The base of the bed is made with the bulky grey yarn and the edges are done in yellow for a pop up of the colors. Catch the details here!
Image: chichimoi.co.uk
Mega Chunky Pet Bed

: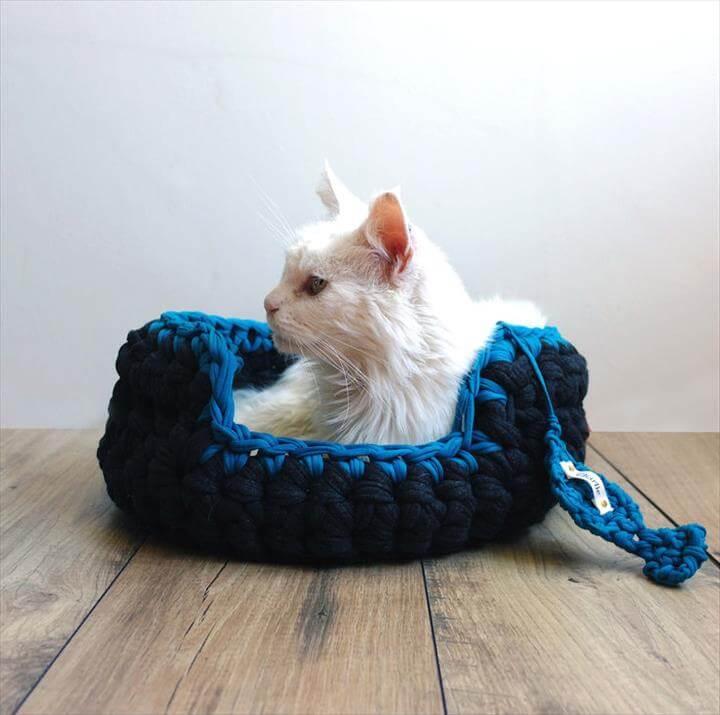 A crochet bed is much more comfy and cozy than the wooden or plastic bed. So here we have brought to you this mega chunky pet bed that you can easily crochet at home. This lovely pet bed is made with black and blue chunky and bulky yarn to be sturdy and warm for the colder nights. Follow the details here!
Image: chichimoi.co.uk
Crochet Cat Cave: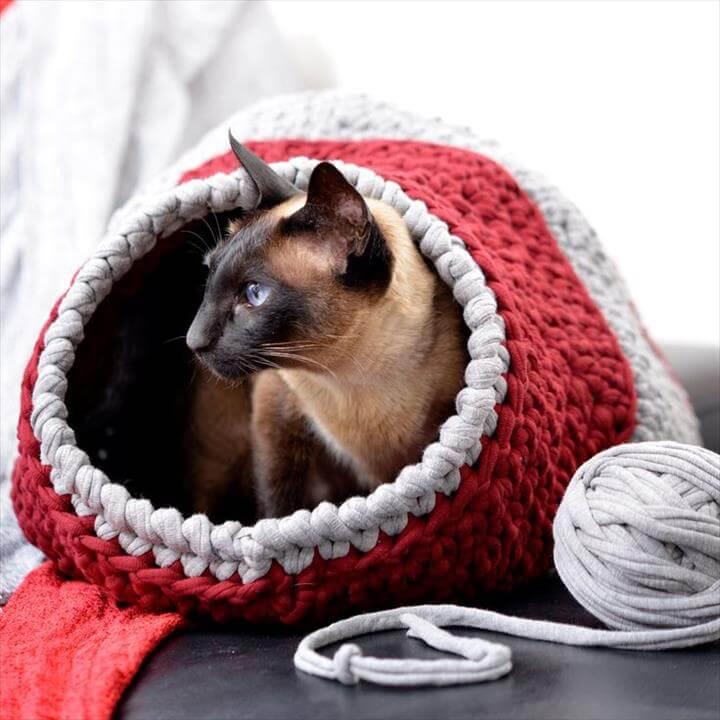 Give your cats this gorgeous crochet cat cave as the gift and they are going to lick you more out of love. This lovely crochet cave has two bold and beautiful yarn colors of red and white. The yarn used is bulky so the cat cave is going to sturdy and strong enough to bear the weight of your cat. This is the best Holiday gift for her. Details here!
Image: yourfamily.co.za
Crochet Cozy Cat Bed: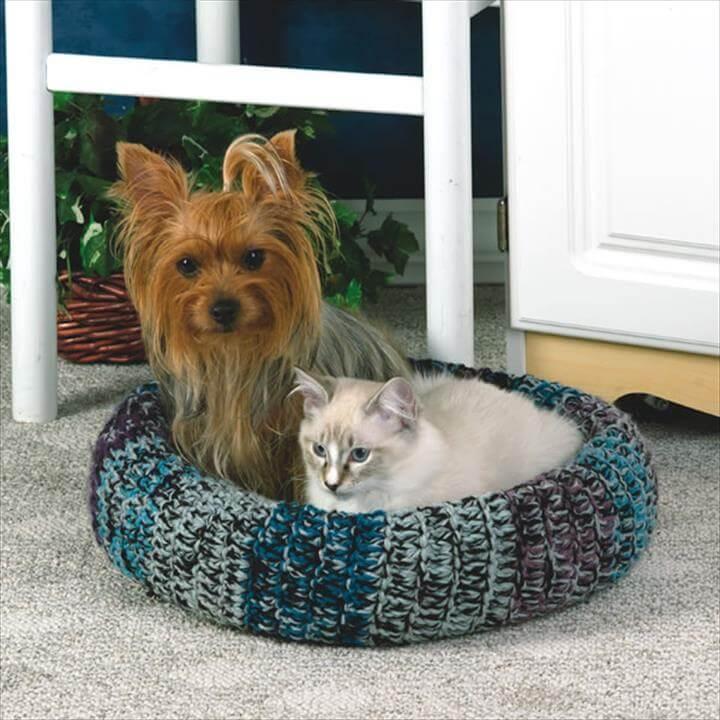 This gorgeous crochet cozy cat bed is going to be the best gift for your furry fellow. They would love to curl up in this bed when the evenings are getting colder and windy. So get your hands on some pretty and colorful yarn and crochet up this pretty bed of 17 inches in diameter. Even the dogs would this too. Details of the pattern here!
Image: crochet-world
Chunky T-shirt Yarn Pet Cave: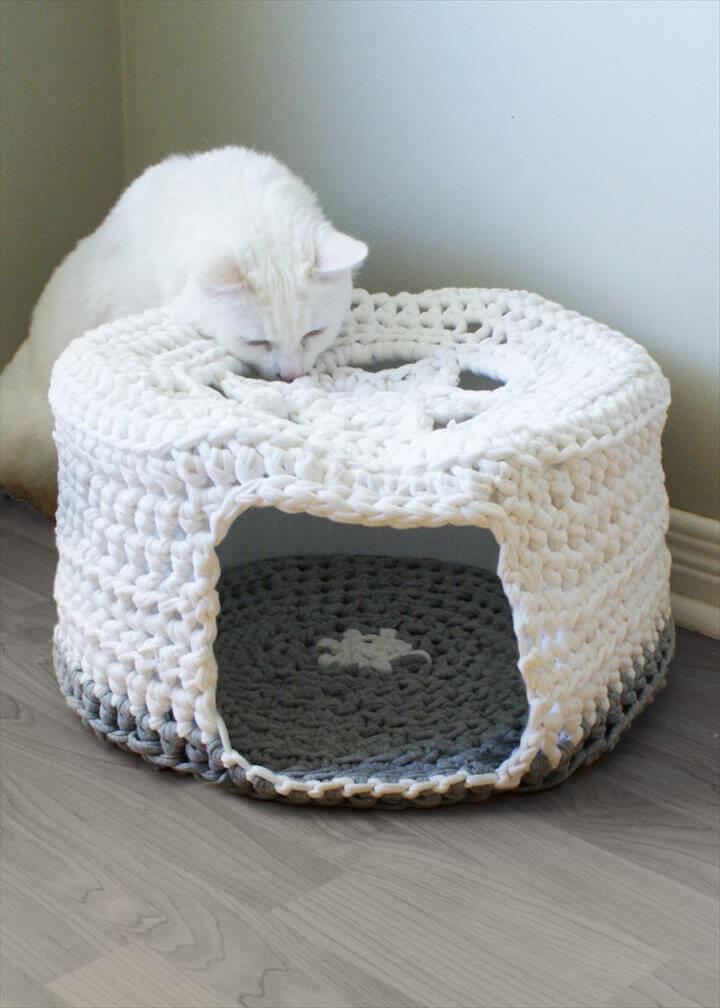 Here is this pretty chunky t-shirt yarn pet cave in white to look so elegant and white for your pet cat. Using the white and the grey yarn this pretty pt cave is super easy to make just like a round and hollow ottoman but with a square opening. Follow the easy and fun details of the pet cave right here!
Image: crochetconcupiscence, etsy
Old Sweater Dog Bed: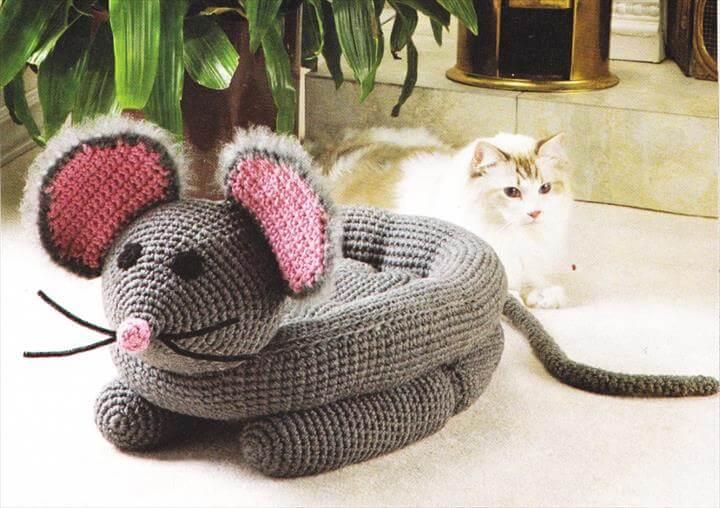 Cats love the mouse and they are so going to love this old sweater dog bed. The mouse-shaped crocheted bed is the best thing to use as a gift for your cat. She cannot eat it but take a fun and relaxing nap over it. You need to make this mouse bed in pieces, like face, leg, bed section, and tail and stitch them together.
Image: autumnstalkerherbalcrafts, etsy
Nice Crochet Pet Beds: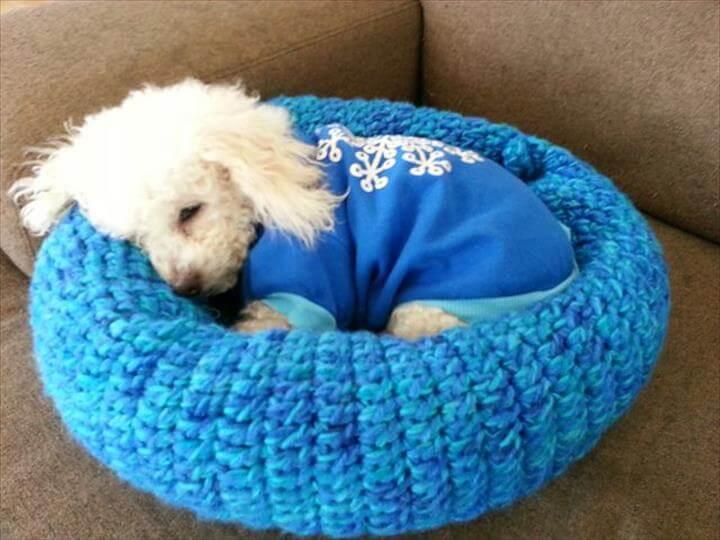 Pets love good food and good naps. So make them this nice crochet pet bed to get the best sleep after the best food. The crochet pet bed is the best thing to crochet in the round to let your furry fellow curl up and get cozy in. The bed is perfect for the summers and the winters. This is a perfect handmade gift for your friend's pet too. Details here!
Image: pinterest
Crochet Wool Chunky Cat Bed: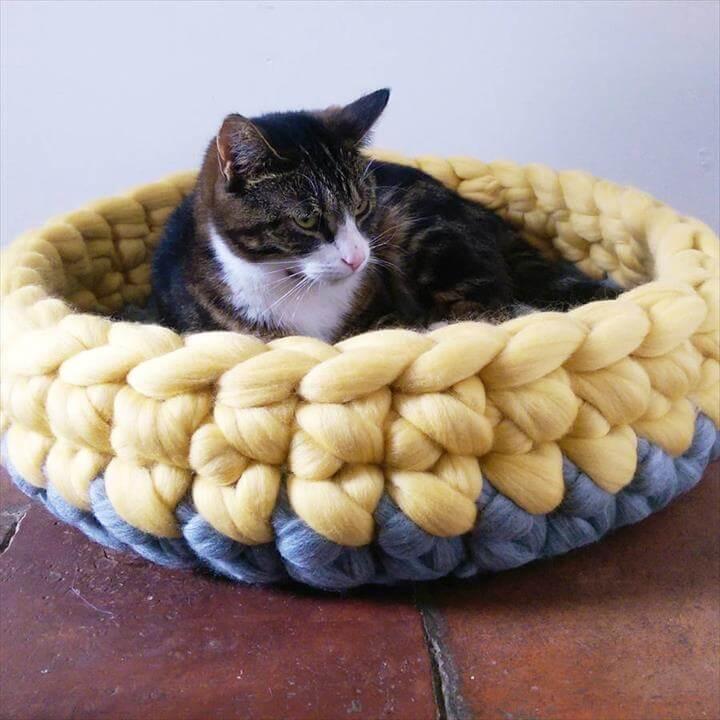 If you love capturing your cat then make this pretty crochet wool chunky cat bed to take the best photos. The pretty cat bed is super chunky and being made up out of the bulky yarn. The bed is super warm and pretty due to the pretty fabric yarn hues. Also, it is going to be easy to make with bigger crochet hooks. Details here!
Image: notonthehighstreet
Bernat
Crochet Pet Bed

: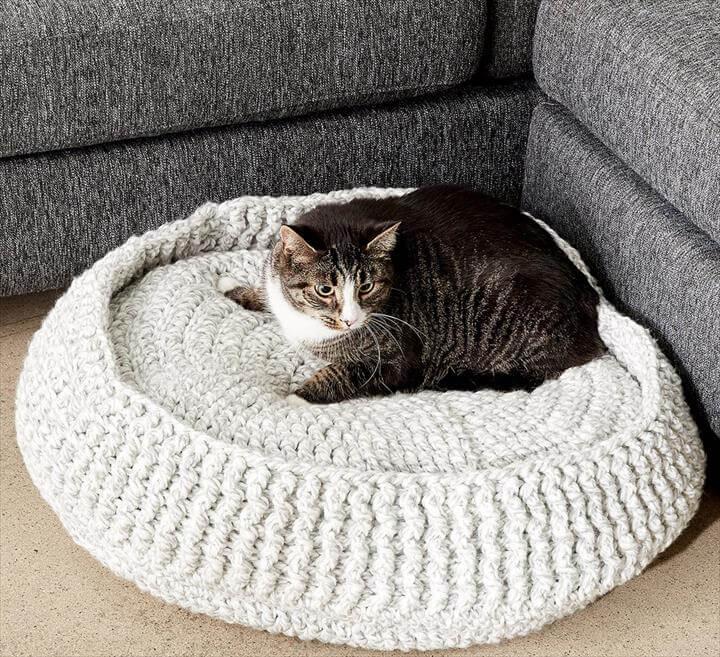 This gorgeous Bernat crochet pet bed is super royal and makes your cats feel pampered. The chunky yarn bet Bernat makes this pet bed super durable and soft and easy to wash so that it is worn out late. The round shapes and the symmetry of the pattern really make the bed look so gorgeous and enchanting. Follow the details here!
Image: yarnspirations