Girls are a huge fan of hair accessories as they are obsessed with their hair. The little girls have plenty of options when it comes to tying their hair, but a headband is something that's always on the top in their list. Get amazed by these beautiful extremely adorable 21 Simple & Easy DIY Headband Tutorials to make some stylish hair bands for yourself and for your favorite girls.
This is a headband made with a glittered felt sheet cut into heart shapes. These knit braided bands are equally amazing as they look both funky and stylish at the same time. This is a frilled or pleated headband that is perfect for the matching outfits, it gives an old English touch to your lovely hair. These are some baby headbands for you which are for you little infant girls. Here is one of a kind multi-strand headband that is not commonly worn by girls but has a unique feature of more than one strand. This 'hair wrapped around bands' mostly liked by the brides or by girls for formal occasions.
Try making some stretchable headbands with your old t-shirts to satisfy your creative skills. These are some adorable fabric headbands that are so cool for teenage girls. If you are a fan of laces, go for this ribbon and lace band which is so elegant for not only the little darlings but also for the adult beauties. These are the turban headbands and are so urban style that they will take this headband fashion to a whole next level. Watch the tutorial to see how they are made.
You will find a few more tutorials for learning knitted headbands, adjustable headbands, pleated, and scrap busting headbands. Why not try making some bead and wire headband, as beads are themselves a lovely hair accessory and will look amazingly different when combined with wire to make a band. One of my personal favorites of these is the felt flower headband which you can see below.
Try at least one of these DIY headbands to add in your hair accessory collection. To be precise all of them are easy and fun to make. Make use of the lines that we provided you for the tutorials until the next DIY headband ideas for next season.
 Felted Green Glitter Heart Headband: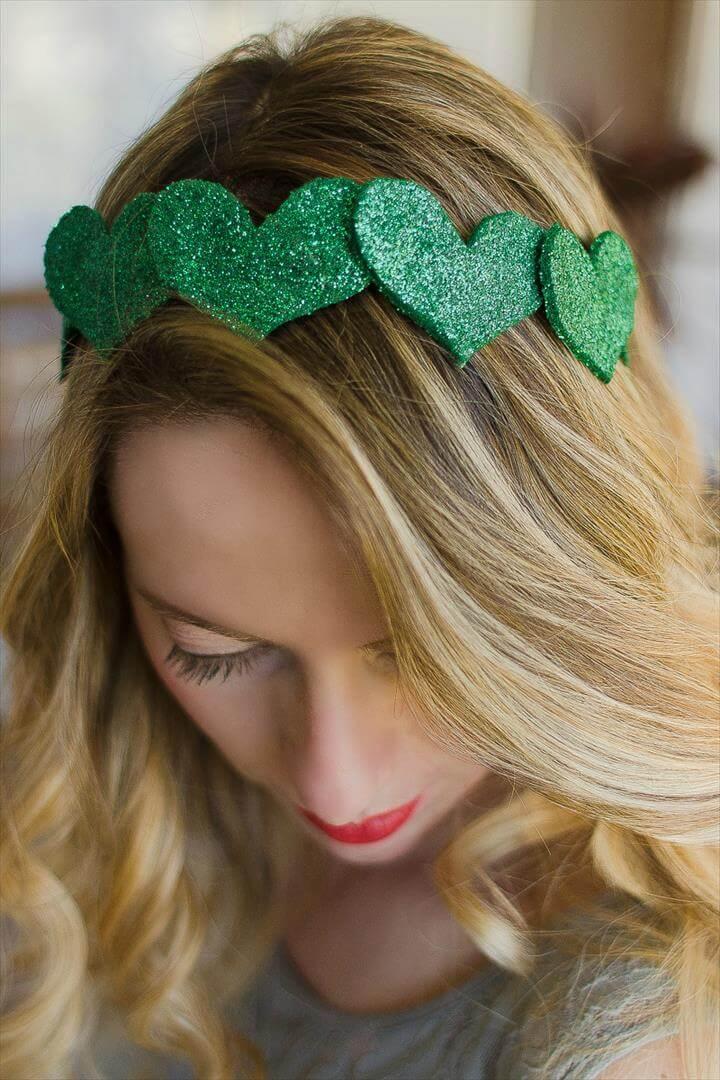 Make the most out of your St Patrick's celebrations by looking pretty and graceful with these handmade green glittered heart headbands. The lovely felted green glitter heart headbands are super easy and fun to make. You need a simple headband with green ribbon wrapping, green felt hearts, and the green glitter. You can make these headbands for your daughters to twin with them with the dressing.
Image: nurturemygut
Jersey Knit Braided Headbands: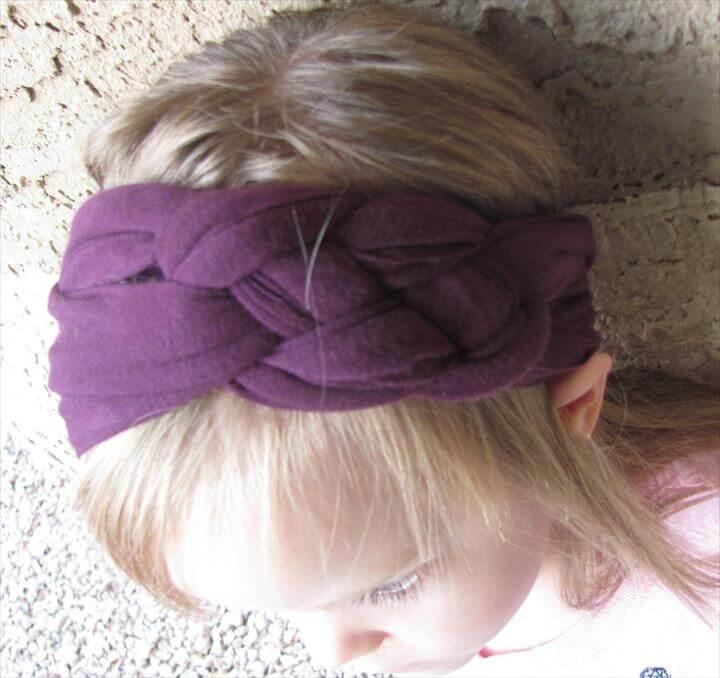 If you have some jersey fabric lying around then you can make this lovely jersey knit braided headband for your little girl. The cute headband is super easy and quick to make.  You just need to cut out the jersey fabric in length and then braid it up to form a nice and easy braided headband  Complete details here!
Image: youtube
DIY Beaded Headband Tutorial: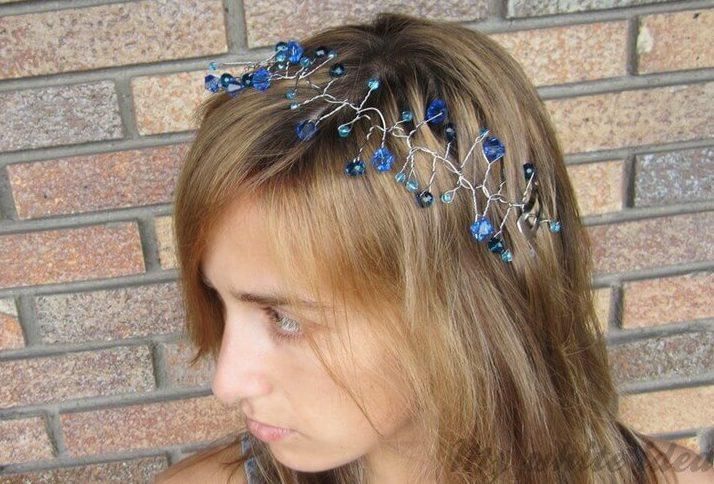 Look a little extraordinary this summer season with things like this DIY beaded headband tutorial. Here is this so fancy and fun looking DIY beaded headband tutorial to easily make at home and grace up your hair fashion. You need jewelry wire and the beads of your favorite colors to make this cute and easy headband.
Image: mywhiteideadiy
Crochet Top Knot Headband Baby Headband

: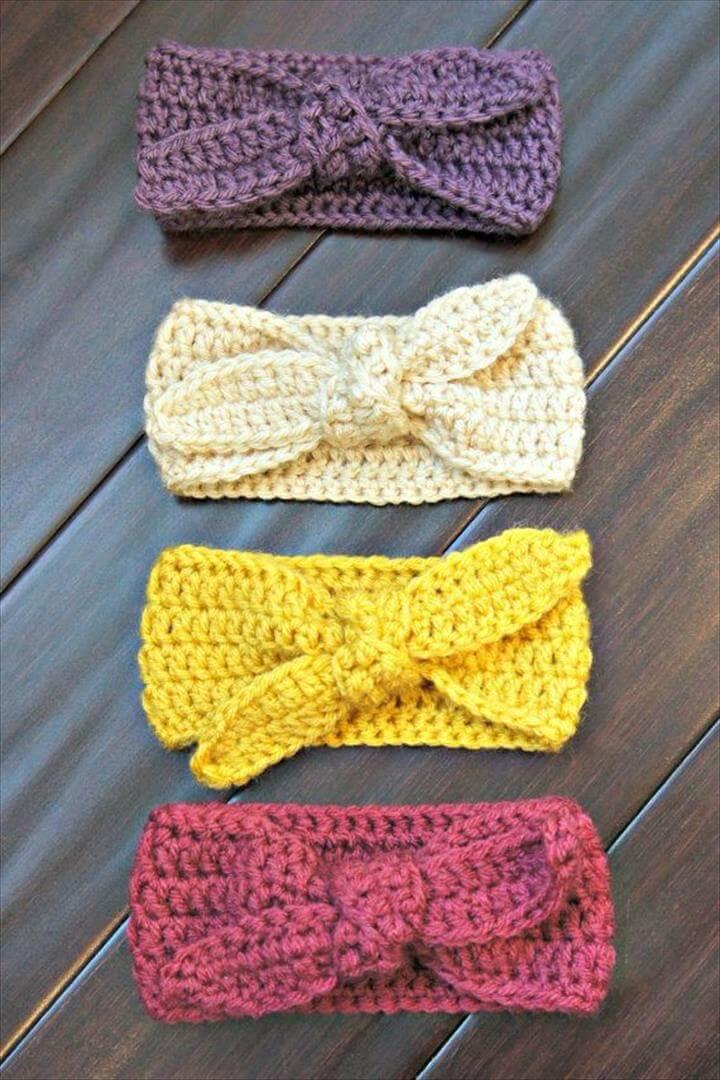 Make your little babies look cutest for the winters with these adorable crochet top knot headband baby headband. You need to take the lion brand bulky yarn in your favorite colors along with the 6mm hooks to make these adorable crochet top knot headband baby headbands. You can match these dresses with their dresses for a more complimentary look.
Image: easycrochet
Multi-Strand Headband Tutorial

:

5-Strand Headband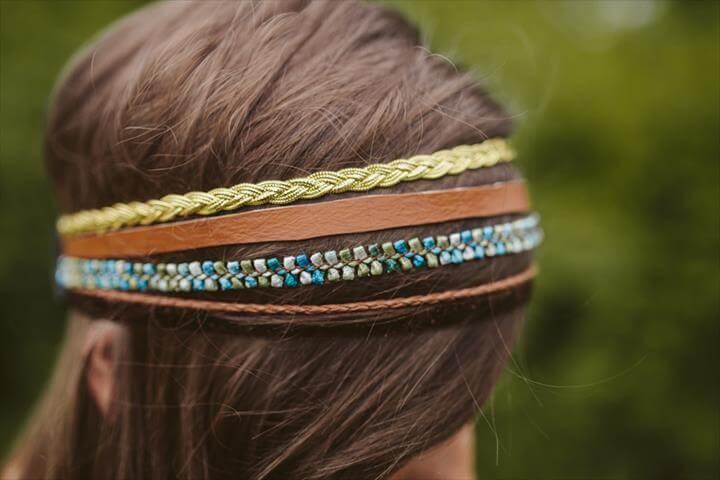 The boho fashion lovers can really make their summers special with these handmade and chic looking multi-strand headbands. This headband has 5 different kinds of strands to look just so cool and trendy. The strands include a ribbon one, a leather cord and a leather braid, gold braided cord, and the glitter stand. The headband works up quite quickly so do hack the idea here!
Image: sincerelykinsey
Hair Wrapped Around Headband – DIY Knot Headbands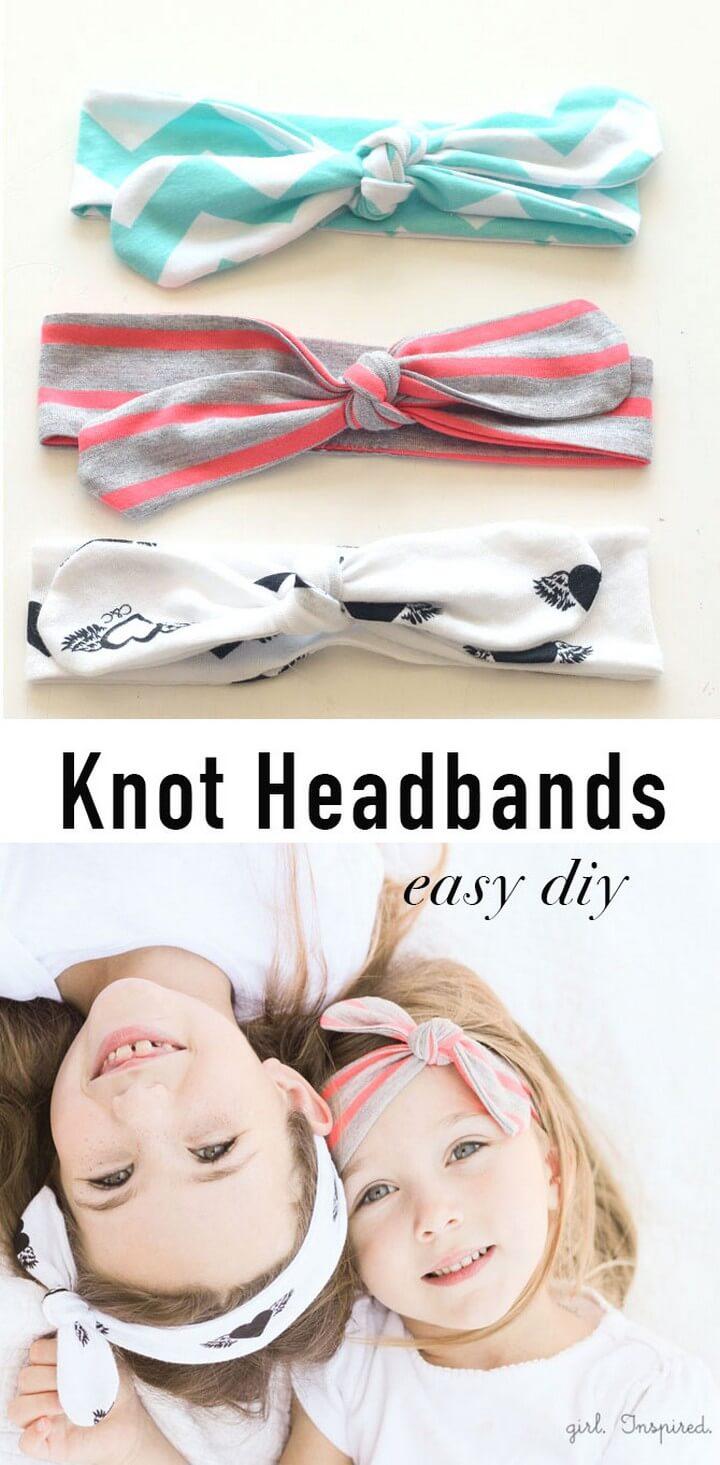 The bow tie knot headbands are always in fashion and here is this easy and fun handmade hair wrapped around the headband for you. Using the colorful fabric scarp laying your yarn stash you can easily sew up a bunch of these lovely headbands for your little girls. Make these headbands in multiple colors to let the girls match with their every dress.
Image: thegirlinspired
Pleated Headband Tutorial

: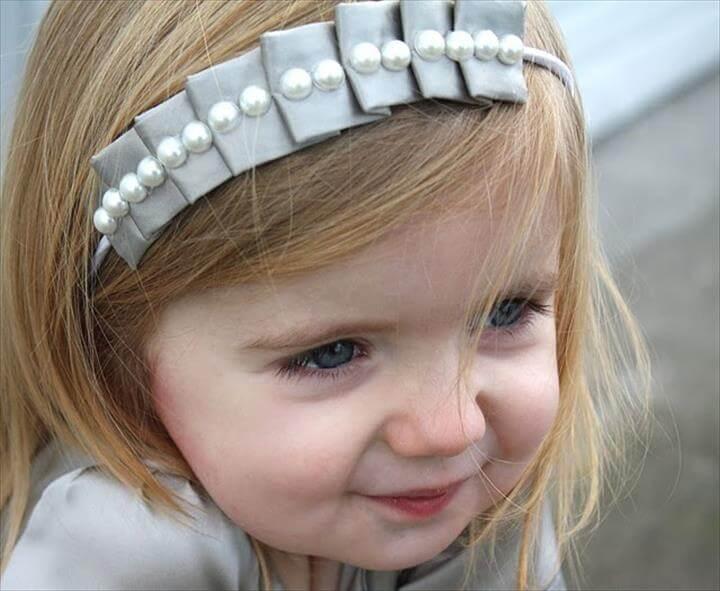 This gorgeous pleated and pearled headband is so elegance and graceful to look at. There are few things that you can find in your sewing stash to make this lovely pleated headband. So get your hands on the scraps of fabric, felt, pearls, interfacing, and the elastic. Your little girls are really going to fall in love with these pleated headbands for sure.
Image: craftinessisnotoptional
Easy-Sew DIY T-Shirt Headband Tutorial: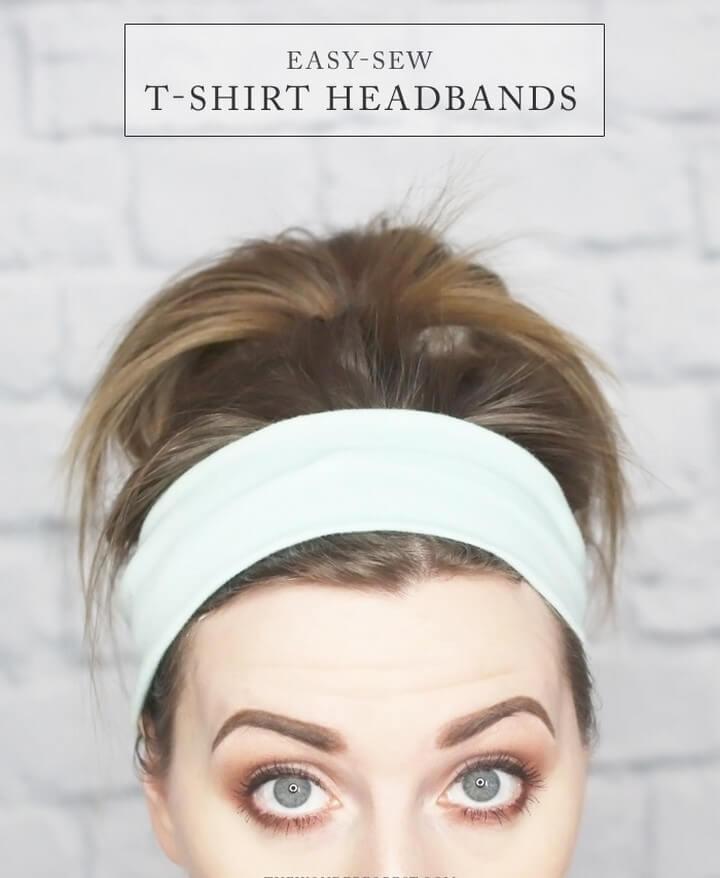 Headbands not only add a touch of glam to your style but also help you to manage your hair too. Here is this easy sew DIY t-shirt headband tutorial to try your hands on. These are one of the easiest and quicker headbands to make with only some pieces of the stretchy old t-shirt and your sewing machine. Check out the details here!
Image: thewonderforest
Fabric Headband – Polka Dor Headband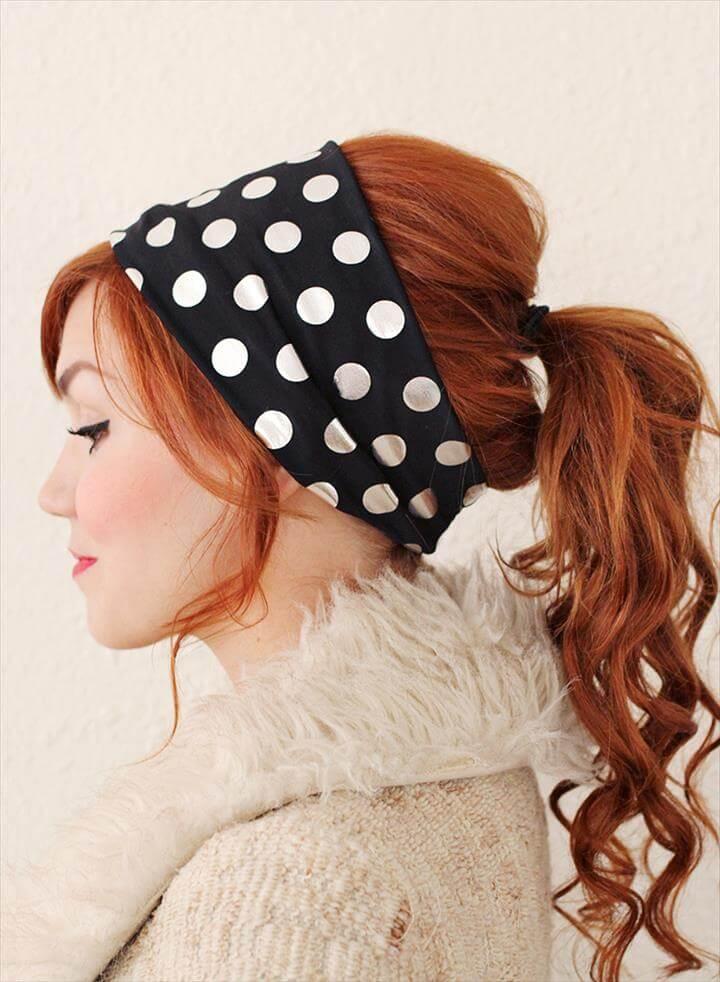 Give your hairstyles a boost up this summer with the handmade headbands just like this absolutely chic and gorgeous polka-dotted headband. So grab some fabric that has polka dots to sew up these amazingly simple and fun looking polka dotted headbands to compliment your style statement. Sewing details here!
Image: abeautifulmess
Lace Headband Tutorial: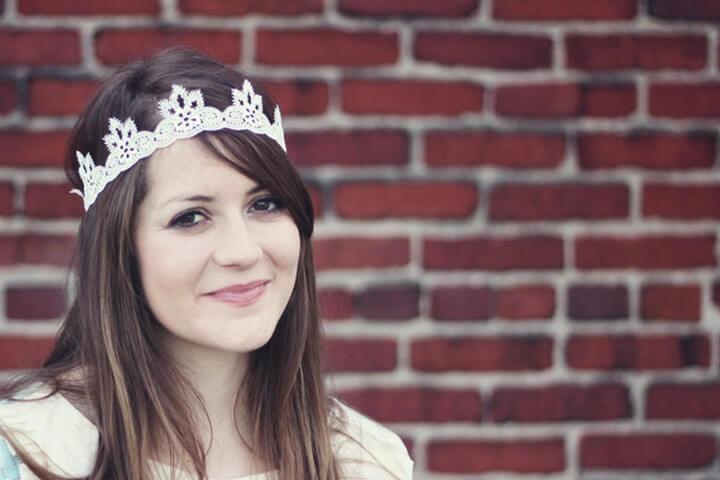 There is a kind of intimacy and beauty about the intricate details that the laces have. So if you have some left out pieces of the lace left in your basket then make these adorable lace headbands as they are so much fun and look so pretty. You need only two things to make these headbands and which are the lace trim and the elastic.
Image: seekatesew
DIY Turban Headband: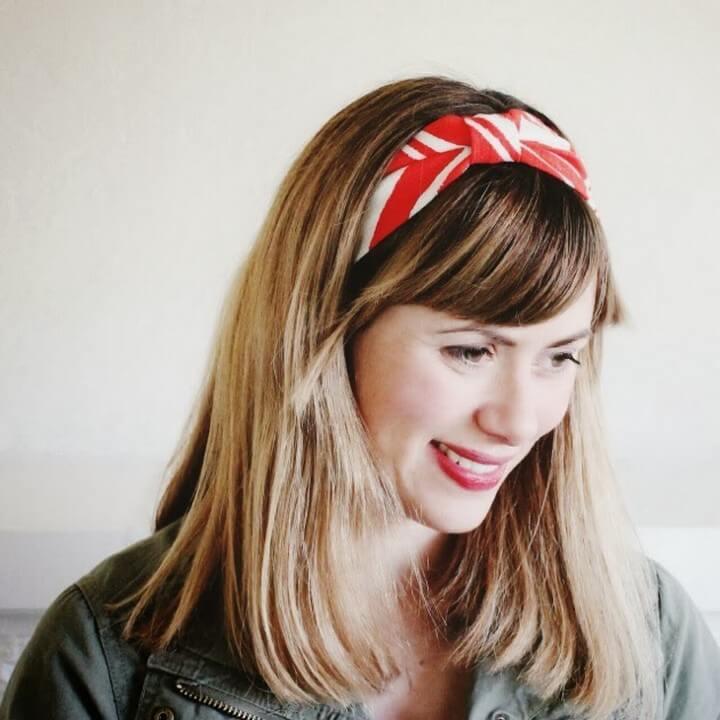 Make your summers more fun for the styling and fashioning of yours with this DIY turban headband. The red and white fabric has really made this turban to turn out so exquisite and fun. It has a knot in the center and you can wear it in multiple ways like a turban or with a ponytail too. Learn the details here!
Image: make-haus
Twisted Turban Headband DIY: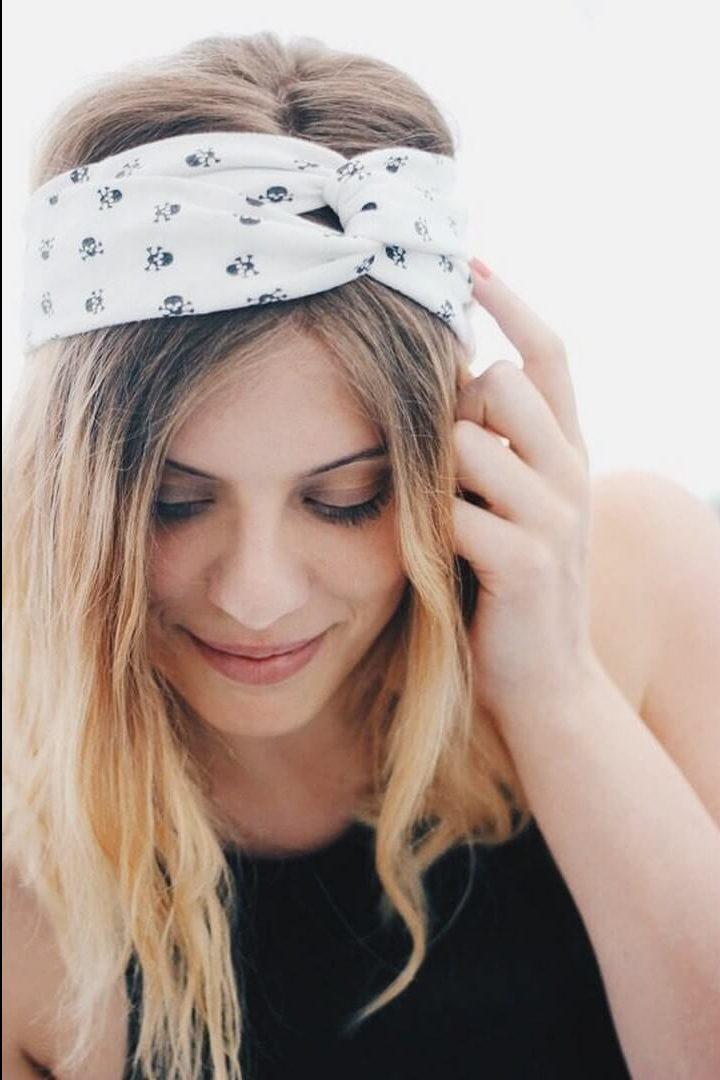 Here is this gorgeous twisted turban headband that has been DIYed out of an old T-shirt. You need to cut stripy pieces out of the t-shirt to sew up tube-like long structures and then tie them together to make the perfectly knotted twisted turban headband. Follow the details right here!
Image: wemustbedreamers
Knotted Headband Tutorial: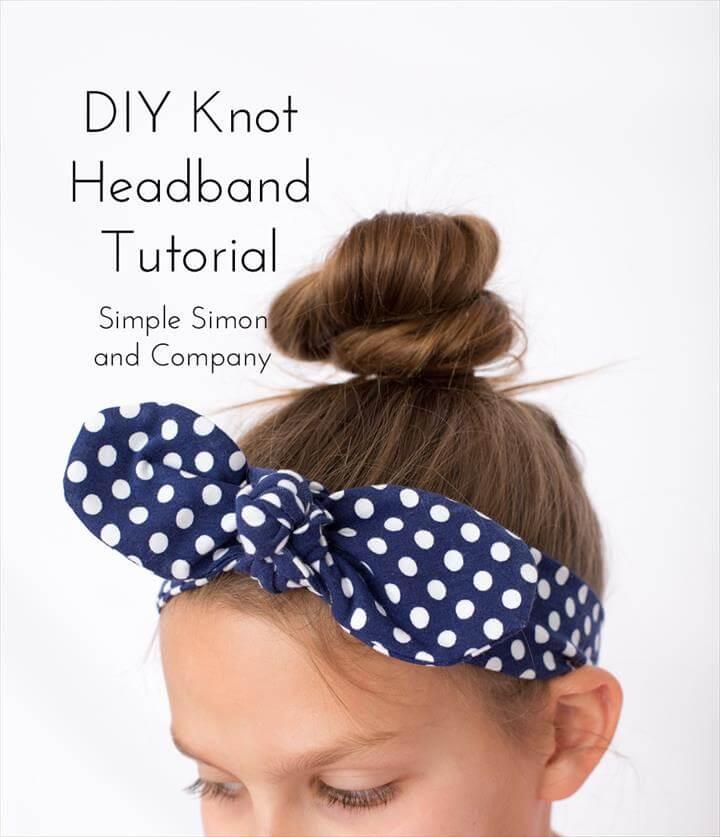 Make your little girls look the cutest with these adorable knotted headbands for the summer. A nice hair bun would look super fun when you spice it up with this lovely knotted headband at the front. The fabric from which the headband has been made is polka-dotted to look so cute and fun. Check out the details here!
Image: simplesimonandco
Fabric Headband: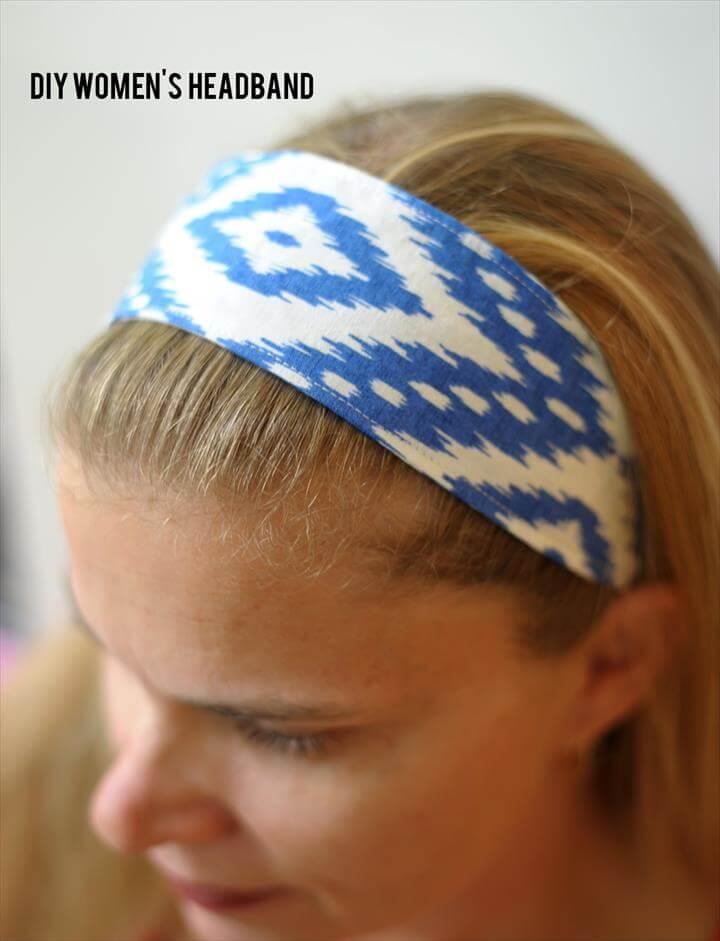 Here is how you can make the simplest and the most pleasant-looking fabric headband ever. This is the kind of headband that we have an image in our minds whenever we have this kind of headband in our minds. All you need is a piece of fabric and some elastic to sew up this easy and fun headband in just a few minutes.
Image: aliceandlois
Adjustable Headband Tutorial –  No Sew Wire Headband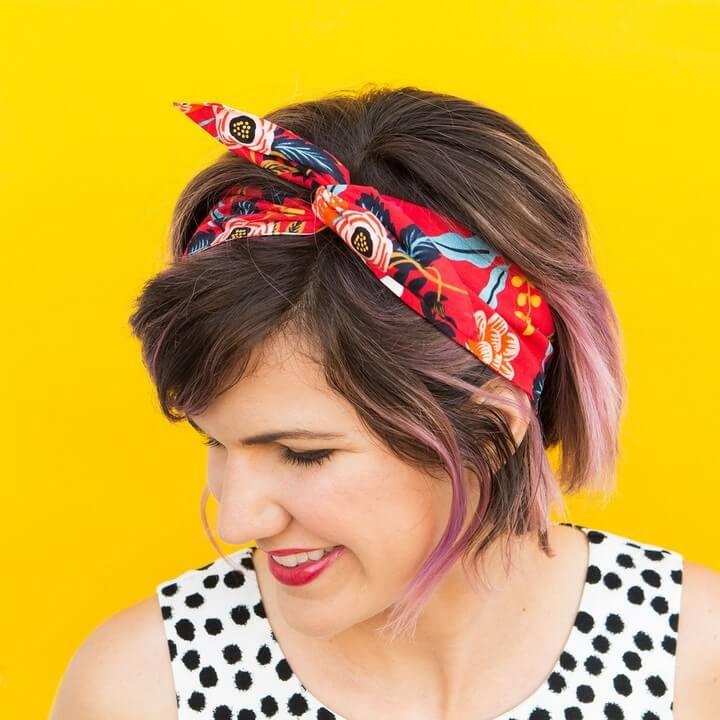 Here is another super cute adjustable headband to make and enjoy your summer more. The cute red fabric has lovely and colorful prints on it. With this pretty piece of the fabric, you need to have some gauge wire to shape up this lovely headband with a bow tie knot. You can make this for your little ones too.
Image: sarahhearts
Scrap-Busting DIY Headbands

: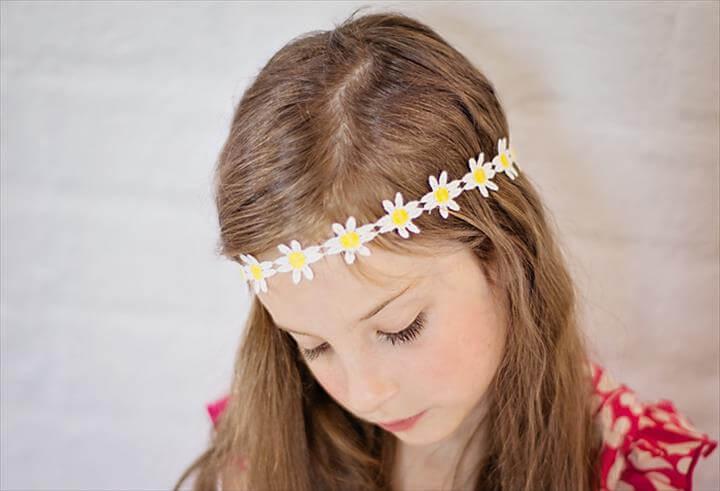 Your little girls would be more than happy to wear these adorable and handmade scrap busting DIY headbands with their pretty summer dresses. All you need is look into your stash basket and get some left out pieces of the lace and the ribbons to make these adorable and cute DIY headbands. Details here!
Image: scatteredthoughtsofacraftymom
Pleated Headband Tutorial For Bobbie: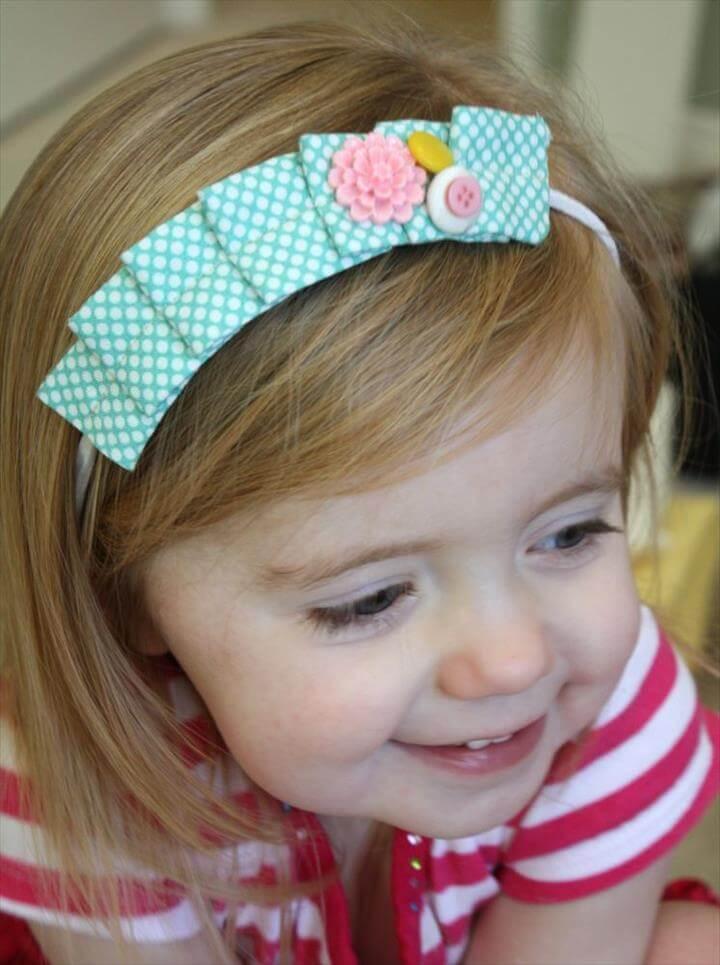 Make your little munchkins look cuter with these handmade pleated headband tutorials for the Bobbie. So grab a left out piece of the fabric from your fabric stash bucket and then sew it up with some thick pleats. Add some cute embellishing items like the buttons and flowers to jazz up the charm and beauty of these headbands more.
Image: craftinessisnotoptional
Bead & Wire Headband

: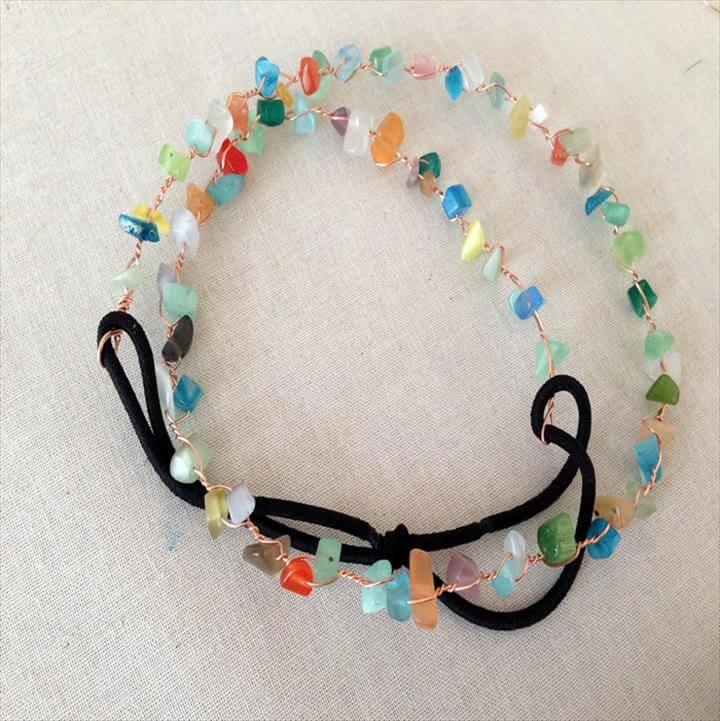 Make your working in the kitchen or the computer more fun with these beads and wire headbands. To make this simple and minimalistic headband you need a few things. So get your hands on the pair of metal elastics, bead chips, and the copper wire to shape up these lovely and cute beads and wire headbands. Even your young ones would love these the most.
Image: lisayangjewelry
Jersey Knit Braided Headband – How to Make a Braided Head Wrap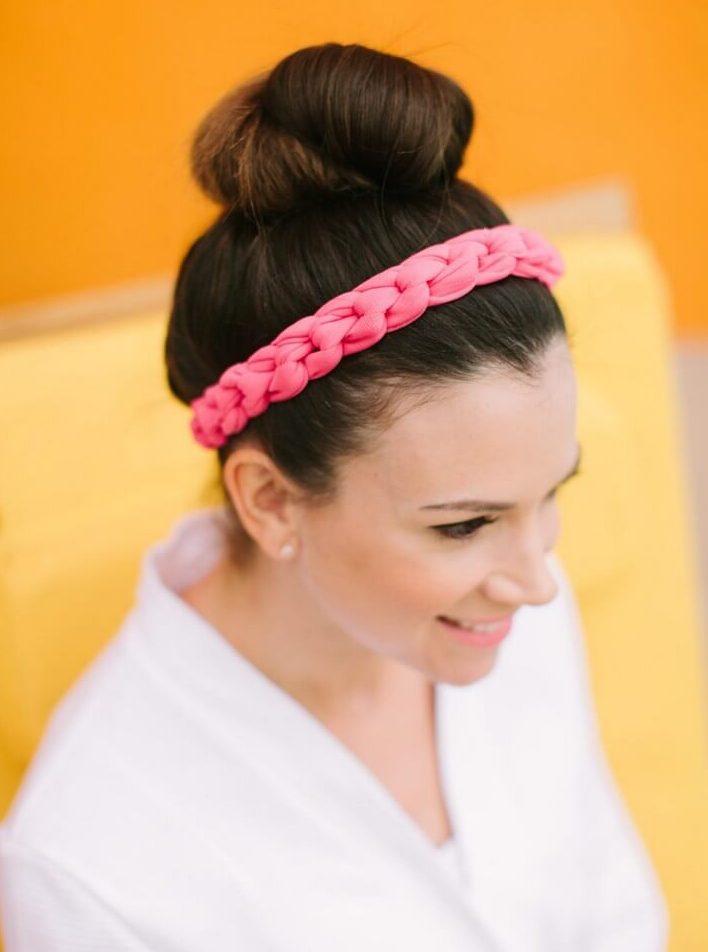 If you have some jersey fabric lying around in any of the colors then make this lovely braided headwrap out of it. You can use this awesome and totally chic looking headband for your spa days. Weaving these lovely headbands would make you look stylish and also not let your hair come to your face. Details here
Image: diynetwork
Pretty Felt Flower Headband

: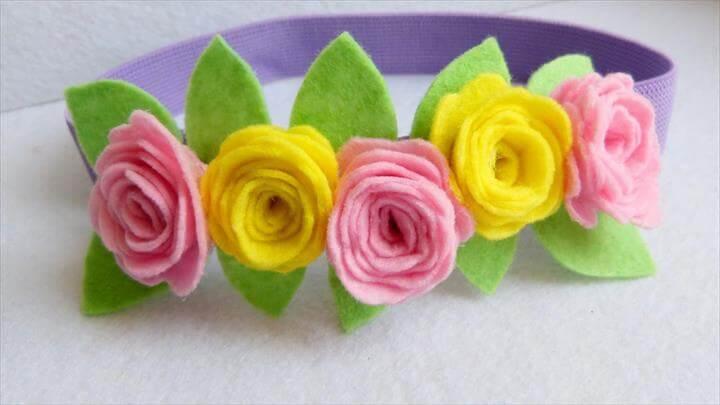 Make your summer princess the happiest with this lovely pretty felt flower headband which is super easy to make at home.  You need to have some green and some colorful sheets of the felt to make these adorable colorful flowers. Glue these flowers to the headband and your princess have her lovely floral crown to wear.
Image: youtube
Knot Headbands – DIY Velour & Crystal Headband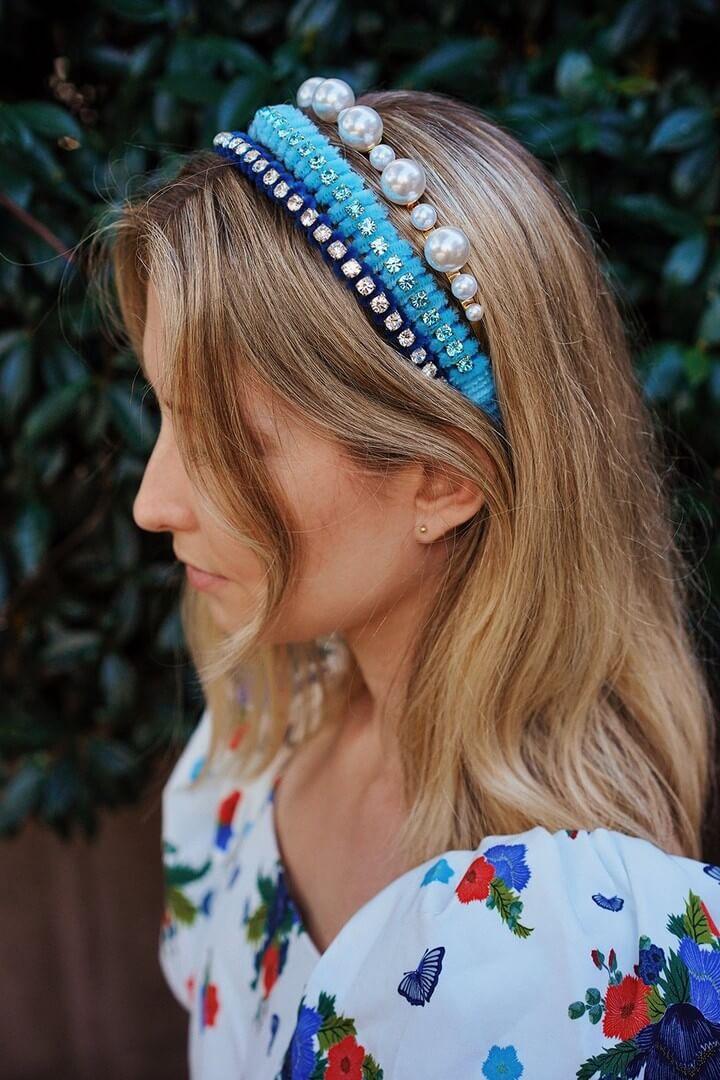 If you are looking for some fancy kind of headbands then make these adorable knot headbands with easy of the supplies and the method. So you need plain headbands, colorful velour pipe cleaners, and the rhinestone chains to make these super cute and adorable crystal headbands. Check out the details here!
Image: honestlywtf