Gardening is a kind of hobby that is extremely beneficial to your health. People who love plants and take care of them are more likely to be present-minded, fresh, healthy, and happy than those not doing it. If you love plants, it's very important that you also spend some time on their beautification and their environment as they are living things and deserve the best habitat possible.
One of our personal favorites is these marbled mini vases. These 26 DIY Planter Ideas To Try Now you can use different colors over here. Let's see these metal planters over here which are as amazing as the other ones but ideal for the protection of plants, as they cannot be broken so don't you worry about the windy weather and breaking of your plant pots now. The bamboo shoots can also be used as planters and they look ideal. Make some beaded plant hangers for the front yard too as you can see over here. Look at these concrete planters here and try following the tutorials from the links given. Besides this you can make some, colored plaster planters, painted terra cotta pot, floating shelf hanging planters, and some pallet planters.
There are some very interesting and progressive ideas about how you can make different planters with less expense and time. The first idea that you see here is the river stone planters. These are no big deal to make. You just need some of the river stones, glue them together in a manner that it takes a shape of a planter or you can also use cement. You can keep cactus plants or any other tough plants in these planters as they will go with the river stone idea. For more planers for the tougher plants, you can also do this driftwood planter. Here you can see some succulent plants in this. Do you want to keep some of the tiny plants inside your kitchen or somewhere? Try these mini plaster ones. These are in perfect shape and symmetry and can be easily kept inside at a kitchen window. Keep in them some garden herbs to go with the kitchen theme or simply put some of the fancy cactus variety.
These are some unique gold foil flower pots that are pretty and satisfying for the decorative purpose. Also, try some brick succulent planters which are dual purpose as they are candle holders a swell. Use that useless ladder behind your backyard for making a ladder planter which is easy and super attractive. This is a cedar and pine platter perfect for your front doors.
River Stone Planters: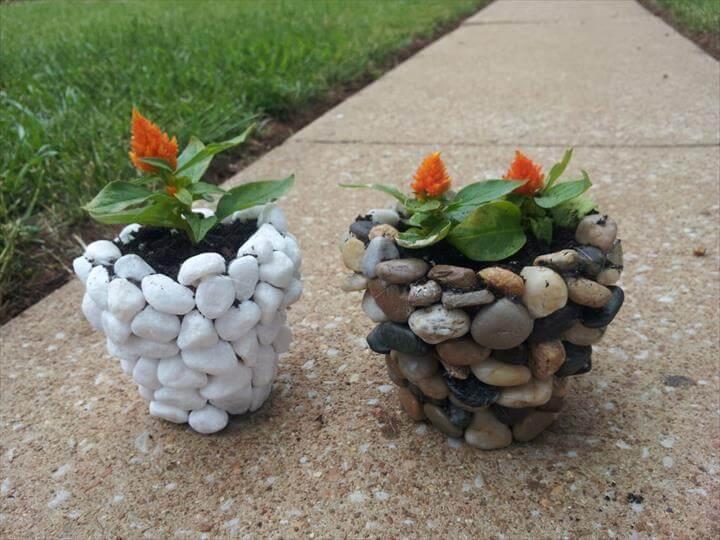 Make the most natural and amazing looking planters for your garden décor with this idea of river stone planters. Just cover your regular pots with the river stones all over and then paint them up in white. You can choose your favorite paint hues to bring the custom cuteness and charm in the garden décor.
Image: instructables
Succulent

Driftwood Planter: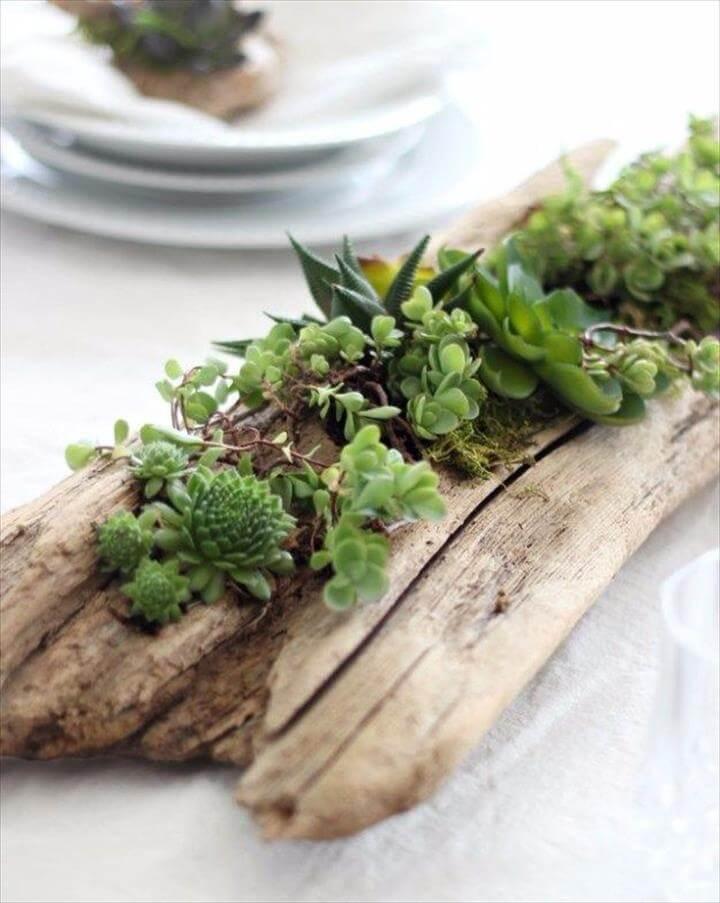 Summer home décor is so undone without the succulent planters and now you have the most stunning planting idea for them. Yes, you can use the rugged pieces of the driftwood to plant your succulents in. You can use this succulent driftwood planter as the perfect centerpiece for your table décor.
Image: craftberrybush
Plaster Mini Planters

: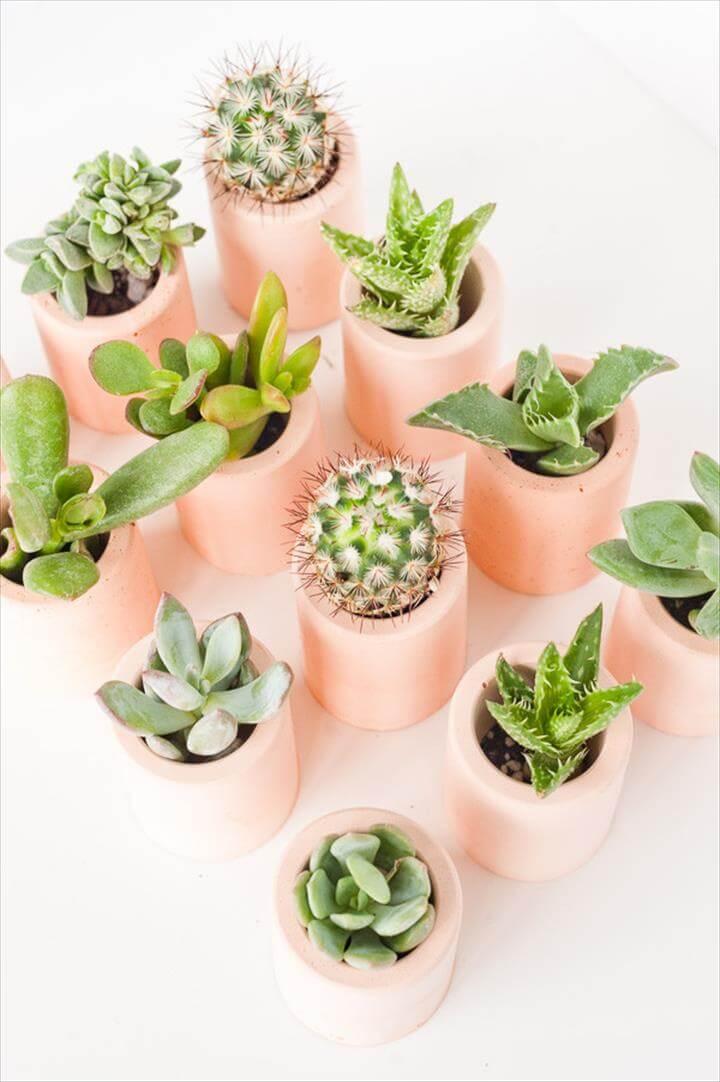 Now you can make your own gorgeous bunch of the planters to plant in the lovely succulents and more. Here is this gorgeous set of mini planters that have been made out of the plaster of Paris. The planters have been painted in the pastel hues to look just so elegant and enchanting. These are going to look great on the table, shelves, and mantles.
Image: papernstitchblog
Marbled Mini Vases

: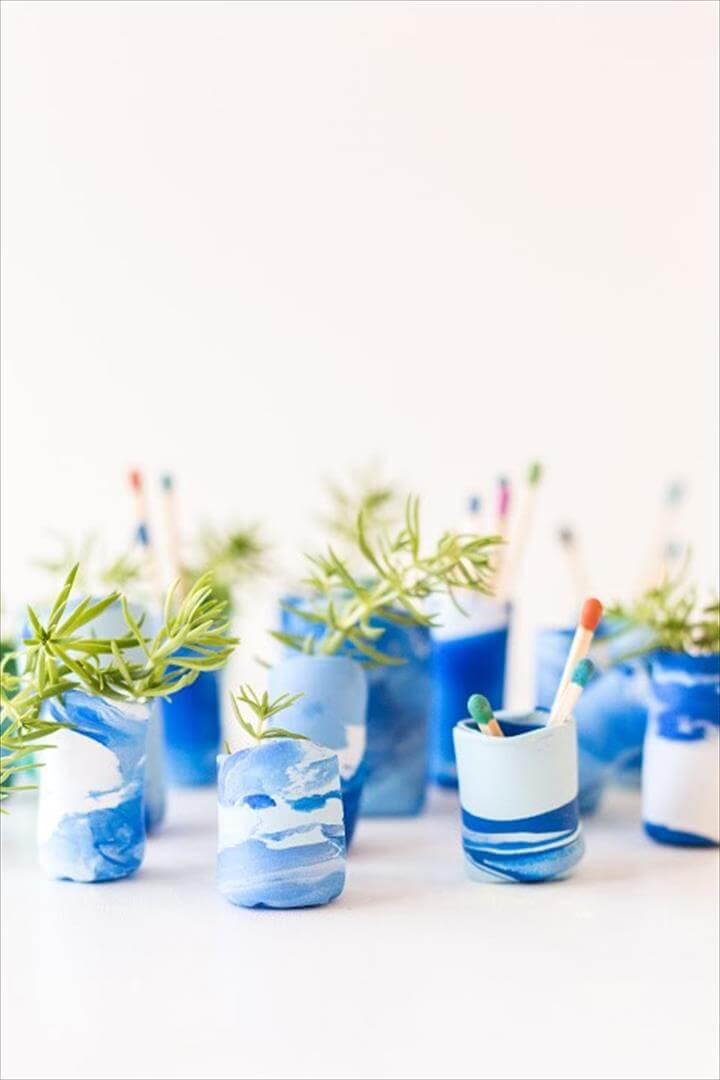 These handmade marbled mini vases are going to bring the perfect refreshing vibes in your home décor for the summer. These amazing and cute mini vases are made with the colored clay in blue. You can make them in any of the sizes but these mini vases look just the cutest holding your succulents.
Image: papernstitchblog
Metal Planter Makeover

: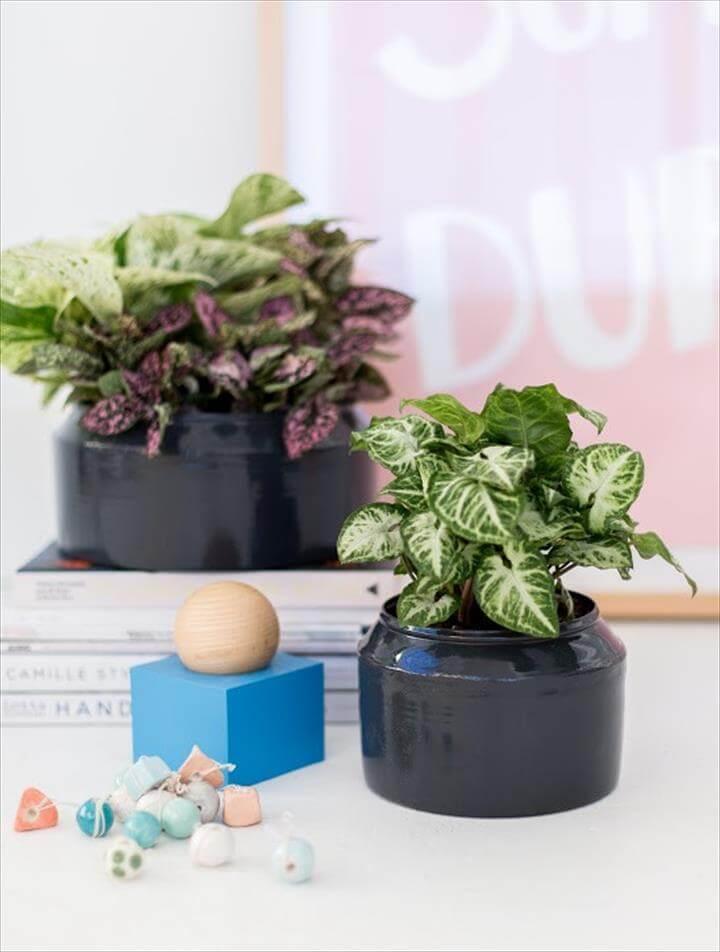 If you have old metal pots in the house then you need to give them a makeover. So grab the rustic Oleum spray paint and coat your old metal pots with them. You can use these gorgeously spray painted planters as the pretty planters for your tables and other display spots. DO hack this fun metal planter makeover.
Image: papernstitchblog
Dream Face Pot: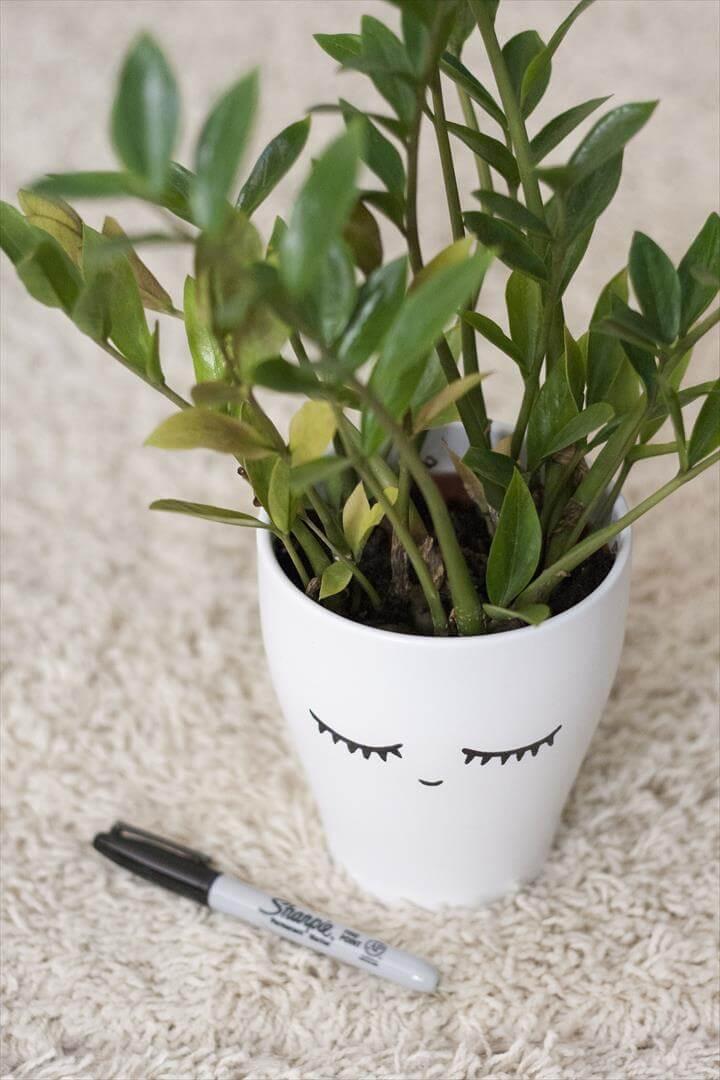 This is the cutest planter project to do at home and also the easiest and the simplest one too. So grab a mug of the plain pot and make a lovely cute and clam dreaming face on it. This pretty dream face pot would great on your tables and dressers with a lovely plant or flower inside it. Check it out all here!
Image: dreamgreendiy
Bamboo Planters

: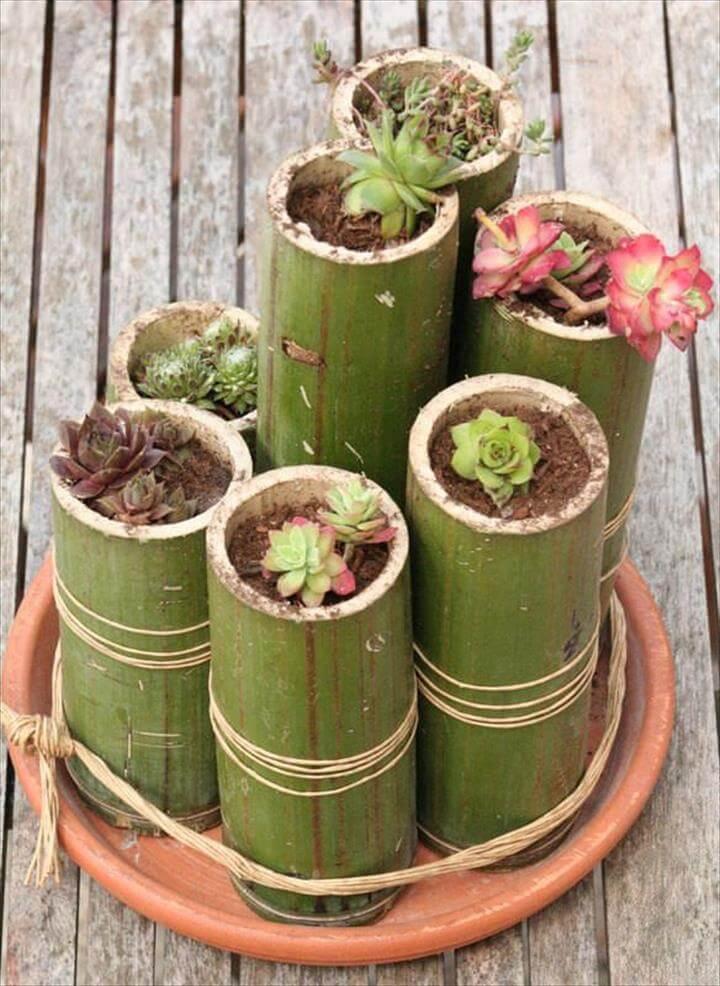 Here is how you can make your garden décor look super cute with these bamboo planters. You need a bigger bamboo and cut it into multiple sizes from small, middle to bigger ones. Tie them all together and fill the soil and then plant your favorite succulents or other plants in them. You can also these planters indoors too.
Image: canalblog
Beaded Plant Hangers: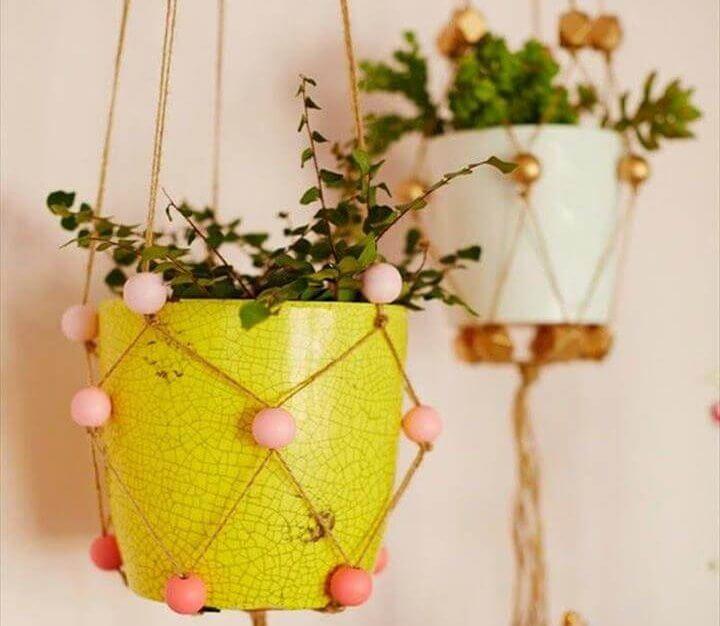 Make your colorful plants look more fantastic and fun by hanging them with these beaded plant hangers. Using the twine and the beads you can easily weave up these plant hangers which look like the macrame. These beaded plant hangers are perfect to boost up your summer home décor in an easy and cheap way.
Image: embellishedbayou
Concrete Planters

: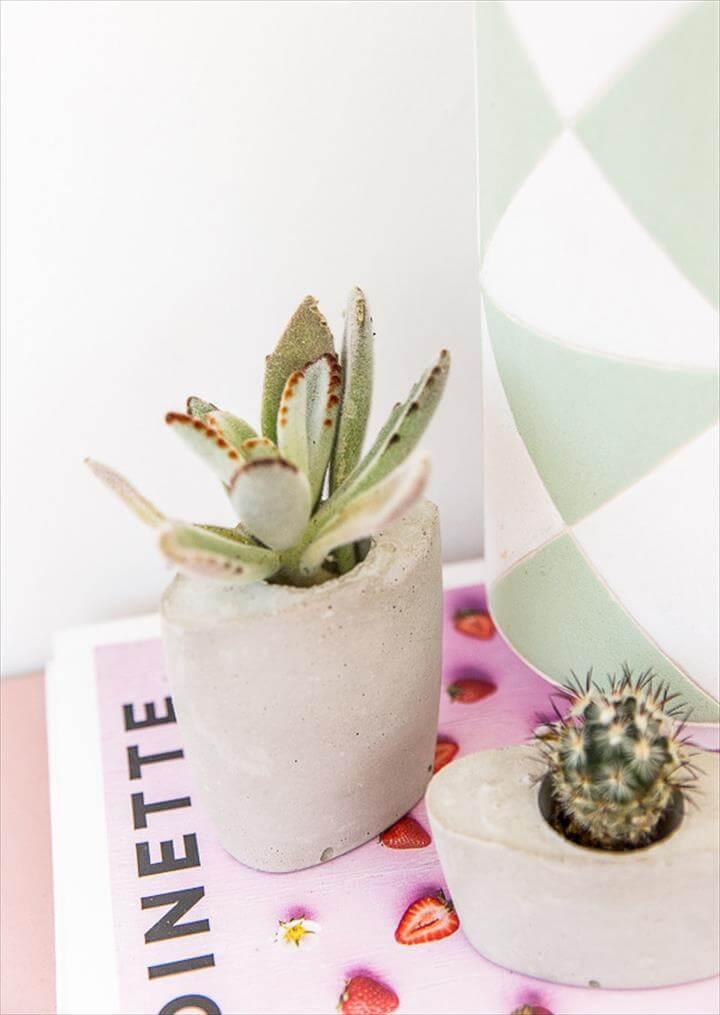 Celebrate earth day by doing some fun recycling and environment-friendly crafts just like these concrete planters. Using the empty shampoo bottles as the modules you can make these adorable and cute concrete planters. You can keep them plain as they are or you can just paint them the way you want.
Image: papernstitchblog
Color Plaster Planter

: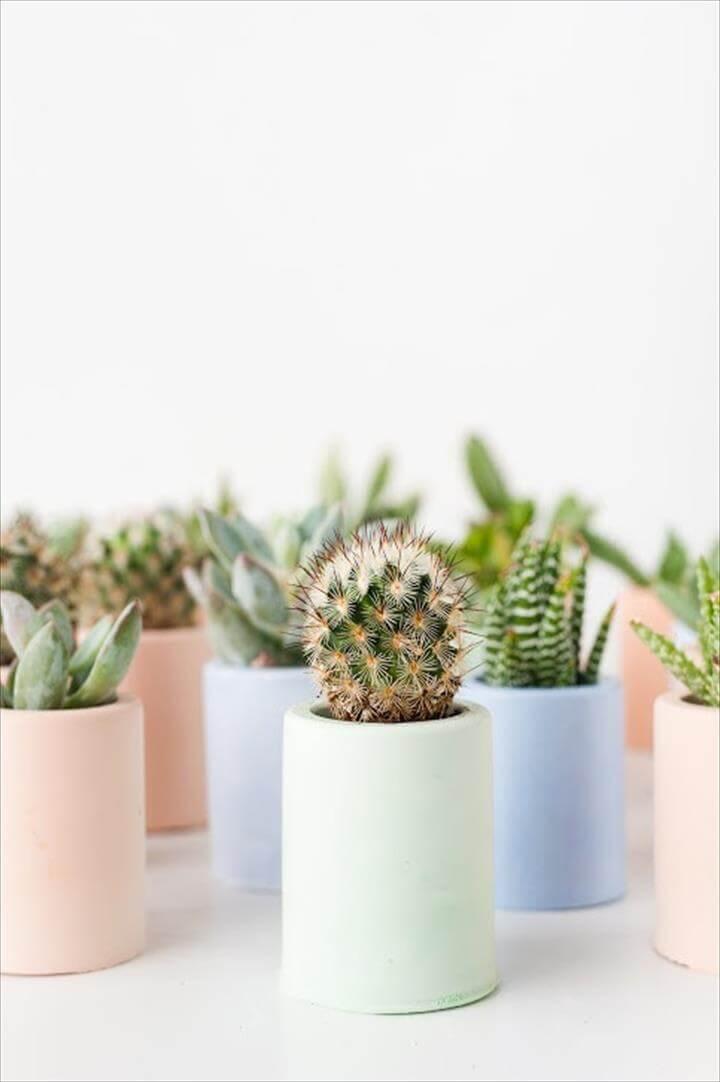 Image: papernstitchblog
Painted Terracotta Pot

: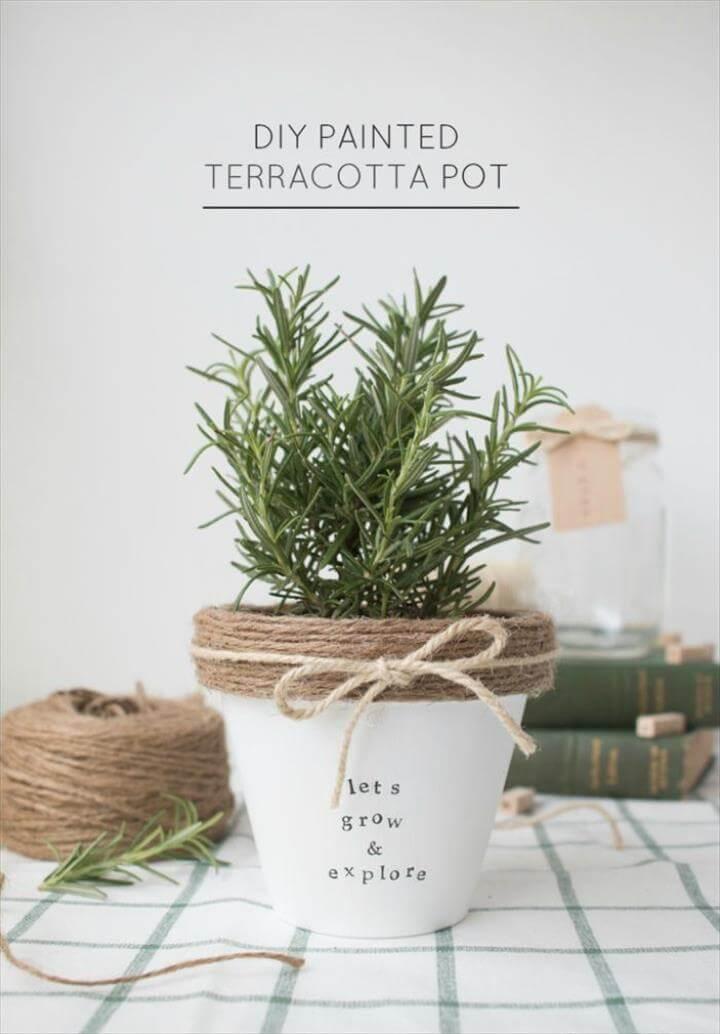 Welcome fall to your house with this absolutely gorgeous and stunning painted terracotta pot. Just grab a plain pot and then paint it up in dazzling white. Using the stamp letters you can write any quote on the pots like this one says Let's grow and Explore. You can grow creative with the paint hues and stamping.
Image: thebeautydojo
Floating Shelf

Hanging Planters: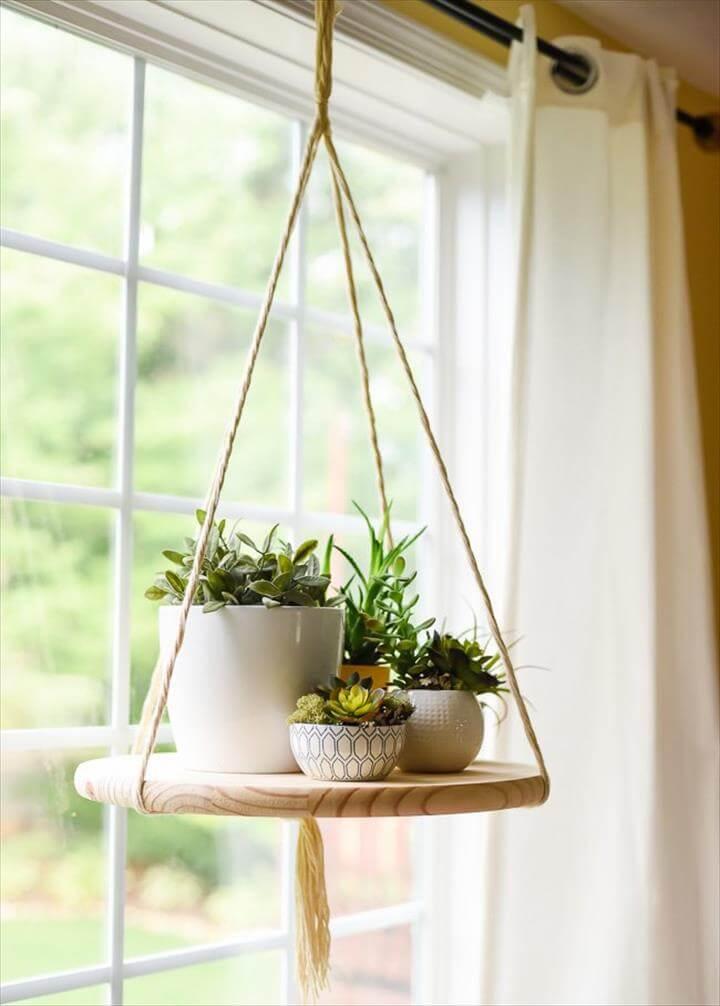 If you have so much space filled with the planters and want to add more than floating shelf hanging planters is the smart idea. You need a gorgeous wooden round circle and some rope to make it into a floating shelf so that you can display some gorgeous planter pots on them and jazz up your home décor.
Image: placeofmytaste
Tall Planters

: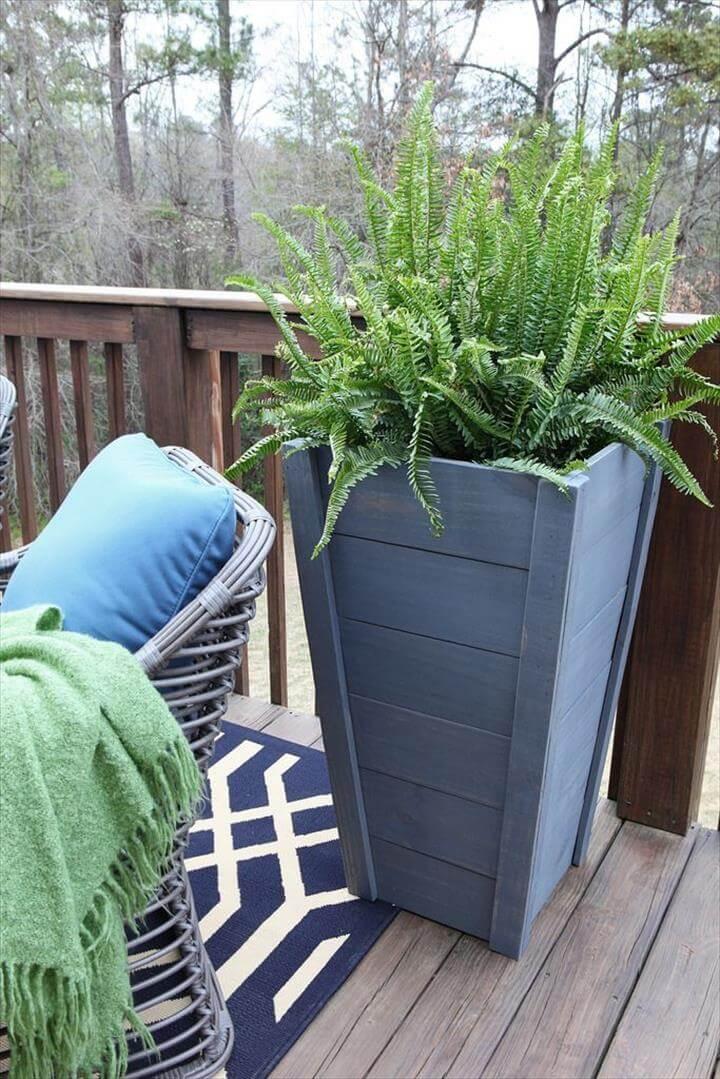 Make your outdoor more welcoming with these tall planters which are easy and cheap to make yet look super-rich in style. The first thing you need is the wood to make a bunch of the squares. Then you need to pile up these squares and make this super tall and enchanting planter to house your lovely plants in.
Image: bowerpowerblog
Hanging Planters: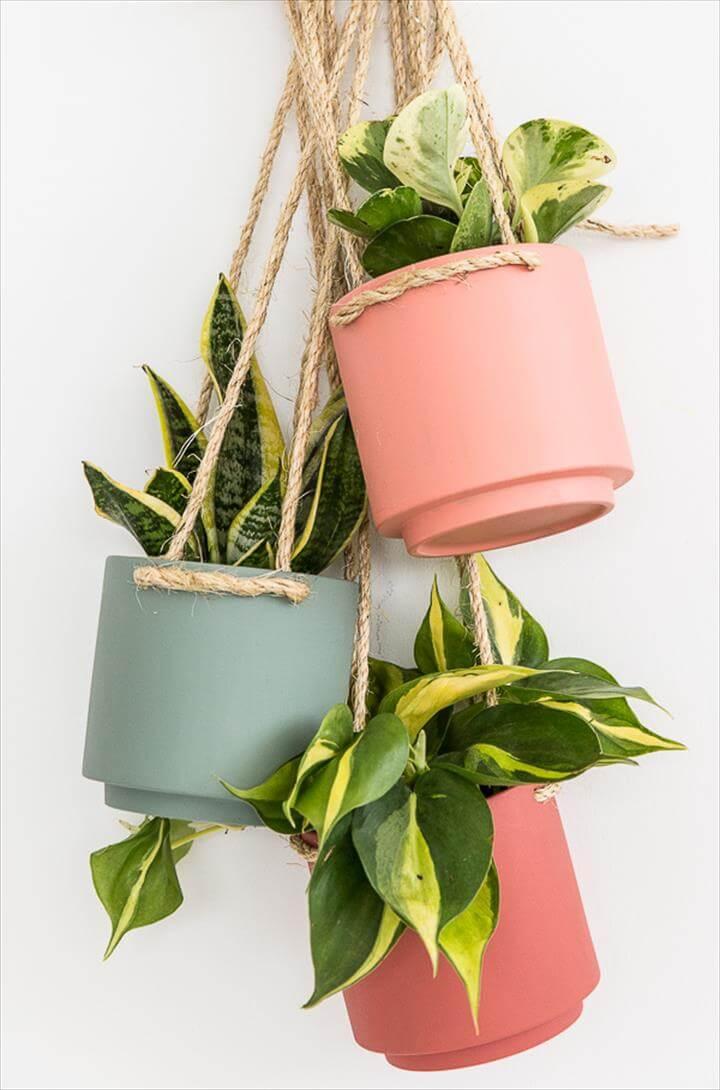 Money plant is one of the most adored indoor plants and now you can bring it in your spaces with this idea of hanging planters. The pretty planters come from the dollar store and then painted in the gorgeous and rich hues that complement your home décor and beauty. Check out the details here!
Image: papernstitchblog
Reclaimed Pallet Planter

: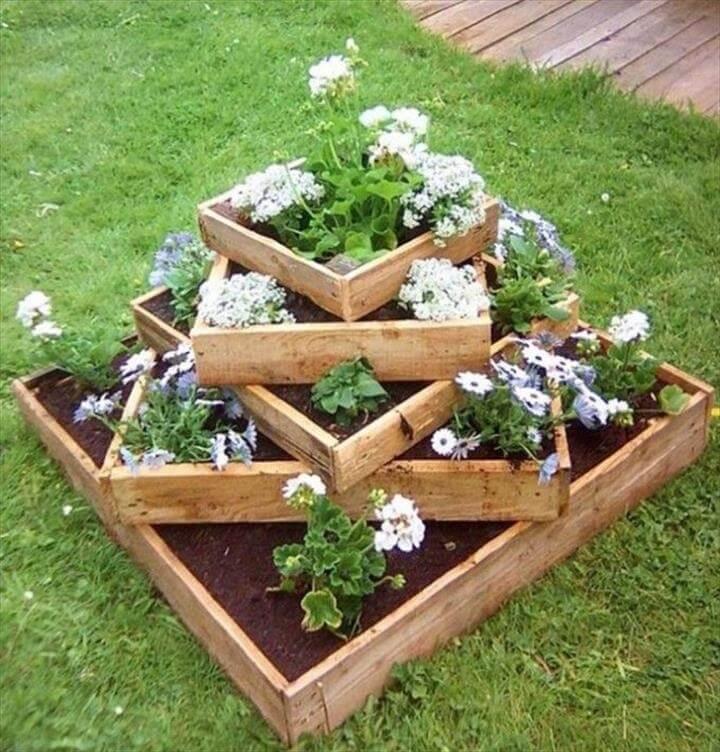 Pallet wood can do wonders for the betterment of your home décor and style. Here is the idea of a reclaimed pallet planter. Grab the pallet wood, clean it, rip it off into the planks. Then join together the pieces and make square boxes from small size to gradually getting bigger squares. Put these squares on each other with different angles and they are ready to house your plants inside.
Image: oldworldgardenfarms
Gold Foil Flower Pots

: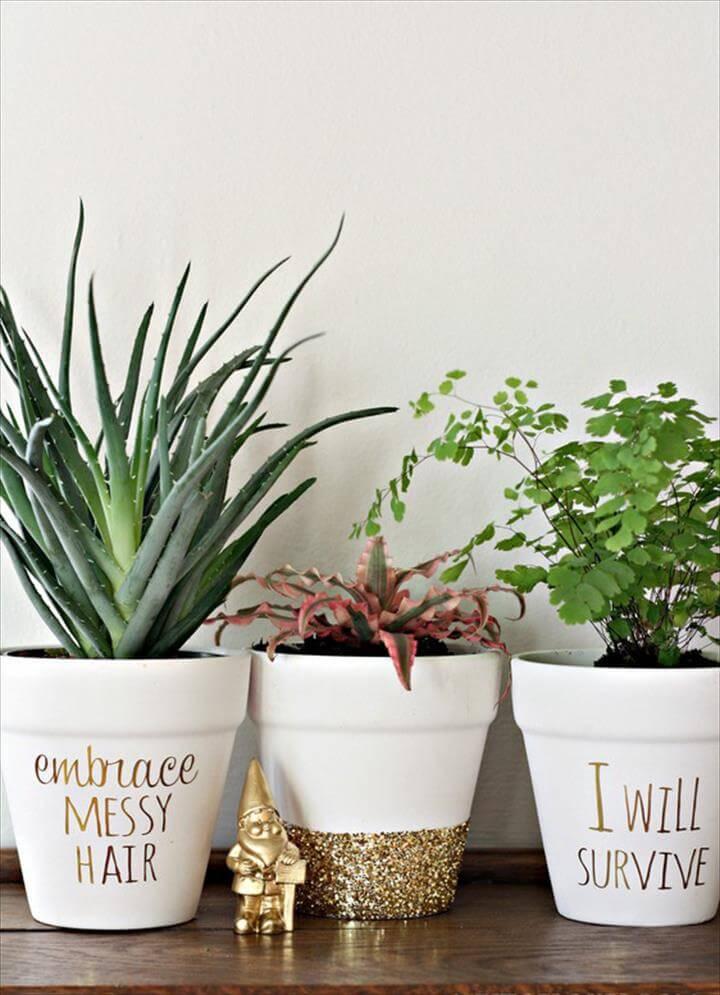 If you want to do a craft that is rich in style and totally stands a class apart then gets your hands on these gold foil flower pots. The dazzling white terracotta pots have gold foils in lettering and chunky form at the base to look just so tempting and stylish. You can display these pots over the shelves, mantles, and the side tables too.
Image: nestofposies-blog
Paver Planter With Home Depot

: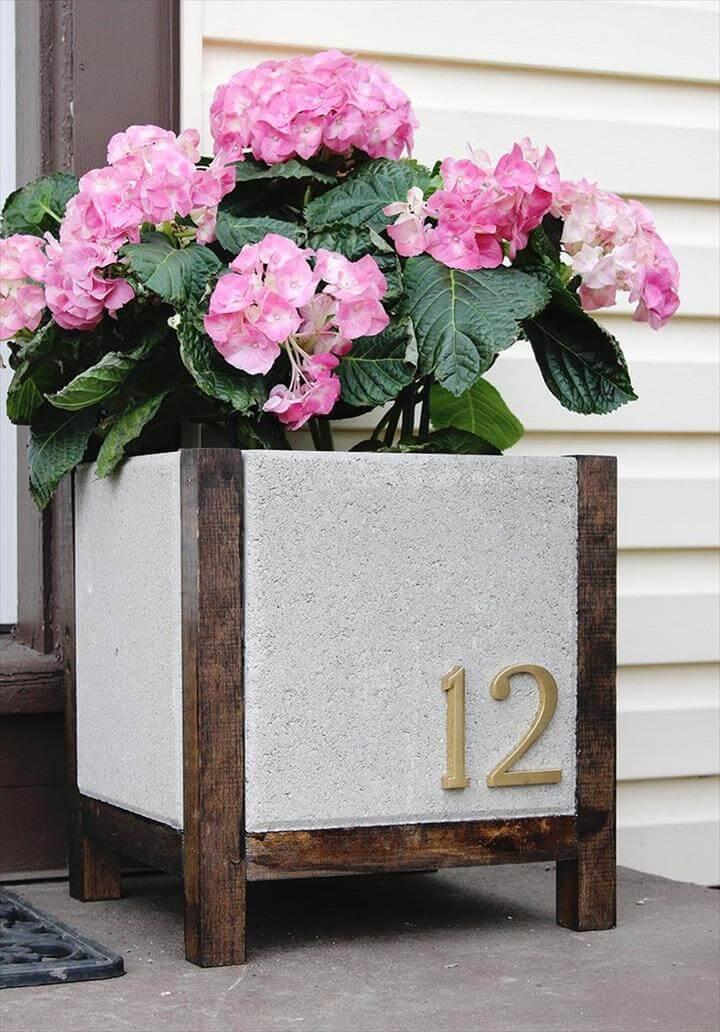 It's time to improve the beauty and charm of your front door décor and this paver planter with home depot is the best thing to do for the purpose. The gorgeous square planter box is made using concrete and wooden pieces. Also, the house number has been attached to the planter box to make it look more cool and functional.
Image: classyclutter.net
Succulent Container Garden

: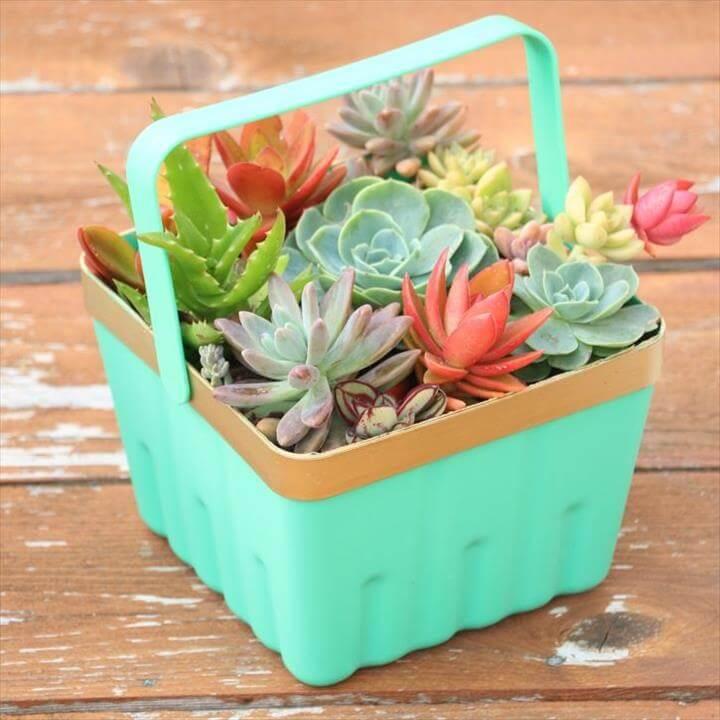 Bring cool, fresh, and natural vibes to your home décor with this lovely succulent container garden that you can take anywhere. Just fill the container basket with the soil and then paint your succulents with the lovely pastel hues to go and rest in the basket. You can use it as a centerpiece for the coffee tables.
Image: simpleasthatblog
Tripod Succulent Planter

: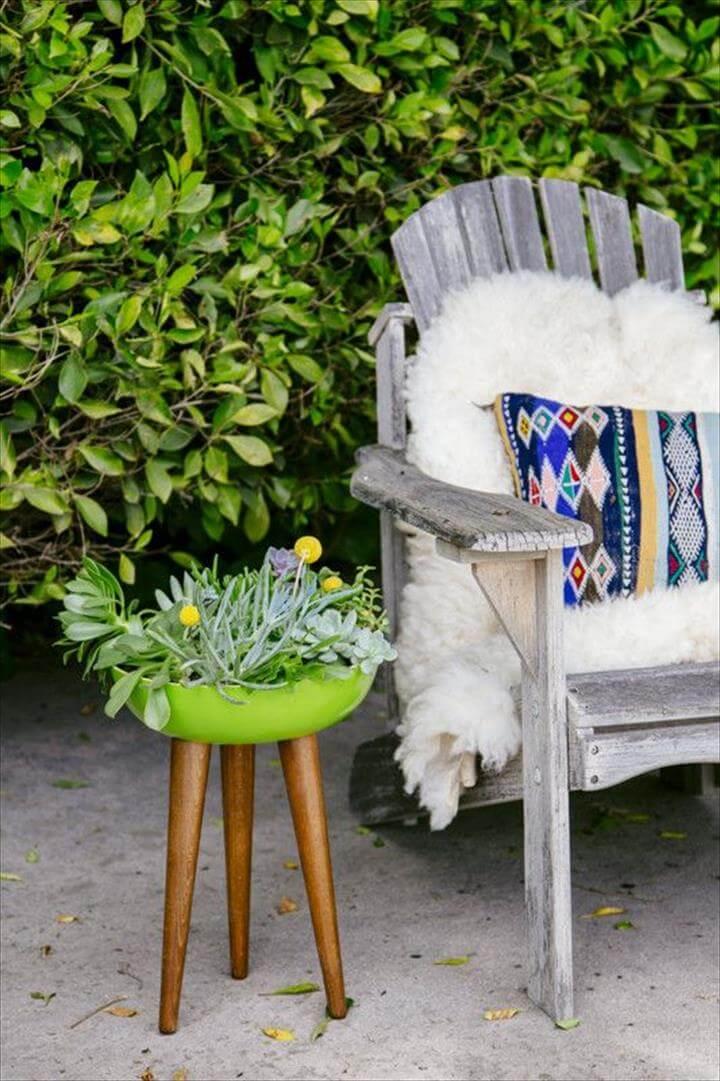 Why waste money on expensive IKEA planters when you can cheaply hack them at home. So buy tripod legs and a bowl from your nearby store to shape up this lovely tripod succulent planter. The wooden bowl has been painted in green to look so refreshing and funky with the wooden tripods. Grab the details here!
Image: lonny
Tiered Plant Stand Using Stair Stringers & Tread

: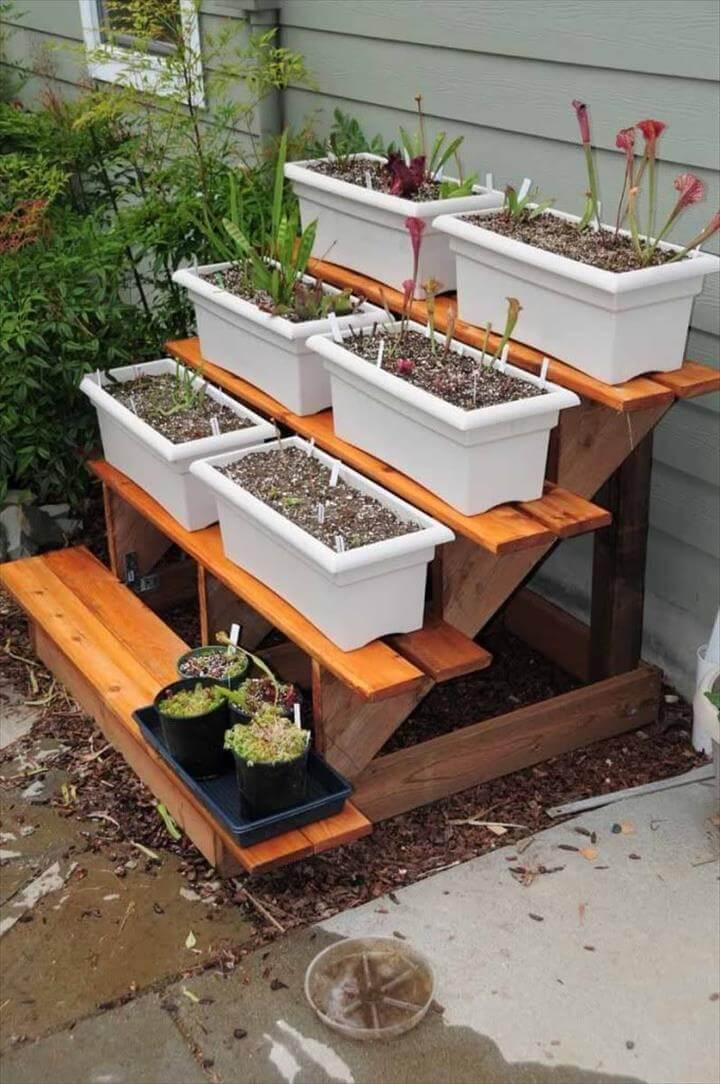 Arranging your planter pots in style can really jazz up the beauty and charm of your spaces. Here are these tiered plant stands using the stairs, stringers, and the tread. The gorgeous white classic planters look an absolute delight to the eyes while getting tiered up. Check out the details here!
Image: terraforums
Pallet Planter

: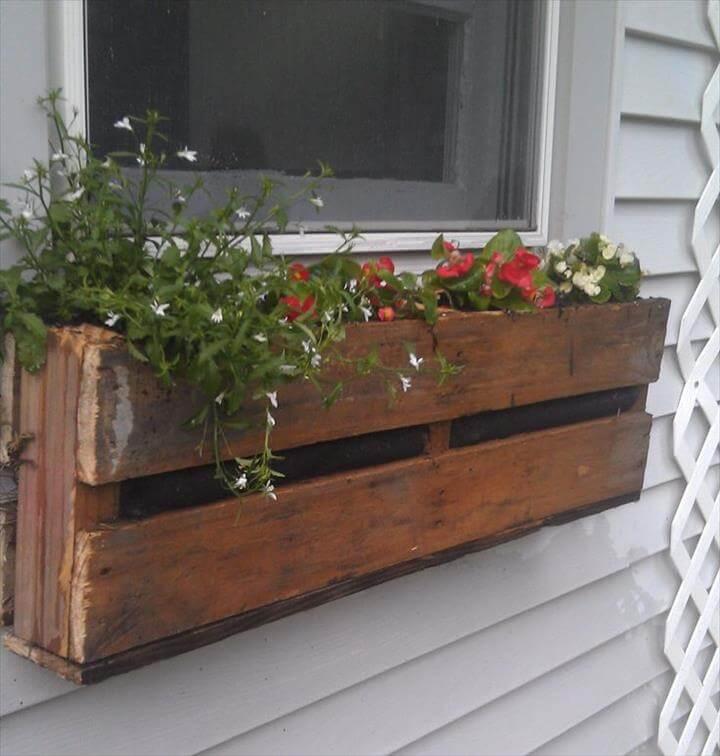 Make the cheapest and the effortless planter using the planter. Here is the idea of this lovely pallet planter that you can mount over your windows to look just so ethereal and natural. Just grab a wooden pallet skid and cut out a patch with a caddy to hold your favorite plants and flowers inside.
Image: wordpress
Brick Succulent Planter – Candle Holder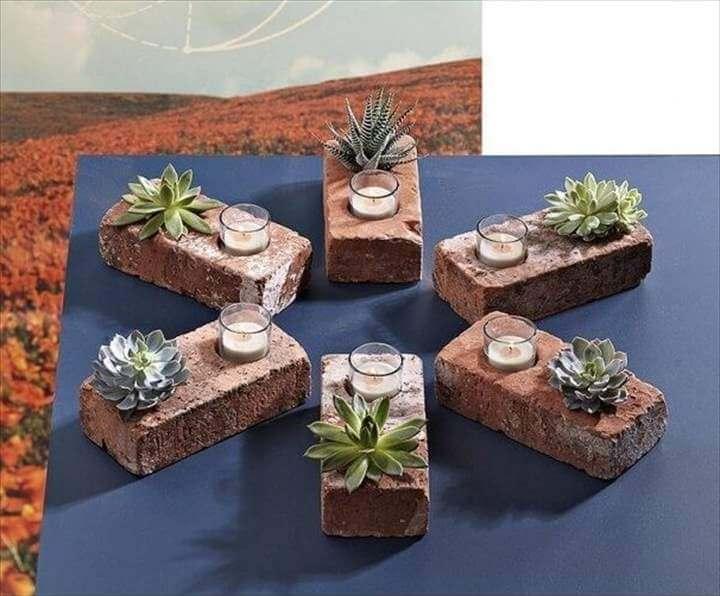 This idea of the brick succulent planter is going to hit like a rock in your head for being too crazy yet so much fun. The brick has been drilled with holes at both ends. One of the holes has been filled with succulents and the other with the candle holder to make the perfect table décor at no cost at all.
Image: curbly
Vertical Planters

: Ladder Planter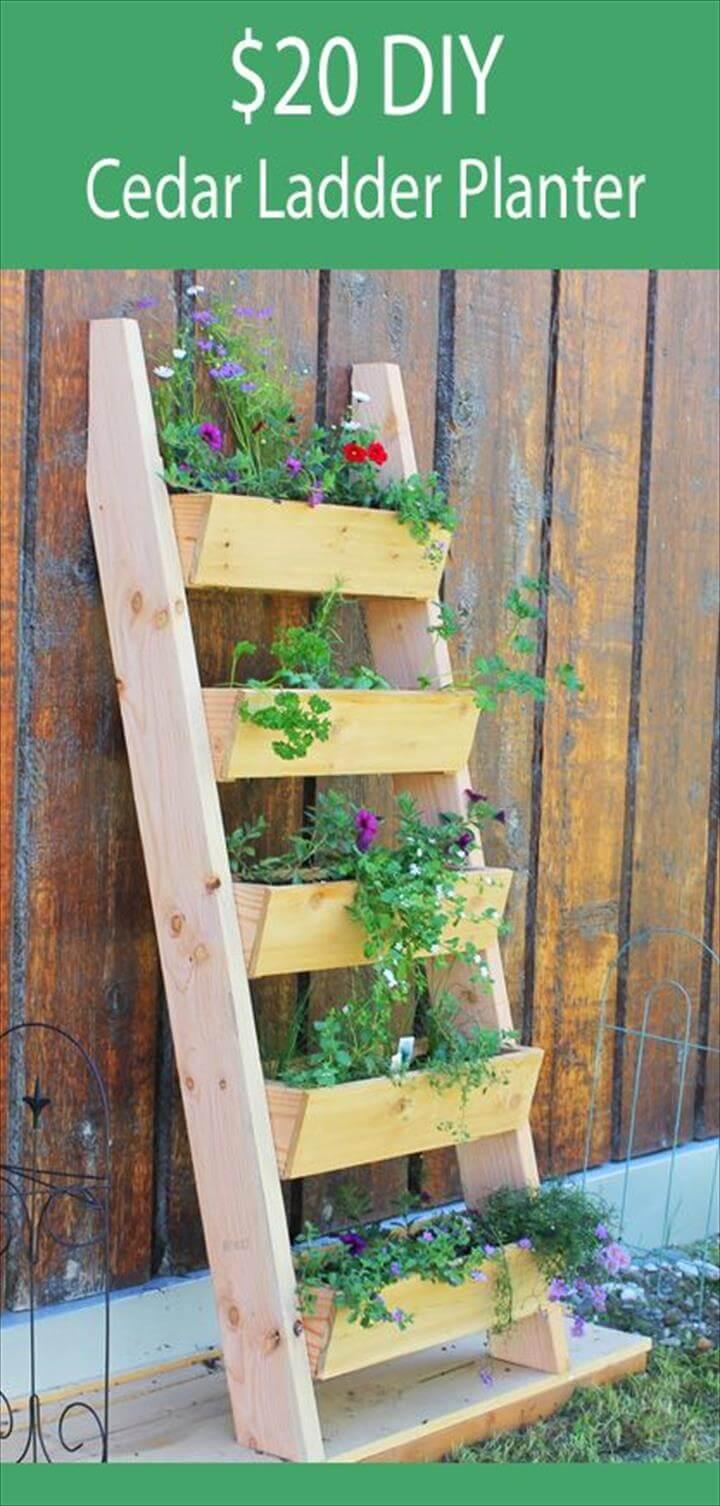 Enhance the beauty and charm of your outdoors more with this gorgeous vertical planter ladder idea. Using some wooden planks you can build this small and cute ladder with three to four steps. Put your pretty planter pots on these ladder steps and bring the perfect green fashion in your spaces.
Image: ana-white
Pallet Planter Box: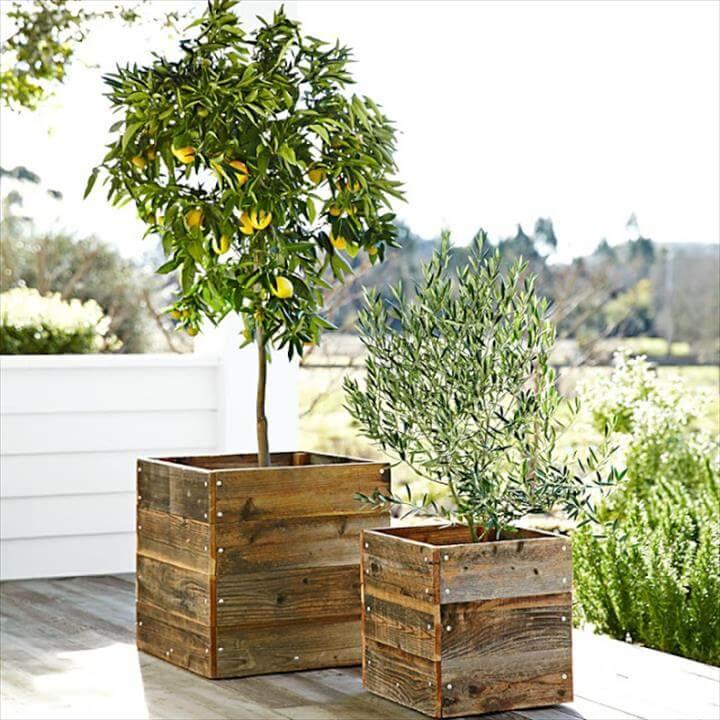 Make your outdoors look rich in style but that too at the cost of just a few pennies. Grab the recycled pallet to make these stunning looking pallet planter boxes. You need your basic woodworking tools and the craftsman skills to work up these super easy and cheap square-shaped pallet planter boxes.
Image: kingpallet.ru
Garden Trellis Arch

: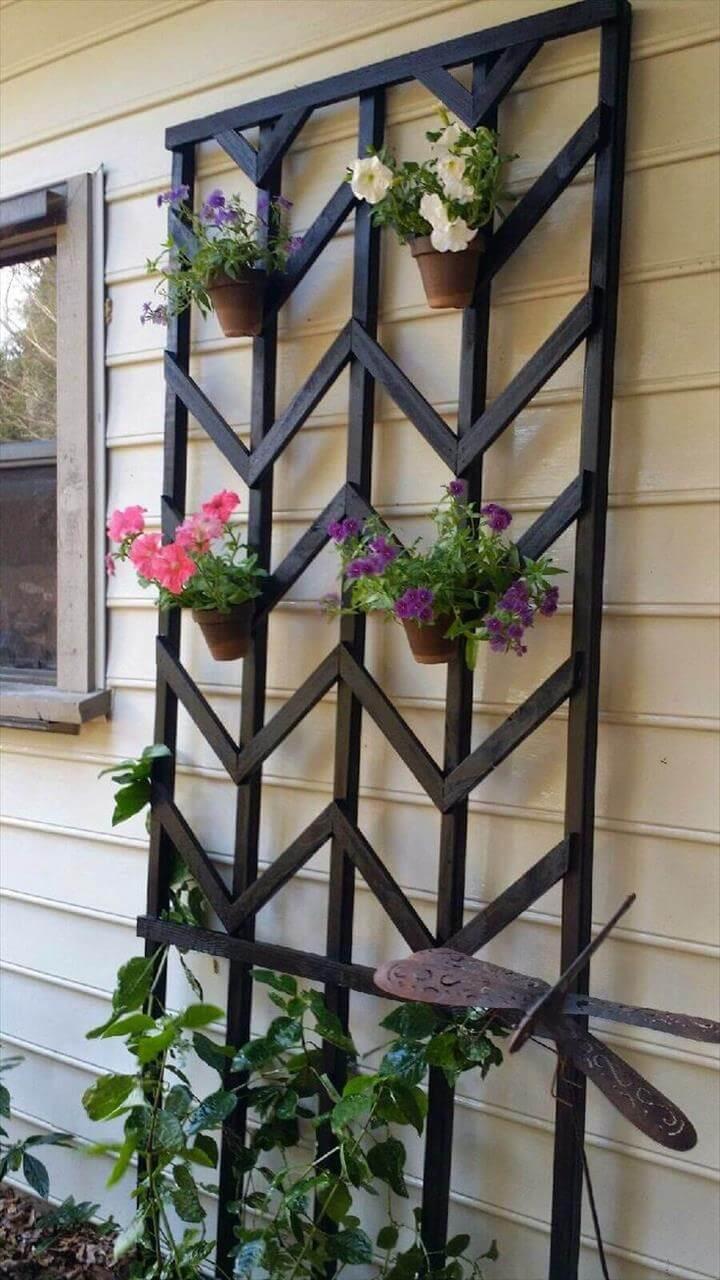 If you are impressed by the rich garden décor of the celebrities and the provided class then its time to do the same for your home. Here is the idea of making this garden trellis arch from the wooden wall strips and the dark brown chocolate paint hues along with your basic wooden crafting tools. Step by step details of this trellis garden arch is given here.
Image: remodelaholic
Cedar & Pine Planter

: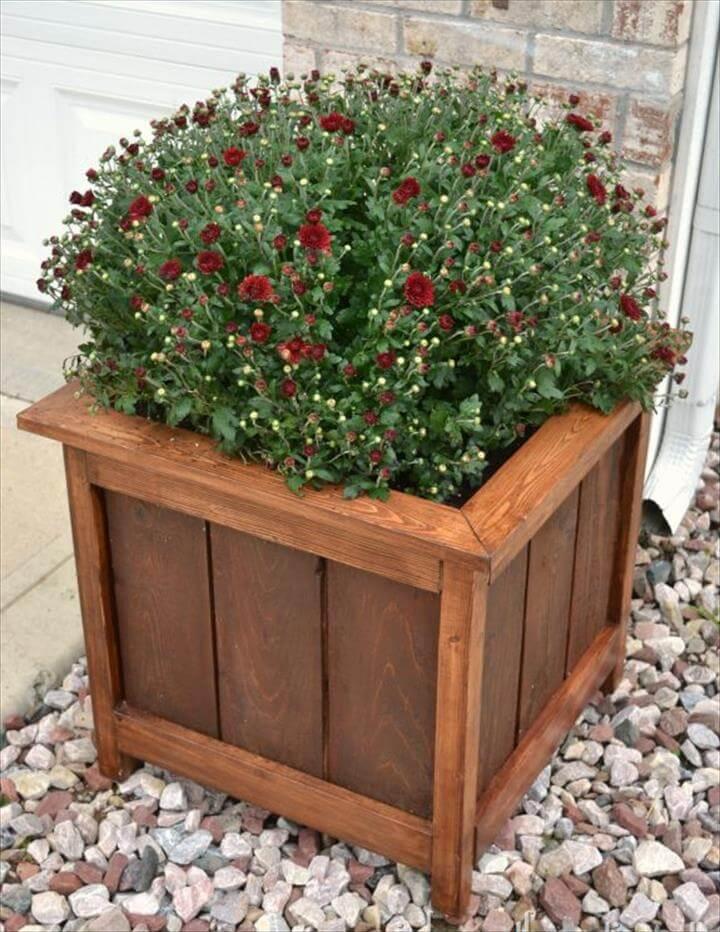 Those wooden box-shaped planter boxes are like the classic garden beauty planters to possess by each lovely house. Now you can easily and cheaply make one at home with this idea of this cedar and pine planter. So if you have some cedar and pine wood lying around then bring it to your yard as you can build this gorgeous rustic wooden planter out of it.
Image: infarrantlycreative.net
Low-Cost Cedar Planter

: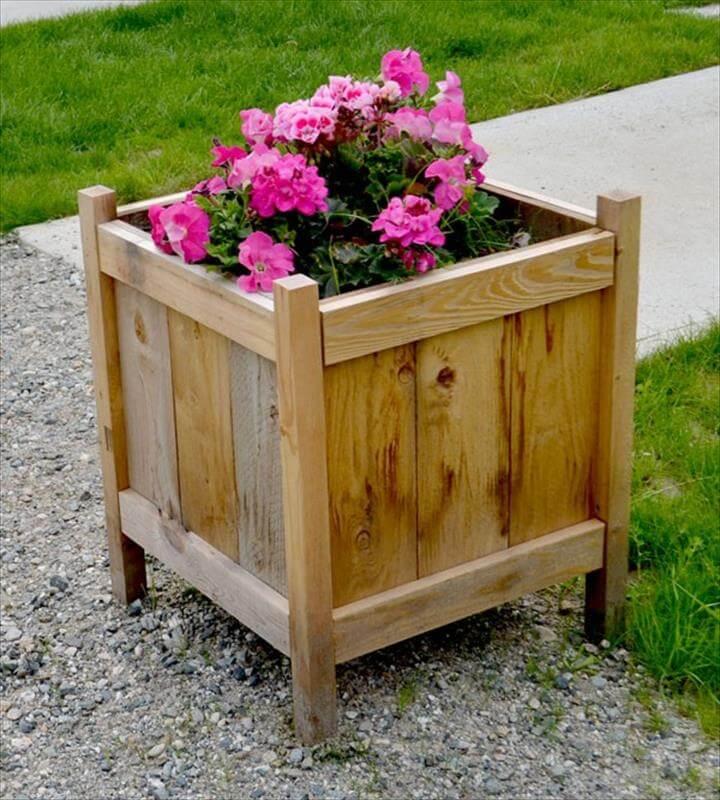 Not only a plant is enough to beautify your spaces as you need a lovely planter to house your plant too. So using the most easily found cedar wood which is cost-efficient too, you can make this lovely low-cost cedar planter box to display in your outdoors. This planter box is going to look great in your patio and yard too.
Image: ana-white
Concrete Planter

: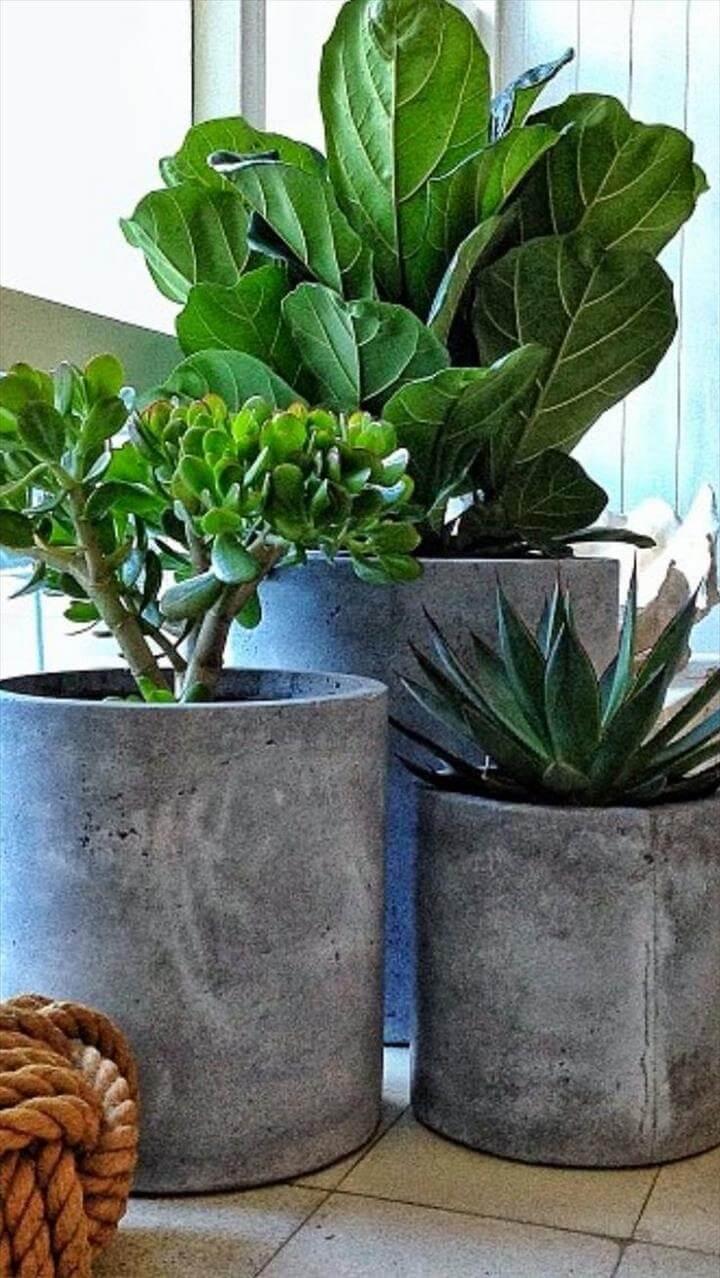 The best thing about making the concrete planters is that they are super long-lasting and robust. So here are these gorgeous and totally trendy in shape concrete planter idea to perform at home. You need the concrete mixture and the mold of any of your desire shape to get the lovely square, bowl, or cylindrical planters for your garden beauty.
Image: theownerbuildernetwork.co