Here we present to you some very unusual ideas which you can do with your basic crochet skills. If you don't know how to crochet, try learning the basic crochet from the internet and merge your creative ideas and your skills altogether.
You will soon realize how you can make different 28 DIY Heart Shape Crochet Tutorials DIY decorative and funky items in no time. The first one is the crochet mug cover. Make your coffee mug cozy with this because it deserves it. Also, you can make some crochet hearts and can decorate them anywhere. This is an adorable valentine crochet heart with a crochet hook arrow. This crochet heart-shaped candy bag is surely the world cutest thing ever; you will find the free pattern over here. This is a DIY crochet skinny heart and it's amazing and easy. Have a look at this heart-shaped tapestry and it perfect for your coffee mug mat. These are some tiny crochet hearts that you can make to practice and learn how to crochet hearts. Once you will learn how to make these small ones, you will learn to make the bigger ones too.
So here is a shout out to all the medical students out there, make yourself one anatomical heart with crochet, and enjoy yourself. These are some heart arrows with crochet patterns all for you. Start your winter preparations with these beautiful crochet hats.
Also, learn how to make these lovely cute heart crochet hair clips, and these crochet 3d hearts with buttons on top. How can we forget jewelry? So here are some crochet bracelets for you. Also, try some chunky heart valentine. A crochet garland is surely an attractive decorative item for your house entrance. Do not forget to try some crochet bags and purse if you are pretty sure about your crochet skills now.
Besides all this, you can also find some other ideas like DIY crochet baskets, crochet heart shaped rugs and some elegant and beautiful crochet bed sheets.
Crochet Heart Mug Cozy: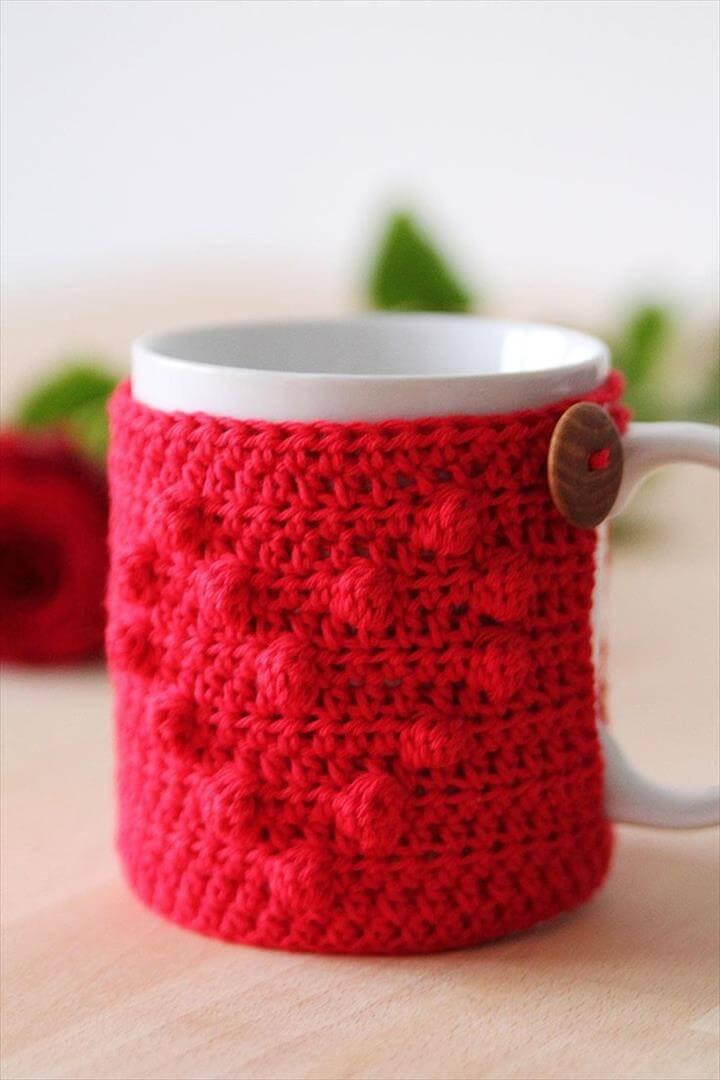 Here is an easy and fun way to make the cutest gift for the valentine with this crochet heart mug cozy. So grab some red yarn and your 3.5 mm hooks to work up this lovely crochet heart mug cozy. The heart here has been crocheted using the bobble stitch to look prominent on the mug cozy. Follow the easy pattern details here!
Image: allfreecrochet
Crochet Hearts

: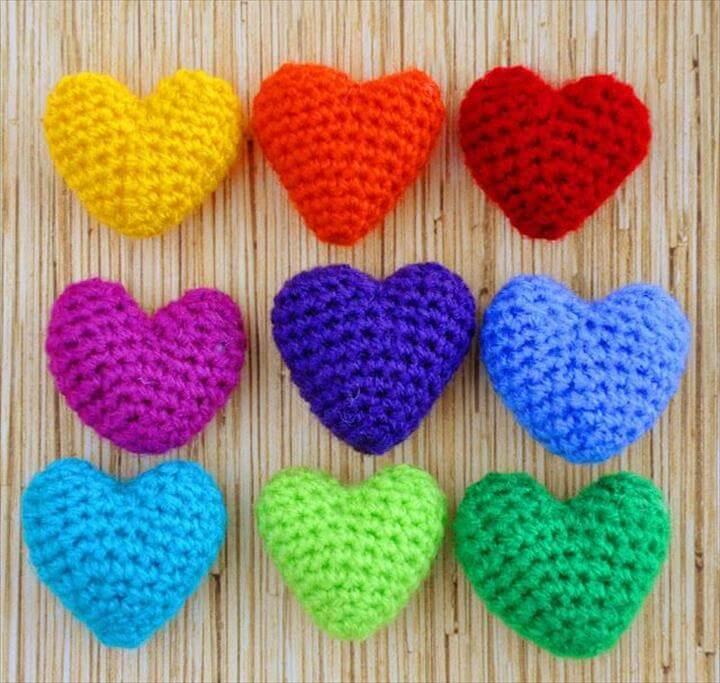 Hearts are one of the most gorgeous shapes to get crafty with. Here are these rainbow-colored crochet hearts to crochet up for the summers and use in some fun décor and embellishing. The little cute crochet puffy hearts are really going to add oodles of charm if pulled off for a home décor project. Details of the pattern here!
Image: agusyornet
Valentine Crochet Heart With Crochet Hook Arrow

: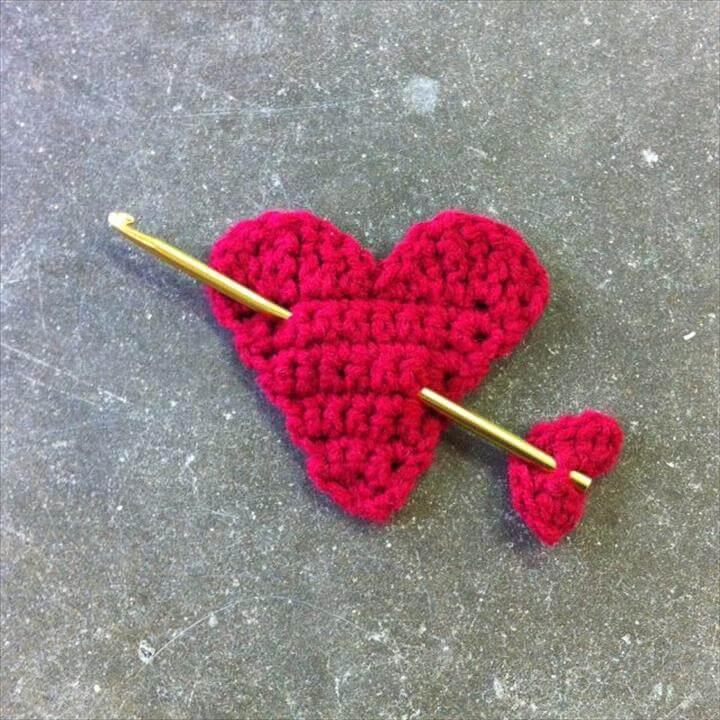 This valentine's day you can make the perfect heart craft with this adorable crochet heart with crochet hook arrow inside it. This lovely cupid heart is going to make a perfect gift or lovely wall art for valentine's day. You can quickly work up this pretty heart with a crochet hook arrow by grabbing the easy details here!
Image: creativeoutletstudios.blogspot.com.es
Crochet Heart Shaped Candy Bag Free Pattern

: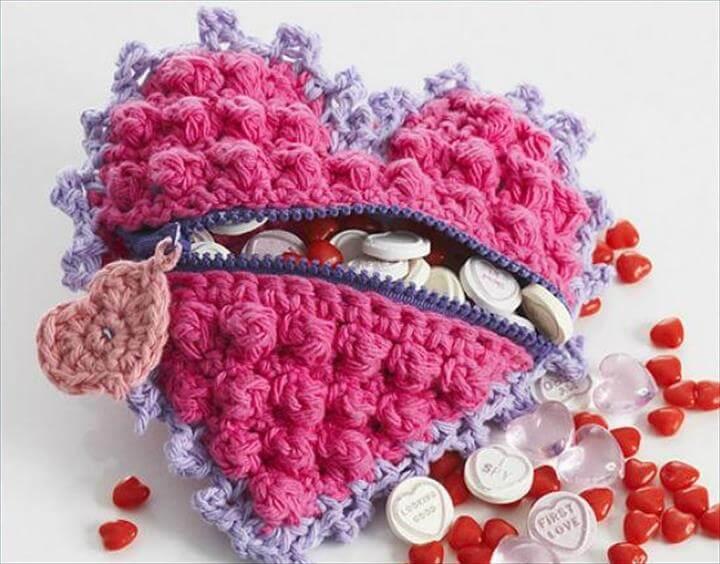 Need some cool gift ideas for the valentine? How about making these lovely crochet heart-shaped candy bags? Yes, the cute heart-shaped candy bags with a zipper would make great party favor ideas too. You can fill them with yummy candies and chocolates for the kids and adults alike. Follow the easy pattern details here!
Image: ravelry
Crochet Skinny Heart

: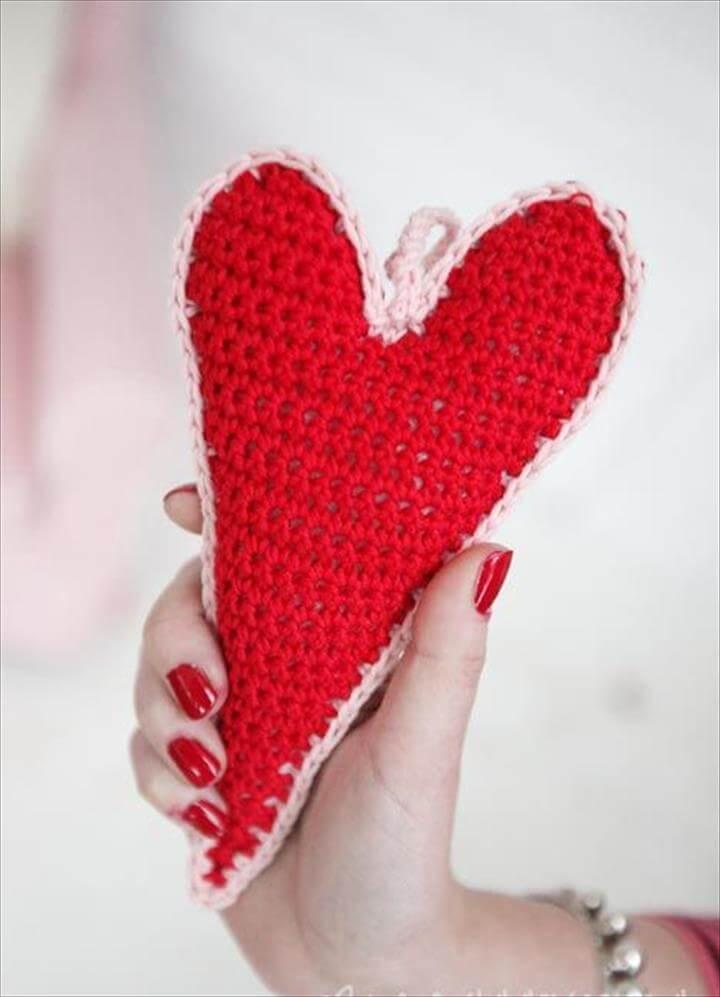 These skinny and long crochet hearts make the best gifts for anyone around during the valentine or any other special day. The hearts have one peak larger than the other to turn out funky and cool. The hearts are stuffed so that it can be playful for the kids too. You can combine any other color with the red to let your skinny hearts come out more pretty and fun.
Weave A Heart Shape Tapestry

: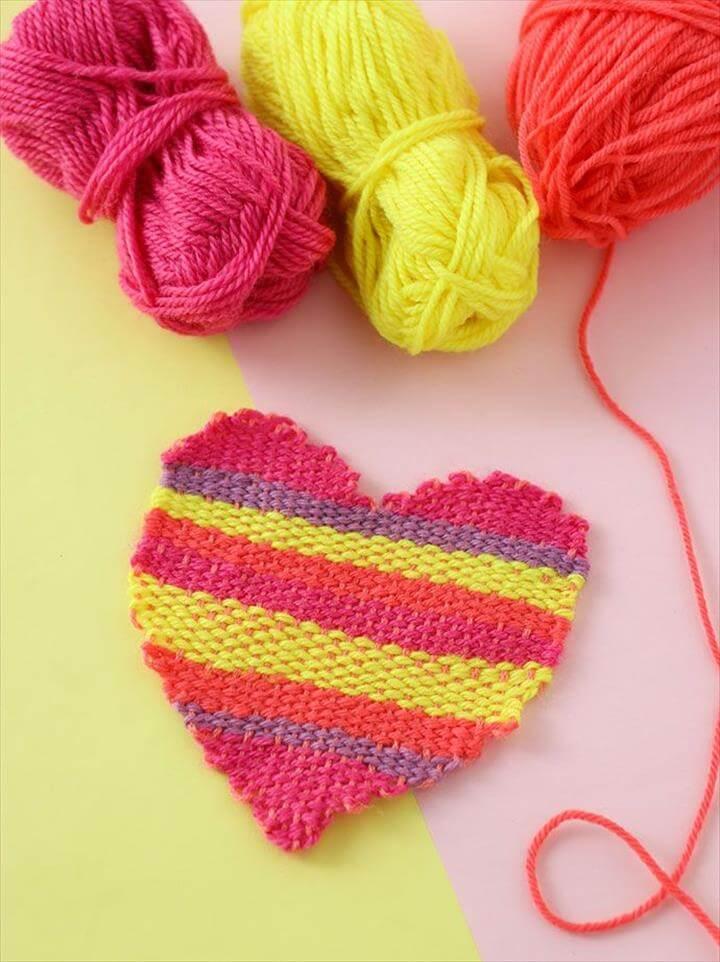 This gorgeous and colorful heart is made out of the hand weaving and the tapestry needlework. The gorgeous bright hues of the heart really make it look so chic and cute. You can use as wall art or a pretty patch for your sweaters and shirts. You would need colorful yarn, tapestry needle, paper plate, pencil, and ruler to easily weave up this heart.
Image: mypoppet.com.au
Tiny Crochet Hearts

: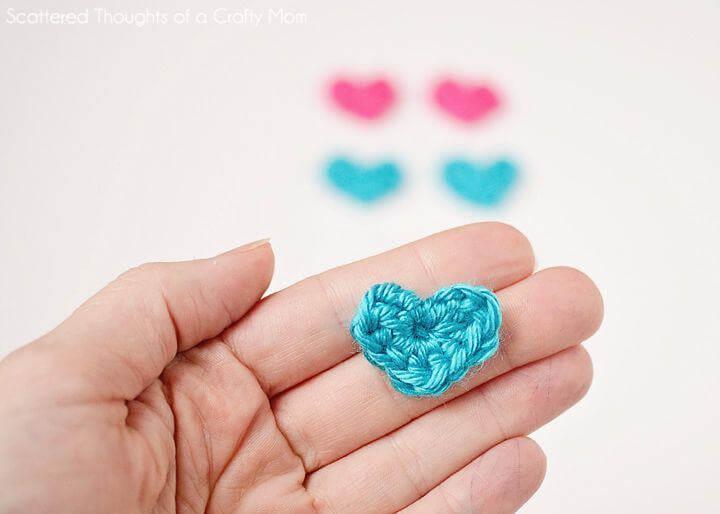 If you are looking for some ideas to use your colorful crochet yarn scrap then making these tiny crochet hearts would be a great idea. These mini hearts would take least of the time to be easily made and you can use them for a variety of projects. Attach these mini hearts on the plain clips and use them for your little girl's hairdo for the summer and she would love these.
Image: scatteredthoughtsofacraftymom
Anatomical Crocheted Heart

: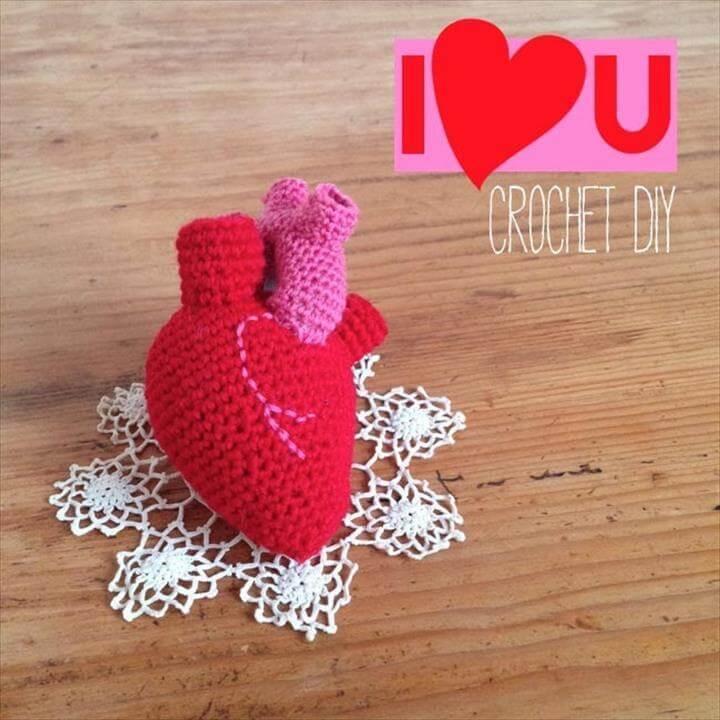 If you have a biology person in the house then this anatomical crocheted heart is the perfect gift for him or her. The gorgeous puffy heart has the actual human heart shape and would be an interesting project for you to work up too. You need red and pink yarn hues to work up this lovely crochet hearts and some filling to make it look puffy.
Image: labeletterose.blogspot.fr
Heart Arrows Crochet Pattern

: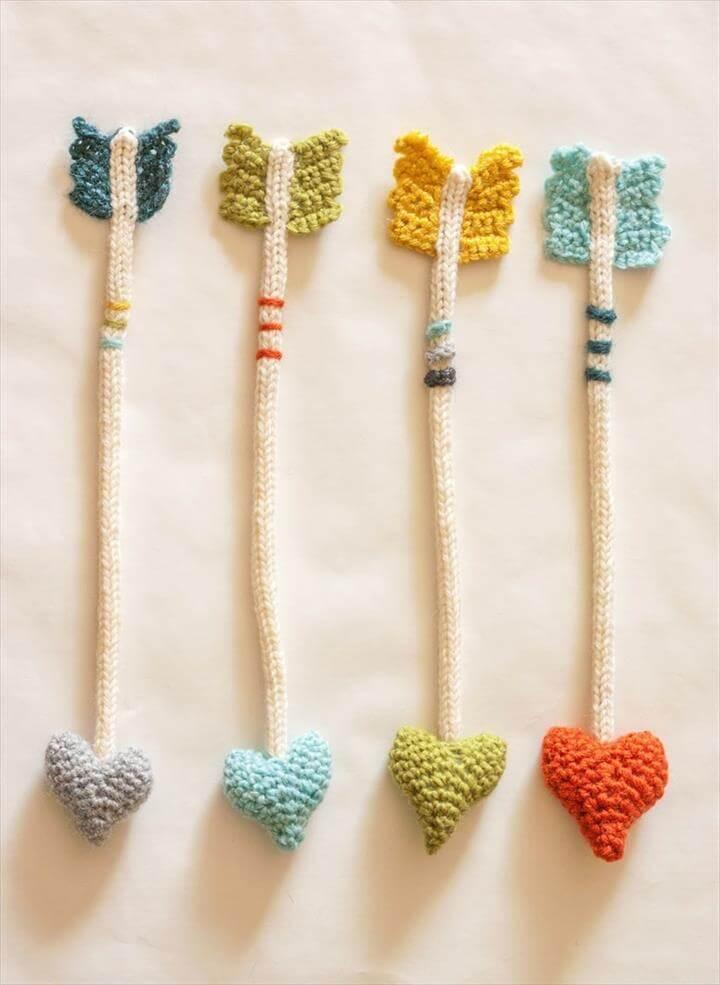 These cute and colorful crochet arrow hearts are going to make the best crochet possessions when you want some cue summer or valentine's day wall embellishing. The cute puffy mini hearts have long crochet arrows attached. You need white yarn for the crochet arrow tail and the colorful ones for the hearts and arrow wigs along with 4mm hooks. Details here!
Image: ravelry
Rapids Hat Crochet Pattern

: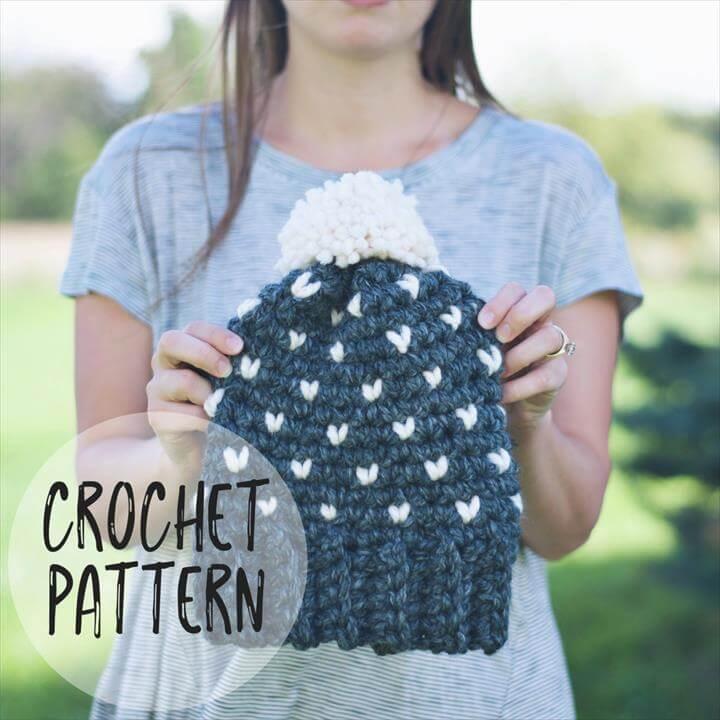 Here is how you can make the best and cutest beanie hats for the months around Valentine 's Day. Here is this perfect grey beanie hat with a white fur pom pom and the cute mini crocheted hearts all over the hats. These cute mini white hearts add oodles charm and quirkiness to this simple and plain beanie hat. Details here!
Image: theunraveledmitten, etsy
Crochet Heart Hair Clips

: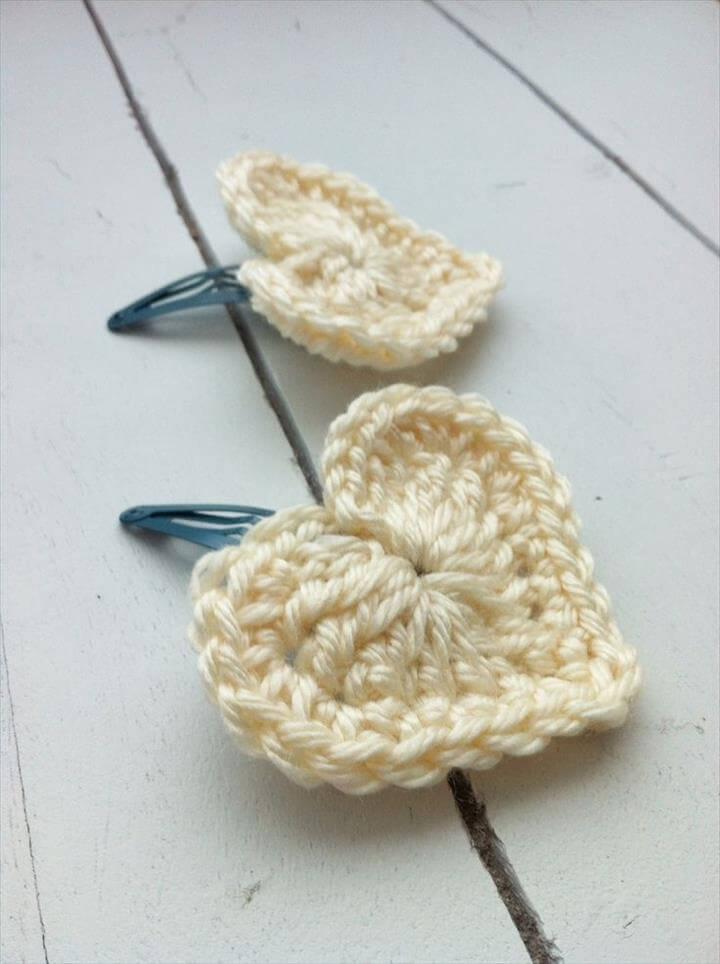 Here is the project of the cute crochet heart hair clips that even the beginners can do. So grab the colorful or white yarn scrap for your yarn basket and make these adorable mini heart motifs. Then grab the simple hairpins and attach these heart motifs to them and get the gorgeous clips ready for the fun and cute summer hairdos.
Image: chucksforchancho
Crochet 3D Heart

s: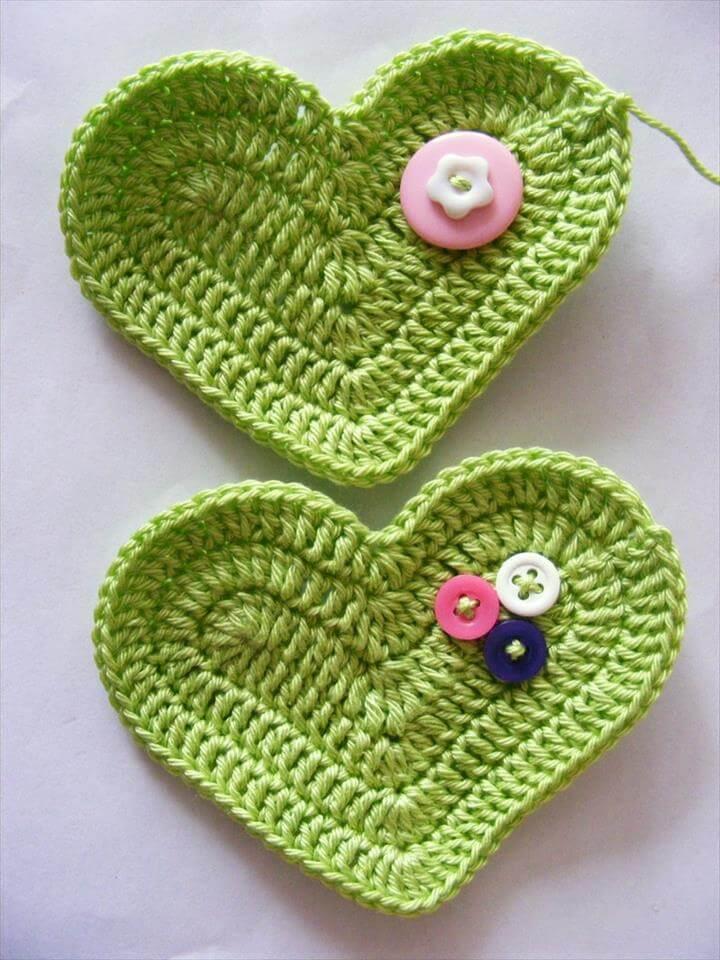 These gorgeous crochet 3D hearts are the best things to make for valentine's week. Using the bright and cute colorful yarn hues you can crochet single hearts and then stitch them together with filling for the puffy heart turnouts. Add buttons to these 3D hearts and you have the best gorgeous embellishing ready.
Image: fabartdiy
Crochet Heart Bracelet

: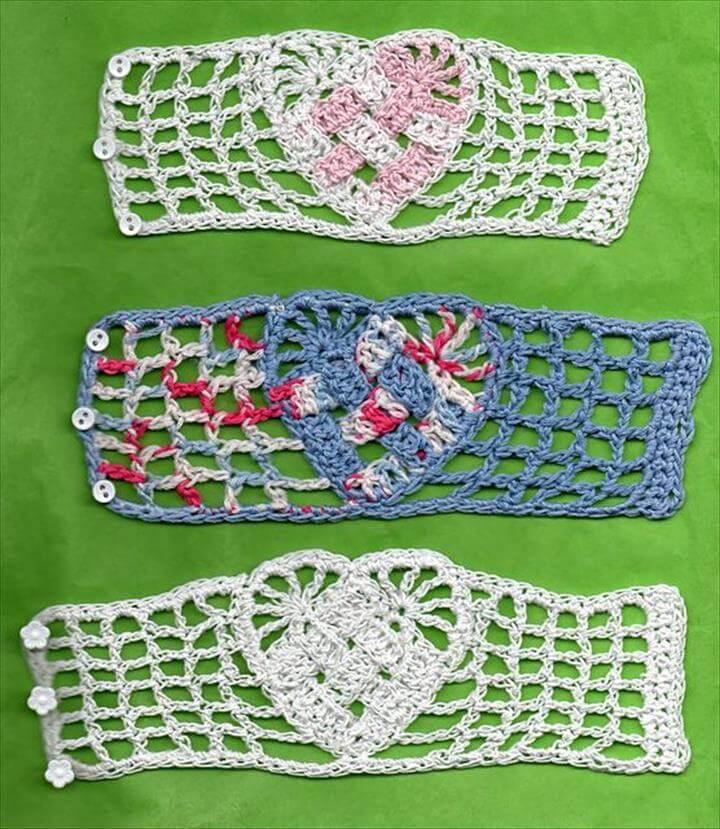 Make the coolest bracelets or the kids to adorn for the summer with these crochet heart bracelets. The mini cute hearts are in the center of these crochets bracelets and the wrist band of this heart bracelet is done in a messy pattern. You can all pretty summer yarn hues to make these cute heart bracelets with button closure.
Image: ravelry
Big Chunky Valentine Heart Tutorial

: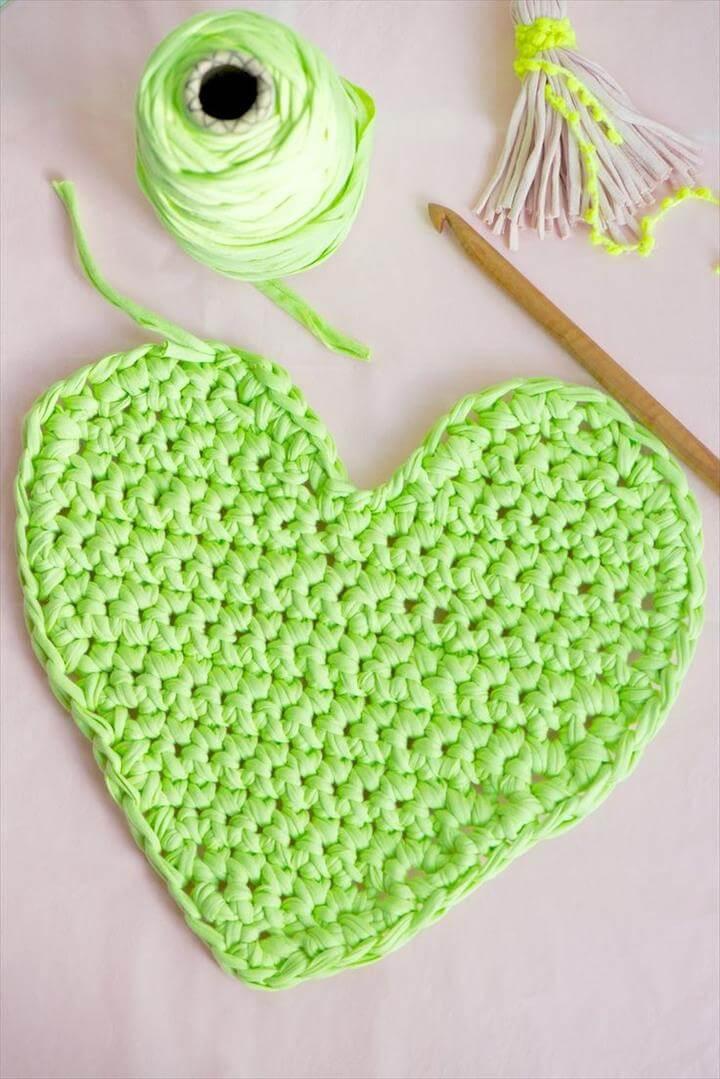 Here is this big, chunky, and neon-colored valentine heart to make for this valentine's day. Breaking the tradition of the red heart, this cool and chunky heart has been made into this ravishing neon green color. The gorgeous and funky heart is made with the recycled crochet fabric yarn and the larger crochet hooks. Follow the pattern details here!
Image: lebenslustiger
Crochet Heart Appliqué: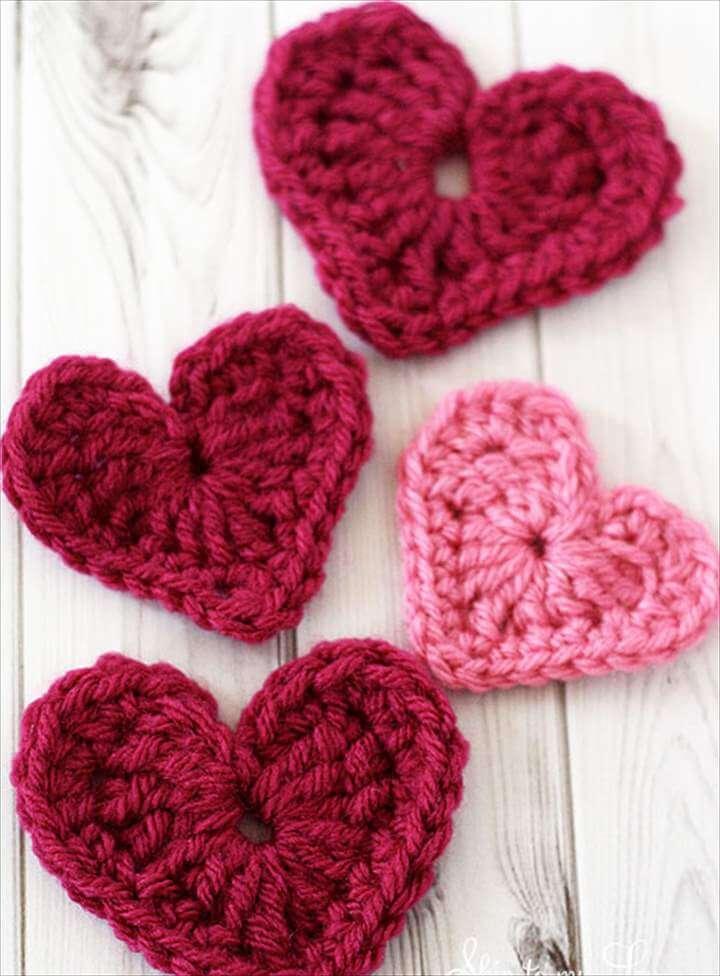 Do you have some left out yarn pieces from your previous crochet projects? If yes then get your hands on these pretty and cool crochet heart appliqués to make the most out of that left out the yarn. The cute mini hearts would make lovely appliqués for the baby dresses, headbands, hats, and more. Details here!
Image: skiptomylou.org
Heart Garland: DIY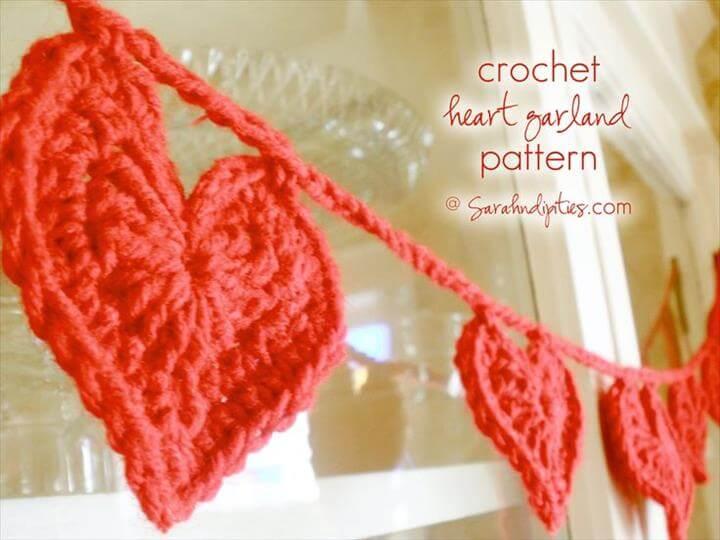 Need a garland for the party décor or dinner décor? How about working up this absolutely stunning crochet heart garland?  So grab some red yarn and create a bunch of the mini hearts out of it. Then crochet a string and add the hearts to it at the equal distance and you have your lovely garland ready. Details here!
Image: sarahndipities
Hearts Purse

: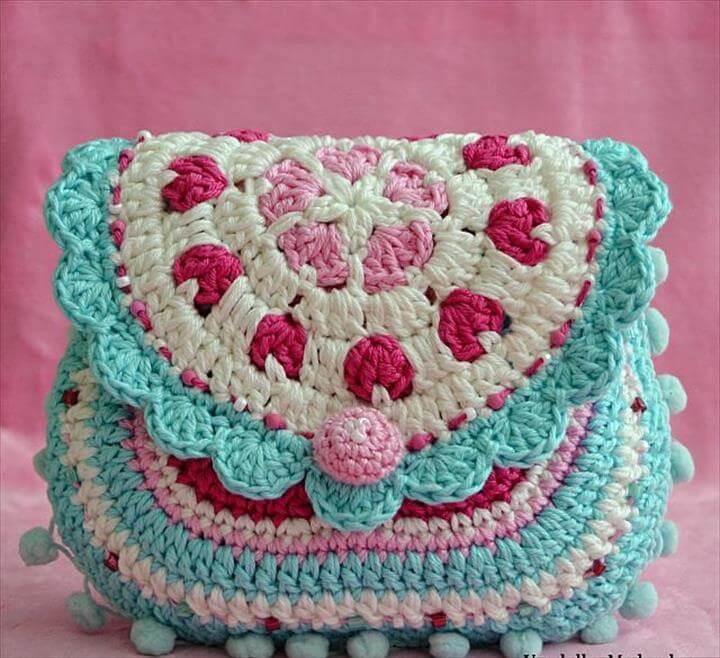 This gorgeously colorful and cool looking crochet heart purse is going to be the best gift for the lovely ladies around. Using the summer yarn hues and working up with the crochet shell stitch, bobble stitch, and simple crocheting this pretty purse is super easy to make. The pom pom trim is adding more to its cuteness and making a perfect girly gift.
Image: mybluprint
Crochet Mini Hearts Bunting Banner

: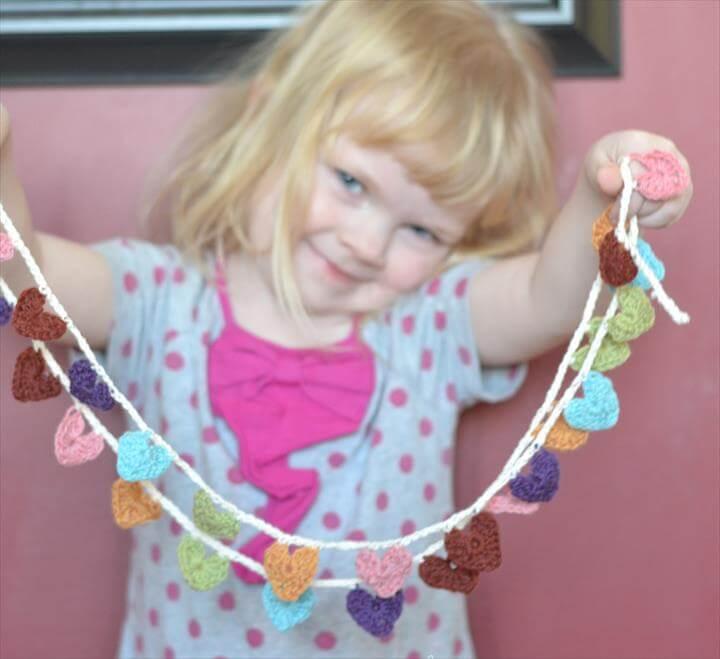 If you are looking for something cute and colorful for the décor of your toddler's room then here is the idea of crocheting this mini hearts bunting banner. All you need is crochet up a bunch of the colorful min hearts and then attach them to a colored yarn string at equal distance. This would look great over the walls or the shelves. Details here!
Image: thediymommy
Sweet Heart Crochet Baskets

: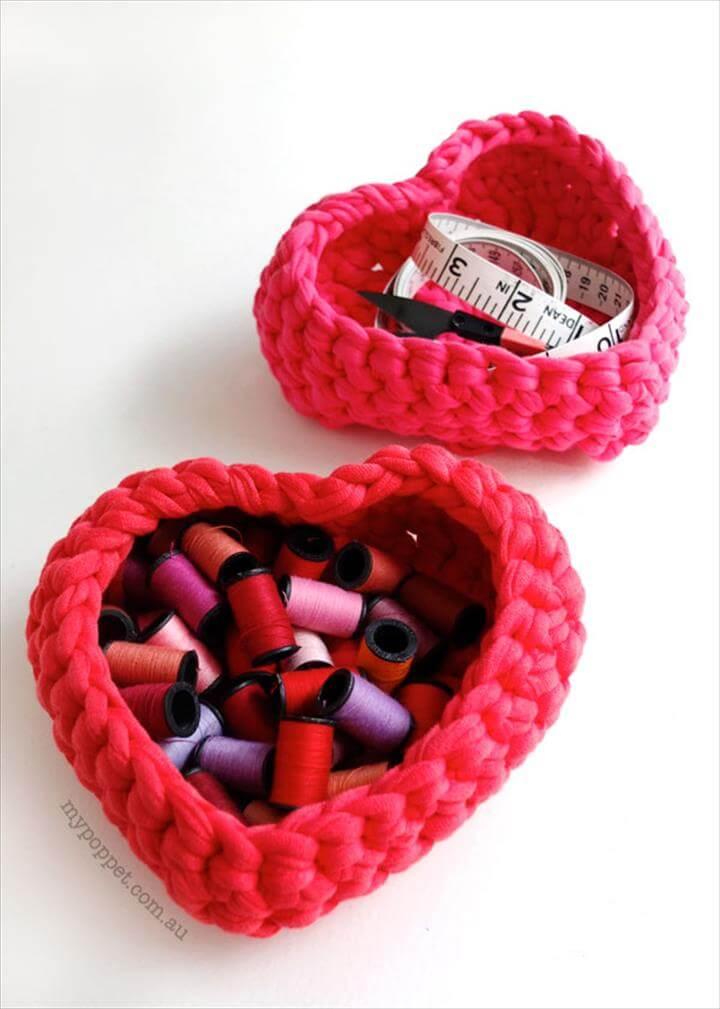 If you love making cute crochet baskets then you are sure to drool over these absolutely gorgeous heart crochet baskets. The gorgeous red color of the yarn, the adorable heart shape, and the chunky pattern really make this crochet basket look so stunning and eye-catching. You can use them to organize anything on your tables. A pair of these baskets would make great fun and functional gift idea too.
Image: mypoppet.com.au
Crocheted Valentine's Day Heart

: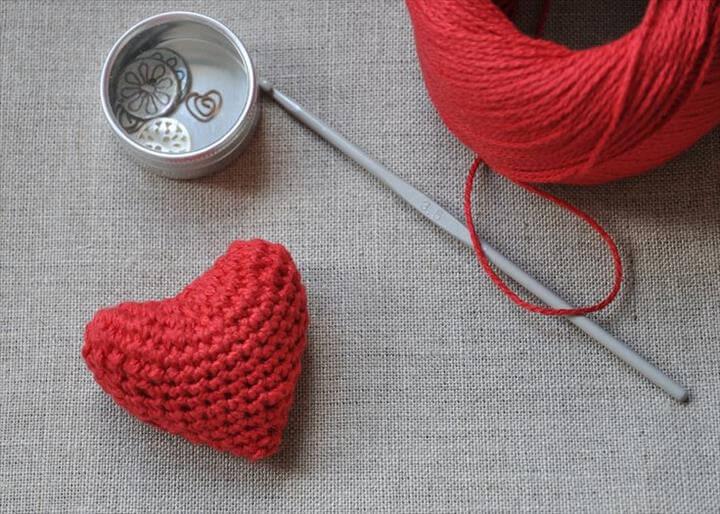 Here are these super cute crocheted Valentine's Day hearts to make and use for so many fun purposes. They would make great gifts to give to your near and dear ones. Also, you can use them for valentine's day décor and gift embellishing. The hearts are super easy to make with red yarn and the crochet hooks. Check out the details of the idea here!
Image: pm-betweenthelines.blogspot
Colorful Crochet Hearts: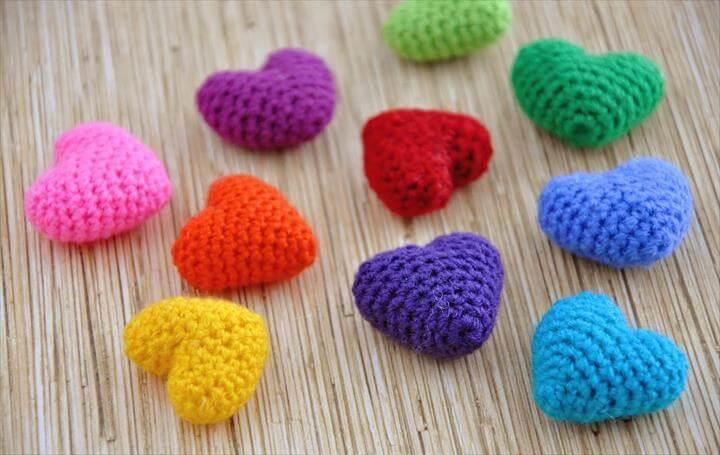 While you would be sending lovely gifts to your lovely family and friends on the valentine these colorful crochet hearts would add more value to the gifts. These cute and colorful crochet hearts with eyes and a smile would make the best gift tags. They are easy to make with some red yarn and white yarn to create the face features on the heart.
Image: agusyornet
Mini Hearts Bunting Banner

: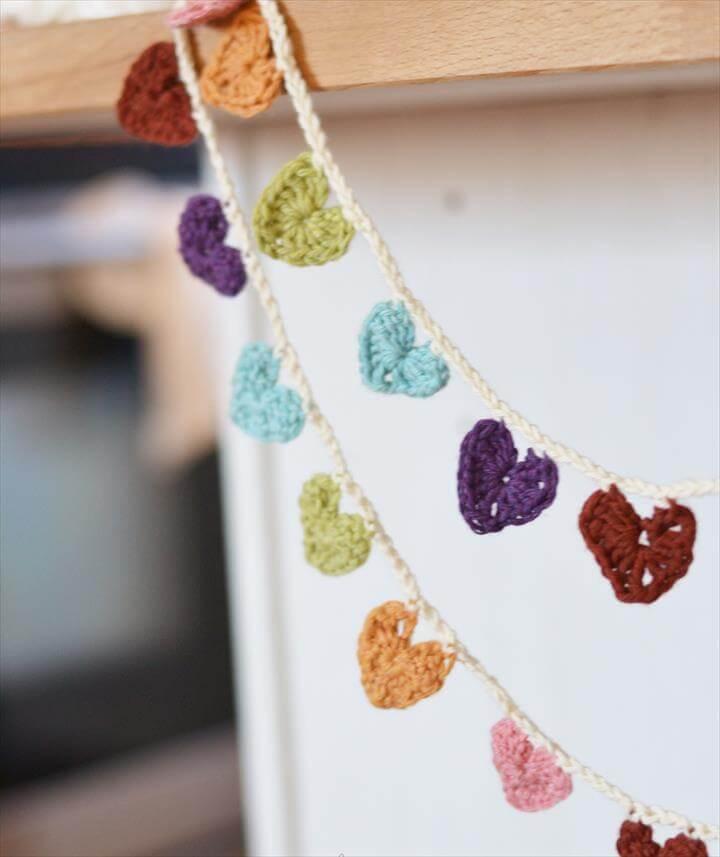 If there is a celebration for the kids then making this cute little mini hearts bunting banner is the best thing to decorate your space with. Using the crochet left out yarn in colorful hues you can crochet up these mini heats and make this lovely cute banner to decorate walls, mantles, or the shelves. Follow the details here!
Image: thediymommy
Crochet Hearts

: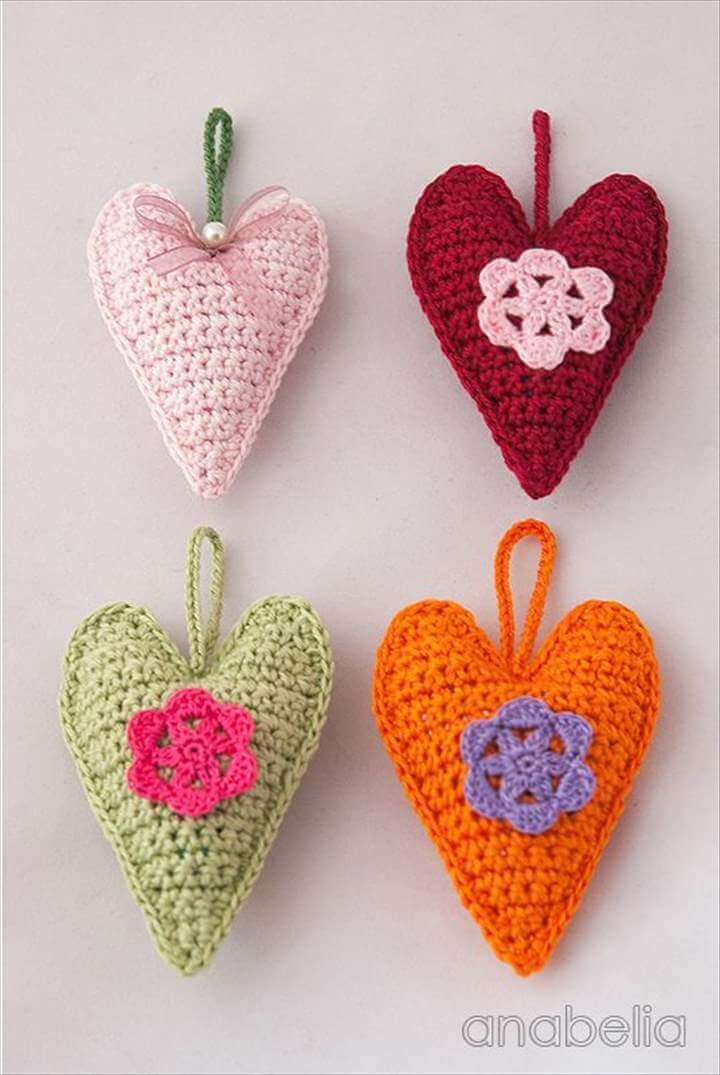 Here are these super cute crochet hearts to make on the valentine. The pretty colorful hearts are the best things to make as the gifts or décor and that too within 20 minutes. The cute colorful hearts with ribbon and crochet floral appliqués look just so tempting and cool. You can follow the details right here!
Image: anabeliahandmade.blogspot
Crochet Shamrock Pattern

: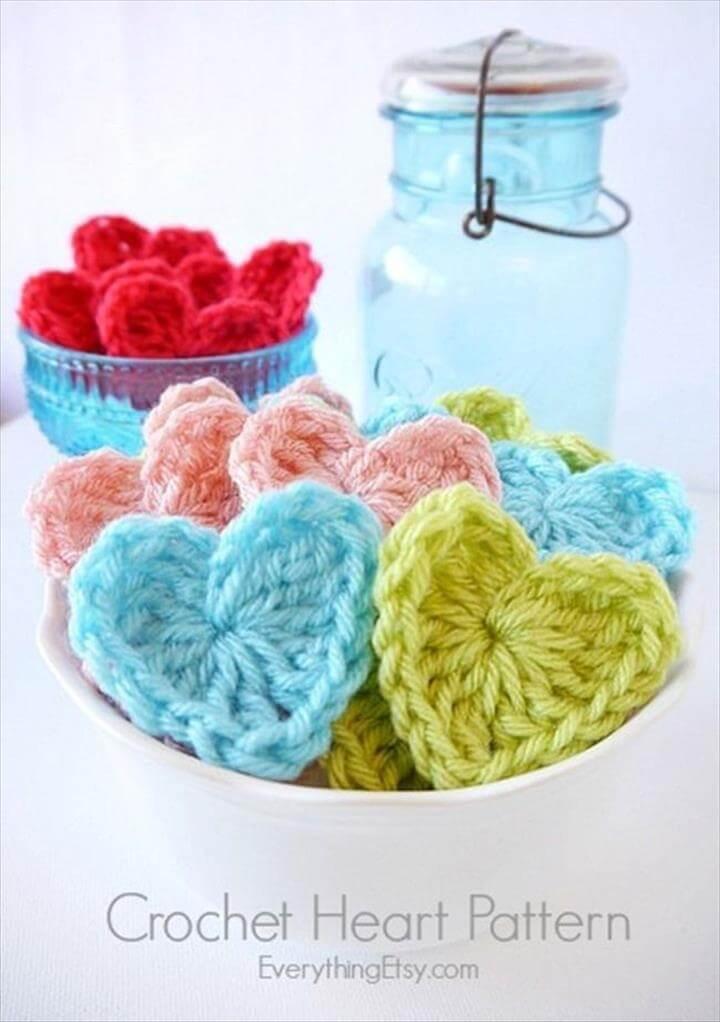 Make perfect table décor with these adorable and colorful crochet hearts on this valentine's day. So grab the crochet colorful yarn to shape up these cute mini hearts. They would look so cute if poured in a bowl and set on a table. Or you can create a lovely garland out of these hearts and display it over the walls. Follow the details here!
Image: everythingetsy
Beginners Crochet Heart: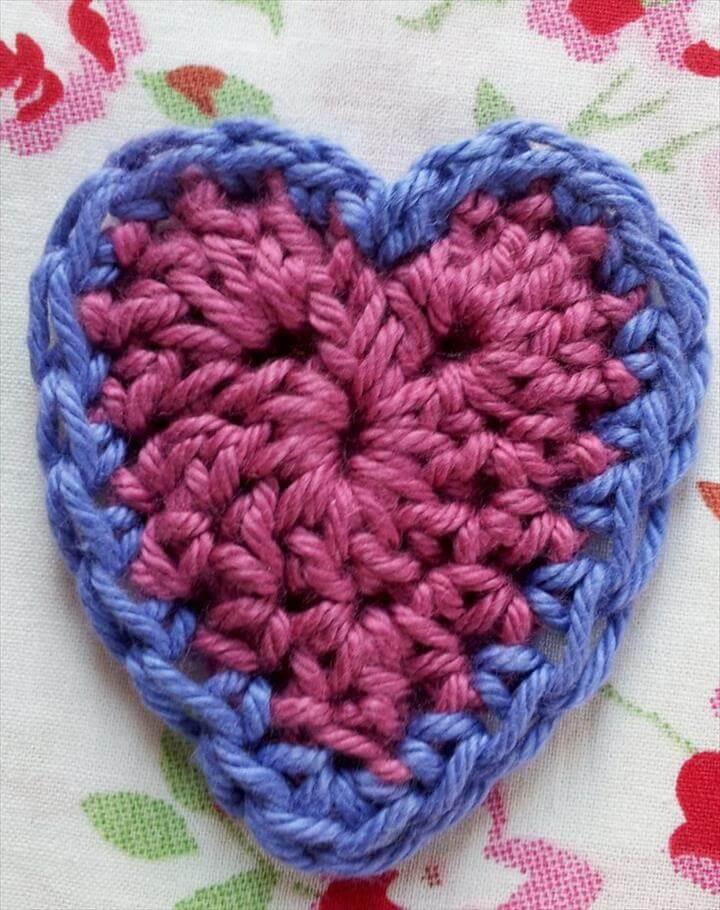 If you are a beginner with crochet art then making these cute and easy crochet hearts would be a great idea to practice your art. These lovely hearts are made with the gorgeous crochet yarn hues and 4.5 mm hooks with the simple easy knots and the chain stitches. Check out the details of the idea right here!
Image: thestitchsharer
Crochet Heart Pattern Tutorial

: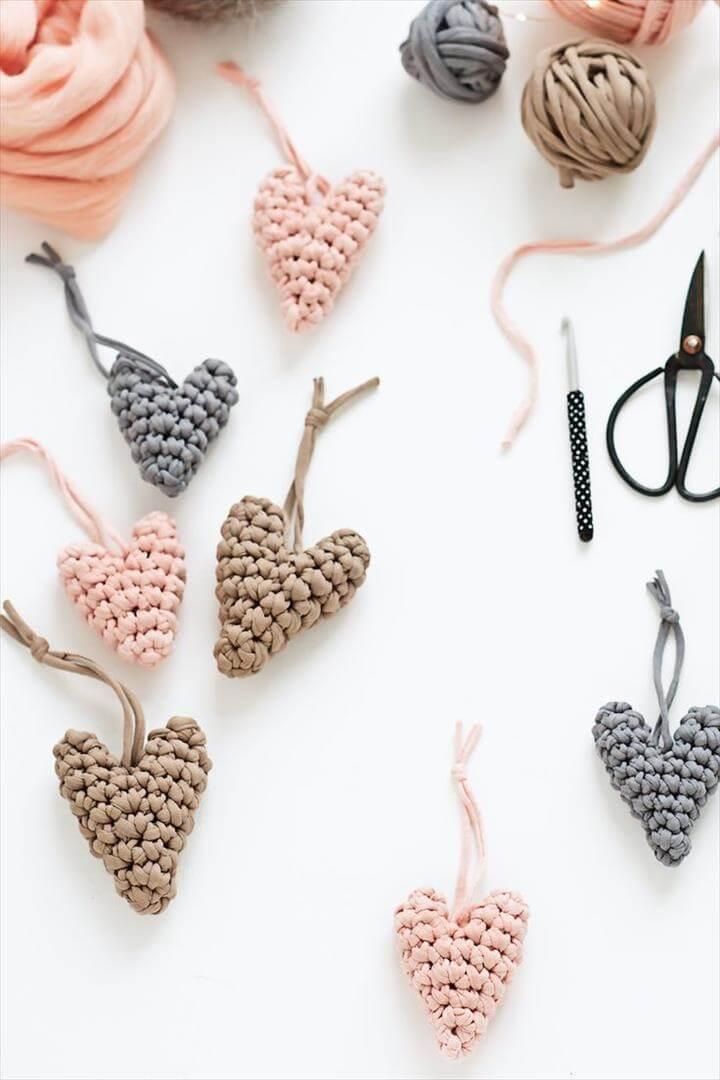 Here is another gorgeous crochet heart project to get your hands on. A wooden branch has been adorned with pretty crochet fabric yarn hearts all over. The hearts are made with the cute and chic hues of the peach, brown, and grey to look just so stylish and cool hanging over the wooden branch. You can follow the details here!
Image: lebenslustiger
Free Knitted Crochet Bobble Heart Blanket
: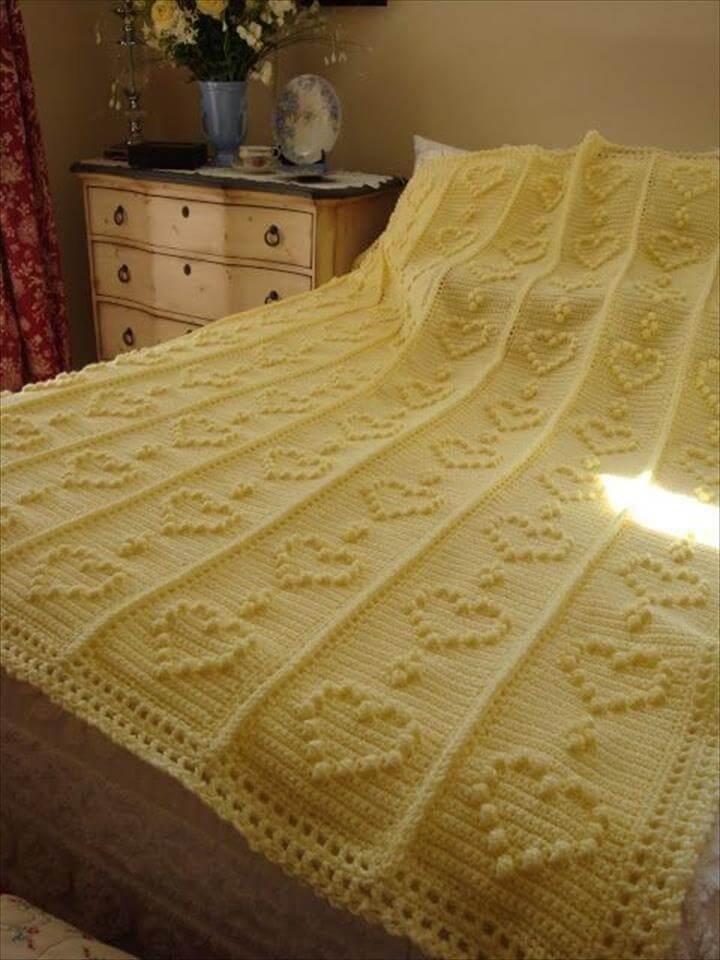 Here is this gorgeous crochet knitted bobble heart blanket to be a part of the pretty bedroom for being so chic and cool. The pretty yellow yarn hues of the blanket and adorable crochet bobble stitch heart pattern all over the blanket has really made it look a perfect summer blanket to wrap around and feel cozy in.