The lives have become so difficult due to the inflammation. Every other person is trying to make some extra dollars to keep up with the pace of this modern high budget life. Using your skills to earn is the best way as you can do it profoundly. So for all the crafty persons out there, we have brought these 36 easy DIY crafts to make and sell. All of these fun crafts are easy and cheap to make and you can earn through them easily by working at home. So every crafty and creative person out there should be getting some inspiration to earn some extra money via these smart ideas of selling handmade crafts.
The lovely collection of these crafts to make and sell have things that can attract more and more buyers. There are colorful enchanting things like pom pom circle tassel pool bag, pretty sun catchers, flower pens, and sequined pens. The next category can be related to home decor as ladies love to spend on handmade items to improve the style statement of their house. So do make things like washi tape clocks, confetti trays, clay pots or vases, and more. The next bunch of items is related to the things we need on a daily basis like a fabric key holder, colorful fabric pouch, wooden stencil holder, and more. Catch out the details of each craft via the links attached. Happy crafting and earning to you!
Fabric Chapstick Holder: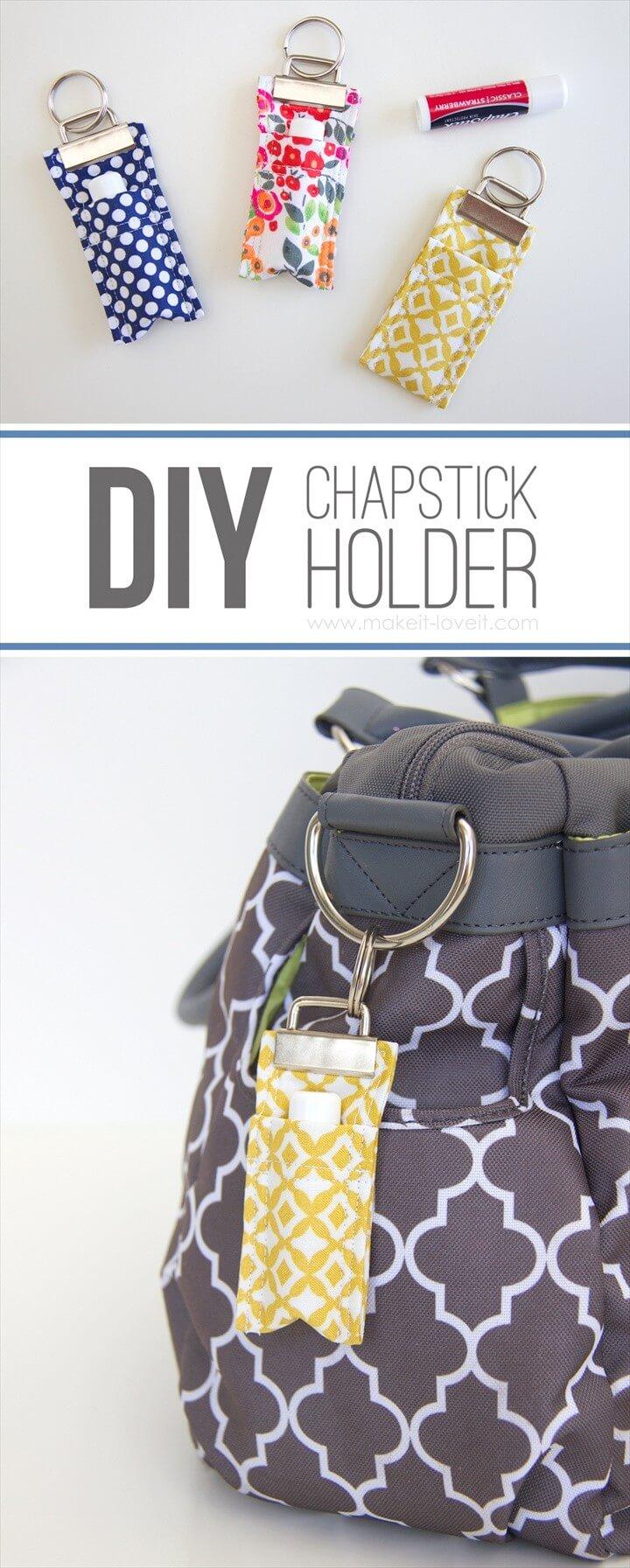 People love to buy cheap items so grab the fabric scrap around you and start sewing up these lovely fabric chapstick holders. The pretty chapstick holders are easy to sew in just minutes. All of them have key rings attached so that either you can use them as the key chains, bag chains, and more. Follow the details here!
Tutorial: makeit-loveit
Faux Granite Bookends: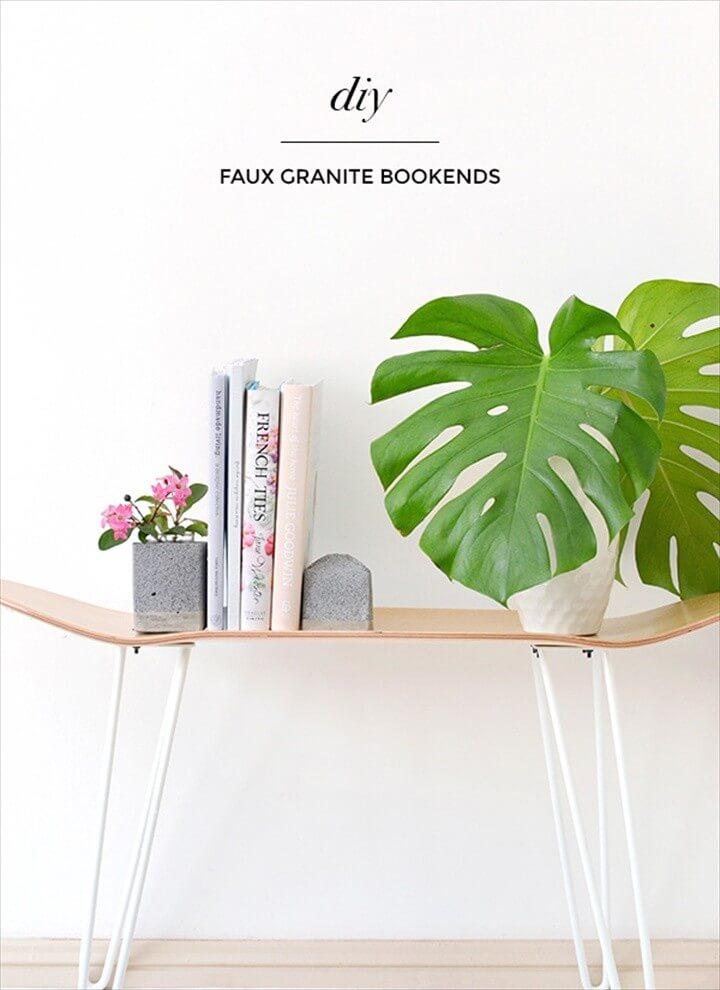 Here is how you can make these super cute and fun looking faux granite bookends. You need the cement mixture and the milk carton to use as the mold for making these lovely shaped bookends. You can keep them open at the top to use as the vases for your pretty flowers too. So make and sell these bookends to make some money too.
Tutorial: makeandtell
DIY Pencil Pouch: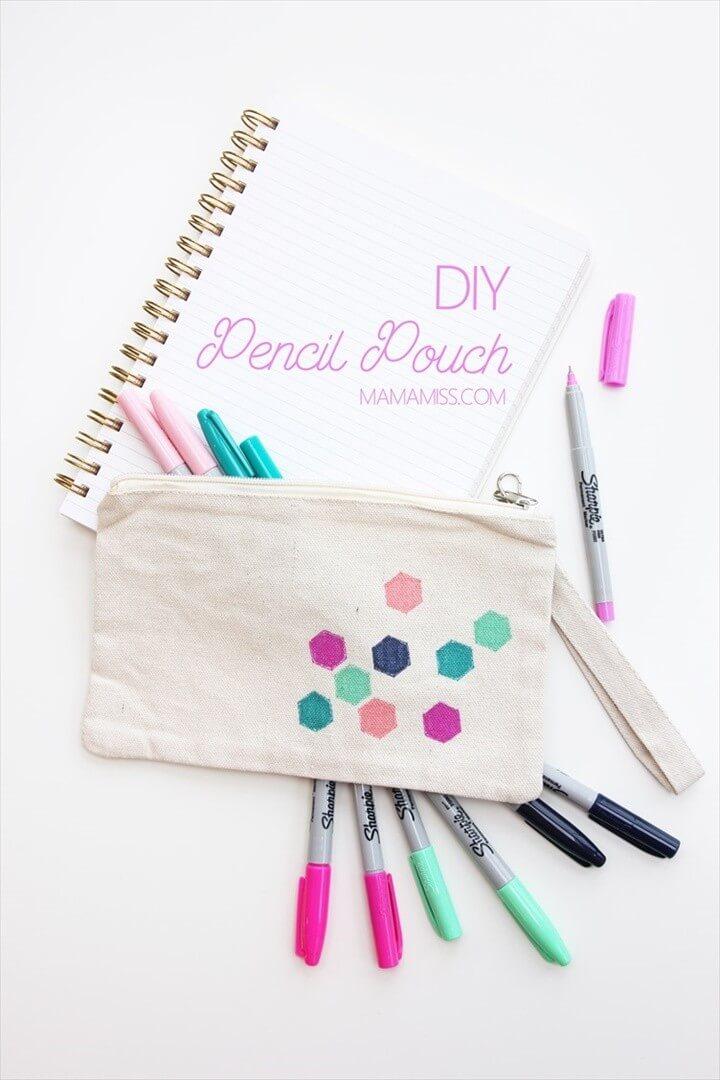 If you want to get some money from your crafty skills then make things like this DIY pencil pouches. They can be made with some simple fabric in white or any other plain color. Then grab the colorful sharpie pencils to create the pretty hexagon shapes and designs on these pouches. Mothers would love to buy these adorable DIY pencil pouches for their kids.
Tutorial: mamamiss
Pom Pom Tassel Circle Pool Bag: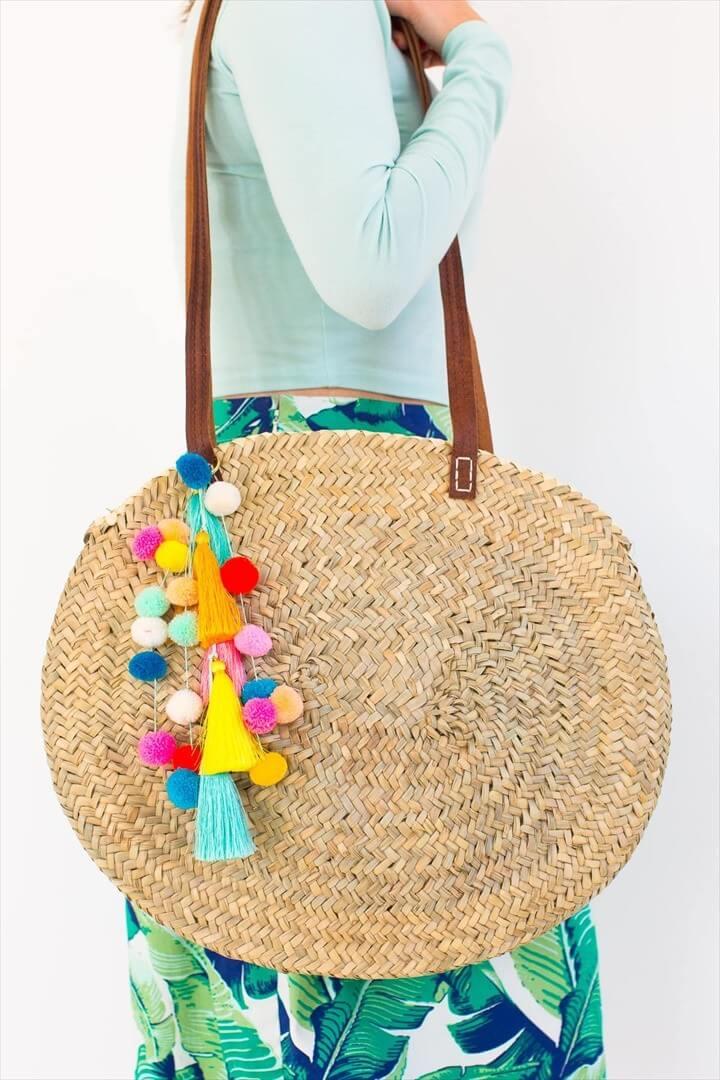 The simple Moroccan bags can be given a colorful makeover to look just so fab that people would love to buy them from you. So get that Moroccan bag with leather straps. Add colorful tassels and the pom poms to this circle pool bag to make it look super quirky and fun for the summer. Also, it can save you from the sun and rain when needed. Grab more details here!
Tutorial: sugarandcloth
Easy Sun Catchers with Coloring Pages: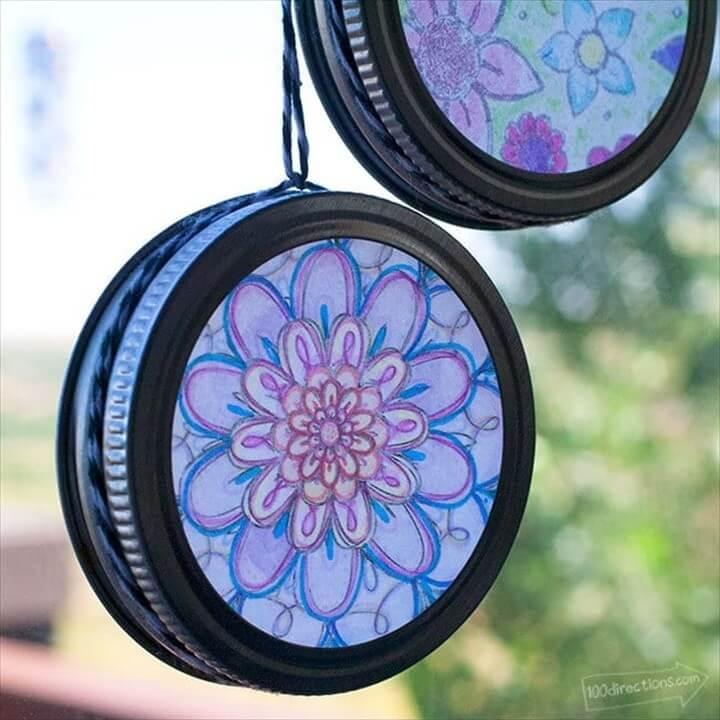 If you and your kids are good at making some fun summer crafts then you can make some cash out of it too. Here is the idea of making these adorable and easy sun catchers with the coloring pages. You can print out some cutely colorful floral pages and put them in between the Mason jar lids with some olive oil work done on the pages. Then add twine to these sun catchers and they would make a pretty sale for the neighborhood.
Tutorial: 100directions
How To Make Flower Pens: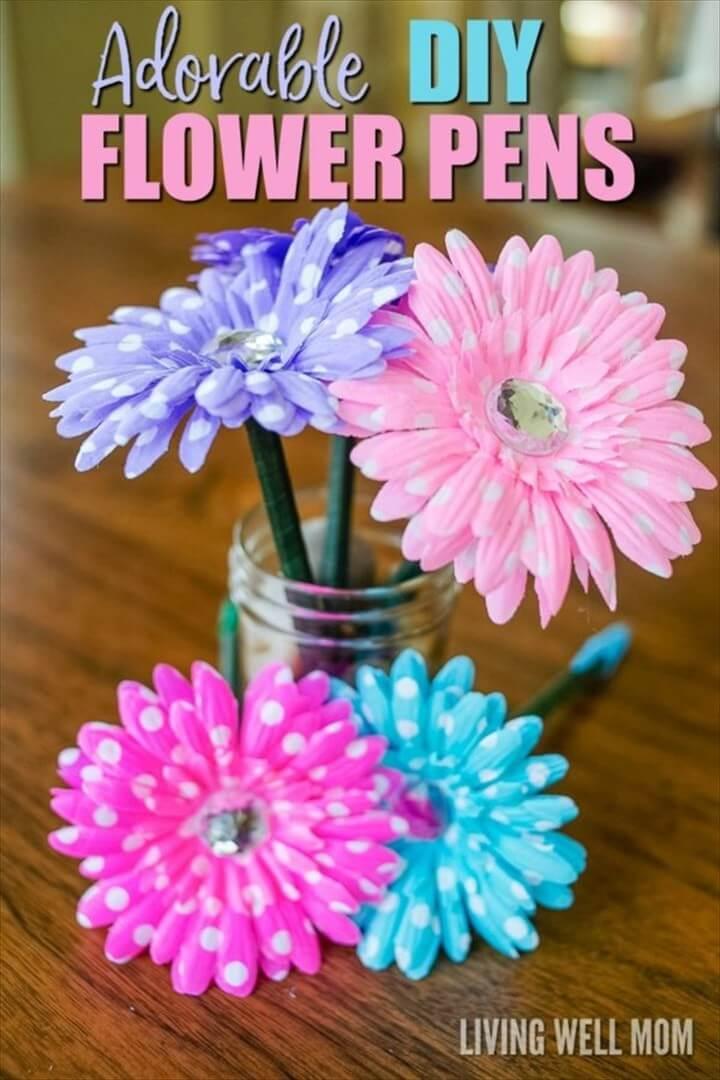 It's time to give your ballpoints the ultimate spring makeover with these pretty flower pen ideas. Yes, the pens have been coated with the green floral tape all over and then add the faux daisy flowers in multiple colors to these ends of these pens. You and your kids can make a bunch of these flower pens and then put them on sale around you. Get the details here!
Tutorial: livingwellmom
Stunning Clay Leaf Dishes: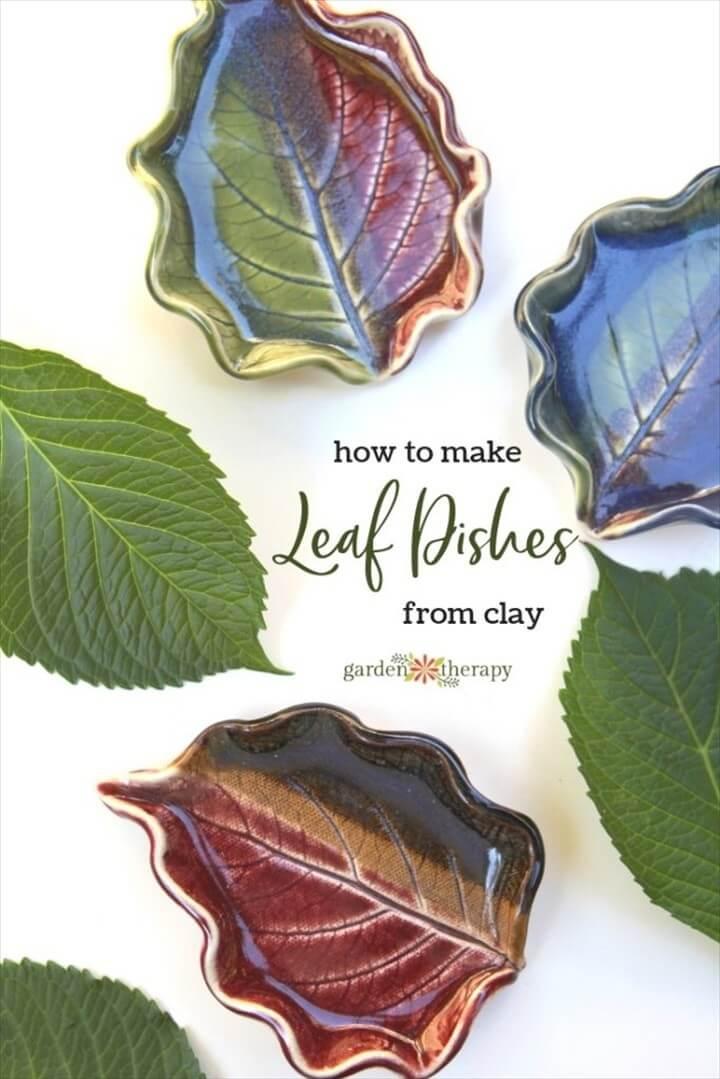 These stunning clay leaf dishes would make the best table and shelf decor for the house. They are so intimidating that people cannot resist buying them. They would be so much cheap to make with clay and thus make a perfect and beneficial sale for you. Get your hands on the clay, leaves, and the paint colors to make these stunning clay leaf dishes. Details here!
Tutorial: gardentherapy
DIY Confetti Tray: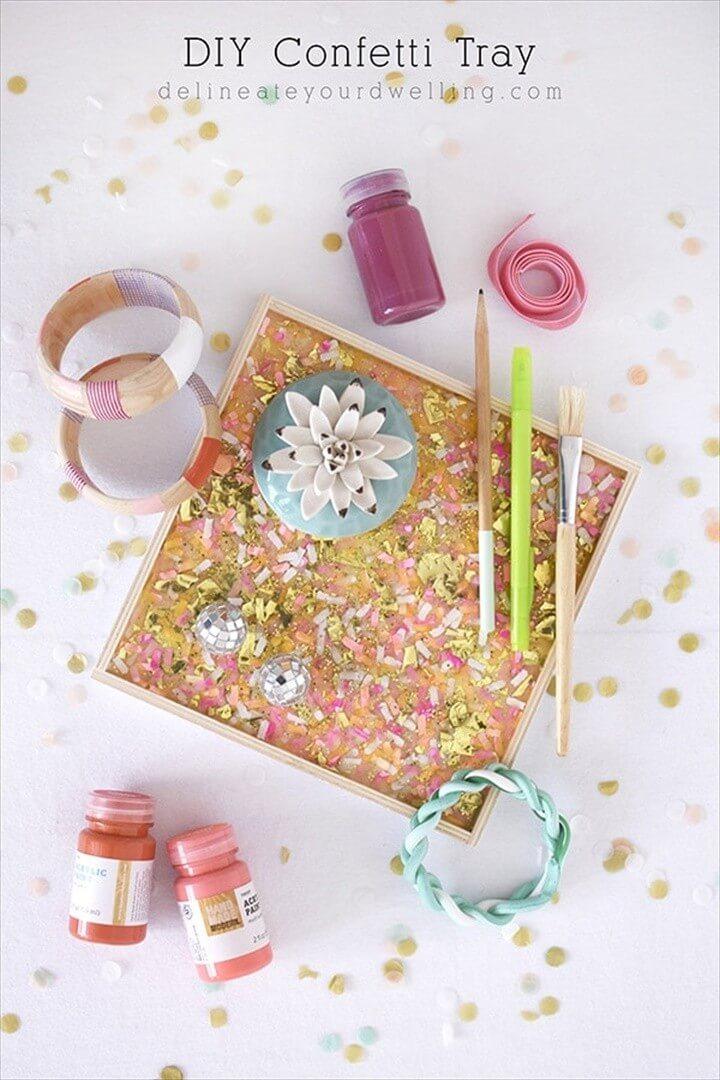 Here is how you can make this absolutely gorgeous DIY confetti tray to make your servings much more fun and presentable. Just grab your wooden tray, simple mode podge, and the dimensional mode podge glue to make this pretty and fun tray for yourself. The women are going to die for these trays so you can make and sell to grab some money too.
Tutorial: delineateyourdwelling
DIY Small Storage Boxes: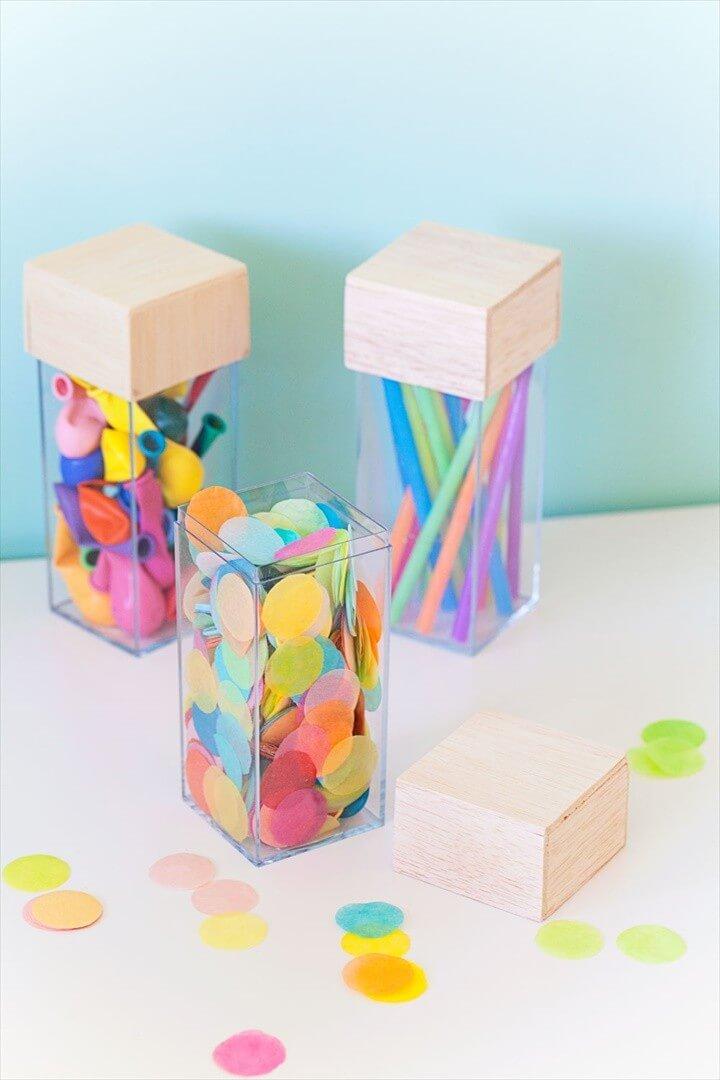 You can make these pretty DIY small storage boxes and everybody is going to fall in love with them. The clear and cute small boxes are made out of the acrylic boxes and the lids are made from the balsa wood pieces. They are super attractive to look at and everybody is going to love them and buy them too. So here is the tutorial to make and sell them.
Tutorial: tellloveandparty
Easy Glitter Slime Kids Craft: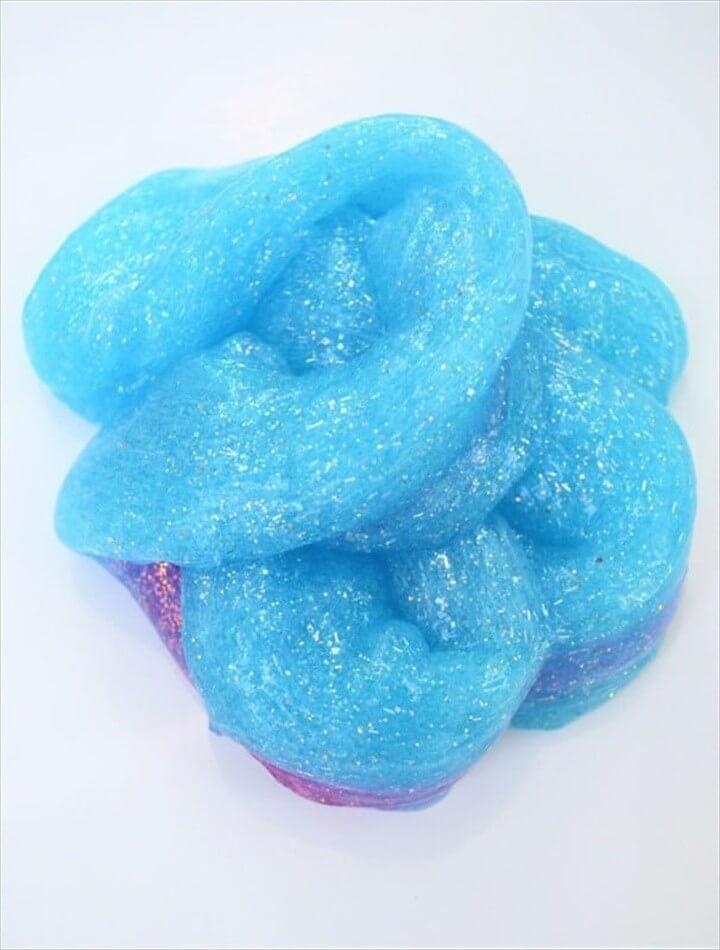 Mothers look for the fun kid's crafts for the summer so you can make this easy glitter slime and put it on sale to earn some money during the summer. The slime is super easy to make with the glitter glue, lens solution, and baking soda. Kids can spend hours playing with these slime crafts so the mothers would love to buy these. Details here!
Tutorial: burlapandblue
Effortless Lavender Sugar Scrub Recipe: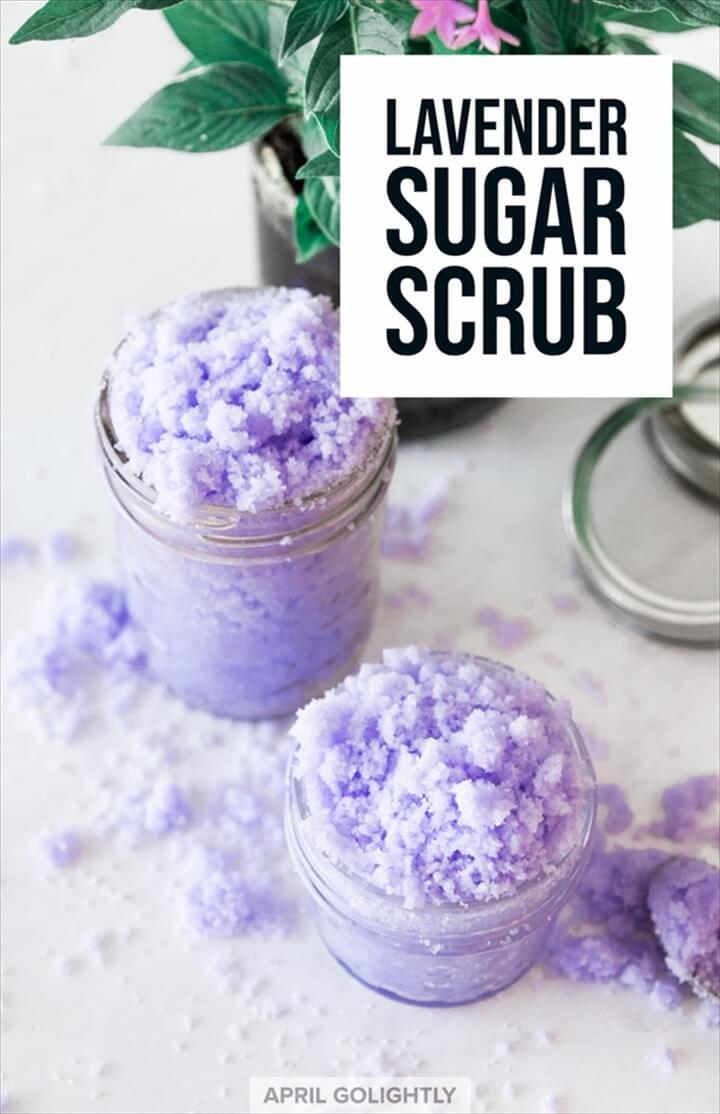 There are many ladies who do not have time for self-care. To make this effortless lavender sugar scrub and sell it to let those ladies nourish their skin naturally. Also, it is easy and cheap to make so you do not have to invest much in it. So grab the coconut oil, lavender oil, sugar, and some food color to make this amazing but skin-friendly sugar scrub. Here is the complete recipe with details.
Tutorial: aprilgolightly
No-Sew DIY Magic Sequin Pillow: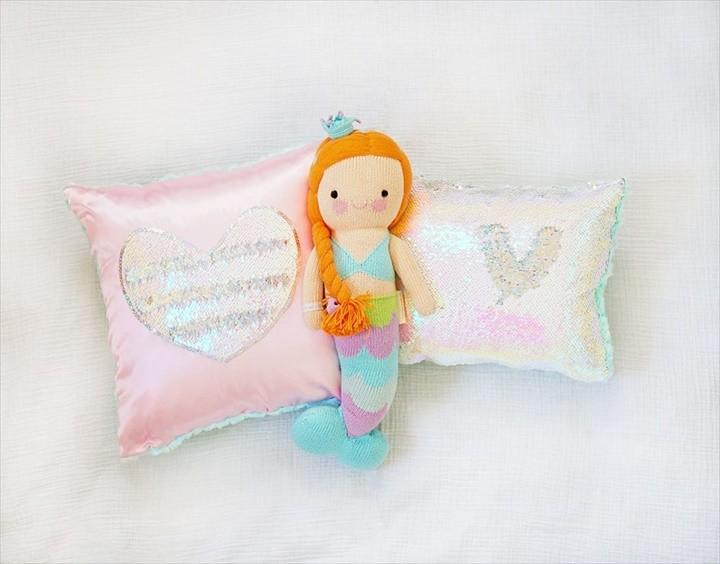 The magic sequin pillows are quite a in rage these days and now you can make some on your own too. They are so much for the kids to play with. And here is the plan with no-sew DIY magic sequin pillow project to make some lovely pillows that you can sell too. So grab your sewing tools and the flip sequin fabric with faux fur to make these pretty pillows.
Tutorial: shrimpsaladcircus
Washi Tape Clocks: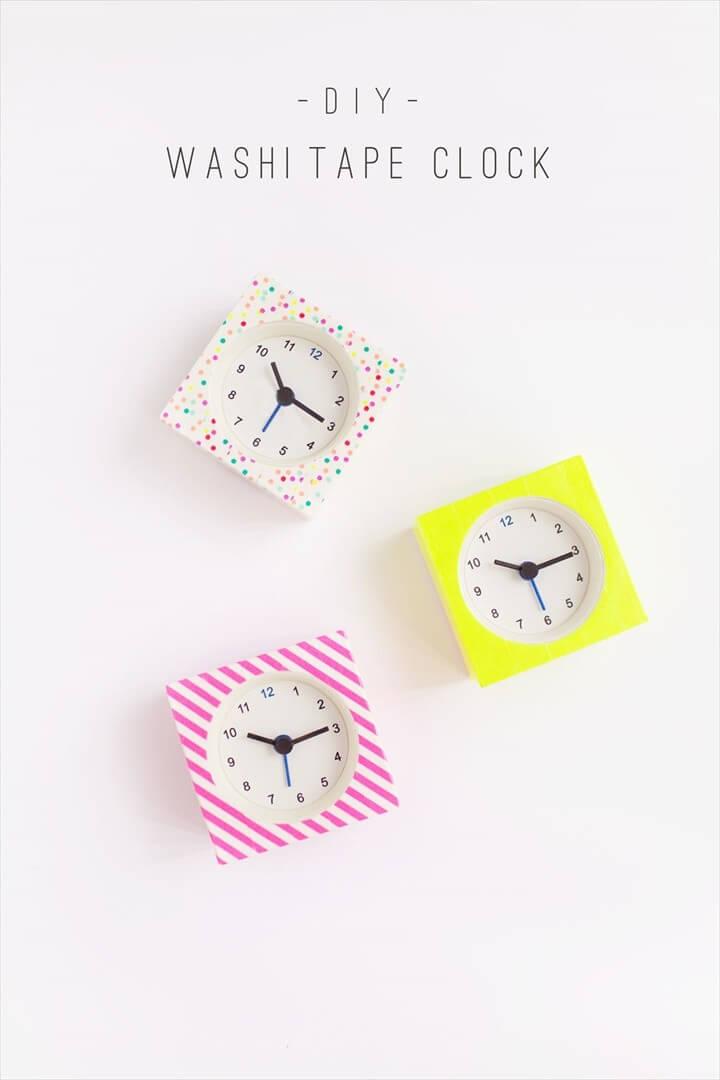 The IKEA clocks can be given the best makeover at home and that too feasibly and cheaply. You just need washi tapes in multiple designs and colors to make these adorable washi tape clocks. Not only these pretty clocks are going to look lovely on your walls but you can start selling them too. Check out details here!
Tutorial: tellloveandparty
Easy to Make Homemade Jar Candles: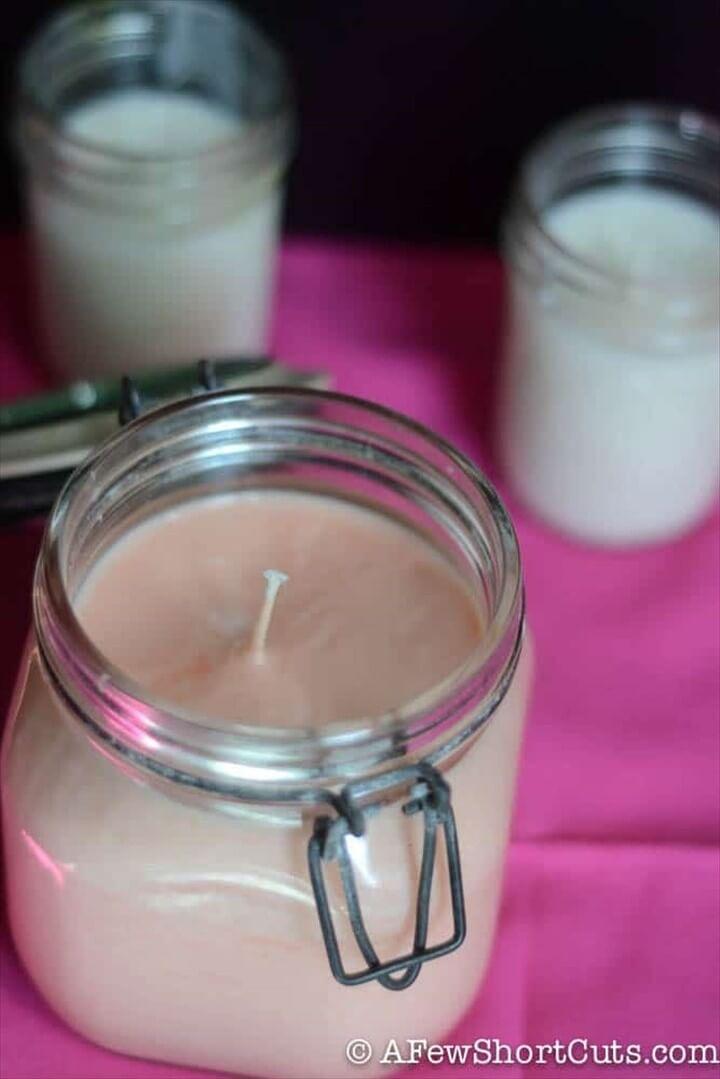 Candles are the part and parcel of each festive so here is the idea of making these lovely homemade jar candles. They are super fun and cheap to make and thus you can use them on all the festivals and the occasions and save yourself lots of money. Also, these homemade jar candles can make pretty sellings for those who love handmade items. Check out details here!
Tutorial: afewshortcuts
Etched Cutting Board: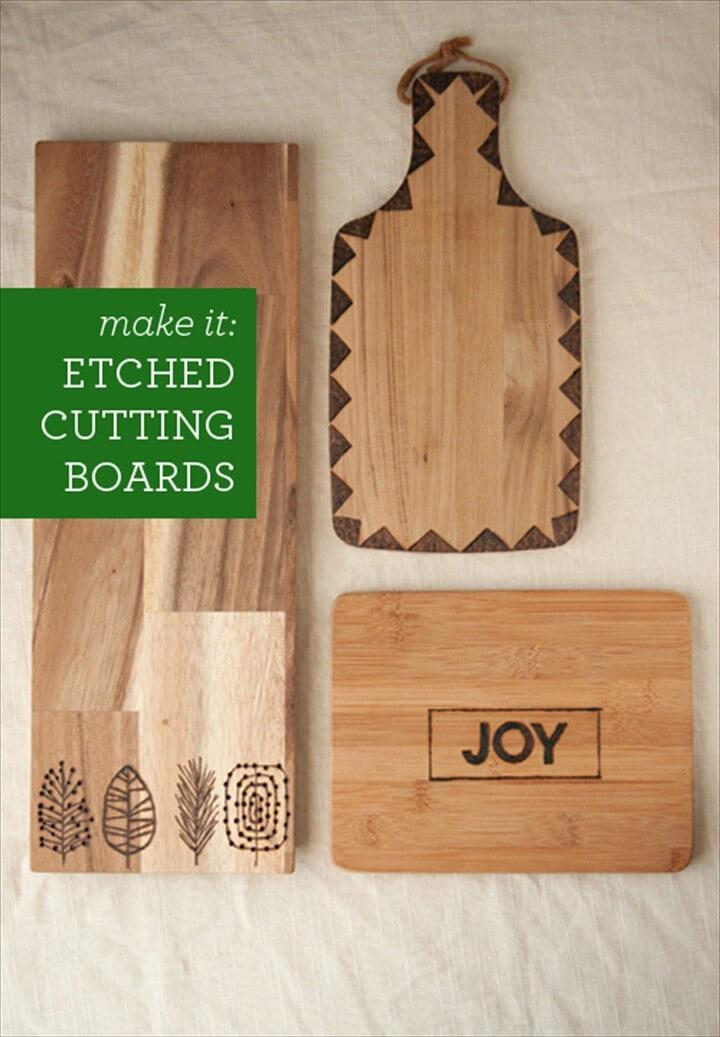 Women are really attracted to the household items and if they are quirky and cool then they are surely going to fall in love with them. So if you are good at crafting you can start making these etched cutting boards and they would make a really fierce sale. The etched design can be as creative and fun as you are. Details here!
Tutorial: designmom
Triangle Pouch: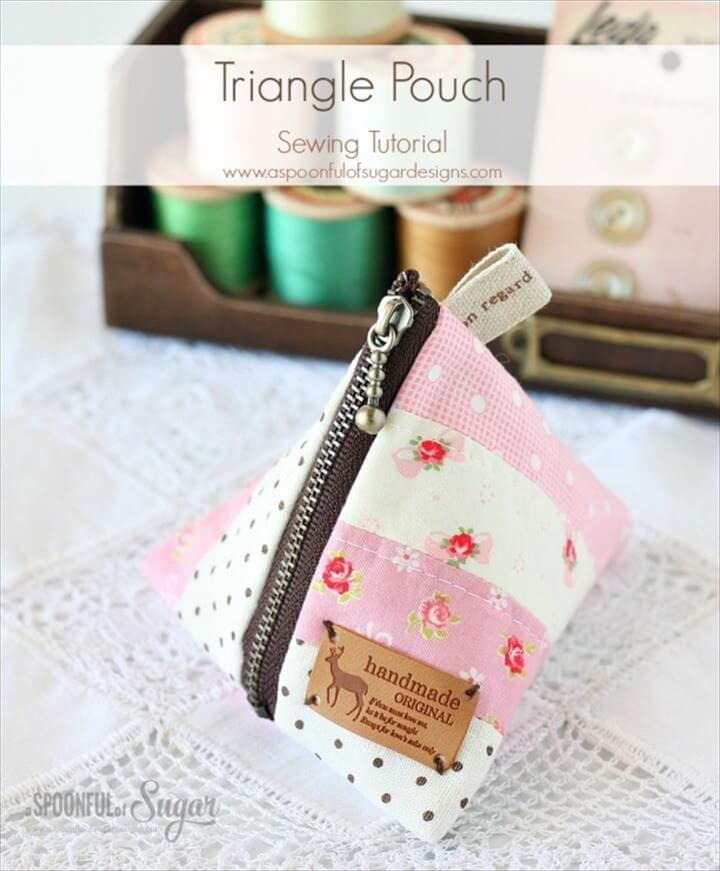 If you love making things at home like your jewelry and pouches then make this pretty triangle pouch this time. This lovely triangle pouch is quite interesting and unique to look at and so many ladies would be interested in it. So if you are good at sewing then grab your yarn scrap and the zipper to make these adorable pouches not only for yourself but to make for selling too. Details here!
Tutorial: aspoonfulofsugardesigns
Yarn Ball Pom Pom Bookmark: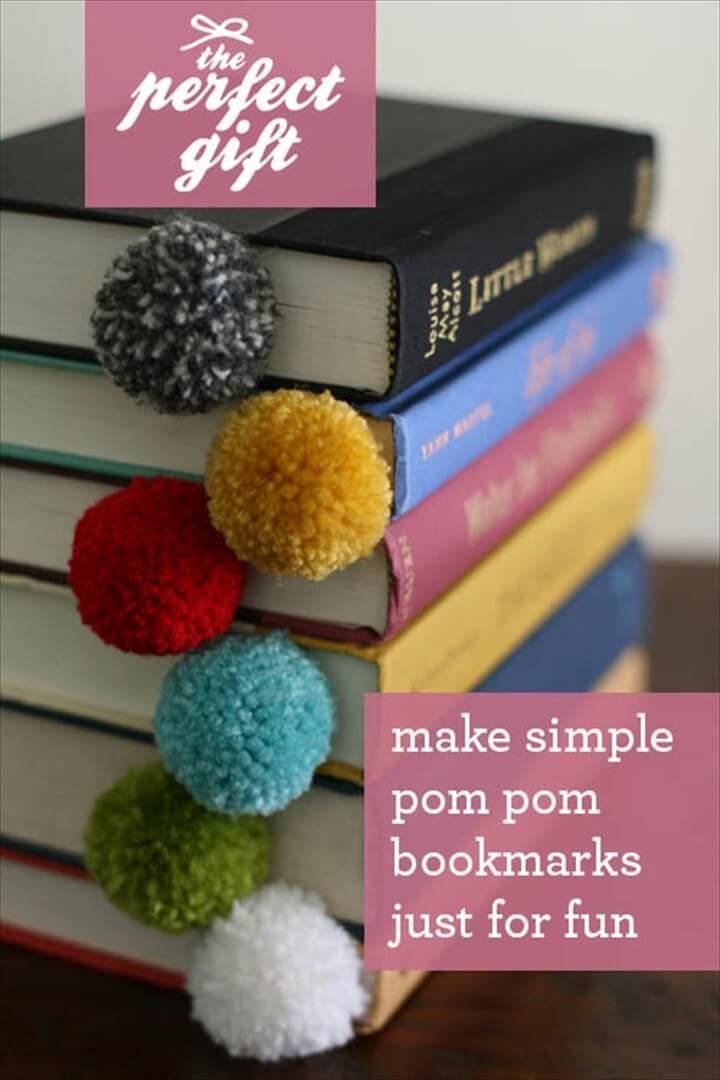 Make some money out of your crafty skills and make this pretty yarn ball pom pom bookmark series to sell. They are super easy and cheap to make and also quite quick to make. So grab some colorful yarn and the pom poms to make these adorable and cute bookmarks. These lovely pom pom bookmarks would make lovely gift ideas around the Holiday.
Tutorial: designmom
DIY State Art: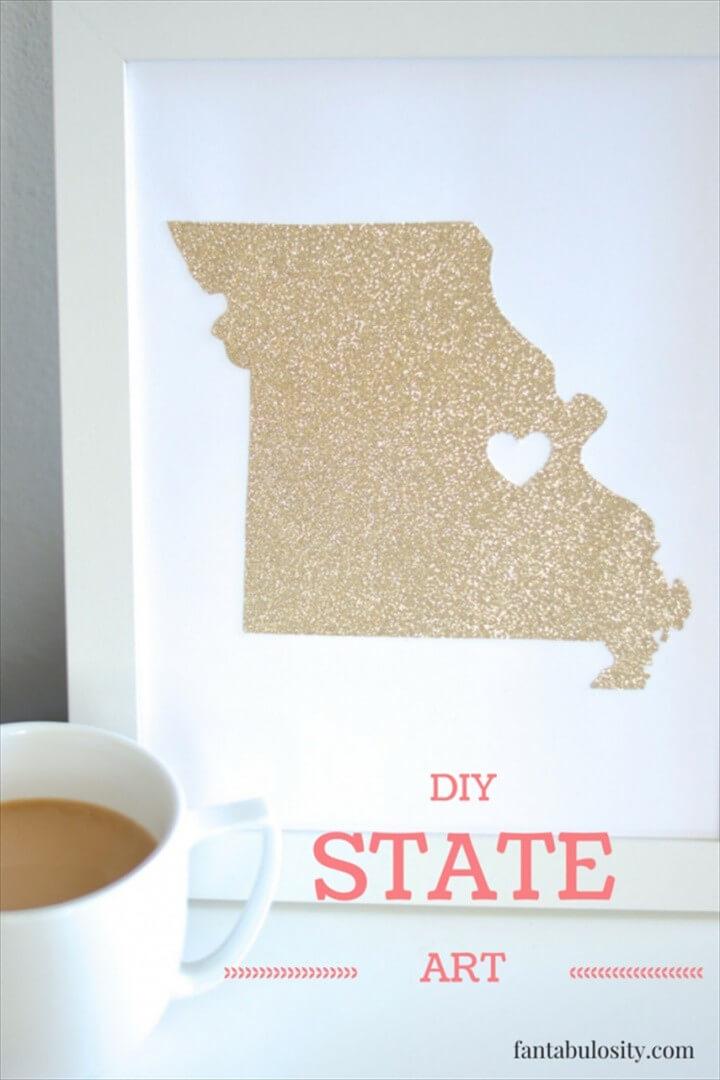 Make the most out of your silhouette machine with this DIY state art. The pretty wall art with a chic white frame and the golden-hued state design looks so rich in style. As you need to use your machine so make the most out of your machine by creating a bunch of these art pieces and put them on sale to earn some money too. Details here!
Tutorial: thisgrandmaisfun
15 Minute DIY Watermelon Soap: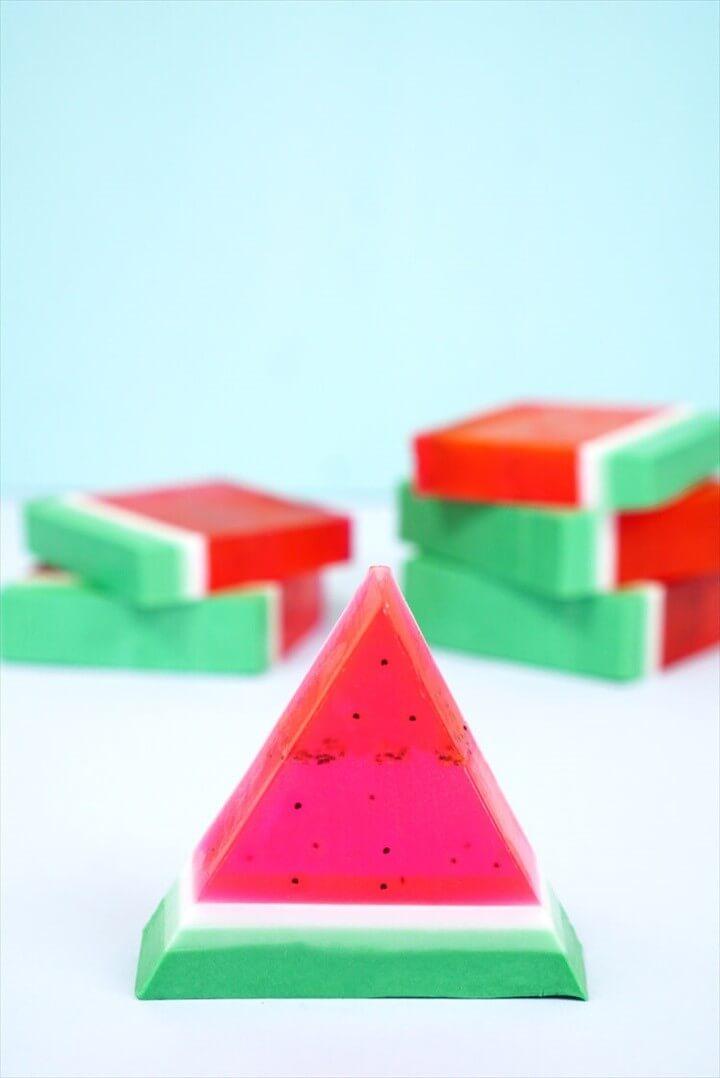 This delicious and eye-catching piece of the watermelon is the food for your body in the form of this healthy watermelon soap. The soap is made out of the clear soap base and the goat milk soap base using a soap mold. To make it not only look like watermelon but smell like watermelon too, the watermelon fragrance oil has been used. People would love to buy this pretty soap to use as the lovely gifts for their dear and near ones.
Tutorial: happinessishomemade
Chevron Pallet Mounted Hanging Mason Jar Vase: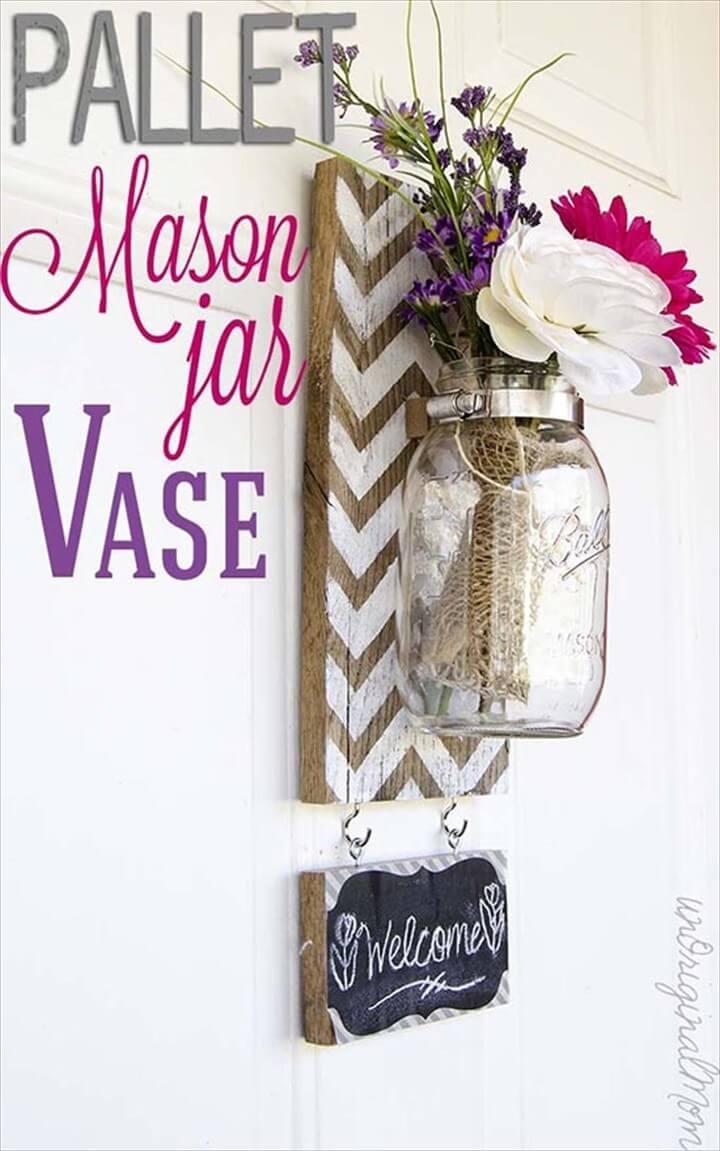 Make the most out of the lovely pallet wood that is lying around you to create some fantastic home decor pieces. Here is this lovely chevron pallet wall mounted hanging Mason jar vase to delight up your summer walls with. A wooden board out of the pallet has been painted with chic white chevron lines with a little hooked patch saying WELCOME. If you have a pallet in bunches you can make such crafts to earn through too.
Tutorial: unoriginalmom
DIY Chalkboard Tray: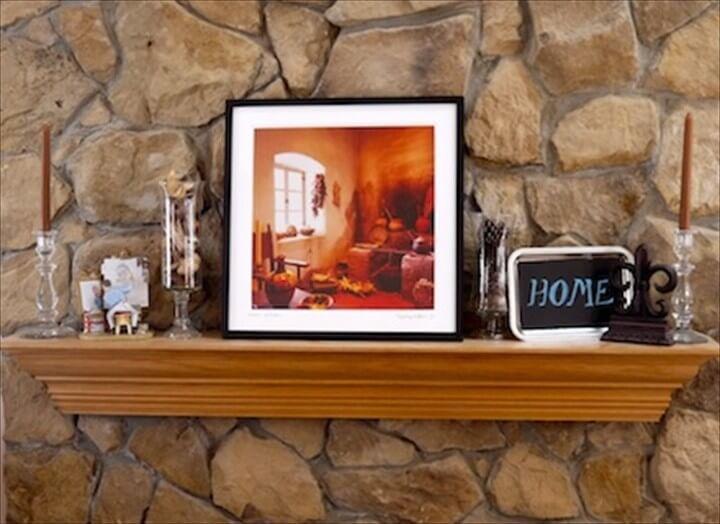 Bring some more chic details to your home decor and display with these handmade DIY chalkboard trays. They are super easy and simple to make at the cost of just a few pennies. All you need to do is go to the dollar store and grab the silver trays in your desired shapes. Then apply the chalkboard paint to their centers only. They can be a part of foyer saying WELCOME or kitchen to write off-menu details or kids can have fun with it. Look more into the project here!
Tutorial: howtohaveitall
DIY Fabric Art: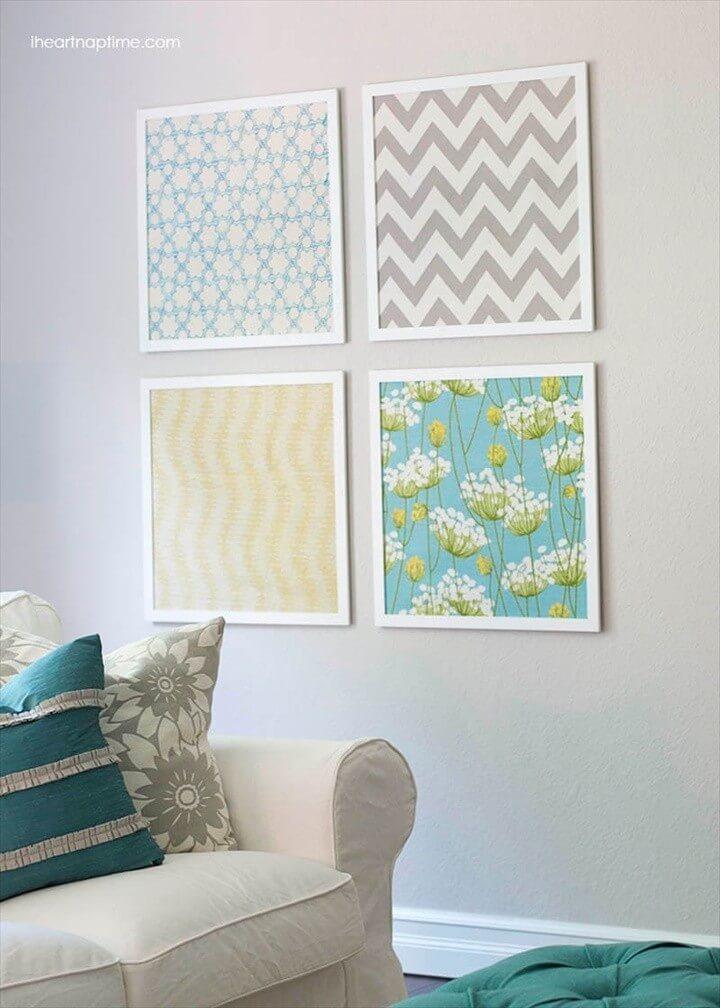 Make walls look super fresh and well decorated with these DIY fabric art pieces. They are super easy to make with the least of the supplies and the materials. You need fabric pieces in multiple designs and patterns, frames from IKEA, glue, and the hammer with nails. These frames are going to fill up the walls so beautifully. Also, you can make and sell these art pieces as they are worth buying.
Tutorial: theinspirationboard
DIY Scootboard: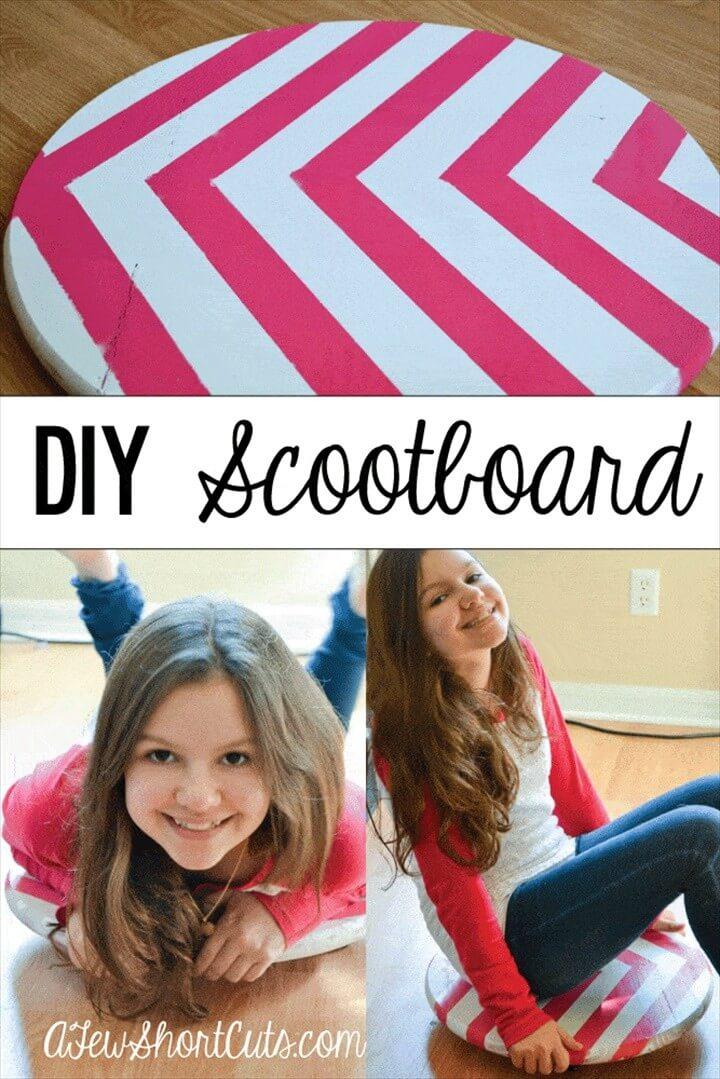 If you have kids around who love wheel items then make them this DIY scoot board and they would love it. You need a wooden pin round for the purpose and four casters with screws to attach at the back. The top of this scoot board has been painted in white and red with chevron to look more interesting. This would make a hot selling item too.
Tutorial: afewshortcuts
DIY Wooden Utensil Box for Your Kitchen: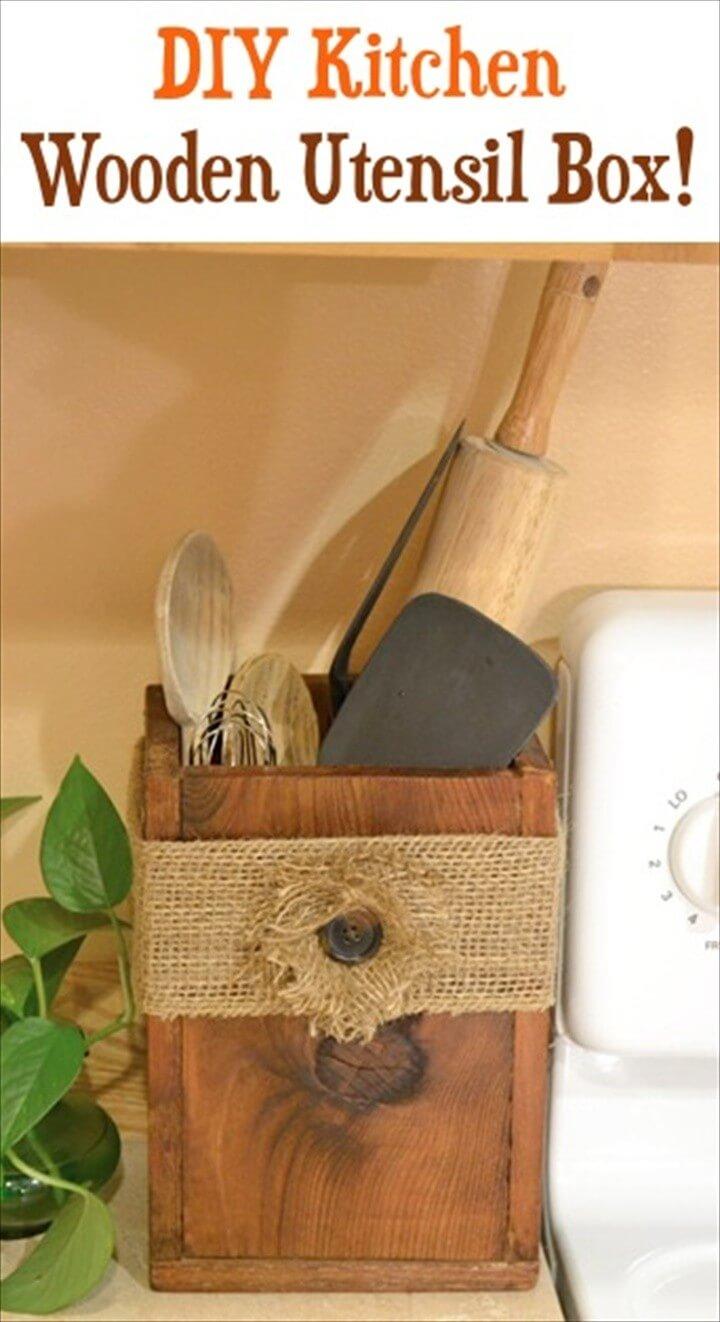 Now you can make this lovely DIY wooden utensil box for your kitchen and that too using the scrap wood in your working place. So grab some wooden pieces and the glue to shape up this pretty box. Also, it has been decorated with the burlap wrap, burlap flower, and the buttons too. Check out the details here! You can make these boxes to sell and make some profit out of your craftsmanship too.
Tutorial: thefrugalgirls
DIY Wool Felt Ball Coasters: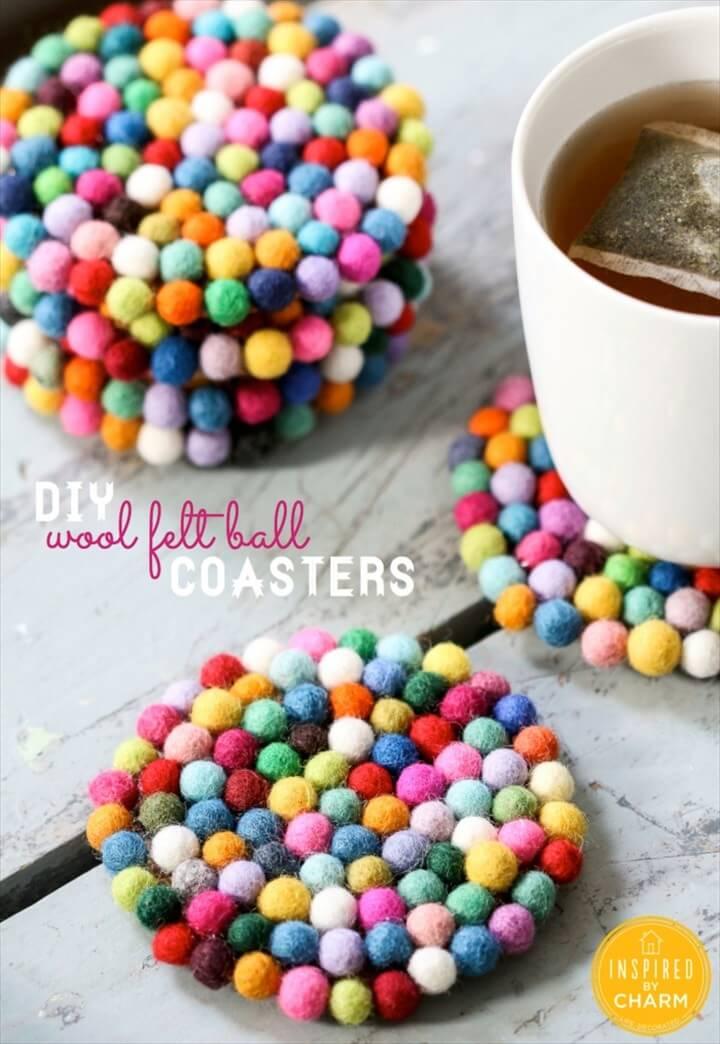 These cute and colorful DIY wool felt ball coasters are the best things to make for the summers. They are cute and colorful to go with each summer theme party. You need packs of wool felt balls, cork coasters, and the glue to easily shape up this bunch of the cute and funky coasters. You can make and sell these coasters to earn some extra cash. Details here!
Tutorial: inspiredbycharm
Fun With Pom Poms Lets Make A Cactus: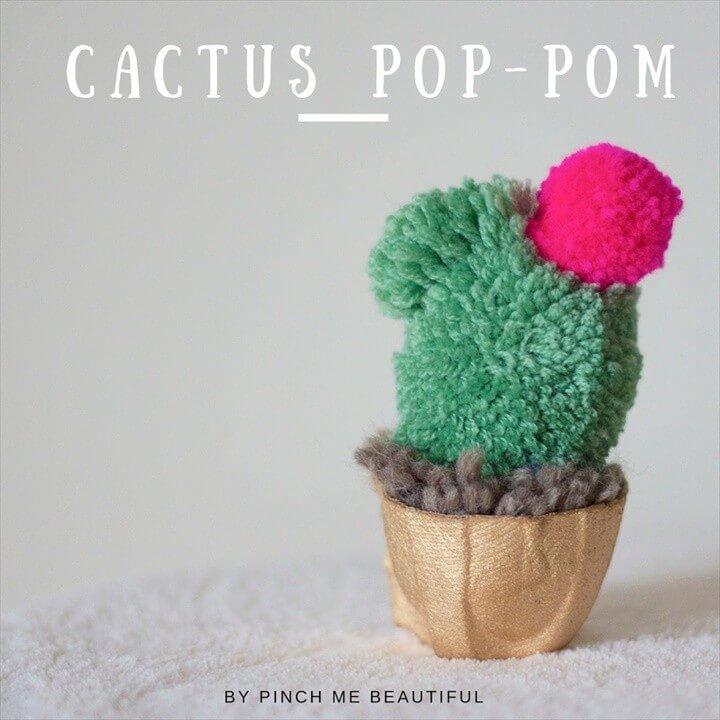 This super cute and colorful cactus is the exact opposite of the real cactus for being too furry and soft. So along with a pot, you need big furry pom pom ball in green and the smaller balls in green and red or pink. This lovely pom pom cactus is going to bring so much cuteness and beauty to your home. The decor lovers would love to buy this fun and fancy item from you too. More details here!
Tutorial: pinchmebeautiful
How to Make a Personalized Welcome Mat: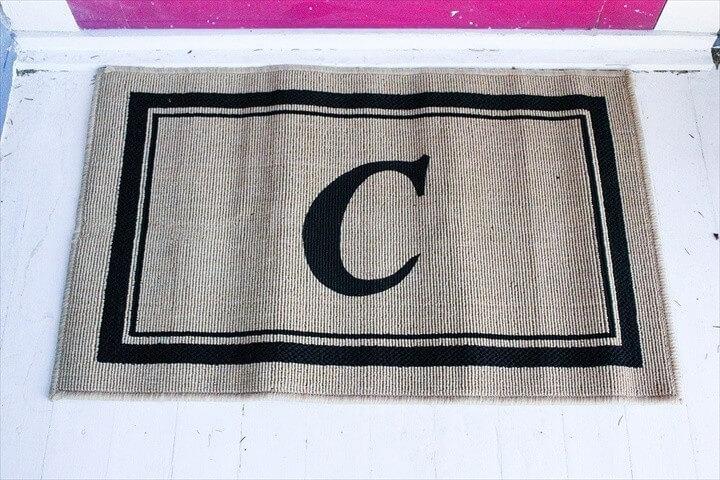 Give your outdoors a decor boost with this super cute and personalized welcome mat. So this one is given the pretty and welcoming look at home with personalized initial added to it. So grab a rug or mat and using the initial stencil and the paint you can add the letters to your mat to make it look totally personalized and fun.
Tutorial: mamaof3munchkins
How To Make A Seashell Mirror: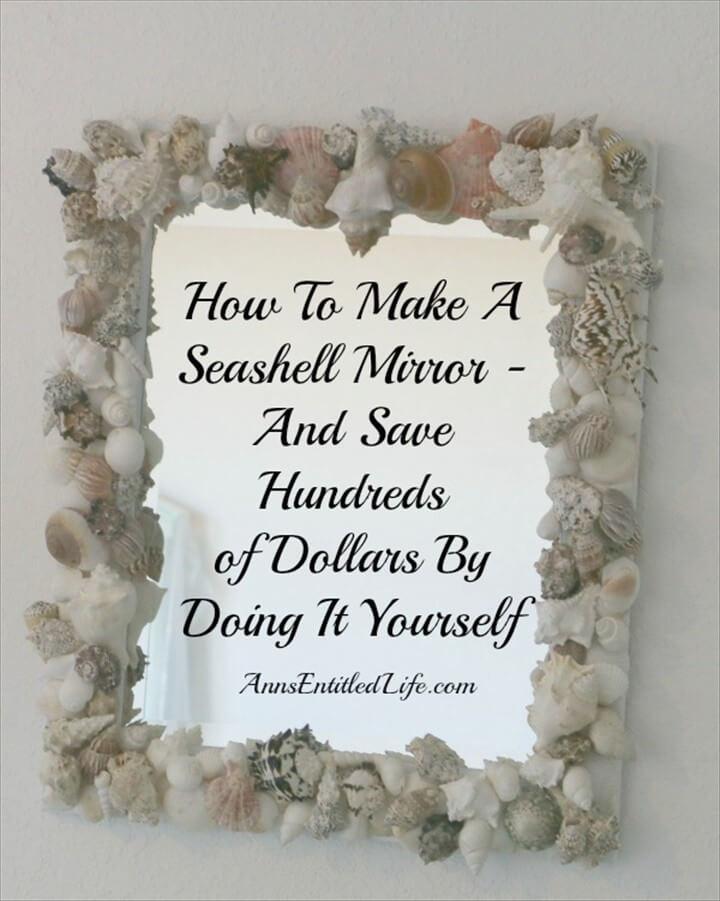 Bring the perfect summer vibes to your home decor with this seashell mirror makeover idea. Yes, a simple mirror with a wooden frame has been turned into this gorgeous beach beauty with simple DIY steps. Just paint the wooden edges white and then add the variety of the seashells in multiple colors, sizes, and shapes to this mirror and make it look just so perfect for a summer home. If you want to earn this seashell mirror is going to be a hit selling. Details here!
Tutorial: annsentitledlife
Make Your Own Bath Bombs: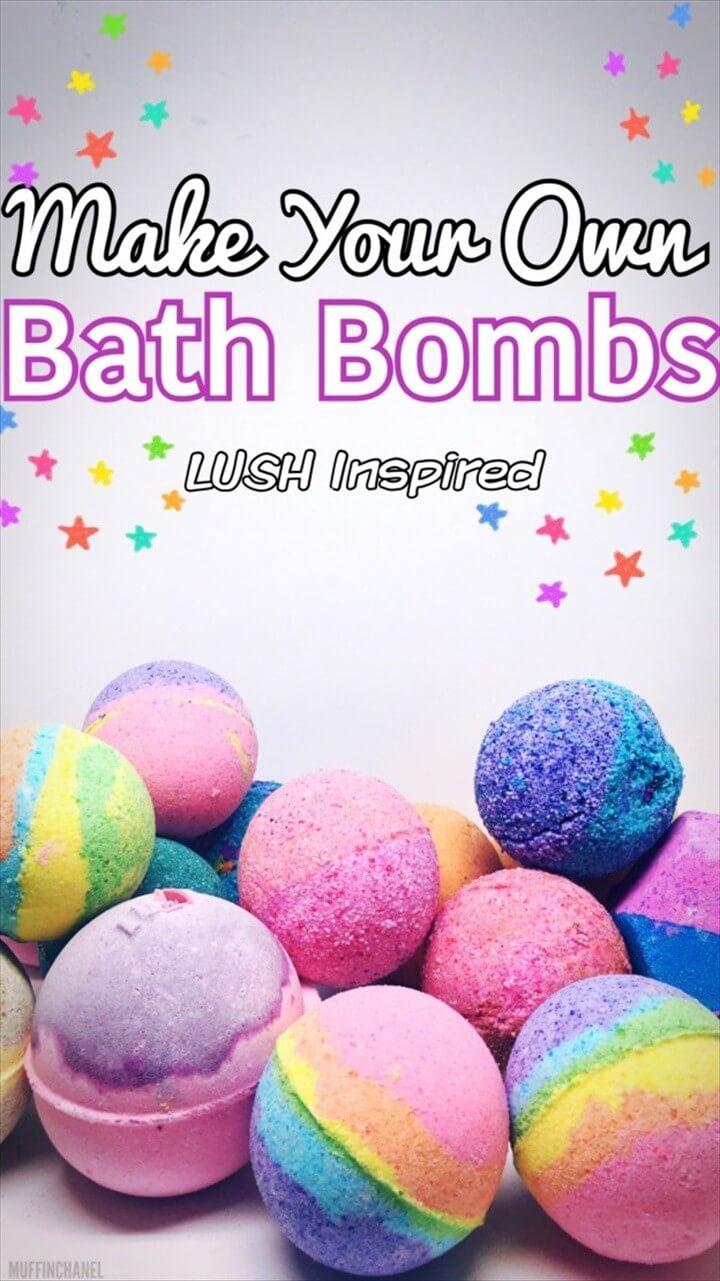 You can make these awesome looking bath bombs to make some money out of it too. They are super easy to make and with multiple colors to make them look more enchanting and interesting. You can customize these bath bombs for the fragrance by choosing your favorite oils, colors, and also the shapes by using a variety of molds. Check out the details of the idea right here!
Tutorial: muffinchanel
Vaso De Barro Decorado Para Suculentas: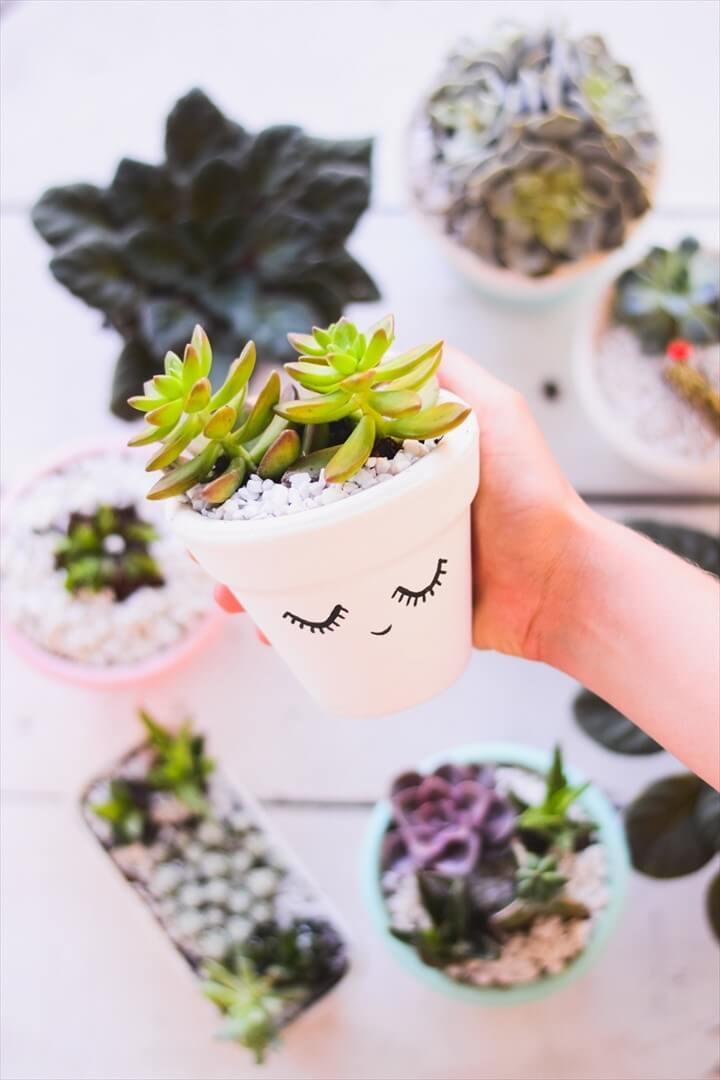 Make your summer home look the most beautiful with these hand-painted succulent pots. Yes, get your hands on the simple small size terracotta pots and the paint to style up these adorable pots with your favorite themes and inspirations. This lovely unicorn succulent planter looks just so adorable. You can make these pots and then sell them to earn some profit from your hobby. Details here!
Tutorial: omundodejess
Data Cable Organizer Keychain: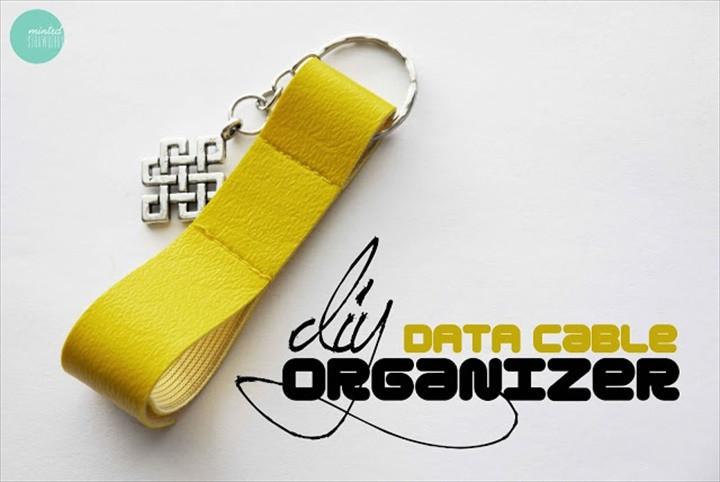 Every home needs a cord organizer and now you can make some cheap organizers at home and sell them to ease everyone's life around you. Using a leather cord, and embellishing charm and the hooks you can easily make this lovely bunch of the cable organizers and make the routines so much easy and fun. You can use colorful leather cords so that everyone can buy according to their color preferences. Details here!
Tutorial: mintedstrawberry
DIY Beaded Tassel Necklaces: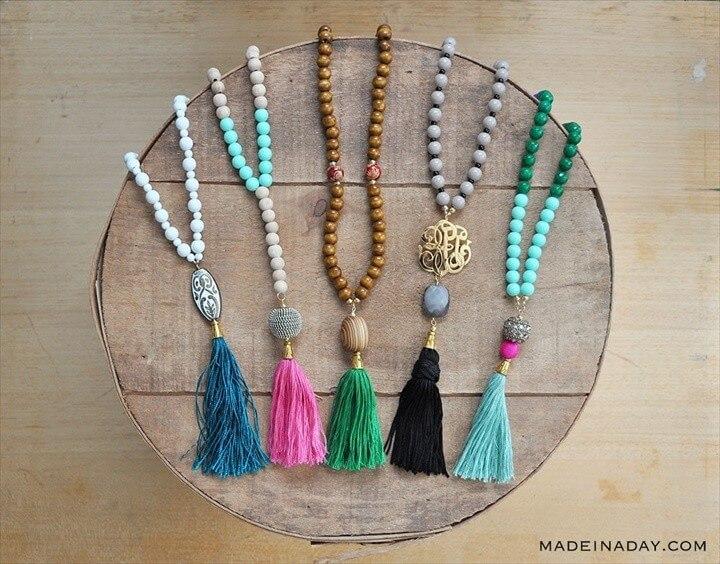 These gorgeous handmade beaded tassel necklaces are the prettiest things you are going to see on the internet today. You need wooden beads, stones, colorful cords to make the tassels and some pretty charms to shape up this lovely bunch of the necklaces. They are super easy to make with feasible supplies and you can make them a hot-selling on your page or blog too. Check out the details here!
Tutorial: madeinaday
DIY Hand Warmer: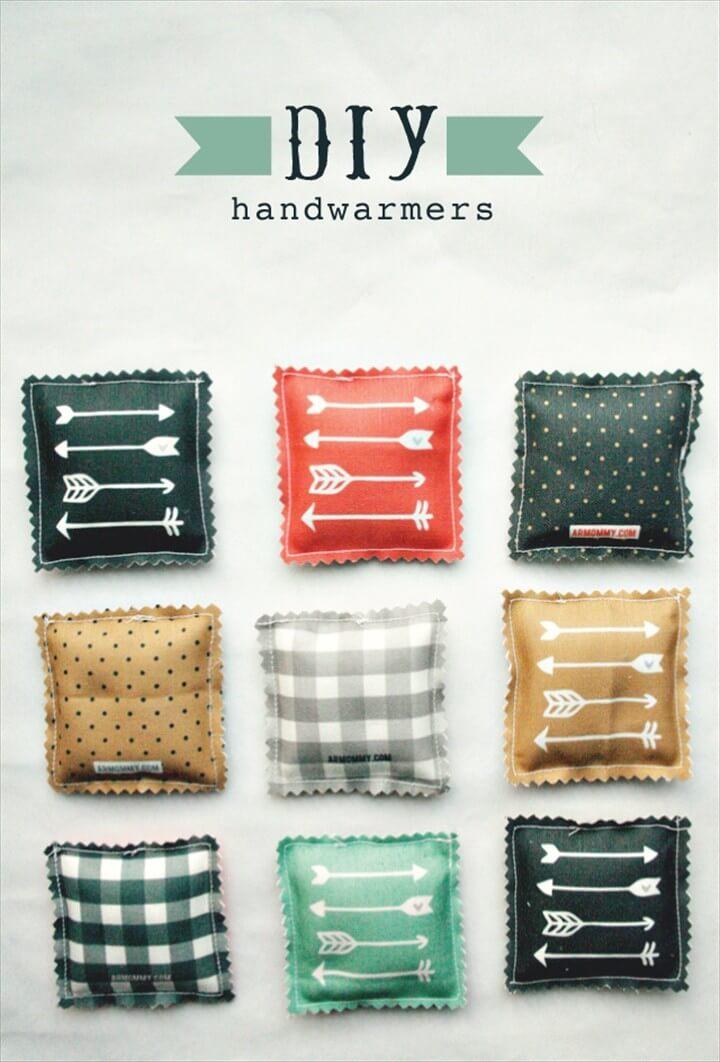 Make winters easy and fun for the people around you with these DIY hand warmers. They are super easy and cheap to make with easy and cheap essentials lying around. Just grab the fabric scrap lying around you and make little cute sachets from them. Fill them with rice and sew them up completely. They would work great to warm up the cold hands in just minutes. Check out more here!
Tutorial: raeannkelly
Fabric Covered Spring Vases: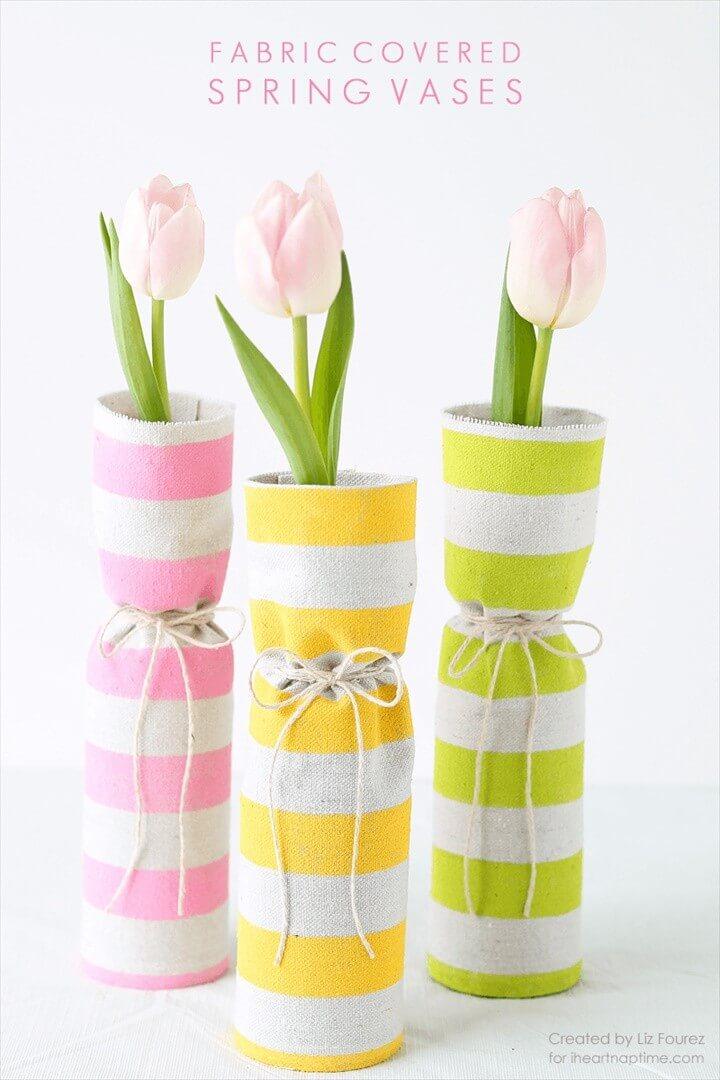 These prettiest fabric covered spring vases are the pure delight for the eyes and the heart. So grab the drop cloth or any plain fabric and then paint it up with bright and beautiful strips of pink, green and yellow. Then using the twine you can wrap up these painted fabric pieces around your vases and make them look just cool and refreshing. More details here!
Tutorial: theinspirationboard
Easy Chapstick Holder Keychain Pattern: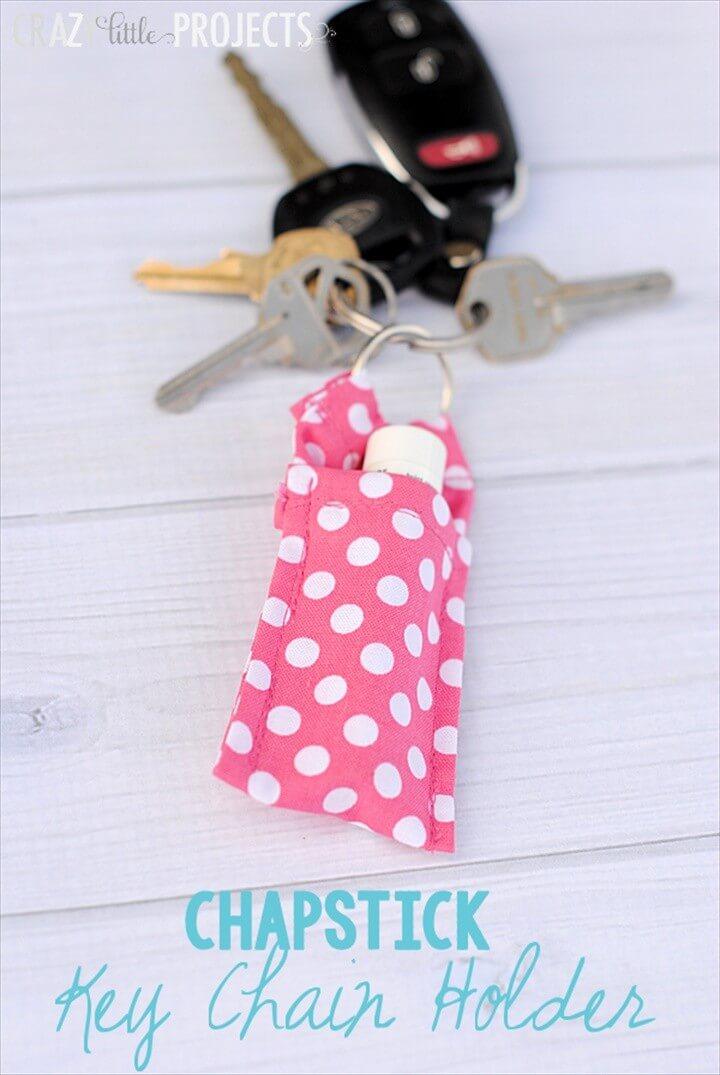 Make the most out of your fabric scrap by creating this bunch of the chapstick holder. The cute and fabricated keychains are super easy and quick to sew up in just minutes. Also, add keychains to these ChapStick holders so that you can use them with your bags to carry them easily with you around. Check out more details here!
Tutorial: crazylittleprojects