Most of us are too addicted to soda drinking, and they always have a good stock in the fridges. Let m put a question here that what you do with the bunch of empty cans after use? I know your answer would be throwing them in the dustbin. Or they are sold at the recycle center at the cost of few pennies. But as you are on the DIY platform, we would tell you some really easy yet fun and functional ways to reuse those empty soda cans with a purpose. There is plenty of DIY home decor and kid's items prepared with the soda cans, and so are their pop tabs. Yes, the small oval shape tabs can be separated from the cans to make much cool and funky stuff.
To give you some real motivation, we have assembled these 25 Recycled Soda Can Pop Tab Crafts And Ideas, so do browse them all to know the multiple possibilities with these tiny pop tabs. Especially the girls can explore a world of accessories with them making dresses, neckpieces, bracelets, purses, and earrings out of the tabs. Men's tie and belt, kid's caps, and armor dress are other fun things to be targeted with many tabs. So do give these tabs a try to make anything out of the following items, and we are sure you would love it.
1. DIY Pop Tab Lamp Shade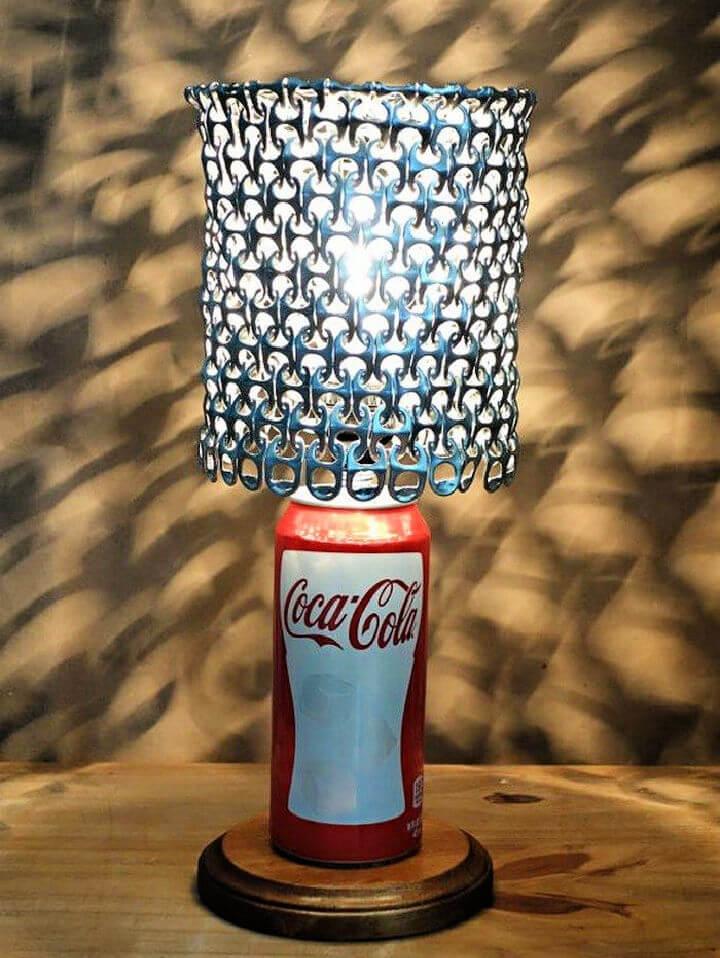 Get all the fancy and rainbow colors in your lampshade by recycling soda pop tabs. For this, reuse different soda bottles to get all the colors and combinations for the lamp cover. Moreover, you can also paint them if required. You don't require a lampshade or structure to create this pop tab light cover. Recycle or upcycle wire rings and only tabs to get your hands on this mesmerizing piece of décor for your side table lamp! makezine
2. Recycled Pop Tabs Babe In Shining Armor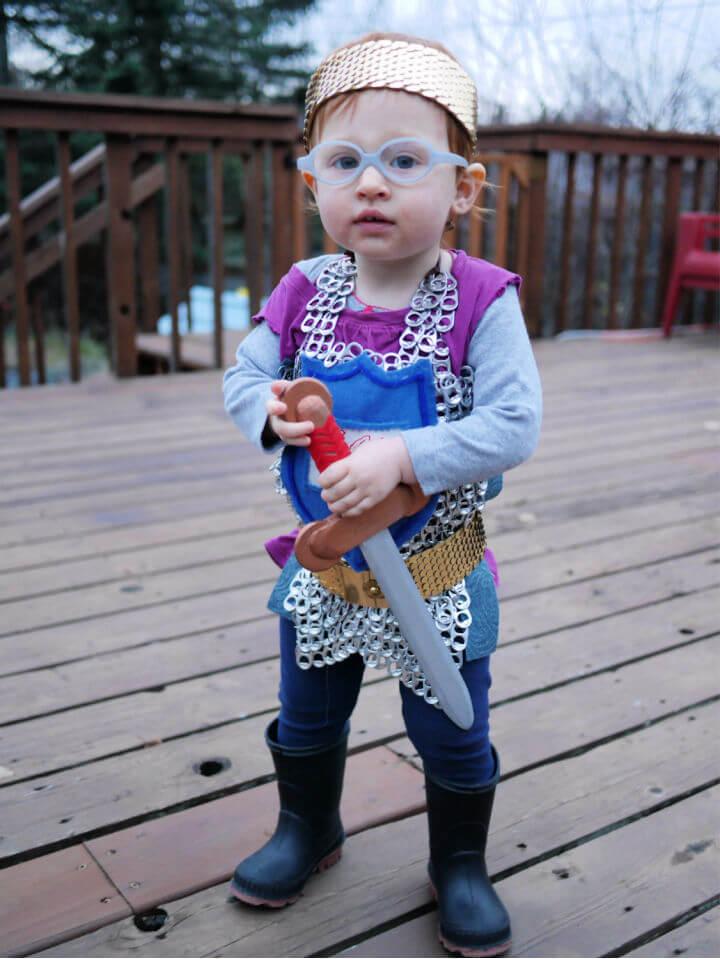 Are you looking for last moment Halloween costume ideas for kids? This armored dress is perfect for DIY. Use your collection of soda pop tabs to get this fascinated and inspiring costume to wear. Apart from using the pop tabs, jump rings are the whole supplies required to complete this super cute DIY and recycling costume project. alaskaknitnat
3. Soda Can Tab Small Pendant Light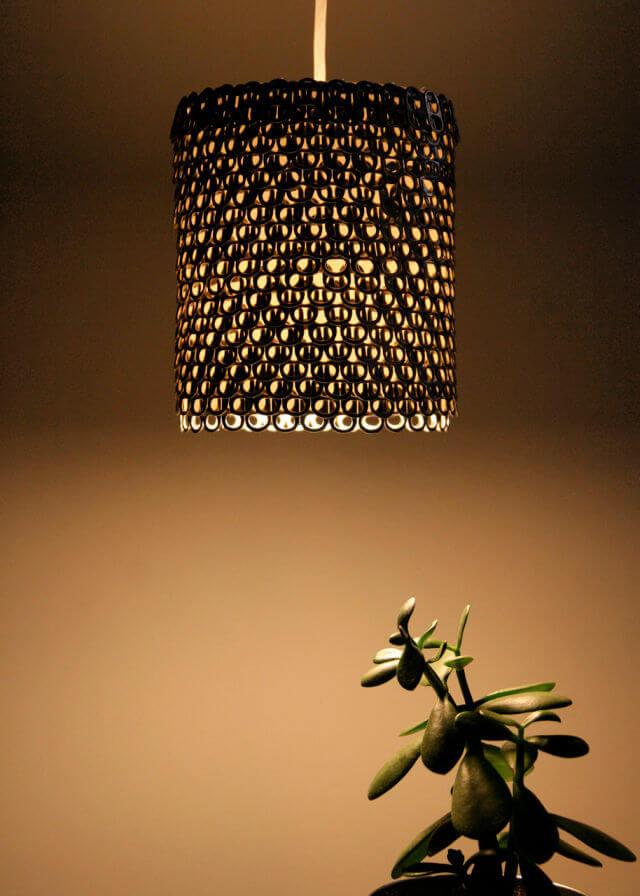 Retouch your room décor with minor interior and makeover changings. Instead of buying expensive centerpieces, think about creating something unique by using recyclable material. Utilize empty soda pop tabs to get a different look at your room. Decorate your old light pendant with these tabs. For creating this light pendant, use a plastic or screening sheet and attach the flaps on it using hot glue. the3rs
4. DIY Cyber Butterfly With Pop Tabs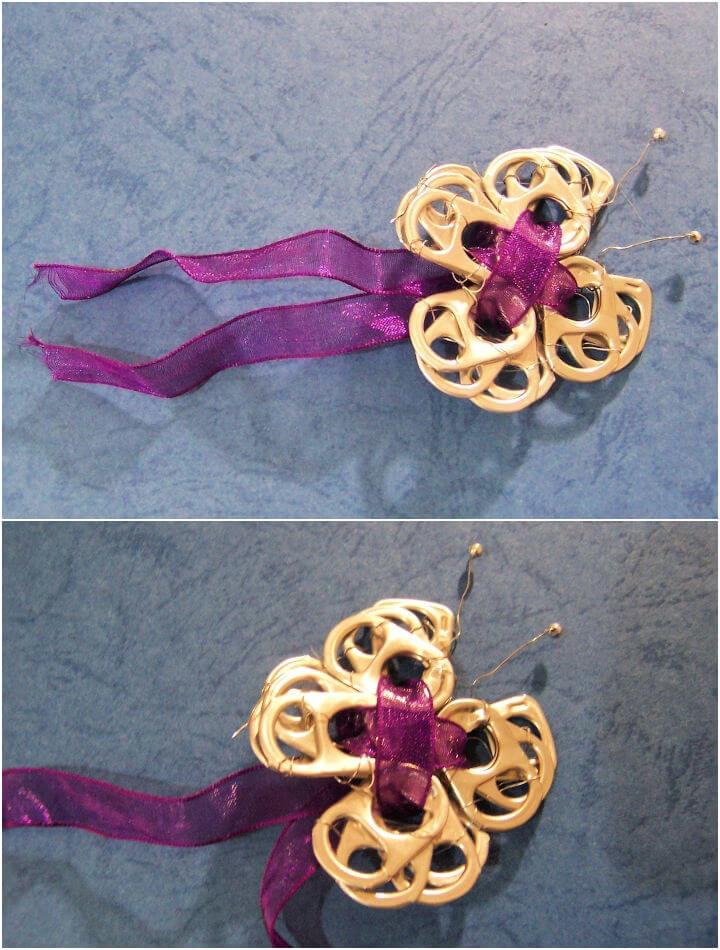 This weekend, craft a project for your kids them using pop flaps. Customize this tiny and beautiful cyber butterfly with a grosgrain ribbon or soda pop tabs. Kids can work on this craft activity proficiently, even without your assistance. Use a thin wire with beads to create the butterfly's antennas to give her a realistic look. cutoutandkeep
5. Soda Pop Tab Upcycled Bracelet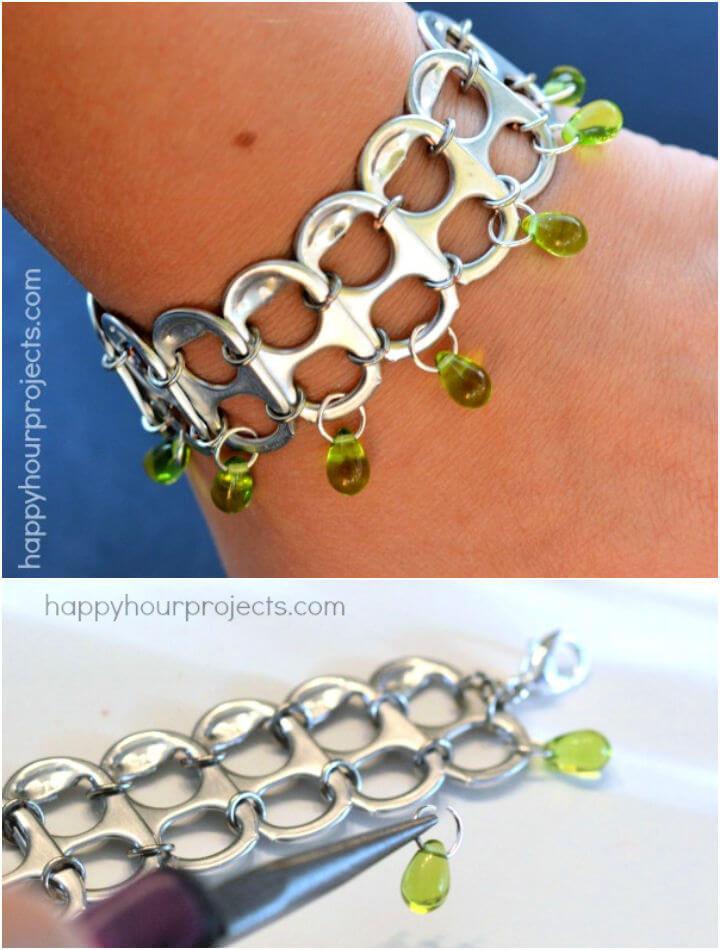 Get a rock-style bracelet to wear on DJ night using recyclable material and supplies. Use old soda pop tabs to DIY this good-looking and inspiring armlet. Additionally, give this crafted jewelry a glamorous look with beads. You can customize this ornament piece of jewelry in every size and color with the different bottle's pop flaps. happyhourpro
Watch This Video: Easy Pop Tab Bracelets DIY – DIY Recycled Soda Pop Tabs Ideas (06 Minutes 00 Seconds)
6. Soda Pop Tab Flower Card – Craft Idea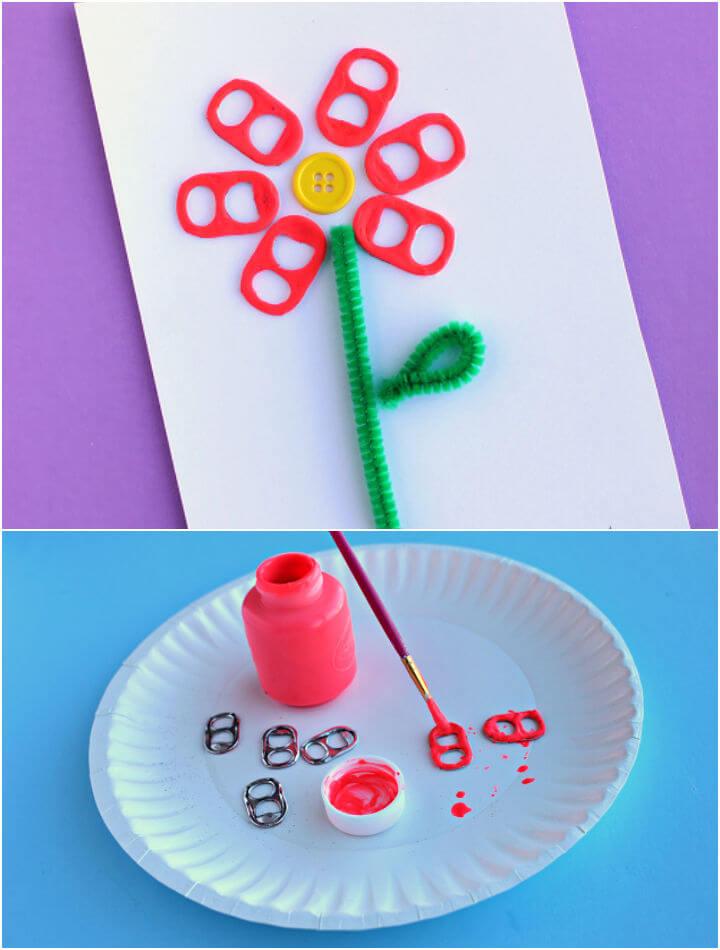 Craft a wonderful and precious gift card for your mom on this Mother's Day. There is no need to raid a craft store to make this card. Recycle pop tabs of soda cans to create this DIY flower on the card. Moreover, reuse a pipe cleaner in green color to make the stem of this red flower. For making this flowered card, it would require less than 20 minutes. Customize it for your mother and get her blessings. craftymorning
7. How to Make Chains from Soda Can Tabs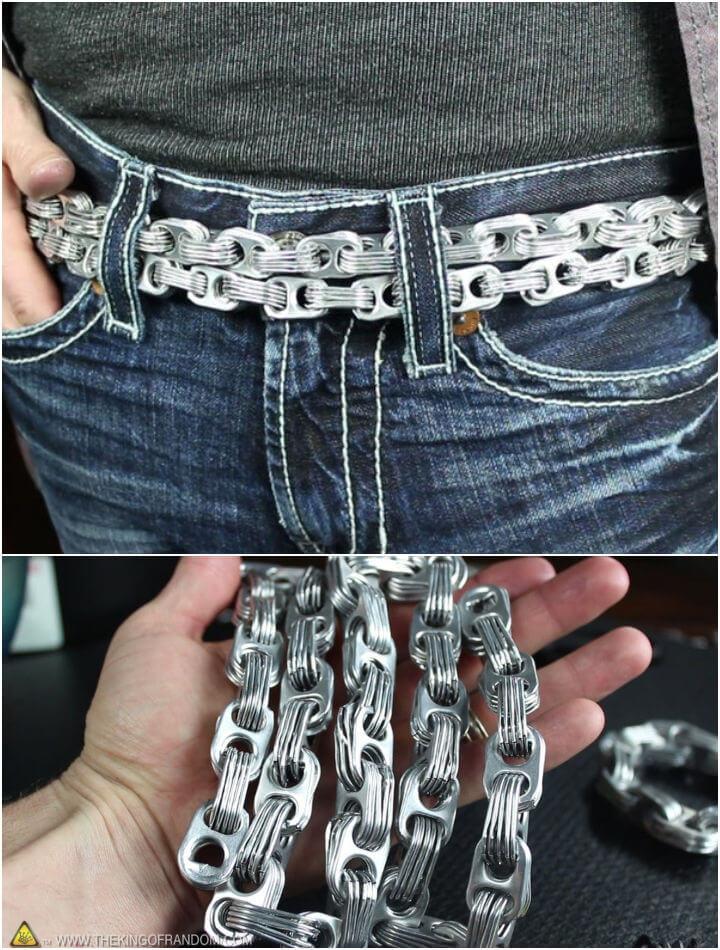 Turn unnecessary soda pop tabs into a productive chain for multiple purposes. This DIY craft with soda can flaps is an ideal option to consider for décor. Besides this, you can also use this chain for other purposes. The only thing you need to do is linking the caps with pop tags in a chain patterned. Use this DIY chain to hang on your jeans with style. You can also utilize the colorful tabs for creating the chain. instructables
8. Ring Pull Tab Bracelets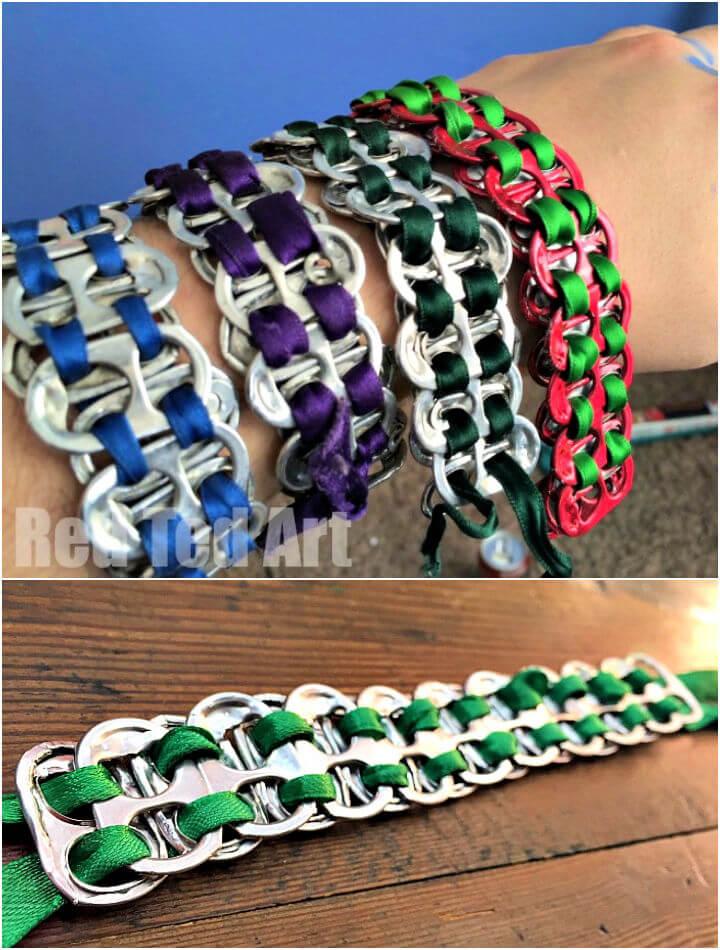 Enjoy this friendship day more creatively and innovatively. It's a perfect time to craft something different and impressive for you and your friends on this day. Recycling old materials and supplies is the most affordable option to consider for this purpose. Therefore, reuse soda pop tabs with colorful ribbons to make a ring pull flap bracelet for your friend. redtedart
9. DIY Soda Tab Gemstone Necklace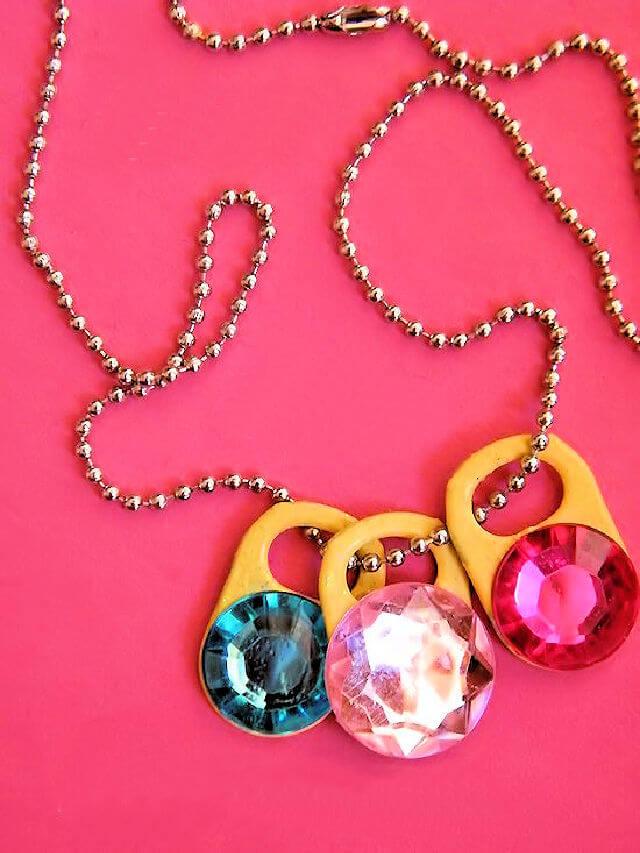 If you want to impress your friends and guests at a party with your statement appearance, consider this necklace to compliment your look. For this, reuse an old beaded string as a chain and soda pop tabs. The whole thing you need to do is inserting these flaps in the chain. Embellish the pop tabs with colorful gemstones. ourkidthings
10. How to Make Soda Pop Tabs Armor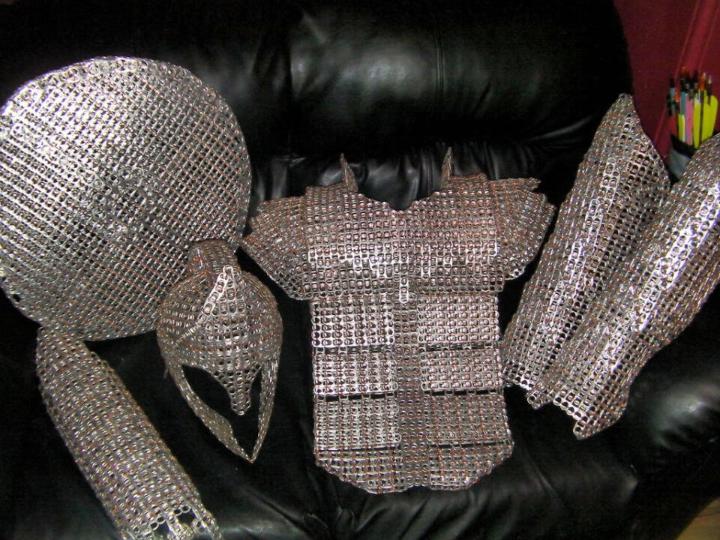 Create a new style armor suit by reusing beer cans pop tabs. For sure, it would be an impressive and inspiring craft idea to recycle useless flaps. Use a soft plier wire to assemble all the pop tags for creating a DIY armor dress. One more thing that you need to understand is that this dress is not for battle fighting. The only purpose for customizing this armor suit is practicing craft skills. instructables
11. Cute Russian Nesting Dolls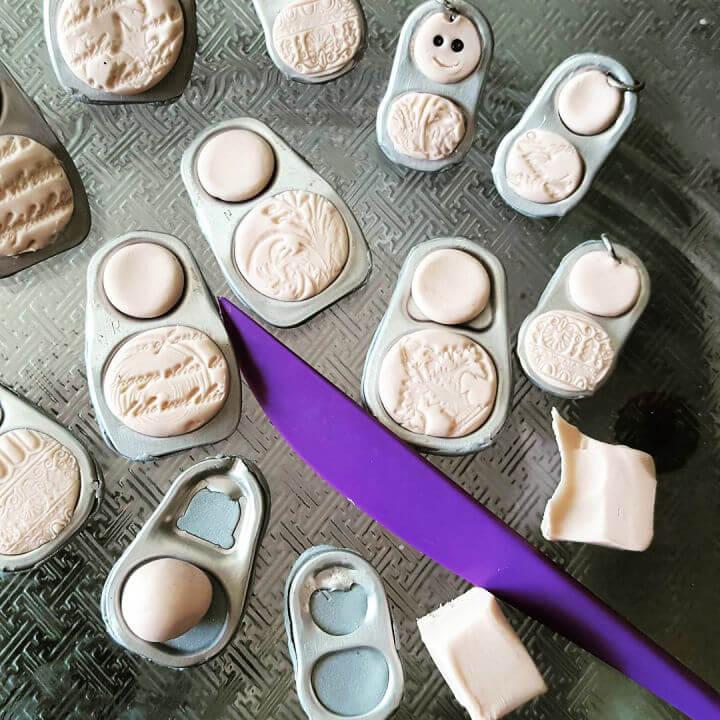 Let your kids craft these super cute and adorable nesting dolls with affordable and recyclable supplies. Provide them with a small collection of pop tabs and molding clay to DIY these dolls. Not only the kids, but you can also work on this craft project to relax. Shape the dolls differently with or without paints to make them look realistic.
12. Recycled Soda Tabs Purse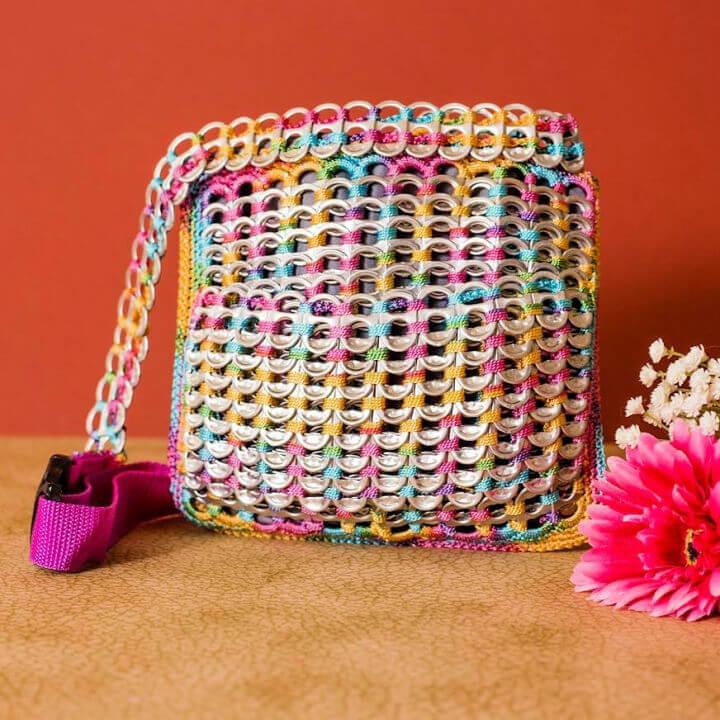 Combine your sewing and crafting skills to make this attractive market bag with recycled pop tabs. Instead of sewing a new bag, you can reuse an old fabric purse to embellish with flaps. Design your macrame pattern bag with these soda pop tags in the same or different colors. You would love to use this purse while traveling or shopping. Have more fun and colors in your life with this adorable artistry!
13. Recycled Soda Tab Chandelier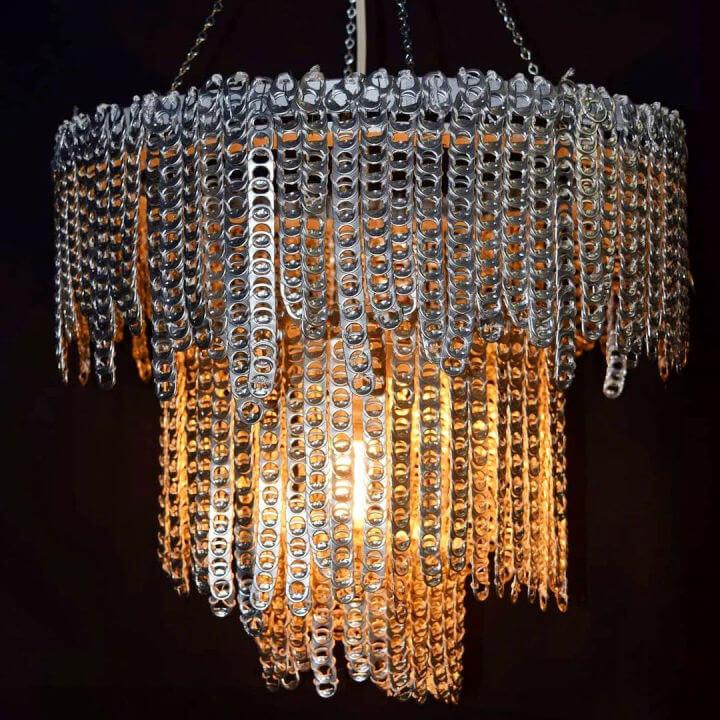 Well, a store-bought chandelier for lights and lamps is not affordable for all. You don't need to be panic. Create your style chandelier by recycling the pop tabs of cans. You can hang this customized piece of art around your centered light in your room. It would completely change the overall décor look of the place. Give this chandelier an attractive finishing with free-style dangling of pop tabs around a wire ring.
14. Pop Tabs Aspen Leaf Art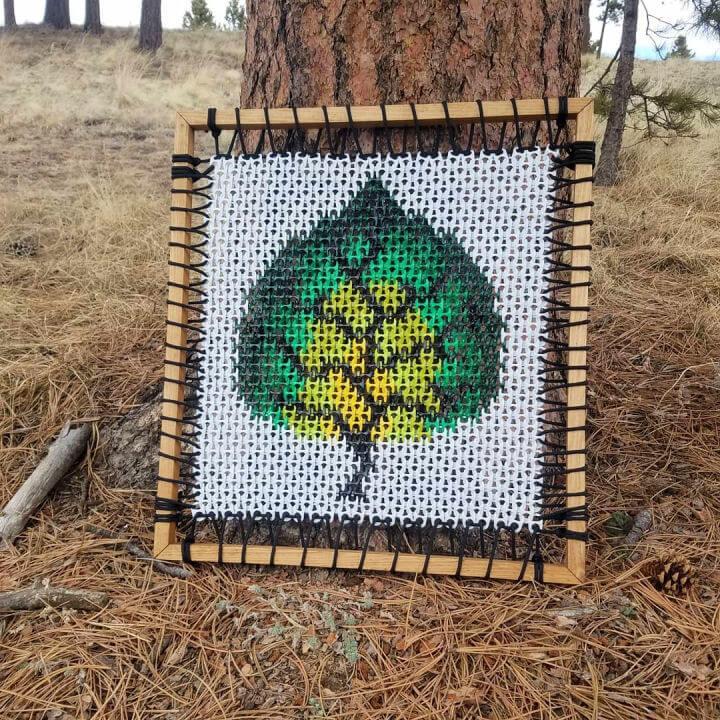 Decorate your home's wall with this striking and creative piece of aspen leaf art. Luckily! The creation of this art doesn't involve expensive supplies and materials. You can reuse an old canvas frame and fewer yard cords along with pop flaps to DIY this wall art. Draw the pattern of aspen leaf on a page before working on this recycling project for your ease.
15. Soda Pop Tabs Lamp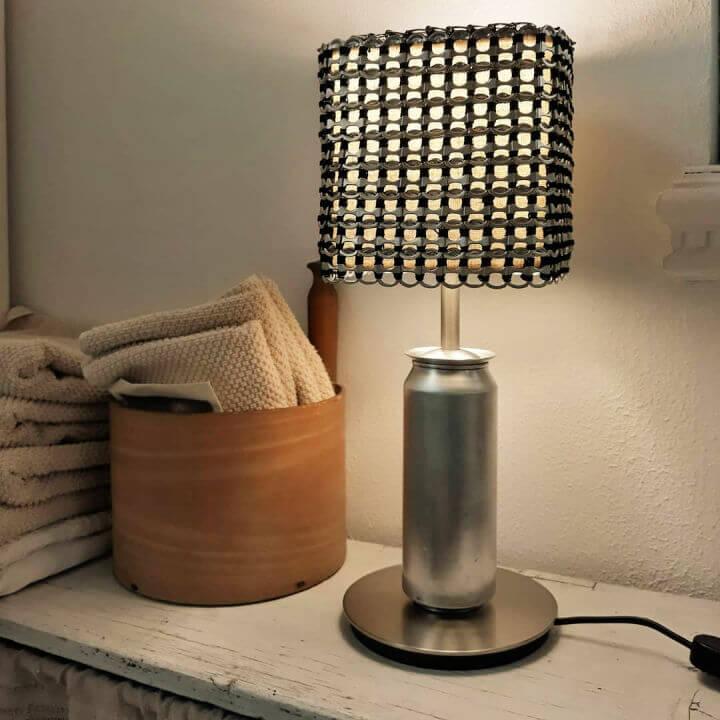 Recycle soda pop tabs to renew the side table's lamp. You can make the flaps shade on the existing lamp cover or reuse craft supplies for creating the shade. You can also reuse the empty pop can for the lamp's body decoration. Decorate the lampshade in the grid pattern with pop tags and thin ribbon to get a textured look of your room.
16. Black and White Rectangle Pop Tabs Clutch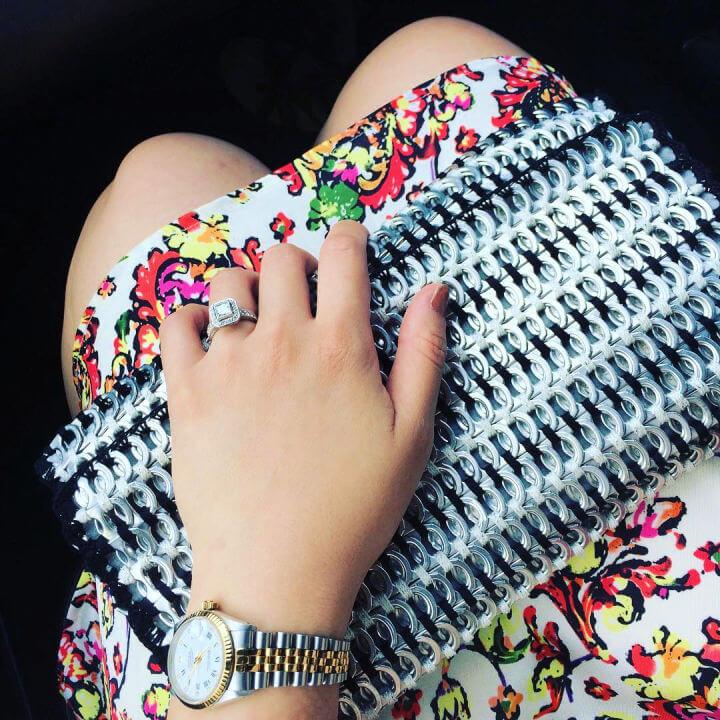 Get a new style and funky clutch to complete your party look with reusable material. You can DIY a clutch for yourself by recycling the pop tabs and cord leftover from your craft store. Design this pouch in a rectangle or desired shape with an appropriate drawn pattern. You can work on both panels of this purse separately for your ease.
17. Fish Out Of Pop Tabs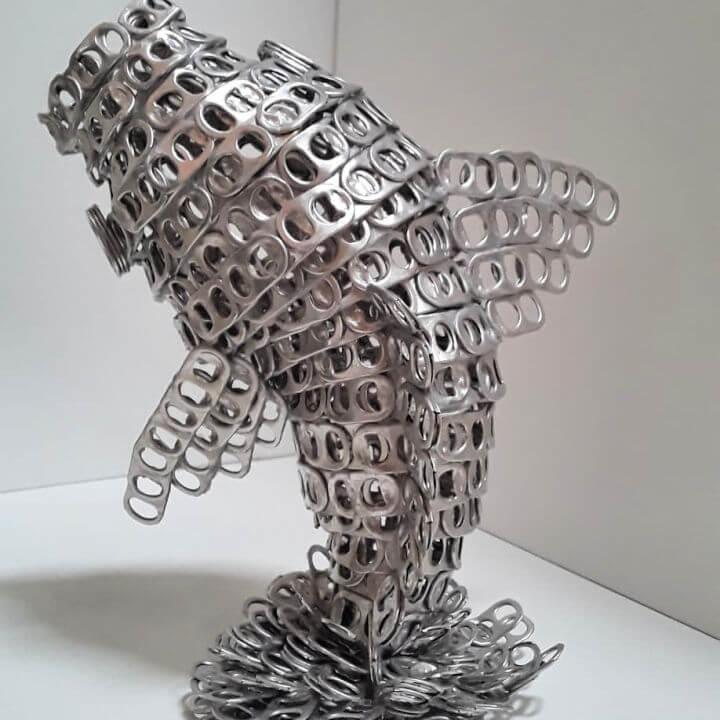 Craft an art project for exhibition or décor with reusable soda pop cans. Give this DIY pop-out fish a more striking appearance with flap's wings and tail. You can use a rod or wire cage inside the pop tab's fish structure to keep her in a sturdy position. This artistry piece would be a great compliment for showcasing your craft skills.
18. Soda Pop Tabs Necklace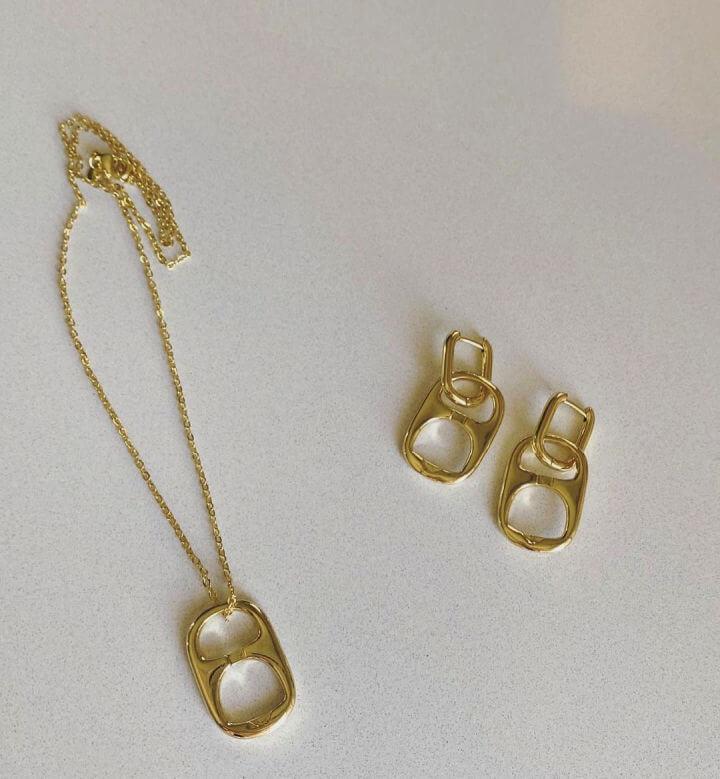 DIY a pendant-style necklace to dress up with a casual and formal wardrobe. Recycle and reuse the soda pop tabs as charms in this necklace. Use clasp rings or hooks in a modern style to attach the flaps with a chain. You can paint the can's tag with the same chain color to give it more hype. Craft this necklace for you and your friend in less time.
19. DIY Soda Pop Tabs Necklace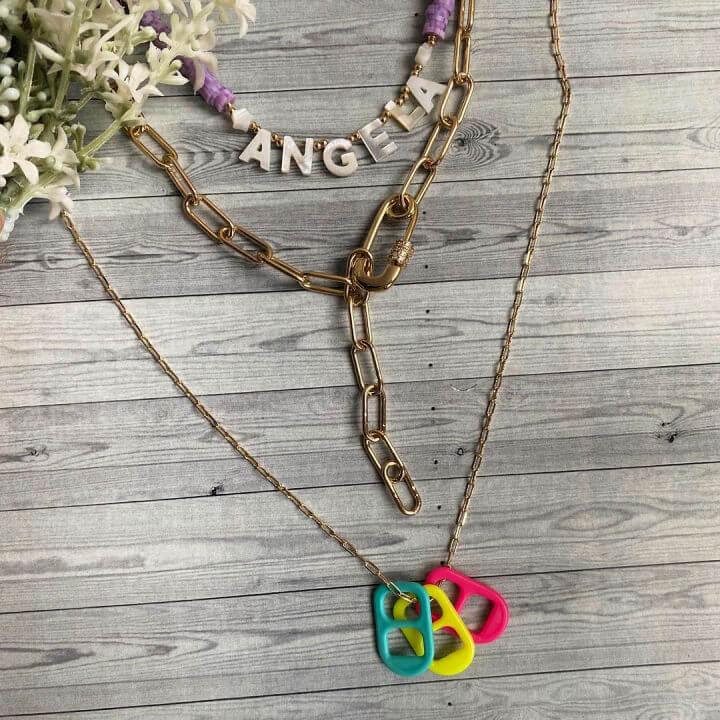 Embrace and celebrate the spring season in full swing by adding up more colors around yourself. Create this beautiful and chic style chain necklace with reusable pop tabs. Make this pendant more stylish and good-looking with acrylic paints in spring colors. You can wear this necklet separately or by layering it with another chain for a trendy look.
20. Soda Can Tabs Pillow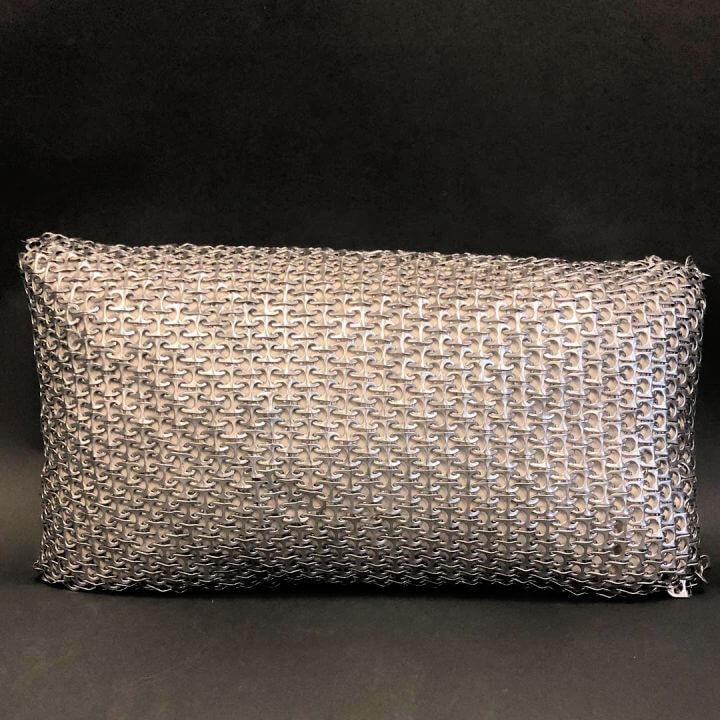 Soda cans tabs pillows are not for cuddling and supporting your head but for décor purposes. Make this super cute piece of art for your bedroom décor with recycled pop flaps. You can use a copper sheet instead of a cotton pillow to make it stiffer. Join all the upcycled tags in layers to form a cushion shape.
21. Soda Pop Tabs Handbag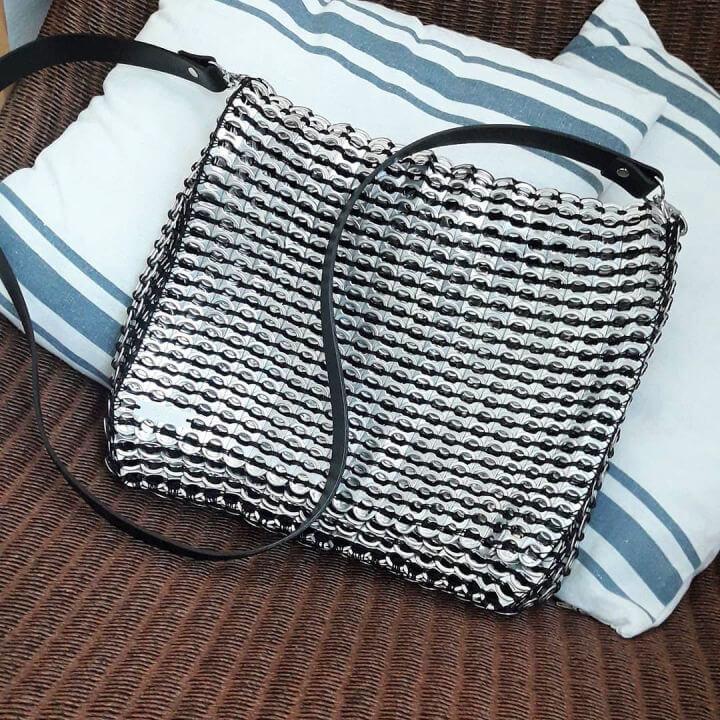 Want to impress everyone with your DIY bag collection? Create them using recyclable and affordable materials than expensive supplies. Use your collection of pop flaps and cord leftover to create this handmade bag. You can use this bag while ding grocery and traveling to hold all the stuff. Apart from this, you can store your crafting kits and supplies in this bag with style.
22. Soda Tabs Earnings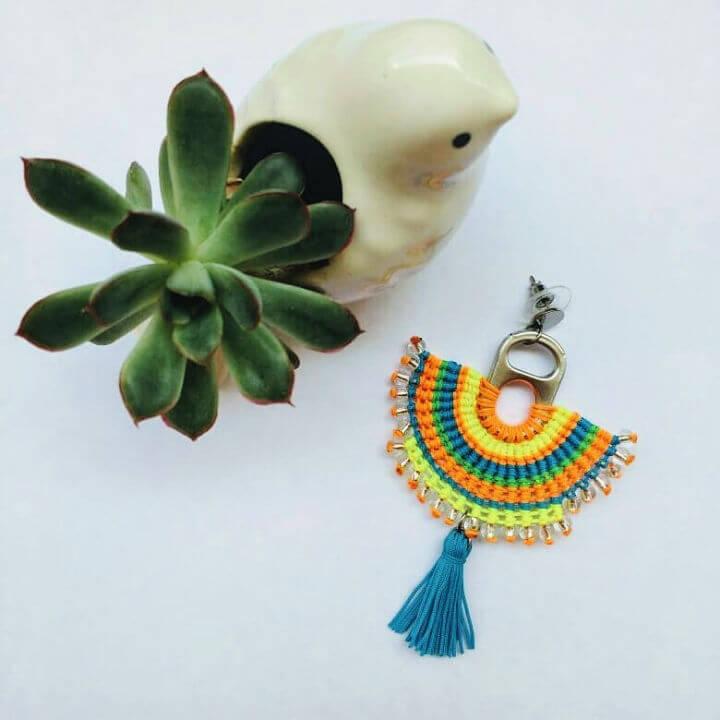 Combine your macrame crafting and DIY jewelry skills to make the new style earrings. Create these super funky and chic ear hoops by reusing the soda pop tab and a macrame stash. Use a clasp or jump ring to attach the embellished can tag with an earring hook. You can add more glam and charm to these earrings with a dangling strand's tassel.
23. Wearable Art Model from Pop Tabs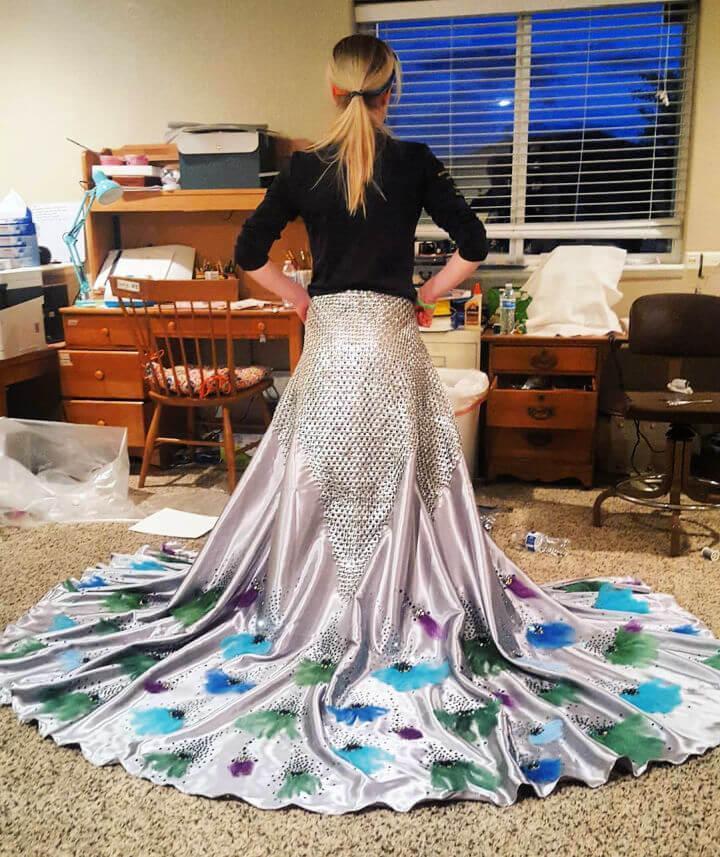 Create a customize advanced-looking model dress with pop tabs. Use the pop flaps in different colors to make the waist part of this wearable. Moreover, you can also embellish the remaining fabric part of this dress with flaps. This dress would be a perfect costume for mesmerizing the ramp walk. Additionally, you can use this embellished piece of cloth to add flair to your model wearable.
24. Pop Tabs Chainmail Vambrace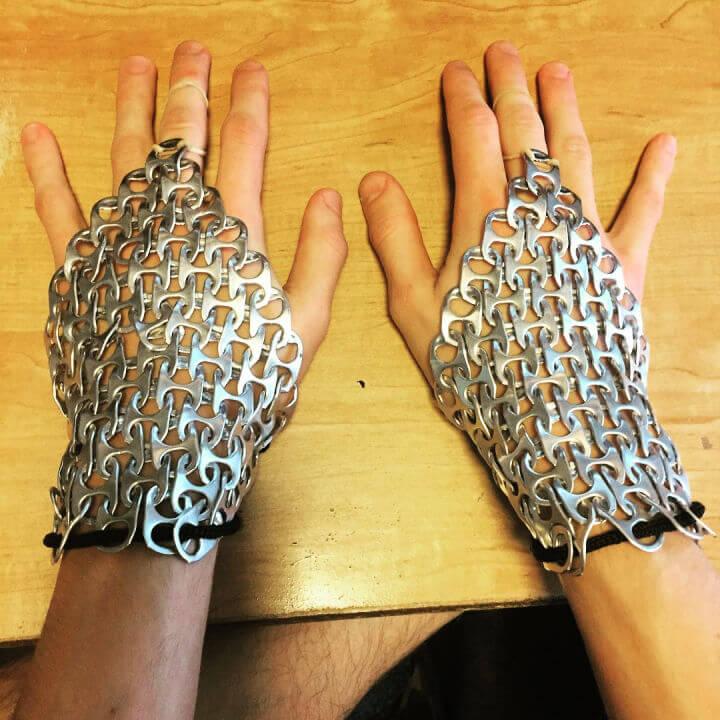 Create a new style and funky hand ornaments for you and your friends with the pop tabs. Use your collection of flaps to DIY these chainmail vambraces. All you need to do is linking all the pop tags in a vambrace pattern. Use a black or other color cord to tie this artistry piece on your hand and finger.
25. Recycled Soda Pop Tab Lamp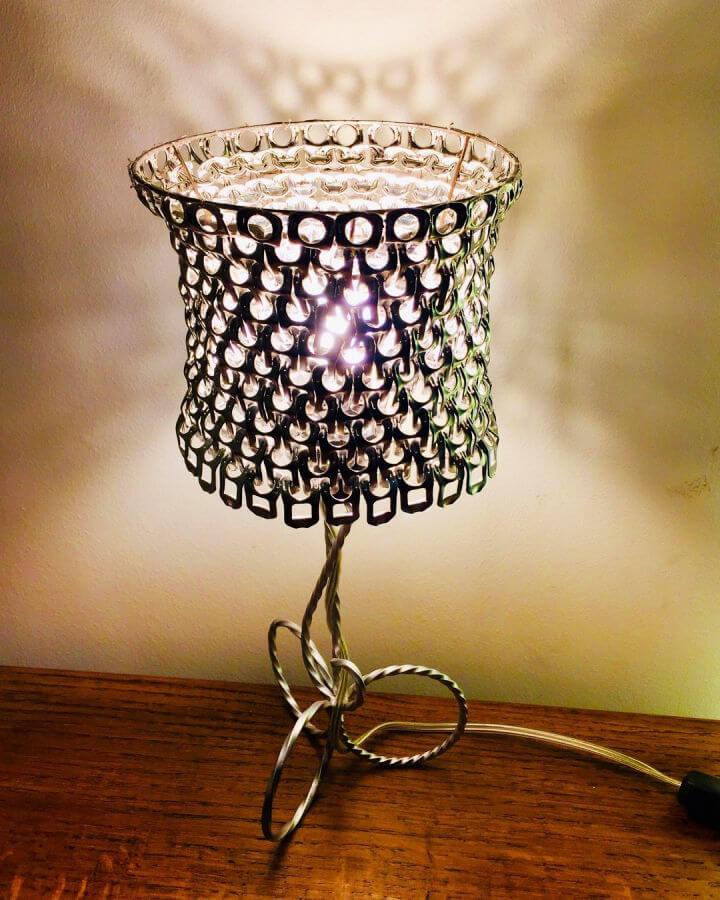 Cover your table lamp with a modern-style lamp shade. Well, buying the covers from stores and online is not considerable or affordable for all. Here is the best solution for this issue. Recycle the pop tabs to make a stylish lamp case. Use wire rings to give these linked flaps a lampshade shape. You would love to see the light coming out through each tab's hole.