No home construction is ever complete without gutter installation. This essential component guides and diverts water away from your roof, ceiling, and foundation, which are all necessary to ensure structural soundness.
With water and moisture having little chance to form in these areas, your gutter can help prevent damage to your home. As a power horse, however, its components can break down with repeated exposure to harsh weather.
After several years, you may need to perform a do-it-yourself gutter installation project. Your skills and knowledge culled from this handy guide are all necessary for a successful undertaking. So, before taking out your tools, read on for some tips on how to do it right.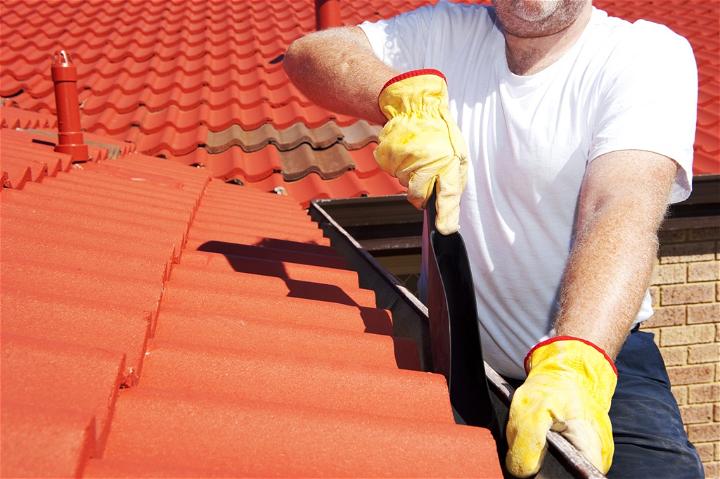 1. Measure Your Roof
Every DIY-er knows that before any installation can take place, an accurate measurement of the area you're working in should be taken first. With gutters, you need to take a measuring tape to get the size of the entire gutter system, which runs around your roof.
A pro tip suggests that gutters measuring more than 40 feet require you to install two instead of one downspout typically. This, to ensure that water flows smoothly towards the ground and won't affect garden improvement in your home if you're planning any sort of related project.
Take this opportunity to mark the points of your gutter's downward slope. If you haven't noticed, gutters are not attached in a straight line. They're rather installed on a downward slope for better water elimination.
2. Get Your Tools and Materials Ready
Have your tools and materials ready to know what you need to buy from a hardware store. Tools such as a drill, ladder, hack saw, and rivet gun is important. For aluminum gutters, you need to take a crimper and tin cutter.
Check your tool kit for materials that include roof nails and screws, caulk, elbows, gutter runs, among others.
3. Prepare To Visit the Store
Now that you have the measurements of the gutter and downspouts get ready to buy additional materials from EasyMerchant and other online or physical stores.
Remember to buy more than what you actually need. Minor problems could happen along the way, which requires you to cut another set of aluminum and other materials.
Ideally, you should have the following items:
Gutter material (copper, aluminum, galvanized steel)
Downspout
Connectors
Elbows
End Caps (left and right)
Brackets
Pop Rivets
Mounting and zip-in screws
Gutter sealant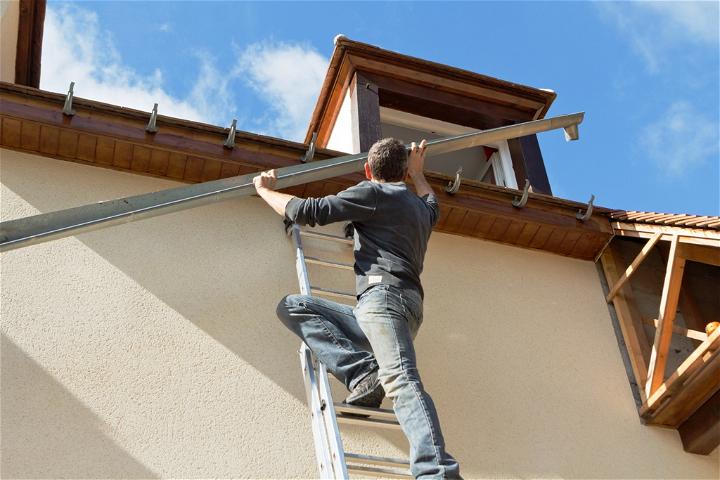 4. Pre-Assemble the Gutter Parts
Have your gutter materials cut based on the measurements gathered earlier. Once ready, pre-assemble and join them together. Do these on the ground for your own safety and to get more accurate dimensions. When cutting along the edges of the gutter, extend a few inches to effectively trap the water coming from the shingles.
Use caulk to join the gutter cuttings on the edges to prevent leaks.
5. Hang Gutter Sections
Follow the markings you've made while taking the measurements during the first step. You'll need to drive nails into the roof about half an inch in and about half an inch below the shingles. Make sure to maintain the slope to allow seamless water movement towards the downspouts and outlets.
Once the slope is set, start hanging the gutter sections.
6. Connect Flashing and Hangers
Reinforce protection from water damage by placing the flashing pieces. They're typically made from galvanized steel and function to redirect water away from the roof. The flashing should be attached with roofing nails to stay in place.
Hangers are attached every two feet or less, along with the gutter runs and along the sides of the home. They're also used to reinforce the gutter.
To do this, you have to screw through the gutter, and the fascia up until the board is found underneath. For reinforcement, consider screwing in more hangers to the edges of the gutter runs. You can start cleaning your gutter at this point.
7. Install Downspouts
Downspouts are important in transporting water coming from the gutter towards a safer area, away from your foundation and siding. Outlets are attached at the end of downspouts to further prevent water pooling.
Elbows are added to the downspouts, too, for proper transportation of rainwater. To do this, consider overlapping the materials for about half an inch before screwing them together. The downspout must be secured and away from electric lines and outlets as well as walkways.
Once done, crimp the bottom of the downspout to facilitate smooth water flow. Secure the downspout on the wall using brackets. How you fasten this section will depend on the type of material your home wall is made from.
The Bottom Line
When installing your own gutter system, always ensure safety and never skimp on the use of materials. Homebuilders generally recommend DIY-ers use high-quality materials for gutter installation because of its essential role in protecting your home. A properly installed gutter with good materials is guaranteed to last for longer periods.