If you are a cat owner who enjoys doing DIY projects in your spare time, here are a couple of ideas of items that you can create for your beloved fluffy companion.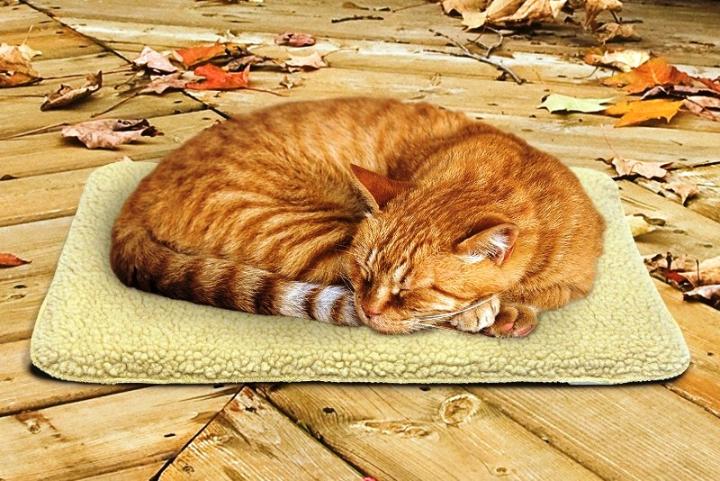 A heating pad
To make a heating pad for your pet you need some uncooked rice, instant rice is not recommended, as well as some clean and soft socks. To start, fill the sock that you intend to use for this project halfway with rice. Next, tie the sock with a secure knot. To heat it, place it in the microwave and heat it for around one to two minutes.
Another alternative for keeping your cat warm and cozy is to invest in an affordable pad online. Because there are so many cool-looking models online, you will surely find one that suits your preferences, as well as your budget.
Toys
If you know how to crochet, you can also make a fun mouse toy for your pet. To make sure that you do not mess up the design, you can go online and search for a step-by-step crochet cat bed pattern that you can use. This can prove very practical, especially if you are a novice.
Moreover, if you want to make the toy as fun as possible, some pet owners who have tried this DIY project recommend that you stuff some catnip into the stuffing.
If you do not know how to crochet, and you still want to make a fun toy that your pet can play with, you can search for a project that involves sewing. Once again, you can find many sewing patterns online that you can use. If you want to make sure that your pet loves it, placing some catnip in the stuffing is a great idea that you should try.
Another DIY toy that you can make is a feather cat toy. To do so, you will need a long stick, small bells, feathers, some string, glue, and some paint. Start by painting the sick. If you want to, you can also use some washi tape to decorate it per your preferences.
Next, use a serrated knife to cut a divot at one of the ends of the stick. Cut a 30-inch piece of string and tie it around the already cut dowel. For added security, use super glue or hot glue to secure the string.
Then, add the bells to the end of the string and tie them with a secure knot. Select 3 or 5 feathers and glue them next to the bells and you are all done. This toy is a great item to have around if your pet is playful and always looking for fun. You can use it to engage less active cats into playing.
Cat Outdoor House
The best way to keep your outside cat warm in winter is to have a safe place for it to sleep. Follow these good, inexpensive, do-it-yourself outdoor cat house plans that can help your cats by keeping them warm and these can be built quickly.
Scratching post
If your four-legged friend is fond of its scratching post, you can spare some of your free time to make a new one that it can enjoy. For this project, you will need a ceramic vase, no matter its shape or size. However, you should get one that is sturdy and heavy. It is not recommended that you purchase a vase made of glass. You will also need some sisal rope that you can buy online, or from your local garden store.
Use a hot glue gun to secure the rope around the selected vase as tightly and evenly as possible. Once you are done, fill the bottom of the vase with rocks to make it more secure and install it in an area that your pet can access.