Summers have officially arrived and the kids would be at home for summer vacations. So you need a lot of fun crafts to keep them busy and entertained at home. There are so many things that you and your kids can try together at home and have so much fun. So check out these 15 DIY Easy Projects Step By Step Tutorials that are easy to make and give you and your kids so much time to spend in fun and enjoyment. These art and craft projects ensure to make your summers much more fun and enjoyable so you ought to add them in your summer to-do list.
Kids love everything about the fairies so you can make the lovely fairy houses and the fairy glow jars with them. The girls are super fascinated by the mermaids and you can make their summer parties go rock by sewing them colorful mermaid tails. Also, there are bundles of crafts involving paper and paint that the kids would be more than excited about. Balloon splatter painting, paper fall leaves, garlands, and the salt dough Easter eggs are the best crafts to enhance your kid's crafty skills. There are more fun projects that you and your kids can perform and for that, you need to go through the round-up below.
Fairy Houses Garden: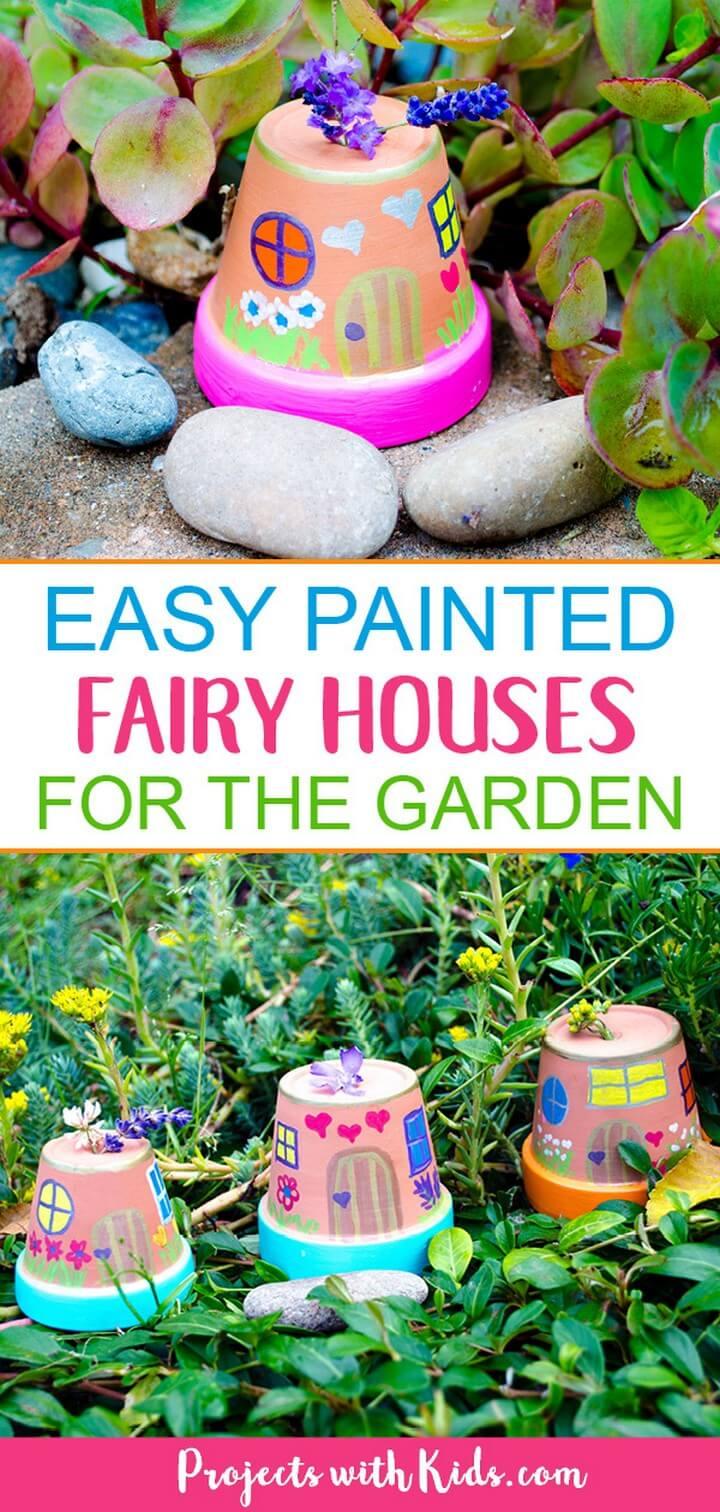 Bring some fancy and fun touches to your garden beauty with this easy painted fairy house garden idea. The terra cotta pots have been painted with the pretty features of the fairy house and that too with lovely paint hues. You can involve your kids to make this lovely bunch of the fairy houses and they are surely going to have fun.
Tutorial: projectswithkids
Laundry Basket Skee Ball With Ball Pit Balls Idea: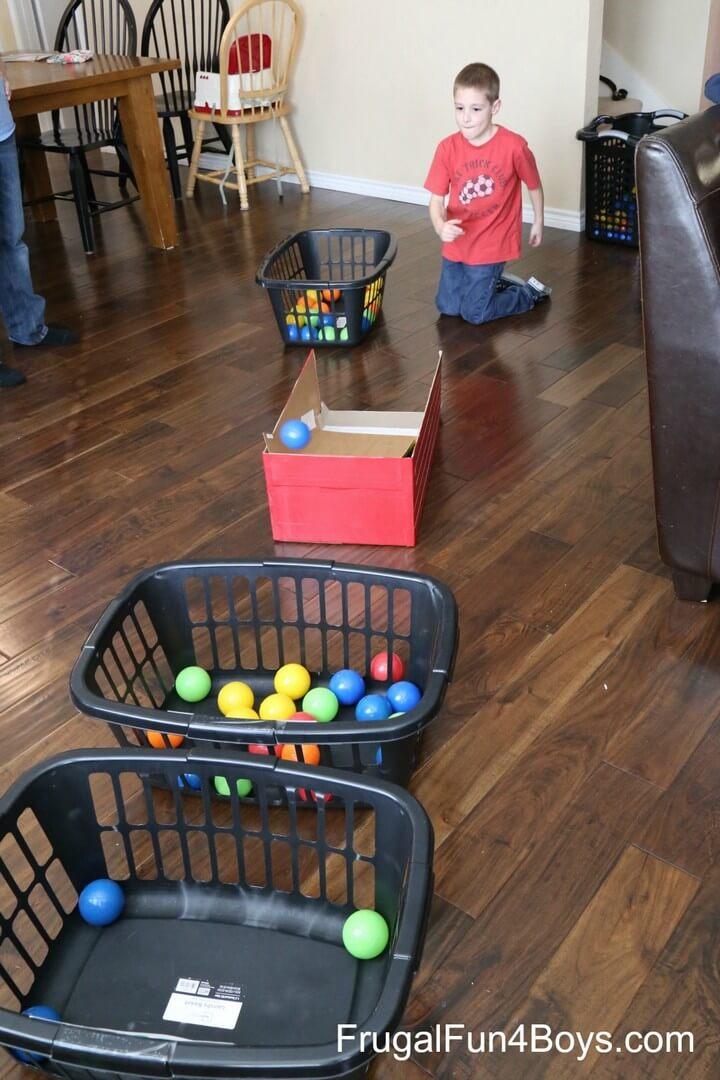 Do not let your kids get bored at home when you can make this lovely laundry basket skee ball game for them to have fun. You need some laundry baskets, a bunch of colorful balls and an empty carton to make this fun game. This basket skee ball game is perfect to keep the kids busy.
Tutorial: frugalfun4boys
Rainbow Garland Tutorial: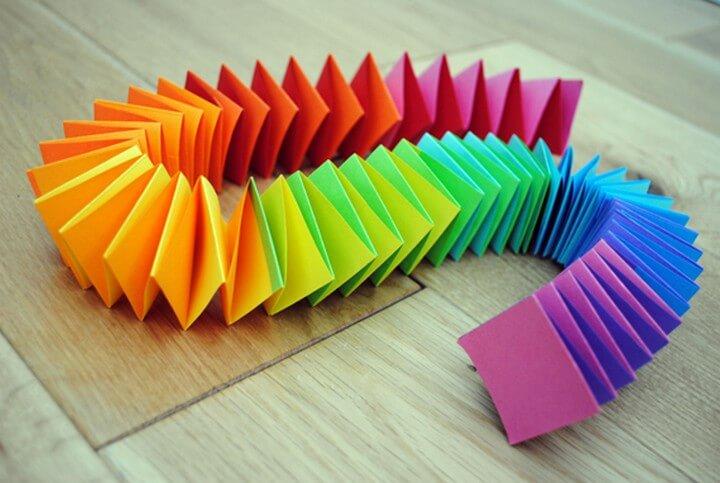 Summers need crafts that you can do with your kids and let them have some fun and this folded paper garland is the perfect one. Just grab a bunch of colorful papers and fold them together to make this giant long paper garland. They can play with it and have so much fun and also decorate their rooms with it too.
Tutorial: celebrateanddecorate
Balloon Splatter Painting For Kids: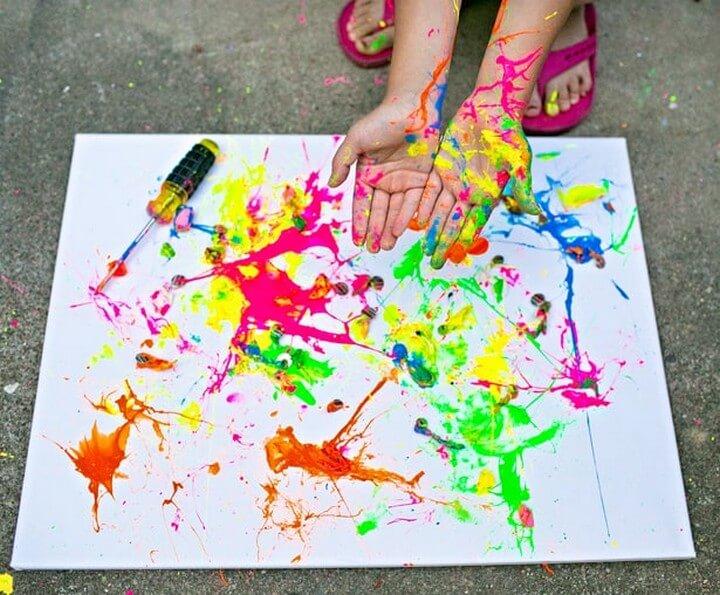 Here is another super fun outdoor activity that your kids are going to have so much fun with. This balloon splatter painting is going to keep the kids busy for a really long time. Give them a bunch of small balloons and pour some paint on them. Then the kids can burst these balloons on the white canvass to create fun art.
Tutorial: hellowonderful
DIY Melted Crayon Butterflies: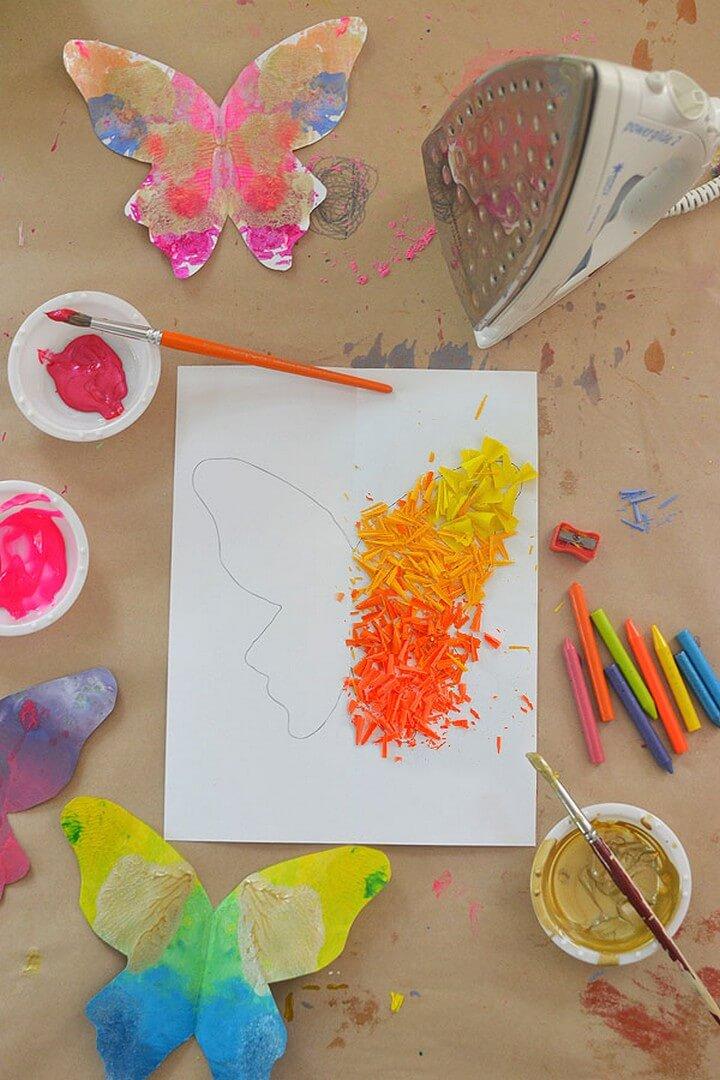 Making butterflies is a must part of the fun summer activities and this time they can do this project of melted crayon butterflies. You would need some paper, a lot of colorful crayons and the iron to do this crayon butterflies art in the house. As it involves ironing so you need to supervise them.
Tutorial: artbarblog
Crystal Seashells Borax Science Experiment: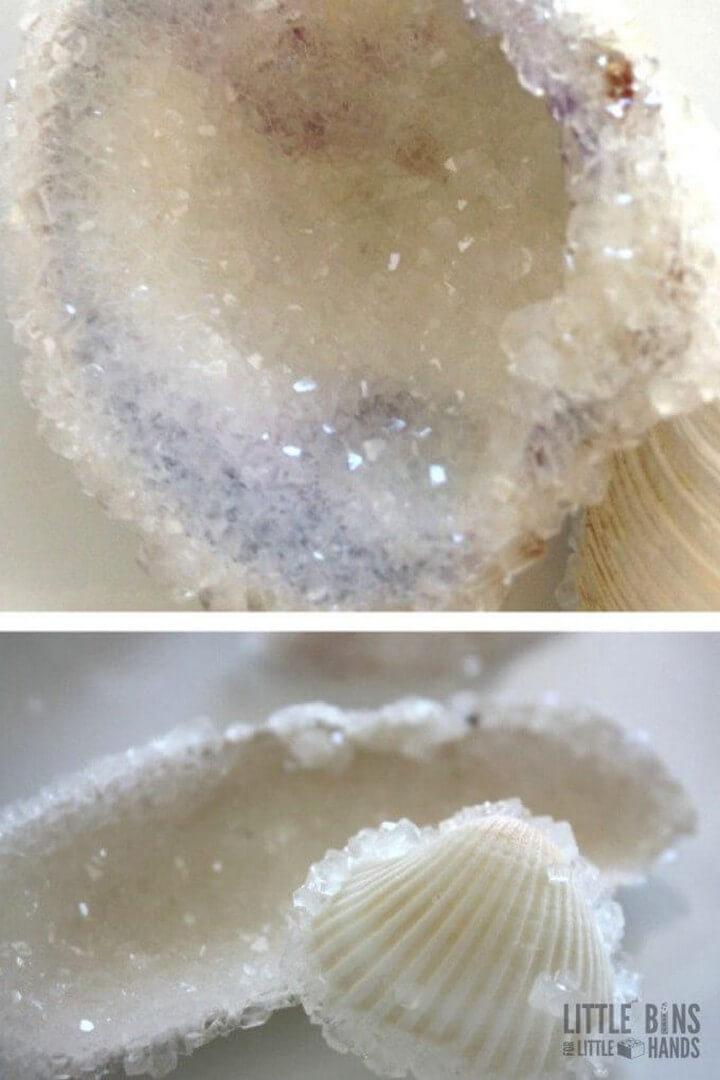 Those art and craft projects are the best which involve some kind of learning. This crystal seashells borax science experiment is exactly in the right interest of the science lovers. So you need borax powder, seashells, and the mason jar glass containers to do this super fun science project at home.
Tutorial: littlebinsforlittlehands
Mermaid Tail: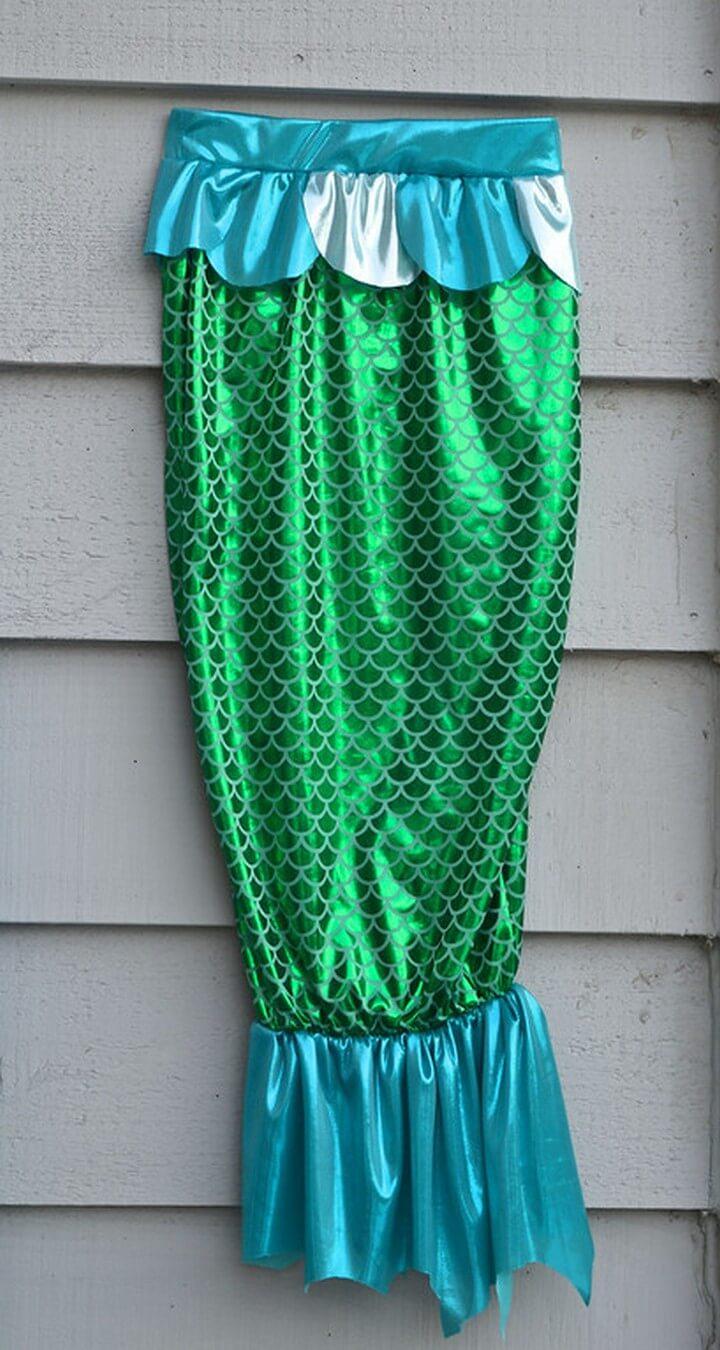 Summers are great to have all the seas inspired fun and the girls would love a mermaid theme party. So to make them look like the gorgeous and quirky mermaids you can make them these mermaid tails and they would be over the moon. You need simple fabric and some of the sequined to shape up these mermaid tails.
Tutorial: ikatbag
Salt Dough Easter Eggs: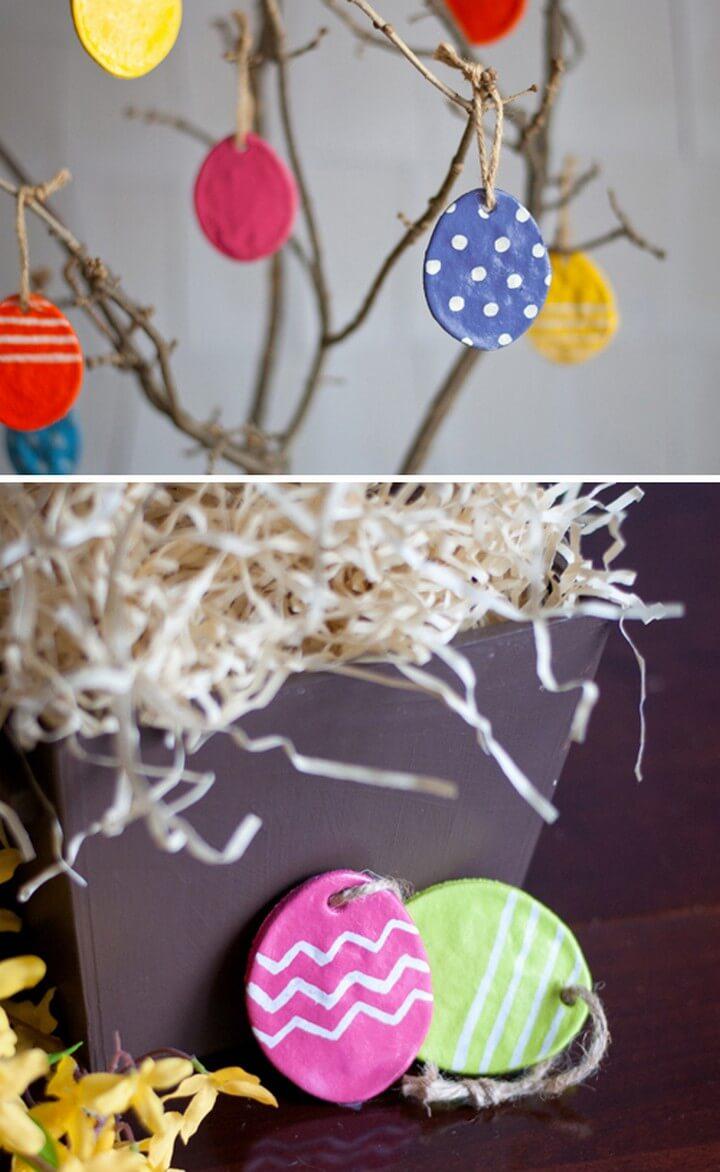 Egg crafts do rounds all around Easter and making these salt dough Easter eggs would be a great idea.  You need flour, salt, and water to make the dough for the eggs and then a lot of bright paint hues to decorate these eggs. The best way to use these eggs in your décor would be to make the garlands.
Tutorial: designmom
DIY Henna Hands: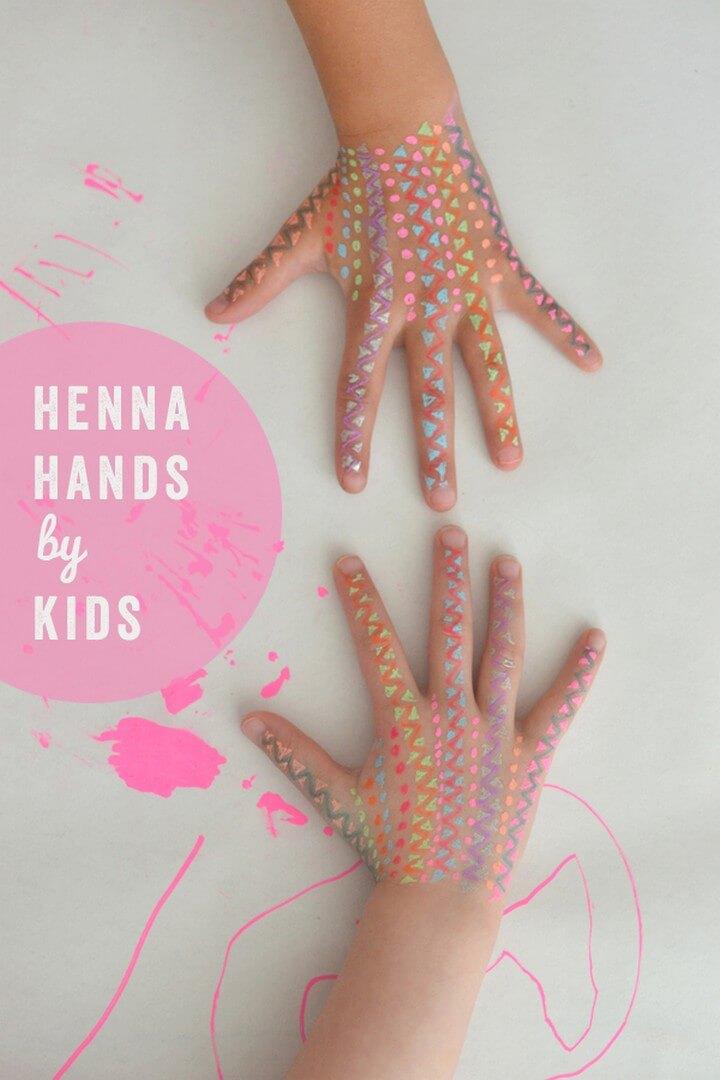 Here is a craft that your girls are going to love doing. The girls are in love with the Henna art and now they can do it on their own and have some fun. Using colorful markers they can create some super cute and funky designs on each other's hands and spend some fun time together.
Tutorial: artbarblog
Sponge Water Bombs: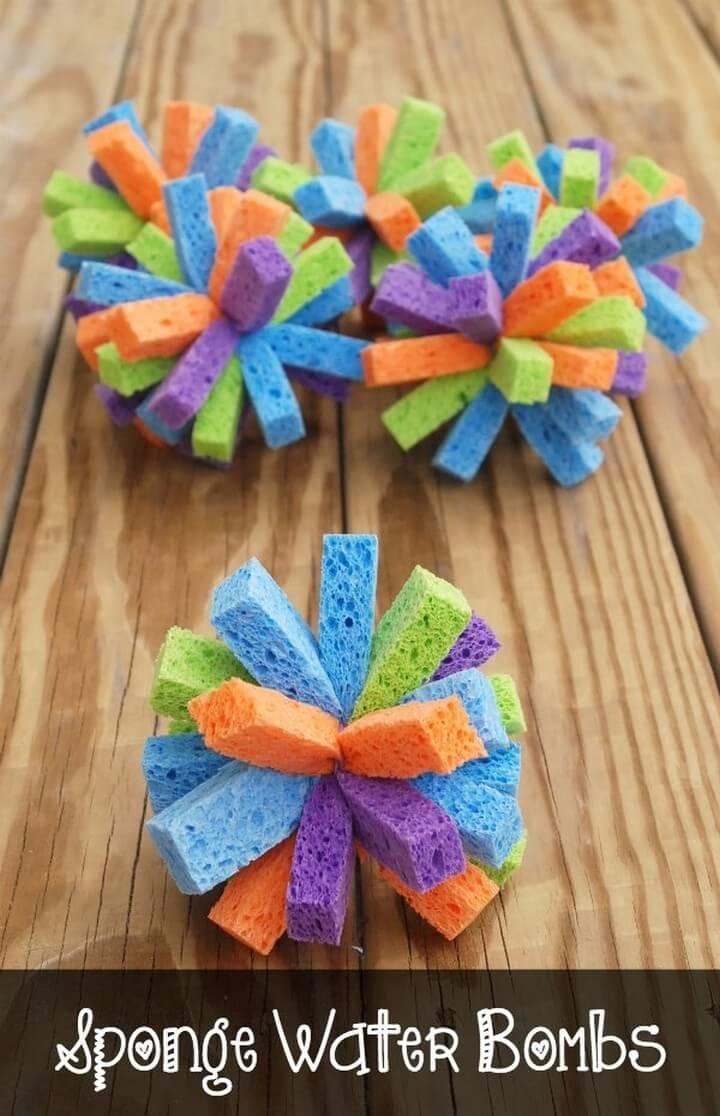 Summers are so undone without the water fights in the outdoor and for that, you need the water bombs. Now you can make them a bunch of water bombs on your own. Using colorful sponges and scissors you can easily make your kids some cute and fun water bombs to play with water.
Tutorial: endlesslyinspired
Cupcake EOS Tutorial Easy Craft: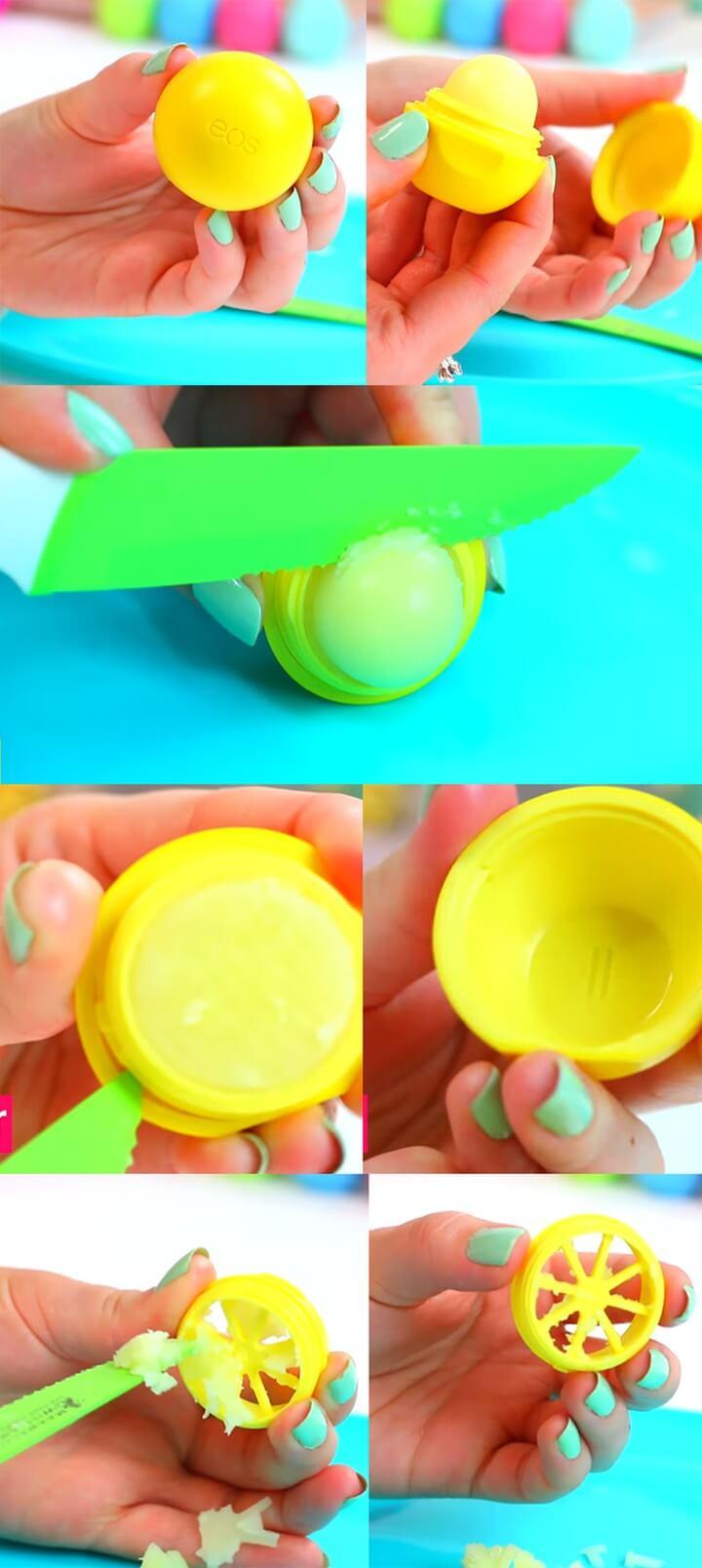 These gorgeous and colorful cupcake EOS tutorials are the best things to make for Easter gifts. The EOS containers and the lip balm essentials are the things that you need to make these yummy and fun looking cupcakes. You can make a bunch of them and use them as the lovely giveaways for the ladies around you.
Tutorial: diyprojectsforteens
Unicorn Bookmark: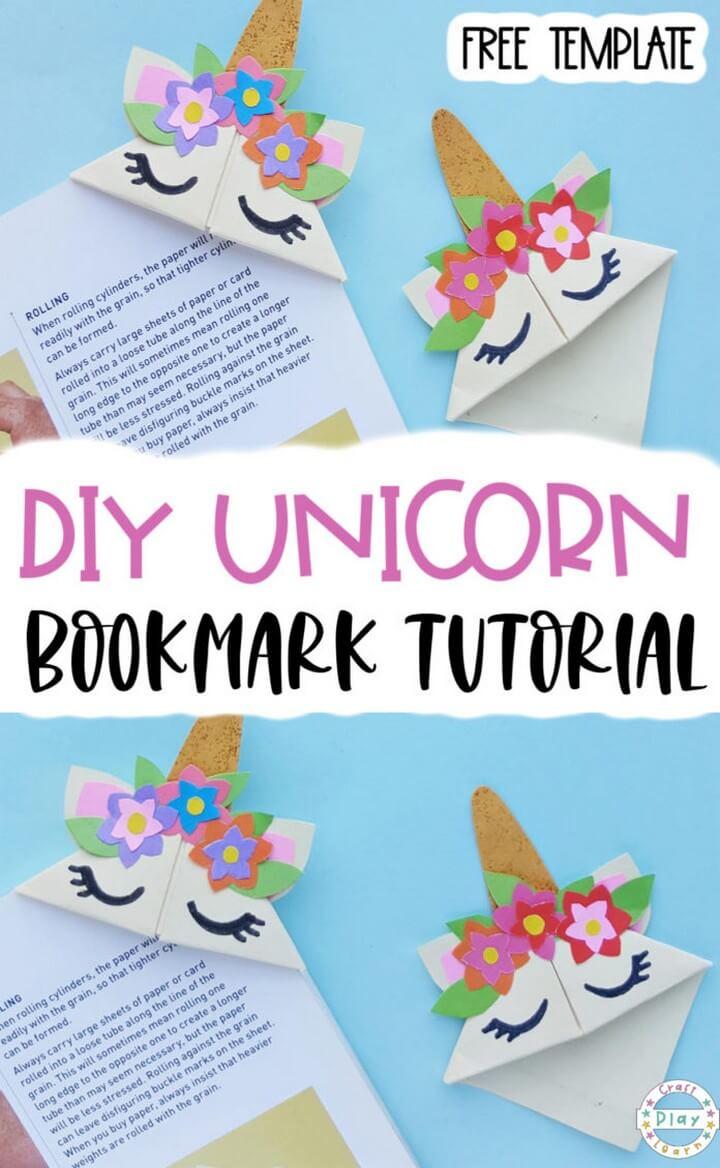 Let your kids help you to make some fun gifts for the elders in the family and these cute Unicorn bookmarks would be a great gift idea. Using the colorful cardstock and the white one you can easily work up these lovely Unicorn bookmark crafts to use as the lovely gifts around.
Tutorial: craftplaylearn
Folded Paper Fall Leaves Garland: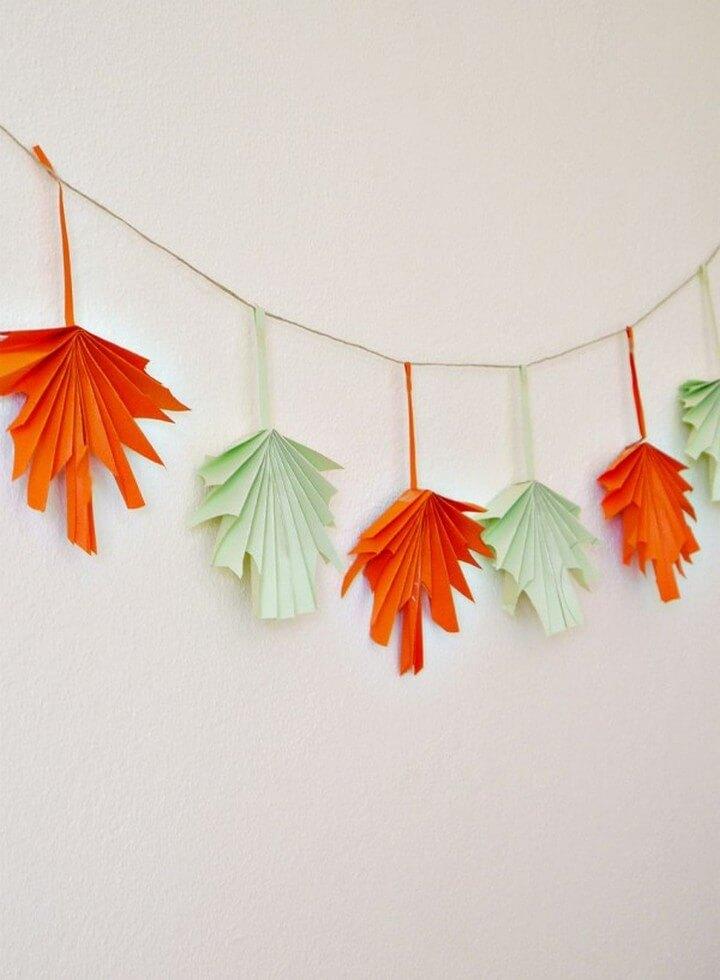 One of the best ways to indulge in some fun time pass is to make papercrafts. These folded paper fall leaves are one of the best things to make with your kids at home. First, draw the template on the paper and then cut it out on various hued papers. Then you can use these lovely fall leaves to make the pretty garlands or other decors.
Tutorial: makeandtakes
Pool Noodle Water Wall: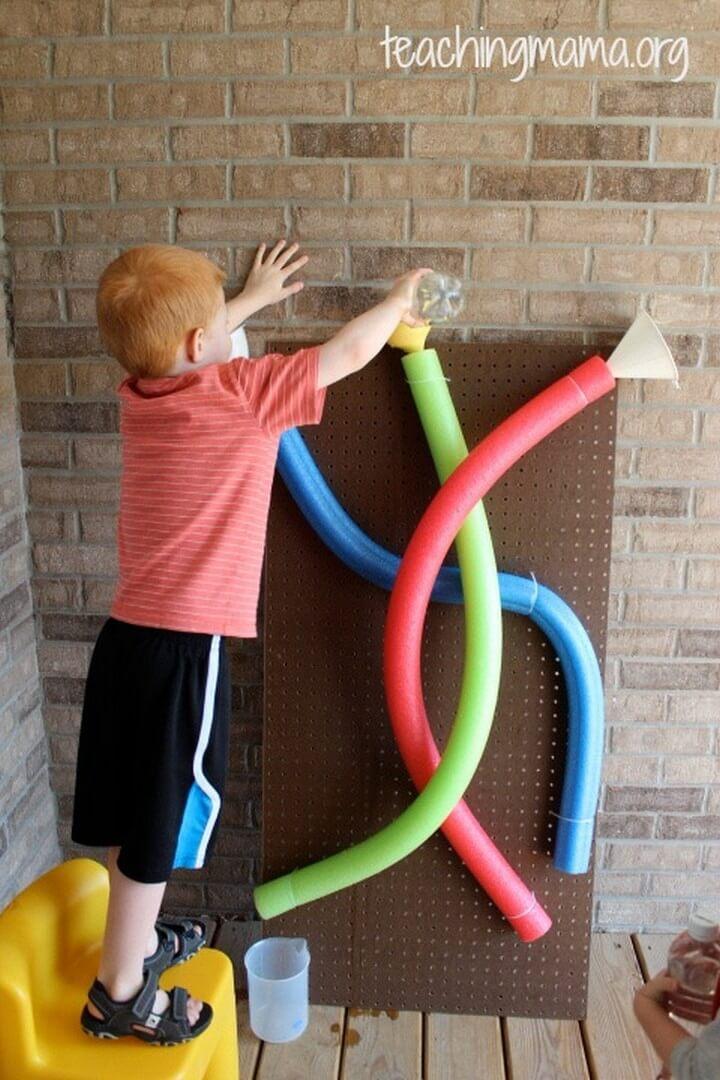 Kids want to have all the water fun during the summers and making this pool noodle would be so much fun. Using a pegboard, a bunch of colorful pool noodles, and the funnels you can make this lovely water wall to let the kids have so much fun with. Check out the details of the easy project here!
Tutorial: teachingmama
Fairy Lanterns from Mason Jars: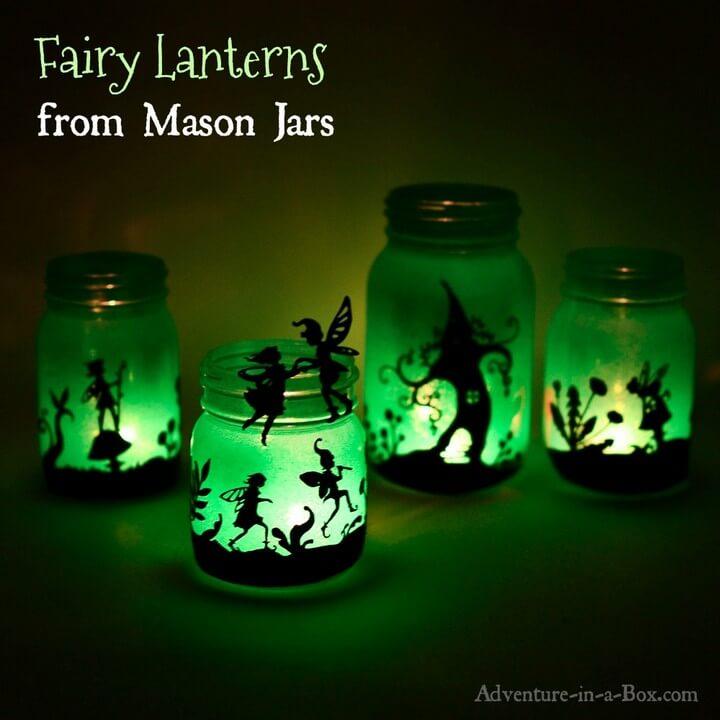 Kids are super fascinated about the fairies and they are so going to love these gorgeous fairy glow jars. The best thing is that you and your kids can make these adorable fairy jars and have so much fun together. Mason jar, glow stick, and glitter is the things that you need to make these glow fairy jars.
Tutorial: momdot