Today's kids are super interested in science and technology and they seem less interested in art and craft. But there are some smart crafts having science orientation to make your kids interested in the crafts. Just like these 12 DIY Nebula bottle tutorials are going to be super interesting and fun for your kids to enjoy at home. Yes, the kids are crazy about the space and the galaxy and making these nebula bottle crafts would be so much excited for them. Also, these gorgeous and intimate nebula bottles would make lovely décor pieces for your shelves and tables.
It's quite simple and feasible to create these lovely and enchanting nebula bottles at home as you can easily grab the things for them. The very first thing you need to make these nebula bottles is a clear container which can be a glass jar, glass or plastic bottles and that too in your desired shapes and sizes. The next things you need are the cotton balls, a bunch of food colors and the glue to fill in these containers with. You can use these magical nebula bottles as the perfect pieces of décor, especially for the kid's room. Learn to make them with tutorials right below!
Easy DIY Nebula Bottle Tutorial: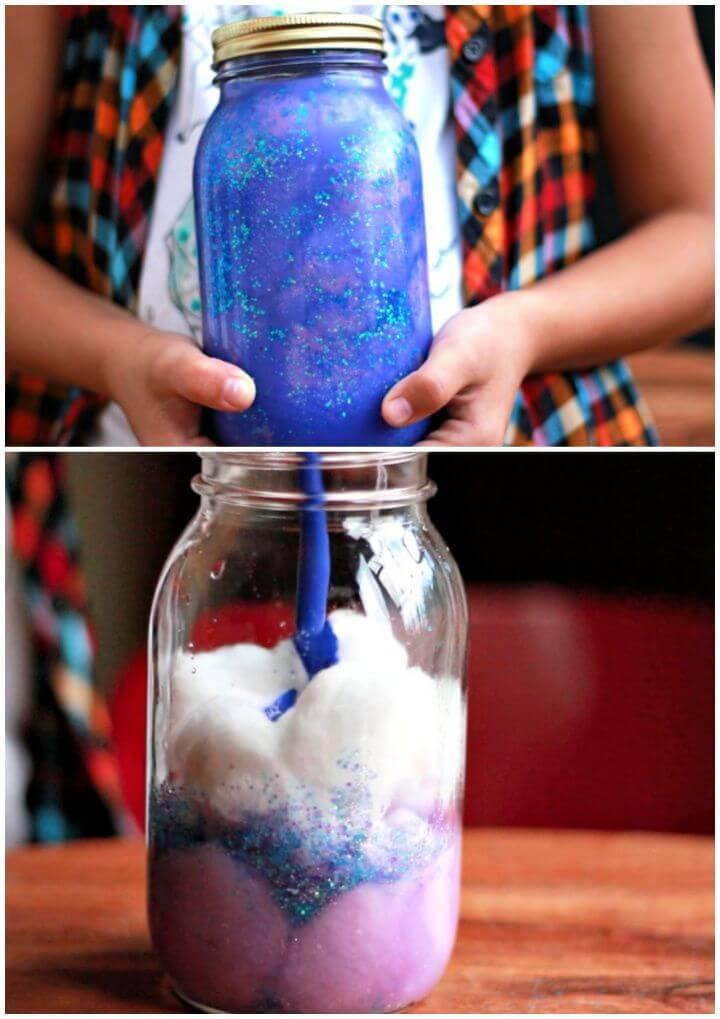 You can make this lovely DIY nebula bottle and create a lovely shelf display for the kid's room. There is a need of few things to make this easy DIY nebula bottle tutorial. Get a mason jar and fill it with the cotton, colors, and glitter to make it look so pretty and fun for a weekend project. Details here!
Tutorial: pbs
Galaxy Jar DIY Hold The Galaxy In Your Hands: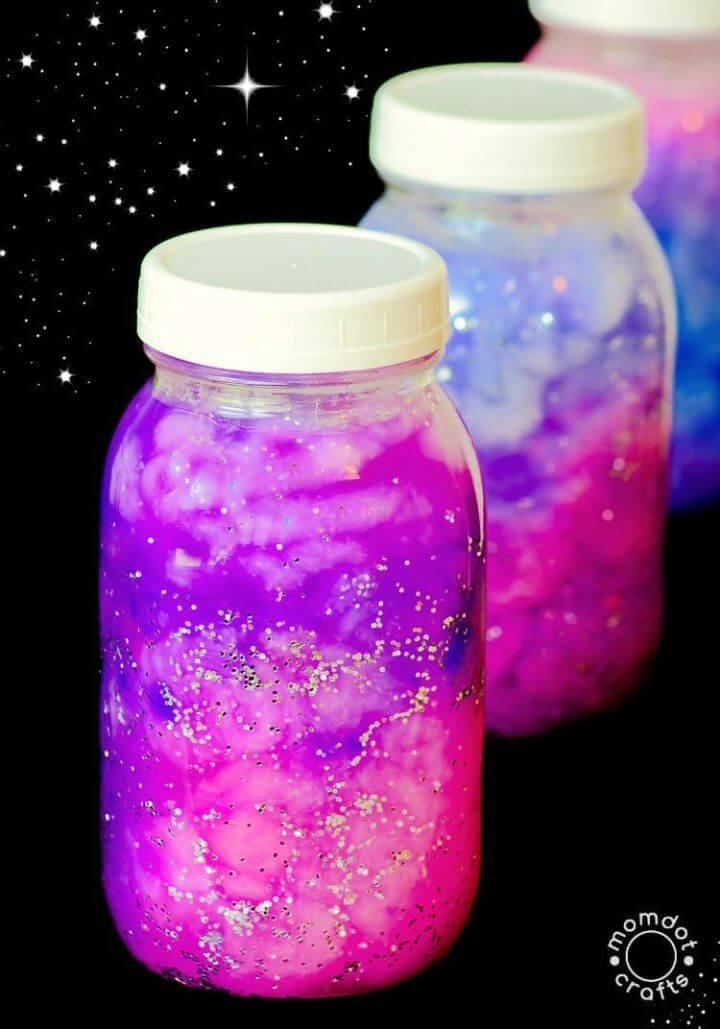 Let your kids have some science fun with this DIY galaxy jar to make right this weekend. The galaxy jars are so much fun to make and also the kids can learn a lot about the space and stuff. With the easy things lying around you can make this lovely galaxy jar in just minutes. Tutorial here!
Tutorial: momdot
How To DIY Nebula in a Bottle Craft: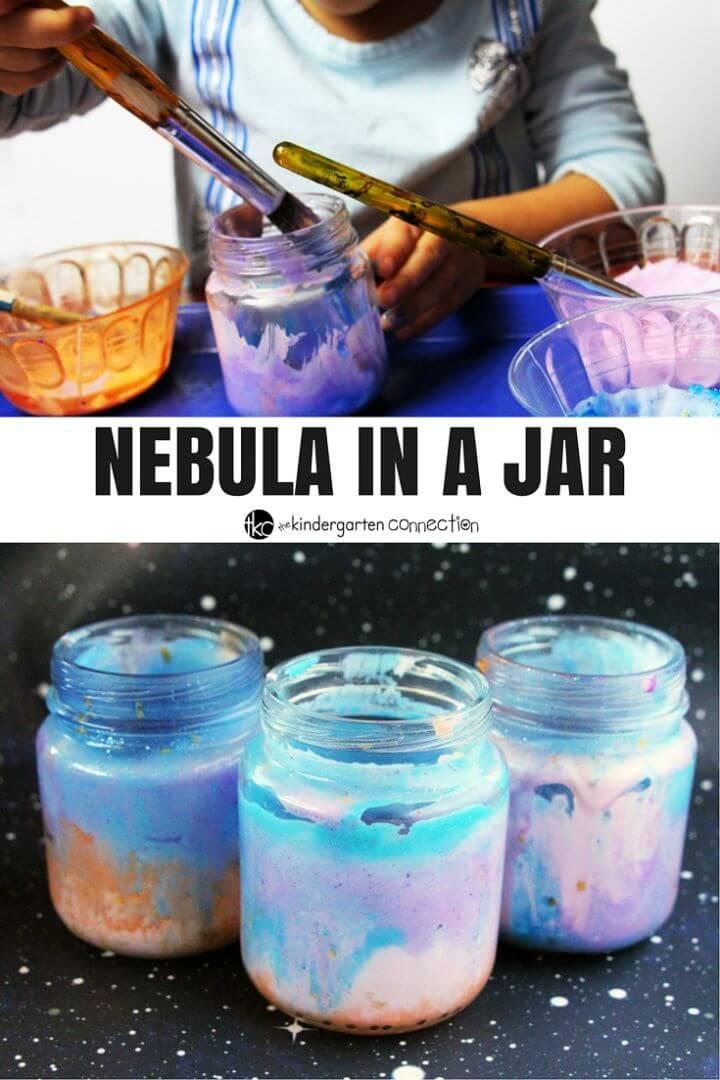 If you are looking for a fun craft idea for the kids to be busy at the weekend then making this lovely DIY nebula bottle craft is the best thing to do. The kids would love to make these gorgeous nebula bottle crafts. Just paint up the jars using the nebula paint hues and let them dry to use around in décor.
Tutorial: thekindergartenconnection
Nebula in a Bottle Necklace: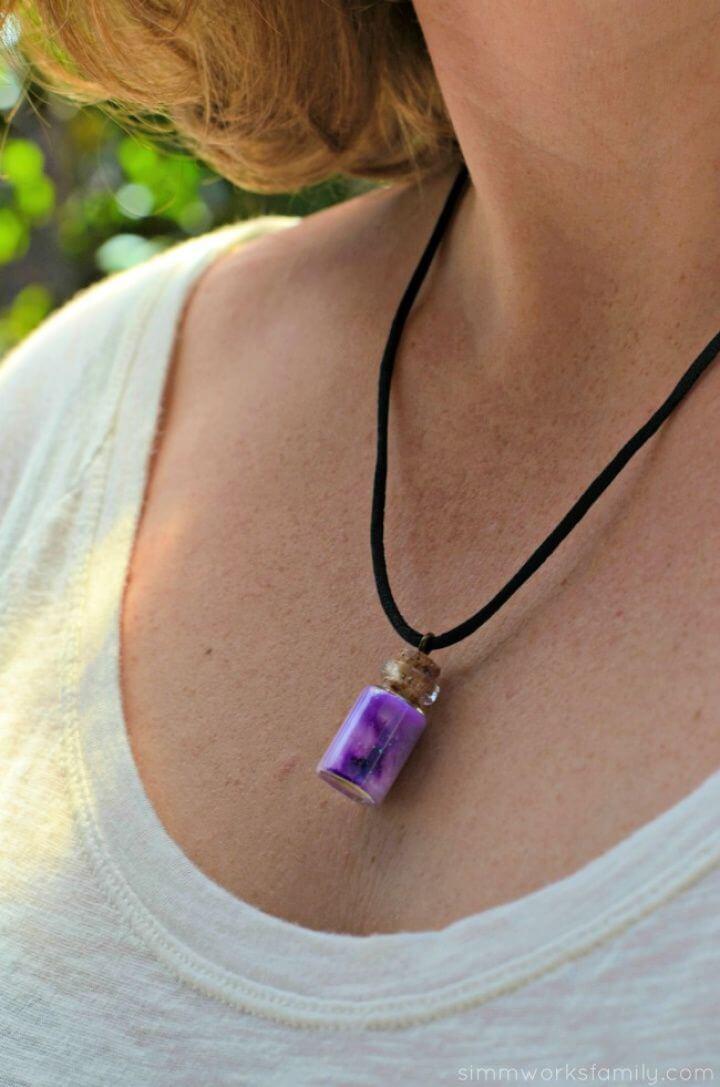 Adorn yourself with the most unique and the most quirky kind of necklace which is this nebula bottle necklace.  The mini bottle has been filled with some cotton and the paint hues and then attached to the necklace cord. You can make more than one to use as the pretty summer gifts for your beloved ladies too. Details here!
Tutorial: acraftyspoonful
DIY Nebula In A Bottle: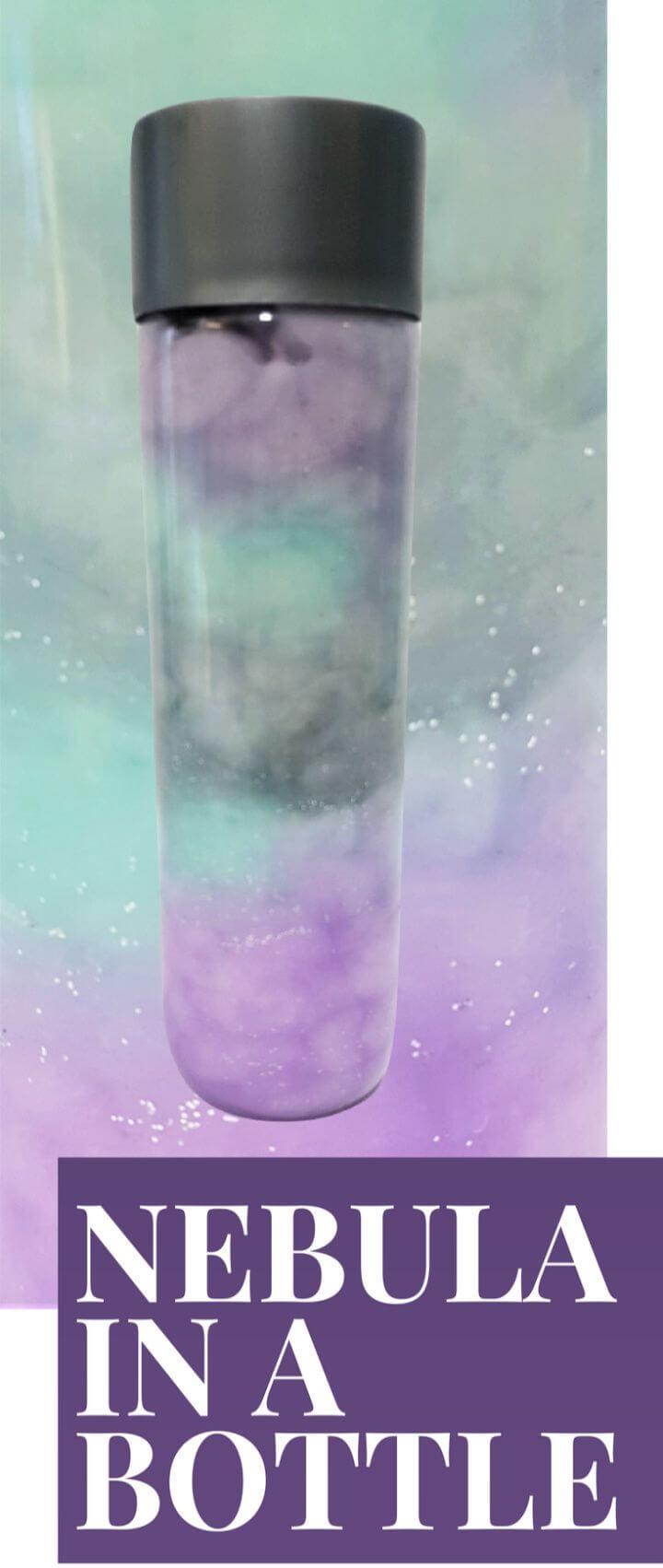 There is a kind of intimacy and beauty about the galaxy and its gorgeous features which include the nebula too. So now you can compress the beauty and charm of a nebula in a bottle and create the perfect science décor and craft for your spaces. Check out the details here!
Tutorial: lifescarousel
DIY Halloween Nebula Potion Bottles: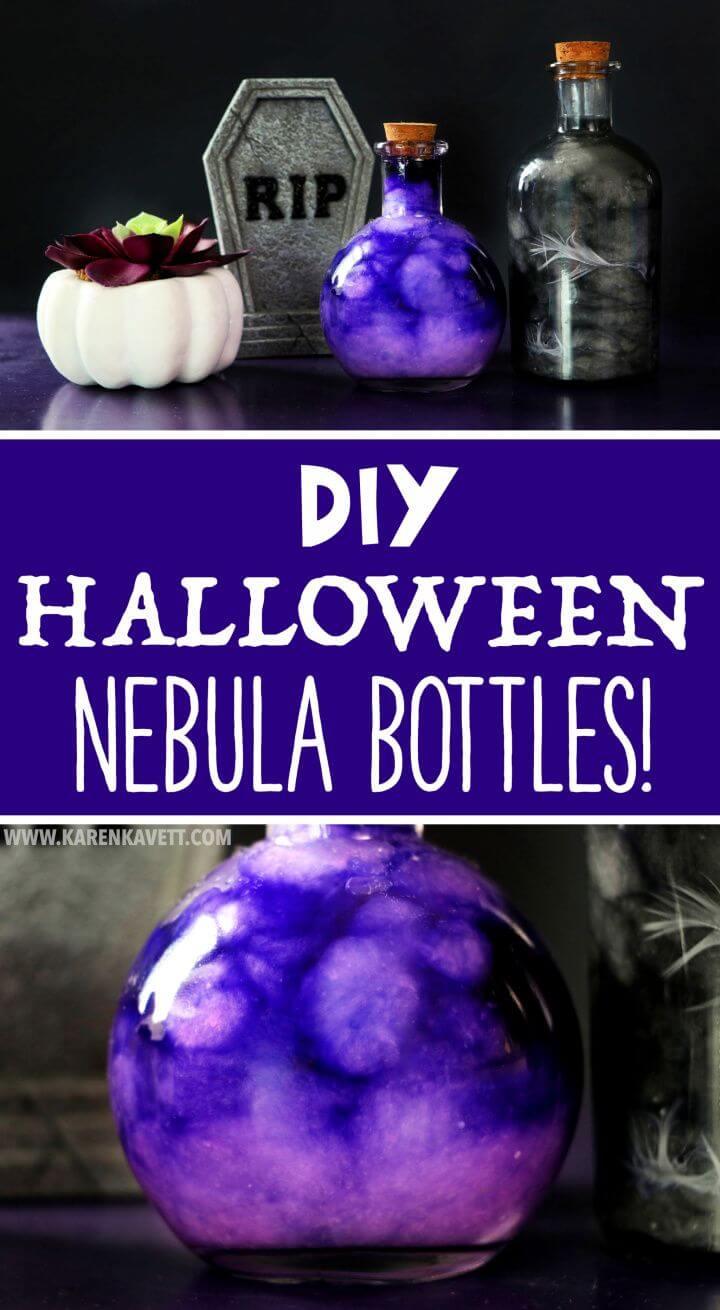 Magic is a favorite theme for everyone to work on for the home décor on Halloween. So a magic décor is undone without the magic potion bottles and now you can make these nebula potion bottles. You can use any of your empty bottles or buy some old ones from the thrift and fill them with some cotton and dark paint hues. More details here!
Tutorial: karenkavett
Recycled Nebula Bottle Art: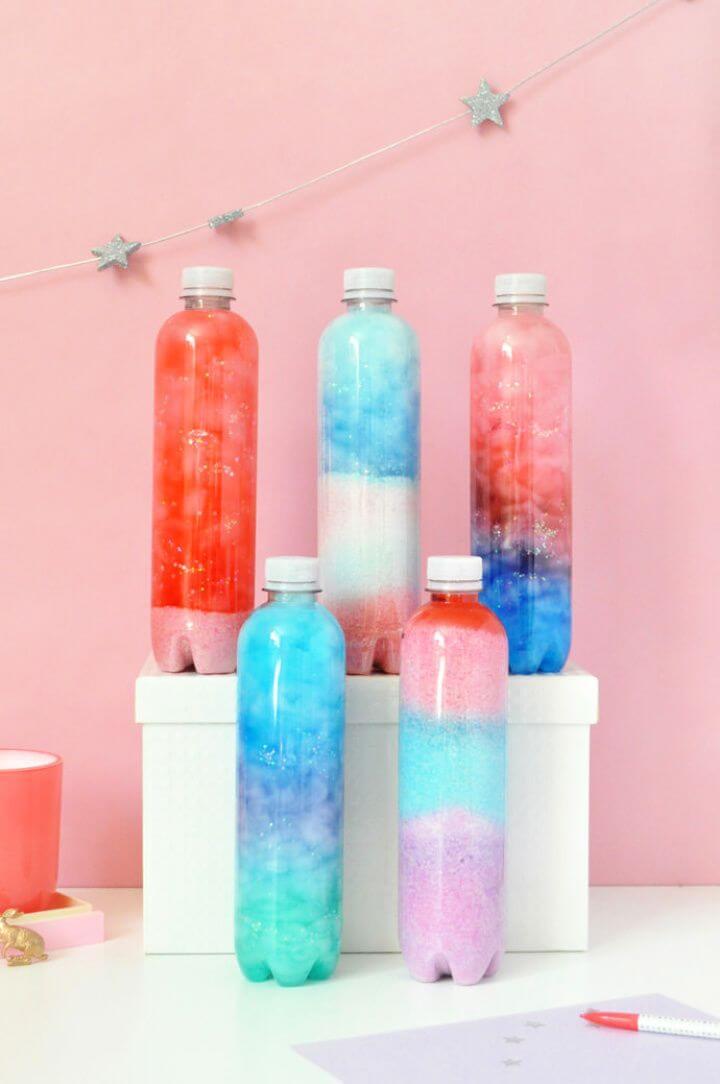 Nebula art can make you some really cool décor crafts for a party, especially for the summer. Here are these recycled nebula bottle arts to make your summer party décor rock. The plastic bottles have been filled with the cotton and added with some bright summer food colors and finished with some glitter.
Tutorial: handmadecharlotte
DIY Nebula Bottle: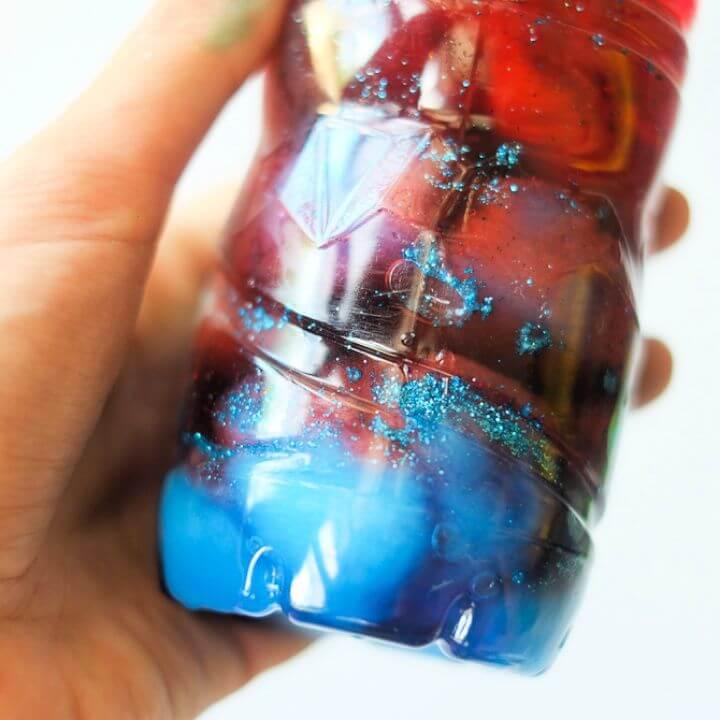 The mesmerizing beauty of the galaxy is now so easy and fun to create on your own at home. Using a plastic bottle you can easily turn it into a mini nebula for your home décor. Just put some cotton balls, food colors and the glitter to create these easy yet totally magical DIY nebula bottle crafts.
Tutorial: productivemamas
Nebula in a Bottle: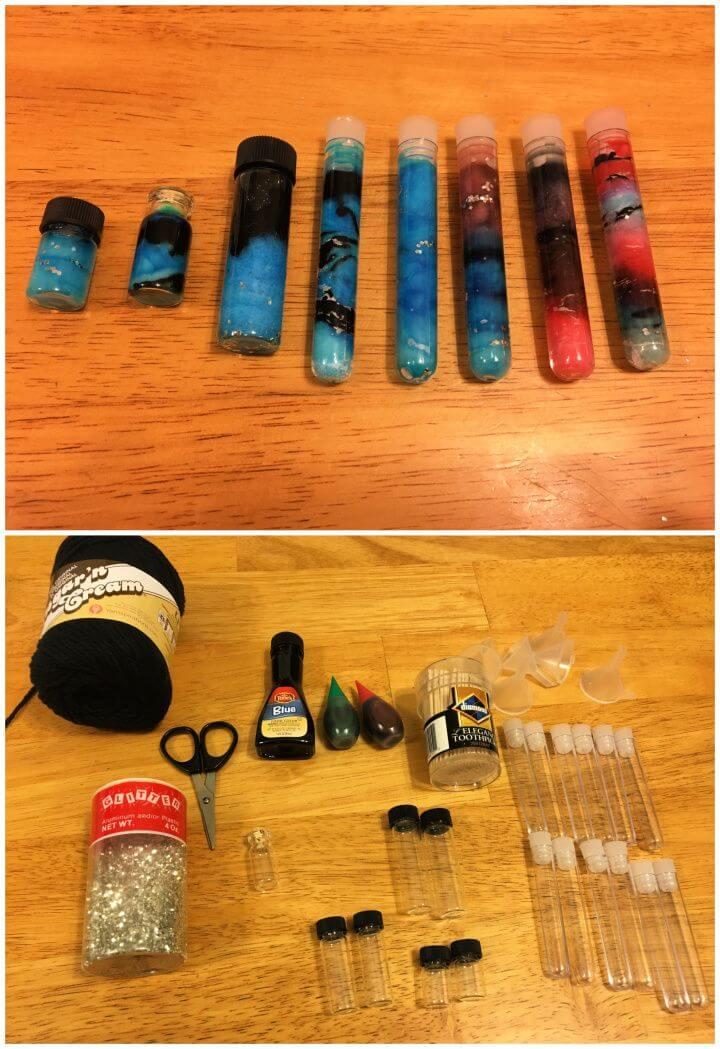 Need a quirky idea to make some unique and fun party favors for your guests? How about making these super cute and adorable nebula bottles and give them away as the awesome favors. You can use the mini plastic tubes or the long glass tubes to create the gorgeous nebulas with cotton, food colors, and glitter.
Tutorial: nearspacescience
DIY Bottle Nebula Idea: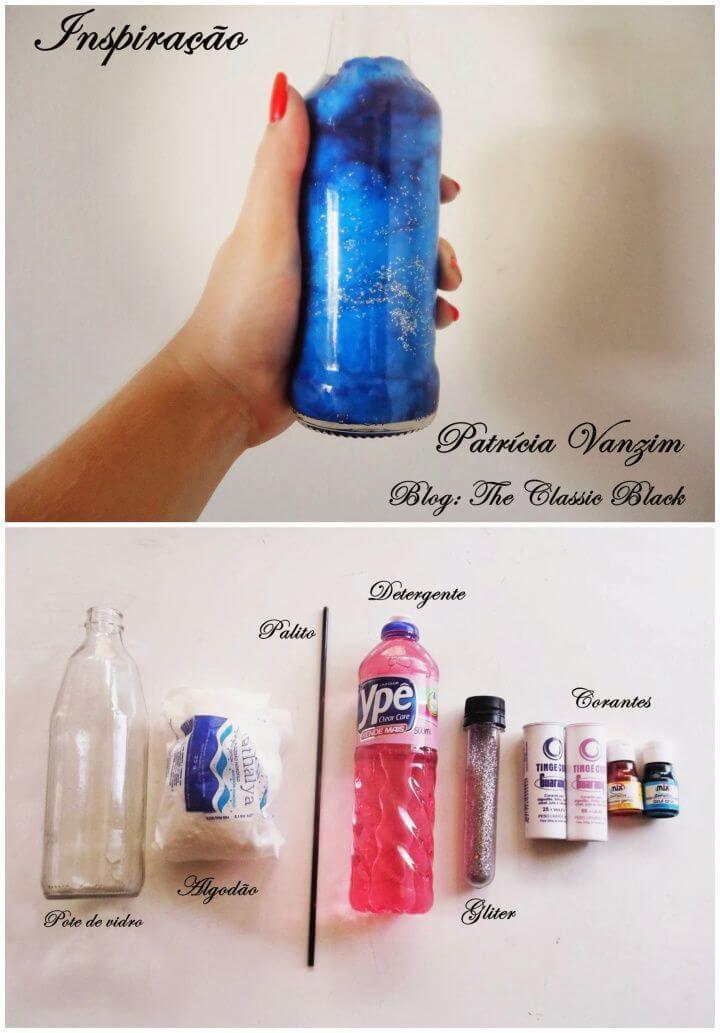 If you love space and the galaxy then this DIY bottle nebula idea is perfect for you to work on. Just grab an empty glass bottle and pour some cotton balls inside. Then add some darker-hued food colors mixed with water and top it off with the glitter and its done. This lovely nebula bottle is going to rock your décor display.
Tutorial: cupcakecomjujubaa
DIY Valentines Sensory Nebula Bottle With Glitter Glue: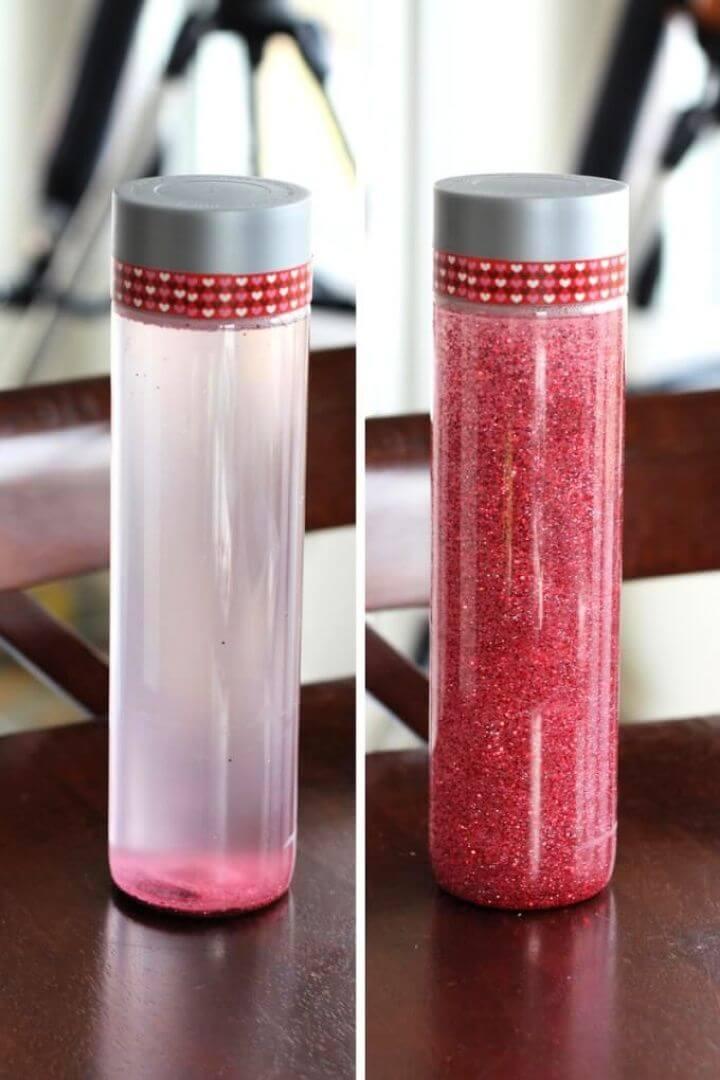 It's time to bring up your décor game for the valentine and making these DIY sensory nebula bottles with glitter is the best thing to make. The lovely glass bottles have been filled with a mixture of water, glitter, and glue. These bottles are going to add a lot of intimacy to your table décor. Tutorial right here!
Tutorial: littlebinsforlittlehands