Several factors determine the resale value of your property. Primarily, an in-demand location, seller's market, and the square footage set the base price. However, homeowners can improve the resale value of their homes in several ways, such as home renovation and staging it properly before listing it for sale.
While not all renovations can increase property value, some upgrades can improve resale value without depleting your savings. Power washing, painting, simple home decor crafts, and regrouting tiles won't cost much but can add value to your property. Below are low-cost DIY home improvement projects that increase property value.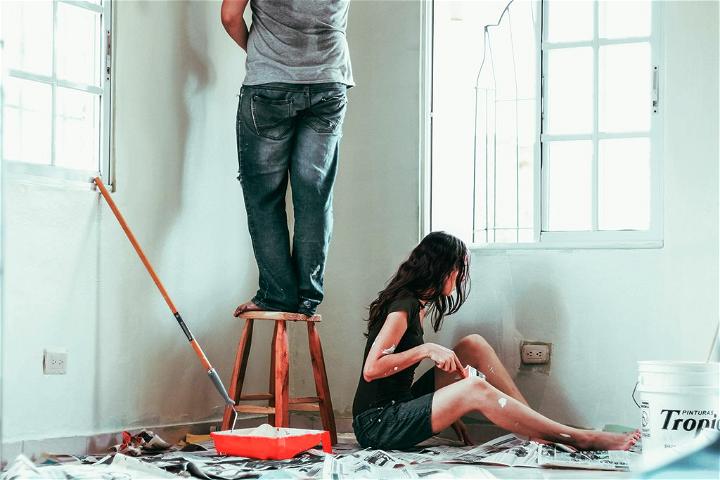 Refreshing the Exterior
Most homeowners ignore the exterior part of their homes, probably because they spend a lot of time indoors. However, potential homebuyers make their first impression by looking at your home's exterior. Below are a few DIY projects to refresh your exterior:
1. Install a Quality Front Door
Replacing your old front door can dramatically improve your home's value. Though mostly ignored by homeowners, installing a quality door from Doors Plus has an average ROI of 74.9%. The front door acts as the centerpiece of your home and is vital in boosting curb appeal. Ensure that the color and style of your new door compliments the color scheme and architectural style of the entire house.
2. Replace the Front Doormat
If you've lived in the house for years, chances are the doormat has become worn-out and dirty. Potential buyers will definitely make their first impression using the appearance of such components. While power washing can improve its appearance, spending $20 on a new doormat is worth it.
3. Power Wash and Repaint the Exterior
Power washing the exterior part of your home also makes a big difference. Fortunately, this is something you don't need much expertise in and is very affordable. If power washing didn't brighten the walls as expected, consider painting them. However, with heights and ladders involved, this isn't a DIY task for all homeowners. Even if you have to hire expert painters, it won't be an expensive home improvement.
Work On Simple Interior Updates
Apart from your home's exterior, simple interior updates can also increase property value. These updates include:
Freshening up the walls – If the walls of your home have dirty paint, scratches, fading wallpaper, or an outdated color, a new paint job can work wonders. To maximize potential value, choose neutral color schemes to make the space appear prominent and appealing to potential buyers.

Update household fixtures – Simple DIY fixtures, such as doorknobs, curtain rods, outlet covers, light fixtures, and switch plates, also add some dollars.

Install ceiling fans – Ceiling fans are very appealing to potential buyers, especially those who want to save on electricity bills. If the overhead wiring is already in place, you don't need a professional.

Improve window treatments – Cheap paper shades, horizontal aluminum blinds, and vertical plastic blinds that you found in the house may not add value. You can install plantation shutters, drapes, and wooden blinds to counteract this.
Endnote
Renovating your home before selling shouldn't be an expensive endeavor. It also shouldn't necessarily involve contractors. Various projects that demand simple DIY skills and enthusiasm can boost your property value. Simple bathroom updates, such as redoing the bathroom floor, and kitchen updates, such as painting and refixing the cabinetry can also help.