Have you ever fantasized about having a spacious, modern kitchen?
Marble floors, a vast island in the center, big windows with a fantastic view… It's possible, of course – but mostly in the movies.
Most of us don't have this much money to spend or space this big to furnish. It's nothing bad, though; if you've ever seen any of the interior design inspiration sites, you know that a simple design in a tiny space can be just as beautiful.
When you've got a small house, you know what matters the most – the good idea that will allow you to combine a good vision for a design and space's full functionality. If you're not sure how to achieve this effect, we've got great news for you – to plan your interior, you don't have to be a professional designer.
If you don't have any ideas on a small kitchen interior design and want to make the most out of your tiny space, just follow our easy guide. Are you ready for some simple kitchen design ideas?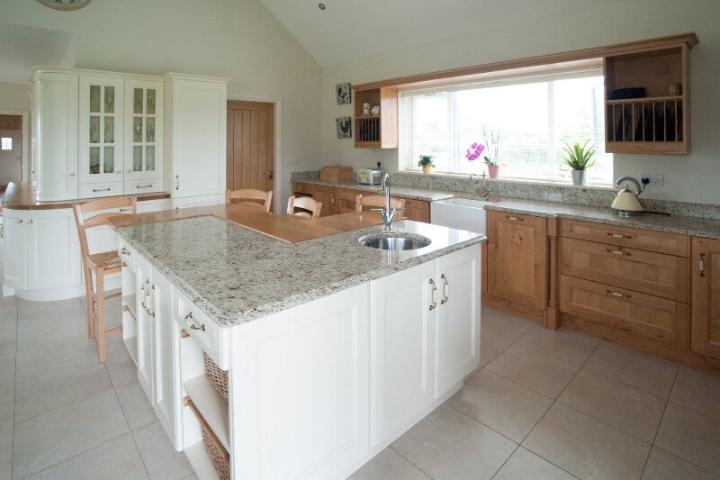 Mix the Styles
If you want to finally make your dream vision come true, don't be afraid to experiment. Try mixing the design ideas across the styles; for instance, according to the rule "old meets new" or "traditional meets modern."
For example, a farmhouse wooden floor will work great with modern glass doors – it will provide a unique effect and optically make the room look more spacious. You can also implement just a few elements of a given style into the most prominent one; try to keep your furniture in futuristic style, but accompany it with a traditional sink from the vast offer of farmhouse sink brands. Your guests will love it.
Use the Lights
Proper lighting is a necessity in every kitchen, no matter how big or small it is. To be able to cook safely, you need to have a perfect vision both during the day and at night.
In the day, let the sunlight enter the room – eliminating the curtains, or limiting them to a bare minimum, will do the trick.
In the evening, make sure your small kitchen has the appropriate artificial lighting. Small kitchen interior requires installing many different types of lights: besides traditional, over-the-table lamps, consider decorative DIY wall sconce over the kitchen island or above the counter space. To create an optical illusion of a larger room, you can install a mirror on the wall; for instance, opposite the light source.
Extra Storage
A kitchen is a room that typically requires a lot of storage space. If your kitchen is small, it might easily get cluttered. To avoid that, you should plan the extra storage space.
Deep counters will work great to store pots, pans, and all the necessary appliances. Instead of installing massive kitchen cabinets, consider open shelving – displaying your kitchen utensils on a floating shelve will add the effect of lightness to the room. Moreover, your kitchen will get a more modern feel and design to it.
Plan where you can add some additional storage; you can use top kitchen cabinets right under the ceiling or install the hangers for the silverware and cooking tools. Remember: when it comes to small kitchen design, the organization is vital.
Use the Colors
If you want your small kitchen to feel bigger, avoid dark tones in the furniture or walls. To achieve the effect of a large space and brighten the room, the best interior designers recommend choosing light, reflecting-light colors. A good idea is lacquering the furniture, which will additionally amplify the effect of lightness.
To make your kitchen seem more uniform, keep cabinets and fridge the same color as the kitchen walls. Having a white kitchen seems boring? You can always add a little vibrant color through colorful kitchenware or one piece of furniture that will stand out and catch the eye, such as a kitchen table.
Galley Kitchen
If you have a small, long, and narrow galley kitchen, you need to surrender the idea of having a lot of counter space. However, you can still divide the room into sections and design it in the assembly-line style.
Consider getting rid of some part of the wall to open up your galley kitchen. This way, you can connect it with, for instance, the living room, which will give your kitchen more light and air.
Create an Optical Illusion With Patterns
To make a small space look larger, you need to choose the right patterns. For instance, the vertical lines on the wall will give the impression of a higher ceiling. You might also want to make a small kitchen feel bigger by keeping everything one-color and adding a unique floor pattern. Some interior designers recommend furnishing your kitchen with a carpet, which can additionally warm up the whole kitchen space.
Does the Size Matter?
If you're wondering whether your kitchen size matters, the answer is: of course! But what is more important than the size, is what you make out of it.
If you have little space in your kitchen, you know that you have to plan every inch of it accordingly. However, we know that you want your dining room to be not only functional but also aesthetically pleasing. To achieve the desired effect, don't be afraid to take inspiration from the web. Follow our guide or look for more inspiration online – for instance, on Pinterest.
Keep searching for what you like, follow the best small kitchen ideas, and finally make your dream kitchen come true. Good luck!