2020 may be over, but looking at how 2021 started, it's fair to say that we're in for a wild ride once again. Fortunately, there's a way to take your mind off things and use the home time the pandemic gives you in a more useful way.
And no, we're not talking about binge-watching The Mandalorian for the second time or playing Cyberpunk 2077. What we mean is taking care of your home. And to be more precise, your living room.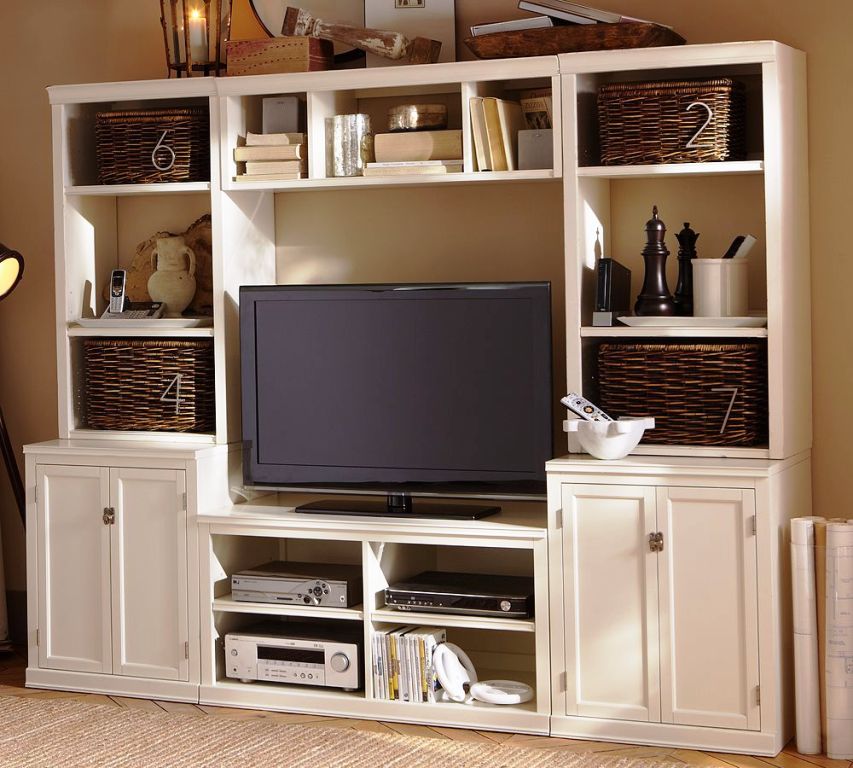 If you were planning on house remodeling, now is the perfect time for that, and what better way to start than to give your most used living space an upgrade. And the great way to start is by establishing the entertainment center.
Few things can boost a room more than a stylish and functional TV stand with a media cabinet. It improves cord management, room design, and TV user experience. What makes it even better is that creating your TV entertainment stand is incredibly simple.
After all, it's not like choosing a garage door service or reliable air temp solutions. Of course, it doesn't mean that these aren't the things you ought to consider. However, to help you with that, we've prepared the following guide.
Things to Consider Before Choosing an Entertainment Center
Before we get to the list of our top picks, let's find out more about things you should think about when looking at TV stands and entertainment centers. Sure, it's not like your life depends on your choice, but it is still worth considering your options carefully.
Type
The first thing to know is that entertainment stands fall into quite a wide variety of categories. You can choose among traditional TV stands, wall units, media chests, and electric fireplace entertainment centers.
A traditional TV stand is usually about 30 inches high, and its primary purpose is to serve as the base for your TV. When it comes to storage solutions, TV stands frequently offer shelving and drawers.
Wall units are exactly what you think they are. They are dedicated to a large part of a wall, consist of many, often adjustable shelves and cabinets, meaning they're perfect for storing media, gaming systems, books, movie collections, etc.
The third type we've mentioned is media chests. They're usually more narrow, and they often serve only as a piece of furniture to store your cable boxes, gaming gear, and other similar media products.
When it comes to a fireplace entertainment center, we believe that the name says it all.
Material
The material you choose will significantly affect your center's style, weight capacity, and price. That's why picking the right one may be a challenging decision. When it comes to entertainment centers, you have three materials to choose from – manufactured wood, metal, and tempered glass.
Style
Besides type and material, you should also consider the style you're going for. Popular TV stand design styles include:
Industrial
Modern
Mid-century modern
When choosing one, make sure it matches the whole room design. For instance, if you want your living room to be modern and minimalist, choosing an old-fashioned farmhouse stand may not be the best idea.
Size and Storage Space
Size matters, at least when it comes to interior design. For instance, if you live in a small apartment, purchasing a large wall unit is a terrible choice as it requires a lot of space. If you want to move comfortably, it's best to measure your space and TV first.
As a rule of thumb, a stand should be two inches wider than your TV. For instance, for TVs up to 55 inches, it's best to pick stands that are at least 57 inches wide.
Your stand's size will also affect your storage space. For example, if you have a gaming system, Blue Ray or DVD player, and an impressive movie and game collection, it's best to choose a larger entertainment center.
Best TV Stands for 2021
Now that you have a general idea of what you should be looking for, we can now take a peek at the list of entertainment centers that will rule the upcoming year. Let's improve your media and cable management in style!
Manor Park Farmhouse Barn Door TV Stand
If you're on the market for a taller TV stand, then Manor Park Farmhouse Barn Door is exactly what you want. As the name suggests, it offers a farmhouse vibe. All thanks to its sliding barn doors and wooden details.
That's not all, though. Besides the amazing design, the TV stand comes with plenty of storage options. It has two sliding doors, adjustable shelves, cord management ports, and open and closed storage spaces.
In terms of size, Manor Park is 33 inches high, 52 inches long, and 16 inches deep. It's also made of high-grade MDF, meaning it's a reliable and long-lasting choice. The price? $259 on Amazon.
Walker Edison Modern Wood Fireplace Stand
The second entertainment center on our list is the Walker Edison Modern Wood Fireplace Stand. A perfect choice if you love a cozy and elegant atmosphere. It comes with classic color options, adjustable shelving, and a cable management feature.
Sure, it doesn't offer too many storage options with just two cupboards on each side, but it can support TVs up to 65 inches and 250 pounds. But, of course, the Walker Edison is much more than just an ordinary TV stand for TVs and media. It also comes with an 18-inch electric fireplace.
It has LED flames, and you can control the heat with two different switches located on the stand's front. The price varies depending on the size and shop, but you should prepare for an investment of at least $450.
Nathan James Wesley Scandinavian TV Stand
Nathan James Wesley Scandinavian TV stand is a perfect option if you don't have too much space in your living room. It's compact and functional, and its minimalist design makes it look absolutely fantastic.
The TV stand is made from engineered wood, and it offers two cabinets and open shelves, making it a piece of functional storage furniture. Of course, it doesn't offer too much space, as it's only 43 inches wide, 15 inches deep, and 19 inches tall.
Nevertheless, you should find enough space for your console and cable box. The most significant benefit, though, is the price of just $122.
Atlantic Centipede Game Storage Stand
And now a perfect option if you use your TV mostly for gaming purposes – Atlantic Centipede Game Storage Stand. It comes with a TV shelf made from carbon fiber that can support a television with a 37-inch screen size and a maximum of 80 pounds.
However, that's not the main reason why this TV stand is a must-have for any gamer. It's the steel rod construction with shelves that will allow you to keep your gaming gear organized.
The stand's accessory and console shelves can hold up to three gaming consoles, four controllers, and twelve games. Sure, it won't improve your living room design, but if you've always wanted to have a man cave, this stand will make a perfect addition to it.
You can find one on Amazon for $77.
Summary
With the right entertainment center, you'll be able to take your TV and gaming experience to the next level. That's not the only reason why every home should have one, though.
A TV stand can make a huge difference in terms of style and room organization. Say goodbye to cords and media lying around and cluttering your floor space. However, before you choose your TV stand, make sure you do the necessary research.
As you can see, there are a few things you ought to consider. And sure, picking the best TV stand possible won't turn your life upside down, but it will definitely make it much more comfortable.
Hopefully, thanks to our guide, you'll be able to make the right choice.