With the advancement of technology, our lives are now surrounded by many tools. This is a blessing. When it comes down to repairing & fixing something, we always have 2 options. The first one, as we all know, is calling an expert. The second one is DIY, meaning "Do It Yourself."
Many power tools are available in the market and we can utilize them with some basic understanding. That's why I've written this article on must have power tools for DIY.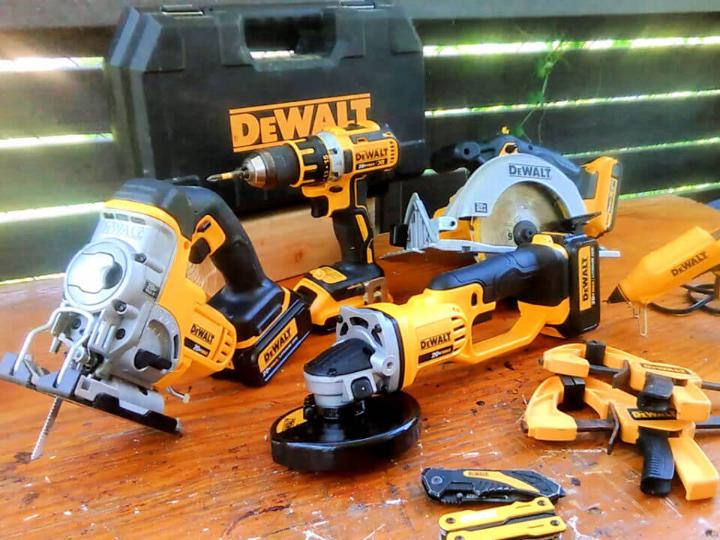 Your Catalog Of Must Have Power Tools For DIY
Before we jump into the main part, allow me to explain why it is important to have a list of necessary power tools for DIY. The reason is: the market is flooded with varieties of power tools. So, selecting your required one is a challenge. You need to select according to the type of DIY job you find yourself doing frequently.
Here I am going to elaborate on 8 basic power tools that are greatly needed for DIY. But don't take it as a final list. You can even buy a band saw for cutting wood if you need it, right? Just do your research before buying a tool.
Drill:
When it comes to power tools in Australia, The drill is the most common and widely used power tool for DIY projects. Whether drilling a hole or fastening a screw tightly, a power drill is your best friend. If you are frequently involved in larger projects, add an impact driver on your bucket list. Sometimes drill & driver come together as a combo pack.
Buying a drill is a lucrative investment. Think about how many times you wished to attach a shelf on the wall or pull out a cover from furniture or anything like this? You will probably utilize it more than you think if you have a drill. While buying, do your research on the types (such as which one to buy?–corded/cordless, hammer drill/brushless drill, etc.) features and cost. It will help you to select the right one you need.
Miter saw:
A compound miter saw is a friendly tool for any DIY purpose. With a hand saw, you can cut square & miter cuts but sometimes it is tough for beginners to get accurate shape with a handsaw. Miter saw will remove this frustration.
Circular saw:
A handsaw is ok to cut a board or a piece of wood once or twice a year. But if you find yourself cutting a large stack of woods frequently, then a circular saw is what you need.
Be very careful while using the circular saw. Your flesh and bones can be at risk from its sharp and powerful edge. So, handle it properly. There are different types such as light-duty, heavy-duty, cordless or corded, etc. Buy the one according to your need.
Jigsaw:
If you want to cut some woods or metals in a curved or circular form, that does not need an even edge, then jigsaw is the tool you need. Let's take a DIY example. Suppose you need to cut a hole on the plywood for an electrical outlet. You can do it by jigsaw.
It can be equipped with multiple types of cutters that are suitable for steel or fiberglass too. Many of them can also be used for angular cuts where table saws could be difficult to place.
Just like the drill, a jigsaw can be corded or cordless. The cordless one has advantages as it is handy. You can move it in any direction easily.
Long story short, this tool is a smart one that should be in your must-have DIY tools list.
Table saw:
You may be wondering why you need too many saws. The reason is, they all have their distinctive functions. It is quite similar to the miter saw. With a table saw, you can cut larger wood planks with precise measurements. For example, if you need to cut several 4ft by 8 ft sheets, a table saw will be a perfect power tool.
Tile Saw:
Cutting tile is the only way to do most fo DIY projects. Your two best tile cutting choices are tile cutters and a wet tile saw. One of the common ways to cut tile is with a tile saw. So, Tools Adventure is the best source to find a durable and cheapest tile saw for your workshop.
Random orbital sander:
Sanding means smoothening or polishing any surface. Sanding things manually with sandpapers is an option but if you want a good finish for your DIY project, a random orbital sander is an optimal preference.
Moreover, it continuously shapes the grain (if you are sanding wood) in quite a professional manner. You do not have to be concerned about the direction of grains. Besides, it takes out more materials than the regular normal orbital sander. It comes with a variation of speed and uses a small disc rather than quarter sheets used in regular orbital sanders.
Air compressor:
Air compression is surprisingly a productive tool for DIY projects. It can initiate a spray gun and you can do painting on your required surface. It can be utilized wonderfully as a nail-gun combination, which makes installing boards or framing doorways much easier than hammer and nail.
This combination is surprisingly good for DIY projects.  In addition to that, it can be used for many simple tasks such as removing sawdust, repainting, or installing baseboards. That's why spending money on an air compressor is worthy. Also, it is a durable feature tool and serves exceptionally for a long time.
Oscillating multi-tool:
Need something to trim off a wooden board or plywood which is nailed to the wall? If you want to do this task without damaging the wall then an oscillating multi-tool is the best choice. Besides, this super handy tool can be applied to delicate places such as door frames.
Start Your Diy Project Now!
DIY is fun. It saves you money and time. Spending some bucks to own a few power tools can make your DIY experience sweeter.
However, you can include or exclude some items from the list depending on the type of DIY job you are working on frequently. For example, you can add a reciprocating saw, wood router, paint sprayer, and so on.
Keep this writing piece on must-have power tools for DIY as a guidebook for your amazing DIY adventures!