Have you ever wanted to do something creative with your jewelry? Maybe you have a favorite stone that you just can't seem to wear in its current form. Or maybe you want a new way to show off your favorite gemstone. Well, we're here for you!
With these DIY gemstone jewelry ideas, you can create one-of-a-kind pieces that are sure to make a statement. From making your own rings to decorating your necklaces with stones and beads, there are so many options available for those who want to get their hands dirty and make something beautiful.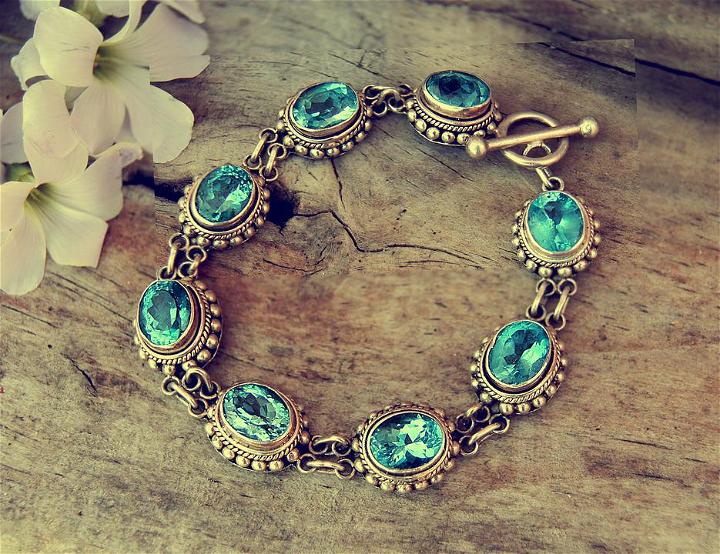 Whether you're looking for a gift for someone special or just want something fun for yourself, these DIY jewelry projects are sure to inspire creativity in anyone who tries them out. If you are looking for some design inspirations, we would recommend you to take a look at Leibish's category list for some wonderful ideas.
Gemstone Necklace
One of the most versatile jewelry pieces you can make is a gemstone necklace, which can be made from any precious or semi-precious stone. These are the stones that come to mind:
Diamond
Sapphire
Emerald
Ruby
The good news is that there's no particular order in which you need to choose a stone before making your necklace. This is because you will likely want to base your choice on a variety of factors: cost, color, durability, and ease of cutting, for example. The last three characteristics listed above are what we will focus on here since these tend to be the main things people think about when choosing gemstones for their jewelry designs.
Gemstone Pendant
The pendant is a popular jewelry item for a reason: it can be as simple or ornate as you like and makes an elegant addition to any outfit. The gemstone pendant is the perfect example of this versatility. If you're used to seeing crazy-expensive versions at fancy boutiques and jewelers, you might be surprised to hear that they're actually easy enough to make yourself.
For basic pendants, all you need are your choice of gemstones (or other items—a small glass bubble will make a beautiful pendant as well), metal settings that hold the stone in place, and chains (these range from delicate metal chains to thick hemp twine). There's no right way to go about putting these together; just have fun with it! Check out some inspiration boards for ideas on what kind of vibe or look you like best.
Gemstone Earrings
Gemstone earrings are a great way to add a little extra sparkle to your outfits. They're also simple to make! You'll need:
Earring hooks (dangle, hoop, or stud)
Gemstones of your choice
Pliers
Small chain (if making dangle earrings) and jump rings
To begin, select your gemstones. Gemstone earrings can be made with any type of gemstone you'd like. For example, you may have opals leftover from a previous project that you would like to showcase in a new piece of jewelry. If the stone is round, it's best to use a different style of earring for this project than the stud or hoop types; stones with flat surfaces are easier to attach securely using glue than round stones. You can also use smaller stones and make multiple pairs at once!
Gemstone Hoops
Gemstones are gorgeous on their own, but they're also a great way to make a classic piece of jewelry feel trendy and new. These gemstone hoops are the perfect example of that—they're super easy to make and look great with pretty much every outfit!
Start by finding some gold wire (14-gauge is preferred) at your local craft or hardware store. Cut a four-inch piece with wire cutters. Bend the wire into a circle, twisting it around itself until the ends meet up.
Braid six strands of colorful embroidery thread together (each strand should be about two feet long). Take your wire hoop and wrap the thread around it tightly, following the shape of the hoop and keeping everything very neat. When you finish wrapping around one side, do it again on the other side, so there's an extra layer of thread all around.
Cut two pieces of leather cord in any color you like—about five inches each should be good! Put them through your hoop from both sides at once, so they criss-cross each other in the middle. Secure them tightly to each other using a square knot
Gemstone Cuff
Start with a piece of wire that's slightly longer than the distance around your wrist, plus 2 cm (for the clasp).
Using two pairs of flat pliers, grasp the wire at roughly 3 cm intervals. Twist it up and down to form gentle curves.
Repeat this process until you have two matching cuffs. They should be just a bit loose on your wrist when they're done—this will make it easier to fasten them later.
Add a small piece of wire or string to one end of each cuff, creating a loop for the clasp. Grasp these loops with flat pliers, and bend them downward so that they're about 90 degrees from the rest of the cuff. This is where you'll attach the clasp in step 7.
Use round-nose pliers to make an eye loop on both ends of another piece of wire. These loops should be about 1 cm apart and large enough for you to thread jump rings through them later on (see step 7). This is your toggle bar, which will connect both ends of your bracelet together once it's finished!
Thread jump rings onto each end loop along both cuffs, using round-nose pliers to open and close them again after they've been placed on the bracelets' loops. Close each jump ring securely by making sure its two halves overlap slightly before you clamp them shut again with flat pliers or tweezers.
Attach the clasp by running a jump ring through all three pieces: one eyelet in your toggle bar and both loops at either end of your bracelet cuffs!
Gemstone Cufflinks
You've thought about making jewelry before, but you're not sure where to start. No problem! There are plenty of unique DIY gemstone jewelry ideas you can use if you want to get your feet wet with making your own jewelry.
Consider making cufflinks, a great option if you like to accessorize suits and formal wear. Going the DIY route means that cufflinks can be made for under $30 (in some instances, under $20), quite a bit less than what you'll pay for them in stores or online.
Personalized cufflinks are a good gift idea for the holiday season or special occasions like weddings and graduations—the options are really endless. Making cufflinks yourself also ensures they will be exactly what you want: no need to settle because there aren't enough choices available!
Agate is one of our favorite stones for making DIY cufflinks because it comes in so many different colors and patterns. Other stones which work well include onyx, topaz, and amethyst—you can choose different shades within each stone type as well.
Now that you know about some of the beautiful gemstone options for jewelry, it's time to get started making your own. The good news is that all of these DIY ideas are easy enough for beginners to make and require only a few tools to help you achieve your desired results.
In addition, any or all of these can be used as an opportunity to craft something for yourself or with friends. You can even make these various accessories into gifts for someone else, whether it's a close friend or someone you don't know too well. They'll make the perfect birthday present!