More and more professionals are now working from home, which means there's more focus on creating home office environments that are both practical and inspiring.
Whether your office is located in a spare room or in the corner of another home space, there are various ways in which you can liven it up. And when you work in a comfortable, inspiring, and attractive environment, you're sure to be happier and more productive.
If you want to liven up your home office, check out the seven following ways to do just that.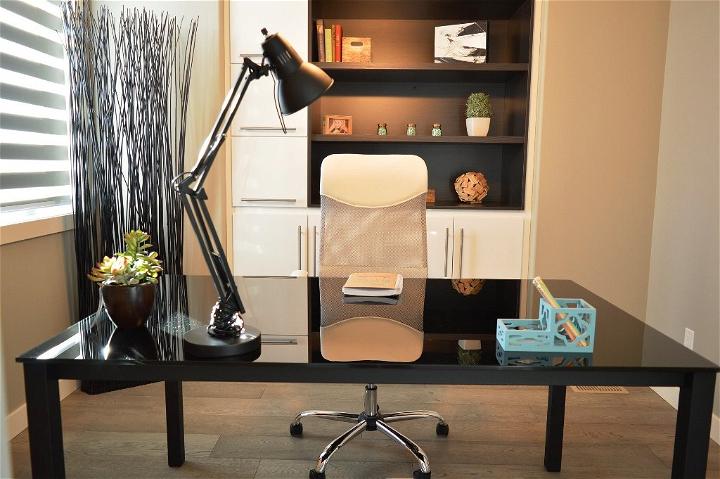 1. Personalize Your Space
Just like the rest of your home, the more you personalize your home office, the more you'll create a space that is unique to your taste and enjoyable to spend time in. A personalized home office can also be conducive to high productivity.
Personalization could involve placing framed photographs on your desk, framing motivational quotes, or using distinctive stationery like a leopard-print notebook and a bright pink hole-punch.
No one else can tell you exactly how to personalize your home office space, as it comes down to your personal taste and style. Have fun playing around with different ideas to create an aesthetically-pleasing and effective workspace.
2. Brighten Up Your Home Office with Fresh Flowers
One sure way of livening up your office space is to inject a dose of color and a delightful scent. You can kill two birds with one stone by having fresh flowers delivered to your home.
A bouquet of colorful and sweet-smelling flowers can do wonders for brightening up any environment. And with many artisan-crafted bouquets available, you have a wide choice of flower types and arrangements to suit your taste.
Peonies, lilies, orchids, sunflowers, and roses are just a few of the flowers you could decorate your home office with.
Whether you want flower delivery Los Angeles or delivery to another city, it's never been simpler to order bouquets locally and have them delivered quickly.
In no time at all, you can transform your home office into a colorful and relaxing work environment with floral bouquets.
3. Follow Your Nose
People often overlook how much of a difference the smell of an office can make. The nicer the aroma, the happier you will be in your workspace and the more productive you can be. That's one reason why flowers can be so beneficial to a great home office environment.
But there are other ways of creating pleasant aromas. You could use scented candles, incense, sprays, or plug-in scents.
Just as important is ensuring you get rid of any nasty aromas that have been lurking.
With sweet and sumptuous scents surrounding your space, your home office will be a much more pleasant place to work.
4. Add Lighting to Liven Up Your Home Office
In addition to injecting more color and pleasant aromas into your home office space, you should look at creating more light.
Bad lighting can cause eyestrain and headaches, which are not conducive to working well.
On the other hand, when you introduce desk or floor lamps and other lighting, you can ensure your environment is bright enough to not cause physical problems and make your space much more ambient and soothing.
It's best to add lighting in layers and even out the light distribution. That way, you avoid deep shadows and computer screen glares and instead create a lively space where you're sure to enjoy working.
5. Rearrange Your Home Office Furniture
It's not all about adding items to your office space to make it livelier. You can also rearrange your furniture to revamp your home office environment and make it feel new. You might be surprised at just how much rearranging your home office furniture can refresh your space.
In addition to giving your home office a new feel, rearranging your furniture can have practical applications.
For instance, you'll increase your efficiency if you arrange things so that you can reach office supplies more easily. And if you often stub your toe on an item of furniture, now is the opportune time to make your workspace flow better to avoid such problems.
Tips for rearranging your home office furniture include keeping entrances clear, not putting furniture in places that restrict the flow and creating a visual balance by distributing furniture items equally.
Spend some time coming up with the best layout to suit your aesthetic wishes and practical needs.
6. Paint Your Home Office Walls a Suitable Color
One of the simplest and most effective ways of livening up your home office is to paint the walls.
You could choose one of your favorite colors. Alternatively, you could select a color that can affect your mood for the better or a color that best suits the size of your office space.
For instance, if you're working in a small space, you can make it brighter and feel bigger by painting the walls a light color like white, cream, light gray, or pale yellow. For larger home office spaces, consider deeper colors like blue or red; or you could use such colors on an accent wall while painting the rest of your space a neutral color like white!
If light colors are too clinical for your environment, go with warm colors instead. That can be something obvious like orange or something subtler, such as a warm gray.
You'll be amazed at how much a coat of paint can quickly liven up your home office.
7. Place Awesome Artworks on Your Home Office Walls
Another way of livening up your walls is to hang inspirational and attractive artworks.
You could put up some of your favorite pictures or buy new prints and frames. You could even invest in paintings from upcoming local artists instead of buying prints of famous works.
Look for artworks that you personally like. Whether you hang abstract works, landscapes, or surrealist paintings, you can soon liven up your home office with a few well-chosen and well-placed artworks.