A bathroom is a place in the house that is the most responsible for your impression on your guests. Most of the people are really fond of neat, clean, and well-decorated bathrooms. It is not a compulsion to have a huge spacious bathroom to decorate it well you just need to be creative and a little bit of effort is required to create a lovely atmosphere in these generally ignored spots of our houses.
People usually tend to ignore the bathrooms and do not concentrate on their cleanness and decoration or creativity but with these following easy techniques, you can decorate them with less expense and spending less time out of your busy schedules.
The first idea that we are talking about is from the old copper tins that are now of no use you can simply put off the stickers and can use these cups for your washroom storage either for an outing in makeup or other material that you need to have besides the washbasin. These cups can be attached to a wood plank and can then the plank can be fitted into the wall. To attach these cups with the plank the best option are the leather strings or strips, we can wrap the leather string around the top part of the cup and the other side with the wooden plank and your favorite storage area is ready.
For the bathroom organizer, 10 DIY Super Easy Bathroom Decor Ideas you can also do the enamel cup organizing technique, for this out need enamel cups and you just have to stick them together with the super-strong glue to make sure that they don't fall and break and attach the cups to a wooden plank I order to attach it to the wall. In these cups, you can put your washroom accessories, towels, and whatever you like.
You can also use mason jars just like the enamel cups to make a bathroom organizer where you can store a lot of things such as your makeup, cotton balls,
The next technique we are sharing with you is a very useful and dual-purpose technique. For this technique, you need a wooden plank gain, a twisted metal rod for hanging toilet paper. You need to lace the shelf above and the rod under it to serve both the purposes, on the wooden rack you can put your towel rolls, a small plant, and under the shelf, you can place your toilet paper roll on the rod.
One of the most popular and our favorite technique is the PVC pipe toothbrush holder technique in which you only need short sized cut pieces of PVC pipe and you can color them in your favorite colors or leave them white and stick them to the wall in the bathroom and these can become your toothbrush holders.
Leather + Copper Cup Organizer: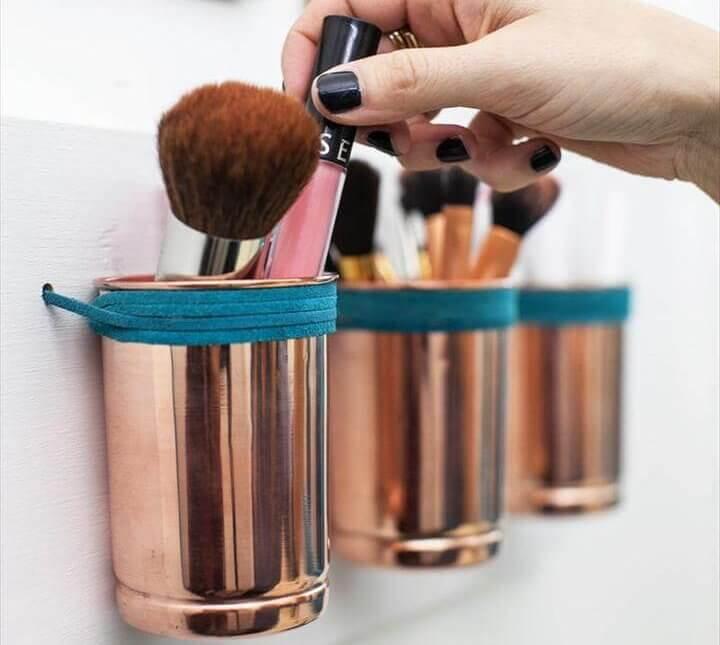 Make your bathroom spaces more fun and functional with this idea of the leather and copper cup organizer. The cute little copper cups have been hung over the bathroom walls using the leather cords in contrasting hues. You can use these wall-mounted cups to hold so many things like makeup brushes, lipsticks, cotton sticks, and more. Details here!
Image: abeautifulmess
Enamel Mug Bathroom Organizer

: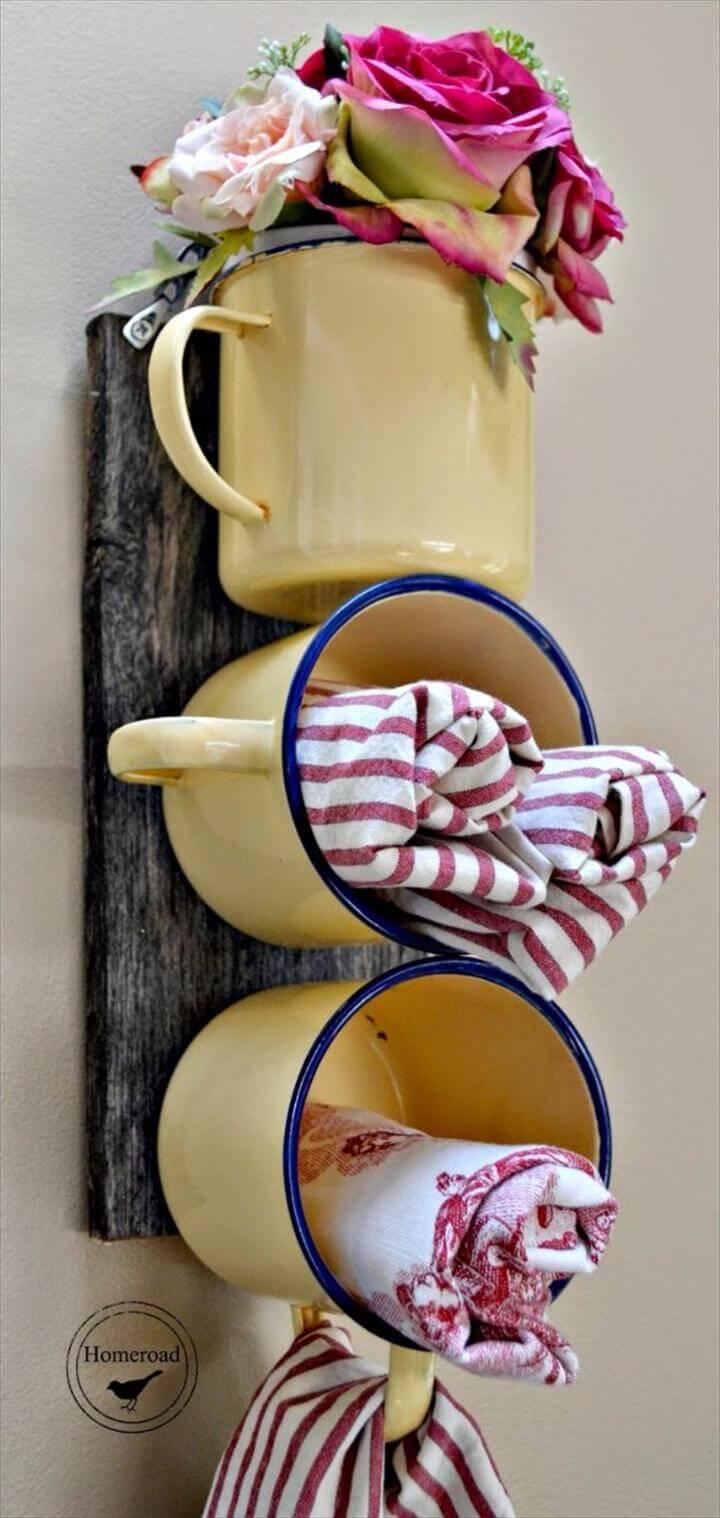 If you also have some enamel mugs lying around with no particular purpose then make this lovely bathroom organizer out of it. Yes, just grab a wooden board and attach your mugs to this piece and mount it over the walls of your bathrooms. You can hold so many things from your makeup items to toiletries in this organizer. Check out more details here!
Image: homeroad.net
Pallet & Mason Jar Storage: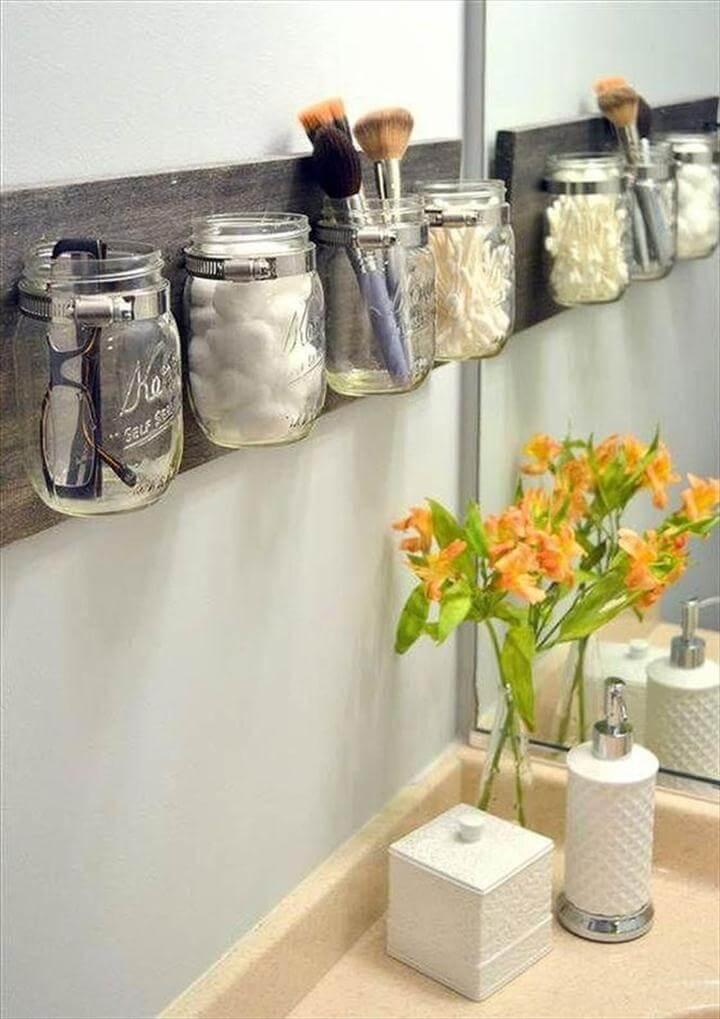 Give your bathroom a more decorative and highly functional look with this pallet and mason jar storage unit. Using the pallet wood board pieces and attaching mason jars to these boards you can create a perfect money-saving and space-saving bathroom organizer. From cotton balls, toothpaste, brushes, and make up this storage unit can organize it all for you. Tutorial here!
Image: thediyplaybook, youtube
Toilet Paper Holder With Shelf

: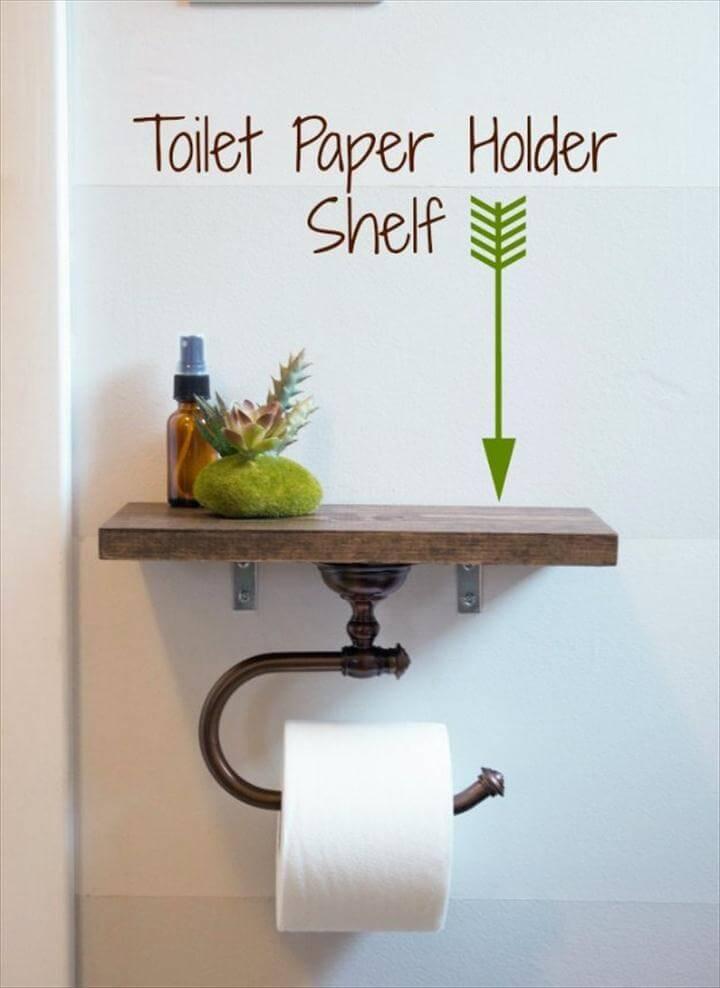 Here is a two in one bathroom organizing idea with this project of the toilet paper holder with the shelf. Yes, a wooden shelf is installed over the bathroom walls using the L hooks. A big industrial hook is attached to the shelf bottom to hold your toilet paper roll on in extra. You can easily house a bunch of your toiletries on the shelf top. Follow the tutorial here!
Image: diyshowoff
Mason Jar Bathroom Storage

: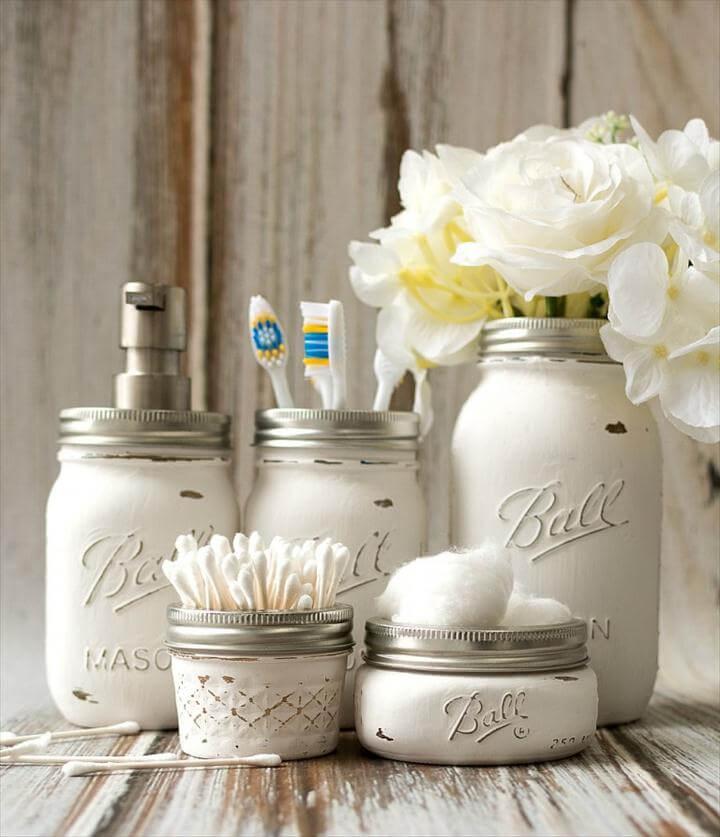 We have mason jars in a variety of shapes and sizes and now each one of them can help us install this gorgeous Mason jar bathroom storage. All the variant sized mason jars have been painted in chic white before getting transformed into this lovely bathroom storage unit. Makeup, brushes, cotton balls, combs and so much more can be stored so nicely in this hand installed bathroom storage with mason jars.
Image: masonjarcraftslove
Under Shelf Mason Jar Storage

: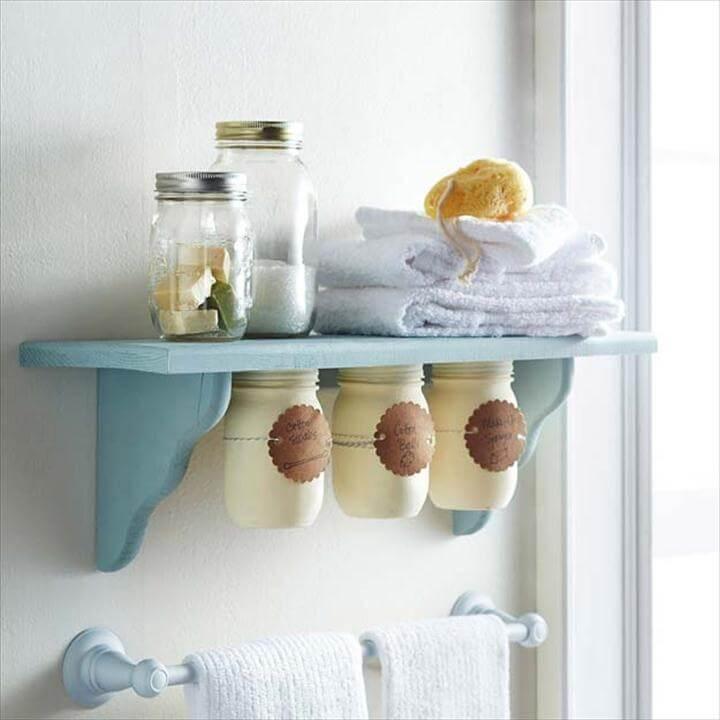 Bathrooms are small and thus hard to organize so we have this smart under shelf mason jar storage idea to work on. Yes, a gorgeous vintage looking wooden shelf has been made more functional and storage worthy by attaching some mason jars to its bottom. You can hold your toiletries on the shelf top and house your brushes and makeup in the jars. Catch the details here!
Image: yourmodernfamily, michaels
Bathroom Hooks

: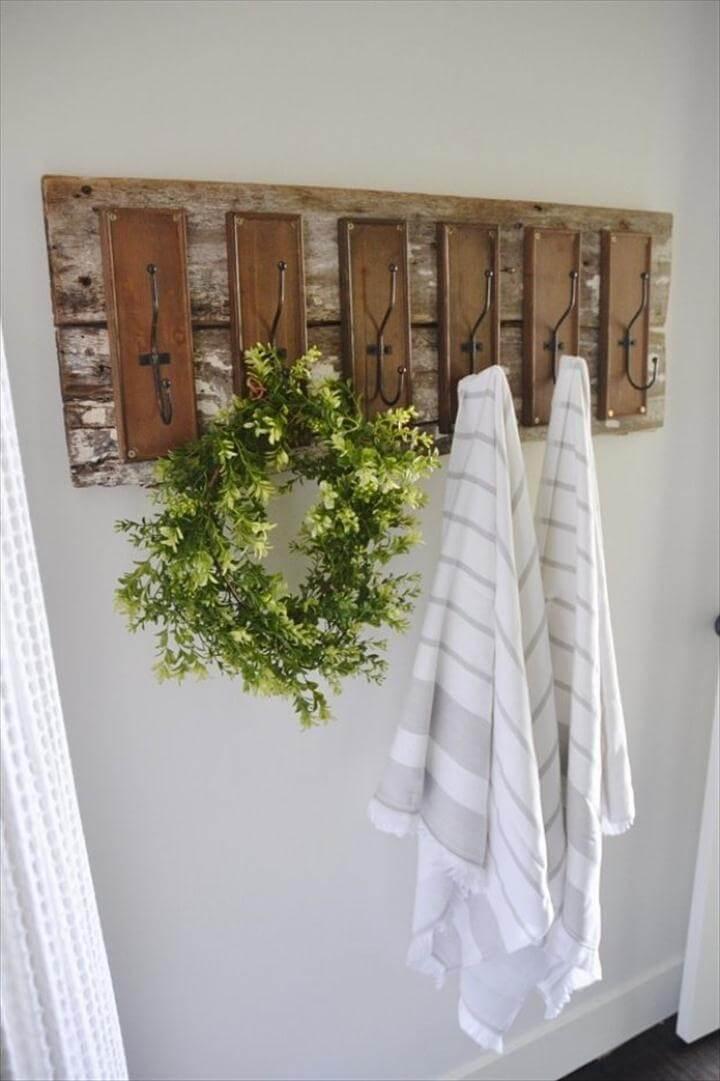 Now you can create this totally simple yet useful hook rack for your bathroom. Use it for the holding of your bathrobes, towels, and the clothes. This lovely rack is so much easy and fun to make with some wooden pieces and the hooks. Do work up this project if you want to enhance the utility of your bathroom area. Check out the project more here!
Image: lizmarieblog
Antique Sewing Turned Seedbox Bathroom Display

: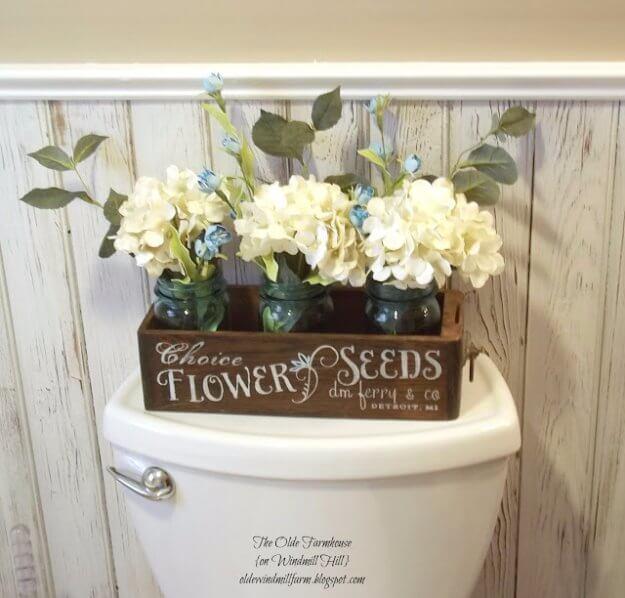 Give your bathroom some fresh and fun decorative vibes with this antique sewing turned seedbox bathroom display. Yes, a lovely wooden seedbox here has been used to hold the pretty mason jars with pretty flowers inside them. You can mount this seedbox over the walls and also house it over the toilet flush unit. Get to know more about the idea here!
Image: oldewindmillfarm.blogspot
PVC Pipe Toothbrush Holder: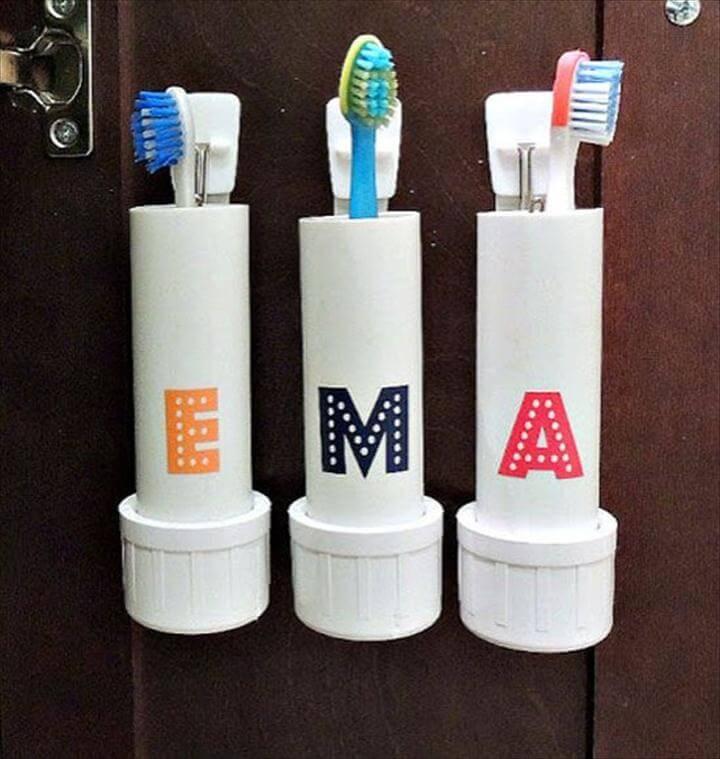 If your kids share one bathroom then this idea is going to rock their bathrooms. Yes, using this project of the PVC pipe toothbrush holder you can create a lovely set up for them to clean up their teeth. Each kid would have his own PVC pipe toothbrush holder and that too with his or her name initial on it. You can use colorful and designed tape to create the letters. Follow it more here!
Image: craftingintherain