Jewelry is something that girls can never stop wearing and use for satisfying their fashion sense. But sometimes like me, you would probably feel that you cannot manage to buy or choose trendy and latest fashionable jewelry easily, that's when you need to make some DIY handmade jewelry for yourself.
Here are unique and interesting 27 Best Ideas About Gorgeous DIY Jewelry ideas for making such pieces. Can you resist wearing this kind of pom pom necklace made with colorful pom pom and simple silver chains? Wear and enjoy them with different outfits. Try making some gorgeous combinations of fabric and beads to make an excellent neckpiece. Look at this elegant string and charm masterpiece. All these ideas are so tempting that you can't resist trying them all. Make bracelets not only for girls but also for the young boys at home. The latest trends in terms of jewelry now days are the beads and ribbons combined together. Put a little effort into making this beautiful gold color necklace made with small golden rings.
This is a pair of fishbone earrings that look so cool and funky also suitable for your Halloween costume. So here is a shout out to all the gem lovers, make these DY gem rings which are giant and can decorate your pretty hands all alone so you are all set with these amazing finger jewels. These are paper made rose earrings; we have already told you how to make roses out of paper so just attach an earring hook to it for this.
How can you ever forget your hair when it comes to a dress-up? So try these clay hairpins and make your hair look great. Add some stone collection to your neckpieces, and for a unique look, wrap the stone with the chains as well. This is a boho necklace which gives a complete Spanish. What about this Elizabeth bracelet which is perfect for the formal occasions. Also, add to your collection some metal wires such as copper and make rose rings with them.
If you are in a mood to wear some stony jewelry, make some raw stone tops with the small raw stones and paint them in your favorite colors or these wire wrapped rings which are a combination of wire and painted stones. Last but not the least, have a look at the tutorial of these super traditional silk thread jhumkas which are extremely eastern.
All of these handmade pieces are so pretty that no one could ever believe you have made them with such easy methods and ideas.
Pom Pom Necklace: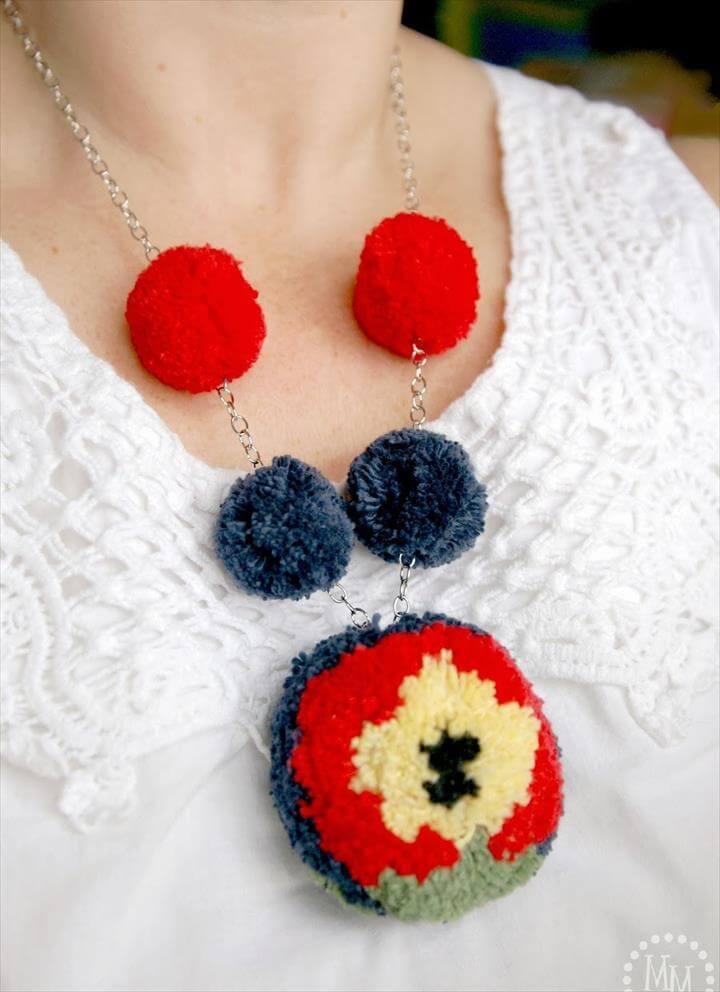 Make your summer cooler with this pretty and boho looking necklace. It is super easy to make and you can carry it with almost all your crop tops and tank tops. Just take some yarn and make the pom poms of your favorite colors. Grab simple silver chain and set these pom poms to it and you got your necklace ready. Get details here!
Image: thescrapshoppeblog
Fabric Bead Necklace – DIY Fabric Necklace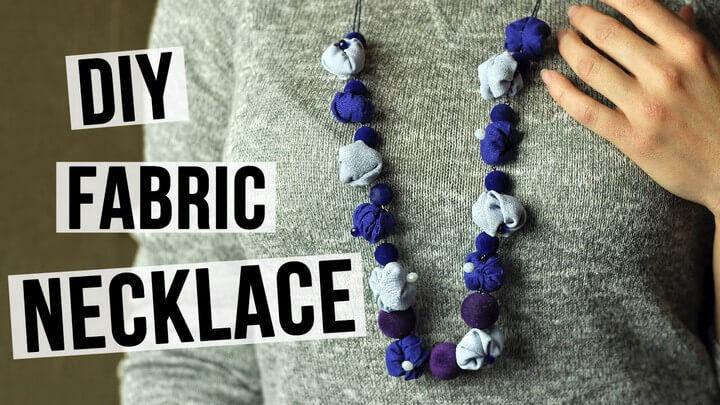 It's time to make the most of your fabric scrap pieces with this lovely fabric bead necklace. So make these colorful fabric beads and turn them into a really chic and cool necklace for yourself. This necklace would look so graceful and elegant on you when you are wearing some plain shirt like stuff. Details here!
Image: youtube
String & Heart Charm Bracelet: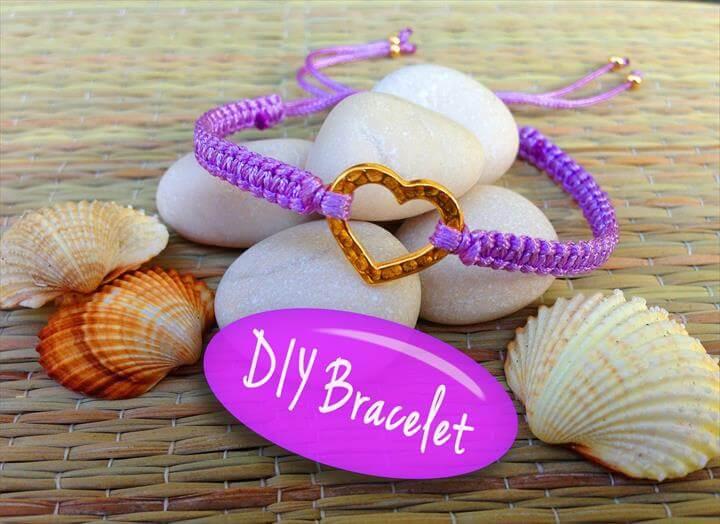 Here is the simplest yet the prettiest bracelet to make and glam up your wrists with. You need some colorful cord to braid it up. Then take a lovely heart charm and tie up both of these cord braids on the sides of the charm to complete your bracelet. You can use any of your favorite charm and the colors of the cords. Check out the details here!
Image: youtube
Man's Bracelets: DIY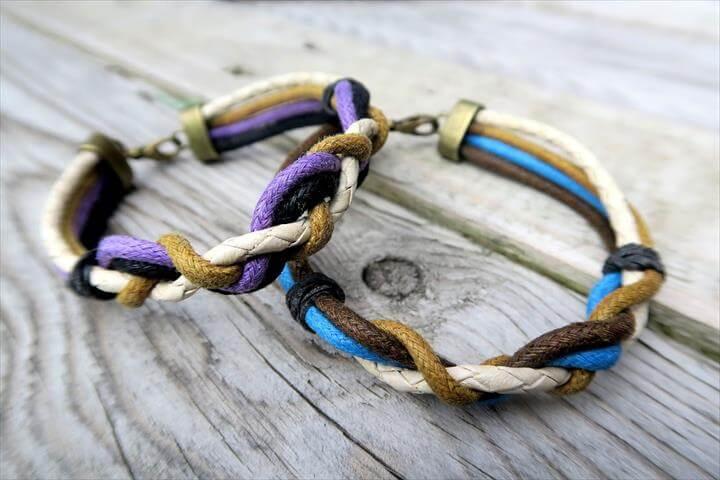 There are a few things that even the men can enjoy for the sake of jewelry and bracelets are one of them. Here is the idea of making this lovely man's bracelet which is super easy and to make in just a few minutes. To your utter surprise, this bracelet is made out of the colorful shoelaces and of course the bracelet clasps and the jump rings.
Image: mamaisdreaming.blogspot
Colorful Statement Necklace

: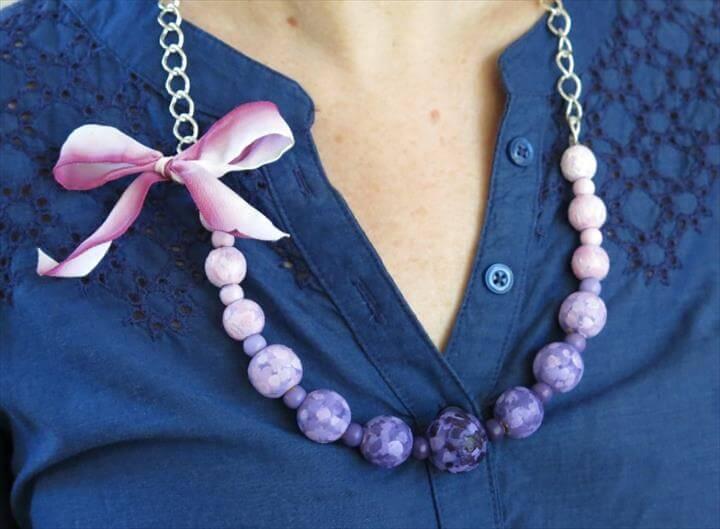 Why one should pay so much on the expensive necklaces when you make the pretty necklaces at home on your own. Here is this colorful statement necklace piece to make yourself look prettiest for the parties and dinners. You need multiple sized wooden beads, your favorite acrylic paint hues, and the chain to shape up the necklace. Details here!
Image: feltmagnet
Ribbon & Bead Wrapped Bangles

: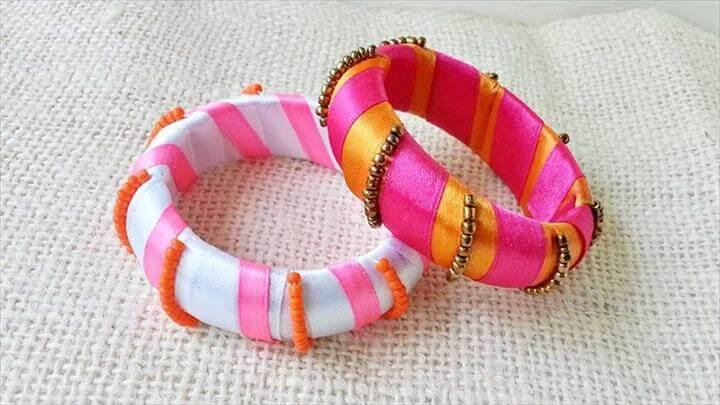 Make this exquisite and totally colorful ribbon and bead wrapped bangles and make the most out of your festive season. You need wooden bangle and the colorful ribbons along with the seed beads to shape up these adorable and fun looking bangles. Follow the details of the idea right here! These lovely handmade bangles would make adorable gifts too.
Image: youtube
S

hrinky Dink Necklaces

: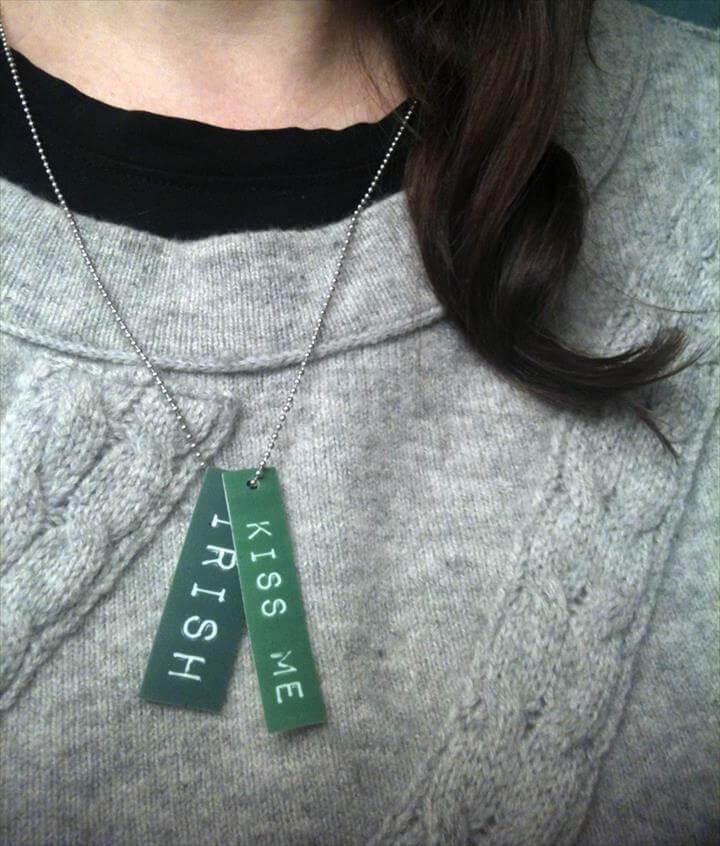 Make yourself some jewelry for the St Patrick's day with this idea of the shrink dink necklaces. They are super cute and so much fun to make with your kids. Just get your hands on the printable Irish maps and the quotes and cut them into round or any other your favorite geometric shape. Then get them through a ball chain and they are ready to wear with the perfect festive spirit.
Image: merrimentdesign
Tree Bark Earring Cards Tutorial: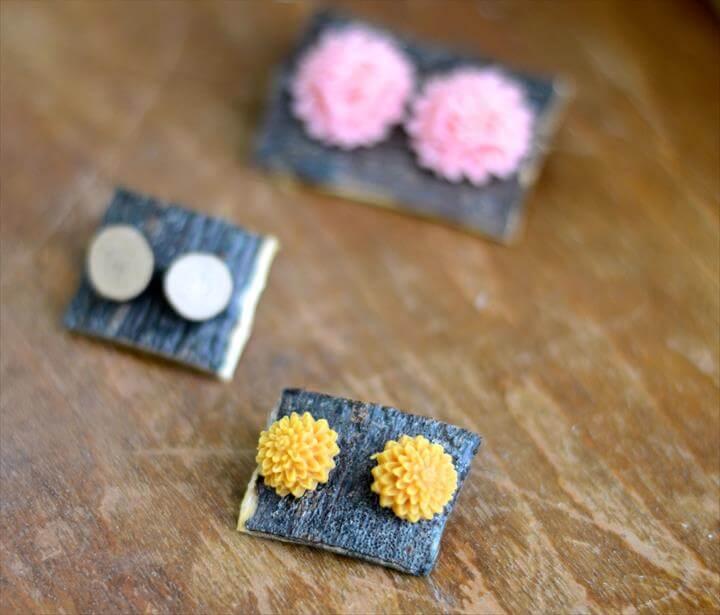 We always need earring cards to hold our earrings together so that we do not lose one and the pair do not get wasted. So here is the idea of making this tree bark earring card to your favorite earring pairs together. So grab the thin bark wood, clean it, cut into card size pieces, drill holes, and hold your earrings.
Image: theburlapbag
Gold Ring Necklace: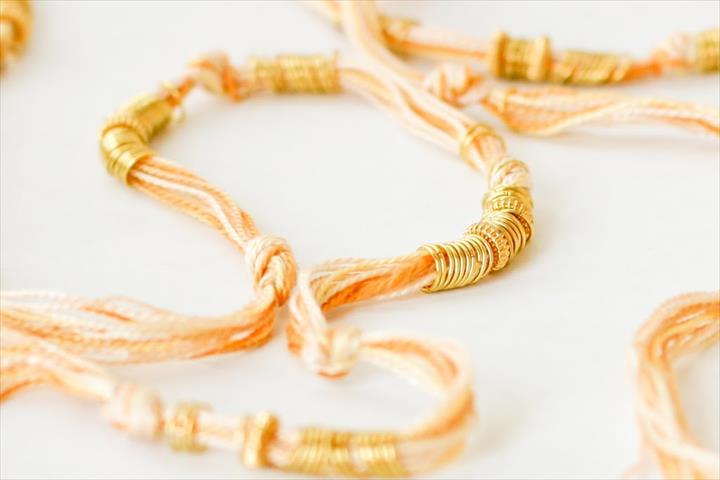 Make your beach visits more fun and stylish with this handmade gold ring necklace. Not only for your own self but you can make this lovely necklace for your girl gang too. You would need 6 different colored embroidery strands and the big bunch of the golden jump rings to make these adorable and pretty gold ring necklace. Check out the step by step details here!
Image: flaxandtwine
Make A DIY Knot Necklace: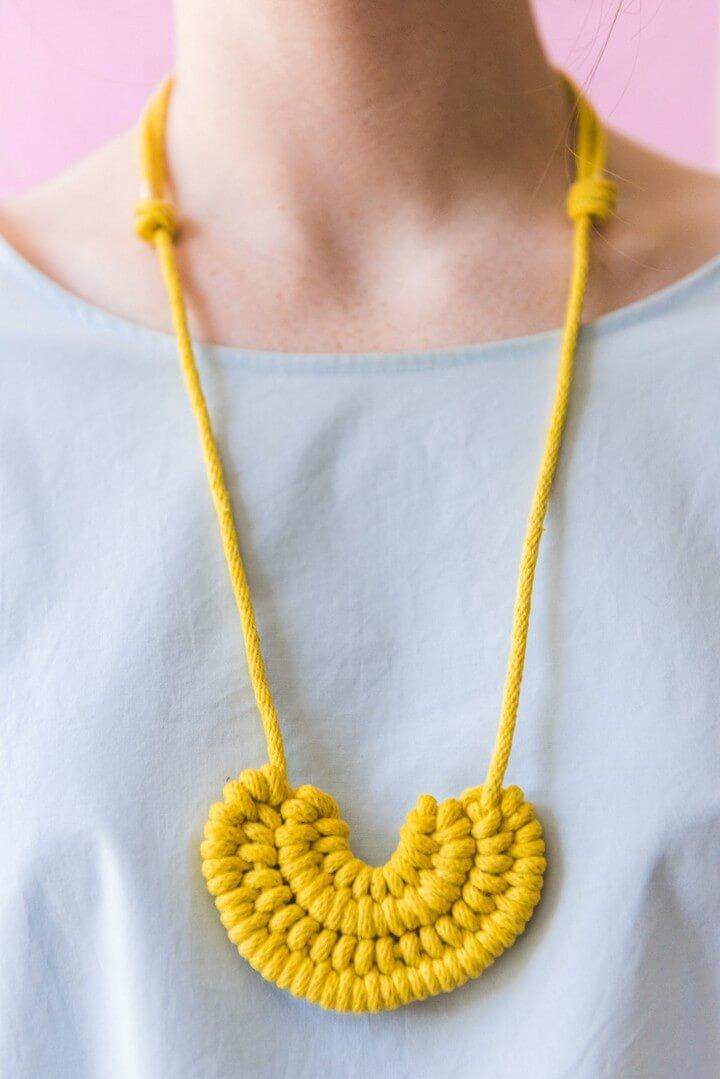 Here is this super cute and fun looking DIY knot necklace to be a part of your summer fashion this time. Using a rope and your knotting skills you are super easy and quick to make this lovely necklace. You need to start knotting up until you are done with the semi-circle and then dye the necklace using RIT dye in your favorite color.
Image: thehousethatlarsbuilt
Fishbone Earrings

: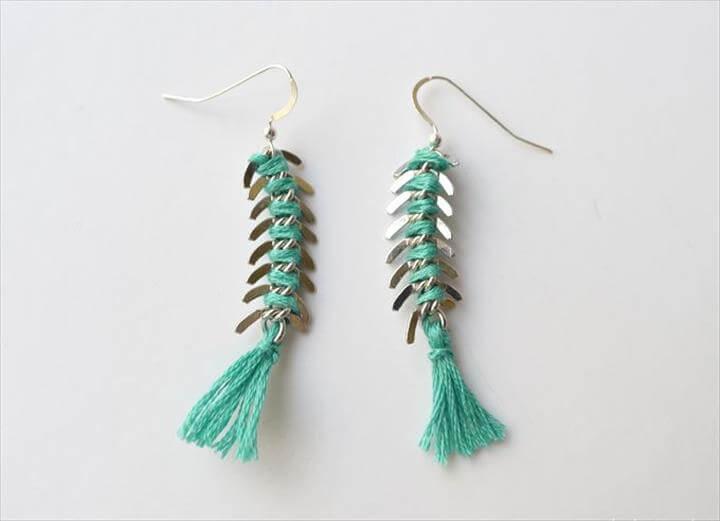 These fishbone earrings are the prettiest ones and also the quirkiest ones to make your teenage girls. They are super easy and quick to make once you have gathered the supplies. So get your hands on a fishbone chain, colorful embroidery yarn, jewelry hooks, and the pliers. Check out the rest of the details right on the link here!
Image: diyselfy.blogspot
 Giant Gem Rings

: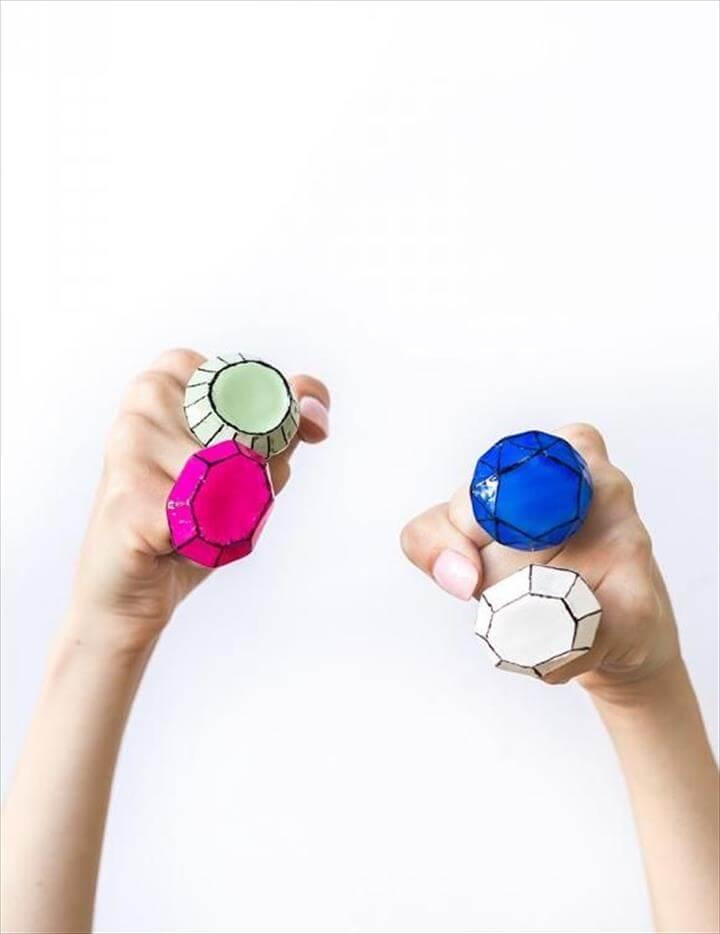 The boho jewelry lovers really like the pretty giant size rings and now you can make some on your own at home. Here is the easy and fun bunch of the giant gem rings to make easily at home. You would need a gem ice tray with multiple shapes and designs to make these rings with the hot glue, nail polish, and the nail art pen. These giant gem rings in bold hues are really going to add a lot to your summer styled look.
Image: studiodiy
Paper Quilled Rose

Earrings: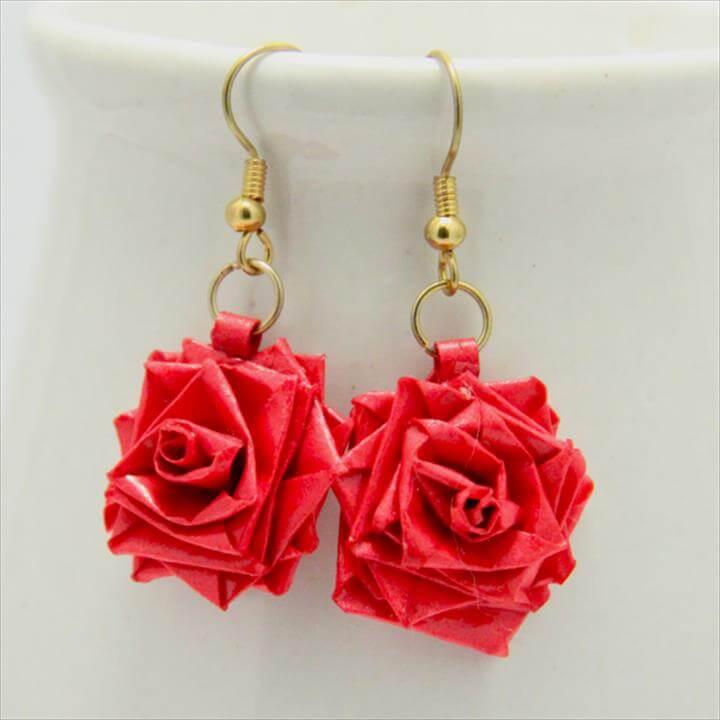 If you love doing paper crafts then you are surely going to fall in love with these paper quilled rose earrings. You need paper strips in red and the quilling tool with some glue to shape up these gorgeous roses. Add earring hooks to these paper roses and you have the best earrings to flaunt on a nice summer day. Catch the details of the idea here!
Image: honeysquilling
Themed Hair Pins With Polymer Clay: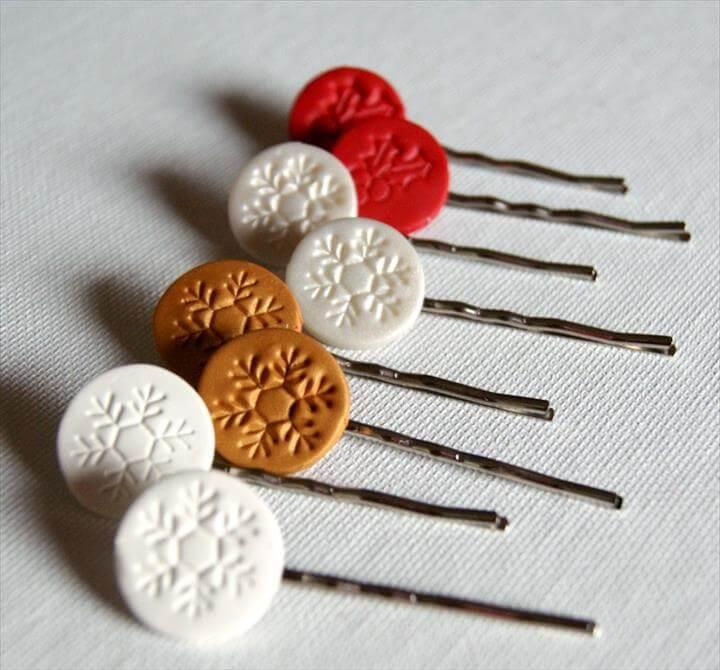 Make your baby girls the most adorable hairpins for the Holidays with these themed hairpins with polymer clay. The round-shaped clay hairpins are made in multiple colors and then stamp them with the Holiday theme stamps to look just so cute and fun. These would make the prettiest gifts for the little girls around you too. Know more here!
Image: happyhourprojects
Chain Wrapped Stone Necklace

: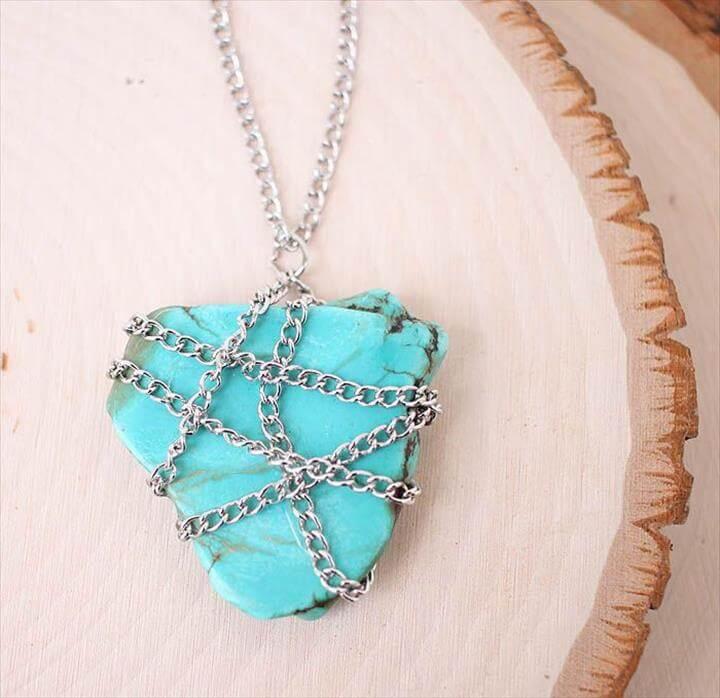 Make this gorgeous chain wrapped stone necklace for your rich summer styling. You need basic jewelry making things like pliers, jewelry clasps, pliers, and the colorful piece of gemstone and the chain. Also, there would be a need for the glue to let the chain strongly stick to the stone. Follow the details here!
Image: gina-michele
Beaded Bib: DIY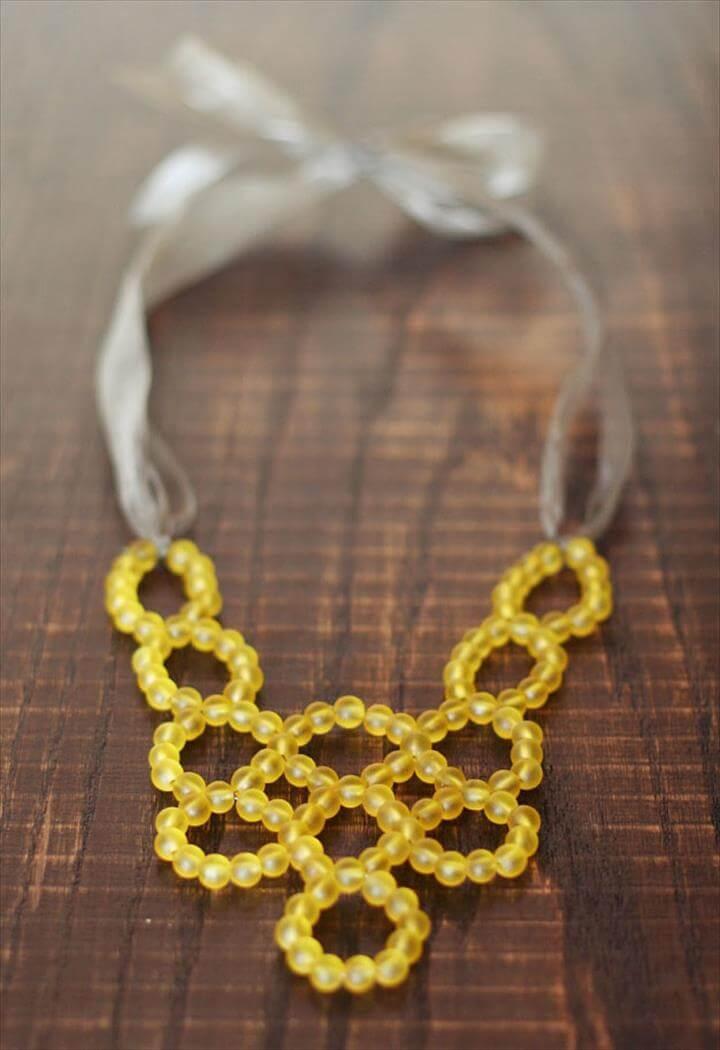 Look stylish and chic this summer with some fun and handmade jewelry items like this beaded bib DIY necklace. The necklace is made out of the gorgeous yellow round beads, nylon-coated wires, metal crimps, pliers, and the ribbon. The bib-style really adds to the boho appeal of this necklace. Check out the details here!
Image: nestledblog.blogspot.com.br
DIY Sea Pottery Necklace with Adjustable Sliding Cord: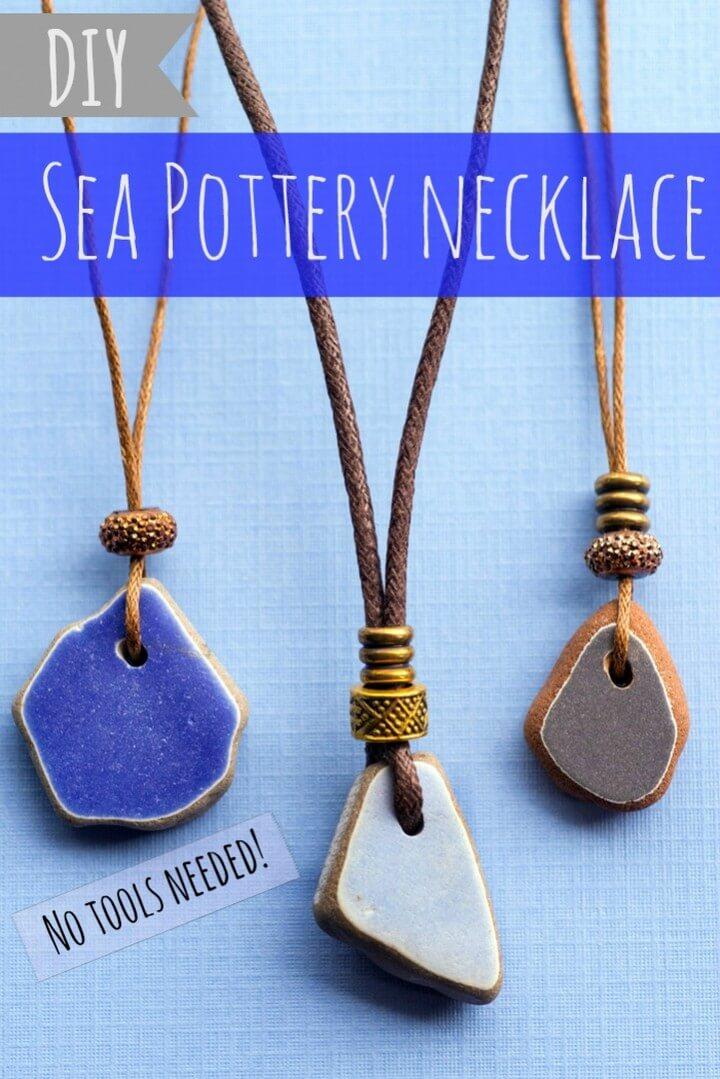 Get yourself ready for the beach with these DIY sea pottery necklaces with adjustable sliding cords. You need only three things to make this nautical themed DIY sea pottery necklace. So get your hands on the sea pottery pieces, leather cords and the golden beads and rings to easily shape up this necklace in just a few minutes. These would make great gifts for your favorite girls too.
Image: intimateweddings
DIY Glitter Vinyl Tube Bracelets Tutorial: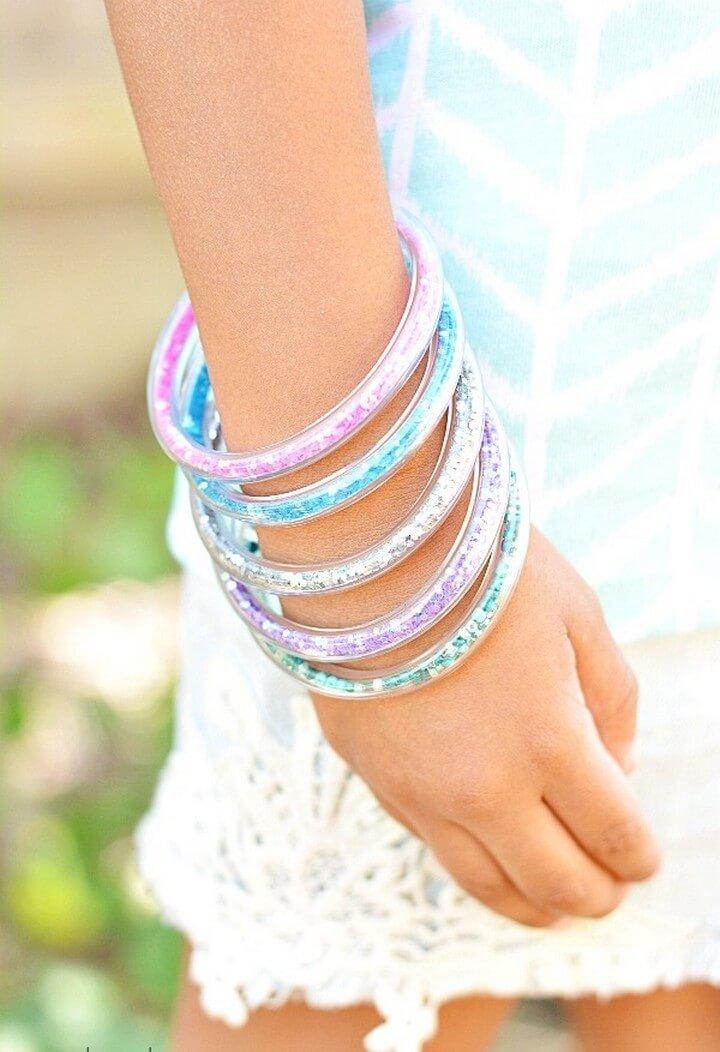 The young girls in your family are going to love these DIY glitter vinyl tube bracelets that you can easily make for them at home. You need clear PVC vinyl tubing, glitter, and glue to make these lovely bracelets. The tools that you would be in need are the tape, glitter funnel, and scissors. You can get your hands on the easy and fun details right here!
Image: apumpkinandaprincess
Beaded Barefoot Sandals – Summer Beaded Barefoot Sandals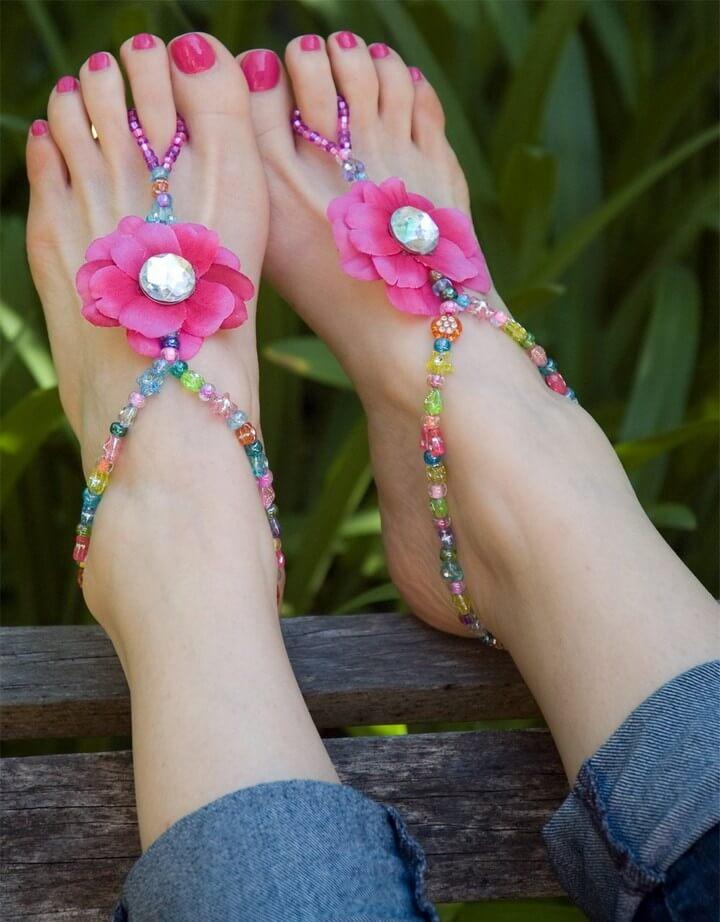 It's time to give your feet the best feeling with these amazing handmade beaded barefoot sandals. These lovely and colorful sandals are best to wear when you are up for a pool or beach party. You need a bunch of colorful beads, gems and the acrylic gems, clear nail polish, and some other basic tools. Follow the tutorial right on the link here to make these lovely sandals. You can make them for your little girls too.
Image: runningwithsisters
Copper Wire Rose Ring

: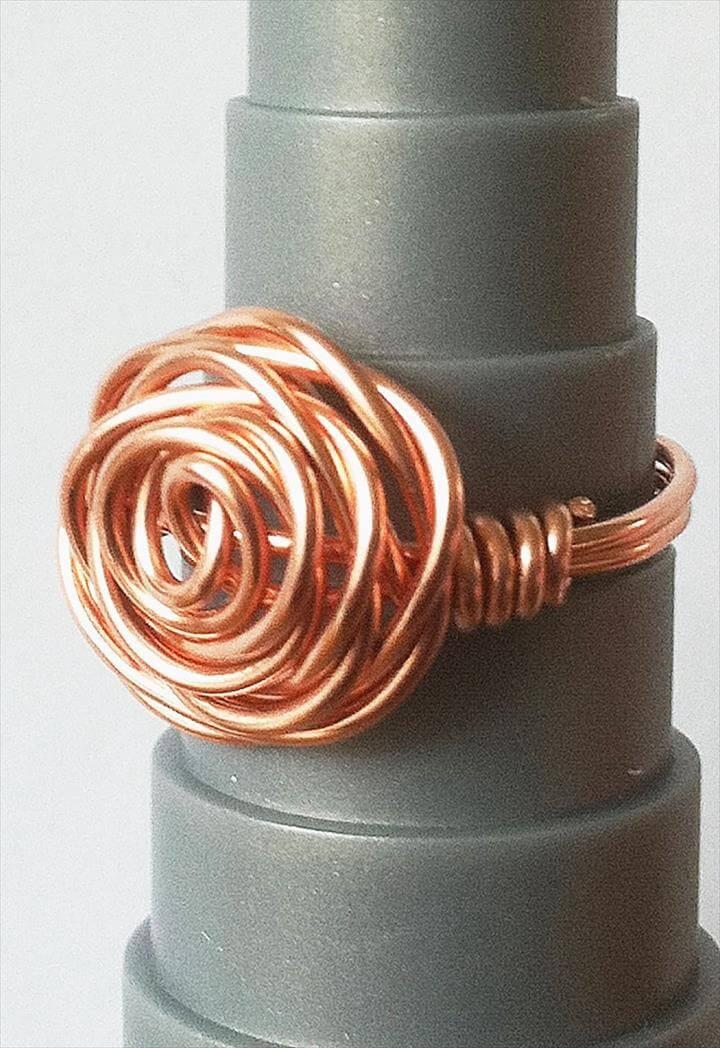 Make yourself look the gorgeous and stylish with your handmade jewelry items just like this pretty copper wire rose ring.  You would need copper wire and the jewelry pliers to shape up this lovely copper wire rose ring.  You just need to twist up the wire with the pliers in rounds to make the pretty and custom size rose ring. Check out the details here!
Image: blueforestjewellery.blogspot
Spring Charm Bracelet

: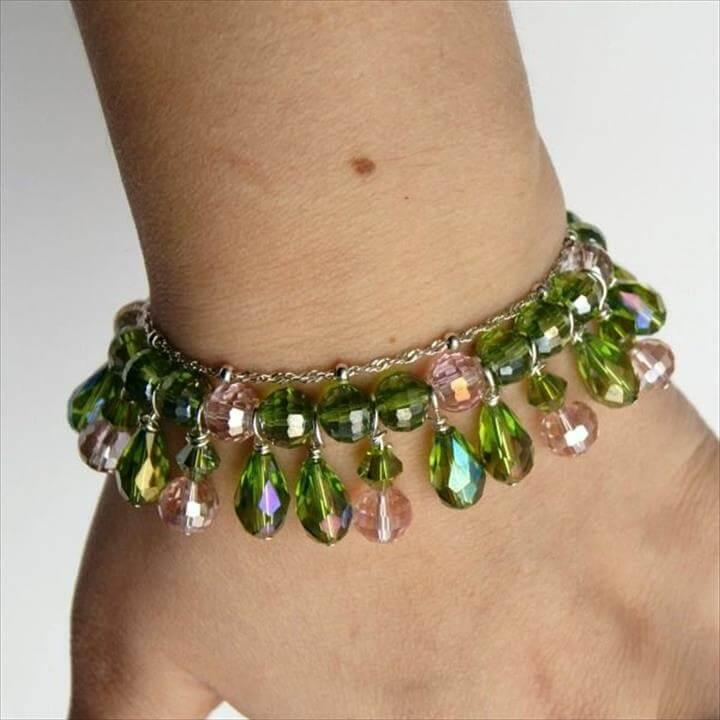 Welcome spring in the house with this spring-themed charm bracelet in your arm. You need spring-themed beads in peach and green colors, jewelry cord, headpins, pliers, and the wire cutters. You can check out the easy and fun looking tutorial of this spring charm bracelet here to make some on your own. These would make great gift ideas too.
Image: happyhourprojects
Fairy Tale Bracelet

: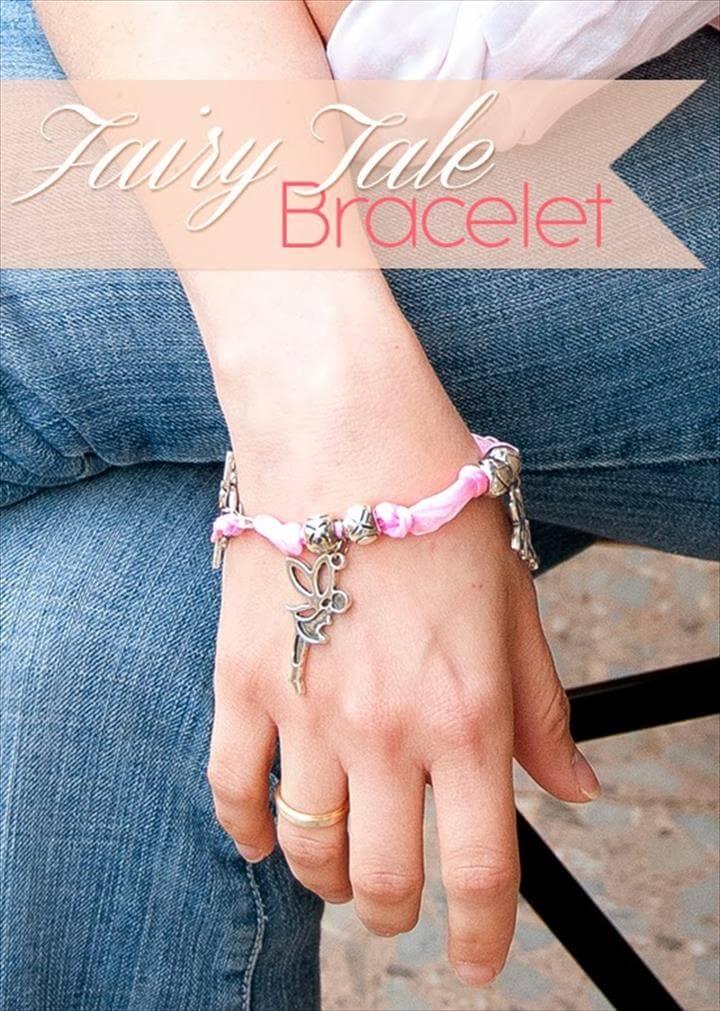 These fairy tale bracelets are the cutest in this collection and are super easy to make too. So get your hands on the pink ribbon, silver beads and the fairy charms to make these super adorable and pretty bracelets. You can make them for your girls and they would love them to the core. Check out the details here!
Image: titicrafty
Layered Bracelet Design: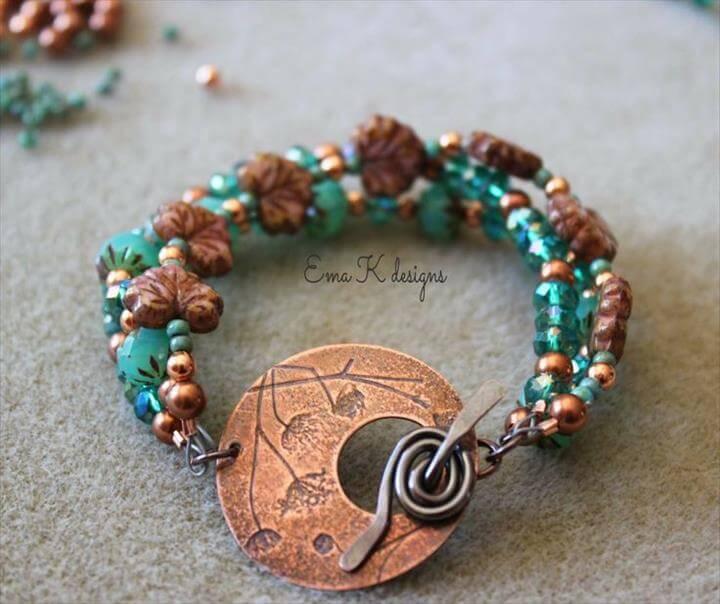 If there is a hippie style lover in your house then they are going to love this handmade gift of the layered bracelet design. You need a big list of the things to make this super chic and utterly boho looking bracelet design. There are copper clasps, round seed beads, glass rondelles, glass leaves, and more. Catch the details here!
Image: artbeadscene.blogspot
Raw Stone Earrings

: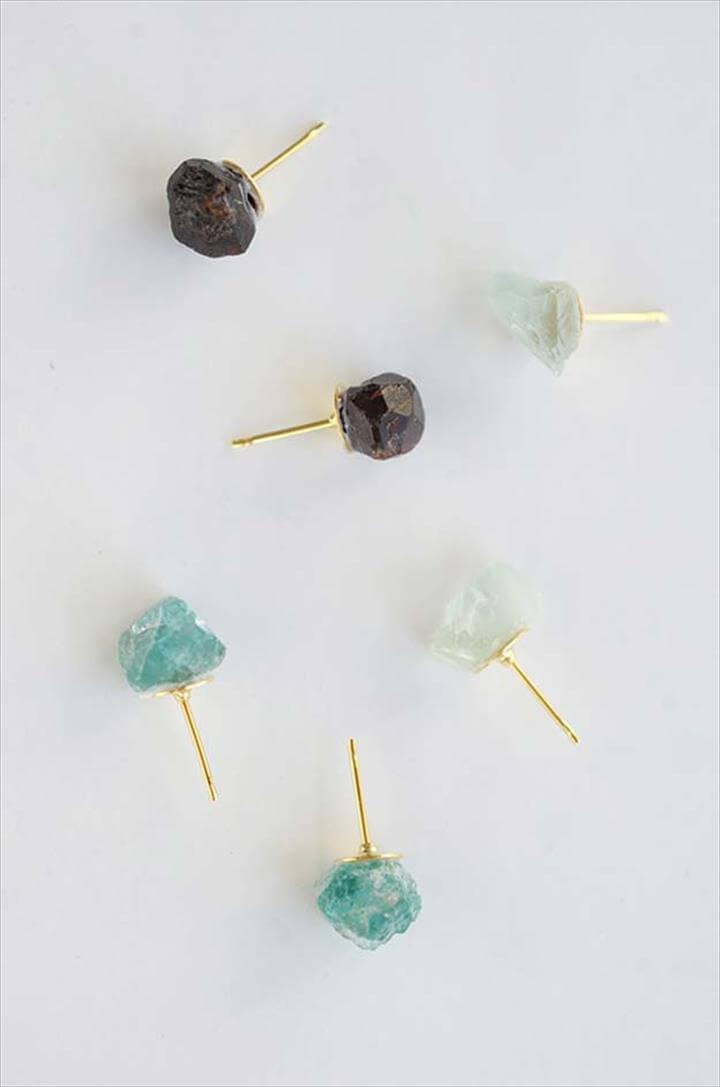 Make these super gorgeous and totally elegant pairs of the raw stone earrings for yourself and for your dear and near ones. You need small pieces of the raw stones and the gold studs along with the glue to make these adorable raw stone earrings. These would make the best gifts for the dear and near ones. Check out the details here!
Image: aliceandlois
Gemstone Wire Wrapped Bracelet: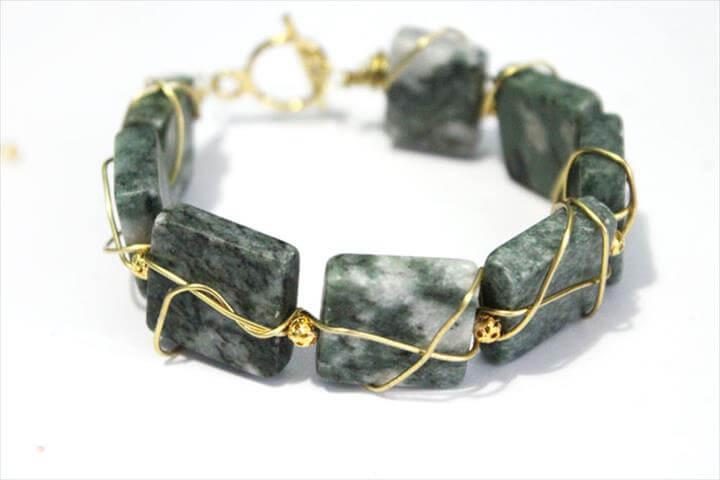 Stones make you feel near nature and these gemstone wire wrapped bracelets are the best things to make for this summer. The gorgeous grey square-shaped flat beads or gemstones have been put together with the help of the wire gauge to make the perfect bracelet. Also, you would need pliers and clasps to complete your pretty nature-inspired bracelet.
Image: momsandcrafters
Wire Wrapped Rings – Golden Stone Ring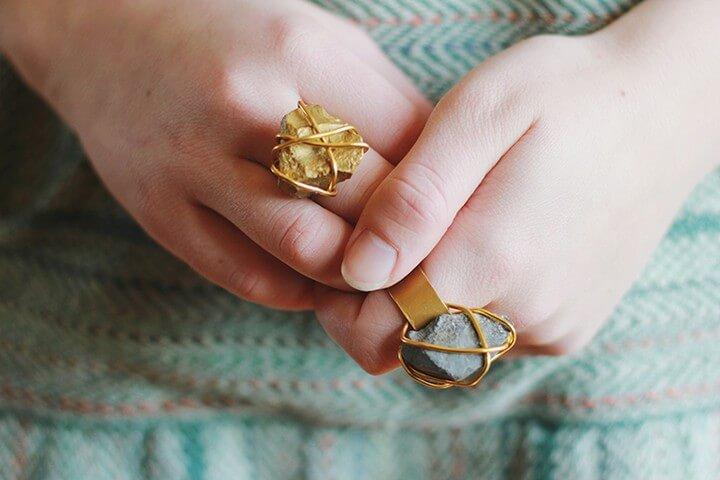 Make this lovely wire wrapped rings to make the most out of your crafty skills. The lovely ring is made out of the pretty golden stone, gold wire, and the plain gold ring band. Along with these lovely supplies, you would need regular jewelry making tools like wire cutters and pliers. These would make great gift ideas too.
Image: themerrythought
Silk Thread Jhumka Tutorial

: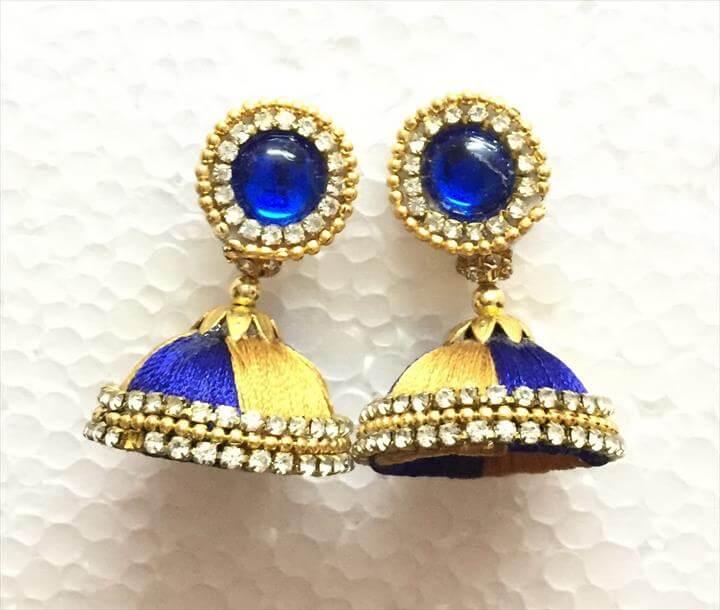 Now you can make yourself get ready for the festive to wear these lovely silk thread Indian styled thread jhumka. You would need the feasible number of supplies and tools to make these pretty and fun looking jhumkas. So get your hands on the canvass cloth, studs of your favorite color, rhinestone chain, golden seed bead chain, and the two-colored silk thread. Learn more with the video here!
Image: youtube