Crocheting a hat is the very first task that every crochet beginner gets his/her hand on. The hats are so easy and simple to crochet on your own and here are these 10 Crochet Cap Free Pattern to lift up your crochet game with. No matter who needs a beanie in the house, these crochet patterns have hats for all. A covered head is the basic winter need and these cute crochet beanie hats would warm you up in style. Simple beanies, beanies with two yarn hues and the beanies with pom-poms are all here to cope up with your crochet hat desires.
The simple and cute beanie hats are to be made for the regular winter days and you can enjoy some twist up hats for the Holiday season too. For example, there are unicorn hats for your kids to enjoy warmly on the fall days and also the pretty pumpkin hat to suit the Holiday season. Also, there are some patterns for teenage boys and girls to look stylish and cool in. Each beanie pattern has its details of supplies and materials attached so that you can easily work them up on your own at home.
You May Also Like:
Crocheted Baby Hat: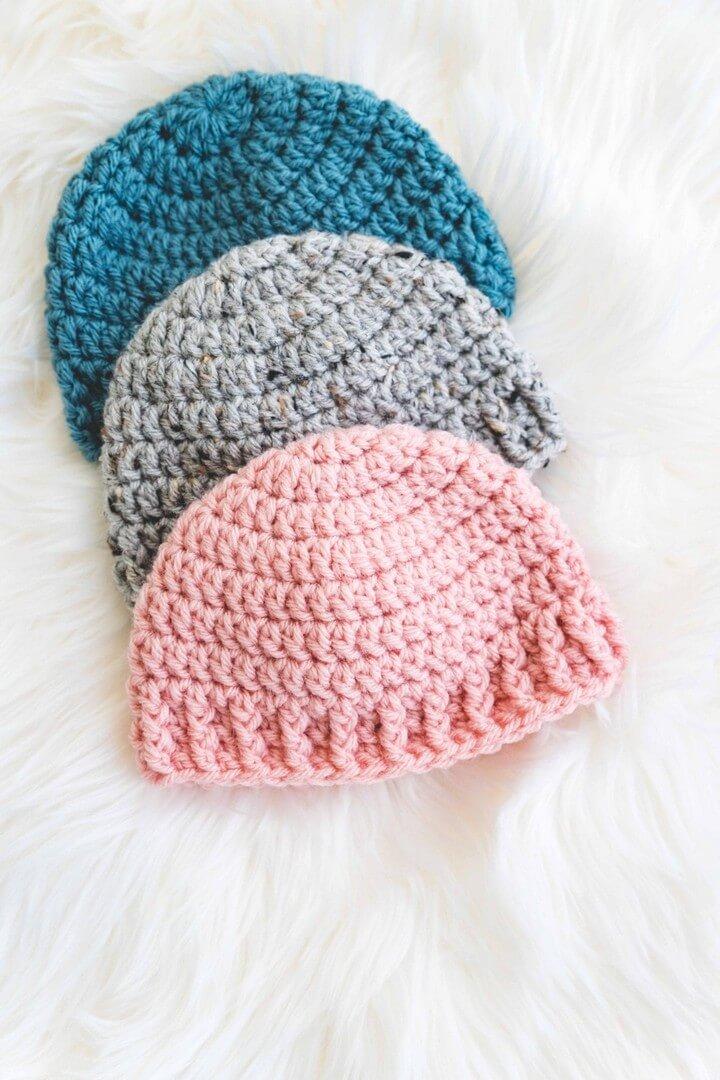 Get your baby winter ready with this simple and purely cute crochet baby hat pattern. These are like the easiest and the simplest hats to get your crochet hooks on. You can make one in just 30 minutes so it would not take much to prepare a bunch of these hats in your favorite colors.
Tutorial: youtube
One Hour Free Crochet Hat Pattern For Beginners: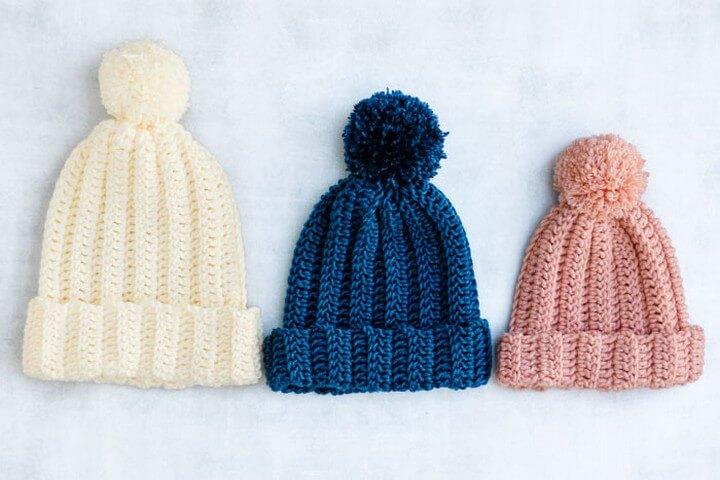 Do not worry if you do not have a beanie as you can crochet it up in an hour. Here is this one-hour free crochet hat pattern to be even by the beginners. Get your hands on an 8 mm hook and some lion brad wool of your favorite yarn shade. Free pattern here
Tutorial: makeanddocrew
Rapids Beanie Free Crochet Pattern: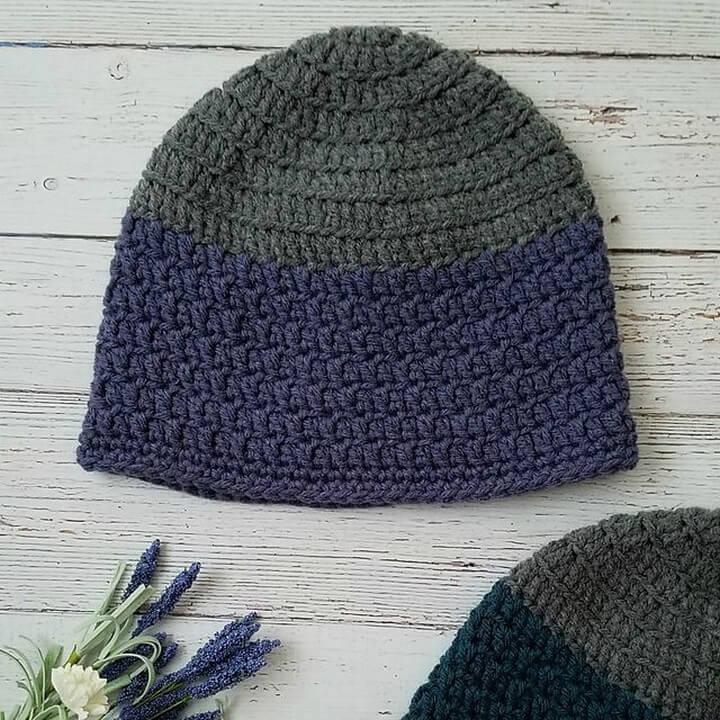 Beanies are like the custom crochet projects for the winters to make and enjoy an evening with fun. So here is this rapids beanie pattern which is perfect both for the men and women. With 5 mm hook and Bernat super value yarn in two shades, you can easily work it up. Details here
Tutorial: theunraveledmitten
Easy Crochet Hat Pattern For Toddlers Step By Step: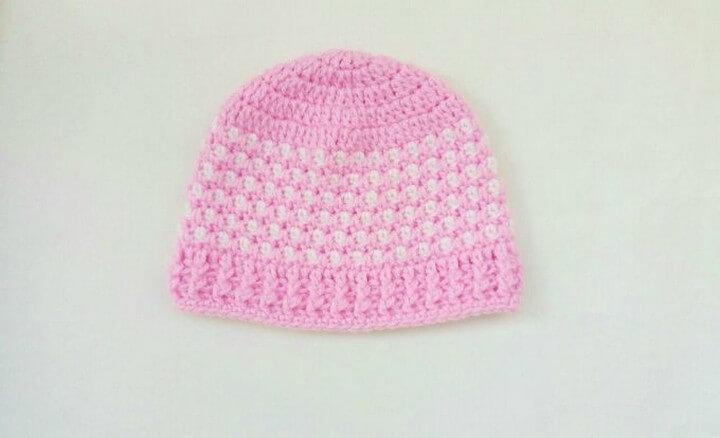 Here is a super cute beanie hat to make for your little ones and that too with two yarn hues. The hook required is 4.50 mm and the yarn can be either wool or cotton. The skill level is beginners so just gather up your supplies and start working up this pretty hat now.
Tutorial: soukainacollections
Basic Preemie Crochet Hat Free Pattern: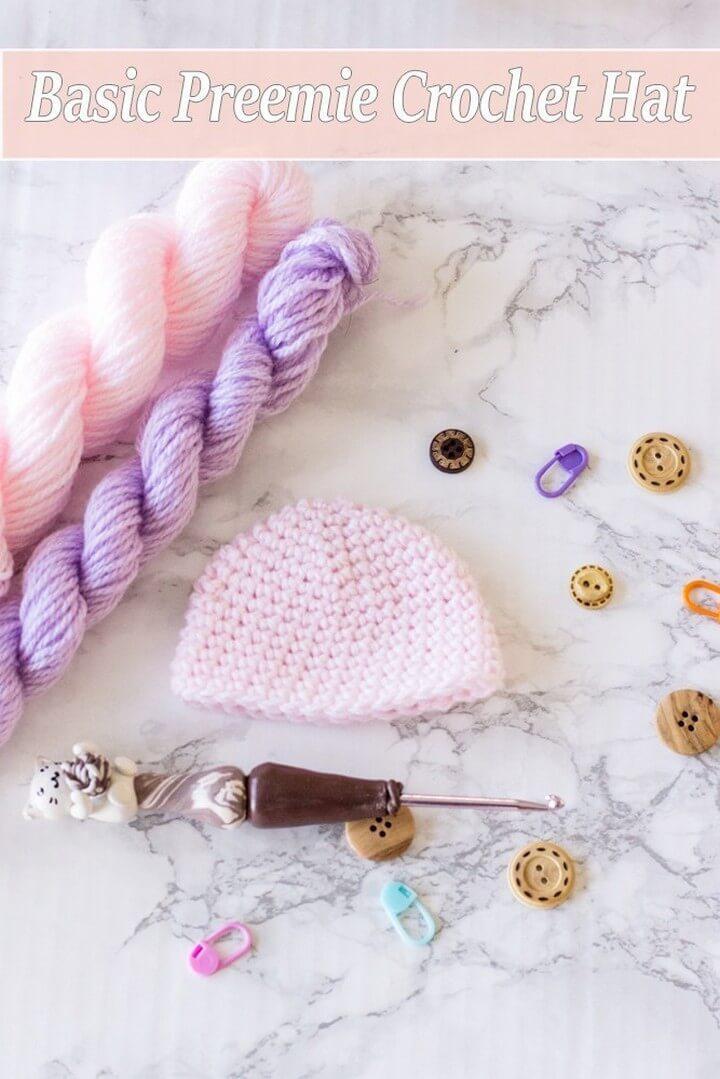 This thick in texture cute hat would provide your kids with extra warmth and beauty for the colder days. The pattern is easy enough for beginners too. With DK weight yarn and the hooks of 4.0 and 4.5 mm you can crochet up this preemie beanie hat in just minutes. Free pattern here
Tutorial: craftytuts
Easy Children's Hats – Free Crochet Pattern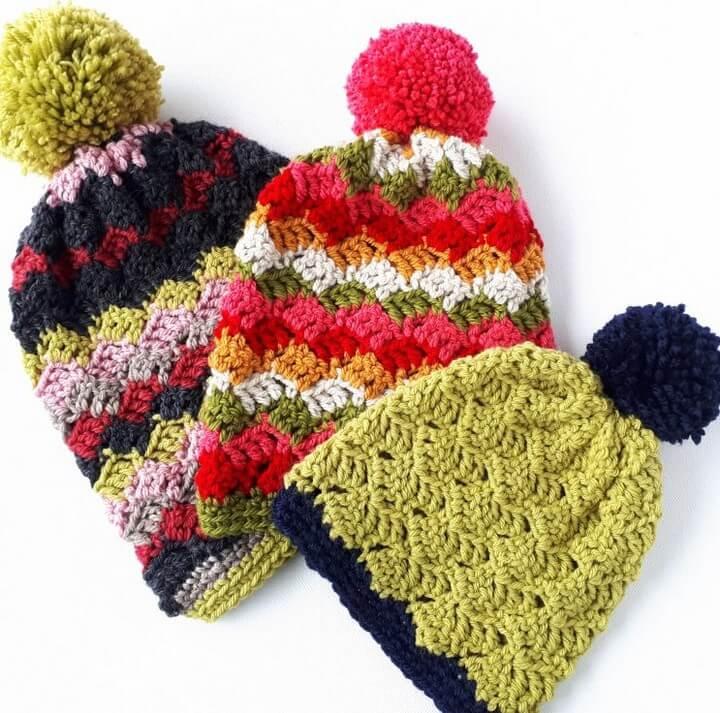 This cute and colorful hat pattern is perfect for all your kids that range from 0 months to 12-year-olds. The yarn is worsted weight yarn which makes the hats perfectly stretchy. The hooks needed are of 4.0 and 4.5 mm so check it out all there to work it up. Free pattern here
Tutorial: anniedesigncrochet
Easy Charity Crochet Beanie Hat – Free Pattern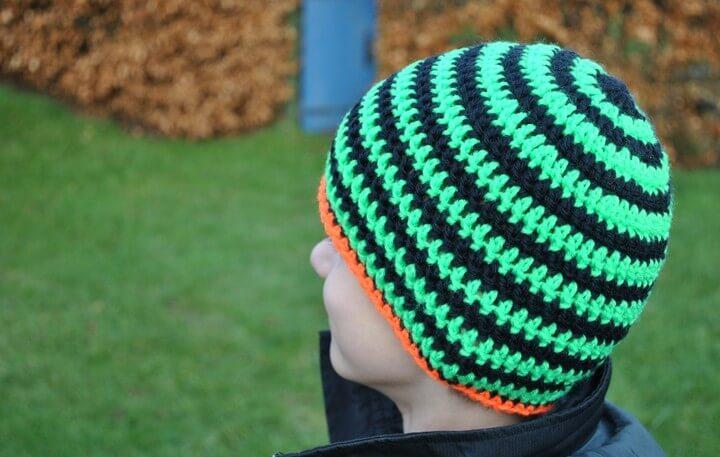 This gorgeously neon-bright crochet beanie hat is perfect for the charity to bring the smile on those little faces. The green and white yarn hues are of the UK weight yarn and the hook that would you use is 4.5mm. Using double and single crochet stitches you can easily get this lovely hat done.
Tutorial: wordpress
30 Minute Easy Chunky Crochet Beanie: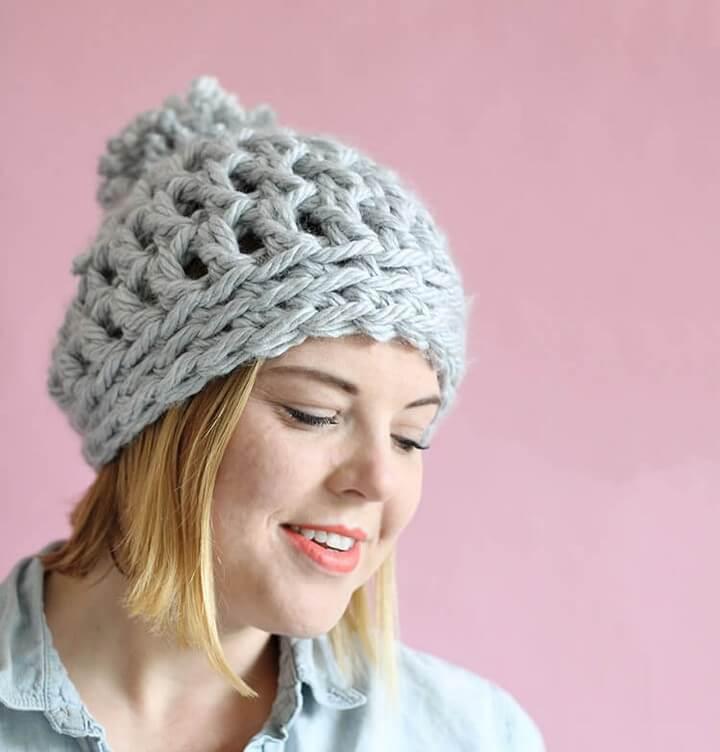 Keep your head warm and all stylish with this quirky 30 minute easy chunky crochet beanie hat. Every fashion girl would surely want to have this hat in her wardrobe. The yarn here is Bernat Megha bulky grey yarn and worked up with 19 mm hooks and for a tighter look use 16 mm hooks.
Tutorial: persialou
Free Unicorn Hat Crochet Pattern: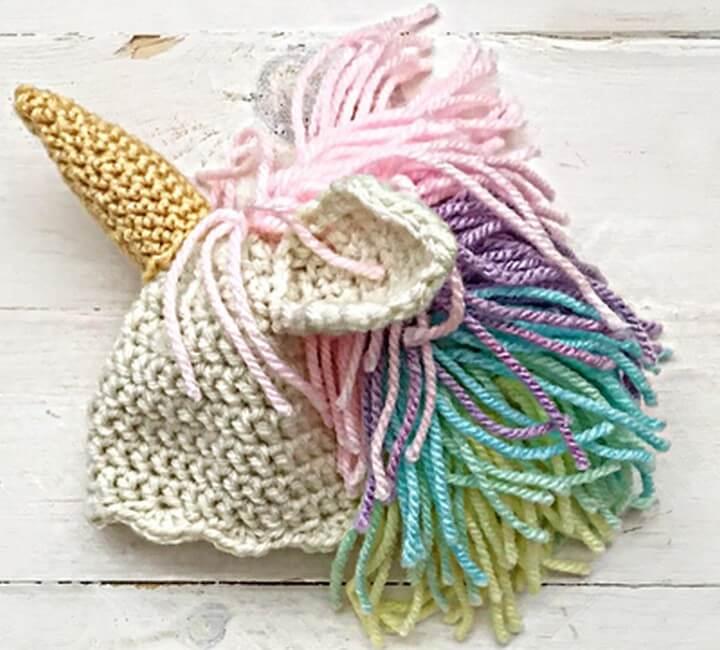 Make your little one look like a cute and whimsy unicorn with this free unicorn hat pattern. You need two size hooks of 5.0 mm and 5.5 mm to create this totally fancy hat for your kids. The white yarn for a basic hat, brown for horn and some colorful skeins would make the pretty rainbow hair.
Tutorial: lovableloops
Pumpkin Hat Free Crochet Patterns: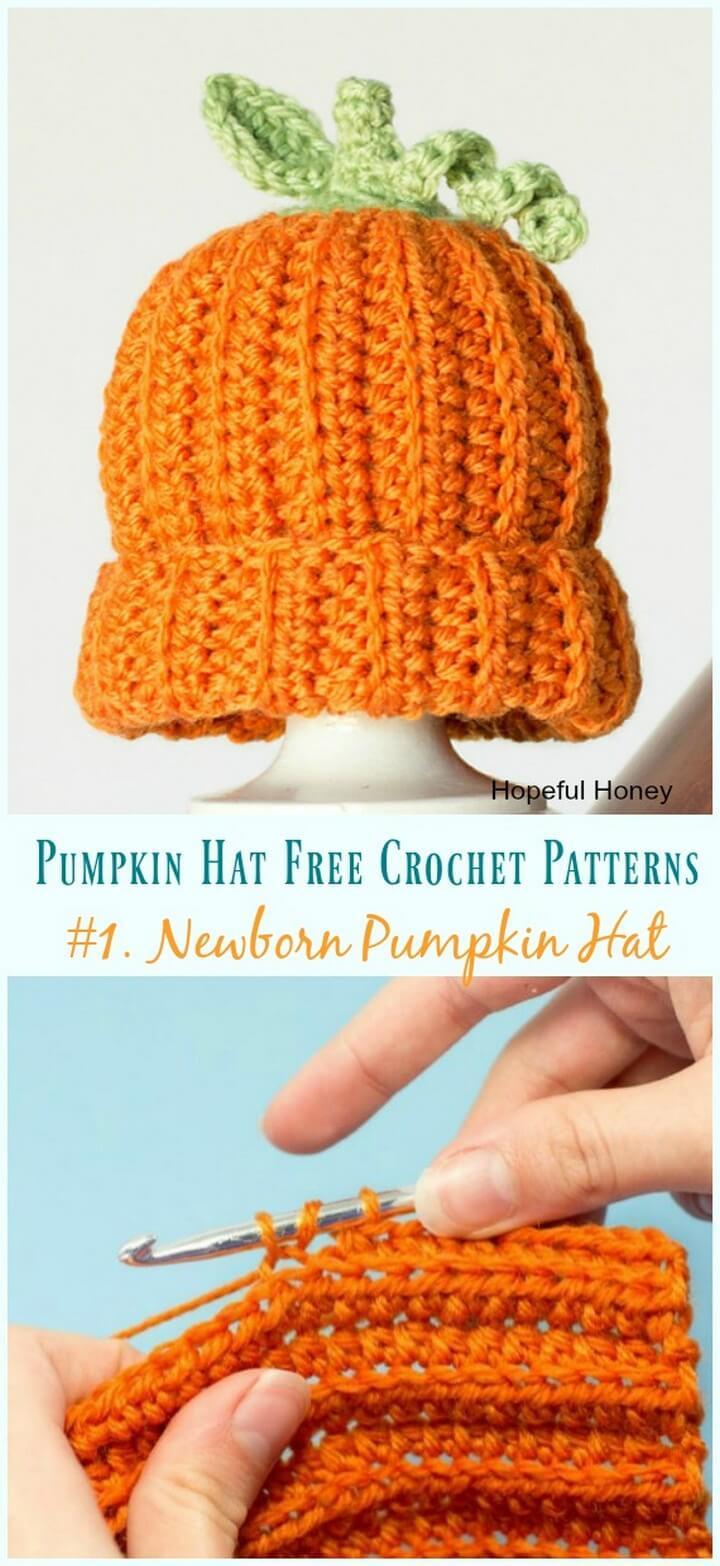 The pumpkin season is here and now you can make this pretty and super cute pumpkin hat for your little ones. You can crochet this pumpkin hat in 3 sizes from infant to your school going kids and they all would look adorable in it. Get some green and orange yarn to easily work it up here!
Tutorial: howtomakes