With our DIY wood pallet art ideas, you can bring life to your any inspirational ideas. You can make your walls look beautiful, turn your bedrooms, living rooms, or dining lively. With these easy to make and very inexpensive DIY rustic wood pallet art, you can literally bring your home to life.
You can have your favorite inspirational quotes hanged right above your bed or in your living room. You can start your day seeing something meaningful you crafted all by yourself. By having these rustic wood pallets, you can elevate your home decor. Why pay for something so expensive when you can simply do it yourself at home. All you are going to need for these DIY rustic wood pallet art is;
Wooden pallet
Paints
Paintbrushes
A saw or drill
Some wall hanging hooks
Scotch tape or duct tape
Measuring tape
Sanding block.
In case if you're using reclaimed wooden pallets, you might want to add sandpaper to this list. Utilizing sandpaper on a wooden pallet will make its surface smoother.
Hang in there, we're going to take you to witness some fantastic DIY wood pallet ideas.
How To Make DIY Reclaimed Wood Wall Art: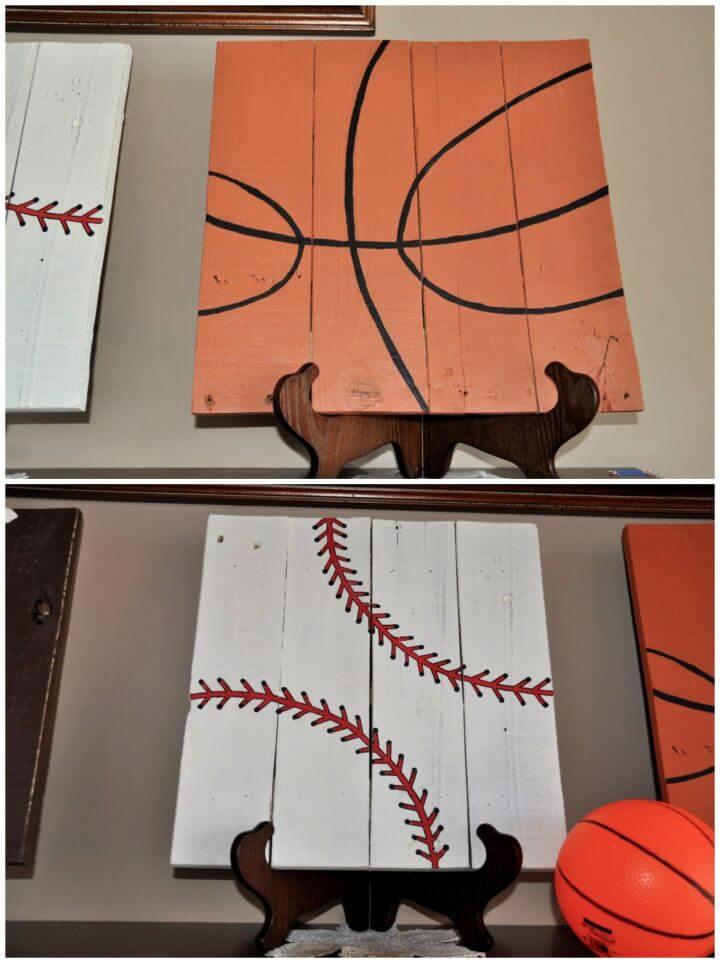 Are you a huge fan of sports or are you planning to re-do your little boy's room or throwing a themed party?
Adding these sports-themed wooden pallets to your buddy's room will keep him connected to his dream sports at all times.
Tutorial: shutthefrontdorr
Easy DIY Challenge_ Rustic Scrap Wood Pallet Art: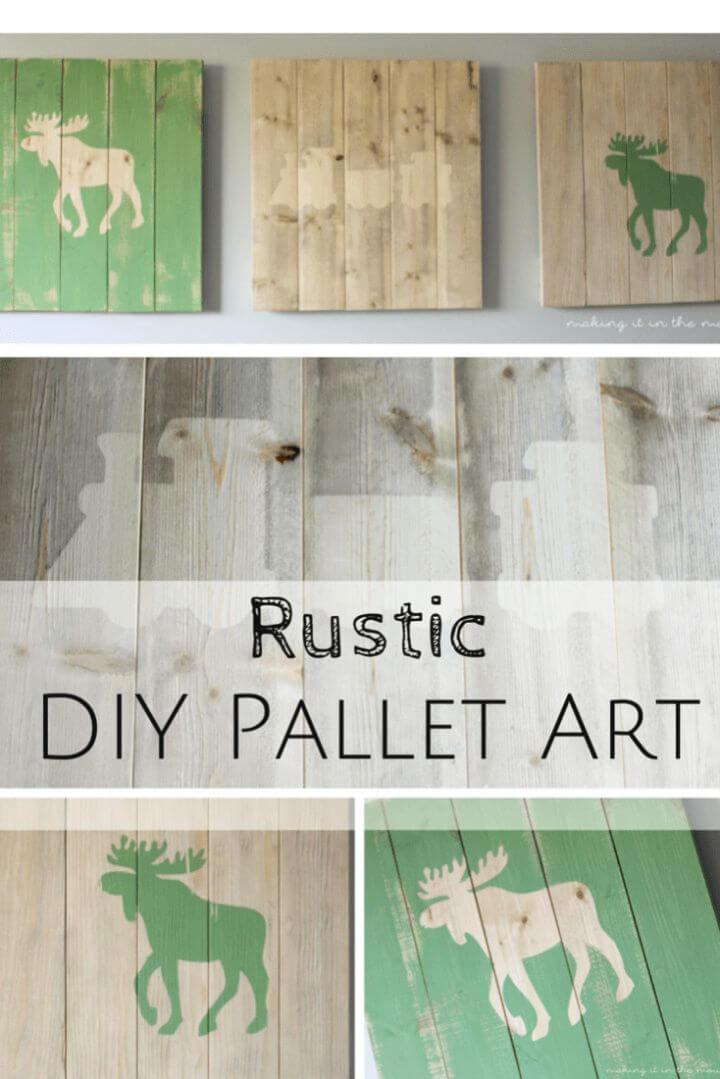 You can send these as beautiful and cozy Christmas gifts this year. By designing something at your hands, setting up different themes, you can make this even warmer.
Send them as gifts or set up beside the DIY tree.
Tutorial: makingitinthemountains
DIY Wood Pallet Sign Tutorial: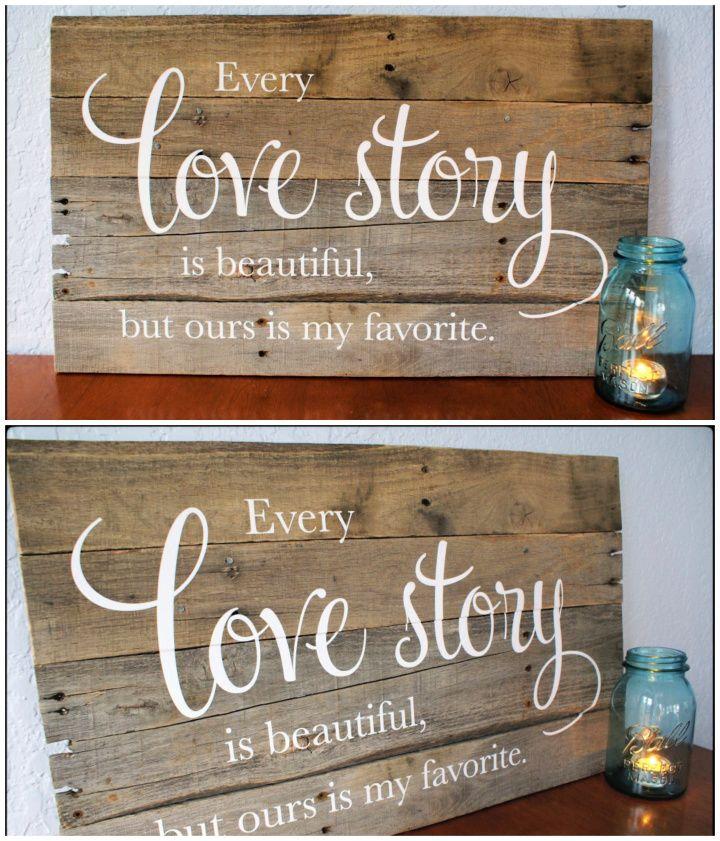 Can't decide the best gift for this valentine's day? Make it even special and memorable by crafting it by yourself. It's not just simple to make but adds even more love to your love story.
Tutorial: thinkingcloset
Make A DIY Pallet Wood Sign: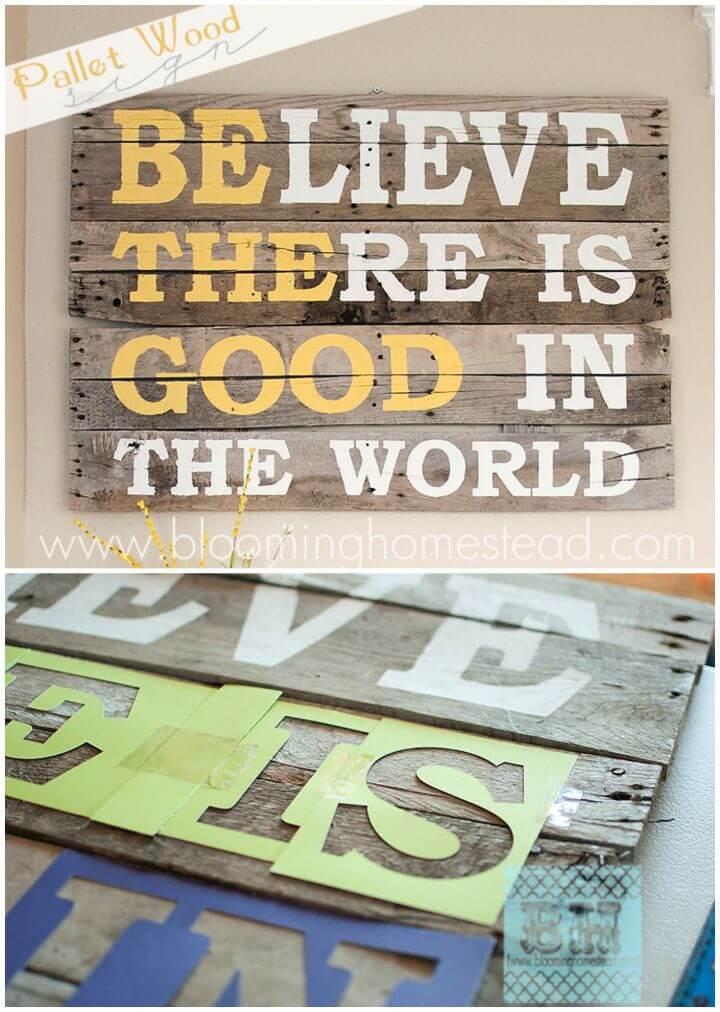 Are you a huge fan of Good vibes only? You can have this promising rustic wooden pallet art hanging over your bedroom door. So it's the first thing you see when you get up in the morning.
Tutorial: bloominghomestead
Make Your Own DIY Wood Pallet Arrow: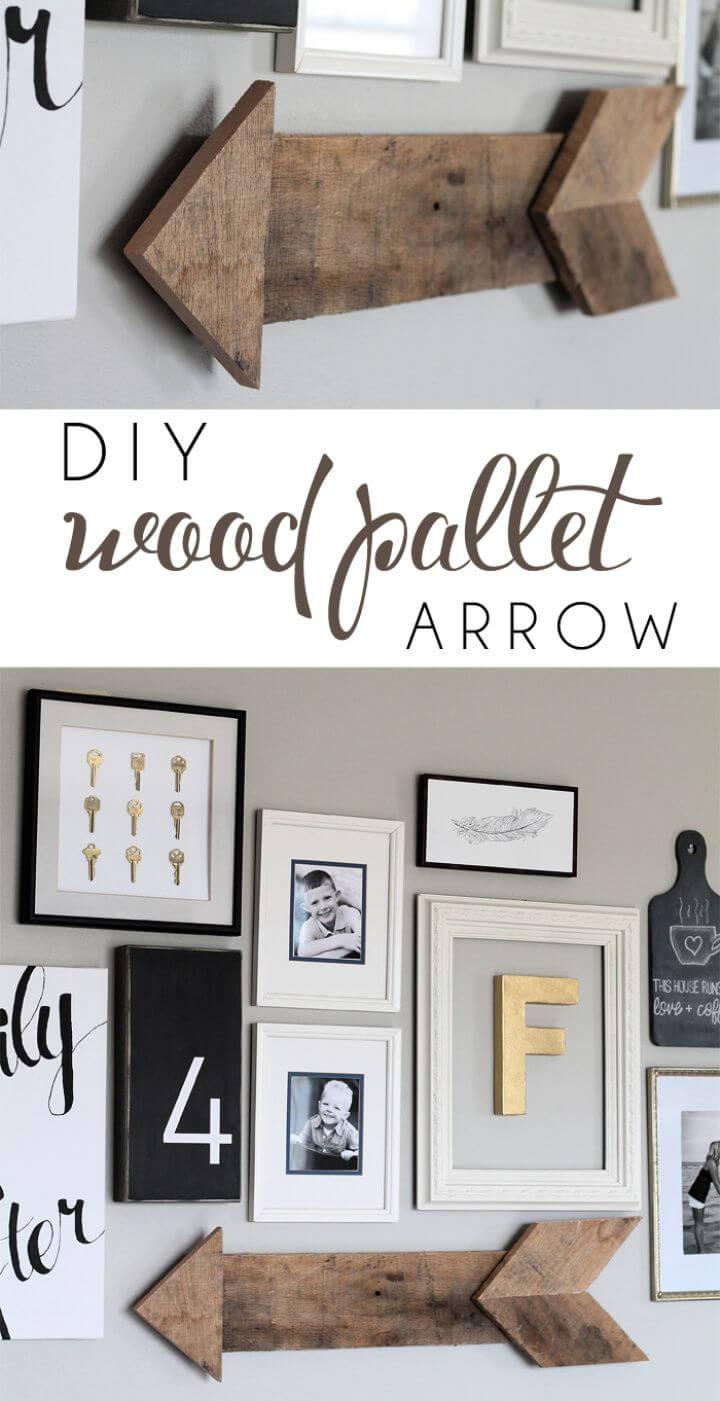 You can have this beautiful rustic wooden pallet arrow pointing to your favorite part or take from life on your gallery wall. This can add a very catchy and uniquely perfect look to your gallery wall.
Tutorial: lovegrowswild
Rustic Pallet Wood American Flag: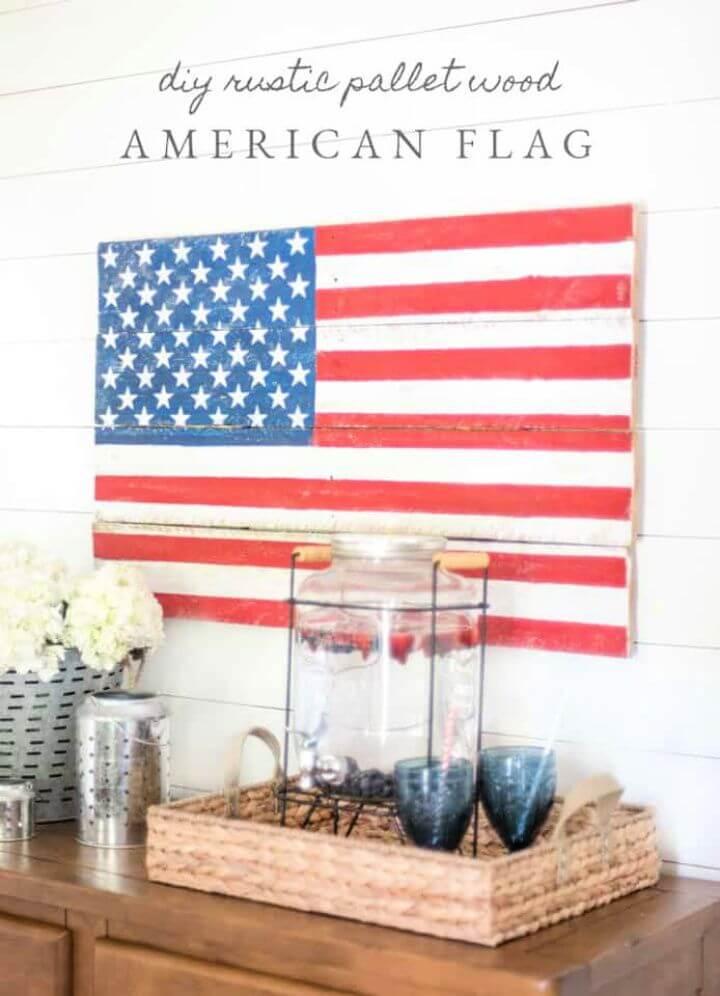 Paint and craft your patriotism with this DIY rustic wooden pallet art. All you'll need is a wooden pallet and paint, using these two easily available things you can have your patriotic wooden flag in your living room.
Tutorial: ninahendrick
Easy DIY Pallet Art Tutorial: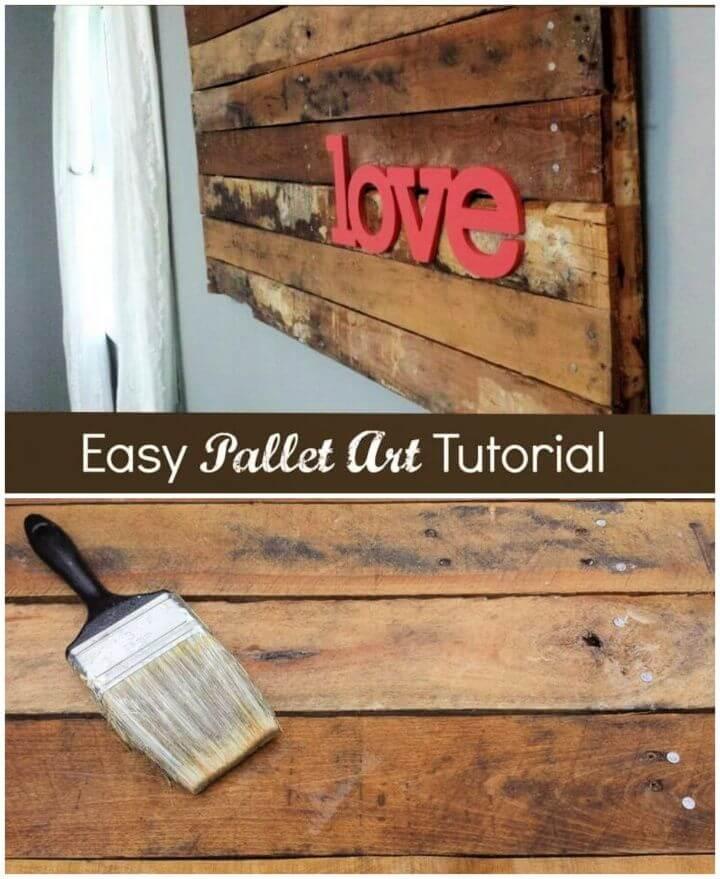 Keep it simple yet beautiful! You can hang this minimalist wooden art in your bedroom or living room. All you need is a wooden pallet, paint and carved out cardboard symbols or wooden symbols too. Simply, super glue them to the wooden pallet.
Tutorial: mommypotamus
DIY Rustic State Map Wall Art: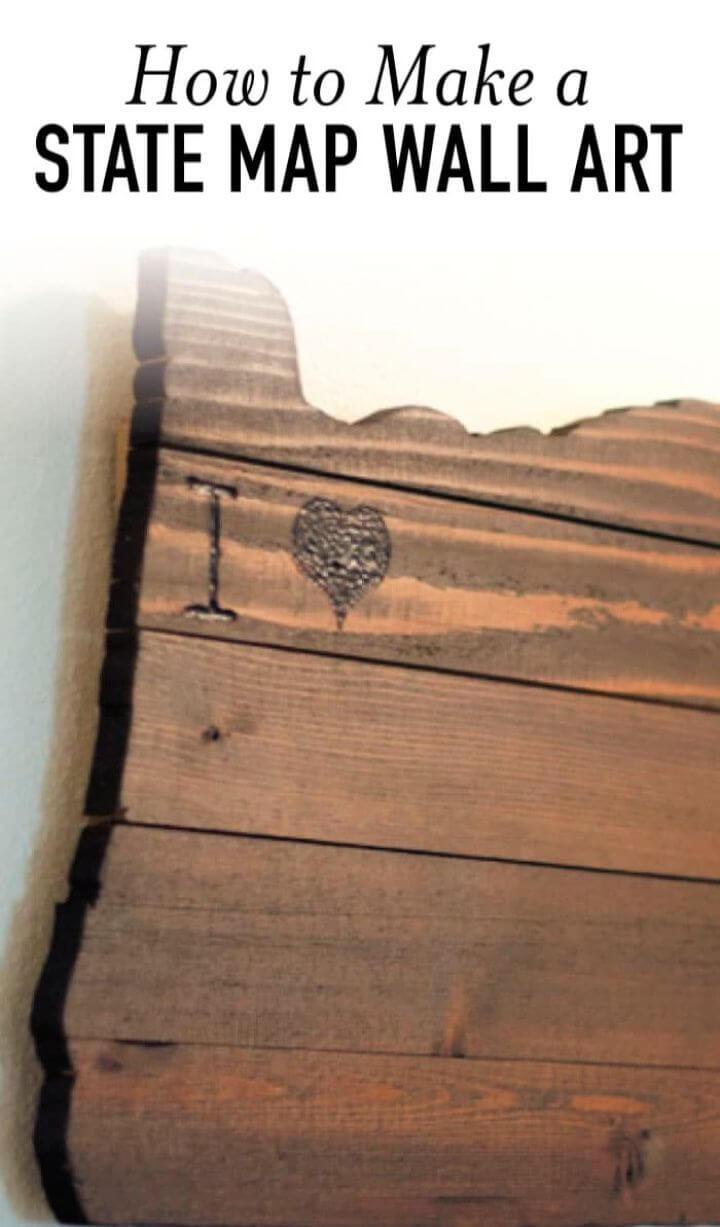 Away from your beautiful home state but want to keep its idea around you? You can easily craft out your home state's outline or map on a wooden pallet. You might as well just make it say out loud that you miss or love your state!
Tutorial: acraftedpassion
How To Build Your Own DIY Pallet Sign: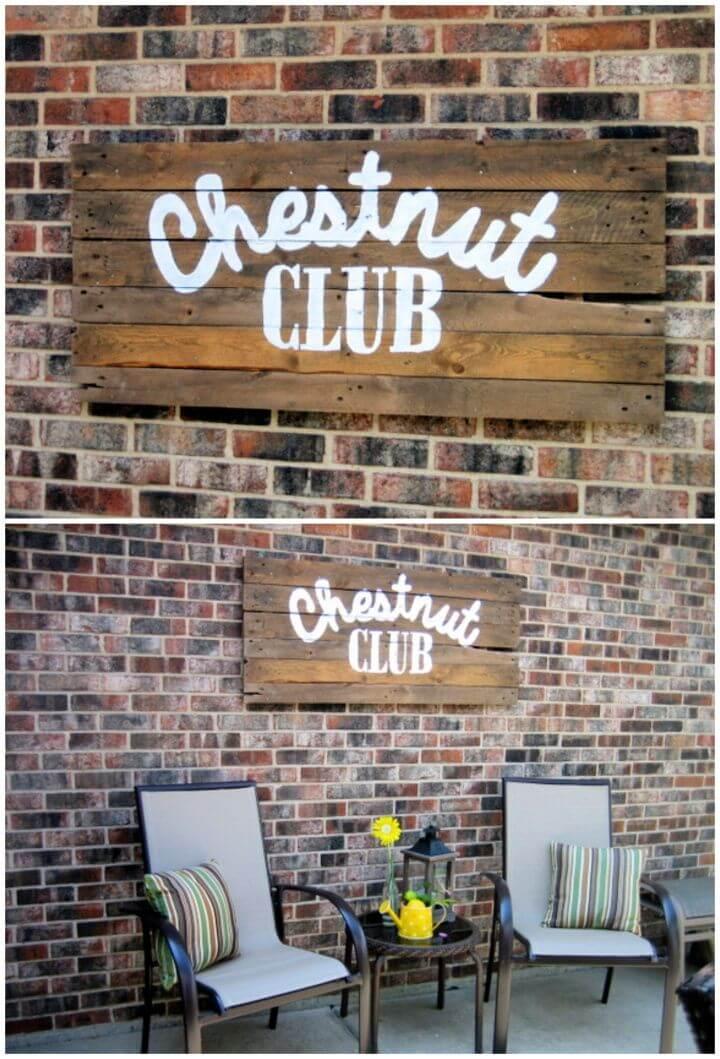 Design your own signboard by merely painting the words over a wooden pallet. Rustic wooden pallets add a minimalistic aura to their surroundings. People are getting more inspired by a cafe's decor each day. Make it look homey and meaningful.
Tutorial: thediyplaybook
Adorable DIY Wood Pallet Clock: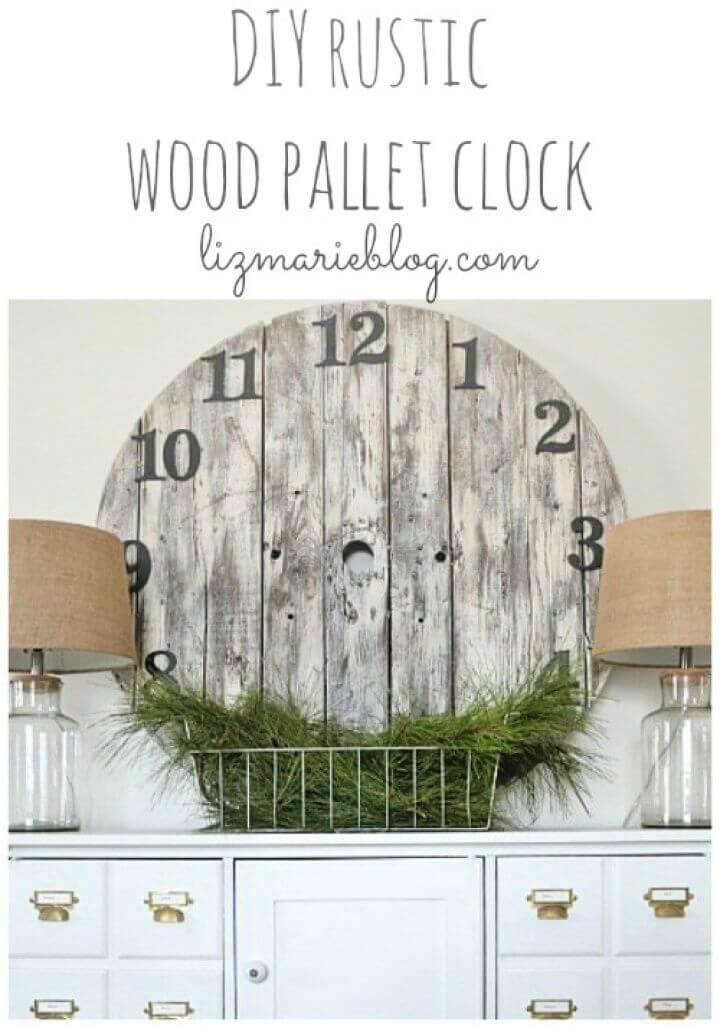 Why not have beautiful vintage and rustic wooden pallet clock added to your living room? You can simply superglue the numbers to the wooden pallet once you are done crafting and painting the clock. Even un-functional but it will add elegance to your decor.
Tutorial: lizmarieblog
Make A DIY Pallet Wood Clock With BIG Impact: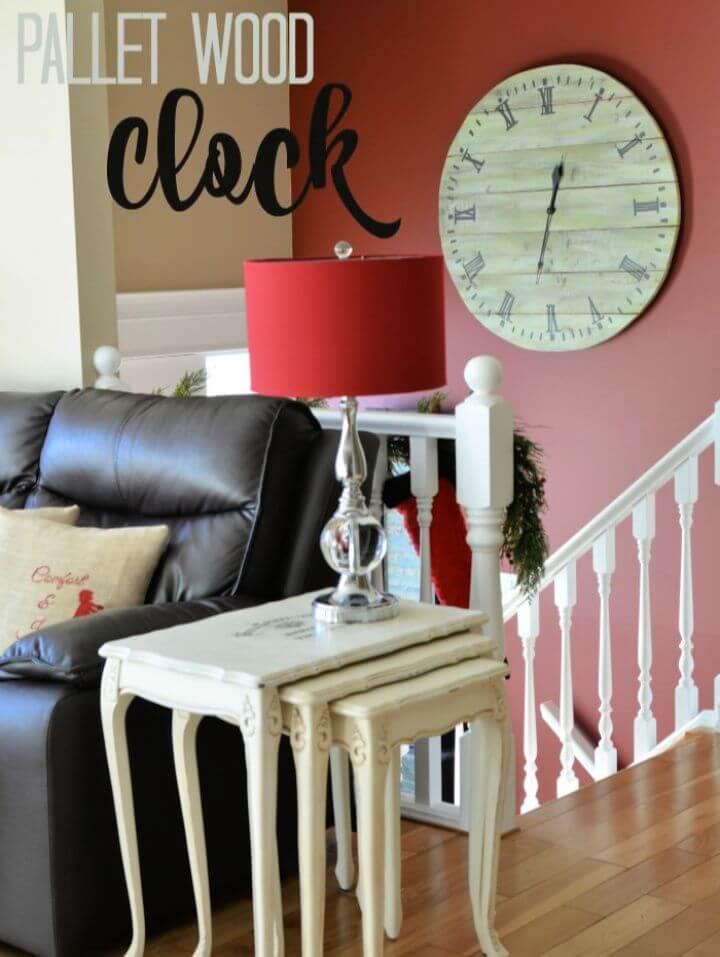 Imagine entering your house to a huge sized vintage clock. The bigger the clock, the more fascinating its impact will be. Simple to make and easy to make it functional too. You can superglue a clock mechanism to this beautiful design.
Tutorial: practicallyfunctional
Easier Way To Make DIY Pallet Art: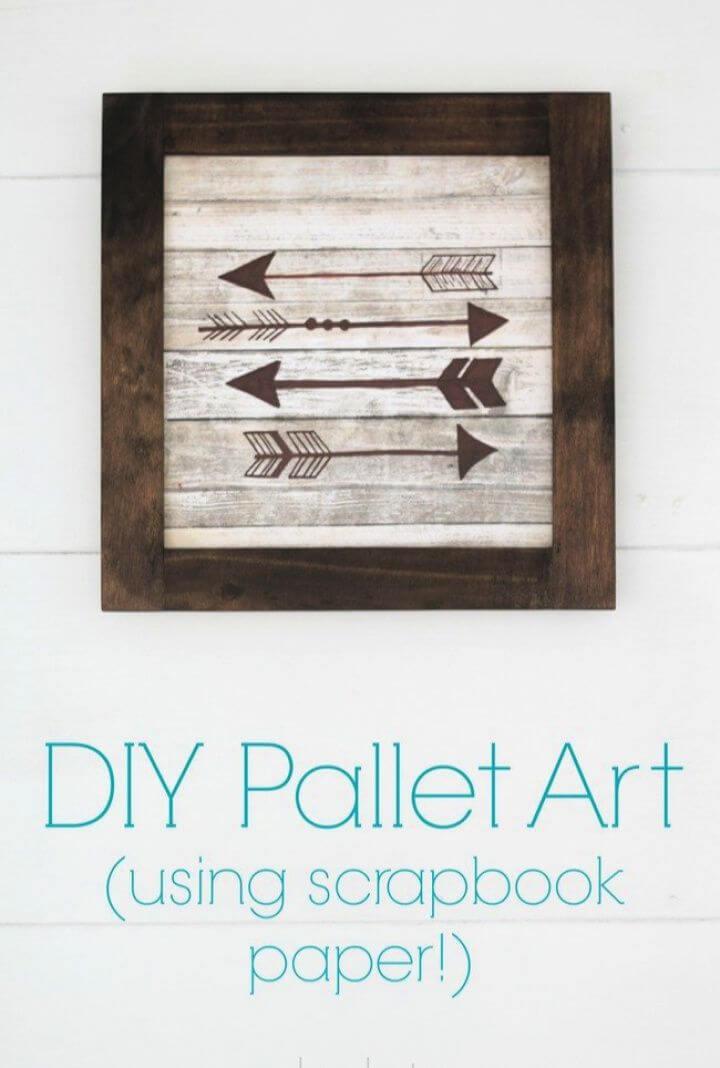 Simple and elegant wooden pallet arts add life to your decor. Add up a wooden print scrap book paper to your wooden pallet frame and make it look pointless beautiful. You can paint the design of your ideas or inspirations on this then.
Tutorial: lovelyetc
DIY Wall Art Pallet Design: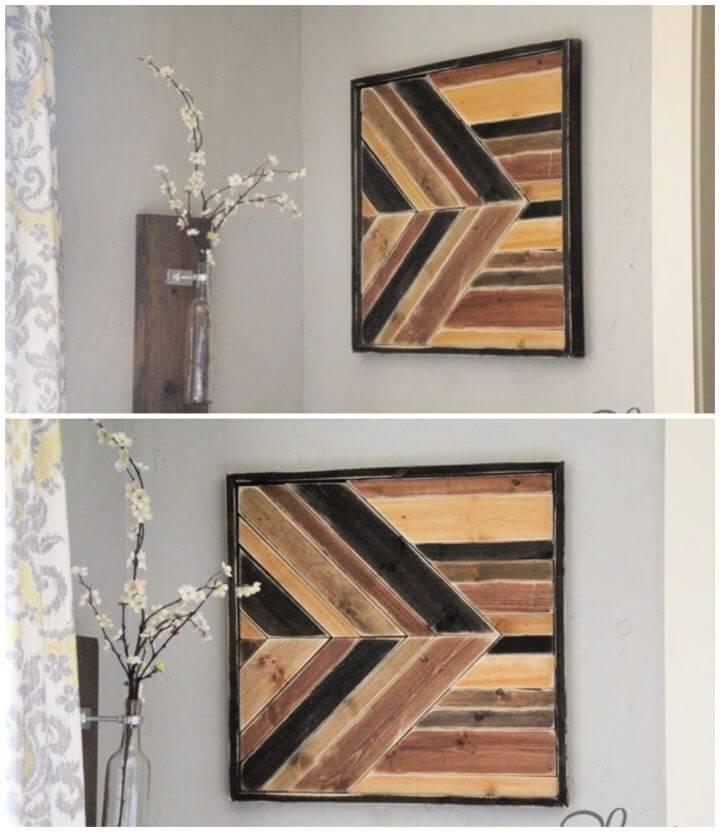 Trim the wooden pallet into any kind of art ideas you have. You can then super glue those trimmed parts to the wooden pallet. Cover them with paints to make the cuttings stand out. Hang around the corner, lighten up your decor.
Tutorial: shanty-2-chic
Easy DIY Anniversary Date Driftwood Sign: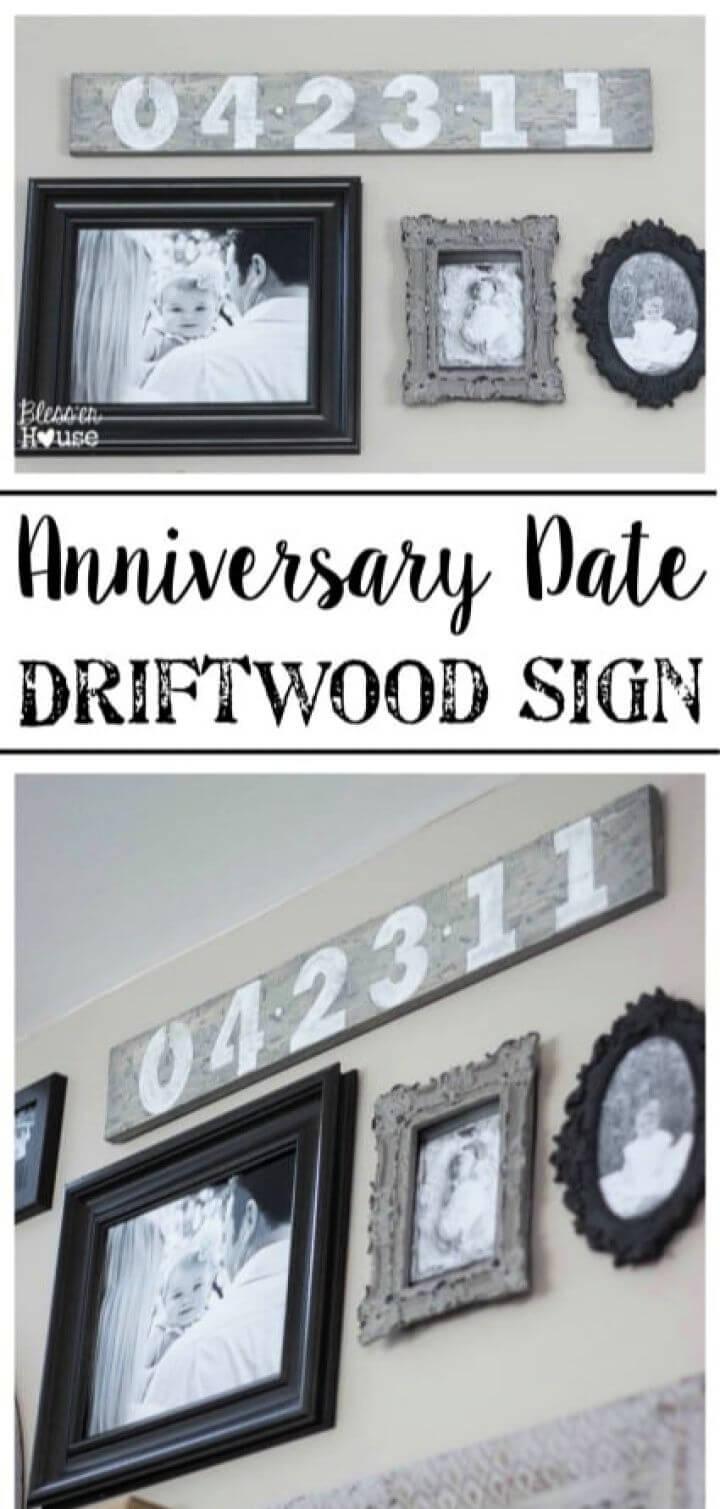 Make beautiful anniversary date signs with pallet wood and paints. You can set up a rustic wooden pallet and paint or super glue the anniversary dates on it. It will be a mesmerizing addition to your gallery wall!
Tutorial: blesserhouse
How To Reclaimed Wood Love Rope Sign: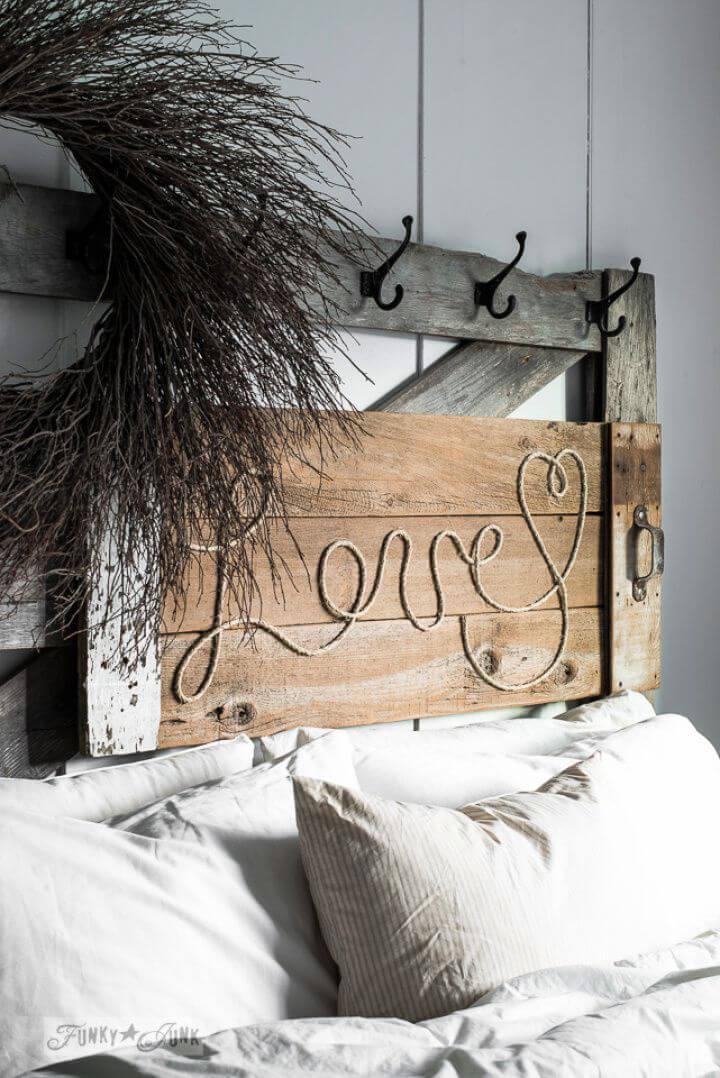 How about adding a beautiful love board sign over your bed? It will add up to your bedroom decor. It is simple to make, by just super gluing the rope in crafted as the alphabets spelled on the wooden pallet.
Tutorial: funkyjunkinteriors
Wood Slice Deer Head Silhouette Pallet Art: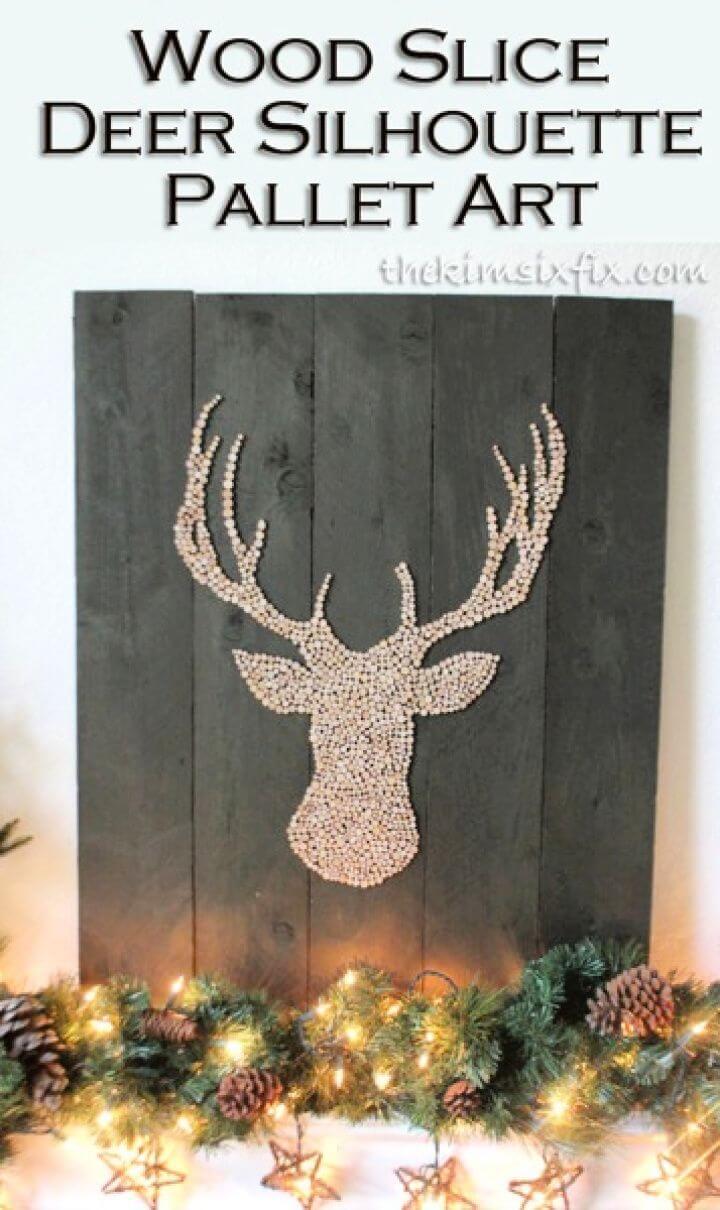 Design your next perfect hanging here by simply using a wooden pallet and wood slices. Just outline the stag on the pallet and then start gluing the slices inside the sketch. Give a 3D look to your Christmas this year.
Tutorial: thekimsixfix
How To DIY Mini Wood Pallet: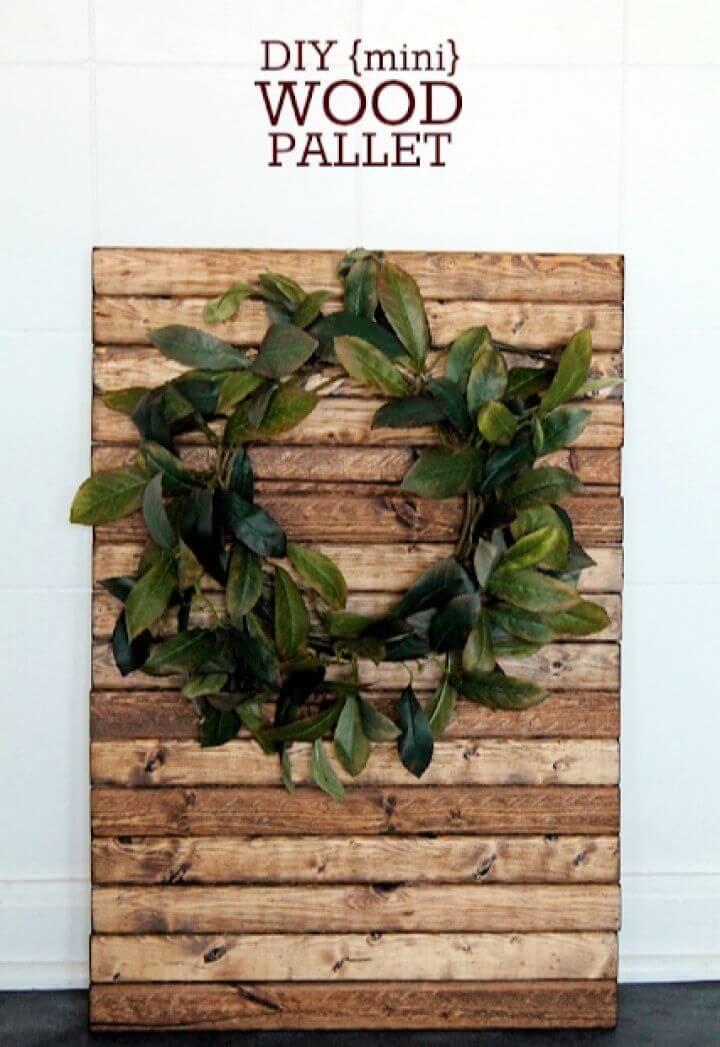 Have this beautiful, refreshing wooden pallet combo with any plant leaves of your choice. This could be the next perfect addition to your kitchen floor or living room. It's simple to design and brightens up the room.
Tutorial: lovegrowswild
DIY Pottery Barn Inspired Cut Out Wood Star Art: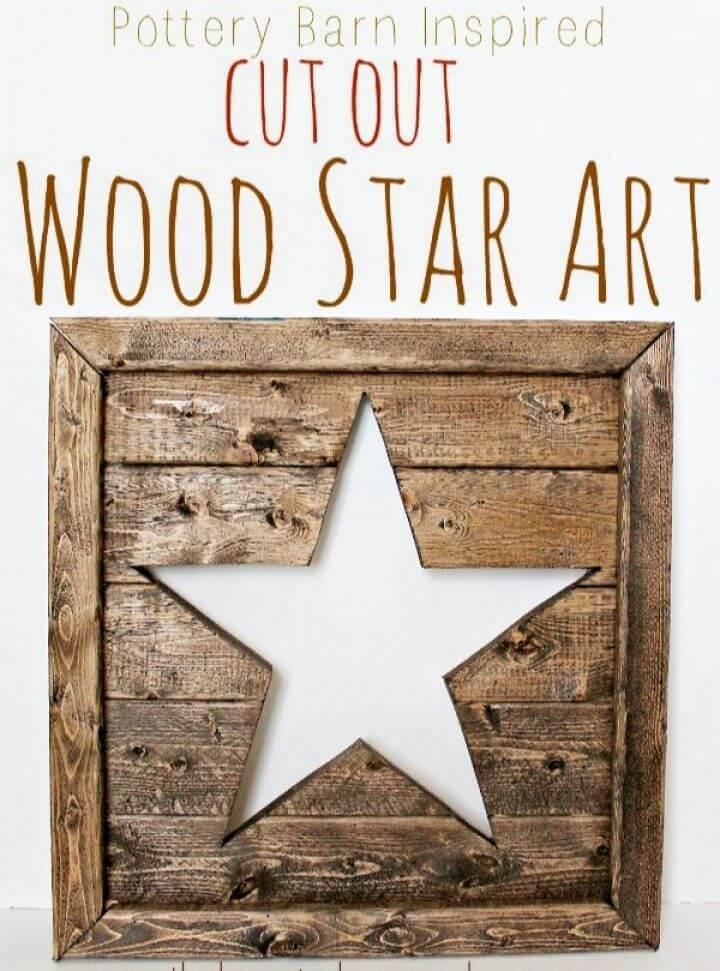 Are you out of budget for a latest Pottery Barn design? Don't worry. We've got you covered. With the help of wooden pallets, drill and saw you can simply design this beautiful rustic piece at home. See the tutorial here.
Tutorial: thehappierhomemaker
Make A DIY Pallet Wood Sawhorse Coffee Table: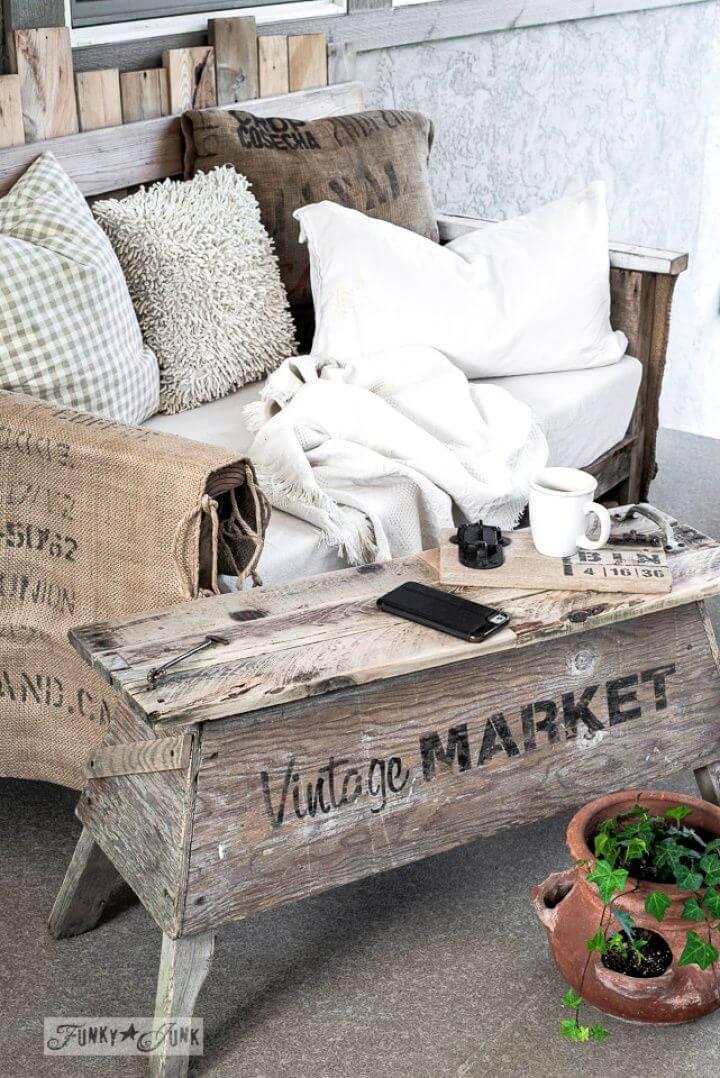 Make this beautiful sawhorse coffee table for your patio to enjoy coffee. You can add a rustic look or stain it if you like. Click below to see how to get started with it.
Tutorial: funkyjunkinteriors
Build A DIY Rustic Wood Sign Project Tutorial: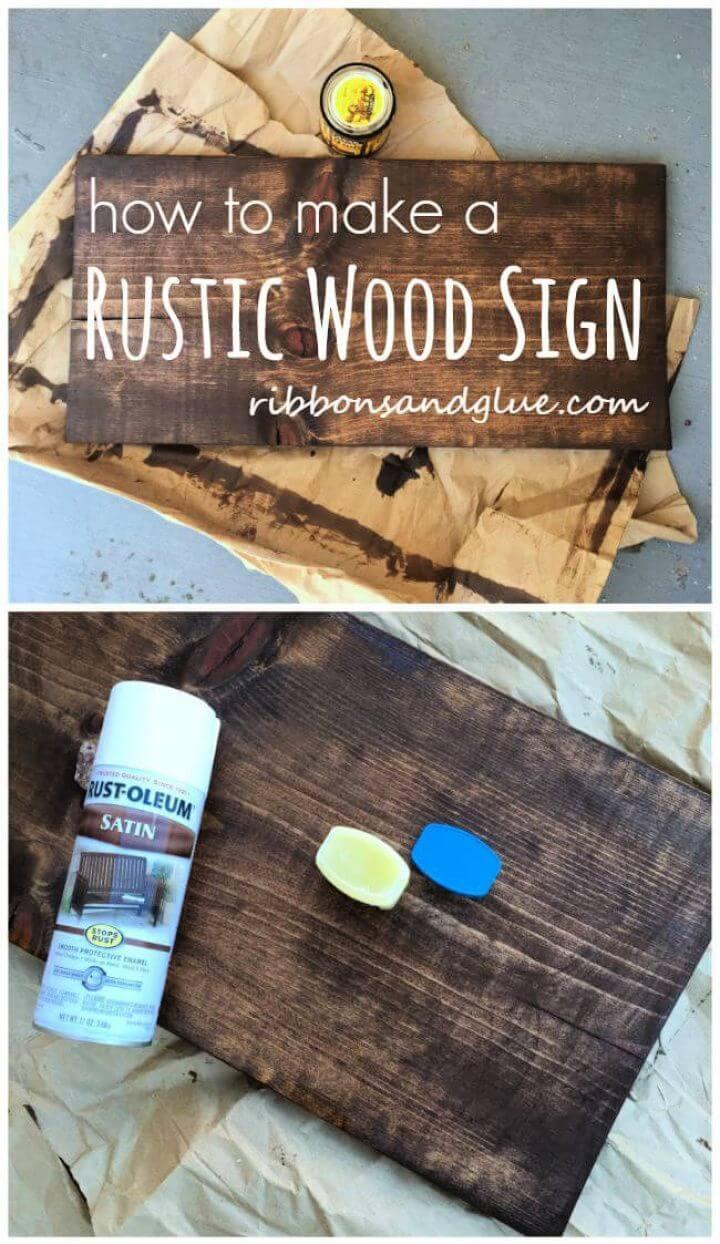 Take you in on a secret? You can give a simple wooden board a rustic look you want to. Design wooden signboards that say out loud your mantra! See the tutorial to learn more.
Tutorial: ribbonsandglue
Build and Paint a Wood Sign: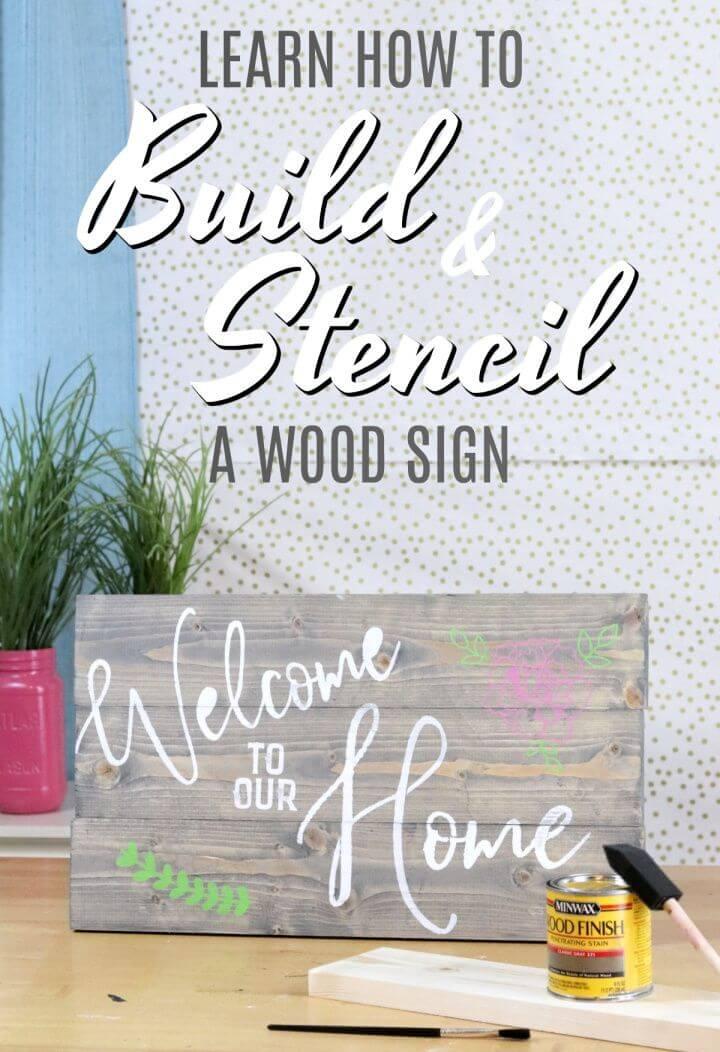 Greet people with your perfectly stenciled wooden sign boards. Choose the font of your size and style, write whatever you want to convey and see the tutorial that how can you make catchy wooden sign board all by yourself.
Tutorial: creativeramblingsblog
DIY Woodland Sign: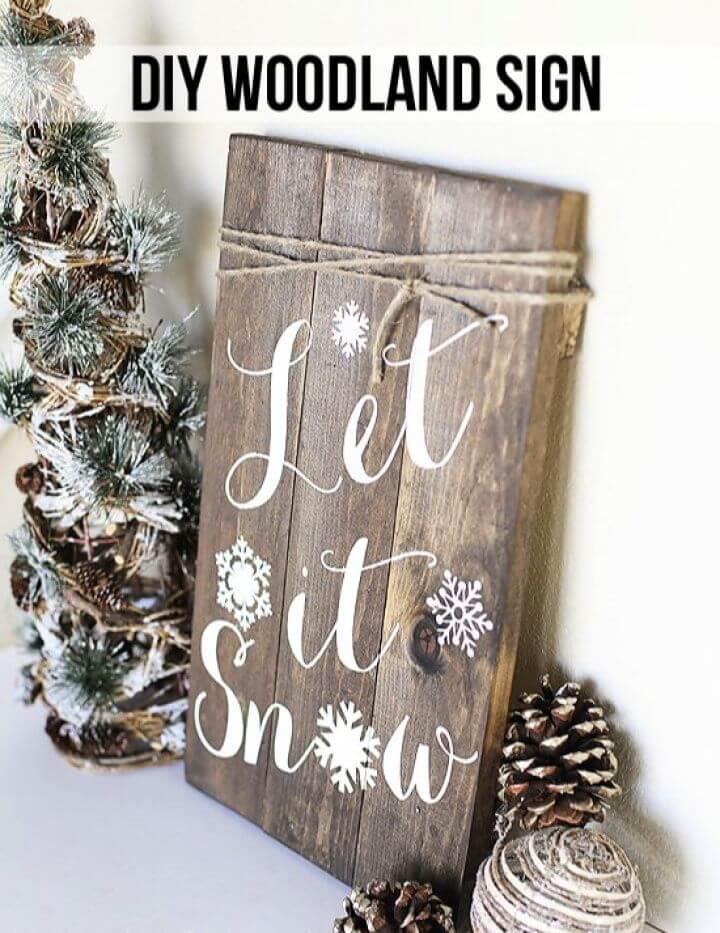 Set up this cozy wooden signboard in your living room. Made with wooden pallets, jute, stencil paper, and paint. Have this minimalistic, rustic wooden board add up to your decor.
Tutorial: livelaughrowe
DIY "EAT" Sign From Pallets: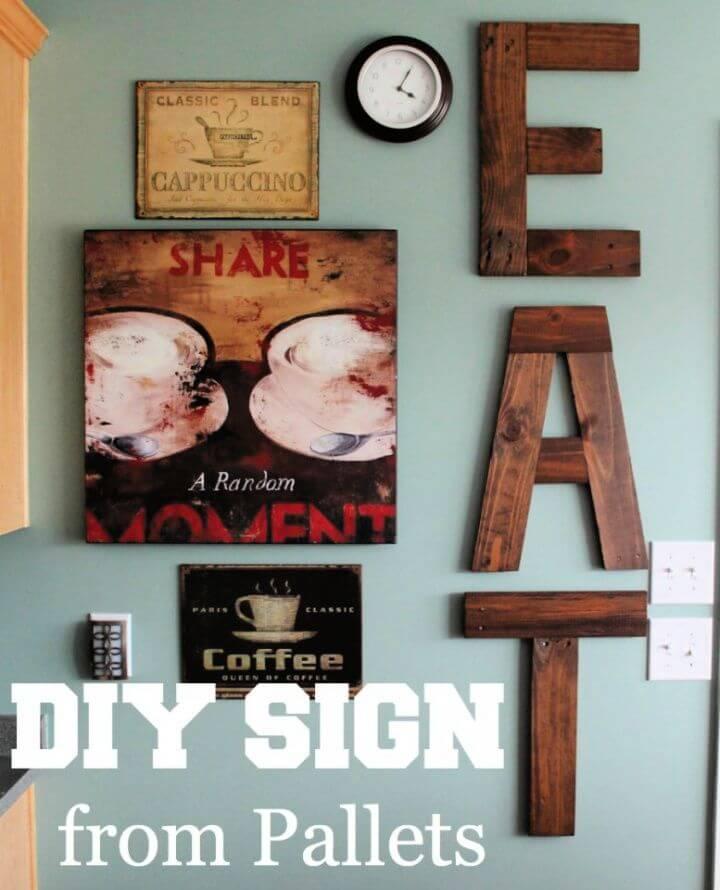 Design your dining room gallery wall with EAT wooden pallet signs. This sign will add up style to your decor and wall. Simple to make and quick to craft. Explore more in the tutorial.
Tutorial: theturquoisehome
How To Make A DIY Coffee Crate Lid Sign: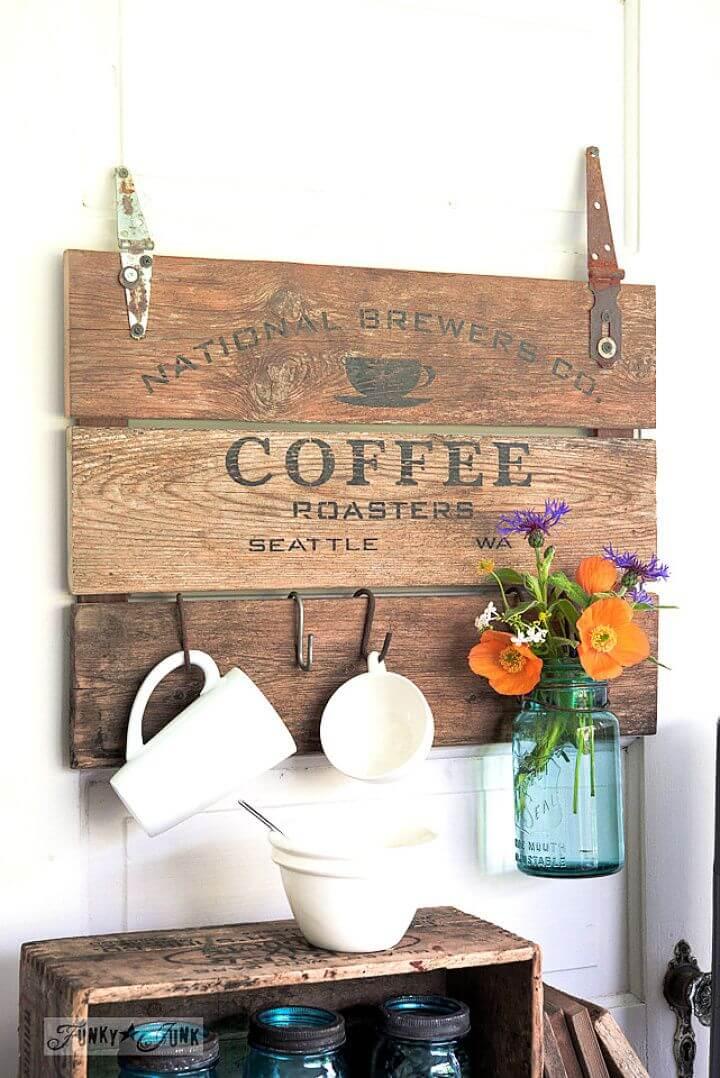 Hang up your own minimalistic and vintage coffee board for your coffee cups. This will look fascinating on your kitchen wall and make your kitchen look vibrant. Impress people with your crafting skills.
Tutorial: funkyjunkinteriors
Easy DIY Rope and Wood Love Pallet:

Add a simple, minimalistic Love sign over your bed with the help of a wooden pallet, jute, paint, and super glue. This will look beautiful on your bedroom wall. Play around with the design as you like.
Tutorial: hymnsandverses
Painted Pallet Love Never Fails Sign: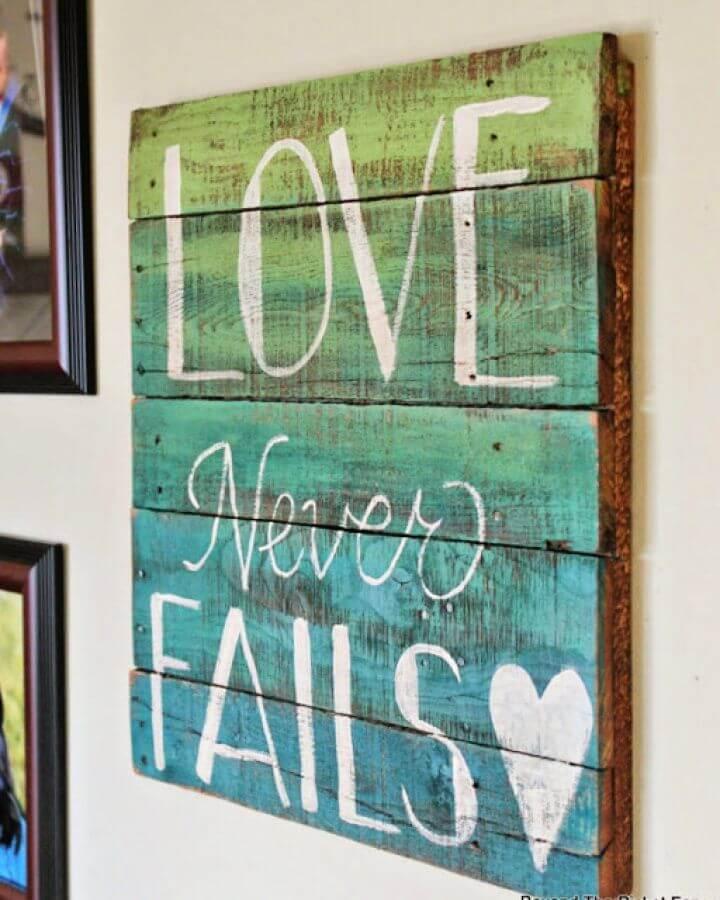 Another convincing idea for Love Never Fails sign. Make it stand out by crafting bigger wooden pallet, painting the alphabets to stand out and emphasize. It will be a lovely addition to your decor.
Tutorial: beyondthepicket
DIY Painted Wood Pallet Design: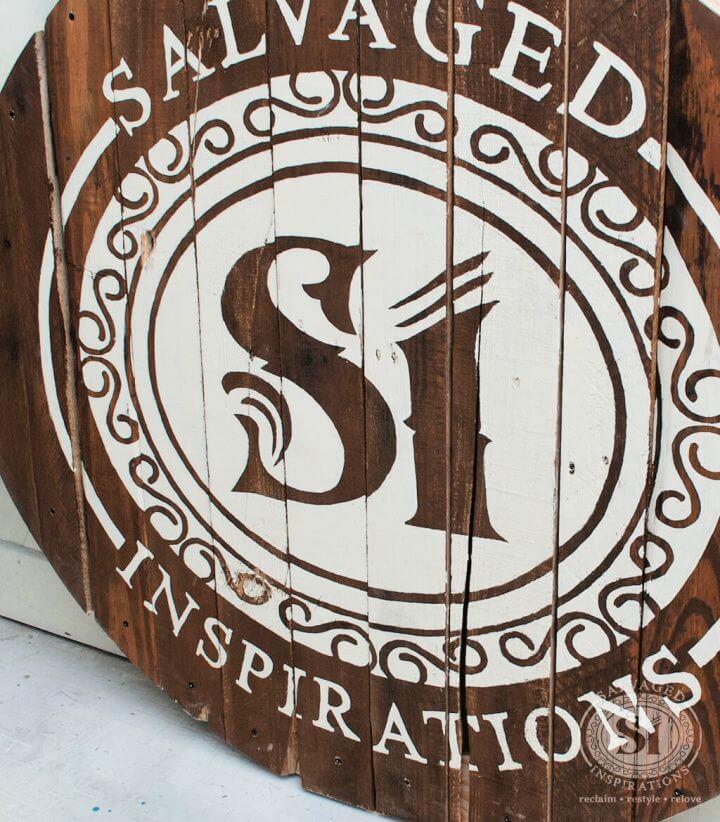 How about putting up a huge sized wooden pallet logo inside your coffee shop? Leaves an impact on customers and adds up the place's serenity. Trace your logo on a wooden pallet and then paint it out!
Tutorial: salvagedinspirations
Rustic DIY Street Pallet Art: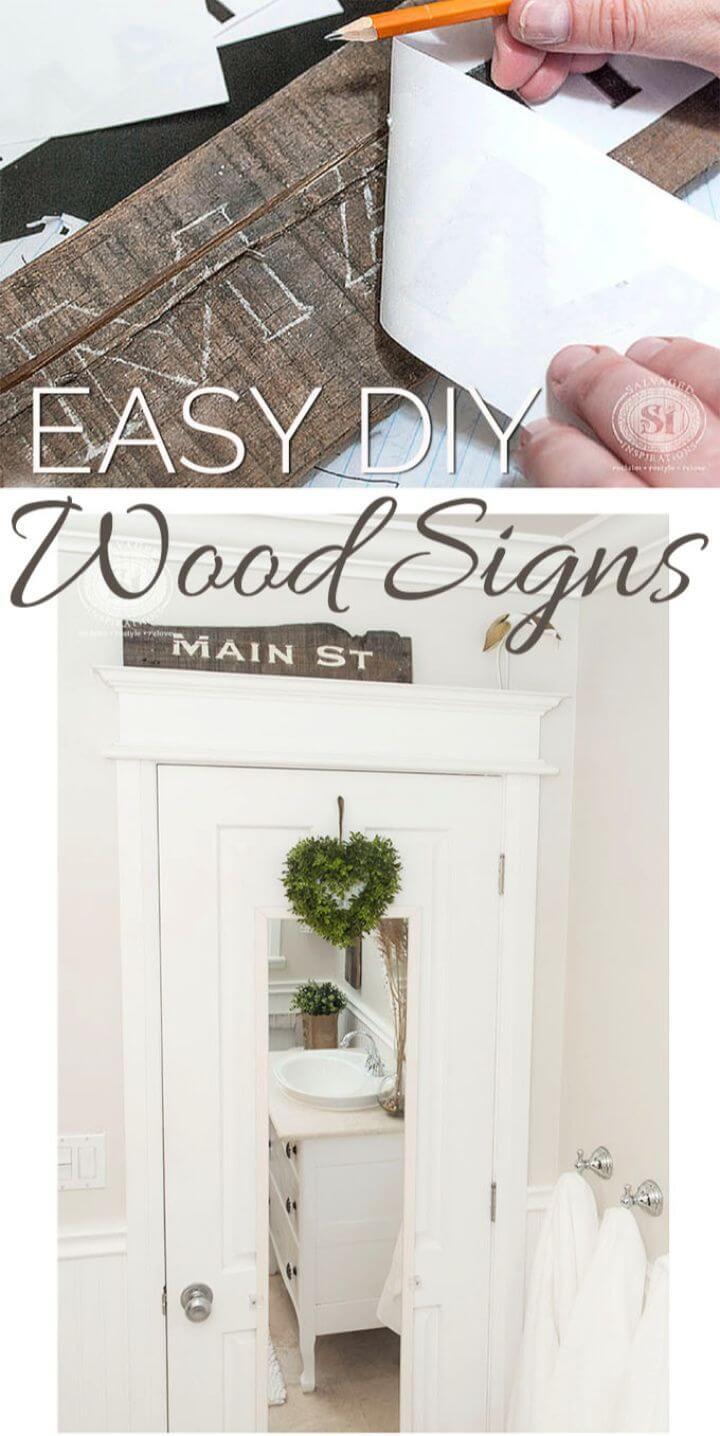 Craft beautiful wooden signs to make your home look even cozier. You can design and paint the signs on these wooden pallets. Put up the pallets around or above the rooms, brighten up the place.
Tutorial: salvagedinspirations
DIY "Hello" Sunshine Painted Wood Sign: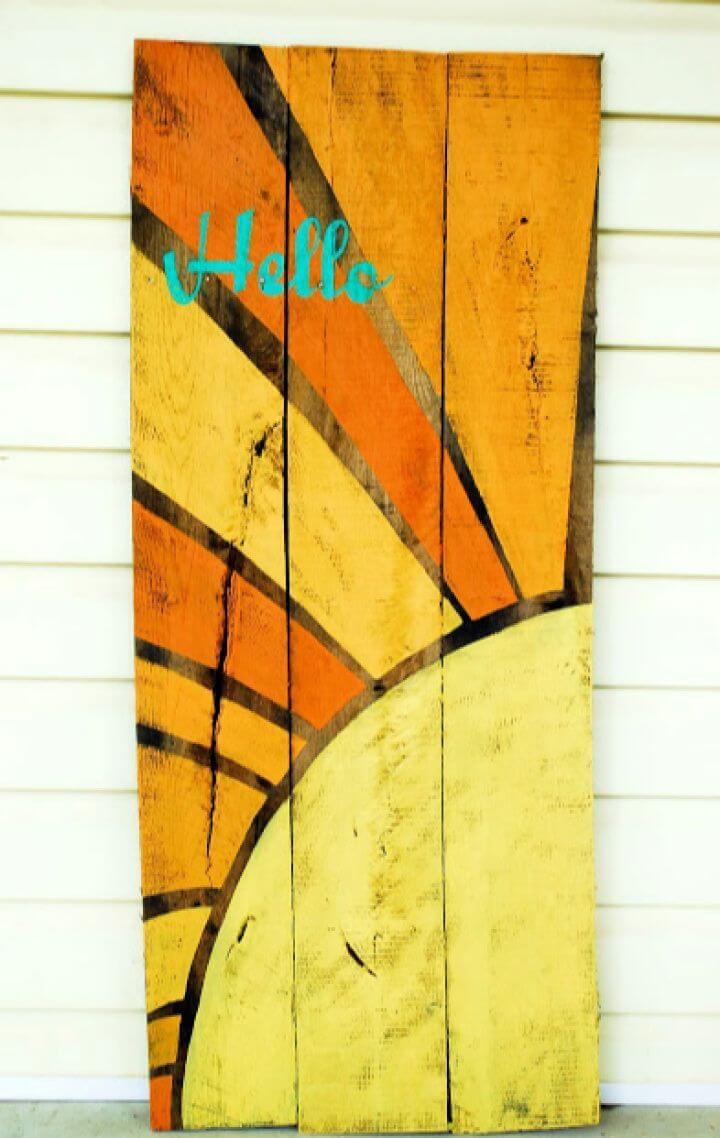 Craft and design this sunny and brightening Hello Sunshine design. Easy to make with wooden pallets and paints. Brighten up your living room with this fascinating piece of art.
Tutorial: lifeasathrifter
Heart of the Home DIY Sign: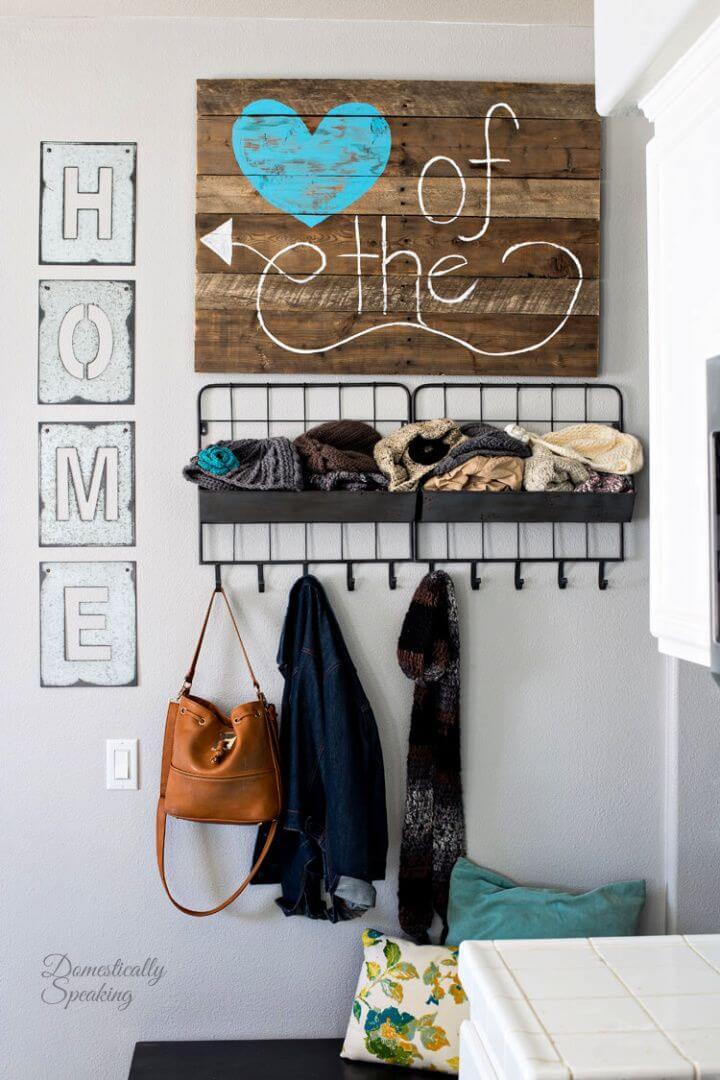 Design a puzzle or message on your gallery wall with this catchy rustic wooden pallet art. Point to something meaningful and make the decor look interesting. See the tutorial to get started.
Tutorial: domestically
DIY Love at Home Pallet Art: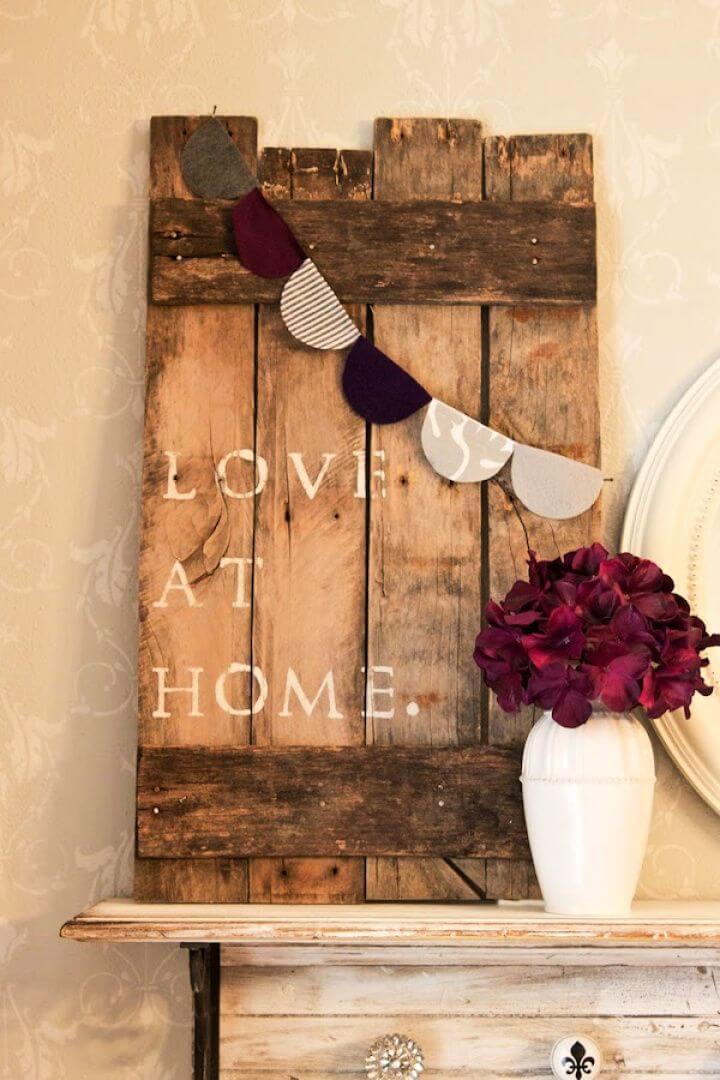 This sign is a perfect example of minimalism. Unstained rustic wooden pallet, with some eye-catchy ribbons design and quote of your inspiration. Simple yet so beautiful!
Tutorial: colorsandcraft
Friends Quote Wood Pallet Project: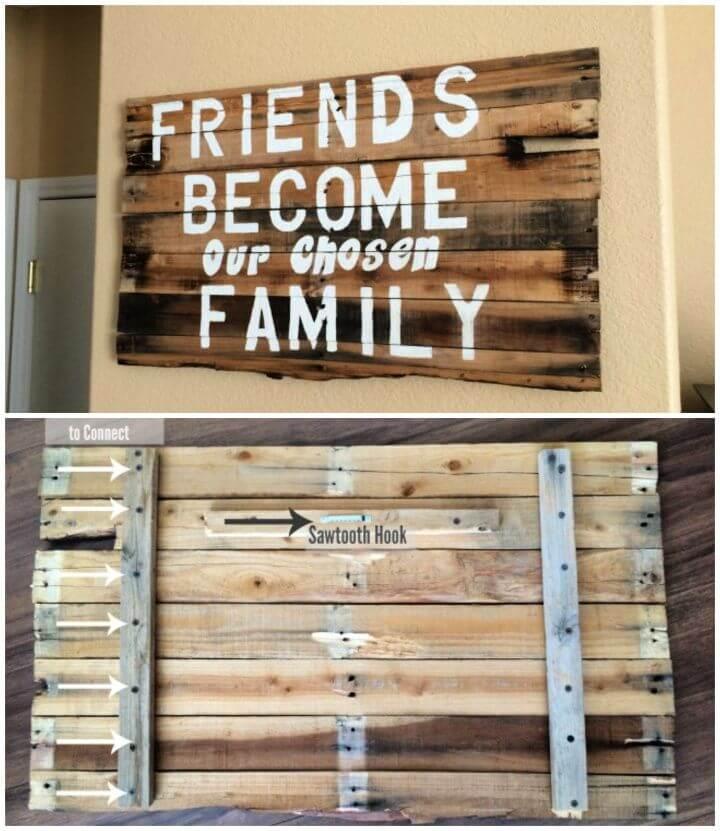 This could be your perfect gift to a friend on a Friendaversary day! Craft it to say out loud the importance of friends in life. This piece will add warmth and love to your friendship.
Tutorial: momslifeboat
Market Shopping List Sign: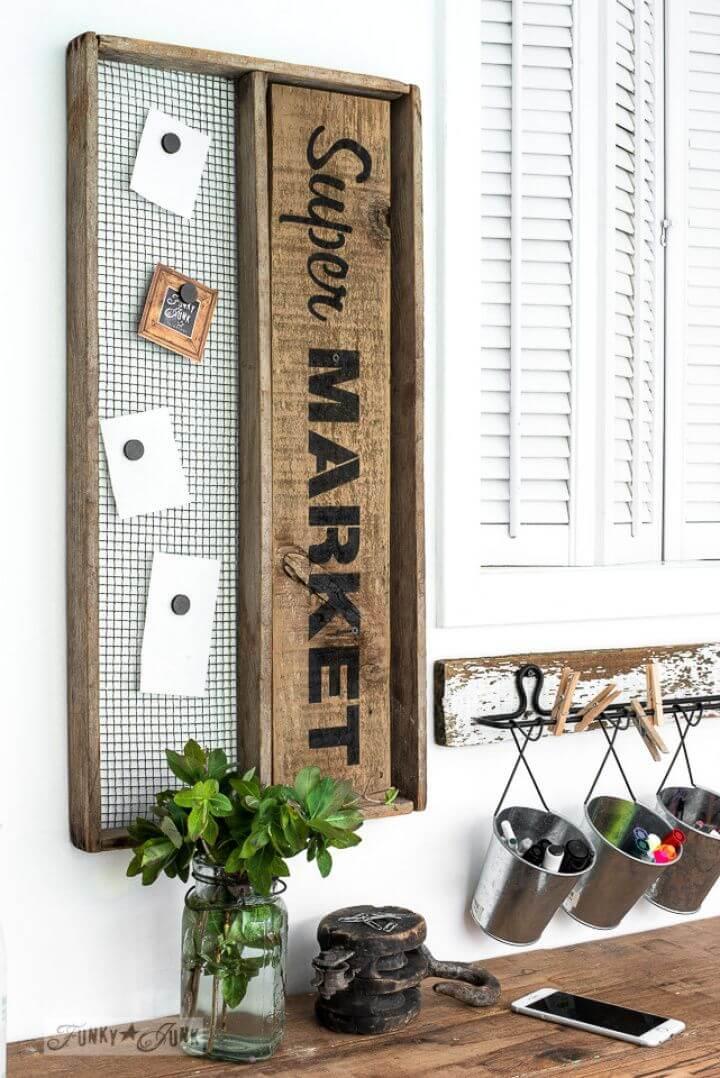 How about every time something finishes up, you can have it written down on your Supermarket board? Make a catchy Super Market board for your home. Learn how in the tutorial.
Tutorial: funkyjunkinteriors
Make A DIY Wood Pallet Wall Art: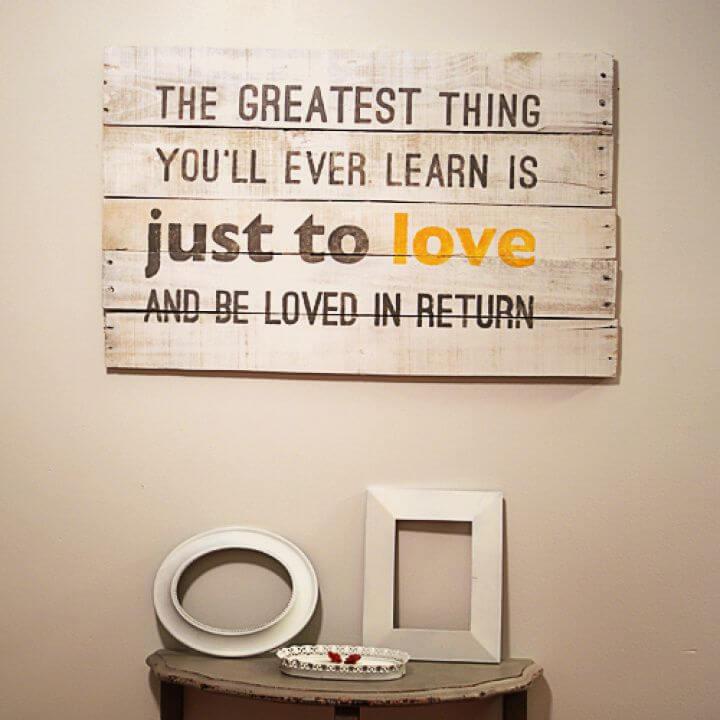 Make this inspirational wooden pallet art and add a minimalistic approach to your home. You can play around with paint colors to focus on the words you want to stand out.
Tutorial: savedbylovecreations
Create A Welcome Home Pineapple Pallet Art: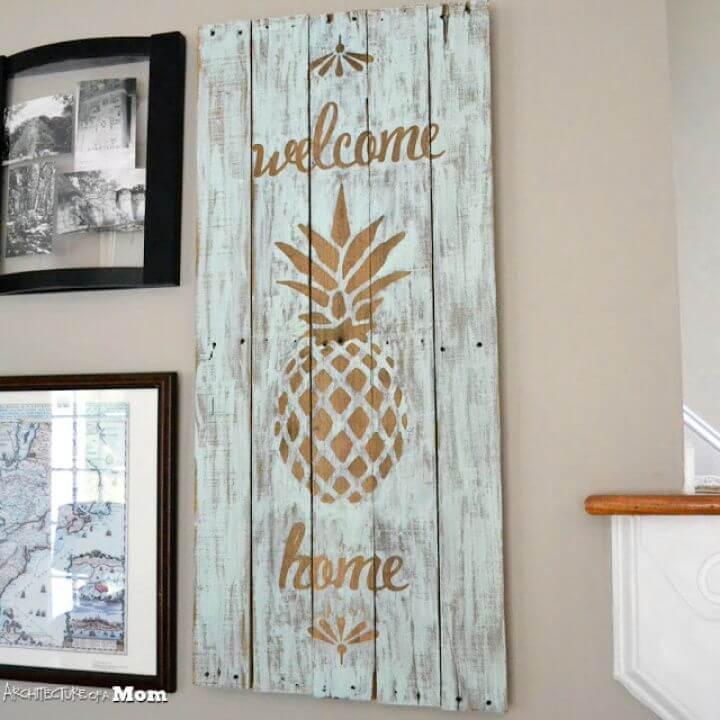 Make this beautiful pineapple art welcome home signboard. Design this fascinating silhouette wooden pallet art and give an unforgettable welcome to people in your home! Learn how to make it in the tutorial.
Tutorial: architectureofamom
With these easy to make wall art ideas, you can make your home speak out to you. More than that, you can keep adding up to your decor in minimal budget and perfect memories to remember by!
Happy DIY-ing!