Unfortunately, baseboards are some of the most overlooked spots when it comes to DIY cleaning. Yet they're a dust magnet and endure the brunt of vacuums, furniture, pets, and shoes. If you don't clean them regularly, scuff marks and grime will build up over time.
But don't worry about this easy cleaning task, though!
With the right baseboard cleaning tool and equipment, now you can answer that mind-boggling question; how to clean baseboards easily without bending over!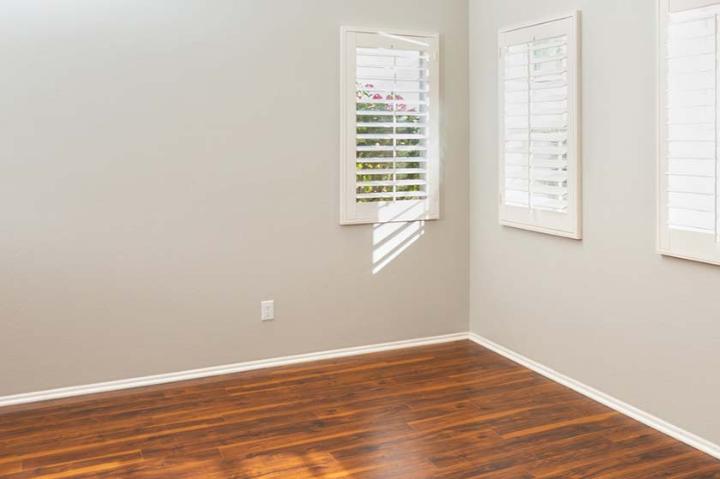 Things You'll Need for Baseboard Cleaning
Vacuum cleaner with hose attachment
Dryer sheets
Microfiber cloth
Baseboard Duster
Warm water
Dish soap
Sponge
Vegetable oil
Distilled white vinegar
Cotton balls & cotton swabs
Brooms & dustpan
Toothpick & toothbrush
Bucket
Different Methods of Cleaning Baseboards
The best thing about baseboard cleaning is that there are various techniques you can follow. Some of these methods include;
1. Brooms and Brushes
If your trims are not grimy, they probably just need a dusting. You can accomplish that by sweeping dirt and dust with a broom. This technique allows you to clean the baseboards without squatting or bending down. Moreover, provided you've got the right tools for the task, this method is fairly simple.
For instance, you can either use a clean paintbrush or a handheld broom. However, you may want to dust off the skirting boards before you vacuum the area.
Also, if you have a small sweeper attachment, use it to de-dust the board after vacuuming. As an alternative, use a lightly dampened or dry soft-bristle brush like a toothbrush.
2. Baby Wipes
Baby wipes provide a fast and simple way to clean up your baseboards after removing the dust. They're particularly good at cleaning the stuck-on stains and dust on your boards. For that, you can use them to clean kitchen baseboards since they catch grease and food splatters.
Also, they're ideal for cleaning mudroom boards since they accumulate grime too.
Another benefit of using baby wipes is that they're more eco-friendly. Apart from cleaning baseboards, you can use them on other surfaces like picture frames. On the downside, baby wipes are more wasteful since they're not reusable.
3. Dryer Sheet Method
In addition to having a nice smell, dryer sheets easily lift pet hair, dirt, and dust from skirting boards. Best of all, they coat your skirting boards with a dust-repelling layer.
This prevents dust from accumulating on your boards. Overall, it's a great method for regular baseboard cleaning, particularly for pet owners.
4. Vacuum Cleaning
Vacuum cleaning is another convenient and quick method of cleaning your baseboards. However, I'd recommend you use a handheld vacuum cleaner instead of a regular vacuum cleaner. This is because regular vacuum cleaners tend to pick more dust and dirt.
With that in mind, extend down the vacuum cleaner to the baseboards.
And use the brush attachment to remove dust and dirt from the boards' surface. Start with the top of your baseboards as you move down. More importantly, make sure you clean the gap between the floor and the baseboard.
5. Magic Erasers
Magic erasers are versatile sponges that you can use to clean various items in your house. Besides, you just need some warm water and you're good to go.
However, if you're cleaning painted baseboards, you can add dish soap. But if you're cleaning stained wood baseboards, you should add white vinegar instead.
That said, dip your eraser into the warm water and wring it out. Finally, use the damp eraser to wipe down your skirting boards.
How to Clean Dirty Painted Baseboards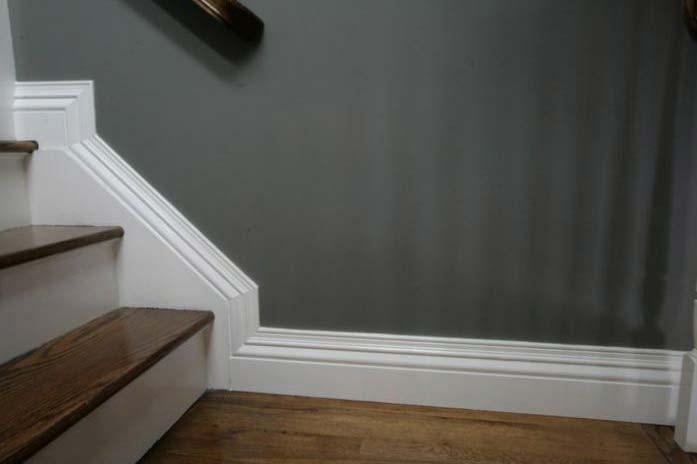 Painting skirting boards with certain formulas protect them from wear and tear. Note, some paints are less prone to dirt and more durable than others.  This will affect the appearance of your skirting boards. For instance, glossy finish paints are repellent to dirt and grime.
Therefore, they stand out better and are more durable than flat paints.
However, regardless of the used paint, cleaning painted skirting boards is quite simple. That's because the paint protects the boards from grime, dust, and dirt. Also, this means that you can clean them with more pressure and water, thus making the task simpler.
That said, here are the steps you need to follow when cleaning painted baseboards;
Remove dust and loose dirt. Vacuum along the baseboards' length with the brush attachment to remove dust. Start with the top ledge then move to the floor at the top of your trim. Make sure you vacuum the crevices like where the board meets the floor and corners.
Work on grime buildup and stains. Dip a magic eraser or any other cleaning sponge into a mixture of dish soap and warm water. Wring it out and use it to scrub away scuffs and tough stains. Alternatively, you can use elbow grease for scrubbing out grim and other stains.
Use cotton swabs to clean tight areas. Mix a cup of white vinegar with 5 cups of warm water in a bucket to create a powerful cleaning solution. If you don't have vinegar, you can use mild dish soap. Next, dip your cotton swab in this solution and push it in hard-to-reach areas to remove dirt.
Remove cleaner residue. Dampen a microfiber cloth with clean warm water and use it to wipe down the baseboards. This helps to remove the cleaner or soap residue.
Dry off the skirting boards immediately. After rinsing the baseboards, dry them right away with a clean rag or dryer sheet to keep them dust-free!
How to Clean Your White Baseboards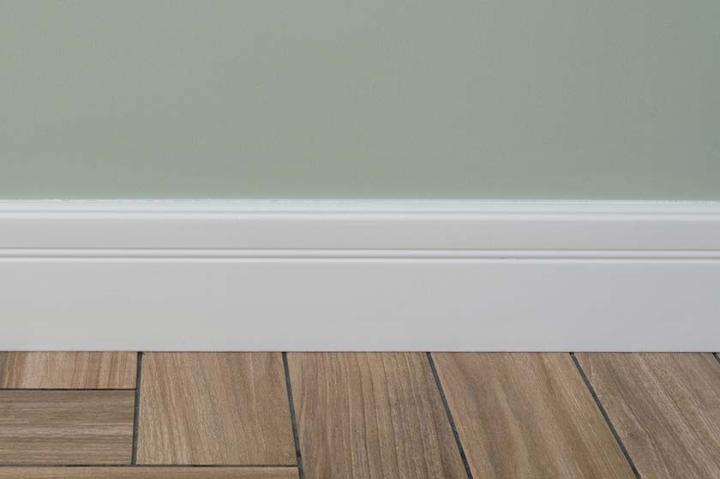 Although white skirting boards look elegant, they can quickly accumulate scuffs and dust. If your white baseboards are made from PVC, follow the steps below to clean them. But if they're made up of painted wood, I'd suggest you stick to the steps highlighted above.
Start by vacuuming or dusting the boards as usual.
Next, wipe them down with a mixture of warm water and dish soap.
If the skirting boards are showing scuff marks, use a magic eraser or a general cleaner to remove the dirt.
Mix one part vinegar with 4 parts of water. Then spritz the boards with this solution to keep the boards glossy white. Let the solution stay on the boards for about 10 minutes. Finally, use a clean, damp microfiber cloth to wipe it down.
How to Clean Dusty Wood Baseboards Easily
Natural/ stained wood is a long-lasting and attractive material for skirting boards. However, it can become discolored or warped if it dries out fully or gets too wet. Hence the need to balance the moisture content of your wood skirting boards.
There are 2 ways to achieve that! First, you can use oil to finish the boards and lock in moisture. Secondly, avoid using a lot of water when cleaning them.
Similarly, if you're not sure if your baseboards are painted, treat them like natural wood. With that in mind, here is how you should clean wood baseboards;
Dust/ vacuum the wood baseboards as you would with painted boards. Then use a clean, dry microfiber cloth to wipe them down and remove all surface stains. Alternatively, you can use wet wipes, magic erasers, or an old sock.
Make cleaning solution using warm water, mineral/vegetable oil, and dish soap. As you can see, this mixture is a little different from the one used for painted skirting boards. Vegetable oil is added to polish and renews the wood.
Dip your sponge/ microfiber cloth into the cleaning solution and wring it out. Then start scrubbing the skirting boards.
Use a cotton swab to absorb moisture and remove dirt in small spaces.
Rinse the microfiber cloth/ sponge with clean warm water and wring it out. Then use it to remove cleaner residue from the wood baseboards.
Dry the baseboards with a dry cloth immediately after rinsing the surface. As an alternative, you can use a dryer sheet for this step to help the boards repel dirt and dust.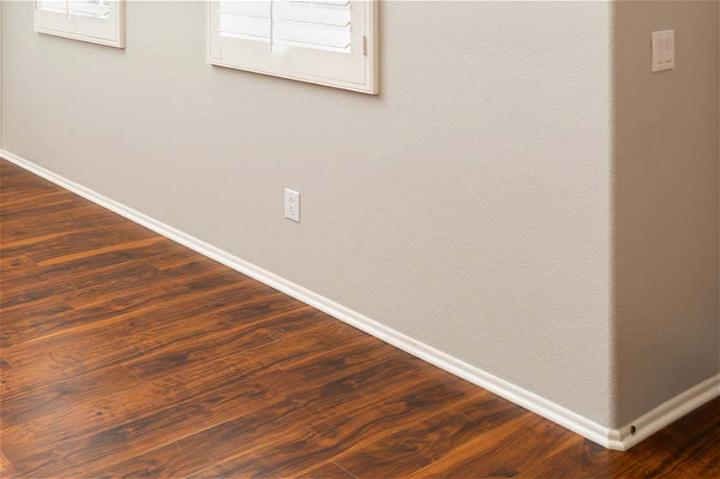 Tips & Hacks for Baseboard Cleaning
Baseboard cleaning is a simple task. However, you may still experience some challenges along the way. Thankfully, the following tips will help you clean your baseboards with ease;
Vacuum First
Move the vacuum's brush attachment horizontally across the baseboards. Then move it over the trim in a swivel-like motion. To remove dirt in tight spaces, use the vacuum's crevice tool.
On the same note, make sure you clean the narrow crevice between the trim's bottom edge and the floor. If you don't have a vacuum cleaner, you can use a paintbrush or whisk broom.
Wipe the Surface
After dusting the baseboards, wipe them off to remove stuck-on dirt and stains. Remember to wear protective gloves when doing that for safety reasons. More importantly, start cleaning the skirting boards at the top, as you work your way down.
Save Baseboard Cleaning for Last
If you're cleaning the floors and walls, make sure you save the baseboards for last. Otherwise, they'll get dirty again while you clean around or above them.
Create a Cleaning Routine
Having a cleaning schedule will prevent the boards from becoming too dirty. Besides, it will ensure that you regularly clean them throughout the year. If possible, clean the skirting boards every week and fill in the routine monthly. Also, I'd recommend that you deep clean the baseboards at least twice a year.
Maintain with Dryer Sheets
Static charge tends to attract dust. Luckily, dryer sheets have an anti-static ingredient that helps to repel dust. Therefore, it's important to wipe off the baseboards with a dryer sheet after cleaning. Apart from preventing dust buildup, this eliminates the need for regular baseboard cleaning.
Conclusion
That's it: everything you need to know about baseboard cleaning! And as you've seen there are many methods you can use, so it's up to you to choose the best one for you.
If you notice your skirting boards aren't sparkling as they used to be, go ahead and clean them right away. That simple task may be enough to give your entire house a nice polishing touch!