You will find this read a bit unique but off course beneficial. People who are fond of DIY home decoration ideas and tips always look forward to nice and attractive curtains for their home. Curtains are something that can totally change the look of the room if you choose them wisely. With curtains, you also need something to tie them up as they don't always come with the hooks and tie backs.
Here we will share 13 Brilliant DIY Curtain Tieback Tutorials great and impactful ideas for the tie backs of curtains that you cannot resist using for the curtains at your home. The first project that we have here is definitely very unusual and its teacups tiebacks for your curtains and looks totally amazing and attention-grabbing so try these out with some of your broken teacups. Have a look at our next project which is another piece of art that you can easily make yourself, it's basically a silver spoon turned into a curtain holder by following some simple steps where the spoon has been bent by using heat on it and the end result is so perfect that you will not regret the efforts you will have to make for this.
Our next idea that we share with you all over here is full of beads and looks simply cool, made with colorful beads, and spark to your plain curtains. Next, they have used a cool and stylish belt for tying the curtains and it looks a little more exciting and fun than the rest of the tie backs we discuss over here. the next project that we have here is a relatively typical pull back as you can see over here but its evergreen and is in the fashion line for decades and the good news is that you can now make these pullbacks for your curtains yourself. Have a look at this beautiful combination where a necklace has been changed into a tie back for your curtain and looks like an urban contemporary piece of art for your home so try this out this season.
Grab any of your old t-shirts from your closet and cut it into a rectangular shape to make it a curtain tie back as you can see over here a jeans fabric has been used for the purpose. Similarly, you can also make a bow of any of scrap fabric to make it serve the purpose of a curtain tie back and it looks so simple and classy. Reading this piece you will realize how some unusual things can serve the purpose for curtain tie backs at your home like here they have used tiaras for this purpose and it looks dramatically gorgeous and incredible.
Besides this, you can also use ropes for this purpose and they look more than enough in terms of both holding the curtain and decoration. Add some rustic items also to this list of DIY curtain tie backs and here they have used a rustic star for the purpose. You should also use your crochet skills for this purpose and you will definitely be amazed by the new look of your curtains.
We would surely recommend you to try out these amazing and fantastic tieback projects to create a new look for the time when you tie your curtains to let the sunshine in. follow the instruction given in the tutorial attached to the picture of the project.
Teacups Curtain Tiebacks: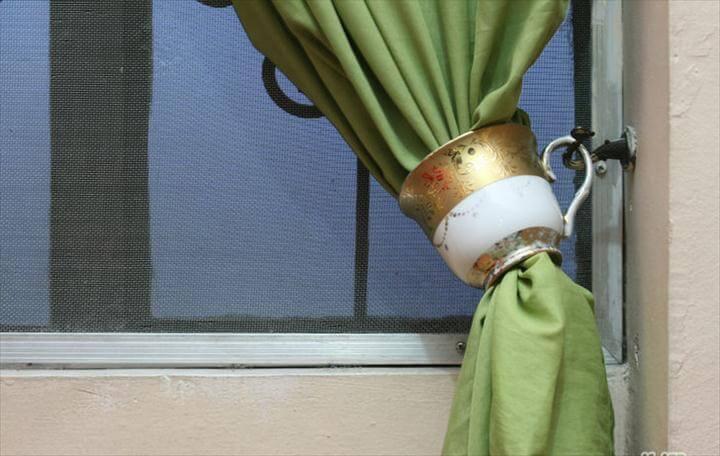 Here is the unique and fun way to tie up your curtains and bring some chic vibes in the décor. Yes, a fancy teacup here has been used as the curtain tieback. You can apply this curtain tie back idea to all the curtains and drapes in the house. So grab some pretty teacups with delightful patterns, drill holes and use. Details here!
Image: wikihow
Vintage Spoon Curtain Tie Backs: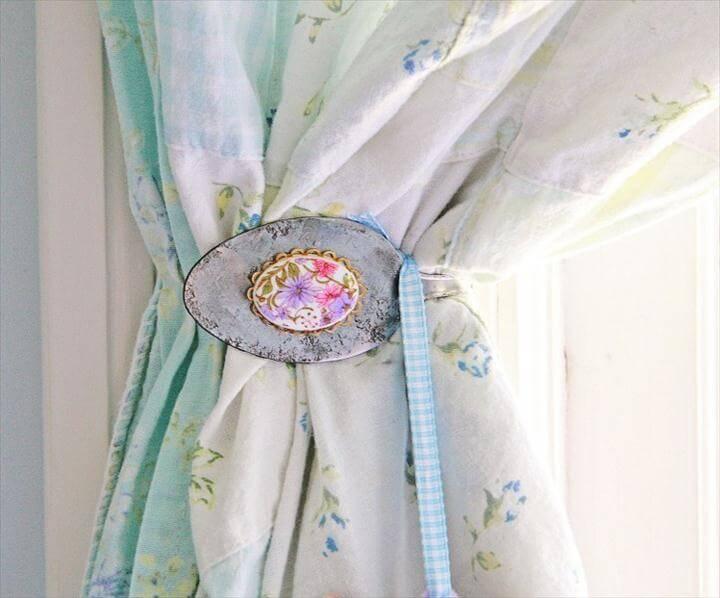 On your next trip to the flea market or the thrift store, you need to grab those mismatch spoons to make these pretty vintage spoon curtain tie backs. Just heat up the spoons and flatten them with the hammer. Then bend the spoons in the center and add some cute and colorful embellishing and these tiebacks are ready to work.
Image: mysocalledcraftylife
Beaded Curtain Tiebacks Tutorial

: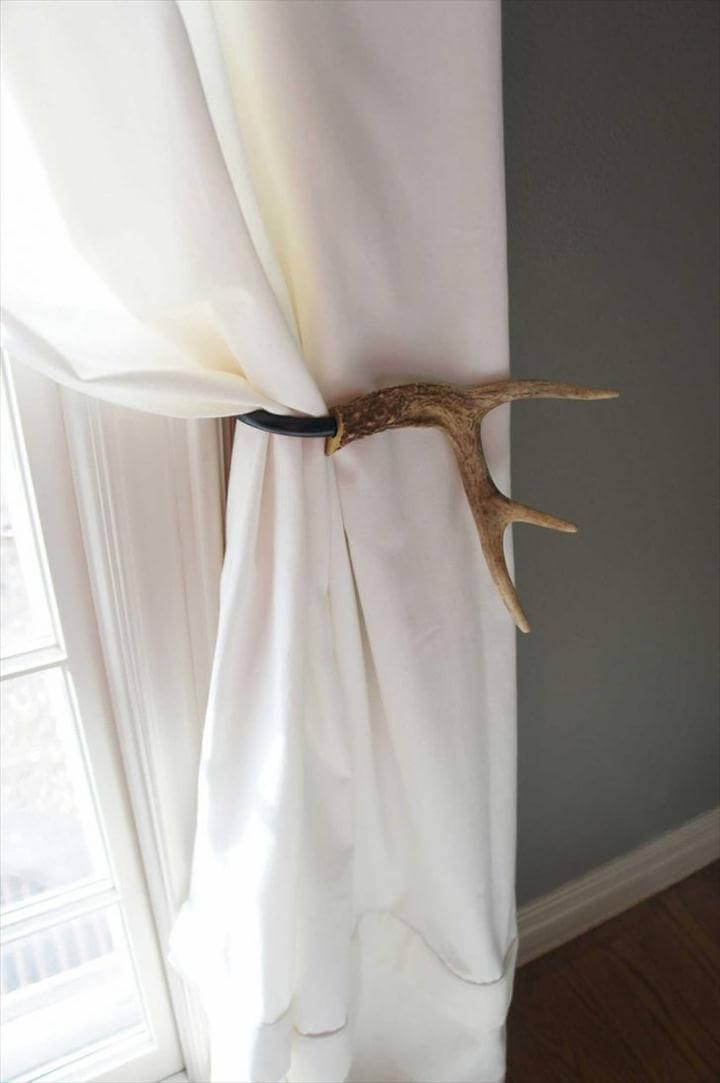 Image: youtube
Super Belt Curtain Tie Back

: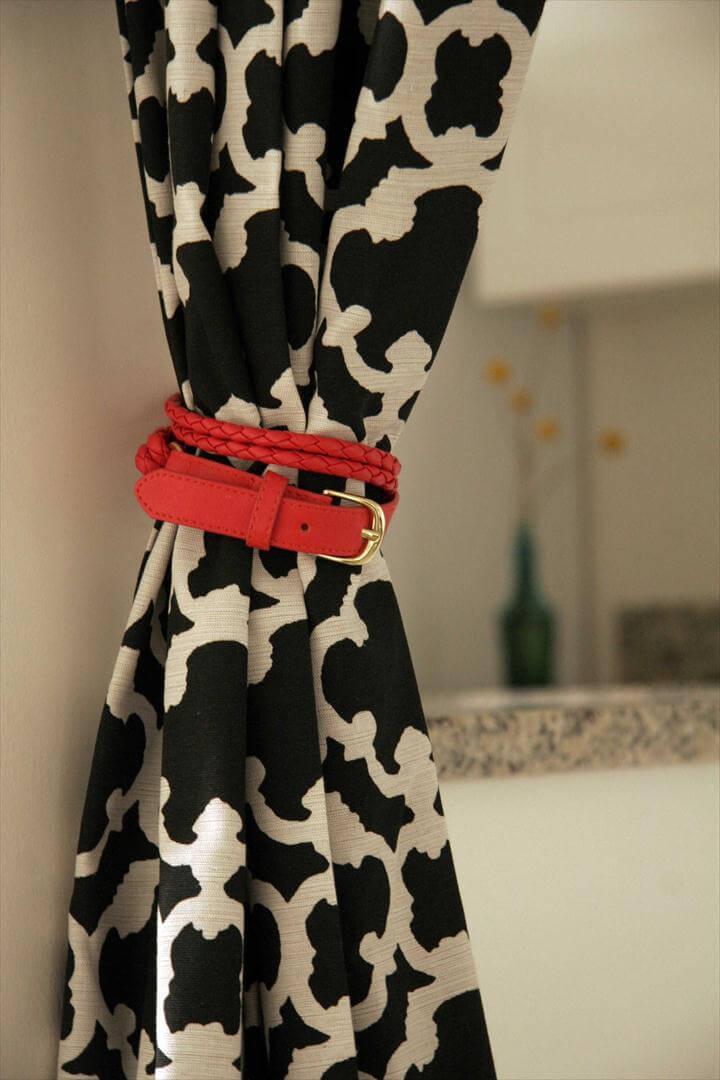 Give your curtains something really cool and fun to be tied upon too. Here is this lovely super belt curtain tie back. Get your hands on the old belt in your wardrobe and replace it with the tassel tiebacks for your curtains. The orange curtain against the black curtains has really turned out to be great. Details here!
Image: allputtogether
CDs Curtain Pull-Backs: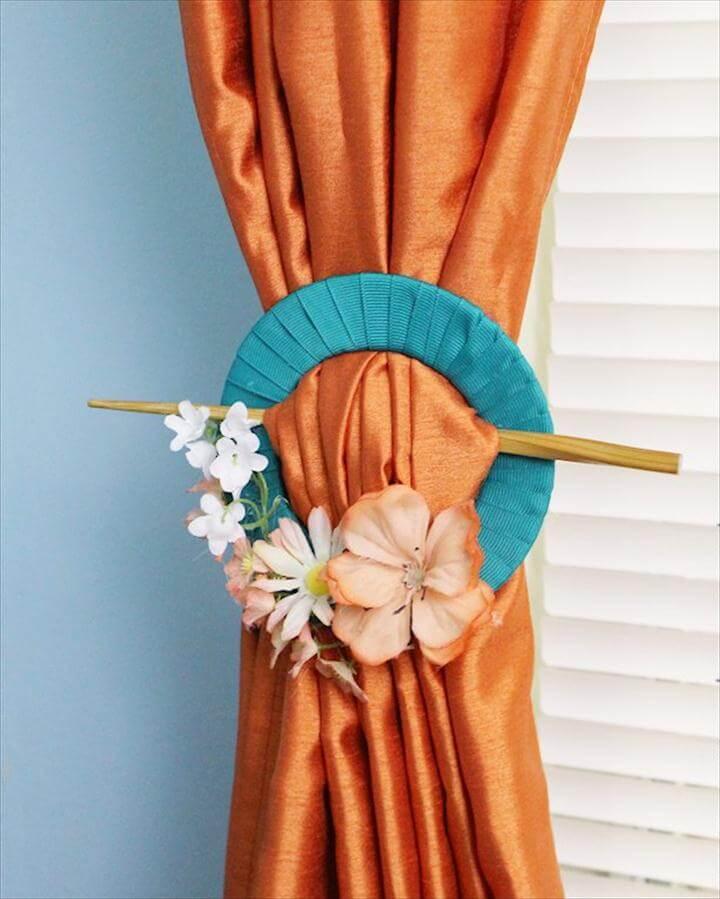 This gorgeous curtain pull backs look just super pretty and professional. Nobody would believe that instead of buying you have made these curtains out of the old cds. All you need to do is take out the middle section of the CDs and wrap the rest with the ribbon. Add faux flowers and chopstick and the gorgeous curtain pullback is ready.
Image: craftyourhappiness
Necklace Curtain Tie Back

: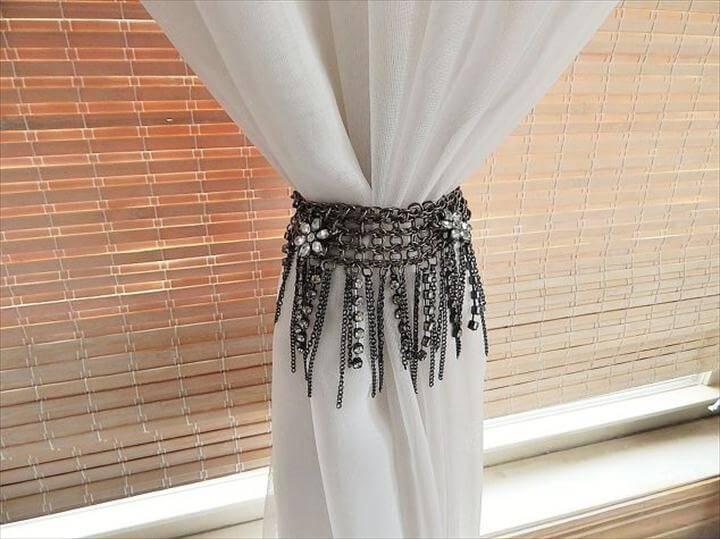 This gorgeous necklace curtain tie back is the best thing you would see on the internet today. The lovely and big necklace is a perfect piece to hold your white sheer curtains so stylishly and gorgeously. Just grab some jump rings to make let the necklace hold the curtains perfectly at its place. Follow the details here!
Image: hometalk
T-Shirt DIY Curtain Tieback

: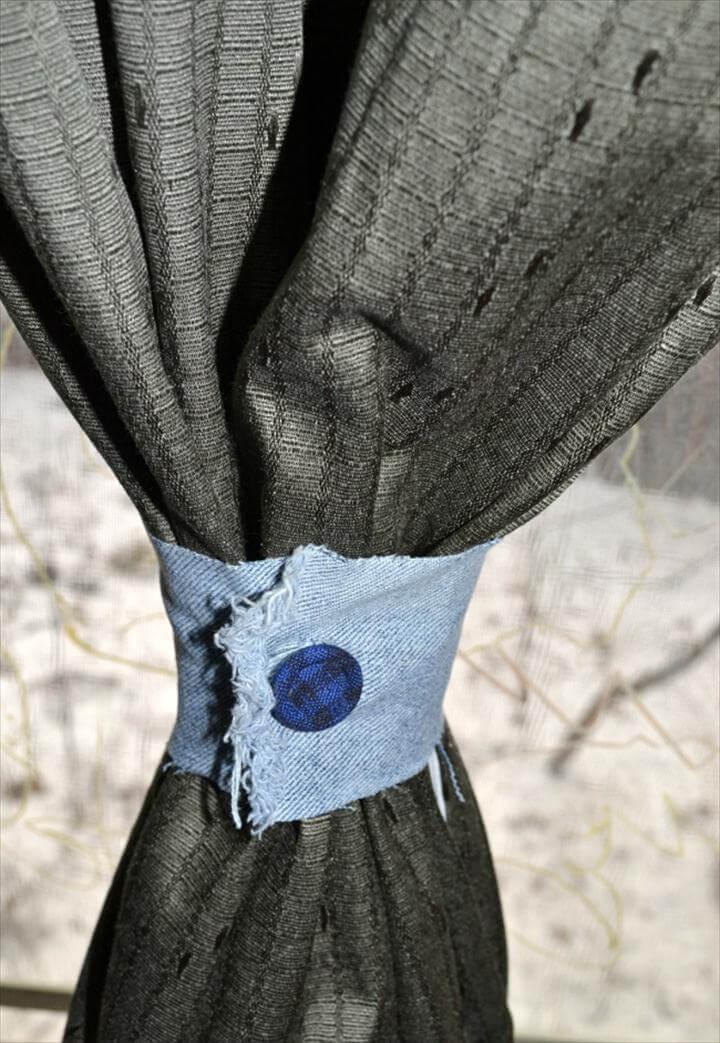 If an old t-shirt is lying around uselessly then it's time to put it to the best use with this project of the t-shirt DIY curtain tie back. Cut a long piece out of the shirt that can wrap around the curtains and hold them tight with a Velcro or the button. You can use the old denim for this purpose too. Details here!
Image: ourdailycraft
Bow Tie Backs – Polka Dot Burlap Curtains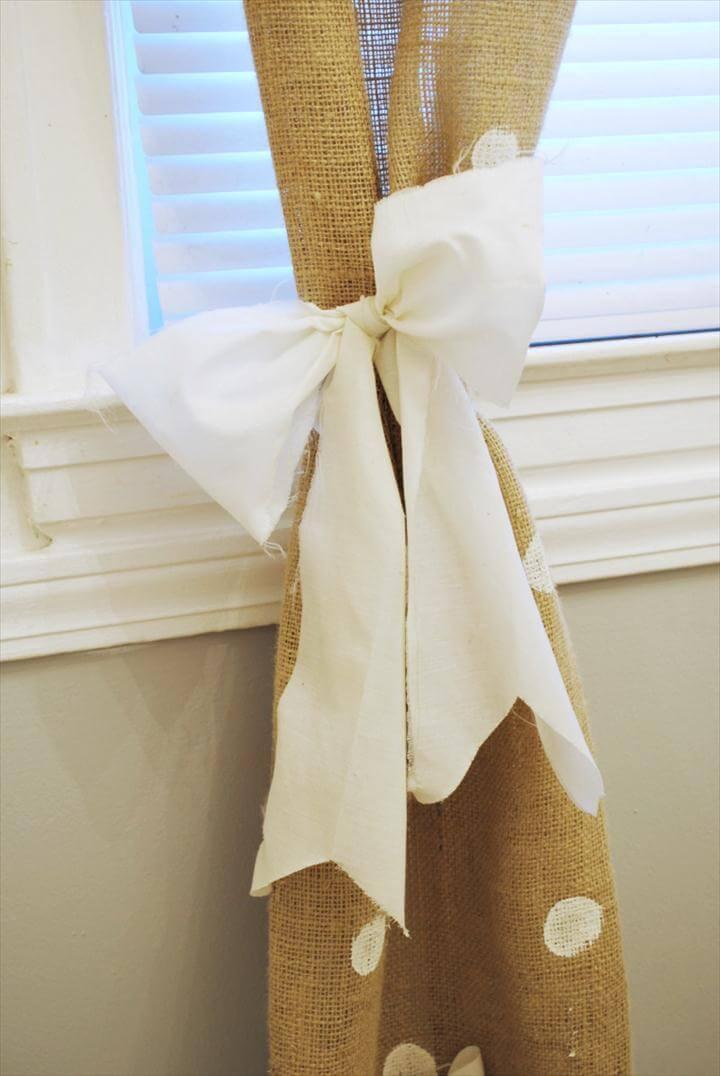 These gorgeous polka dotted burlap curtains with longbow tiebacks are going to take your breath away. The gorgeous burlap curtains are polka-dotted in white and added with white fabric ruffle layers at the bottom and the gorgeous bow-shaped tie backs to look just absolutely gorgeous and unique. Details here!
Image: classyclutter.net
Tiaras To Hold Back Curtains

: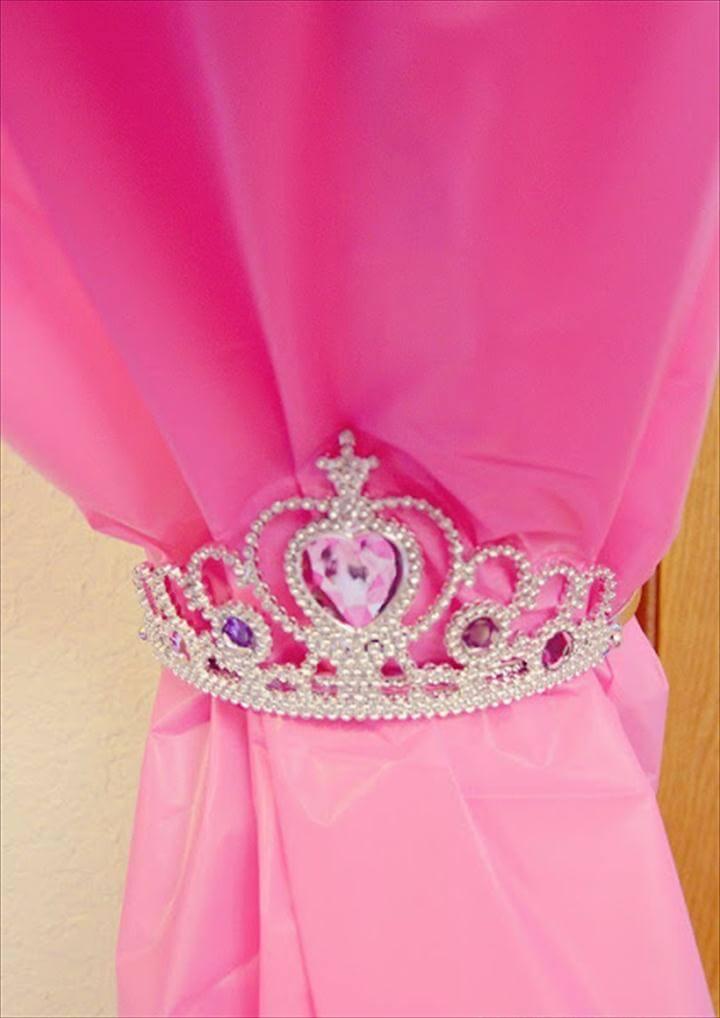 When you throw a theme-based party you need to put every arrangement according to the theme. So for a Disney princess theme party, you need to get matching curtains too. So here we offer you the idea of using the perfect tiara tiebacks for your curtains. Learn more details about this super fun and the funky idea here!
Image: sprinklesomefun
Patio Curtains + DIY Rope Tieback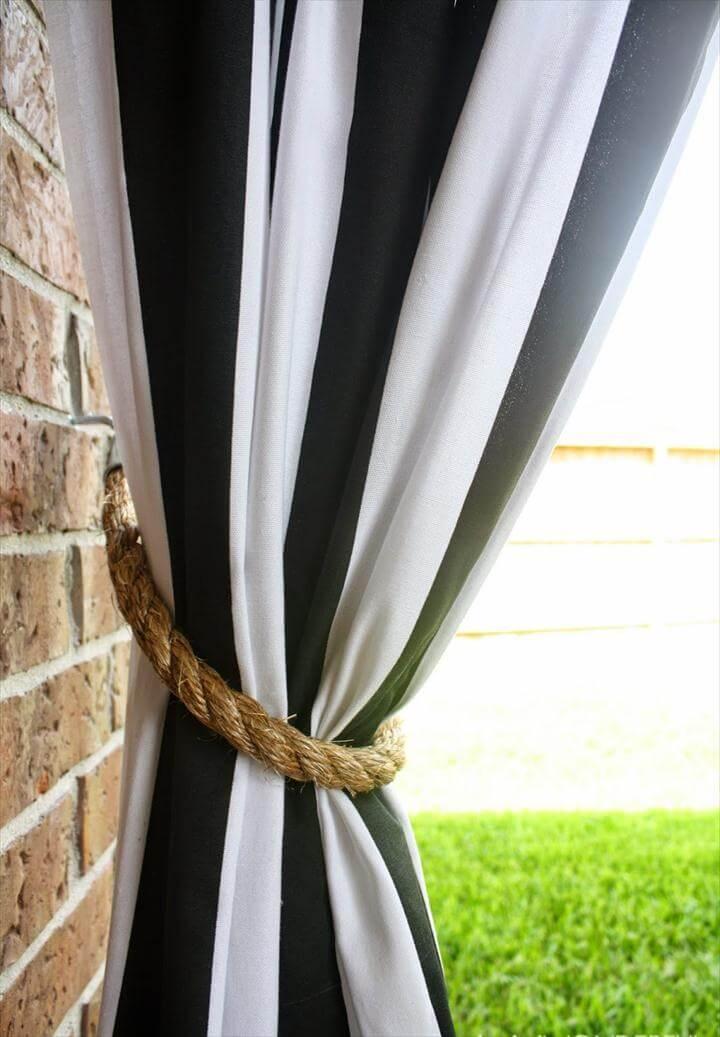 Bring some rustic details to your home décor with this idea of the patio curtains having DIY rope tie backs. The pretty curtains tiebacks are super easy and quick to make with pieces of rope, metal couplings, and the electrical tape. You can do this DIY project for all the curtains in the house too. Follow the details here!
Image: cutoutandkeep
Rustic Star Curtain Tie Backs

: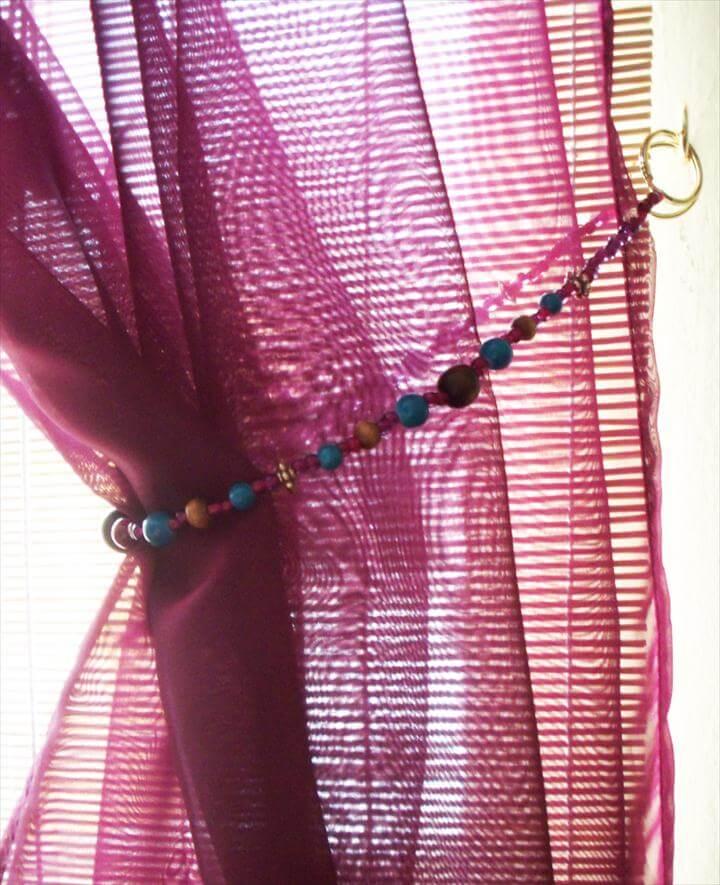 Save yourself some money over the purchase of the market bought curtain tie backs. Here are these gorgeous beaded curtain tie backs to easily make at home and customize your décor on your own. So grab the nylon string, colorful matching beads, wooden beads, jump rings, and the cup hooks to make these pretty tie backs. Details here!
Image: thediyhomegirl
Crochet Curtain Tie-Back

: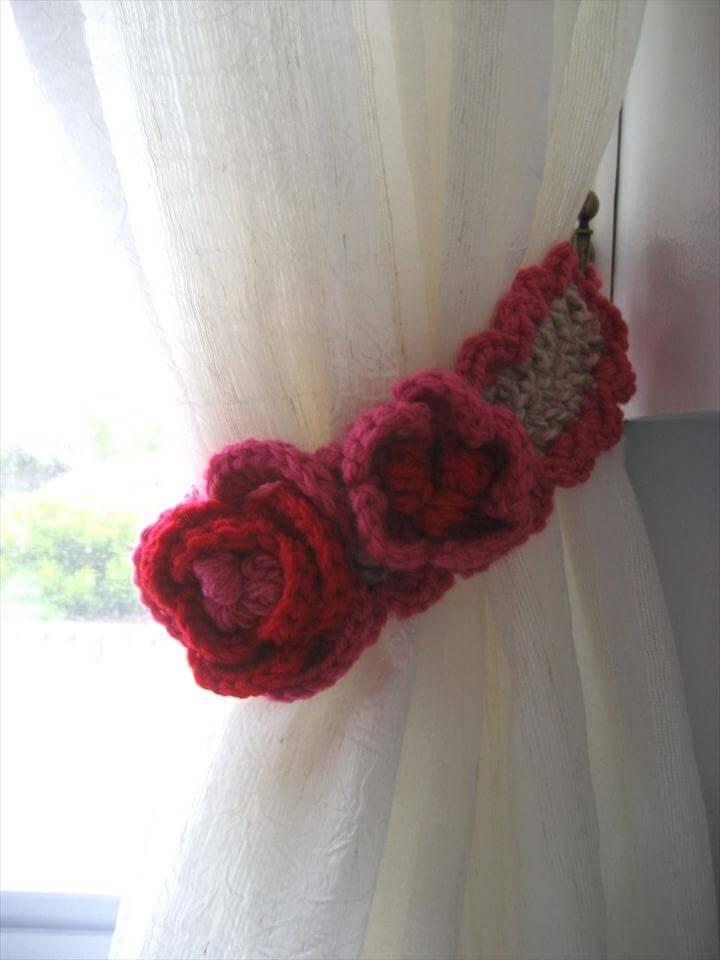 Now you can crochet up some detailing items for your home décor just like these pretty crochet curtain tie backs. This crochet curtain tie back has a band-like pattern with two ruffled flowers on the top. You can crochet up your curtain tie backs in your favorite hues and with your favorite pattern too. Follow the details here!
Image: youtube
Beaded Curtain: DIY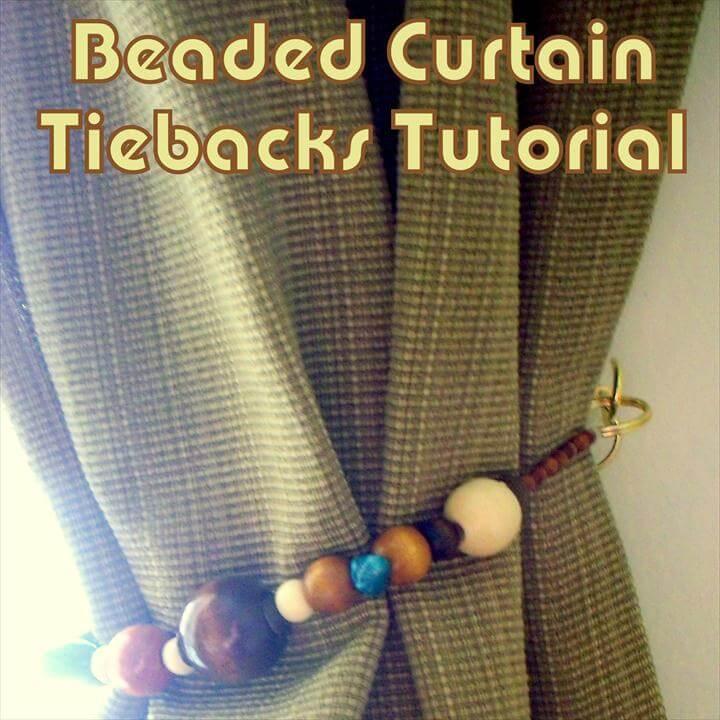 You have: a fast device and (if you already have all the equipment) you actually have it for your home for free. Adding color and texture to your room is a great addition. They also encourage me to make a bed and draw curtains in the dark winter light.
Image: thediyhomegirl