Here we present to you a tutorial where you can easily learn different ideas making 15 Ideas About Gorgeous DIY Keychains with different materials. The first tutorial is about how you can utilize your scrap fabric which is of no use, in making lovely key chains. You can use scrap fabric of different colors and prints in order to differentiate between your different keys.
The next idea we have is about polymer clay key chain tutorial or phone straps. People who know how to do crochet or knitting also have the option of making key chains of different shapes and things with the help of wool and their skills to knit or crochet. In this tutorial, we have shown how to make a DIY ice cream key chain, in which you will first learn about how to make small ice creams with help of wool through knitting and then turning it into a key chain by attaching key rings to it.
You can also make key chains with the help of clay and making different things out of clay and use them as your very own customized interesting key chains. For e.g, this tutorial shows how to make donuts with the help of clay and then attaching a key ring to them to make them a key chain. You can use different colors of clay to make different items for your key chains depending on your own choices and desired themes.
One of my favorite DIY key chains is the pom pom key chains as they look really lively and cool. To make pom pom you need to have different colors of yarn and you can make pom pom through many different techniques such as by tying the yarn through folk and then turning it into a pom pom and one string of the yarn can be attached with the key rings to make it a key ring. You can easily follow the instructions given to you in the tutorial and can make these less expensive and totally amazing DIY key chains out of scrap materials at your home.
Felt sheets are one of the popular crafting materials these days for creative workers. These felt sheets are very nice and easy to work with. You can cut them into different shapes and then sew the edges and leave one side open to fill these with the cotton to add some weight and shape to them. In these tutorials, you can see and learn how to make precious felt dog key chains. For this you need to have two colors of the felt sheet, brown and white, and cut them in the dog shape, the eyes can be made with the black small buttons. The mouth can be made with a black marker and fill this thing with cotton to give it a perfect key chain look.
Fabric Scrap Key Chain Tutorial: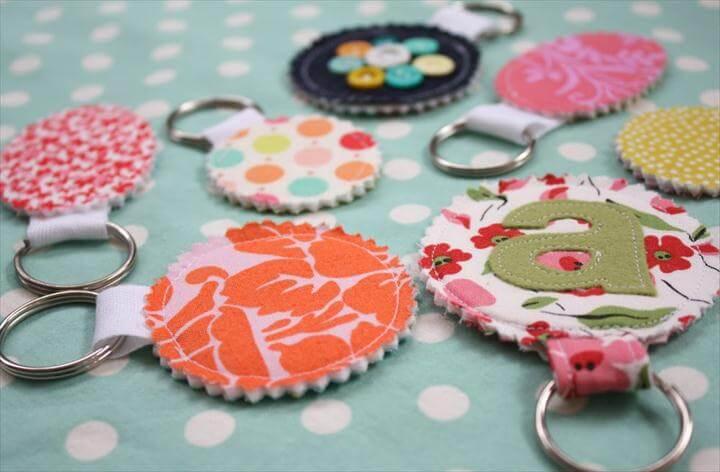 You can make the most out of your fabric scraps and the felt pieces by making this bunch of the fabric scrap key chain tutorial. The cute round circled key chains are made with the double layers of the colorful fabric and the interfacing. You can cut out alphabets of the felts to put on the key chains to make them look so custom.
Image: craftinessisnotoptional
Polymer Clay Phone Strap/Keychain Tutorial

: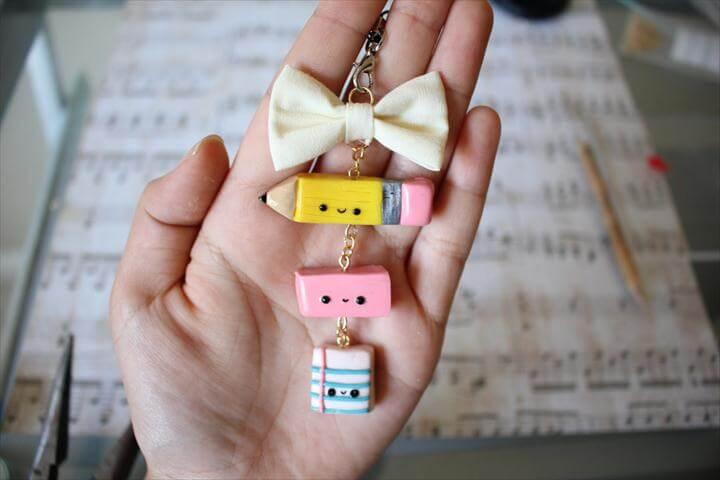 Your teens are going to love these adorable polymer clay phone strap keychains as they are so quirky and cute. You can make multiple fun shapes out of the polymer clay phone strap like a bow, a pencil, and the dices. These adorable keychains are going to be the favorite of everyone. Check out the details of the idea here!
Image: youtube
Personalized Key Wraps: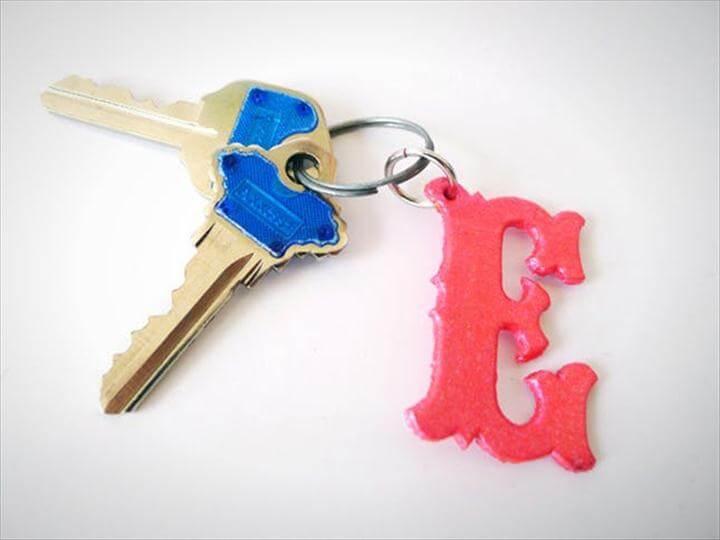 Make your keys most personalized by adding the initials to them just like these adorable personalized key wraps. You can make them for anyone in the family to use as a gift. Also, it would make a pretty gift for your dear and near ones too. Check out the personalized key wraps idea here.
Image: thanksimadeitblog
Ice Cream Keychain Tutorial

: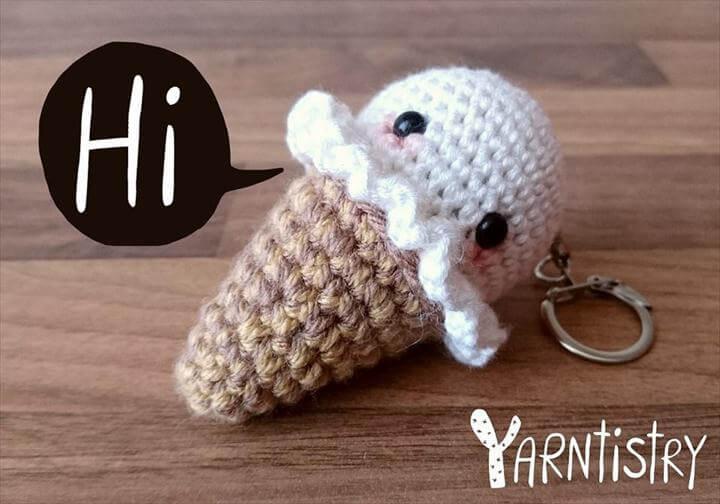 We love ice creams for the summers and these ice cream keychain is the best thing to make for the key chain. You can use your favorite colors for the ice creams but the con is going to remain the same with the lovely brown color. Also, you can add facial features to the ice cream so that it looks like a cute amigurumi keychain. Check out details here!
Image: youtube
Heart Keychains: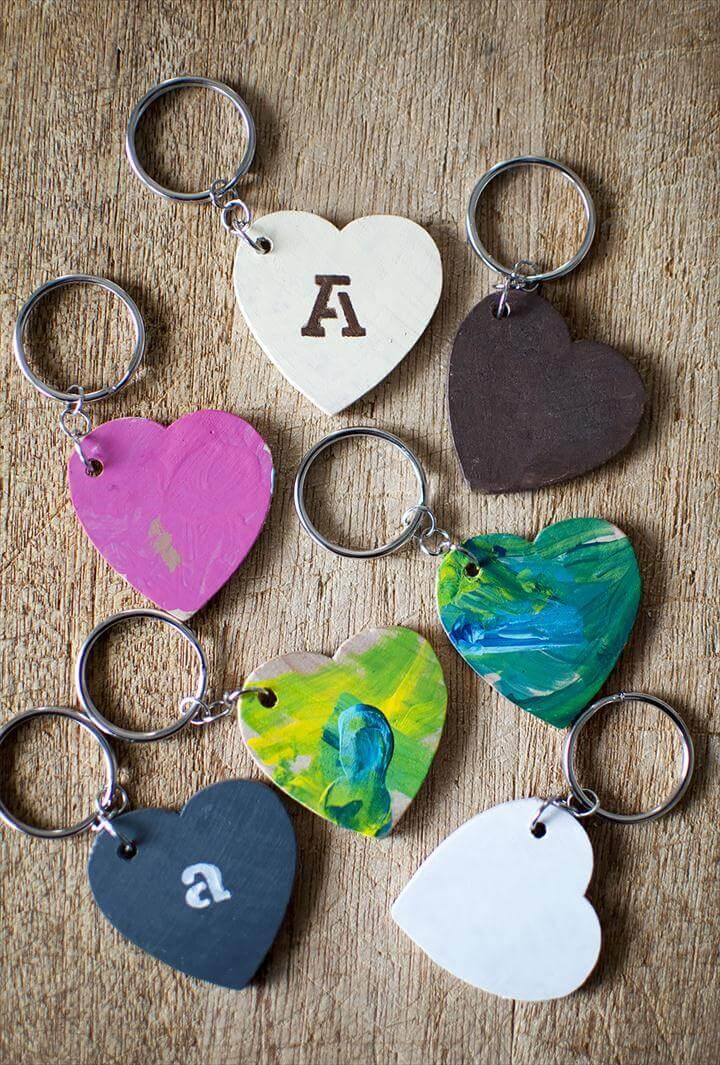 Spread love to your near and dear ones with these adorable and colorful heart keychains which are easy and fun to make at home. The wooden hearts have been painted nicely and then stenciled with the initials of the persons to whom you want to give away these gifts. Check out the details right here!
Image: cherishedbliss
Clay Donut Keychain: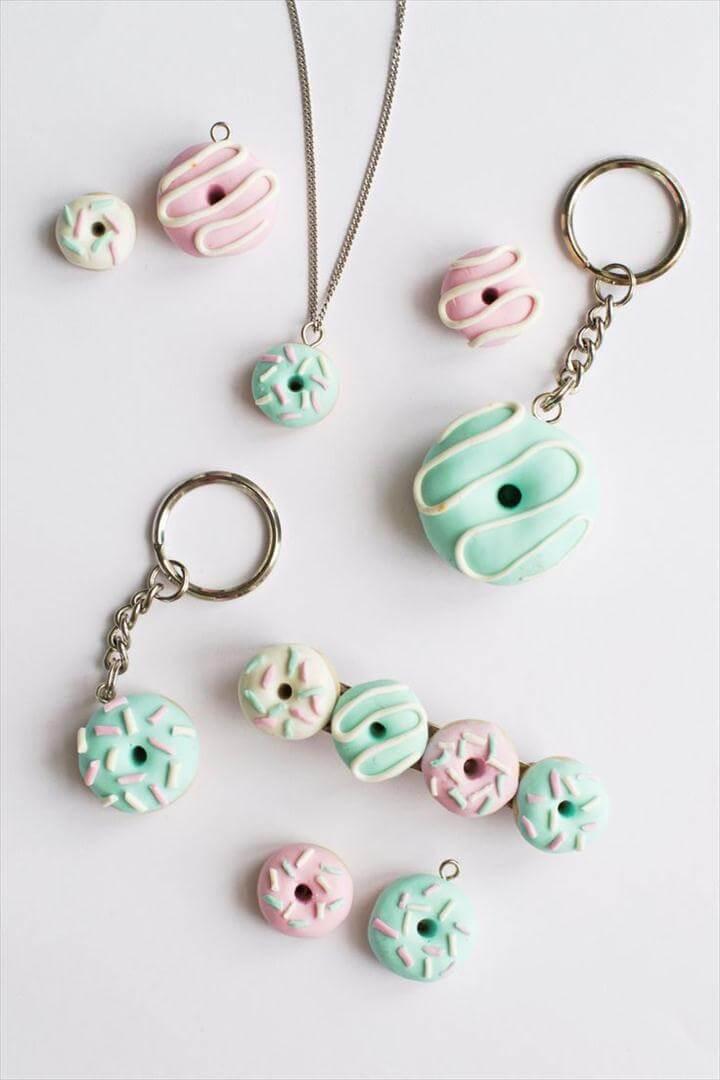 These gorgeous clay donut keychains can make anyone's mouth watered for being so softly colorful and cute. The donut keychains are made out of the clay and thus you can involve your kids to make a bunch of these too. You can either make them with a sprinkle or with the creamy topping. Check out more details here!
Image: hungryheart.se
Pompom Keychain

: DIY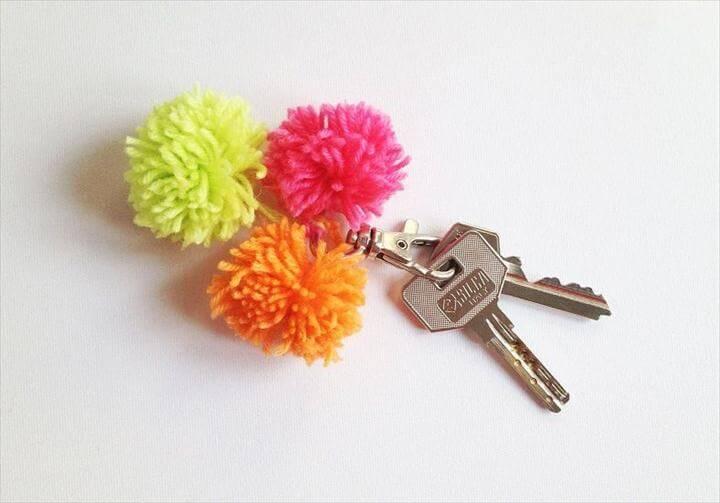 Make the most out of yarn stash that is left out from your winter crochet projects by making these adorable pompom keychains. The lovely keychains are made with the colorful and bright yarn an then added to the keys. You can use your favorite yarn hues to make these adorable keychains to come out superly customized. Check out details here!
Image: annaevers
Precious Felt Dog Keychain

: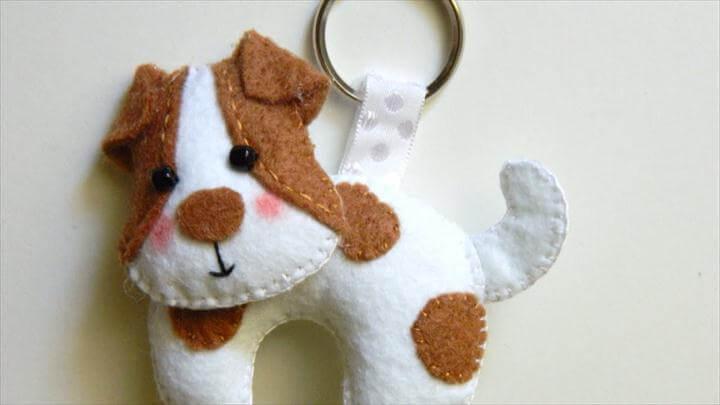 Pay a tribute to your cute dog with this adorable and super cute precious felt dog keychain. You need some brown and white felt along with some batting or stuffing to shape up this really cute and fun precious felt dog keychain. You can make the felt cat keychain too if cats are your favorite pets.
Image: youtube
Speckled Clay Keychains

: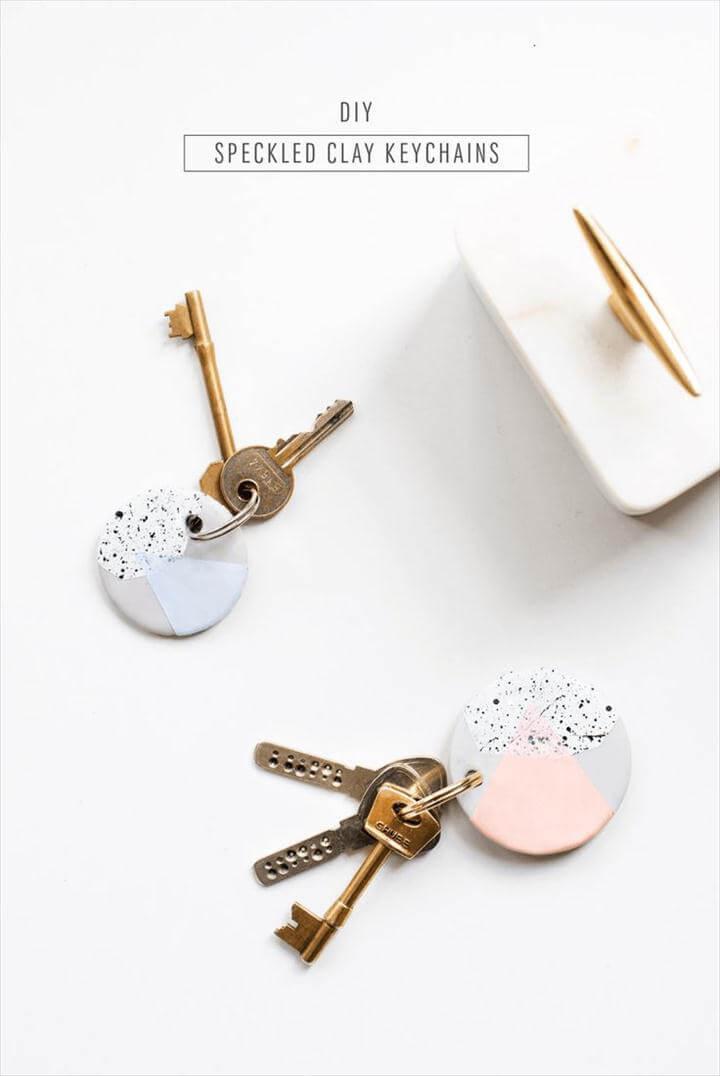 Using the clay and the pretty colorful hues of the paint in soft and pastel hues you can make these adorable speckled clay keychains. You can paint these cute round clay keychains with color block paint hues to look just so cute and fun. So make a bunch of them and use them as gifts around for your friends. Details here!
Image: sugarandcloth
Mini Crochet Donut Key Chain

: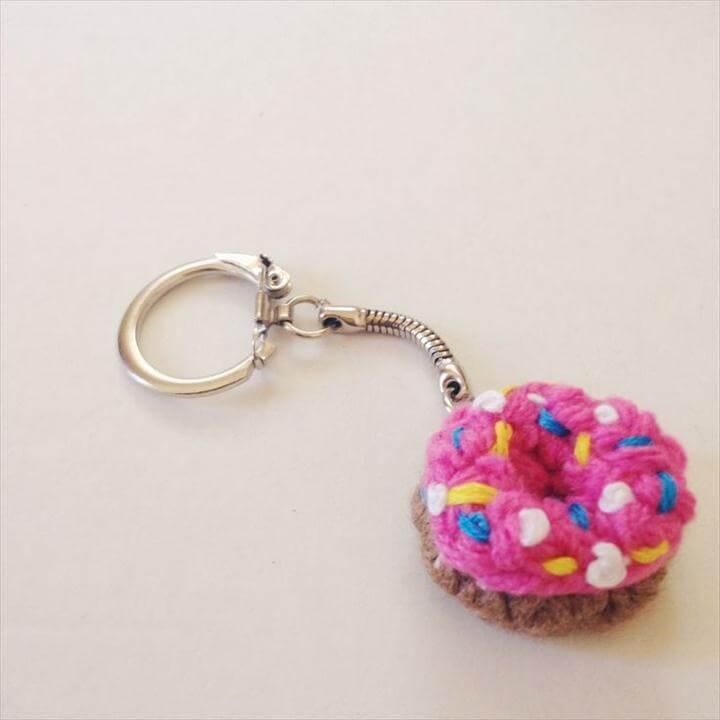 We love donuts and donut crafts so make this lovely mini crochet donut key chain to make the most out of your little pieces of the left out the yarn. So grab a brown yarn piece to crochet up the base of the donut and the pink one to shape up the top. The colorful sprinkle stitches really give this mini donut key chain a perfect finish.
Image: love2bloom
Wooden Bead Keychains

: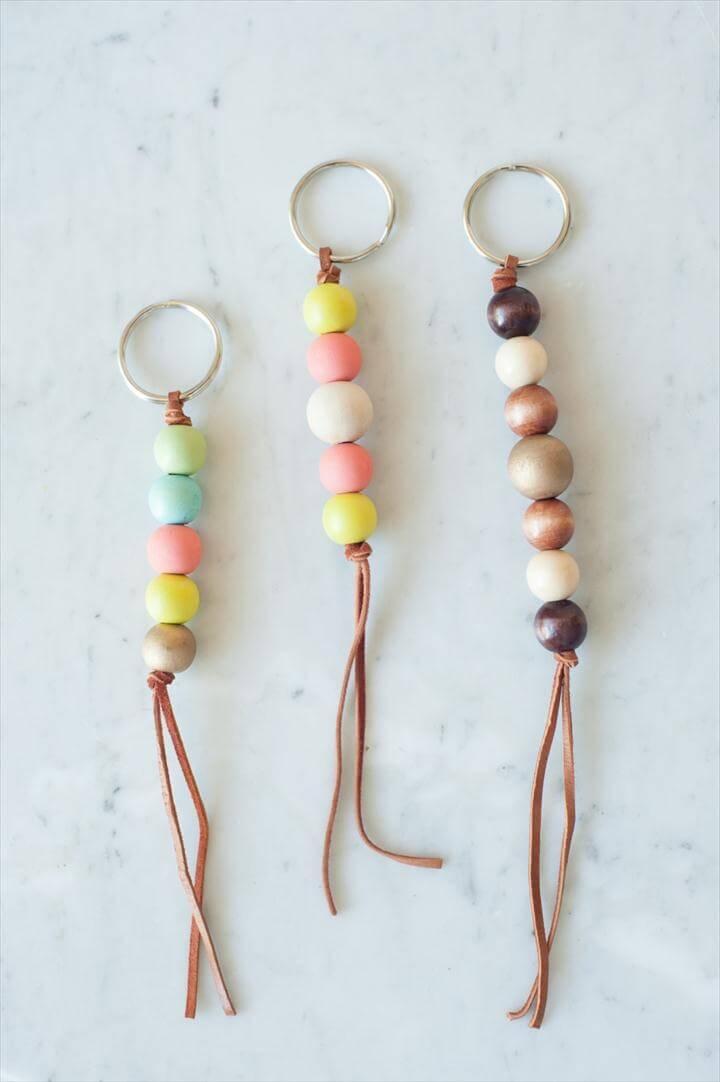 Make this lovely wooden bead keychain for those who are in love with the chic and cool kind of possessions. This adorable wooden keychain is super easy to make with a few things. The wooden beads of multiple sizes have been painted in cute colors and then string up with the leather cords having long tails. Check out more here!
Image: thesweetestoccasion
Sweet Crocheted Strawberry Keychain

: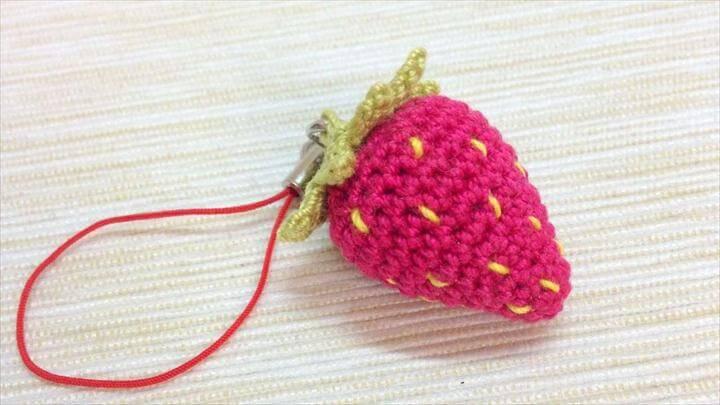 Celebrate the summers with the fruity themes by making some fun fruity crafts and this sweet crocheted strawberry keychain is so cute. So grab some red yarn hues to shape up this puffy and cute crocheted strawberry in mini size and use it to save your keys in your bags and more. Get the free pattern here!
Image: youtube
Gold-Accented Leather Feather Keychain

: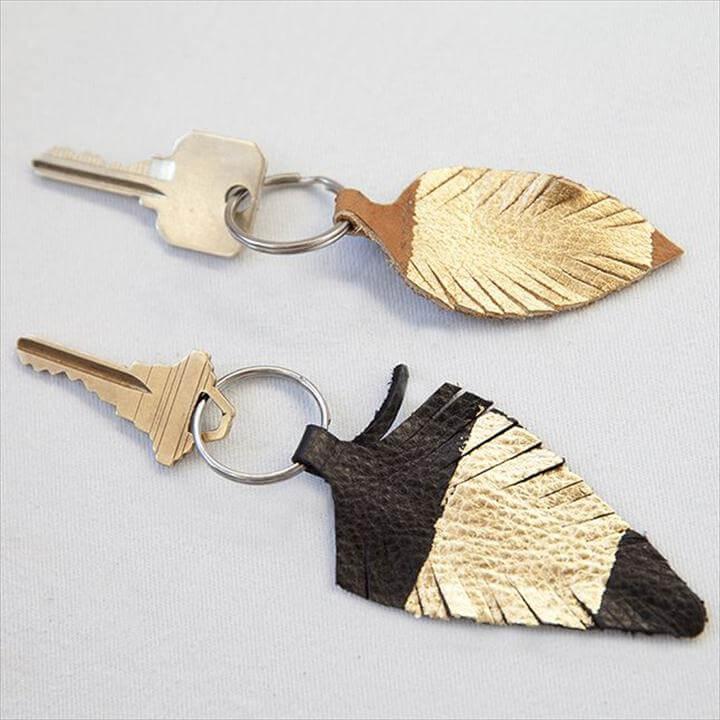 If you are looking for a fun and funky kind of craft then you must get your hands on this gold-accented leather feather keychain. Grab the leather and then cut the feather-like shapes out of it. Then grab some gold paint and brush it over these feathers. Lastly, add your keyrings and the keys and they are ready to flaunt.
Image: creativebug
Painted Leather Keychain

: DIY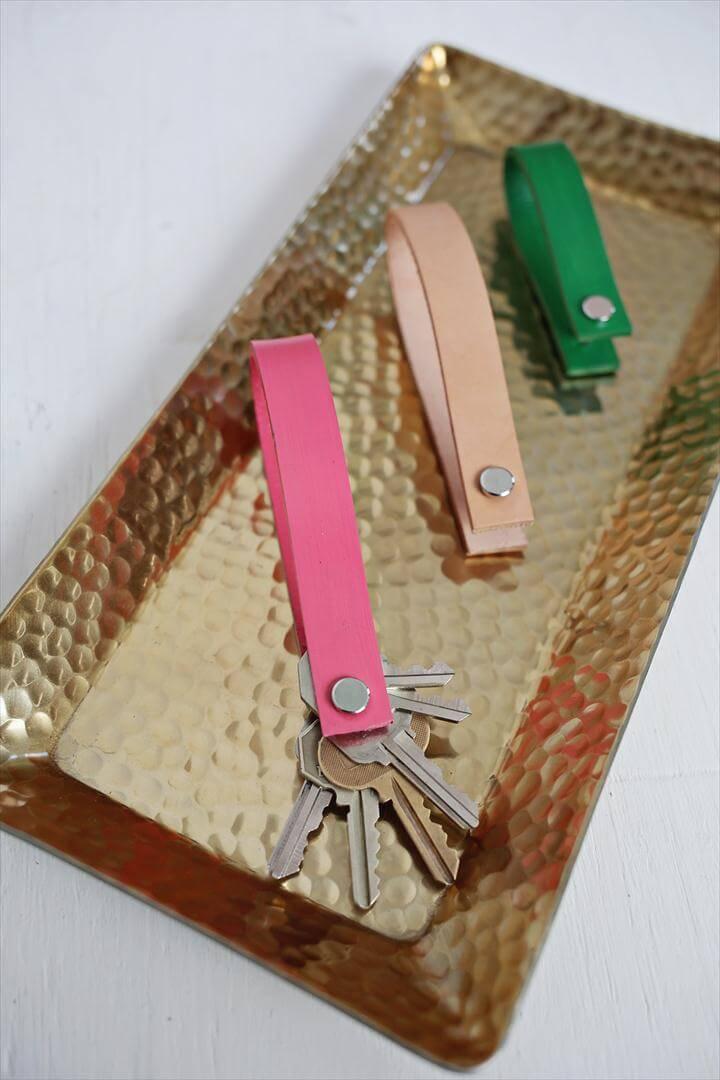 Here are these simplest leather painted keychains to make and use as the lovely gifts for your dear and near ones. Just cut stripes out of the leather and then paint them in colors of bright and eye-catching paint hues. These would make great gifts or favors.
Image: abeautifulmess
Plastic Animal Key Chains

: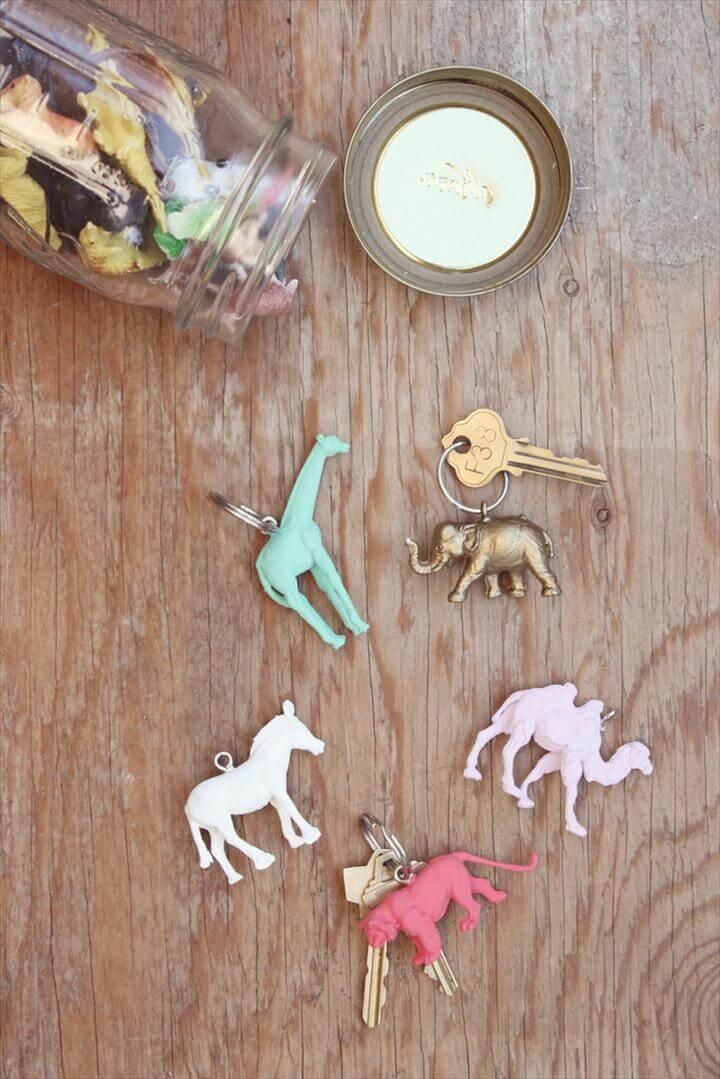 We love to buy those plastic toys from the thrift stores and now you can use them for lots of fun crafts. So here is the idea of making these absolutely fun and funky plastic animal key chains. Also, these are the simplest of the projects to do in your free time. Check out more details here!
Image: gingersnapsblog