This piece of writing is particularly about how we can make our very own unique key chains at home with our crafting materials such as felt sheets, leather cut pieces, and much more.
We can make different things out if felt sheets and leather cut pieces and sew the edges keeping one side open and putting the key ring inside through the side which is kept open. Now you can put the keys in the keyring and your very own customized beautiful 32 Gorgeous DIY Key Cheap Chain Ideas are ready. You can also cut animal shapes with the leather pieces and can turn them into beautiful key chains by putting a key ring on one side.
Here we present another tutorial of how you can make fabric purse key chains with plastic inserts. For this, we need a colorful fabric depending on our own choice, plastic sheet, and key rings. We will have to make small purses with the fabric and attach a plastic cut piece inside to give it a shape and help it to retain that shape. We can use these small purses for keeping our change as well as lipsticks and other small stuff.
We can also make an amazing and interesting hand print key chains by taking a small plastic piece and cutting it in the shape of little hands of your child and you can print their handprint by painting their little hand and taking the impression of that hand on the plastic hand-sized piece to save it as a memory for your child.
We can also make lovely key chains out of wooden balls which we can paint in different colors and also tie a thread at the end after putting two or three balls. The leather key chains can also be made in such a way that we can cut the leather in order to give a look of a feather. For this, you will need to cut the leather piece from the edges and turn it into leather feather key danglers.
One of the popular key chain styles is that made of wine corks which are very common and look equally beautiful as a key chain. You can learn how to turn the useless wine corks into a key chain by watching the tutorial attached to the article. We can also make tassels from small leather pieces and can attach or stick a key ring to make these stylish key chains for our bags and purses.
In this tutorial, we have also shown how to make rainbow buttoned key chains by taking buttons of different colors and putting them all in a key ring and then turning it into a key chain.
Sewing Key Chain: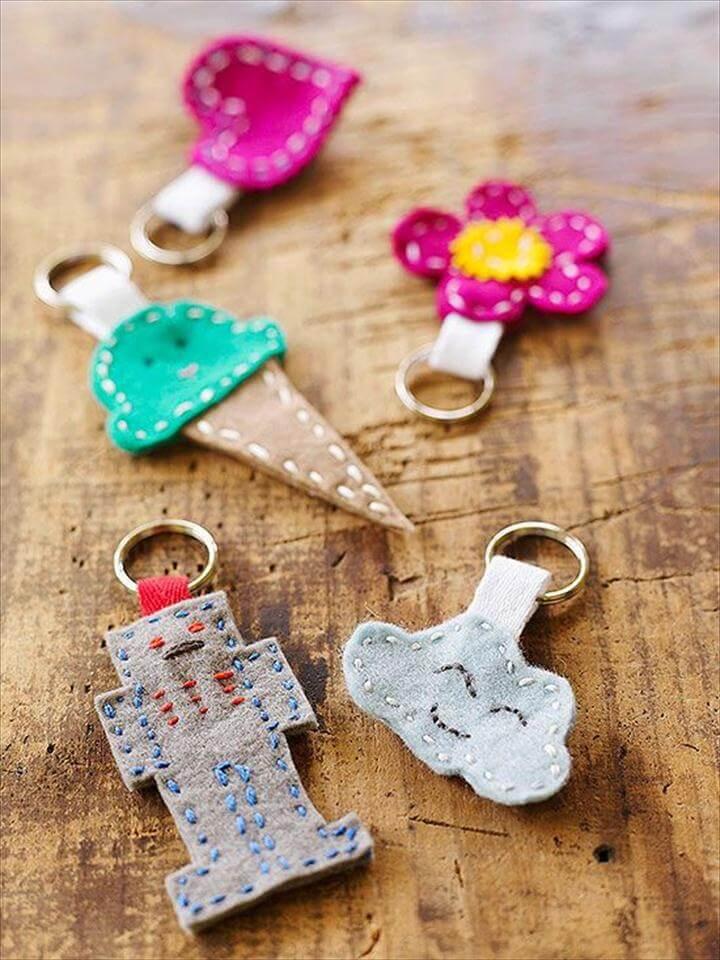 You can make the most out of your free time by making these sewing key chains for a fun summer day. Just grab some colorful sheets of the felt to easily sew up these amazing sewing key chains. You can make as creative and cute shapes as you like for example clouds, ice cream cones, flowers and more.
Image: parents
DIY Littlest Pet Shop Keychains: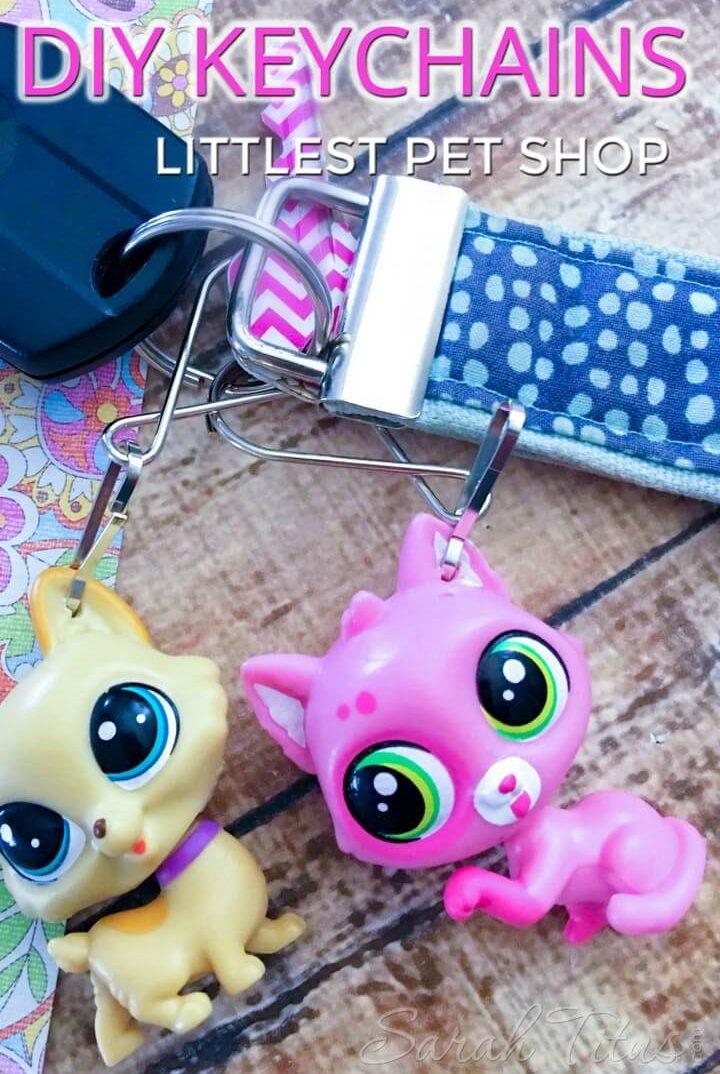 You can make such interesting and cool kind of key chains and making this DIY littlest pet shop keychains are the best. You need to buy some cute little plastic pets, drill holes in them, and then add the key chain ring to it. You can make a bunch of them use as the pretty and fun gifts around. Details here!
Image: sarahtitus
Lip Gloss Keychain: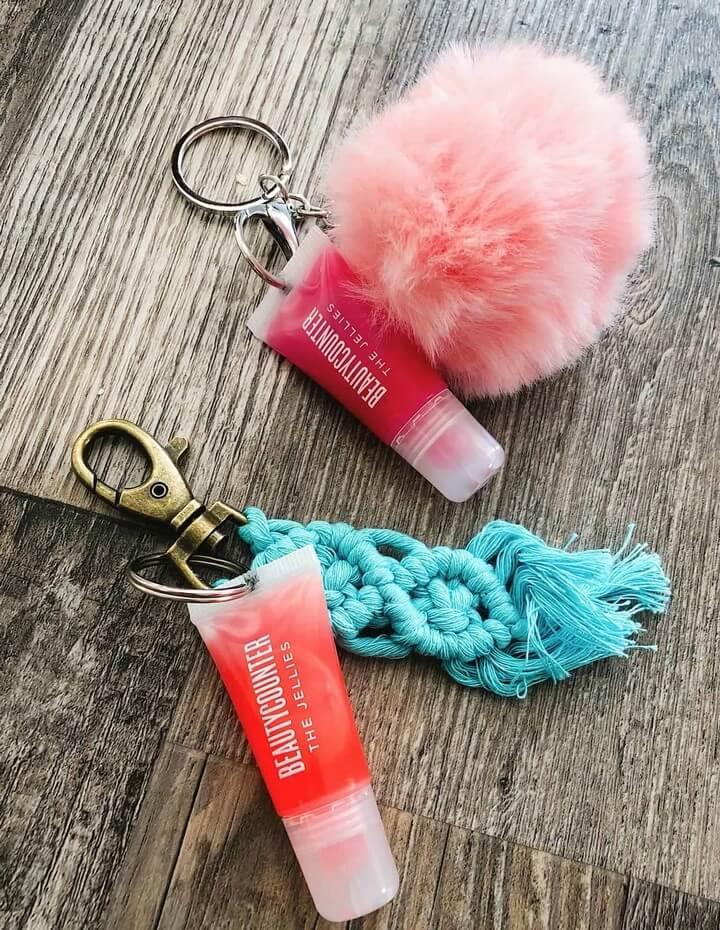 There are few things that need to be with us all the time like our keys and the lip glosses. So you can combine them both by making this lovely lip gloss keychain to use them super conveniently anywhere. Also, this pretty lip gloss key chain would make a great gift idea for your dear and beloved ladies too.
Image: buggyandbuddy
Fabrics Purse Coin Keychain With Plastic Insert

: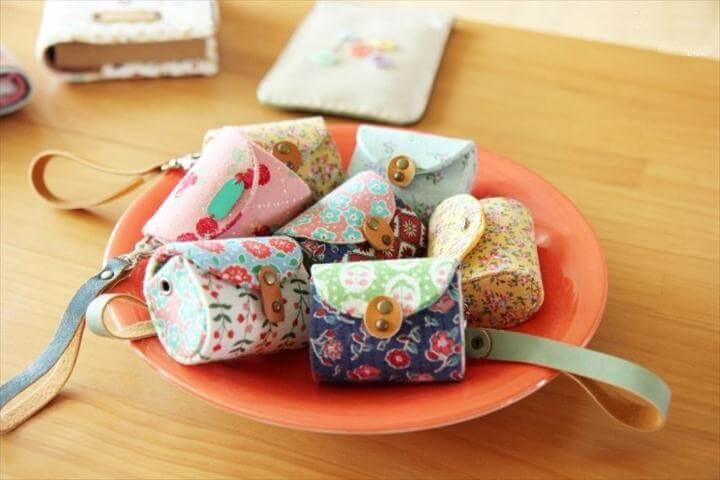 Now your keys and coins can be saved at the same time with this adorable project of the fabrics purse coin keychain with plastic insert. The cute little purses are made with the fabric scrap pieces. Then add leather chains or plastic chains to these purses and they are ready to be a part of your routine. Link here!
Image: handmadiya
Great Handprint Keychain

: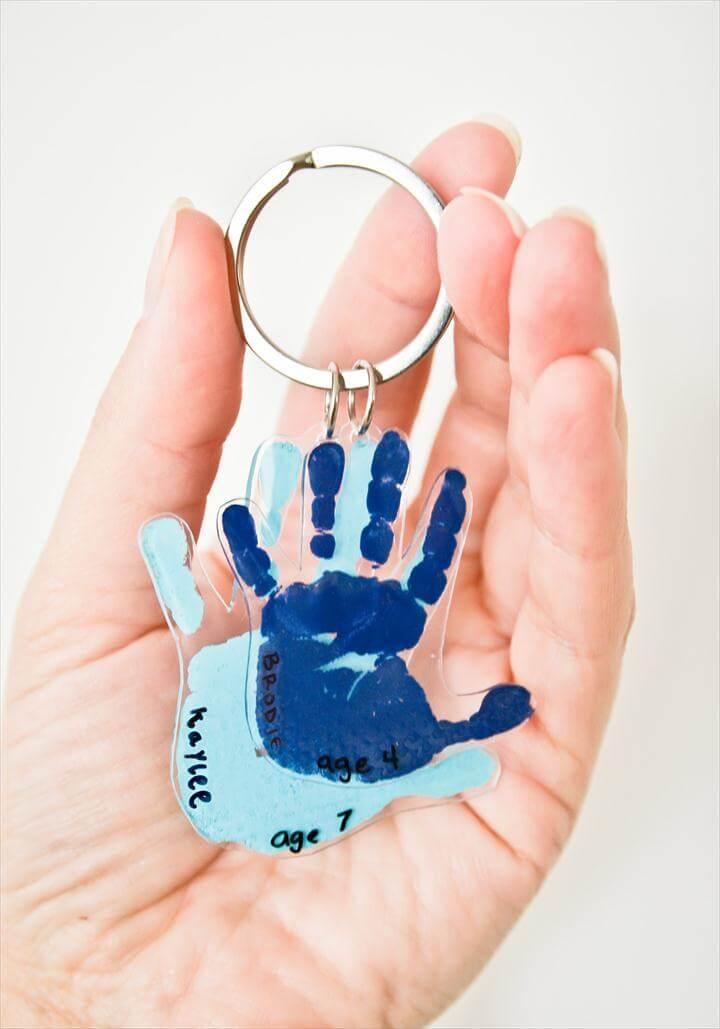 Let your kids help to make the best gifts for their parents with these great handprint keychains. The lovely key chains are so heartwarming with the little heart prints of your kids. You need plastic sheets, paint, and the key chains as the basic and main supplies for this project. Get the rest of the details here!
Image: greyhouseharbor
DIY Wooden Bead Keychain: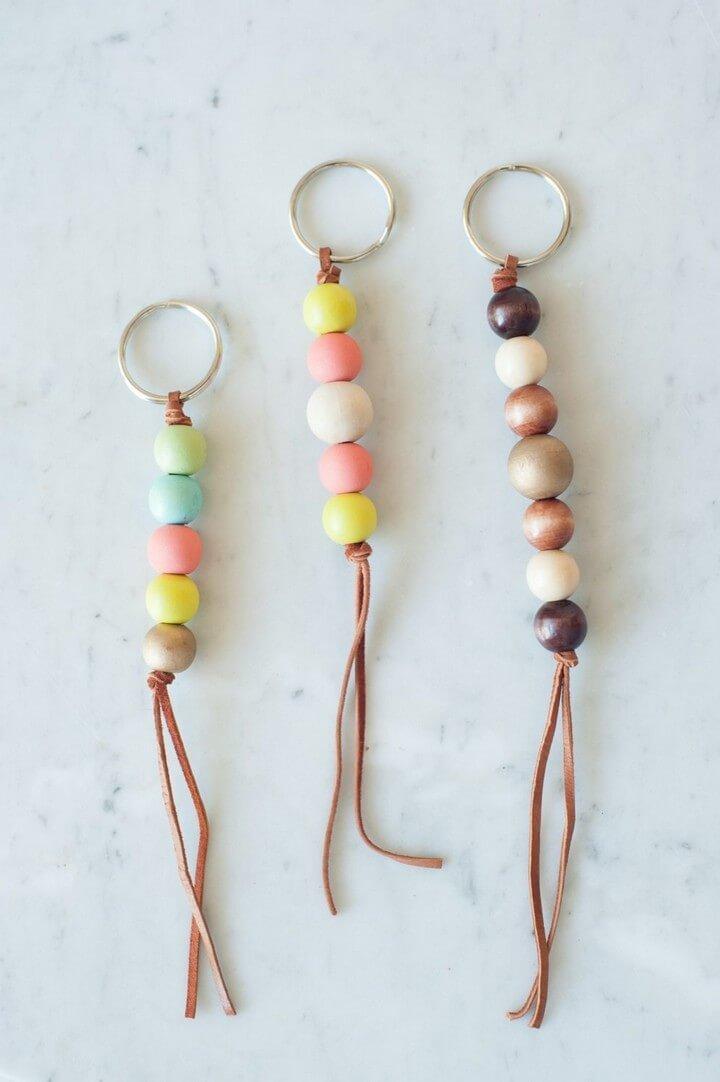 These DIY wooden bead keychains would make the best gifts or favors for your guests or for your dear ones around the Holidays. To make these super cute wooden bead keychains you need a few simple lists of the supplies. Just get wooden beads of varied sizes and paint them in your favorite hues and lastly string them up in a leather cord leaving a long tail behind.
Image: thesweetestoccasion
How To Make Personalized Leather Keychains: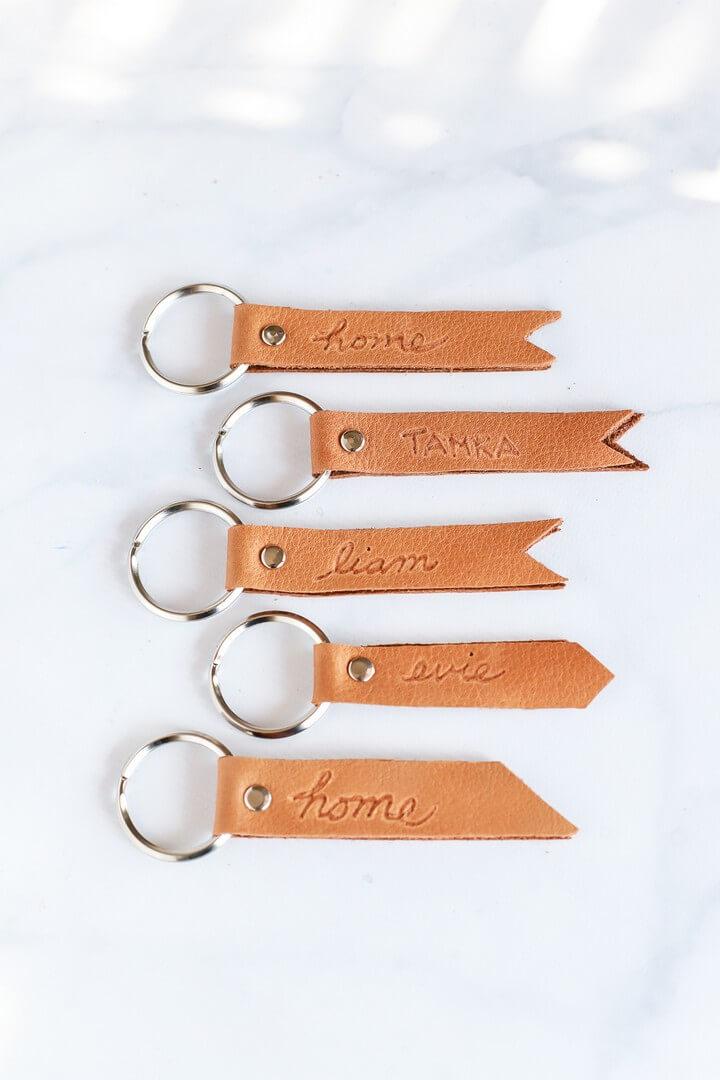 Make these quite elegant and decent looking personalized leather key chains at home to give away around. They are super easy to make with leather strips, key rings, and some other basic tools. The best and the heartwarming thing about these leather keychains is that they are engraved with some lovely words and you can totally get creative with them.
Image: jenwoodhouse
Wine Cork Keychains: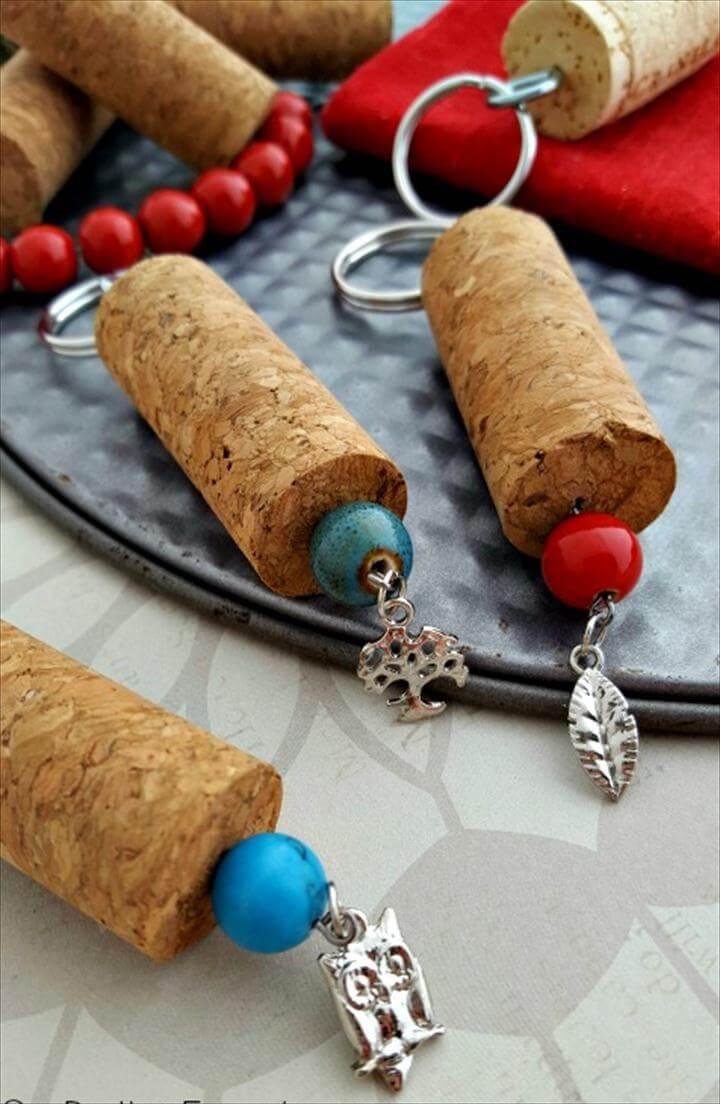 The wine corks are the waste but not when you are a crafty person. So get them and make these quirky and cute wine cork key chains out of them. The corks have been drilled with holes to get the ring in. Also, the wine corks have the lovely and colorful beads and metal embellishments attached to look so awesome.
Image: sixdollarfamily
Leather Keychain – Free DIY Leather Tassel Tutorial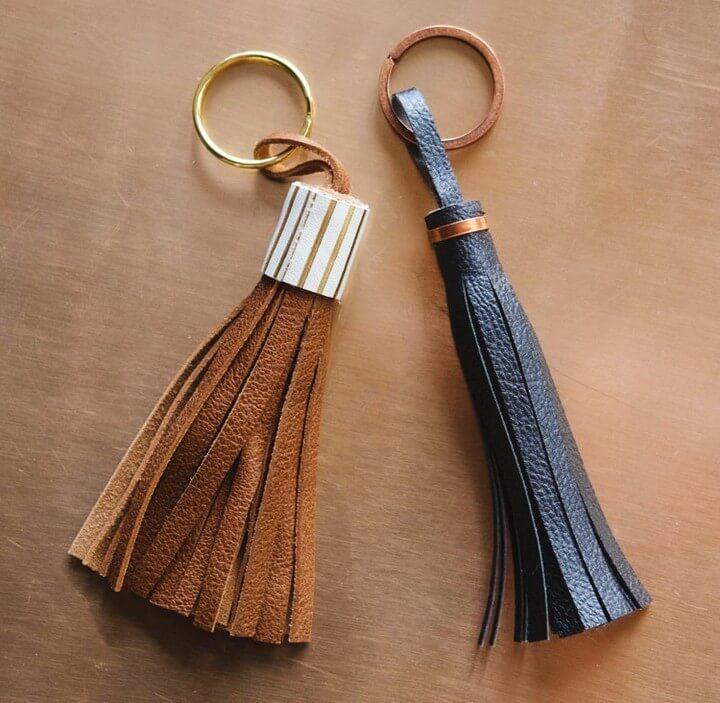 You can make the most out of your free time by creating some super cool and cute items just like this pair of pretty leather keychains. All you need to do is make the leather tassels using your crafty tools of cutting and binding. Just add the key rings to the tassels are you are done with the amazing keychains.
Image: liagriffith
Men Mini Book Key Chain Tutorial

: Gift Idea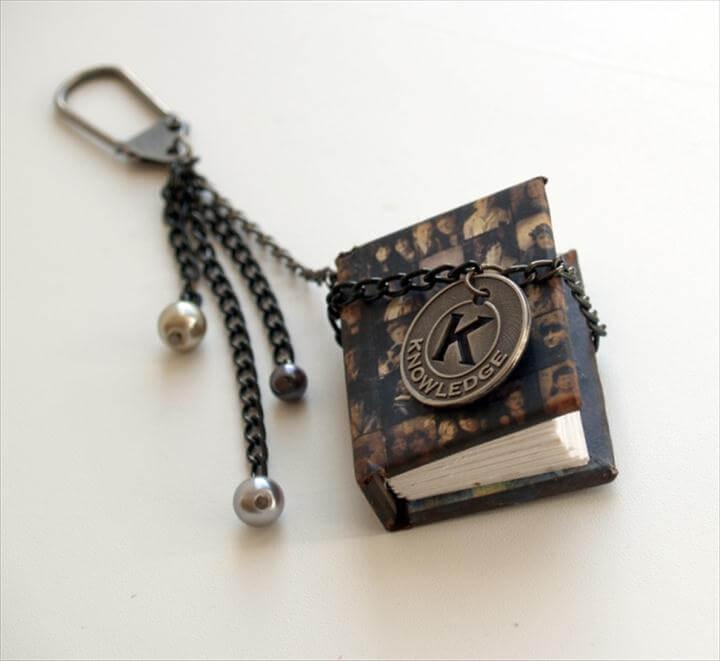 Here is another super creative and cool idea of the men mini-book key chain and that too with the tutorial. This lovely and super cute mini book key chain would make one of the best gifts for anyone in the family especially the males. There are so many options to go creative with the mini-book theme.
Image: youtube
Leather Tassel Keychain

: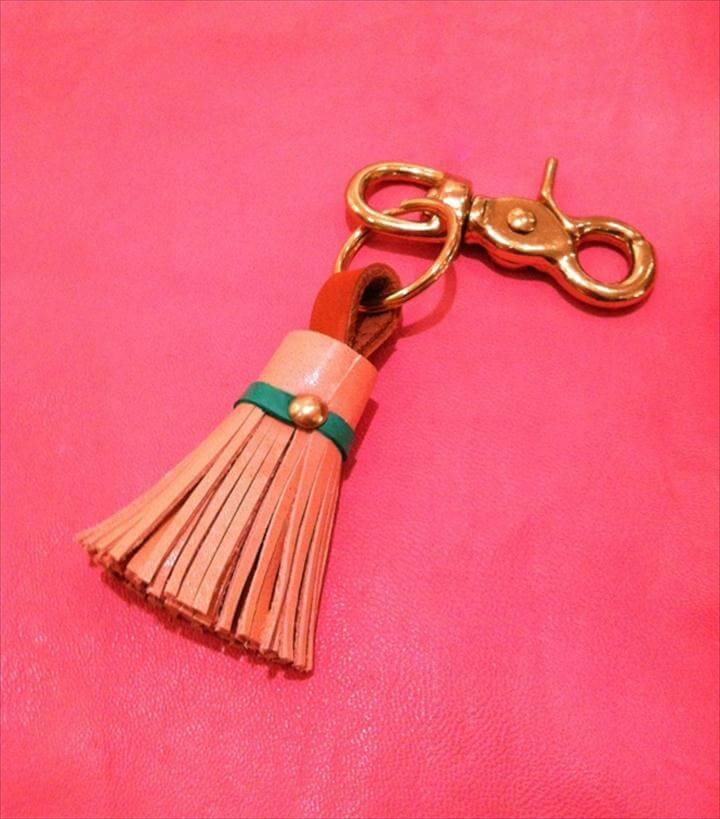 Now you can make your own favorite and custom leather tassel keychains to flaunt and be proud of. Just grab a big leather sheet to cut strips out of it and then bind them together to form a tassel. Lastly, add the most easily available key chain or the ring and you are ready to rock your key chain game. Details here!
Image: littlegreennotebook
Leather Tassel Keyring

: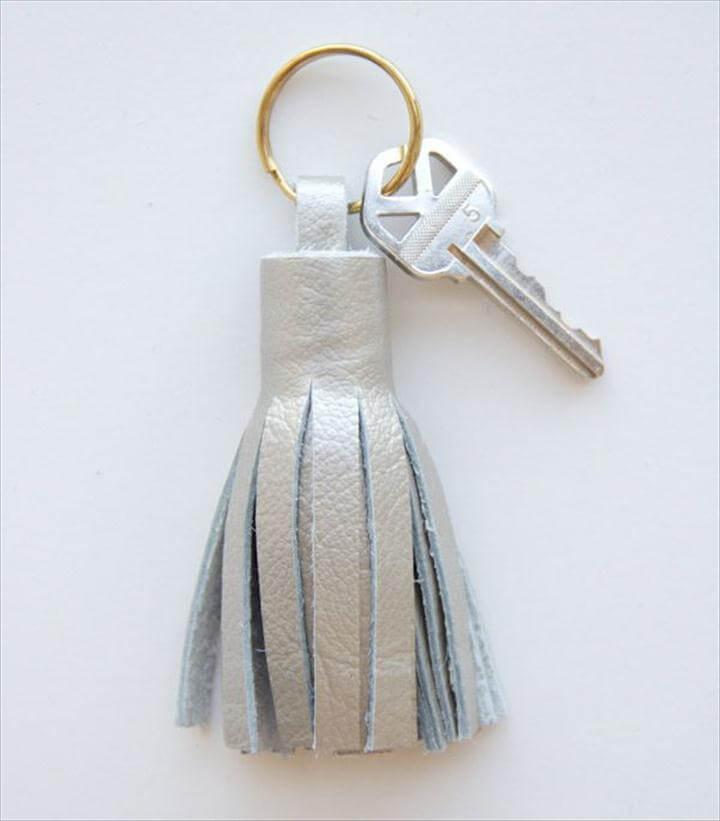 This silver leather tassel keyring looks really enchanting and eye-catching. It has been made out of the leather fringed strips being combined together and then you can add the keyring and your key to complete it. If you have plain and soft-colored leather you can spray paint it silver for that catchy and cool look.
Image: lovelyindeed
Fabric Chapstick Holder

: Mini Purse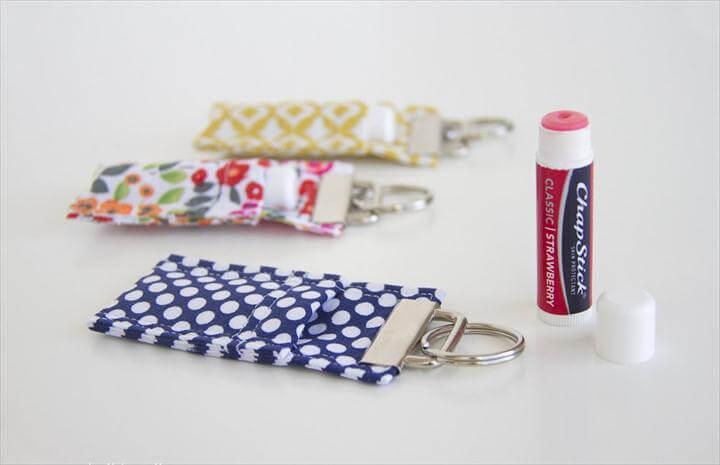 Make your winters more functional and fun with this handmade fabric Chap Stick holder mini purse. Using the fabric pieces of colorful prints like the polka dots you can easily make these adorable mini purses. The purses come with the keyrings and have pockets to hold the chapsticks inside too. These double functional mini chapstick holder key chain rings would make amazing gifts too.
Image: makeit-loveit
How to Cut Leather with Cricut Explore Keychain: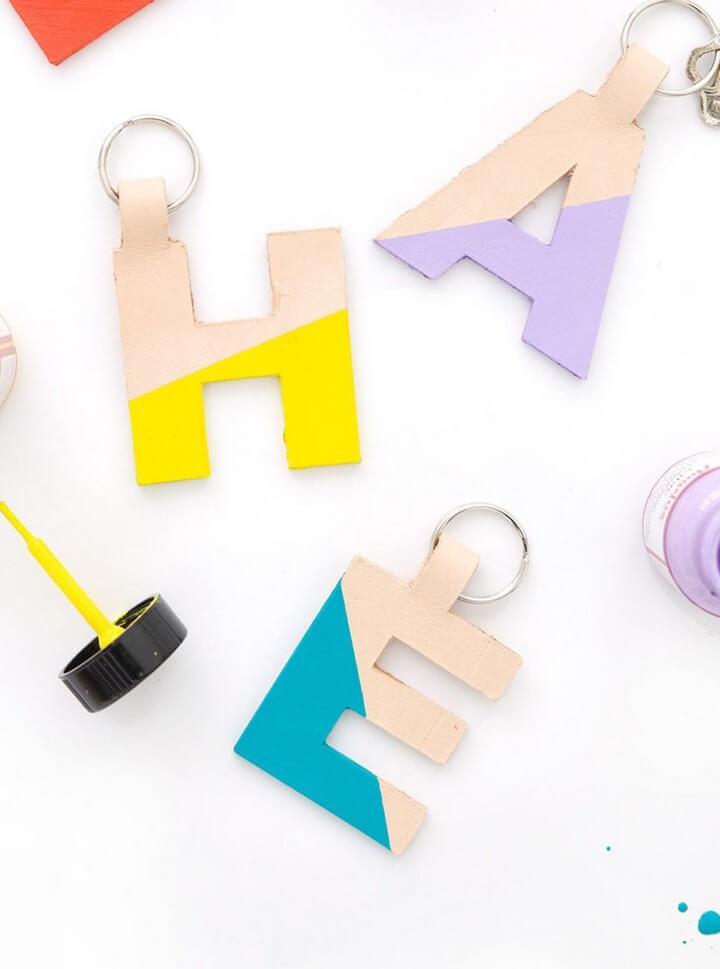 Custom and personalized items are always the best possessions and now your key chains can be customized too. Using your circuit explorer you can make a lovely bunch of leather monograms to later paint them and add keyrings too. These would make the most amazing personalized gifts too. Details here!
Image: damasklove
Bohemian Rope Tassels Keychain: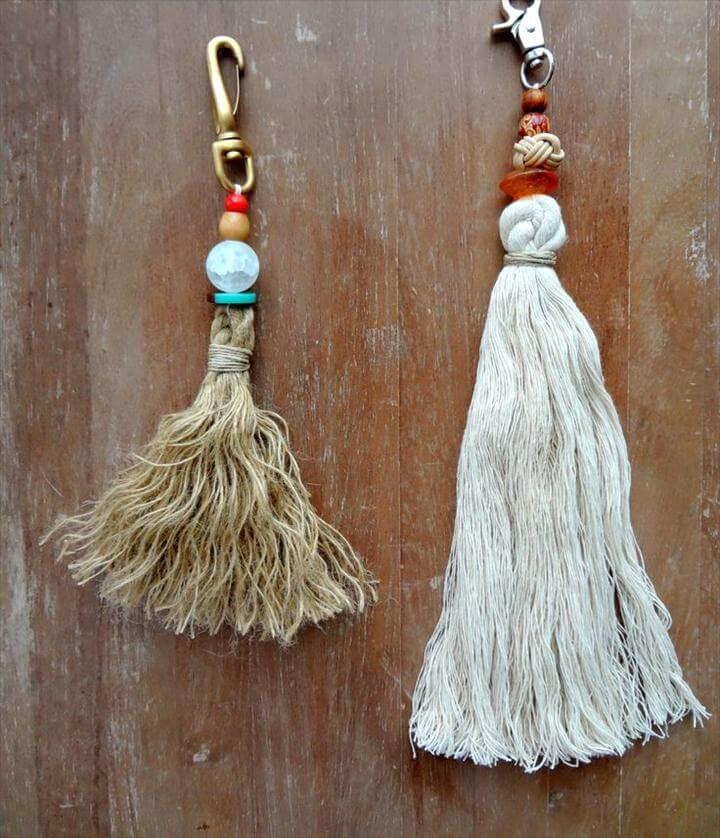 Go boho with your next homey craft session and making this bohemian rope tassel is the best thing to make. The lovely keychain looks more of a decorative piece than a key chain with that long and bulky yarn tassel, added beads, and the stones. These would make really exciting gift ideas too so do hack the details here!!
Image: madeinaday
Rainbow Buttoned Keychain: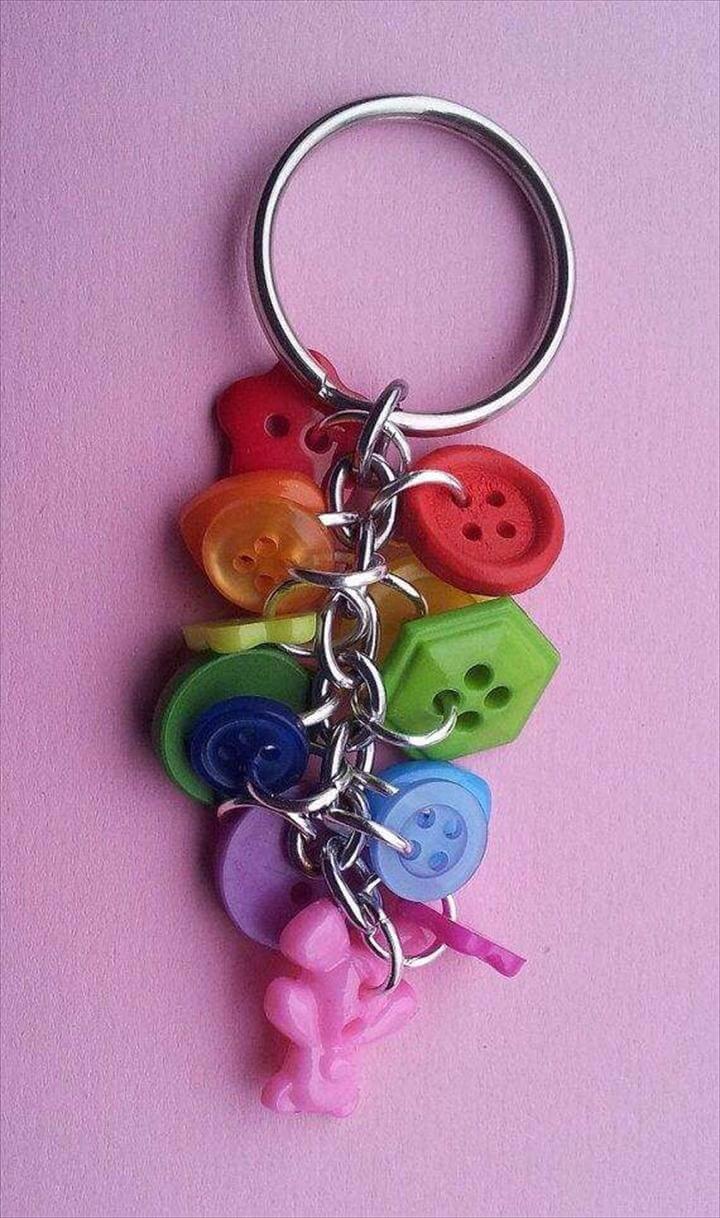 It's time to use that big collection of the colorful buttons that you have saved in your jars or the drawers. Making this pretty rainbow buttoned keychain is the best idea to use those idle sitting buttons. So grab the buttons with rainbow colors and jump rings to shape up this super cute and fun keychain ring. Know it more here!
Image: etsy
Sprinkle Donut Keychain

: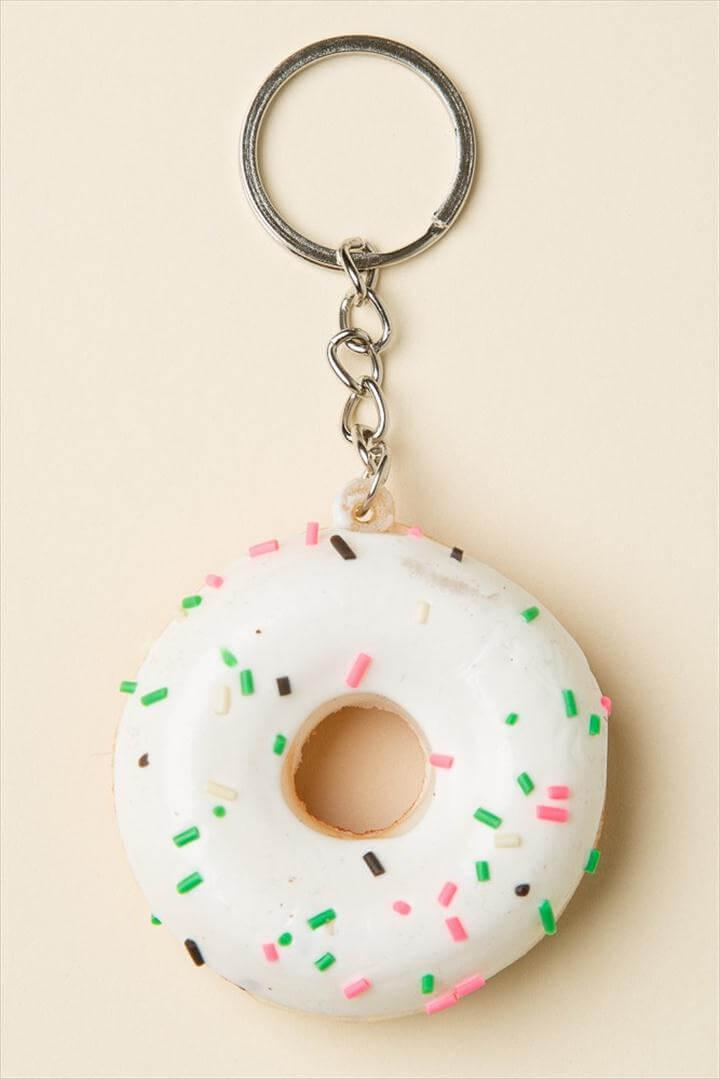 We love donuts and here is this amazing idea of creating the funky and cute sprinkle donut key chain. So grab some clay to make this cute white donut with a colorful rainbow sprinkle. Once it's dry you can add the key chain ring to it. You can make a bunch of them use as the simplest and cutest gifts around.
Image: youtube
Steampunk Driftwood Key/ Bag Chain

: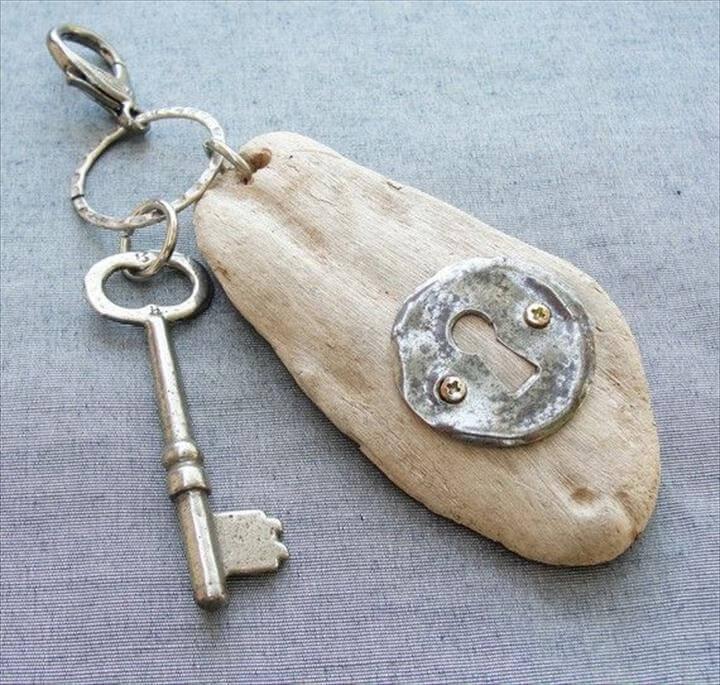 Get a piece of driftwood to make this gorgeous steampunk driftwood key bag chain. This driftwood key or bag chain is surely going to bring the perfect beauty to you in the way you want. Those who are lovers of steampunk fashion are really going to love this driftwood key chain idea. Get the details right here!
Image: coastalhome.co.uk
Painted Leather Keychain For Father's Day: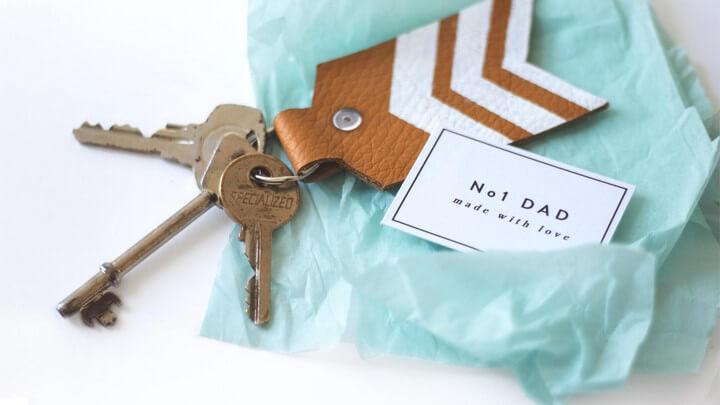 Little things can bring huge smiles just like this painted leather keychain for father's day. The cute and simple key chain is made with the leather piece with an arrow back like shape at the end. To make it look quirky white painted arrowheads have been done on the top. Check out the details of the idea here!
Image: sheknows
How To Make A Layered Tassel Keychain: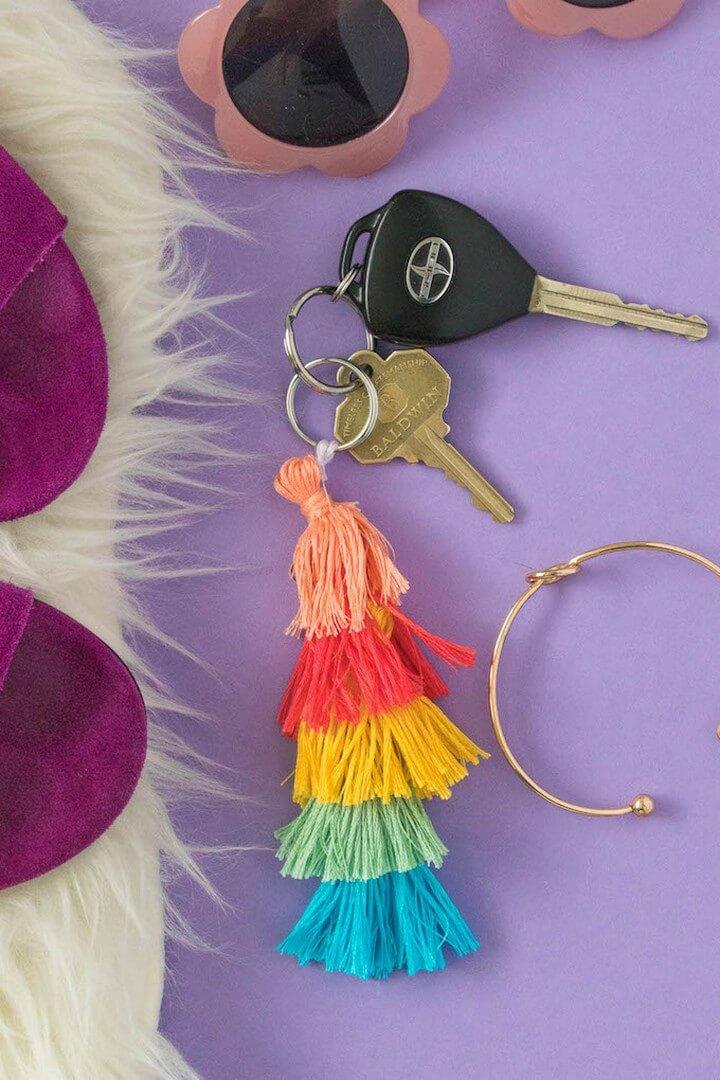 This layered tassel is going to win over your hearts for being so cute and gorgeous. The pretty tassels are super easy and fun to make a bunch of colorful yarn. Layer up the tassels the way you want and lastly add the key chain or ring and your super funky and colorful tassel keychain is ready to rock. Know more here!
Image: carriecolbert
Amigurumi Crochet Heart Keychain Pattern: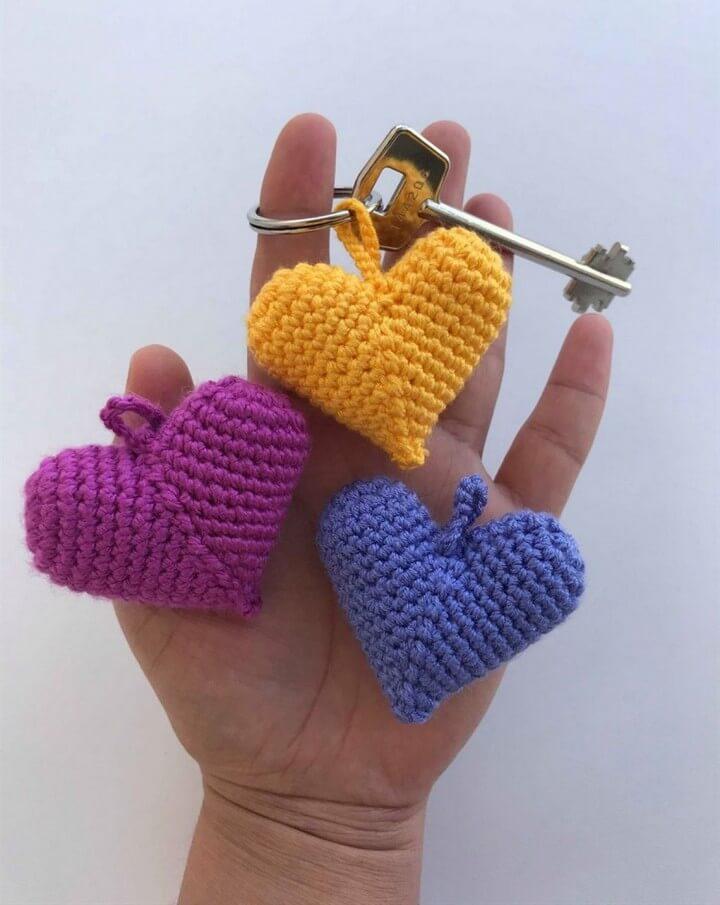 Make these tiny little cute crochet amigurumi hearts and use them as the prettiest and the coziest key chains. You can make these lovely puffed amigurumi hearts in a variety of colors and then use them as the lovely and simple key chain gifts for your dear and near ones. Get to know the details of the pattern here!
Image: knittingcrochetlove
Kawaii Heart Keychain: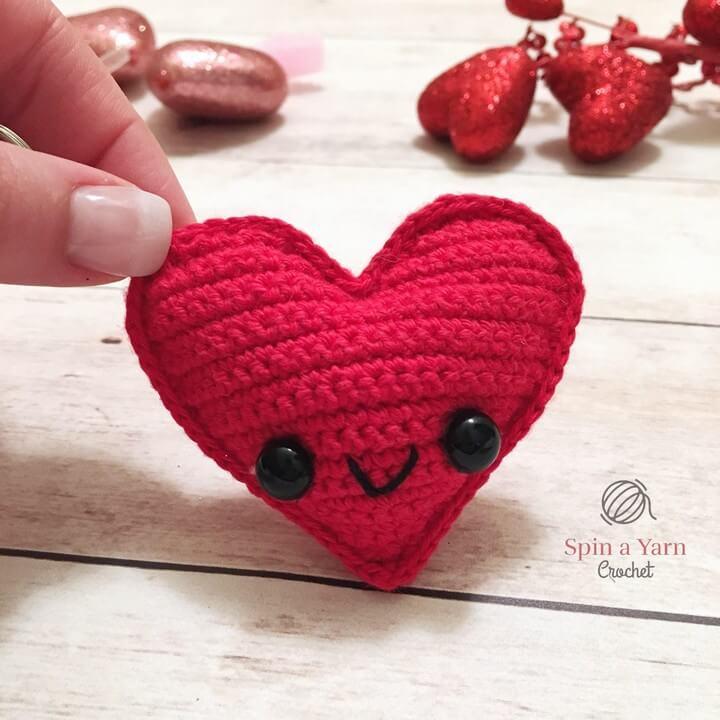 This cute little red kawaii heart keychain is the cutest of all the ideas mentioned here. Yes, the mini red heart has lovely face features being done with black yarn and the buttons. This cute kawaii heart would turn out to be the best and the most desirable keychain ever. You can make many to use as gifts or favors too.
Image: spinayarncrochet
LEGO Keychain

: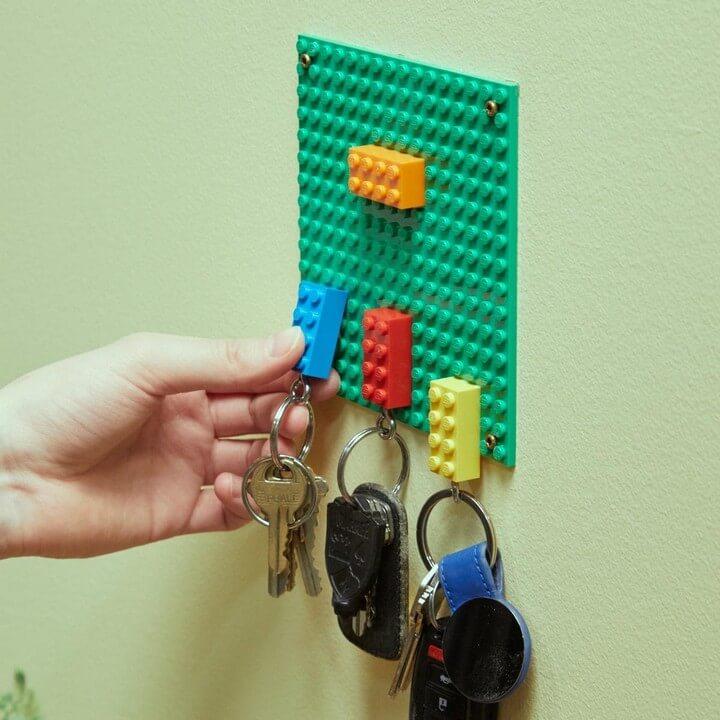 If your kid no more plays with the legos then it's time to use them for some fun and functional projects just like this pretty lego keychains rack. The big lego board is used as the wall-mounted rack and the little colorful lego pieces are used as the hooks to hang your keys on. Check out the complete tutorial here!
Image: masscentral
DIY Pompom and Tassel Keychains: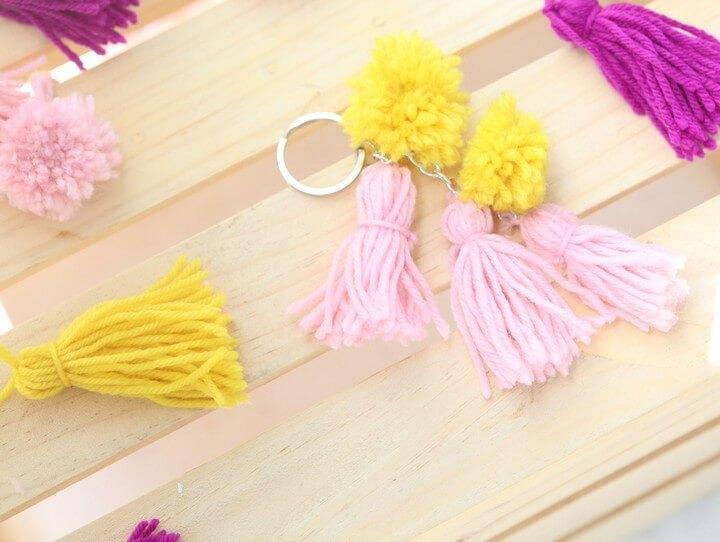 We love yarn tassels and the pom poms and we also love making them at home to pass our time productively. So here is the idea of making these DIY pom pom and tassel keychains that everybody is going to fall in love with. This pom pom and tassel keychains are best for the summer key fashion. Learn to make them here!
Image: googlygooeys
Rainbow Quilling Keychain

: Paint Stick Keychain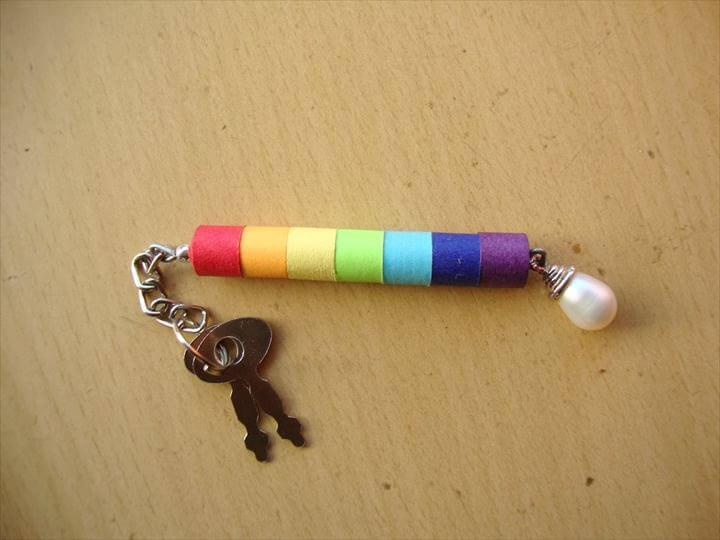 Summer is incomplete without doing some fun rainbow crafts and making this super cute rainbow quilling keychain is the best thing to make this time. Using the rainbow-hued paper or the fabric stripes you can make these quilling keychains with beads at the end. You can also use them to hang over your bags too.
Image: pinkiesbeads
Rope Tassel Keychains DIY: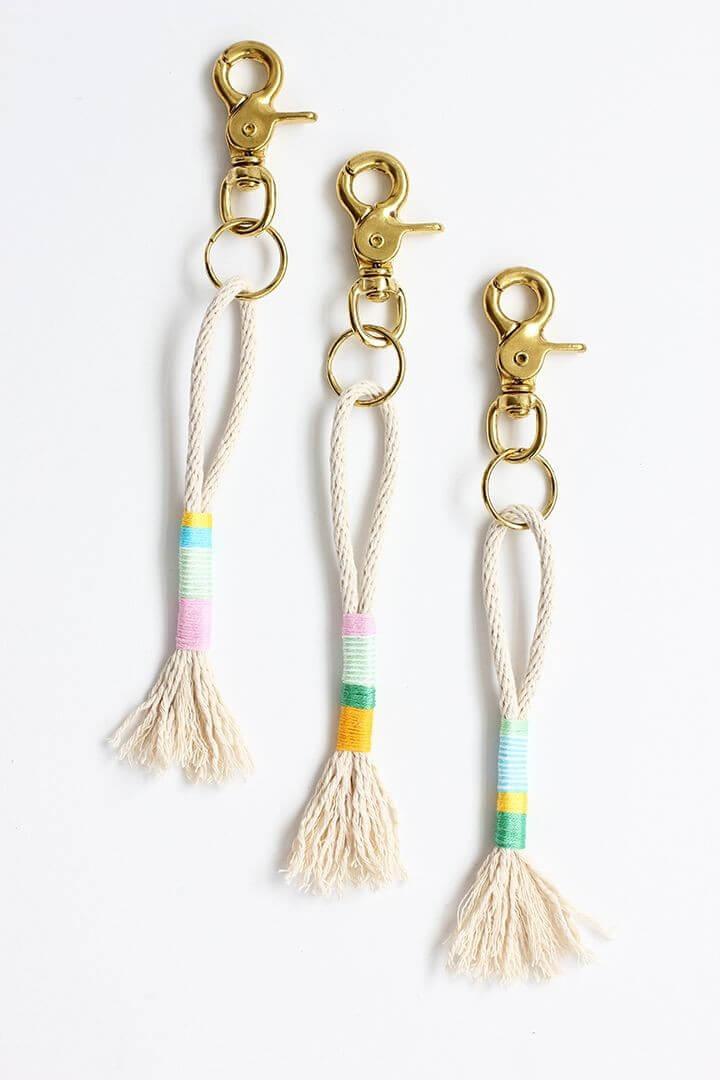 If you have some rope pieces left in your yarn stash then use them to make these adorable rope tassel key chains. The ropes have tassel ends and the colorful wrapping of the embroidery floss to look so cute and fun. You can make a bunch of them use as the pretty gifts for the family members or friends.
Image: aliceandlois
Divergent-Inspired Bird Keychain DIY: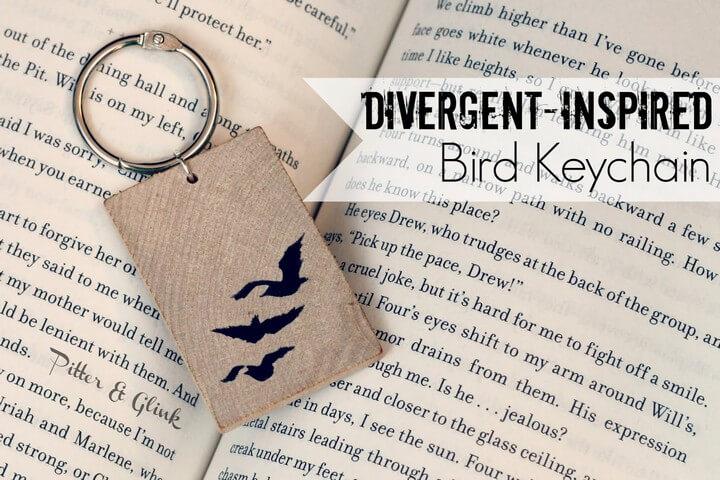 Here is this divergent inspired bird keychain that your male family members or friends are going to love. First, you need to take a rectangular piece of wood in a small size. Then pain the birds on it using the bird stencil and then drill a hole to let the keychain pass through it. Get the easy and step by step details here!
Image: pitterandglink
Easy DIY Keychains with Wood Beads: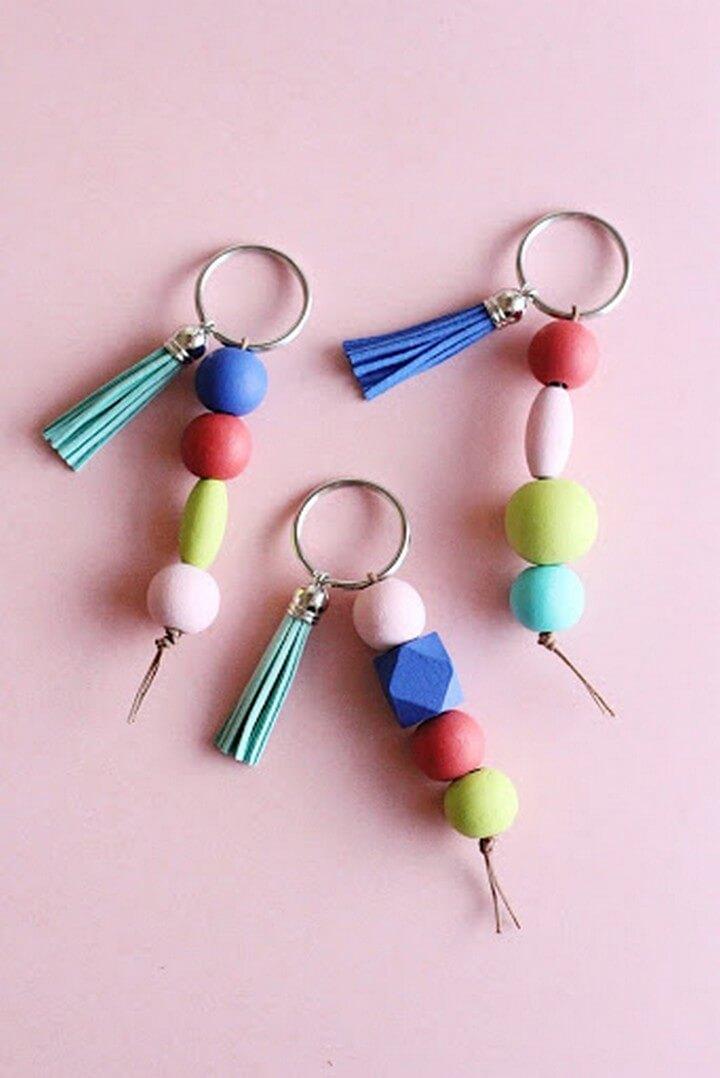 These gorgeous and easy DIY keychains with wood beads are the cutest and the chicest ones. You just need to get your hands on the wooden beads or any shape be it round, hexagonal, or the square. Then paint up these beads in the lovely summery bright hues. String up the beads and add the keychain and it's done.
Image: consumercrafts
Fabric Key Chain Tutorial – Easy DIY Fabric Cuff Keychain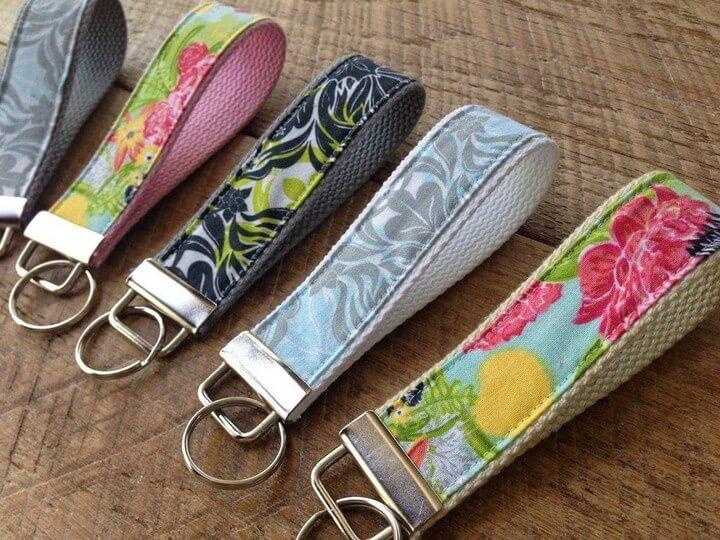 Make the most out of your fabric stash by making these adorable and cute key chains that look like colorful fabric belts. You need the fabric strips in double layers to make one keychain and that too with the key chain fob and the rings. You can make a bunch of them and that too in multiple colors to give away around.
Image: cleverlyinspired
DIY Glitter Heart Keychain: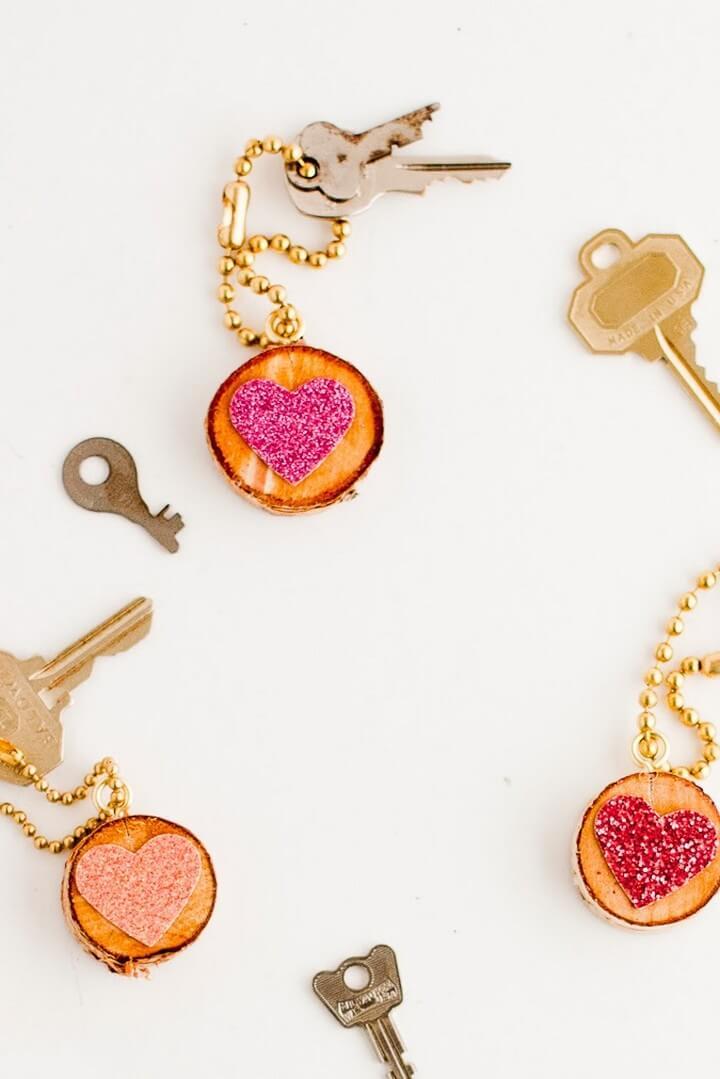 Bring some rustic appeal to your bag fashion with this adorable DIY glitter heart keychain. To make these adorable DIY glitter heart keychains you need the birch wood discs first. Then you need to create the lovely glittered heart in the center of each. Drill holes to the disks and add your key chains for a final touch.
Image: flaxandtwine
Acrylic Keychain

: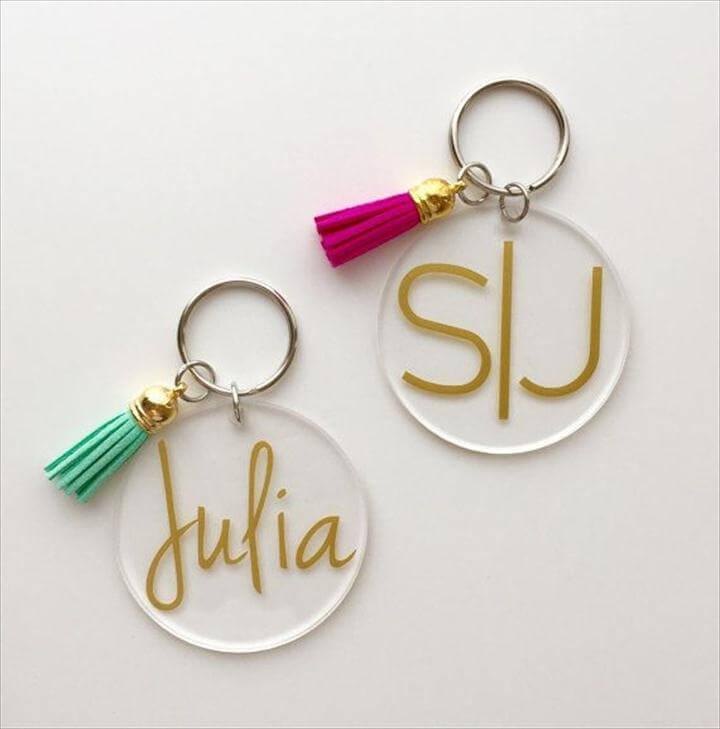 Now you can make the most out of your free time to make these cute and elegant acrylic keychains with the names. The gorgeous round plastic keychains have the golden written names and also tassels attached. You can make these custom acrylic keychains to use as the perfectly customized gifts also. Check out the details here!
Image: etsy
Convenient Keychain Key Holder: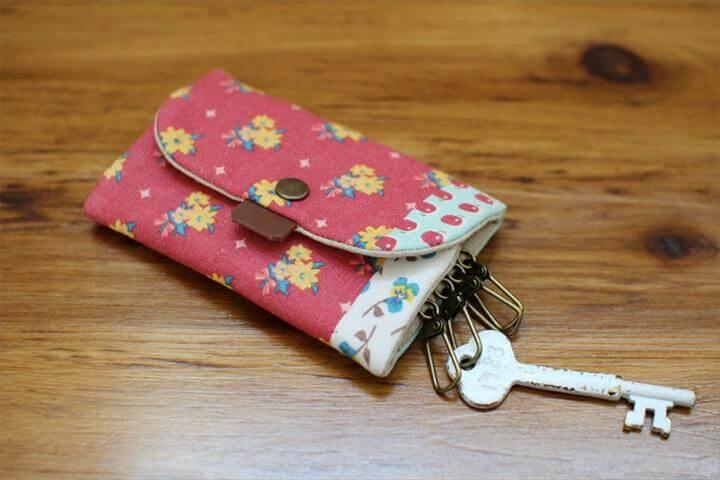 Here is this most convenient keychains key holder pouch for you to make out of some left out summer fabric. You can save your coins inside the pouch and save your keys to the hooks attached at the side of this cute little pouch. Learn to make these super fun convenient key chains via pictures and details here!
Image: handmadiya