Recently, tassels have been very popular as a crafting tool for a bunch of projects and they do their job perfectly be it your wardrobe, jewelry, house decoration, or any other creative project.
Here we will discuss 16 Unique DIY Tassel Craft Ideas of the untouched ideas that you have never probably thought of doing with tassels. The first project that you see over here is a DIY tassel neckpiece which is stylish and tasteful at the same time. Similarly, you can add tassels into many of your jewelry items in order to ad spark to them. The ideas we present here will be easier for you if you follow the tutorials attached in the links given below the picture.
Next, we have something for your dining tables and these are tassel napkin ties and are super easy as you can figure out by the picture. Next, have a look at this tassel pillow that can be a perfect addition to your informal lounge for the upcoming season. If you are looking for some tassel project that you can do p decorate your house here you have a tassel garland which looks super cute and interesting and can be done in any color but it's better you do it according to the theme of the room or the color of the respective walls. This is yet another project for the dining tables and is a DIY tassel table runner that can be made in some beautiful color and will not only change the look of your dining table but will also add some spark to your mealtime.
Next, we have some DIY wall hanging ideas for you done with tassels which are our topic for today. These are some of the unique wall hanging ideas for you that are also easy for you to make. You can also make tassels with the DIY leather scrap pieces and then make some elegant key chains out of it. The next project is for the bookworms out there as it's an easy and simple tassel bookmark which is surely very unusual and unique. A casual storage tassel basket is the next idea that we share with you over here. Give yourself a treat by making this tassel winter blanket for the upcoming winters and choice of color is upon you.
\Next, we have an idea where you can make a small doorknob decoration with tassel. Also, try this funny wall decoration that has been named as a tear DIY wall decor. The last project that we have here is tassel crafting done with mugs and looks super adorable.
Try these beautiful tassel projects and share the ideas with your friends also. The tutorials and written descriptions are given in the links below the pictures.
You  May Also Like:
Cute Tassel Necklace: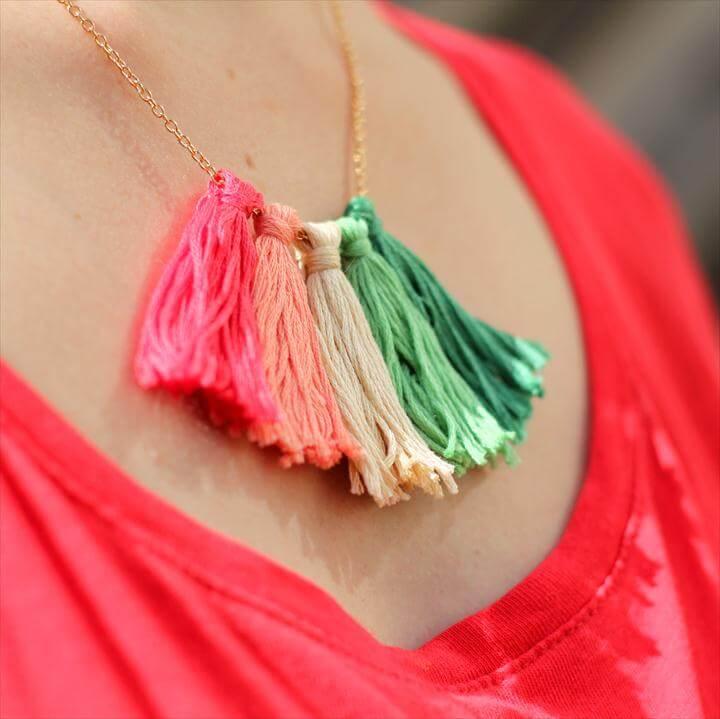 Make your summers more stylish and fun with some handmade jewelry items and making this tassel necklace is the best. Get some colorful floss to create the tassels. Then get these tassels through a chain and you have got a lovely necklace to flaunt over your pretty tops. This would make the prettiest gift for the lovely girls around. Follow the details here!
Image: hobbycraft.co.uk
Tassel Napkin Ties

– Festive Napkin Toppers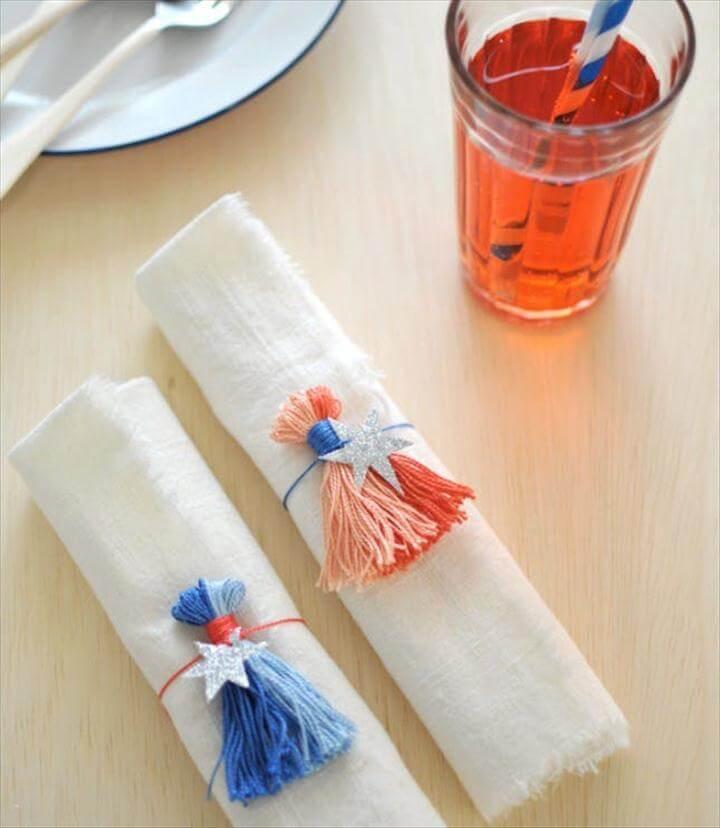 Bring some cute appeal to your dinner tables with some cute small details like this tassel napkin ties. Yes, they are best to use for the dinner preparations of the festive season. Create the colorful tassels and then use them to as the pretty ties for your napkins. This simple dining table decor idea is so much fun and cheap to work on. Learn to make these ties here!
Image: studiodiy
Tassel Pillow

: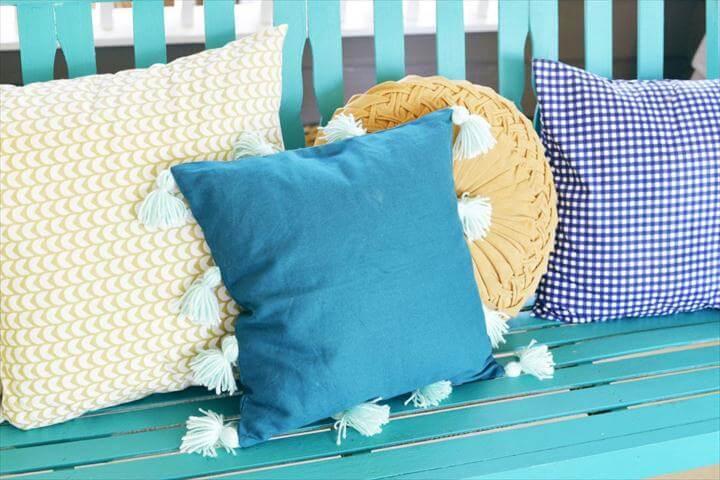 Give your plain and simple pillows a bit cute and funky look with this lovely tassel pillow project. So grab some yarn to make a bunch of the tassels and then stitch them all around the boundary edges of the pillows. Choose the yarn color that matches or get in contrast with your pillowcases. Follow the details here!
Image: homedit
Yarn Tassel Garland: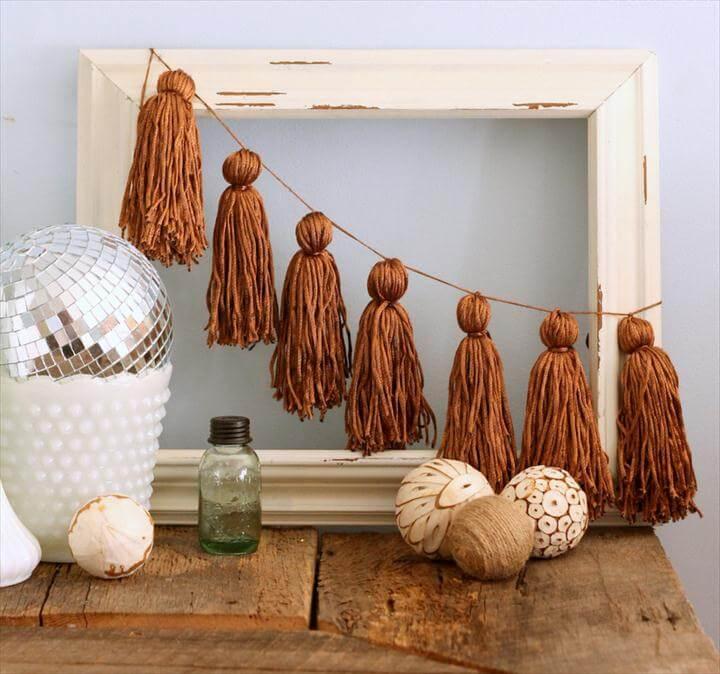 Make your fall home look more decorative with this lovely yarn tassel garland. The dark brown colored big and fluffy tassels are the prettiest to form a lovely garland for the table décor. You can form this tassel garland for any of the festive and for any of the seasons with custom yarn hues. Follow it more here!
Image: consumercrafts
Table Runner

: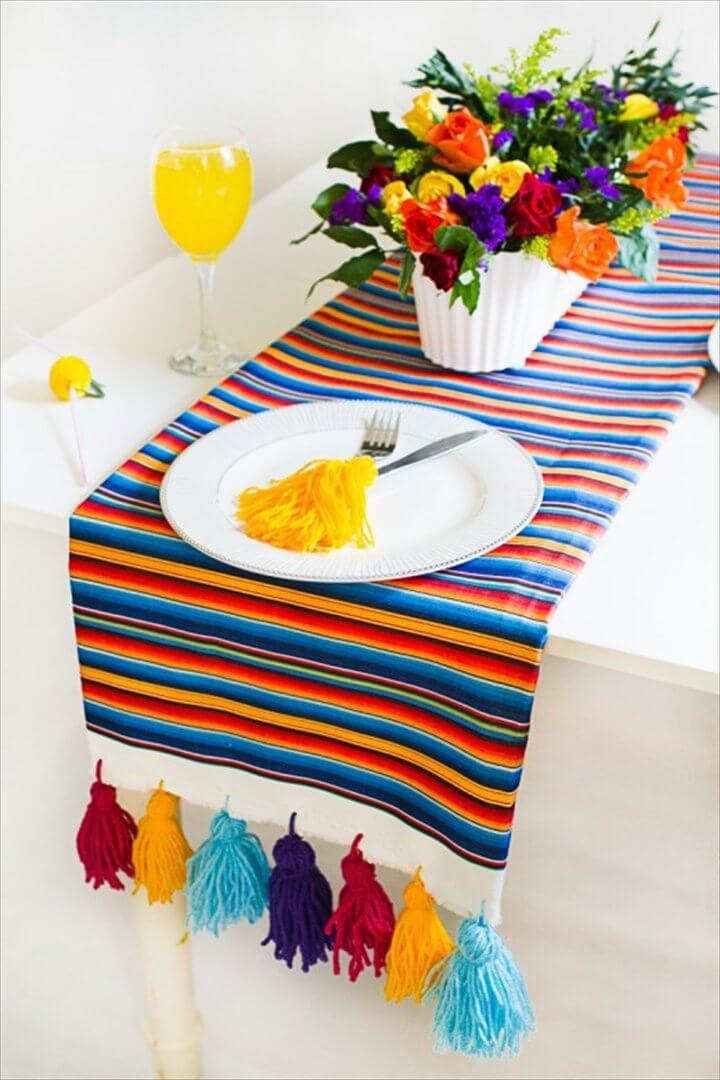 If you love making table runners at home then make your table runners look more interesting with the tassels. Yes, choose the colorful yarn hues to make the tassels and then attach them at both edges of the table runner. The big and weighty tassels would also keep the table runner at its place. Learn to make the tassels here!
Image: zazzle
Hand Sewing Camp

Pillow With Tassel: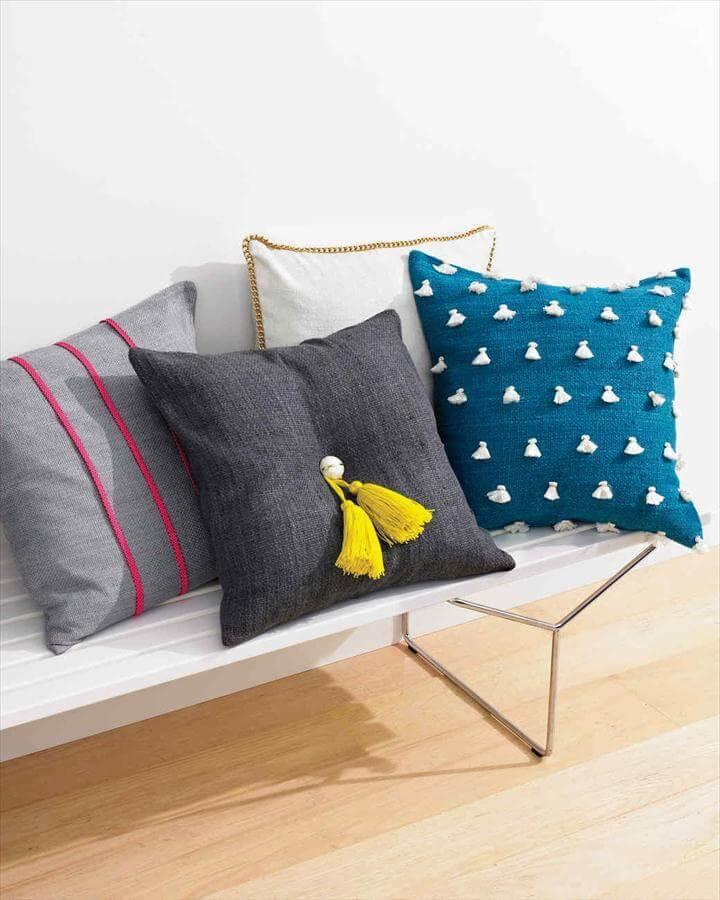 Make your boring pillows look super cute and fun with just the tassels attachment. Make small size tassels to use them all over your pillowcase for the styling. Or you can make two big ones to use in the center of the other pillowcase and make it look all jazzed up. Get to know this project more here!
Image: barijdesigns
Tassel Wall Hanging

: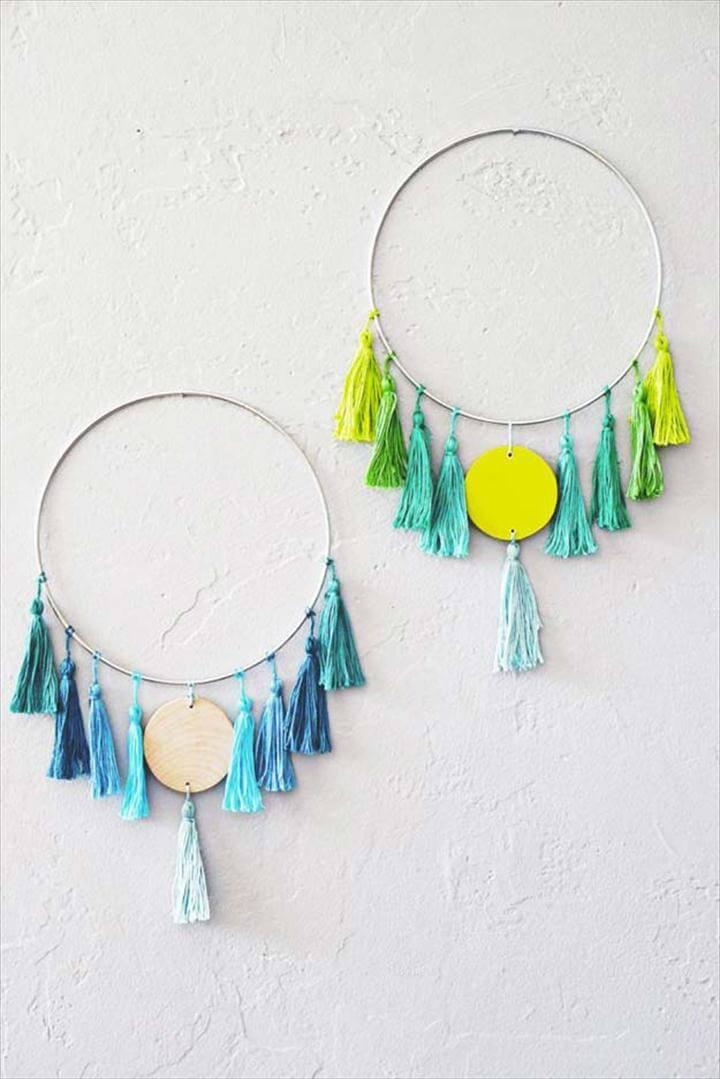 Are you bored with your simple and plain embroidery hoops? Then make them look interesting with a simple makeover to use them as a new pair and that too with just tassels. Yes grab the yarn of your favorite color and create small tassels in a bunch to attach on the hoops. These gorgeous tassel wall hangings would make pretty summer wall art décor. Details here!
Image: diys
Awesome Tassel Earrings: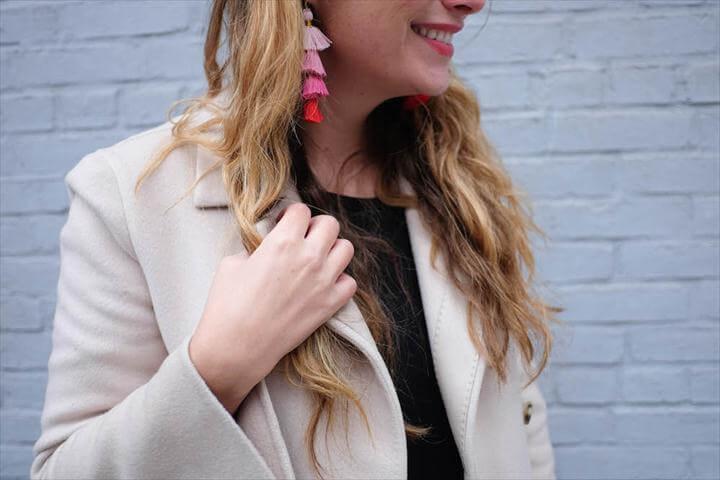 Give your regular office or outdoor look a funky appeal with this awesome tassel earring pair. The lovely feature of these tassel earrings is that they have colorful tiers of the tassels and thus look super interesting and fun. Check out the details of these tassel earrings right here to make them easily at home. These would make a lovely summertime gift idea too.
Image: thestripe
Tassel Necklace: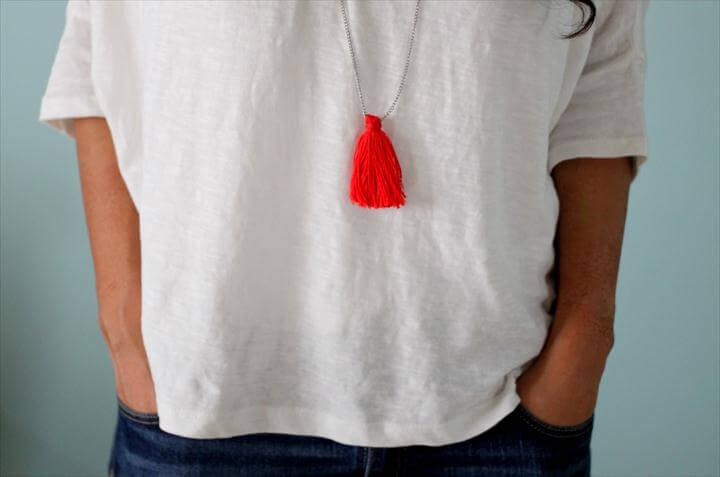 Look more funky and cool for the summer with this simple yet chic looking tassel necklace. A simple chain and only one tassel are needed to shape up this super adorable and boho styled tassel necklace. Also, both the boys and the girls can pull off these necklaces alike. Check out the details of the idea right here!
Image: styleinked
Leather Tassel Keychain: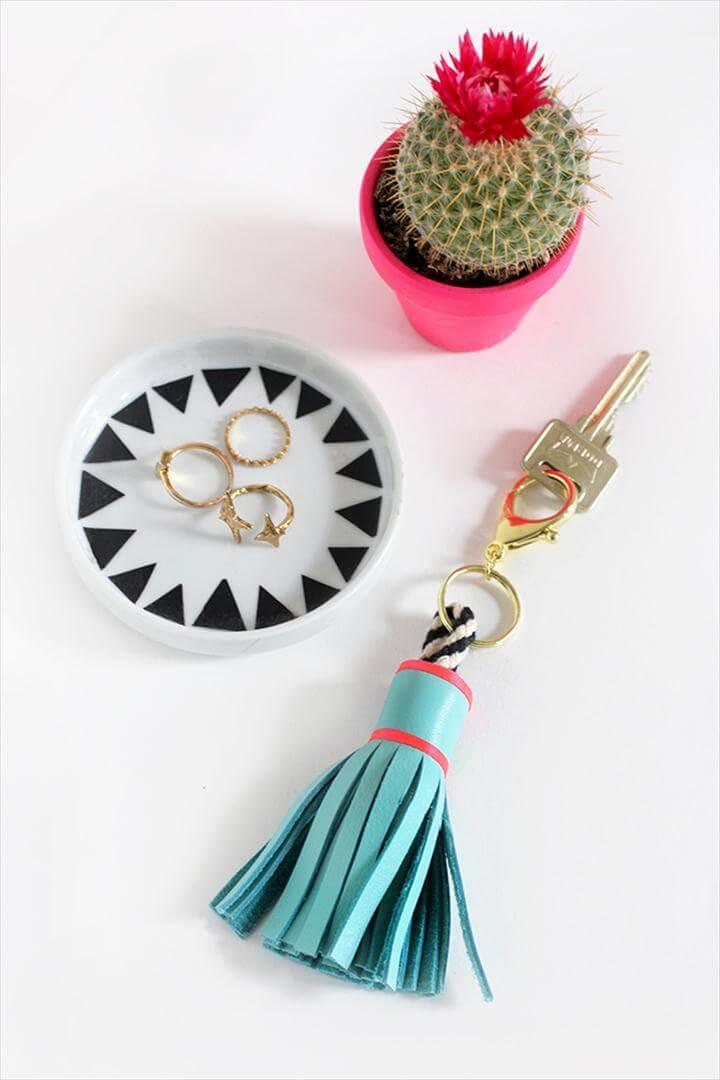 Key chains make the best gifts for the holiday season as they simple yet cheap and totally functional. SO this time you can get your hands on this idea of the leather tassel keychains. They are cute and adorable and super easy to make as well. You can customize the size and colors of your keychain to use them as fun gifts. Details are here!
Image: makinglemonadeblog
Fabric Tassel Bookmark: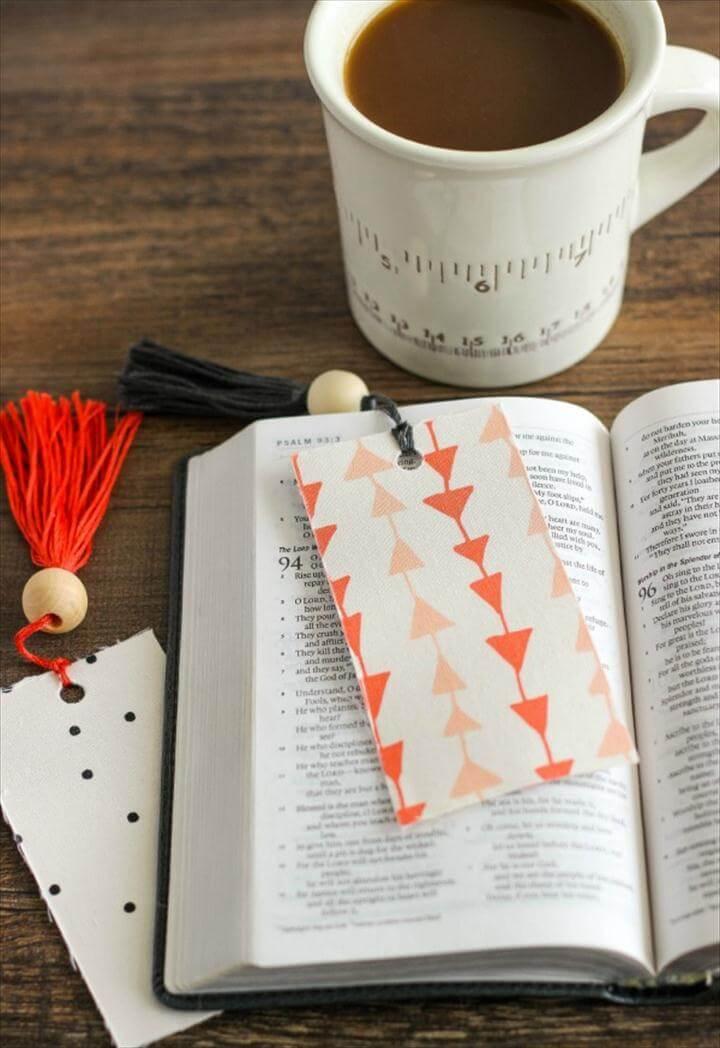 Indulge in a really fun and cool craft with this fabric tassel bookmark. Make a bunch of these colorful fabric tassel bookmarks and create the lovely gifts for all the book lovers around you. You need pieces of the printed fabric, colorful embroidery floss to make the tassels, some colorful beads, and cardstock to make these cute bookmarks. Details here!
Image: thecasualcraftlete
Tassel Basket: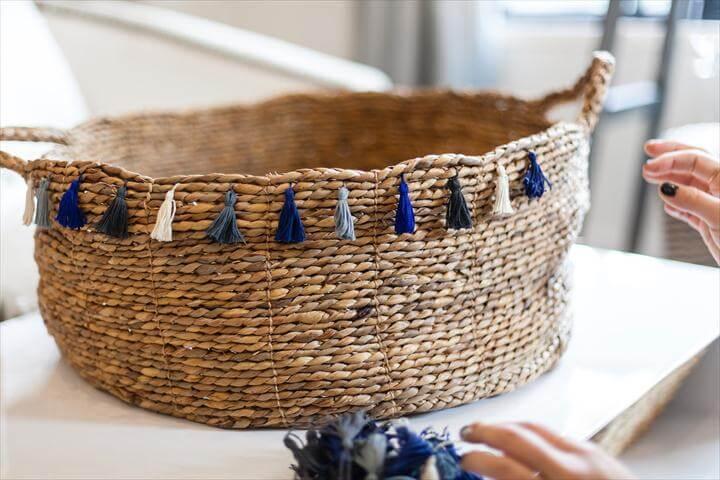 Baskets are the best things to use for the home storage as they are décor friendly too. So here is the time to make your baskets look more embellished and groomed for the home décor. Grab some colorful yarn and create cute little tassels to decorate the baskets with. You can choose custom yarn hues for a personalized look of your tassel basket. Follow the details of the idea right here!
Image: honestlywtf
DIY Cozy Blanket: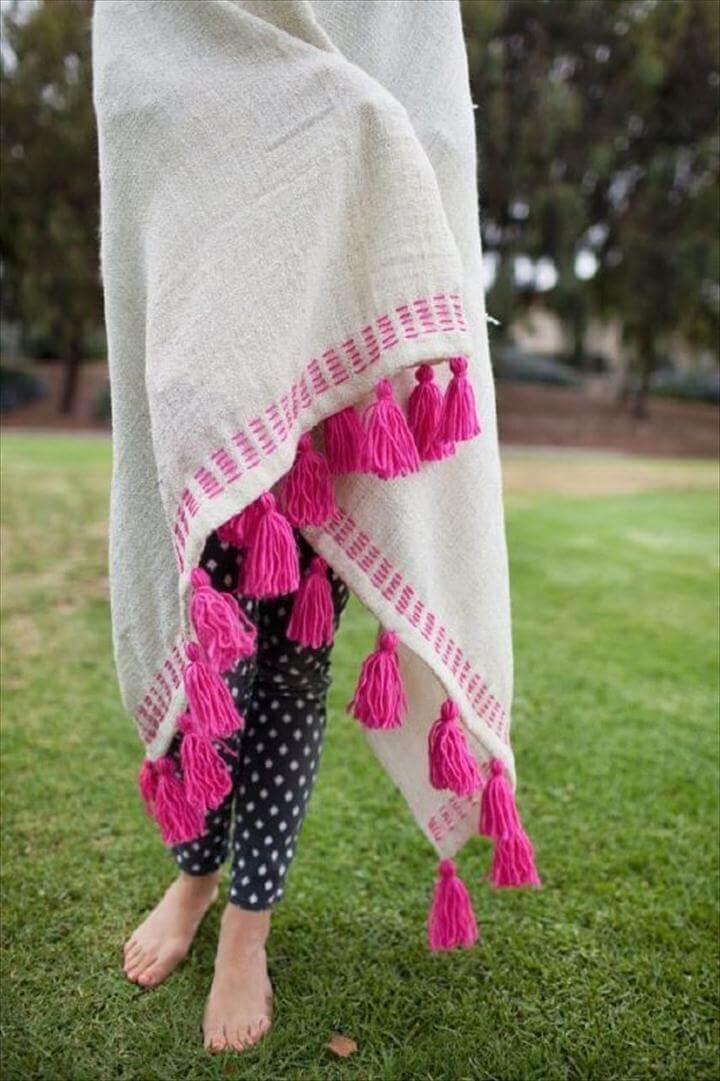 Blankets are like our favorite buddies and now you can now award them a cuter and adorable look by adding tassels to them. Yes, grab the contrasting yarn hues to make the tassels in big and weight size. Attach these tassels on the edges of your blanket and enjoy the new cute look of your cozy blanket. Details here!
Image: tellloveandparty
Monkey Fist Door Knob Yarn

Tassel: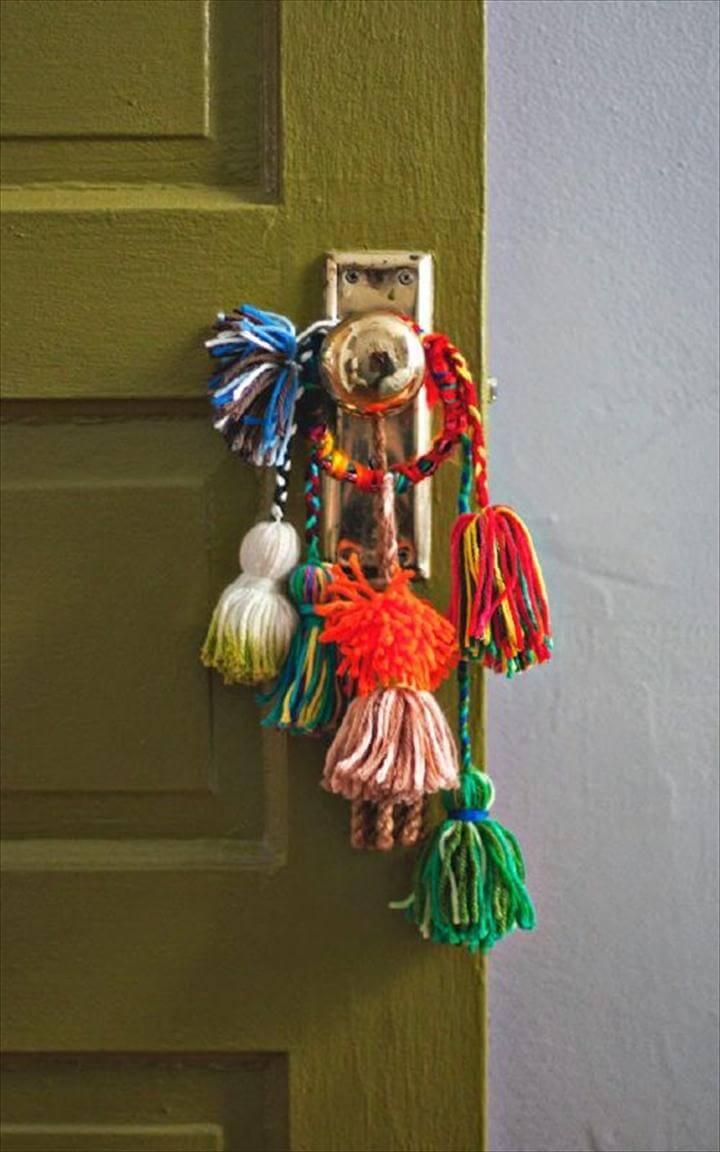 Give your summer home the kick of colors and bright décor with some cute small details. Here is the idea of this monkey fist doorknob yarn tassel. The colorful and big tassels are really going to add oodles of charm to the doors and the overall home décor. Catch out the tutorial of the tassel making right here!
Image: auntpeaches
Tears Wall Decor: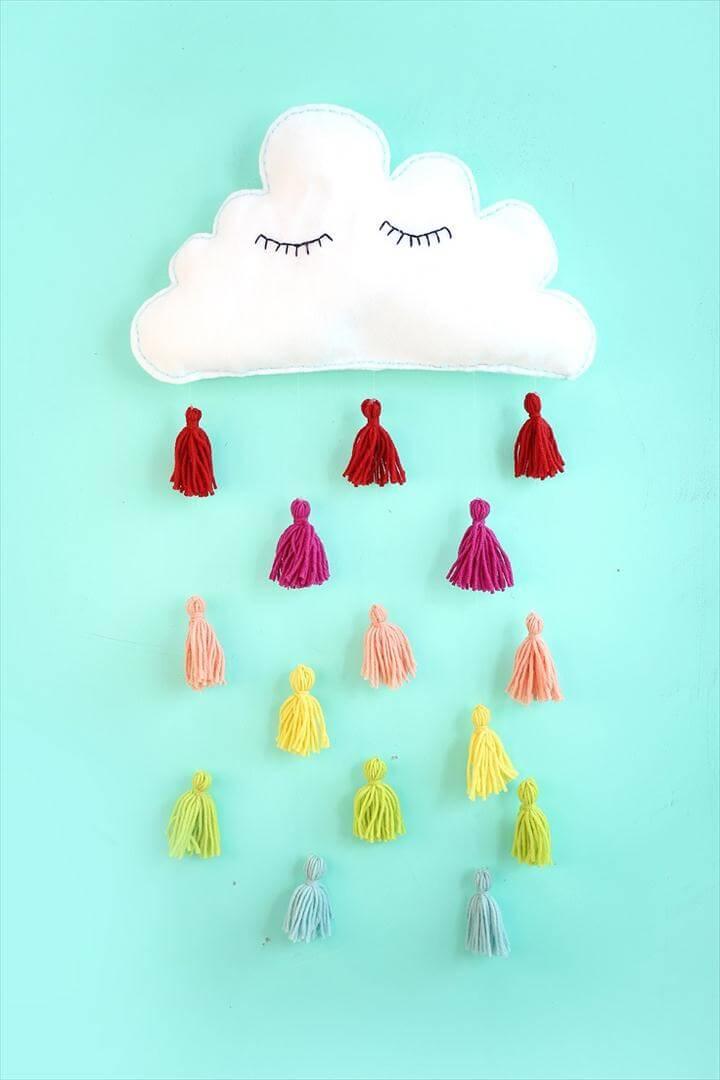 Give your kids room a pretty makeover for the summer and making this tears wall décor is the best idea for the purpose. It's like a cloud is shedding the colorful tears. The fluffy cute white cloud has the eyes carved on it. The colorful rainbow tears are shown off with the colorful yarn tassels. Isn't this super cute? Grab the details here!
Image: damasklove
Moscow Mule Mug Tassels: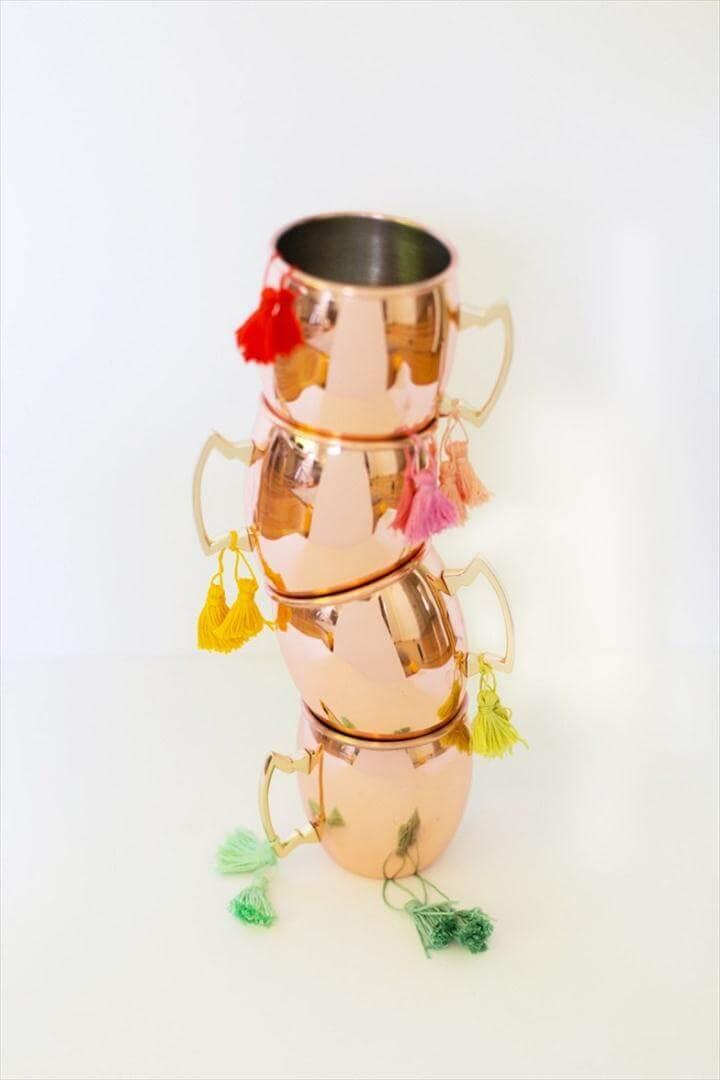 If you happen to have some Moscow mule mugs at your place then it's time to use them for the summer home décor project. Yes, you can give a gorgeous makeover to the mugs by attaching some colorful tassels to them. The tassels are super easy to make at home than buying from the market. Get them attached on the mugs and they are ready for a funky display. Details here!
Image: lovelyindeed