These are some beautiful ideas for the next party scene. What if your friends are insisting you to come to a party and you are short of trendy jewelry. Let's make some of your very own customized fancy pieces.
These 20 Gorgeous Ideas About DIY Earrings will definitely be the show stoppers for the next get together. You need to have some basic crafting materials for making these. Let's have a look at these gold nugget earrings which are easy to make but prettier than anything else .you can see simple stones that are painted in gold color and the stoppers are glued on them. Yes! You read it write. These are easiest when it comes to the method. These are in fashion because you know that gold is the most precious in worth when it's raw and this is definitely a crude charm for you.
Below are the DIY wire and wooden beaded earrings which are so lovely and amazing that they can go with all the trendy outfits in your wardrobe.
Tassels are something that since the time they came in fashion, is here for eternity. They look so feminine all in jewelry, clothes, bags, and everything that a girl can carry. Here is an idea for you to make a tassel earring with the leftover jewelry crafting materials you already have in drawers. Try making use of the useless materials you have for making some eye sparkling jewelry that can impress your friends. Thread is one of the basic crafting materials for making DIY jewelry for obvious reasons. Here are some examples of the thread earrings as well. One of the unique ideas presented in this writing piece is that of a zipper earring idea which you can do with help of small zip attaching it to the hook and stopper is the second step and you are all set to set a new trend.
Never be afraid of being a trendsetter by doing something new, try doing unique crafts with these DIY ideas. Paper earrings are also something that you can make yourself. Conquer the world with these DIY earrings made by you only. Also, find some clay at a local store today to do some clay crafting this time as you can see in the picture. Make some clay buttons and glue them with the stoppers to create a casual look. Chandelier earrings are a great idea if you want to wear some hangings. The hanging earrings look more formal and elegant than the small tops. Here is an idea of how you can make some green colored chandelier earrings with golden copper wire, green gems, and earrings hooks.
Gold Nugget Earrings: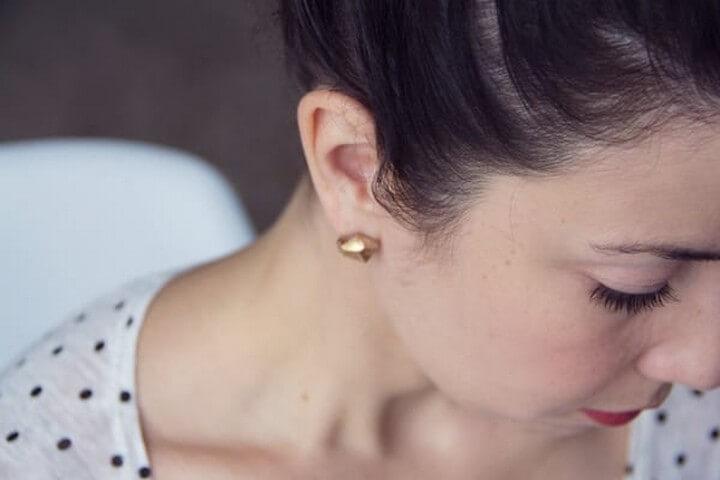 Make yourself these cutest gold nuggets to use on daily basis and look just prettiest. These adorable gold nugget earrings are made out of the sculpting clay. You need a sculpting knife to cut out the nugget shape of the earrings. Lastly paint these shapes and add the earring backs using glue and your lovely earrings are ready to wear. Details here!
Image: lovelyindeed
Wire & Wooden Bead Earrings

: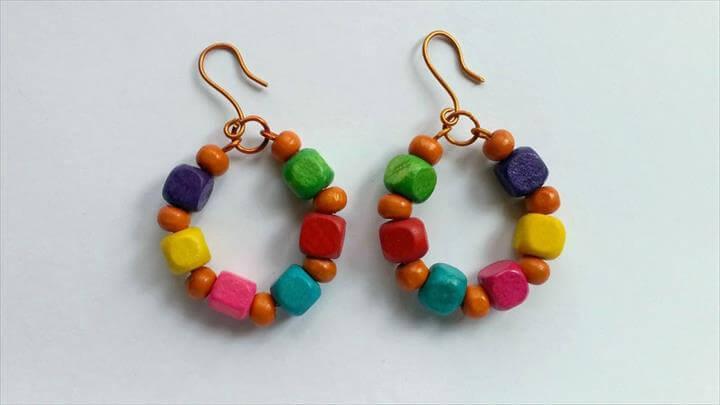 Look super boho and funky with this super cute and chic kind of wire and wooden bead earrings. The round-shaped earrings are made so easily at home. You need wooden beads with square and round shapes. Then paint these beads with bright and bold summer hues. Then get these beads through copper wire and your earrings are ready to rock. Follow the tutorial here!
Image: youtube
Tassel Earrings: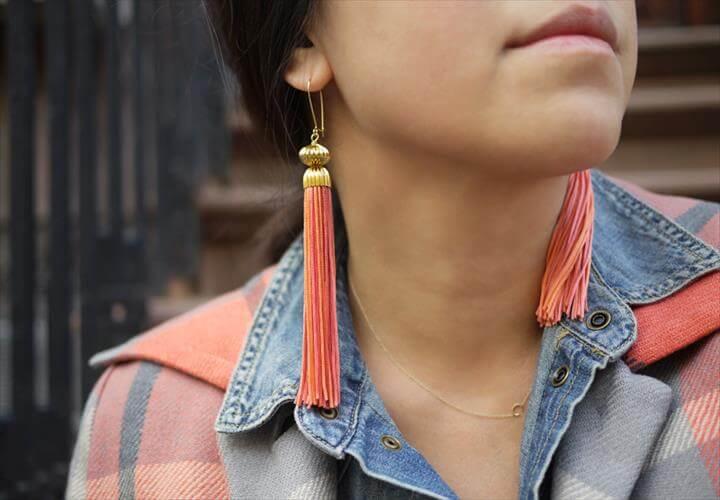 Tassel earrings are quite a rage these days as they look so colorful and chic. Now instead of spending a few dollars on the market bought tassel earrings you can make some at home. These tassel earrings are made out of the Bunka cords of ombre shade of the orange along with brass cup and beads. Lastly add the earrings hooks are and you are done with the gorgeous tassel earrings to flaunt all over.
Image: honestlywtf
Thread Earrings – Tassel Earrings [Super Easy Tutorial]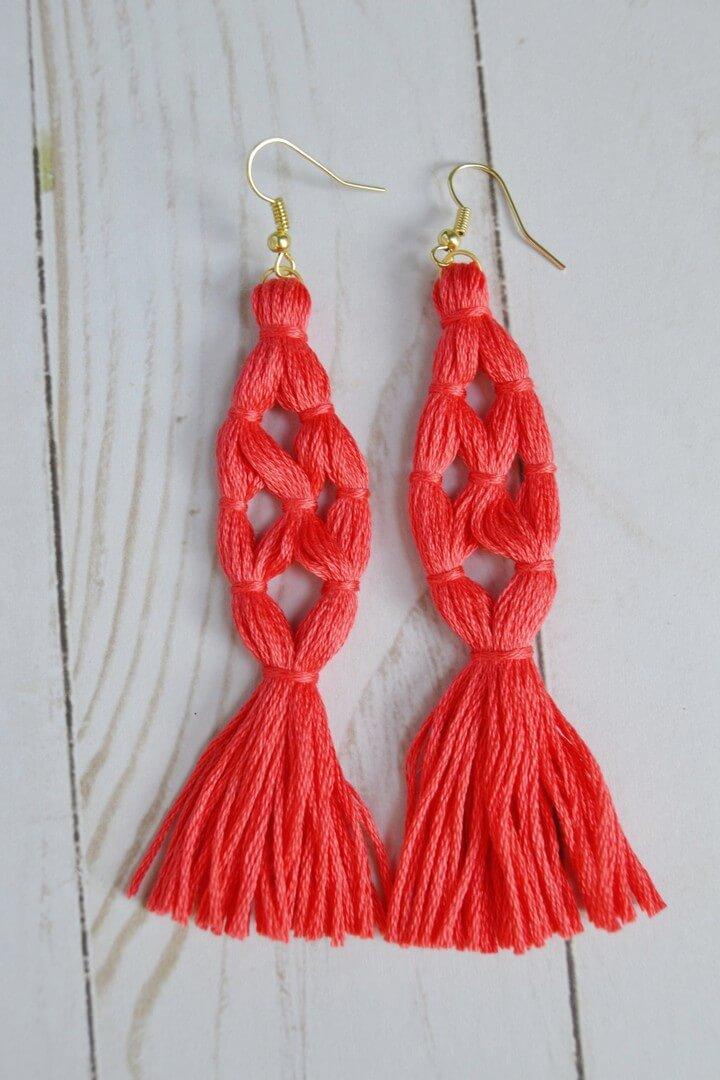 Make your ears feel super light with these handmade thread earrings. Yes, these lovely thread earrings are the best things to make and match with your lovely tops and tanks. The things you need are the floss skeins in your favorite colors, jump rings, earring wires, and the jewelry pliers. Check out the details of these tassel earrings here with the tutorial.
Image: marymarthamama
Unique Zipper Earrings: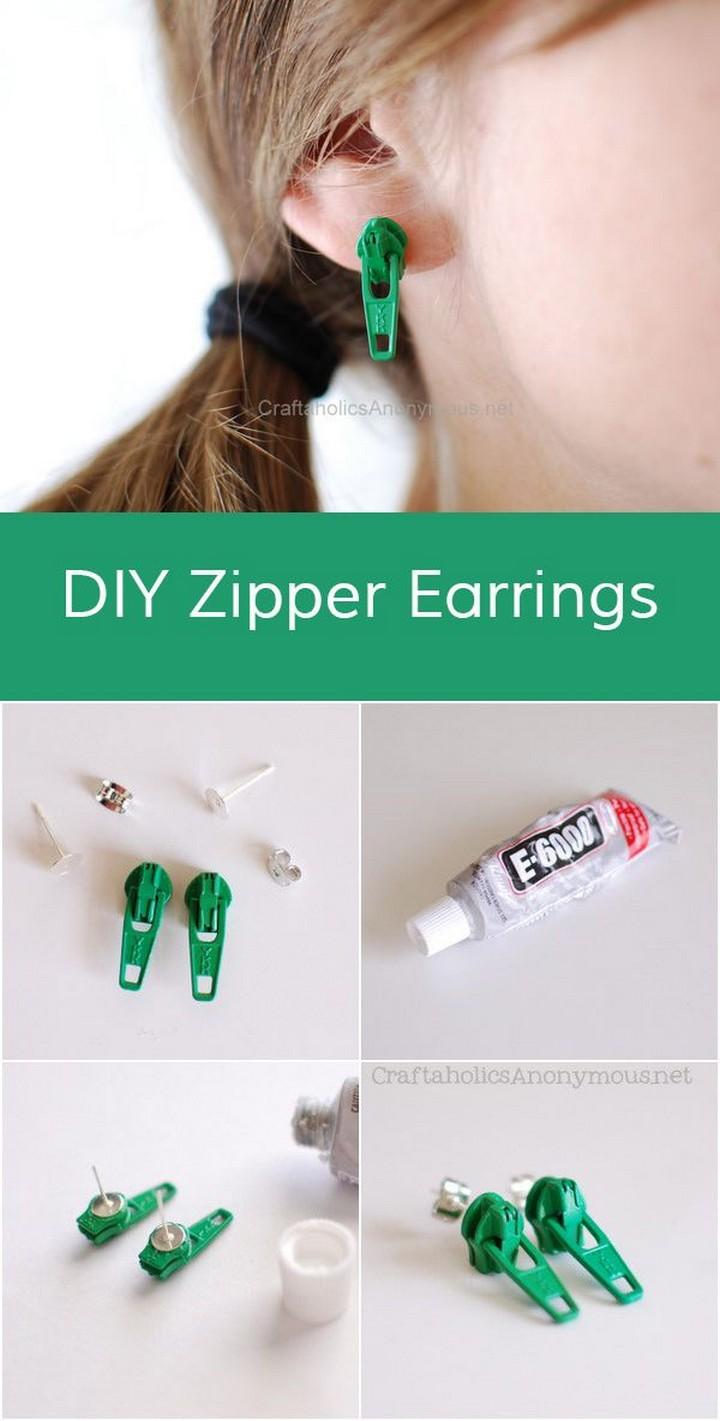 Nothing is a waste when you are a fun crafty and creative person. So all those zippers which are lurking in your knick-knack stash basket can be turned into these unique zipper earrings. Get the zipper handles and then paint them in your desired hues. Add the earrings backs to these zippers and you are done with the most unique and funky earrings ever.
Image: craftaholicsanonymous
Paper Earrings: DIY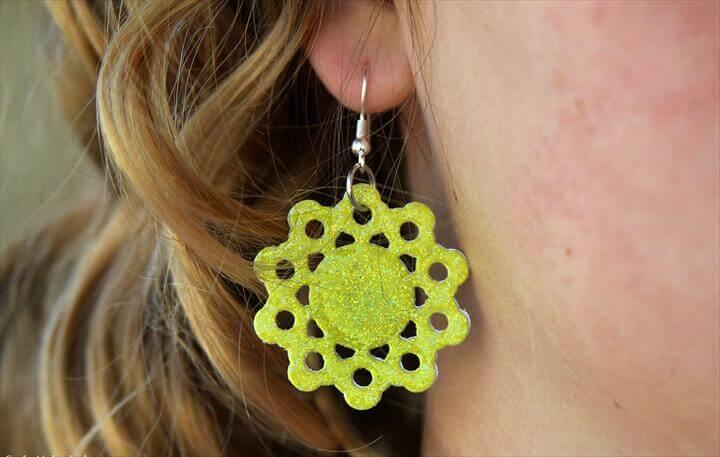 If you are a person who cannot wear those heavy earrings then these lightweight paper earrings are for you to have fun with. Using the cardstock in your favorite colors, mode podge dimensional magic, puncher, and the basic jewelry items like the fish hooks and the jump ring you are ready to make a variety of these lovely earrings. These paper earrings are great for the little and teenage girls. Details here!
Image: consumercrafts
Clay Nintendo Button Earrings

– Handmade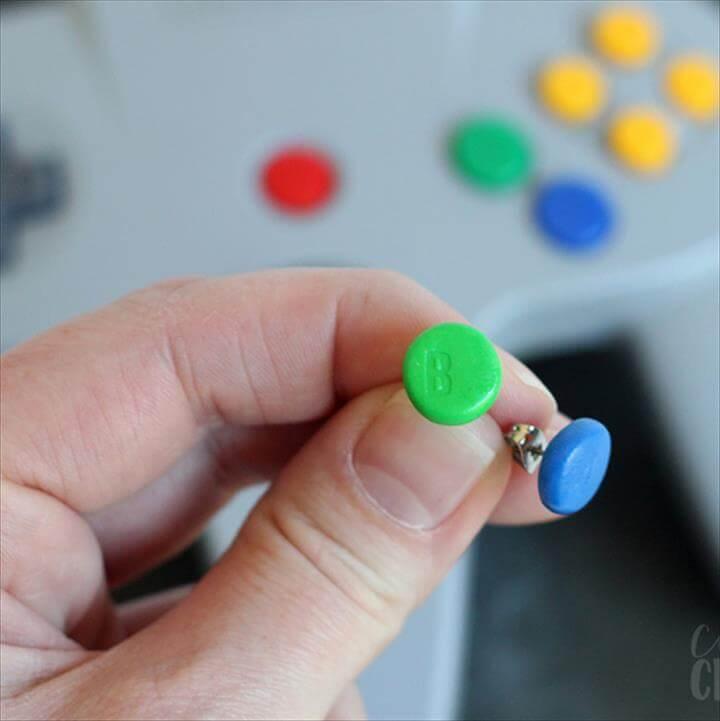 These gorgeous clay Nintendo button earrings are the best things to make. Get the clay and use the Nintendo buttons as the mold for these button earrings. Once these clay studs are dry you can paint them in multiple paint hues. Add the back earrings to these handmade studs and then make the most of it by using them as the lovely gifts for the lovely gifts around.
Image: cutesycrafts
Green Chandelier Earrings: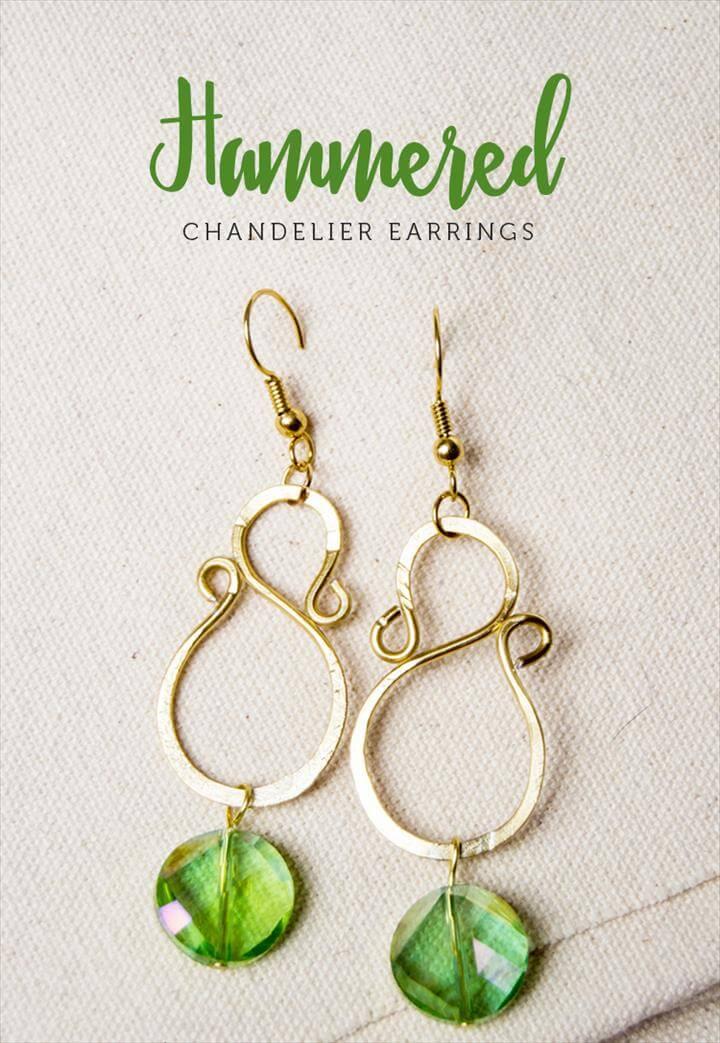 Just like the chandeliers have a rich style and beauty these green chandelier earrings are the best things to grace up your outfits. You would a bunch of the items to make these adorable green chandeliers earrings. So get your hands on the chandelier charm, earring hooks, gemstones, golden wire, and some jewelry making tools. Check out the details of the idea here!
Image: consumercrafts
Lace Earrings: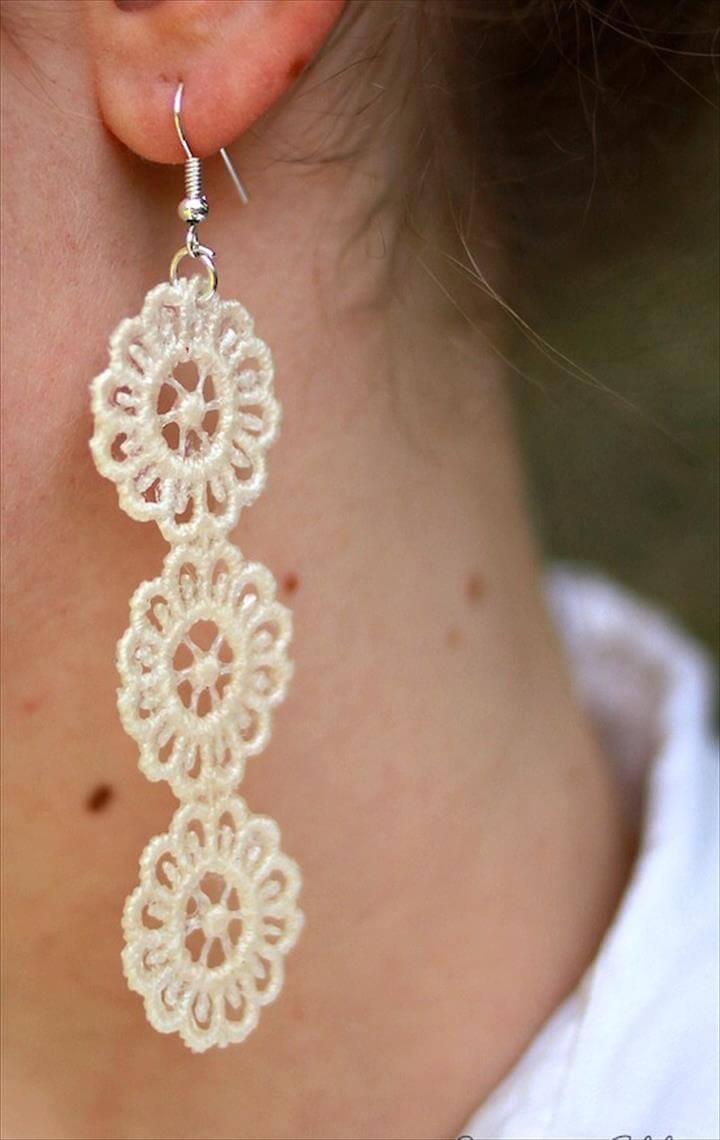 Make the most elegant and unique kind of earrings with this idea of the lace earrings. You need a lovely lace trim and then cut out a piece of lace that suits your size. Then add jewelry hooks and the jump rings to these lovely lace earrings and your earrings are ready to wear. You can make this lovely pair of earrings as the pretty gift ideas too. Check out the details here!
Image: modpodgerocksblog
Statement Earrings

– Jeweled Earrings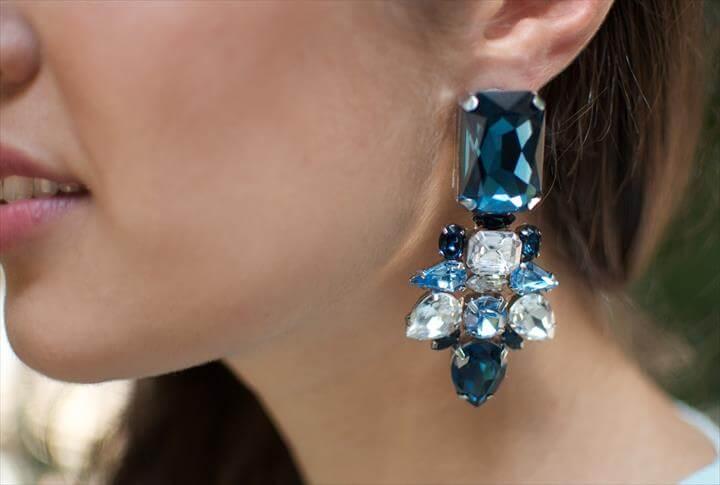 These statement earrings are so gorgeous and pretty that no one would believe that the earrings are handmade. So get your jewelry gearings and make these lovely statement earrings for your formal dress matches. You need multiple shaped jewels in white and blue and the basic jewelry tools to shape up this lovely piece of jewelry. Check out the details here!
Image: collectivegen
Stella & Dot Rhinestone Earrings: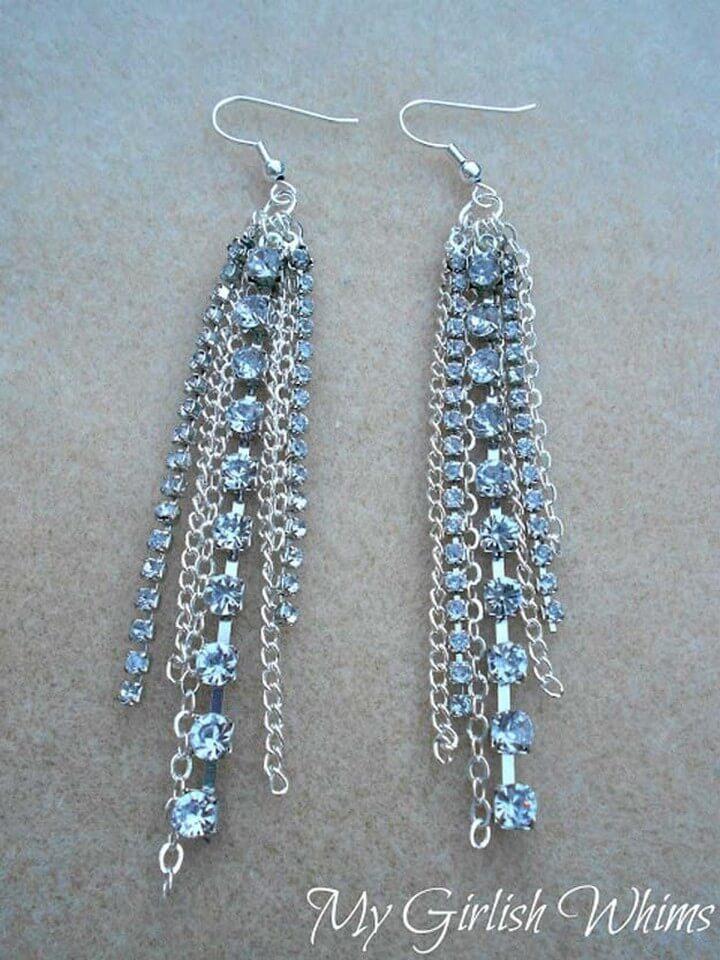 These are the most stylish and the most elegant type of earrings you have ever seen. And also they are super easy and fun to make with simple items. You need chains and the rhinestone chains in multiple pieces to make these adorable Stella and dot rhinestone earrings. These would make outstanding gifts as well. Check out the details here!
Image: mygirlishwhims
Earrings With Washers & Nuts

: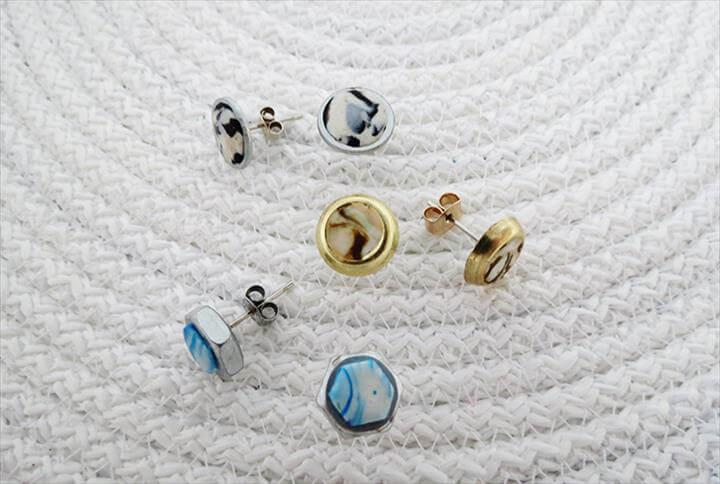 You can make some really cute and fun looking earrings from your left out hardware using this lovely earring idea. The adorable earrings are made with the washers and the nuts and the colorful clay. Also, you need some earring ends and the jewelry tools to work upon these adorable earrings with washers and nuts.
Image: ohohblog
Paper Quilling Earrings Tutorial

: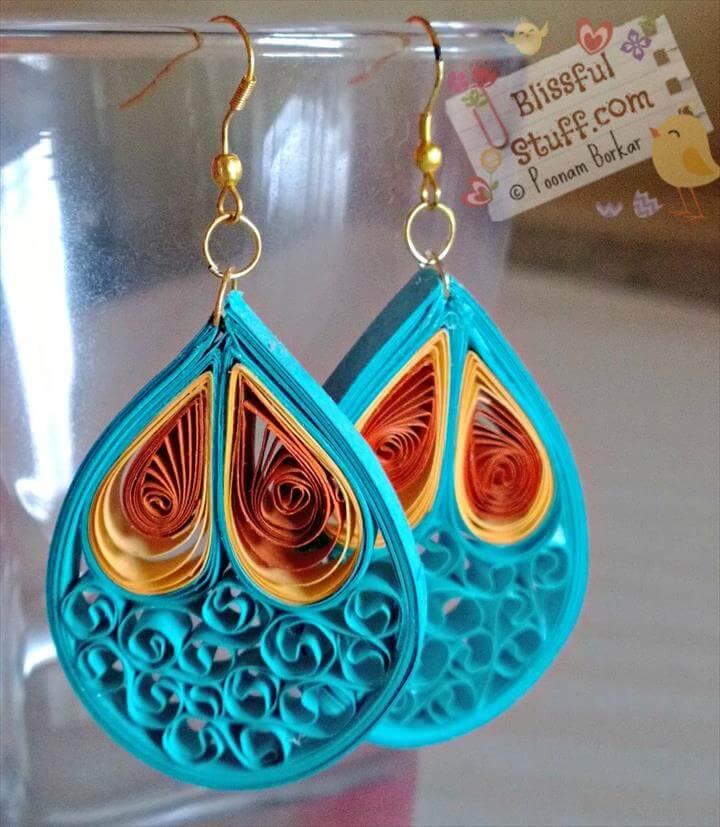 If you love working with the paper quilling then you would love more these paper quilling earrings tutorial. Using the contrasting hues of the quilling paper in any of your favorite colors you can easily work up this exquisite pair of earrings. You will need quilling paper strips, quilling needle, earring hook, and some basic jewelry tools.
Image: youtube
Gorgeous Statement Earrings: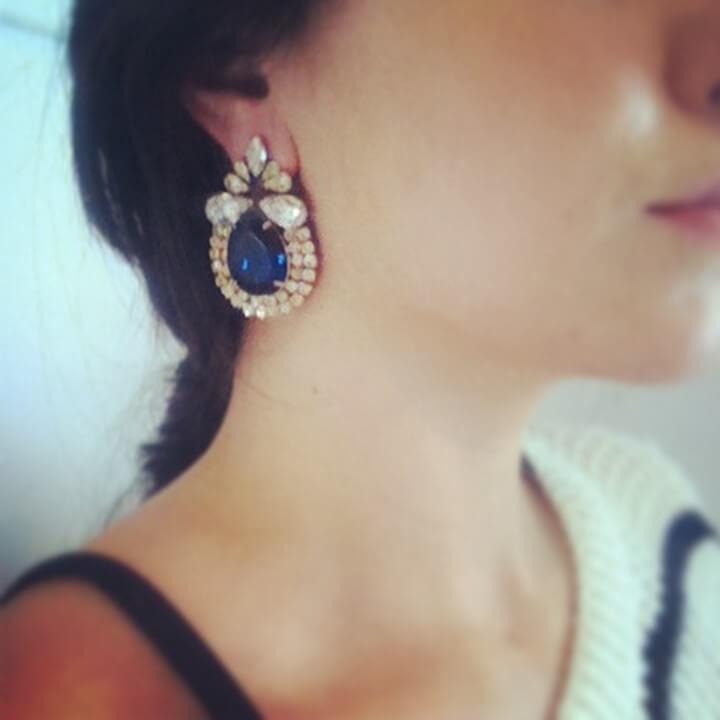 These gorgeous statement earrings seem to come from a high fashion brand for being so gorgeous but surprisingly they are made at home.  The earrings are perfect for the formal dresses when you are up to a wedding, dinner or a fun party too. Things in need are the loose rhinestones, earring posts, earring backing, and more. Check out complete details here!
Image: re-inspired.blogspot
Bobby Pins Chevron Earrings: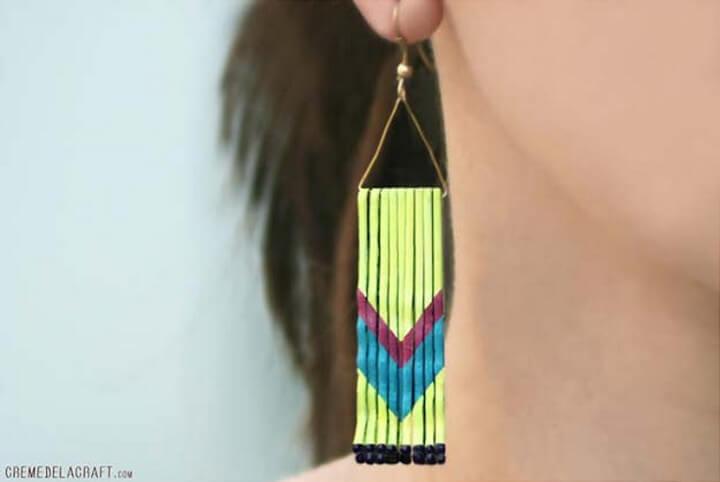 These gorgeous, funky, and totally chic bobby pins with chevron patterns are made with so much love and fun. Not only you but even your girlfriends and young girls in the house are really going to love these pretty bobby pins chevron earrings. You just need a bunch of the bobby pins and some lovely paint hues of your desire. Follow the project more here!
Image: cremedelacraft
DIY Button Earrings: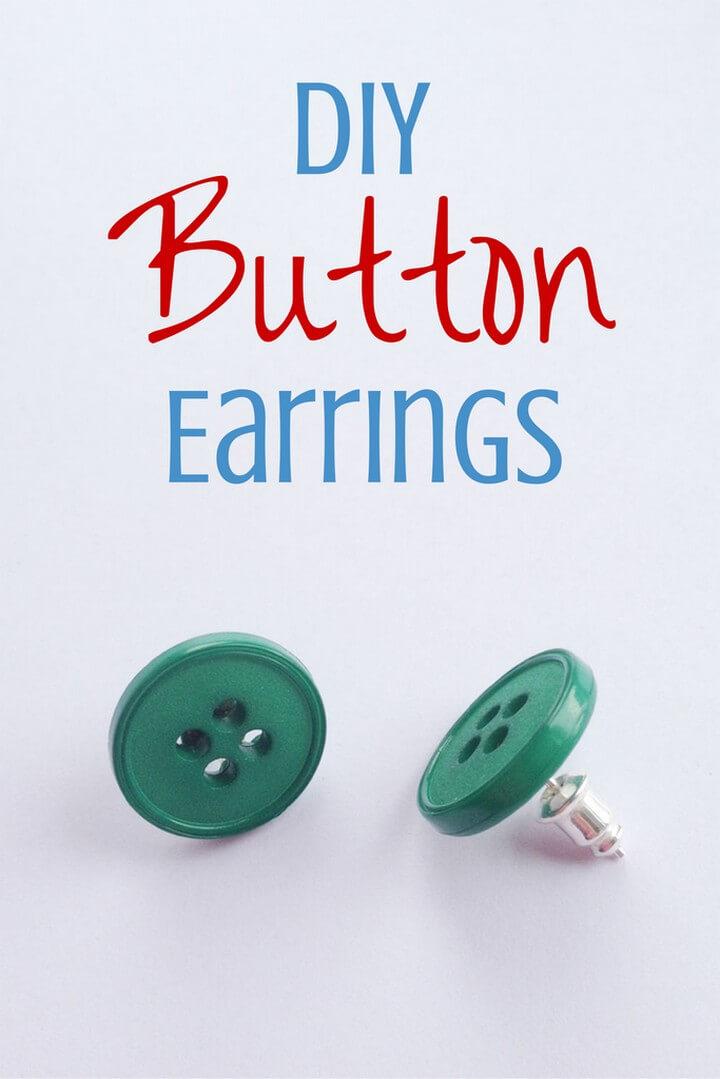 These DIY button earrings are the cutest and the prettiest way to add some simple and cute earrings in your jewelry dish. Just take the buttons lying around and then add the earrings back posts to them using your feasible jewelry tool. You can make these easy and simple button earrings in a variety of colors to match them with each of your tops. Details here!
Image: craftsonsea
Green Teardrop Earring Tutorial: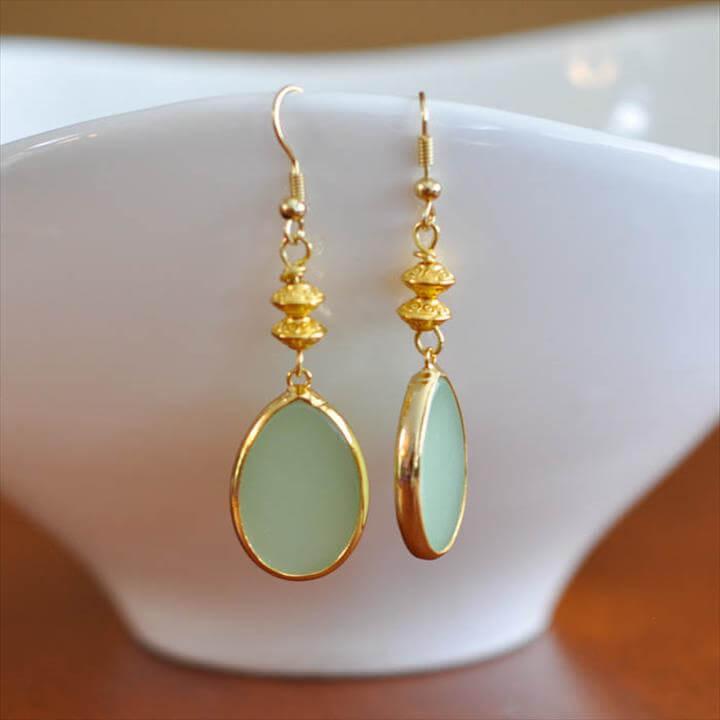 These green and gold teardrop earrings have everything you look into a pair of elegant and gorgeous earrings.  You need flat and round nose pliers, wire cutters, beads and charm of your choice, earrings hooks and the headpins to make these pretty looking pair of the earrings on your own. Follow the easy tutorial here!
Image: suburble
Bohemian Feather Earrings

: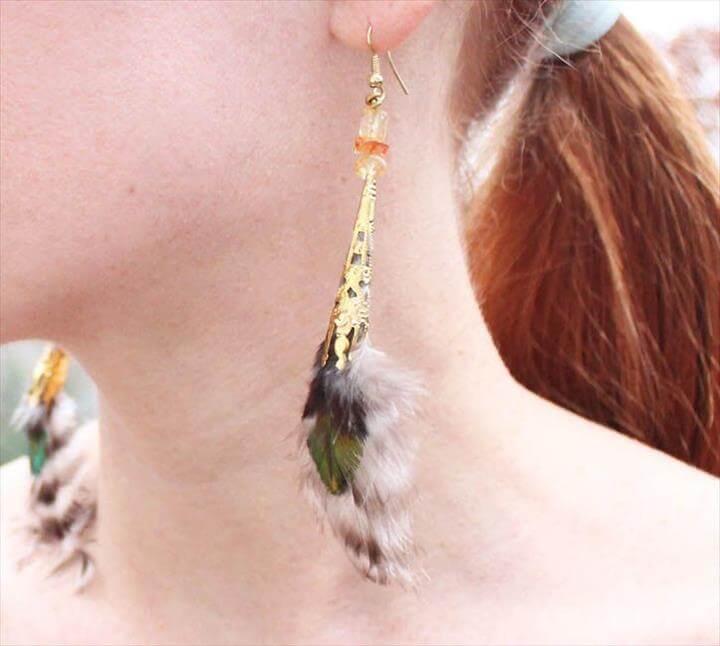 If you are bored with the regular kind of jewelry then here is how you can make these super chic and fun looking bohemian feather earrings. The things you would need for this project are the beads, earring hooks, and the faux feathers of your own choice and colors. Check out the details here!
Image: gina-michele, allfreejewelrymaking
Neon Paper Bead Earrings: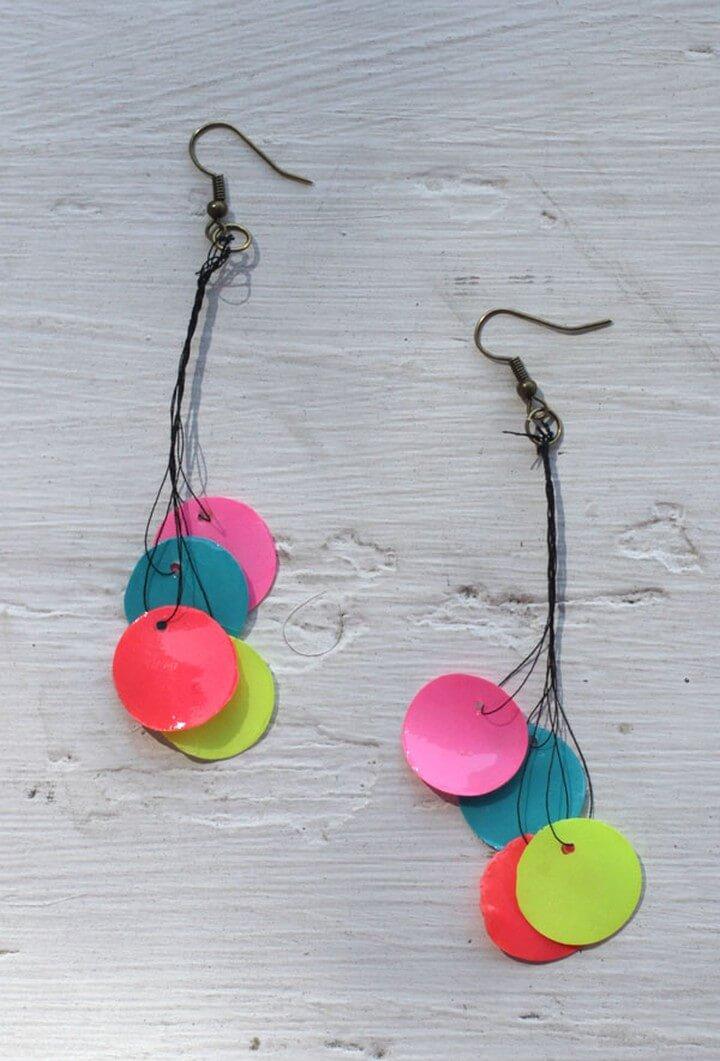 Make your kids the most adorable and the most colorful earrings this project of the neon paper bead earrings is the best for the purpose. You need colorful neon papers to cut little round-shaped beads out of them. Drill hole in each to combine them through the strings and then add the earring hooks and they are done. Check out the details here!
Image: dollarstorecrafts
Button Earrings Tutorial: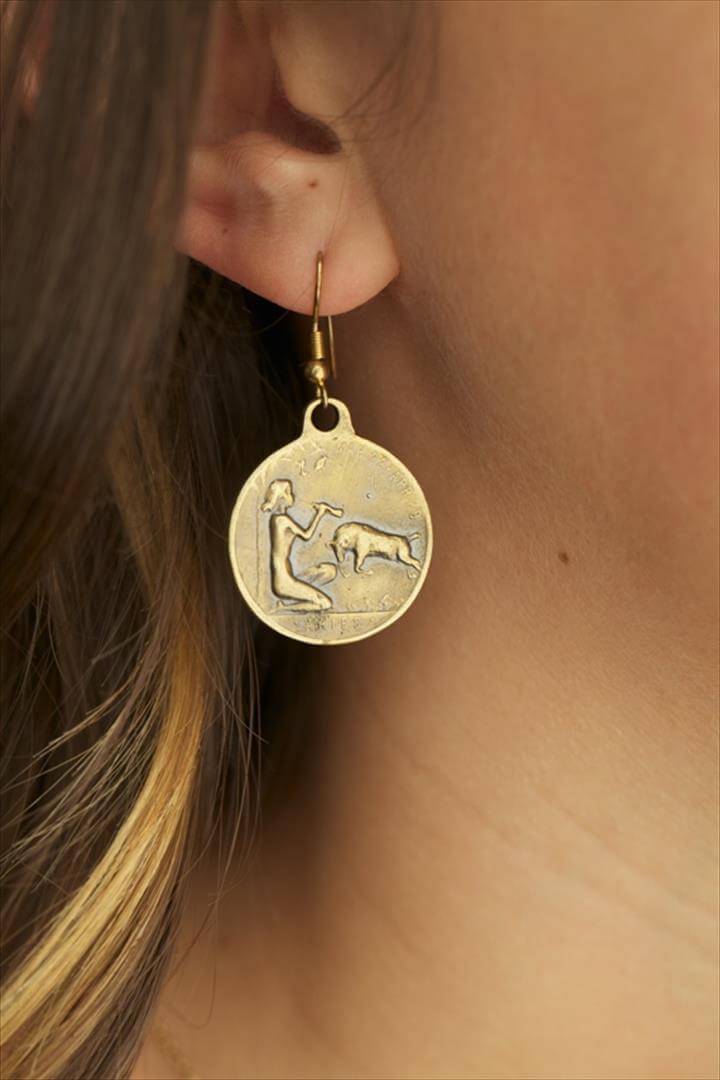 Make these antique-looking earrings out of your Holiday ornaments and look so stand out. So grab a Holiday coin like an ornament, some jewelry pliers, and the earring hooks to make these pretty button earrings. You can use this idea to make button earrings for everyone. Even your friends are going to love these button earrings as the pretty Holiday gifts.
Image: freepeople