Brace yourself for the most exciting earring tutorials now. All these 18 Fabulous DIY Earrings Tutorials are so awesome that you cannot resist making them soon. if you are wearing some attractive earrings, you might not need any other jewelry object then
The first one here is the Salacia hoop earrings which are classic and traditional. Next are the stone arrow earrings which are funky yet trendy. Wear them with your informal outfits and look different. These dangle earrings are also very amazing and interesting and they can be made with either one or more colors so match them with your clothes and you are all set for the party. These are beautiful and easy pom pom earrings. These are probably the easiest to make and looks stunning.
Have a look at these wood burnt earrings. You must try them as they are super cool and different from any other DIY earrings. They have half a colorful pattern on them and half of them are in plain wood color. Look at these elegant pyramid-shaped earrings which are surely trendy and stylish yet a bit rare design. Here you can find many wood earring tutorials also. So follow these links and get some of the amazing ideas of DIY earrings which you can make in no time and with very little expense. The next earrings involve beads and ribbons in them and they are so pretty and classy.
You can wear them on formal occasions and parties. And what about some leather earrings? So grab some scrap leather at home and try turning them into feather earrings, you can also put glitter at the end to give it a more finished look. These are some Arizona earrings and they are fabulous. Whenever we are doing a DIY crafting project we can never forget our very own chandelier theme. So let's make some chandelier earrings too which only involves a simple nice chain and a colorful gem. It's now time for some tassel earrings and they are so ravishing that you will want to try these soon as your first DIY project so watch the tutorial carefully and amaze yourself with some crazy fun. Besides all this, you will also find some gold-dipped lace earrings, spring theme earrings, copper wire heart earrings, and much more.
Earrings are sure most of the people's favorite accessories so surprise your friends with some of your DIY projects this time with the jewelry.
Salacia Hoop Earrings: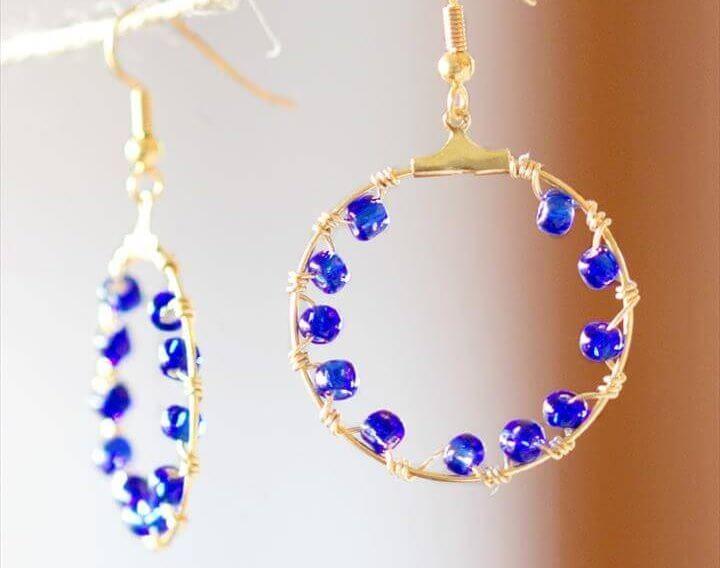 Turn your simple hoops to these Salacia hoop earrings and get the most amazing pair of earrings to match with your formal dresses. Just take some blue or any of your favorite colored stones and add them to the hoops using the wire and some jewelry tools. These would make great gifts too. Details here!
Image: hopefulhoney
Stone Arrow Earrings: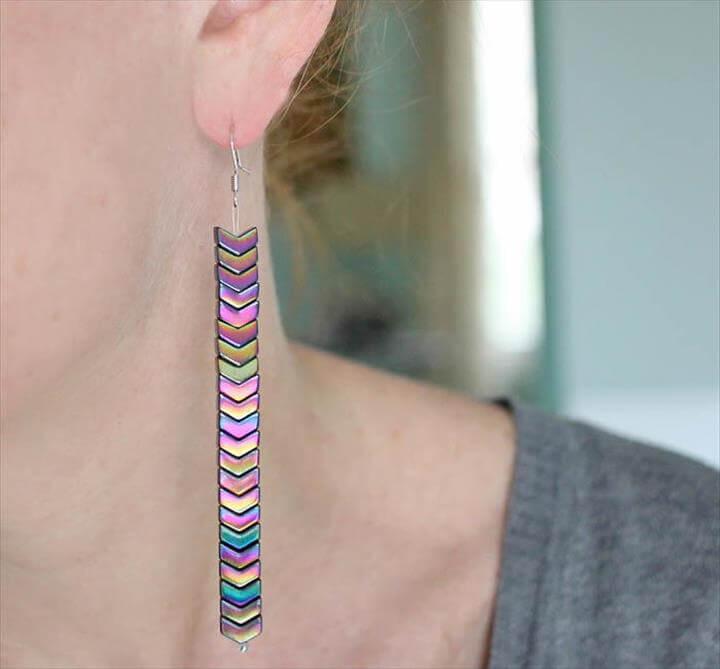 Making handmade jewelry is the best thing to do in your free time. Here is the idea of creating these super cute stone arrow earrings on your own. So grab your hands on the arrow-shaped stones and layer them in multiple tiers to shape up these elegant and stylish earrings. Check out the details of the idea here!
Image: pinterest, allfreejewelrymaking
Dangle Earrings

: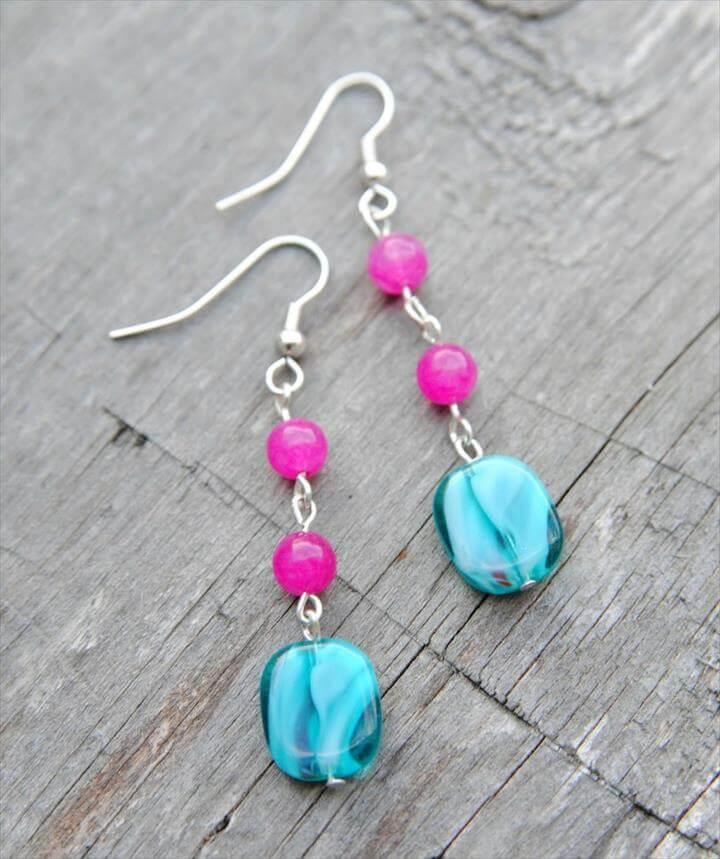 Using the beads you can make the prettiest and the cool dangle earrings for yourself and for the lovely ladies around. Using the round beads in small size and then square beads in the big size you can easily create these super cute and fun looking dangle earrings. You can customize the earrings with your favorite hues.
Image: happygoluckyblog
Pom Pom Earrings

: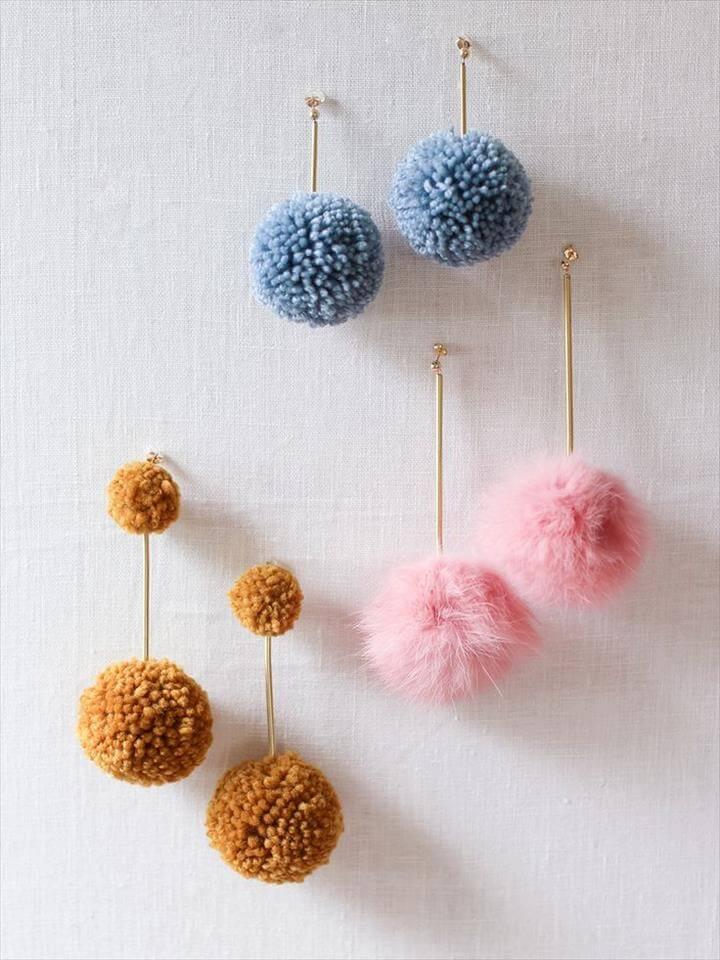 Pom poms are the prettiest things to use for the fun summer projects. Here are these cute pom pom earrings to make and funk up your look for the summers. Take the colorful pom poms in two sizes and put them together as earrings with a brass rod and earring utilities. Check out details here!
Image: honestlywtf
Coloring Book-Style Woodburned Earrings

: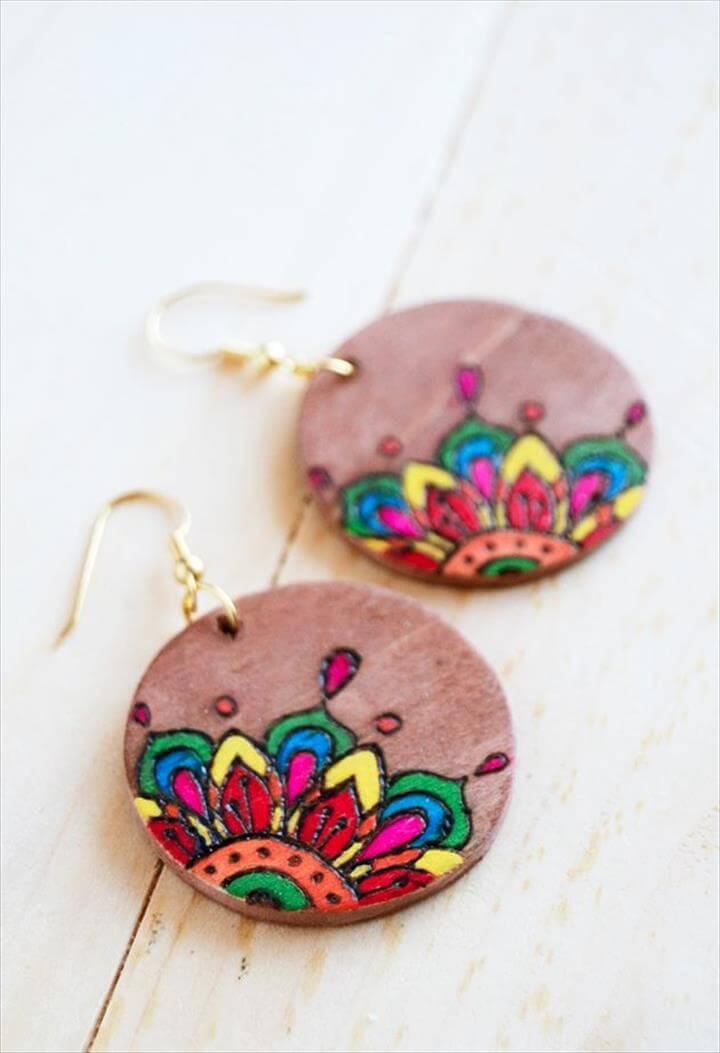 Here are the craftiest and colorful earrings to make and enjoy your summer fashion. So take wooden rounds and create a design on it using the burnt wood technique. Then fill this design with the multi-colored markers and you have your earrings ready. Check out the details here!
Image: mintedstrawberry.blogspot
Anthropologie Earrings

: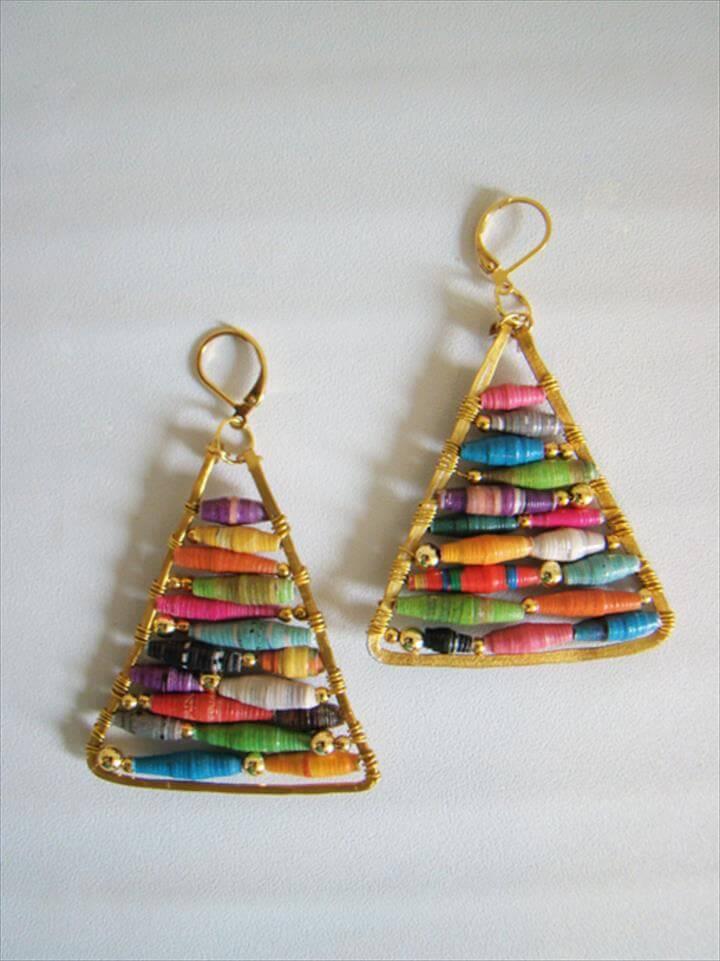 These Anthropologie earrings are the prettiest and the quirkiest too. So if you are a boho fashion lover then make these lovely earrings to enjoy some cool and stylish earrings for the summer. The beads used in these gorgeous earrings are made out of colorful magazine papers. Check out the details here!
Image: cutoutandkeep, madmim
Raw Stone Earrings

: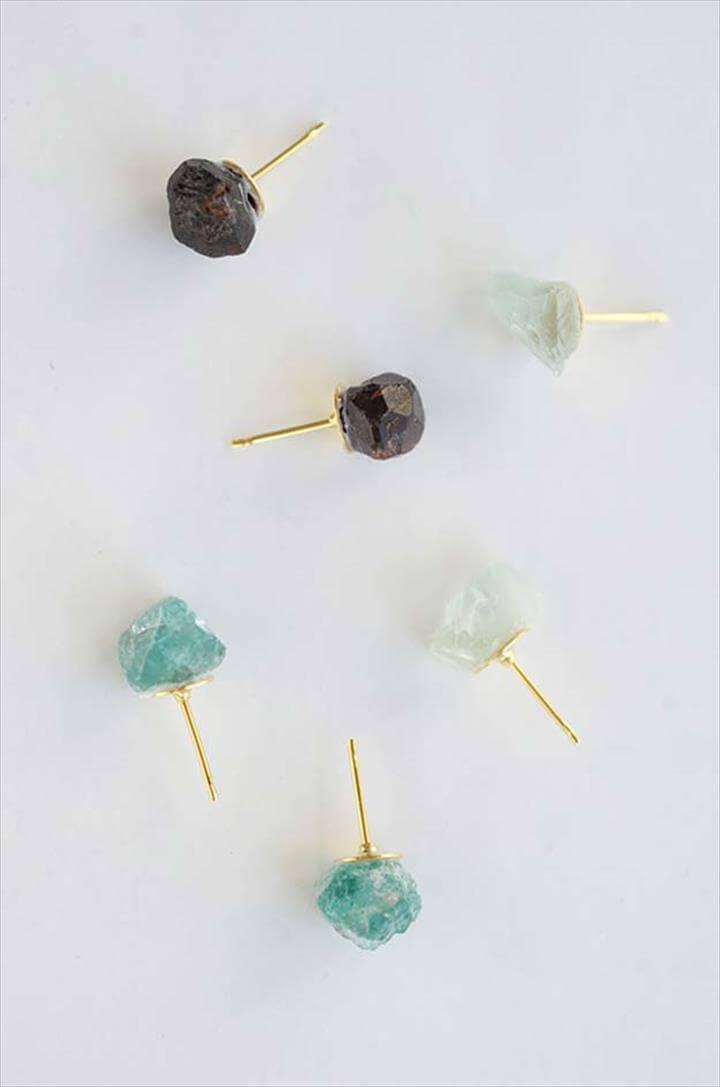 Here are the simplest yet the most elegant and cute earrings to make at home. The colorful raw stones have been turned into the lovely earrings with just simple jewelry making techniques Just add earrings backs to the stones and the earrings are ready. You can make a lot of them use as gifts too.
Image: aliceandlois
Wood Earrings

: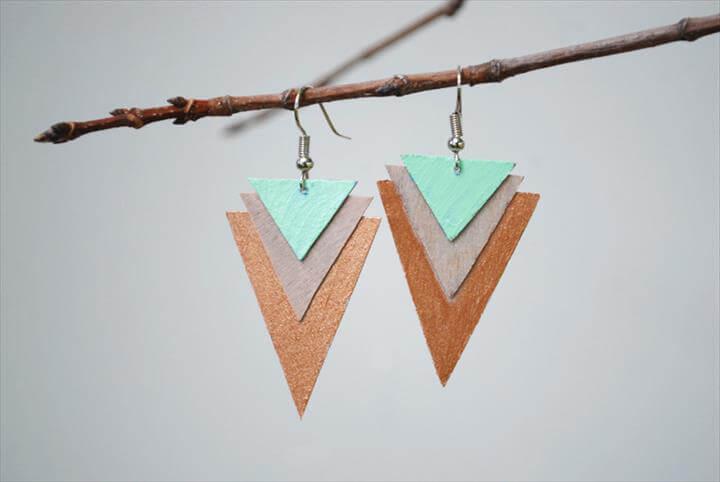 These stylish and totally funky looking earrings are made out of wood to your utter surprise. You can easily hack the idea of making these lovely earrings to jazz up the summer fashion. So get the birchwood sheet in thin texture to make these petty earrings in tiers of wooden painted triangles. More details here!
Image: themerrythought
Ravishing Beaded Ribbon DIY Earrings

: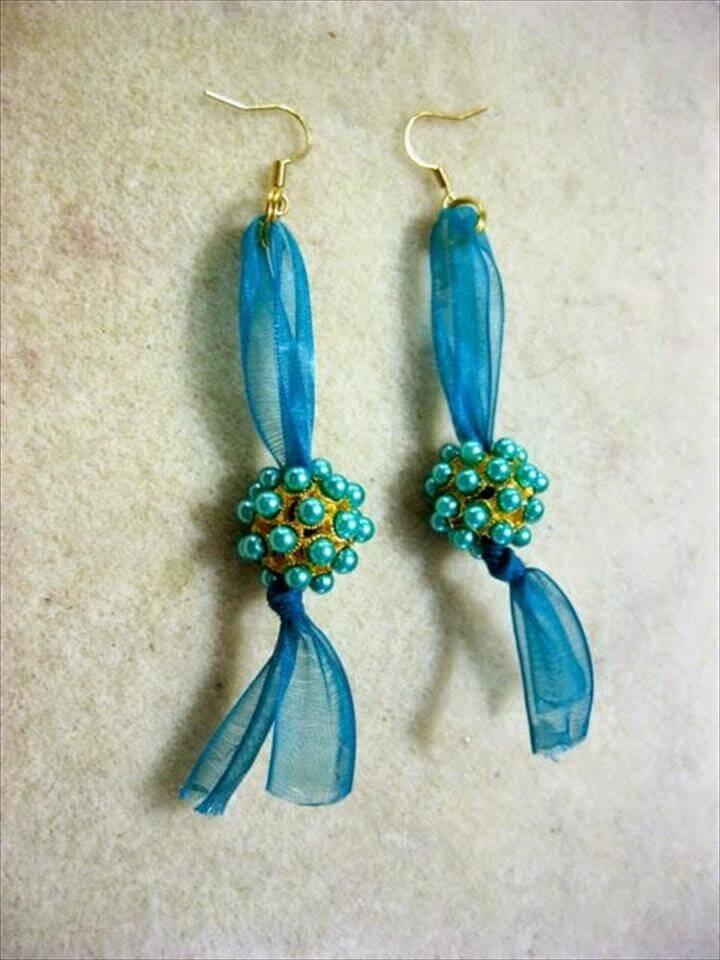 Look beyond gorgeous and stylish with these handmade ravishing beaded ribbon DIY earrings. You can enhance the glam of your tops and tanks with these pretty handmade beaded ribbon earrings. Round beadwork has been tied off with long matching ribbon strips to get turned into these lovely earrings. Details here!
Image: allfreejewelrymaking
Gilded Feather Earrings From Leather

: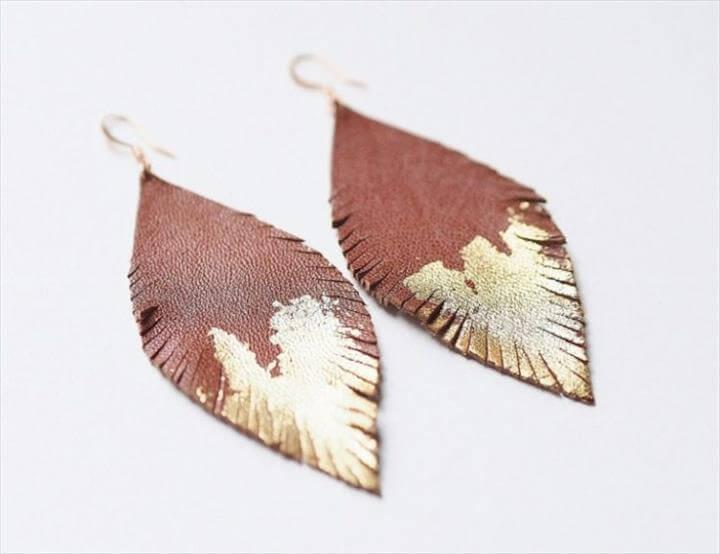 Give your boho look a complete boost up with these stylish and chic gilded feather earrings from the leather. So firstly take some leather sheet and cut the feather-like shapes out of it. Then give a fringed look to these feathers using scissors. Lastly, add earrings hooks and some gold paint and your earrings are ready.
Image: styleoholic
Arizona Iced Tea Earring

s: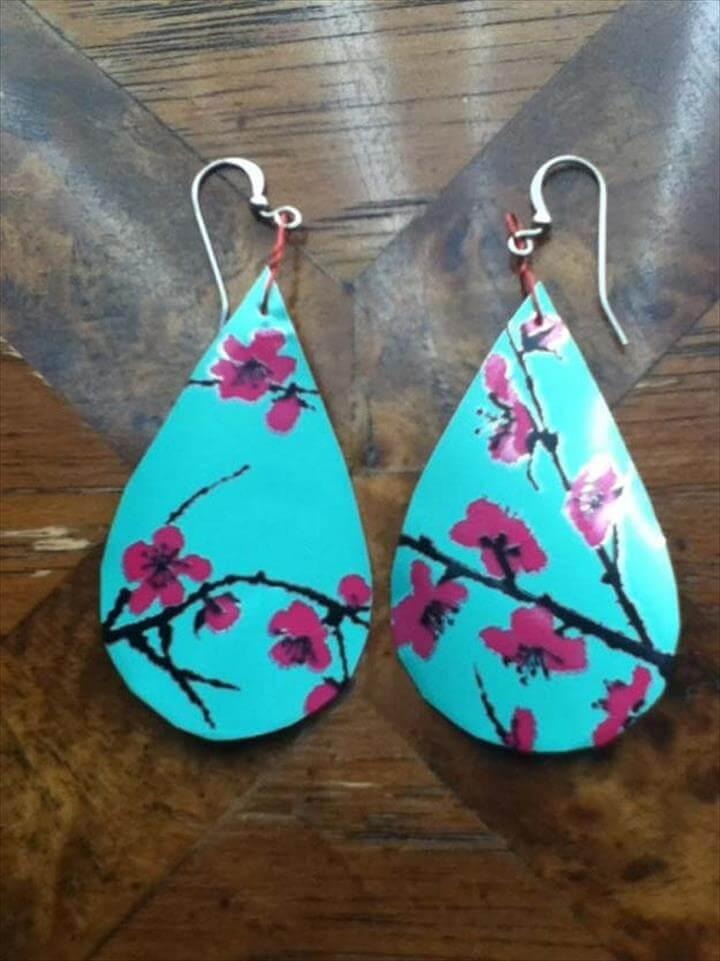 These lovely Arizona iced tea earrings have a lovely floral design with a teardrop shape. The earrings are made from an aluminum sheet having that floral design and pattern on it. Just cut out the teardrop shapes from the aluminum sheet and then drill holes to both to add the earrings hooks.
Image: truebluemeandyou
Chandelier Earrings: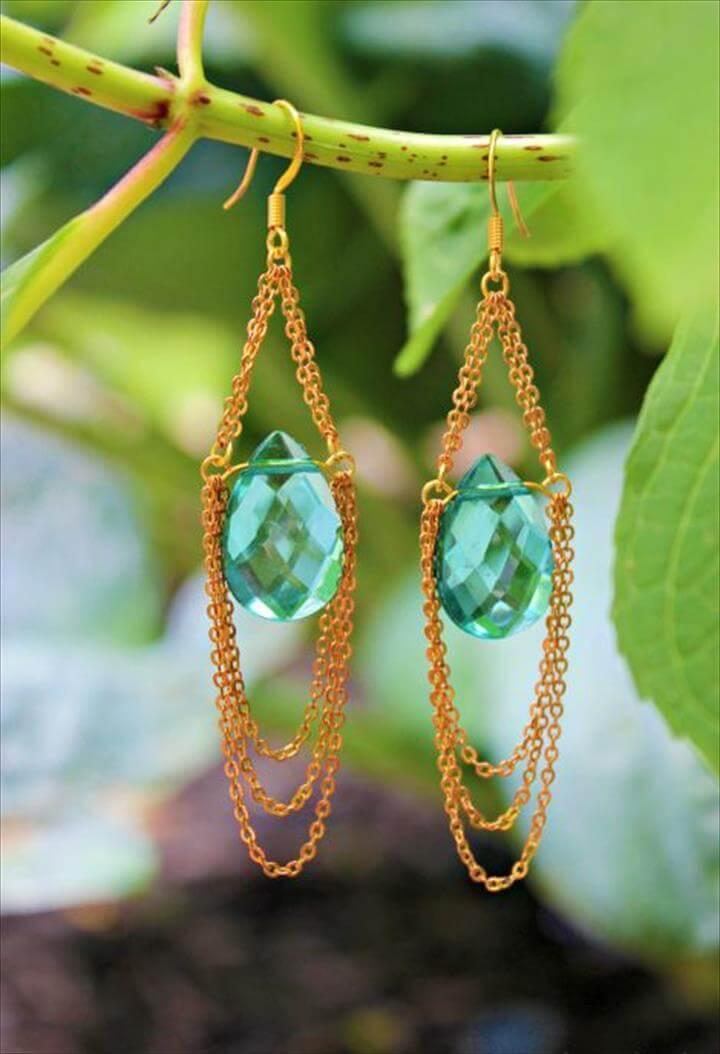 When you make these chandelier earrings and flaunt them in a gathering, nobody is going to believe that they are handmade. The gorgeous chandelier earrings are super easy and fun to make with a few things only. So get your hands on your favorite stones, chains, earrings hooks, wires, pliers, and the jump rings. Check out details here!
Image: wordpress
Waxed Linen Seed Bead Tassel Earrings

: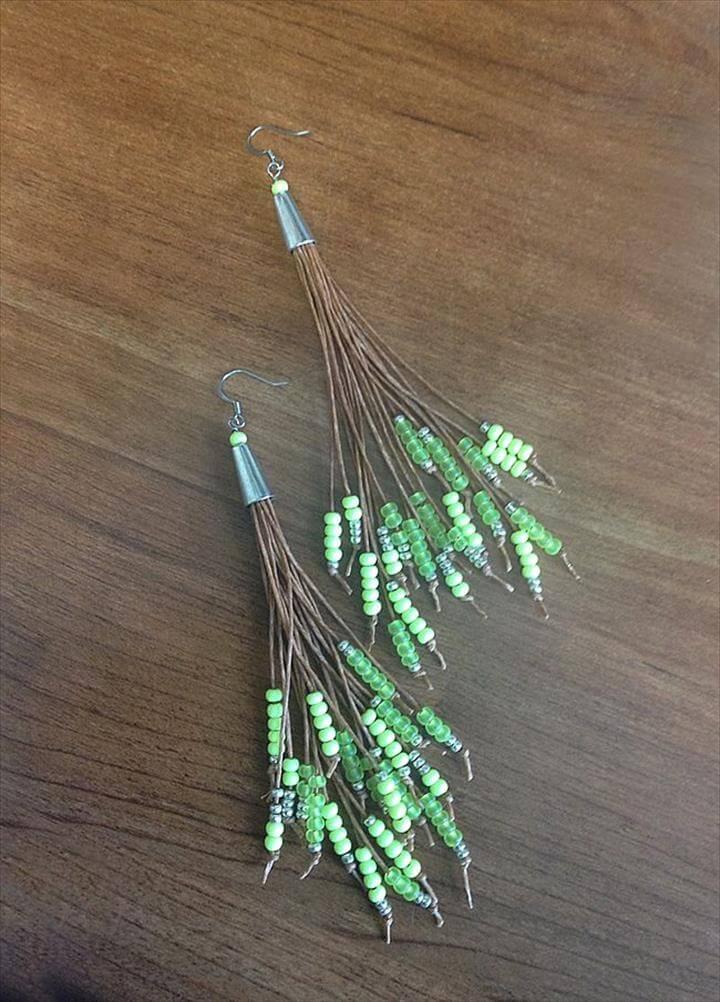 Here is the idea of this lovely waxed linen seed bead tassel earrings for you to get your hands on. So get the waxed linen threads and cut into small pieces. Then take some colorful beads to get them through the threads. A group of these beaded threads would serve as an earring with earring hook on. Details here!
Image: looseendscraftblog
Spring-Inspired

DIY Earrings: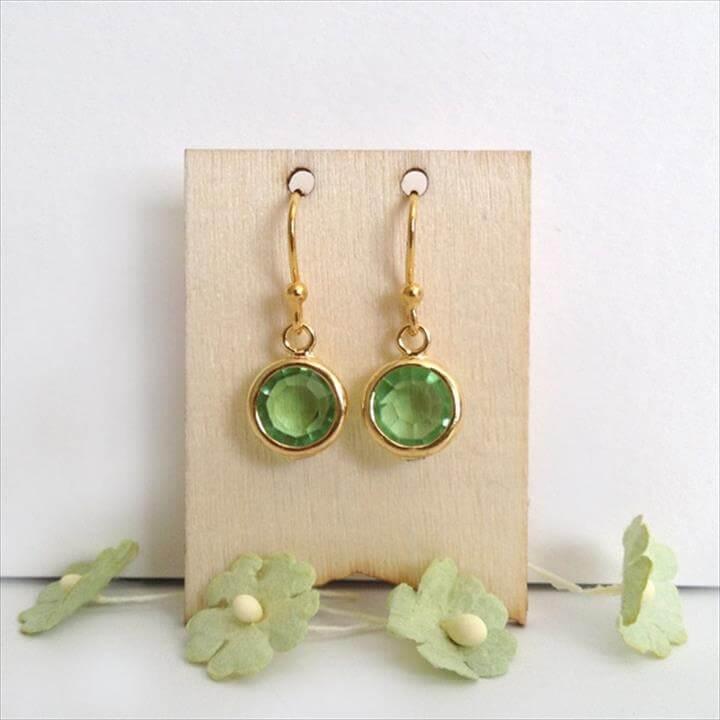 Here is how you can make these beautiful spring-inspired DIY earrings. Using the stones, jewelry wires and the jump rings you can easily shape up these DIY earrings. Then take some wooden pieces to use them as the earrings holders just drill two holes in them. Check out more details here!
Image: maritzalisa
Gold Dipped Lace Earrings

: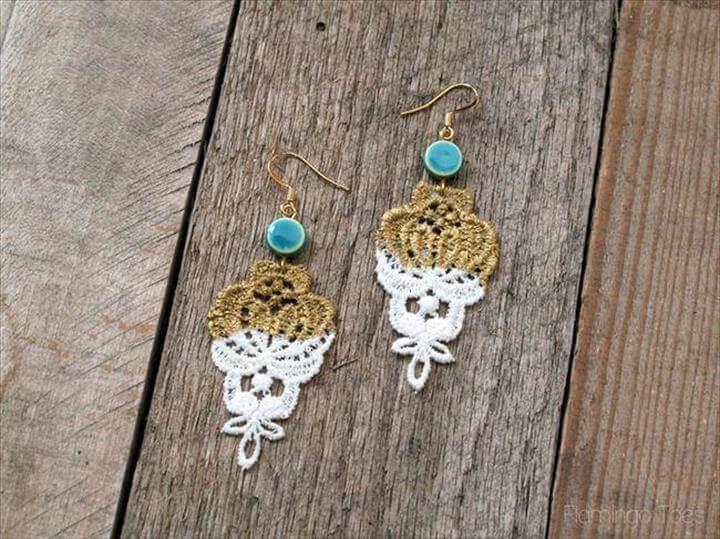 These gold dipped lace earrings are the most elegant and stylish pieces of jewelry that you are going to witness today. Just cut some motif out of the lace lying around. Then dip these pieces in gold paint. Add stone and the earring hooks and you have the most unique and custom earrings to drool over.
Image: flamingotoes
Beaded Tassel Earrings

: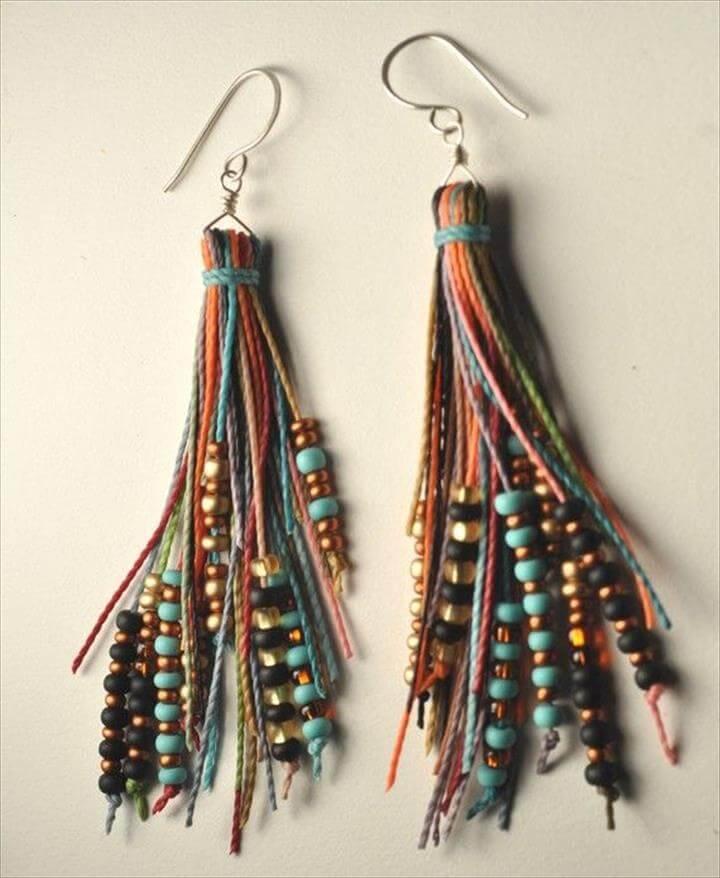 The funky fashion lovers are really going to fall in love with these beaded tassel earrings. They are super easy to make with some colorful pieces of the yarn and the colorful beads. Also, you would need earrings hooks and the pliers to work up these totally cool and stylish looking earrings. Follow the tutorial here!
Image: mygirlishwhims, etsy
Heart Earrings: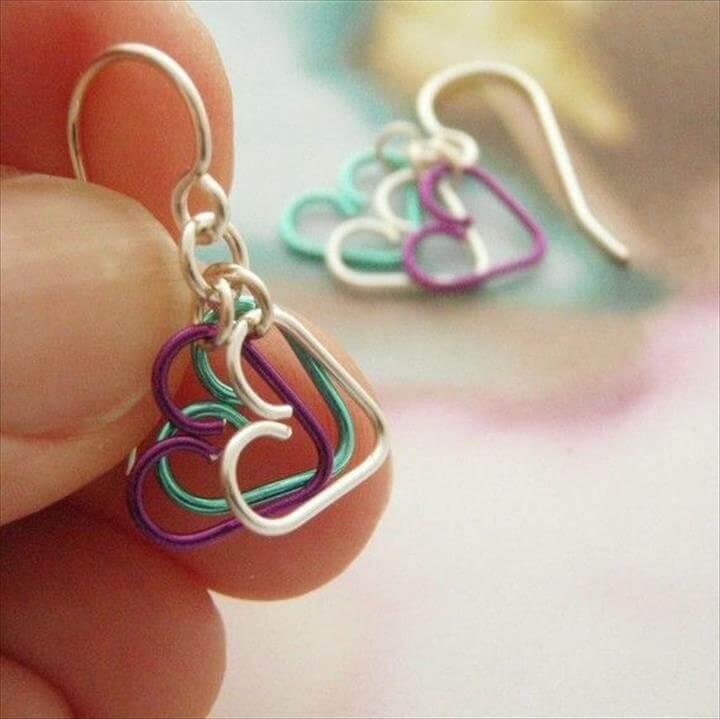 One of the best ways to looks stands out is to have custom jewelry pieces like you can make these adorable heart earrings. Grab some jewelry wire and shape up a few hearts out of them. Paint up these hearts in your favorite colors. Then take three hearts and attach them to the earring hooks with the help of jump rings.
Image: pandahall, craftingwire
Earring Hoops

: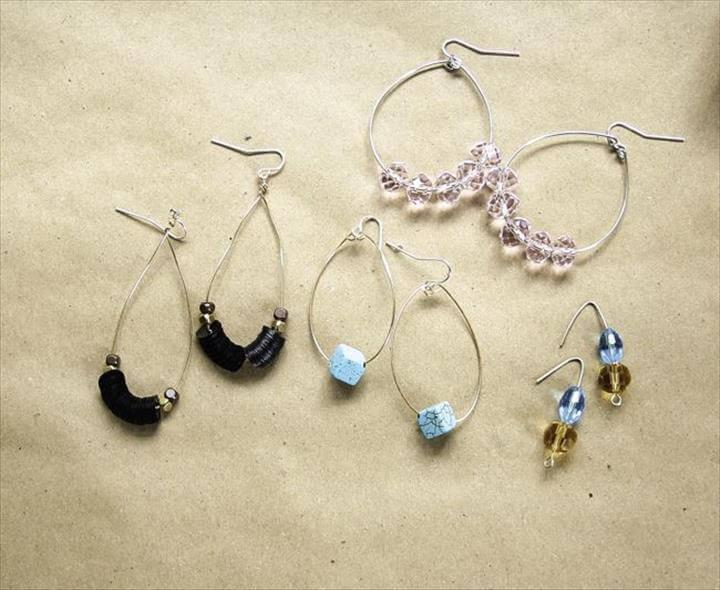 Here are these adorable hoop earrings that you can make in less than five minutes. Just take some gauge wire and shape it up like a hoop or a teardrop. Then add your favorite beads to these hoops and close them up with the earrings hooks. These earrings hoops can make pretty last-minute gifts too.
Image: helloglow.co