Are you looking for some useful hacks and DIY project ideas to try this weekend? Don't worry at all as going below you will be getting some crazy creative ideas.
See how this useless toilet paper roll can serve as a mobile stand. You can also paint it in different colors to make it look more incredible. Usage of some soft board pins can help it standstill. These are 22 Awesome DIY Projects To Try Now is awesome copper plant hangers made with copper strands twisted for holding the plant.
Look at these folded lucky paper stars which are as easy to make as they seem to be. Decorate your tables with these elegant sashiko table mats and runners. What's easier than these simple tote bags, enjoy making them with your friends, and use them for whatever purpose you like. Talking about some DIY ideas with the stones, try these raw stone and silver necklace. Also, make these river stone mats to tic tac toe. Like most of the people you must be having some useless washers inside your toolbox or drawer, why not turn them into bracelets.
Here is for you, a floral headband idea which is super perfect for the upcoming festive season. Use some paper flowers and stick them to your plain hair bands. Add some spice to your jeweler collection by making these DIY paper clip cool earrings. Try making this string owl on plain canvas and decorate your simple plain walls. Also, you can decorate your walls with these flower mirror decor. Try wearing some multi-color lipstick to some late-night parties with friends or parties where you have to dress a little funky and funny.
Coming back to your cell phones, these are some DIY iPhone cases that you will want to try for keeping your phone safe and protected. Running out of space in your informal living area? Do a little effort to make these hammock chairs where you can enjoy passing your time and watching television. For more canvas related ideas, you would probably want to arrange some red buttons in a heart shape for a perfect valentine DIY wall decor. For further arts and craftwork, also try making this rainbow crayons. One of the favorites of all these ideas is this button pin bookmarks to satisfy your book reading habits a little bit.
Do try at least one if not all of these DIY project ideas soon or whenever you have cravings for the creative work.
iPhone Toilet Paper Roll Craft: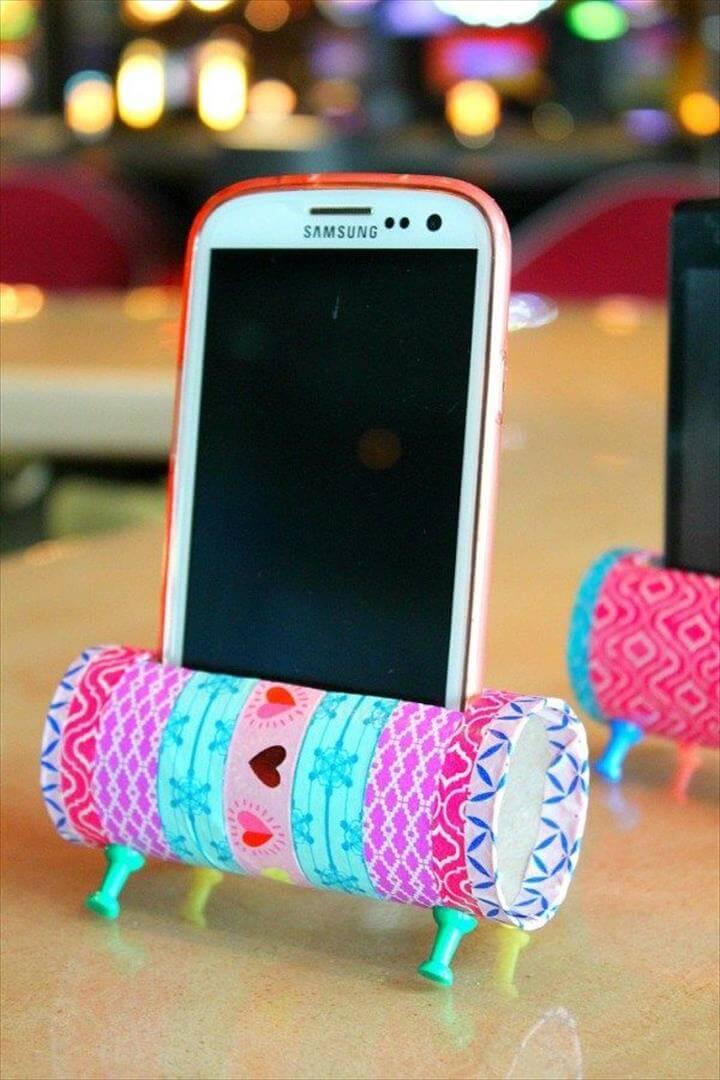 Make yourself this lovely I Phone toilet roll to hold your iPhone in a really cute and quirky style. The adorable iPhone holder is made out of an empty tissue roll with diagonal slits in it. You can take colorful paper, tapes and the paint to decorate this pretty iPhone holder for a custom look. It would make a great gift idea too.
Image: livedan330
Easy Art Copper Plant Hangers

: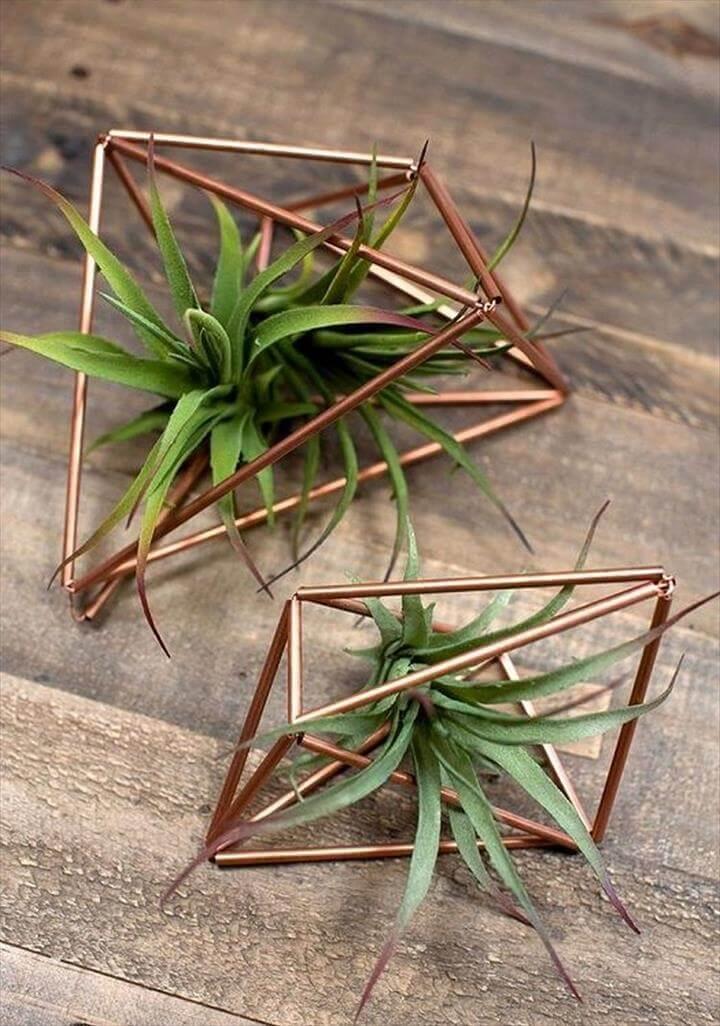 Bring some crafty twist to your home decor with this lovely and quirky art copper plant hangers. The geometric shapes copper plant hangers are easy to make with the thinnest copper pipe and the wire along with some pliers and cutters. Use these copper plant hangers over walls or tables for a catchy and cool display.
Image: liagriffith
Fold Lucky Paper Stars: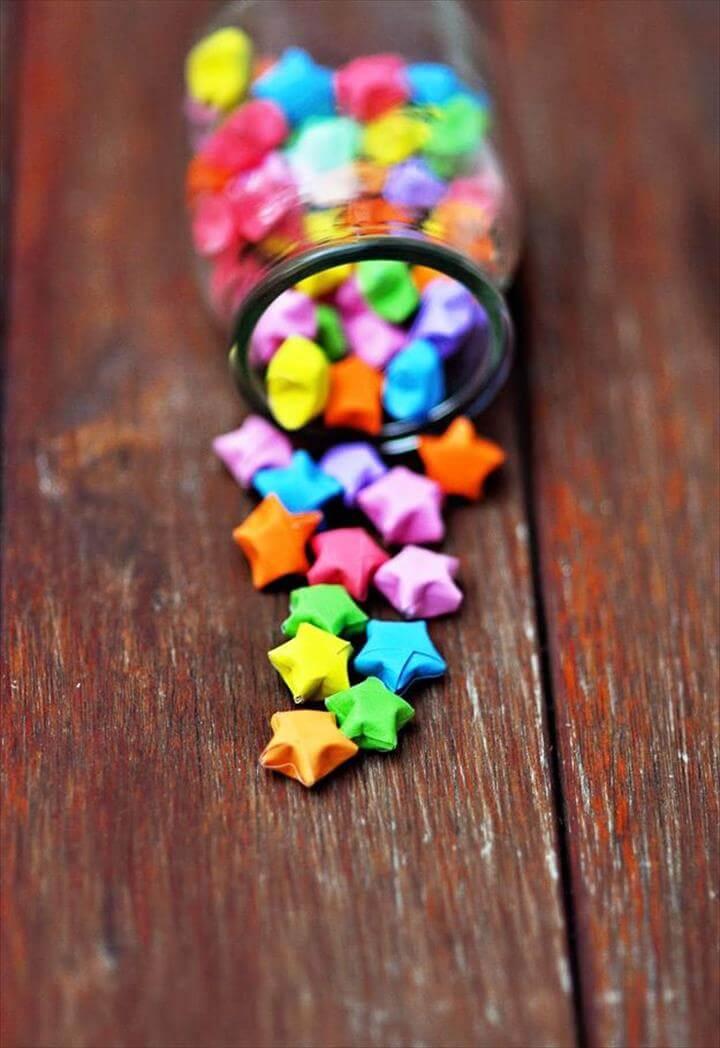 Make the most out of your free time by making getting your hands on this super fun craft of the fold lucky paper stars. Using the colorful origami paper these adorable and cute little stars are so much easy to make. You can use this craft to have fun with your kids on a weekend. Details here!
Image: agusyornet
Sashiko Table Decor

: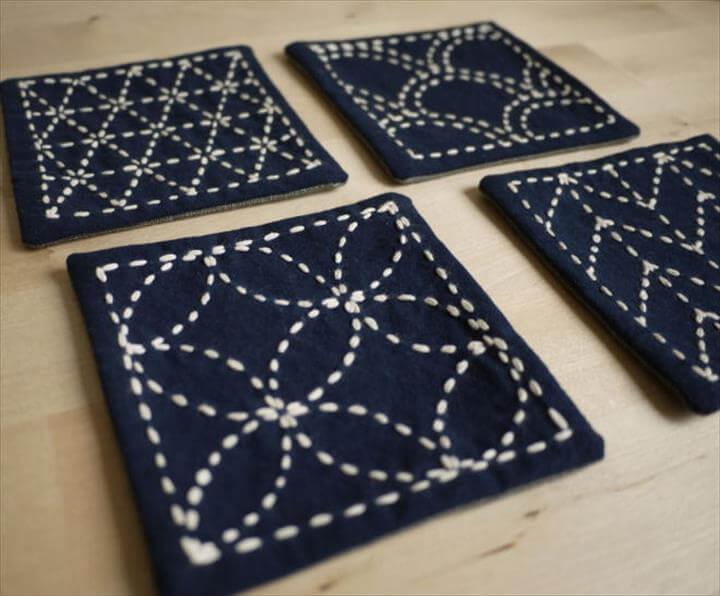 Sashiko is a Japanese art of the needlework and now you can use it to create some funky table decor items. Just trace out any of your favorite pattern on a piece of fabric using chalk. Then using the Sashiko yarn and needle you can stitch up the pattern and get some pretty table decors. Learn more details here!
Image: sakepuppets
Raw Stone & Silver Necklace

: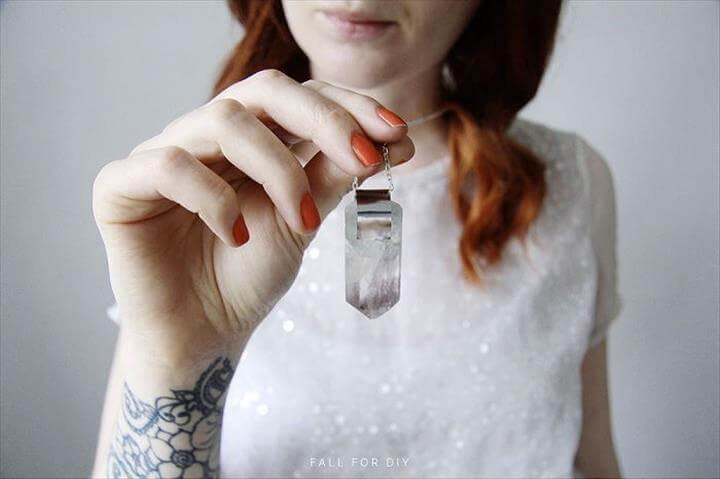 Make yourself a gorgeous raw stone and silver necklace to rock the summer fashion. This adorable necklace is easy to make with the cheapest of the items like a raw stone, an empty soda can get a silver piece, a rubber band, some glue, and the chain. This necklace would make a pretty gift idea too.
Image: fallfordiy
River Stone Mats To Tic Tac Toe

: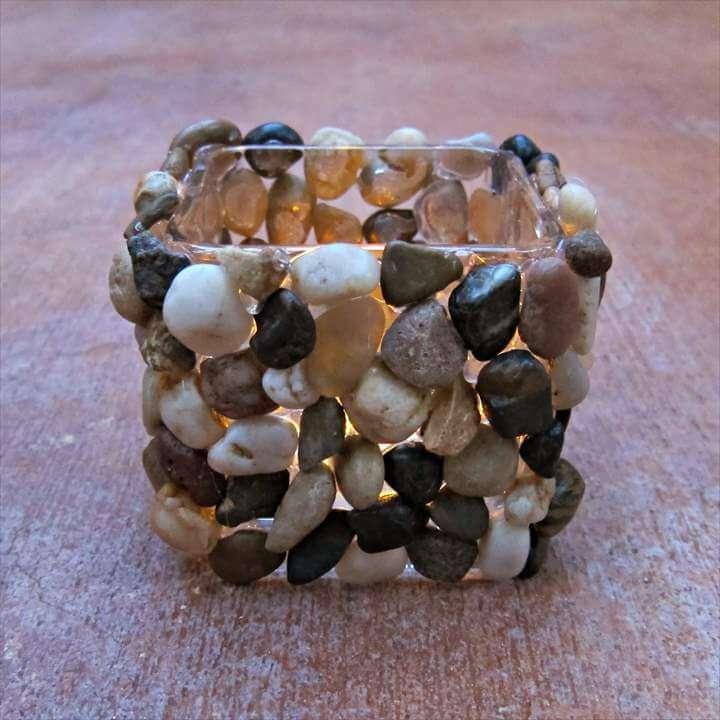 Image: morenascorner
Metal Washer Bracelet

: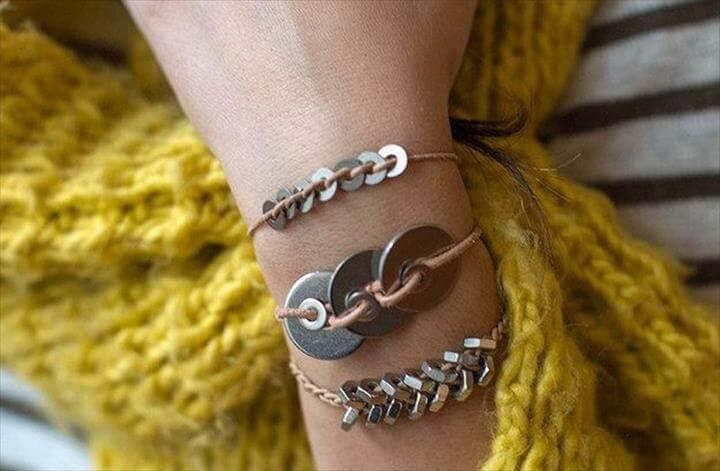 You can find some interesting things in the hardware store to shape up some pretty jewelry pieces. Here is the idea of making this lovely metal washer bracelet to look boho and chic for the summer. Using the copper-hued washers and nuts you can easily shape up this super cool bracelet. Details here!
Image: liagriffith
Frida Kahlo Floral Headpiece

: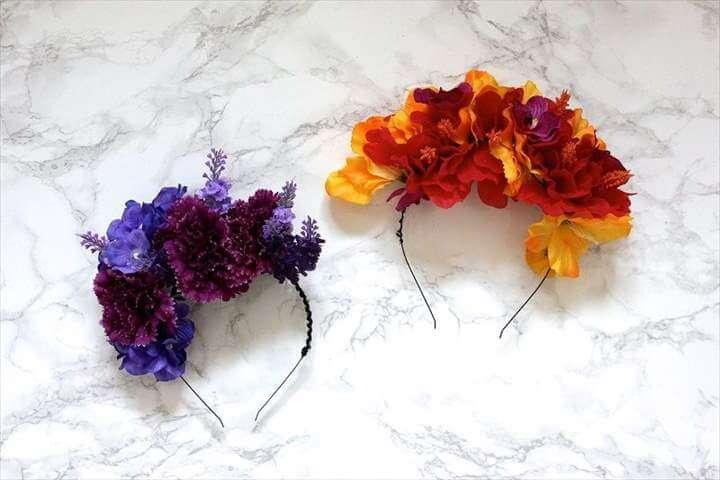 If you are also an admirer of Frida Kahlo then this project is perfect for you. Yes, this gorgeous floral headpiece is the iconic part of her look. Now using a simple headband and the faux flowers you can easily shape up this floral headpiece to charm up your summer dressing with. Check out details here!
Image: urbanfoxdiy
Paper Clip Earrings

: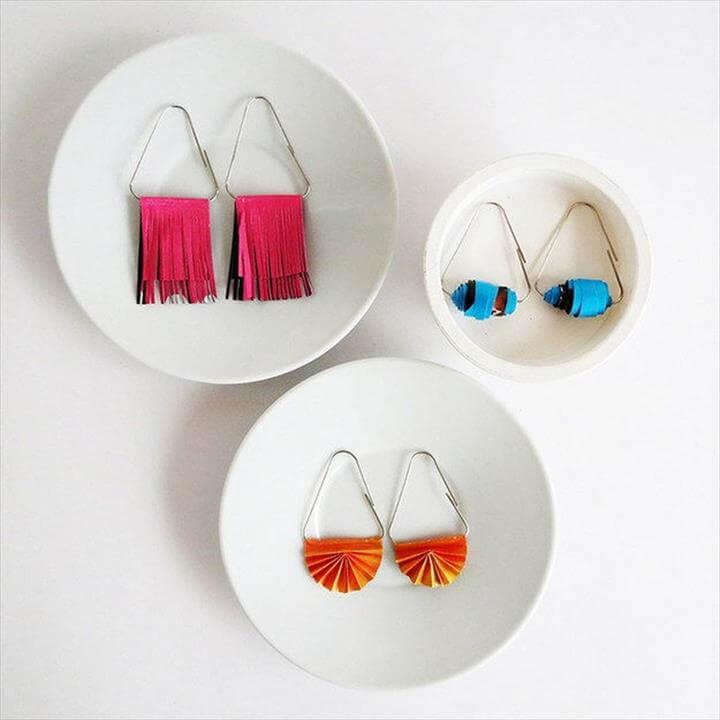 Everyone has paper clips at home and now you can make the pretty earrings out of them. Using the paper clips and colorful paper you can easily make some instant and cute earrings to match with your pretty summer tops and tanks. Just cut the paper in fringes style or fold it like flowers or anything you like.
Image: ohohdeco
Colorful Lipstick: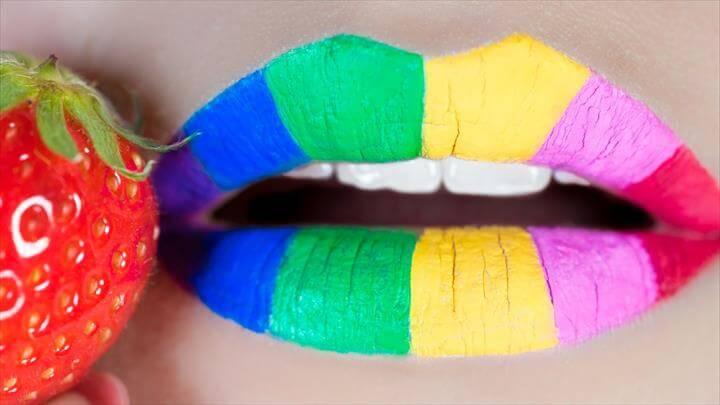 Summers mean bringing all the colors in your fashion and style. This time you can go crazy with the colors by making this totally rocking colorful lipstick. If you are going to rainbow theme party of throwing one then applying this colorful lipstick so going to rock your look. Details here!
Image: youtube
Easy iPhone Case: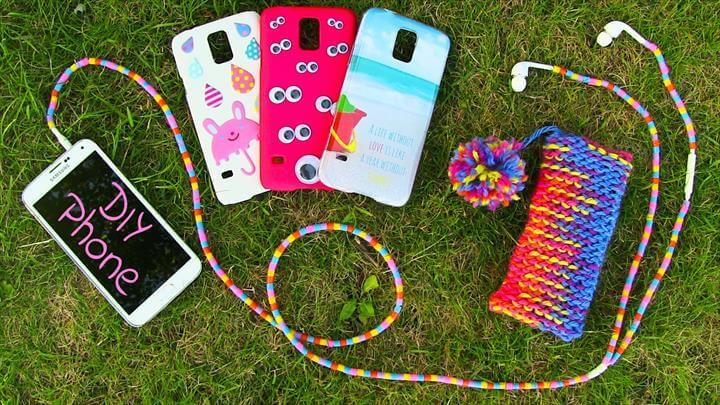 iPhone cases need to be restyled during the summers and everyone wants lots of them. So here we have a project with an easy iPhone case having 10 ways to make the prettiest and the coolest iPhone cases for your phone. From crocheting a case with a pom pom to decorated cases with custom stickers and paint we have everything covered in the tutorial here!
Image: youtube
Hammock Chair

: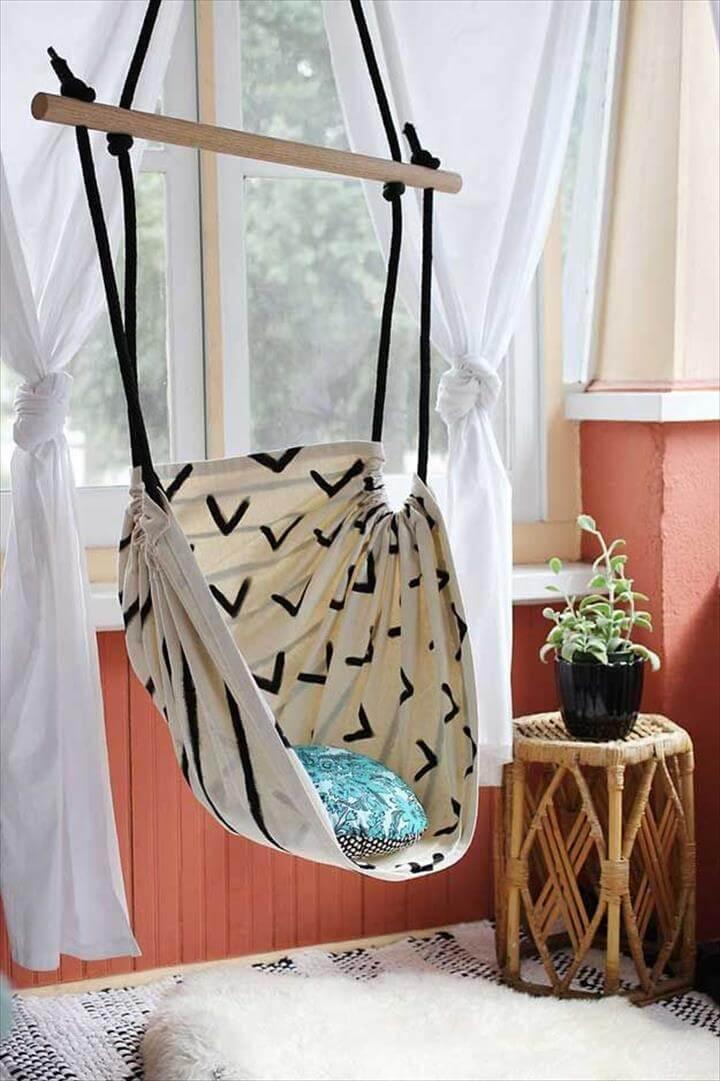 Give your kids some more fun in their rooms with this easy and fun hammock chair. Using a wooden dowel, braided rope, and the white canvas you can easily create this fun hammock chair for the kids. The canvas has been painted with black V shapes all over before getting turned into the hammock chair.
Image: abeautifulmess
Button Heart Wall Art: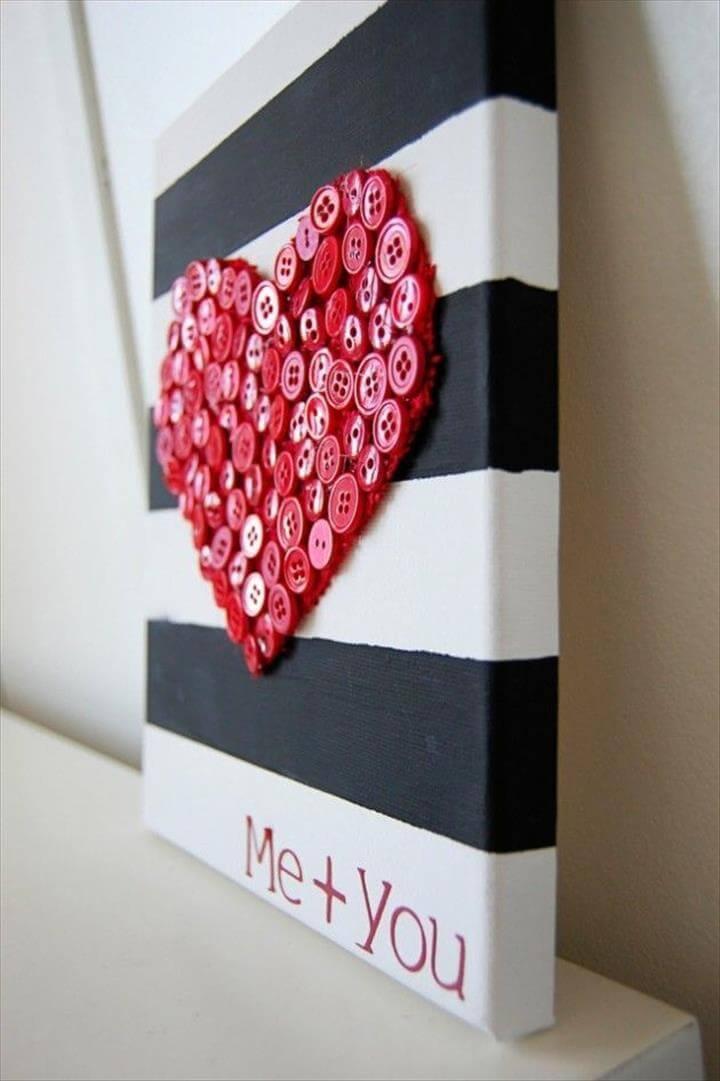 Make yourself this lovely button wall heart wall art. Just take a white canvass and then paint it up with the black paint strips all over. Then using the red buttons in multiple sizes you can create a lovely heart on this canvass and put it on a wall or table display. It would make a great valentine's day gift too.
Image: foodfunfamily
Rainbow Crayon: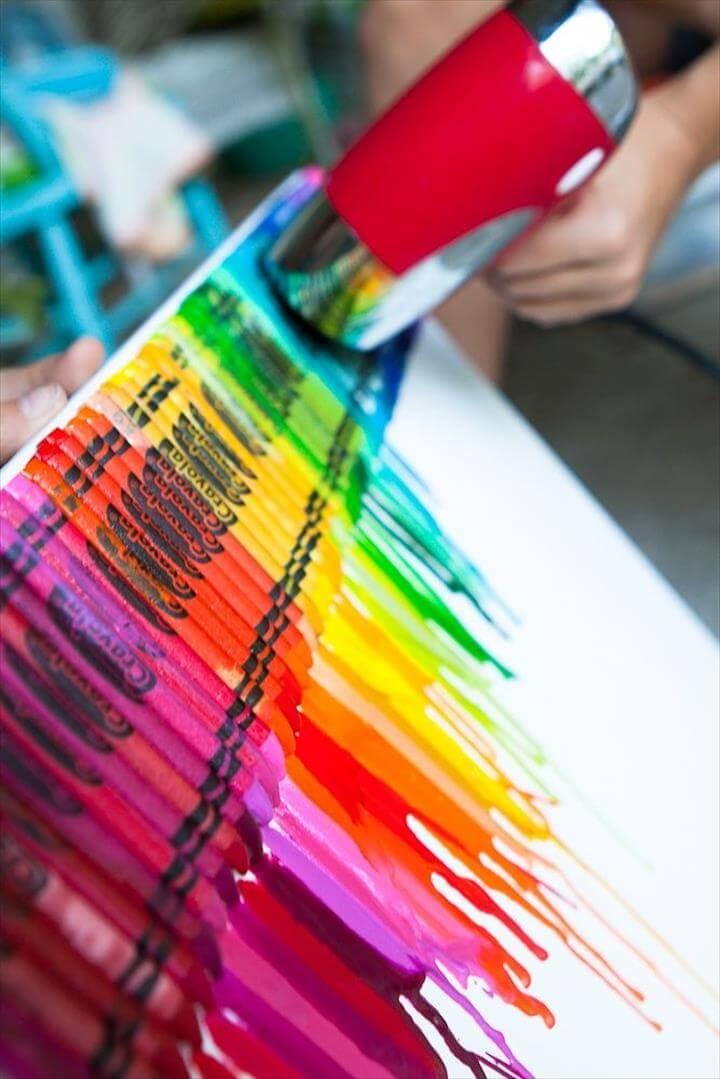 Summers mean fun and colorful crafts and here is the idea of creating this lovely rainbow crayon art. You need a bunch of rainbow-hued crayons and whiteboard or fabric to create the art. Just glue your crayons in the rainbow pattern over the canvass and melt them using a blow dryer and your craft is ready once it's dry.
Image: typepad
Button Pin Bookmark: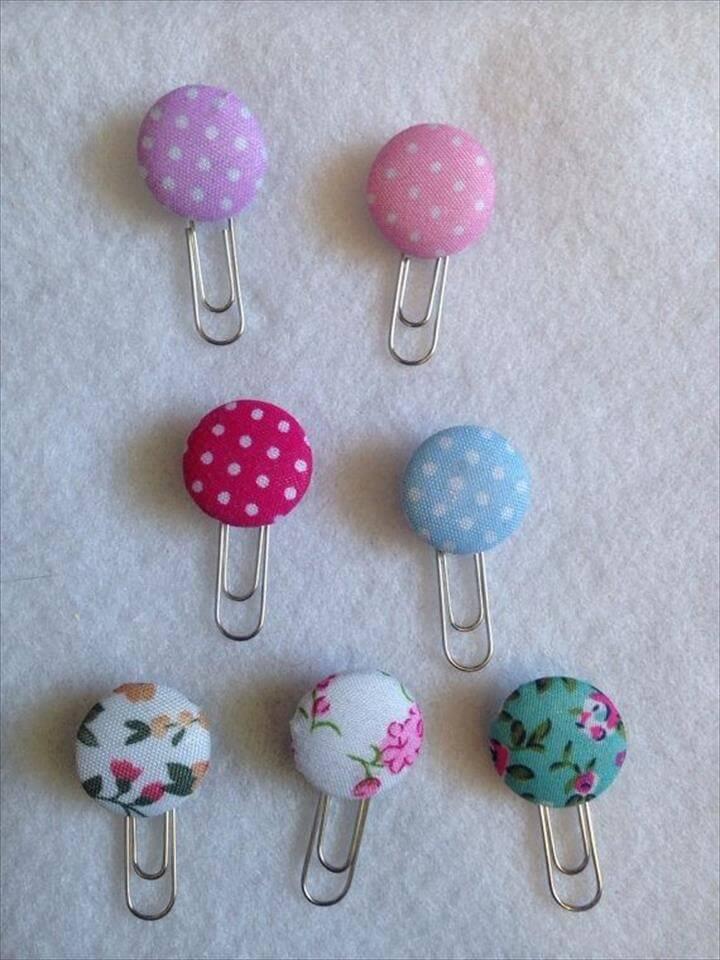 Feel functional at home by indulging in some super easy and cute crafts just like these button pin bookmarks. So grab a bunch of colorful paper clips and the fancy buttons to create these instant and cutest bookmarks. You can use these bookmarks as the lovely gifts for your book lover dear and near ones. More details here!
Image: iheartnaptime.net
Eyelash Flats

: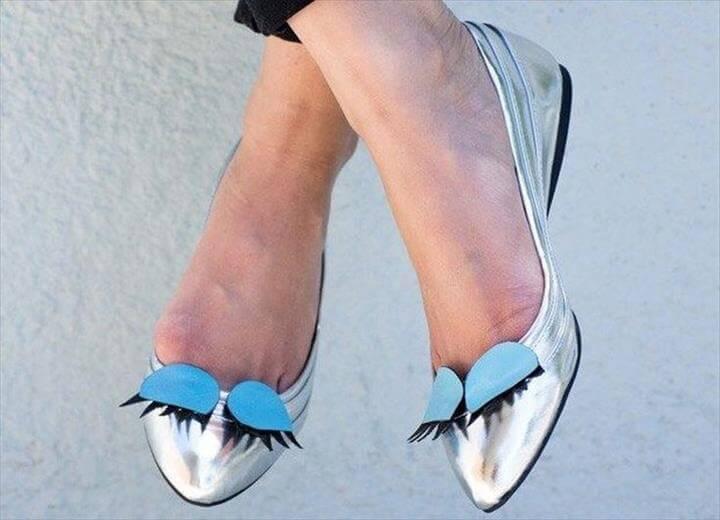 If you are sitting idle then its time to be productive and make these lovely eyelash flats. So get some easy supplies to give your flats a cute and stylish makeover. Using the leather in black and the spray paint you can easily make these eyes lashes and glue them to the flats. Details here!
Image: weheartthis
Paint Chip Birthday Mobile: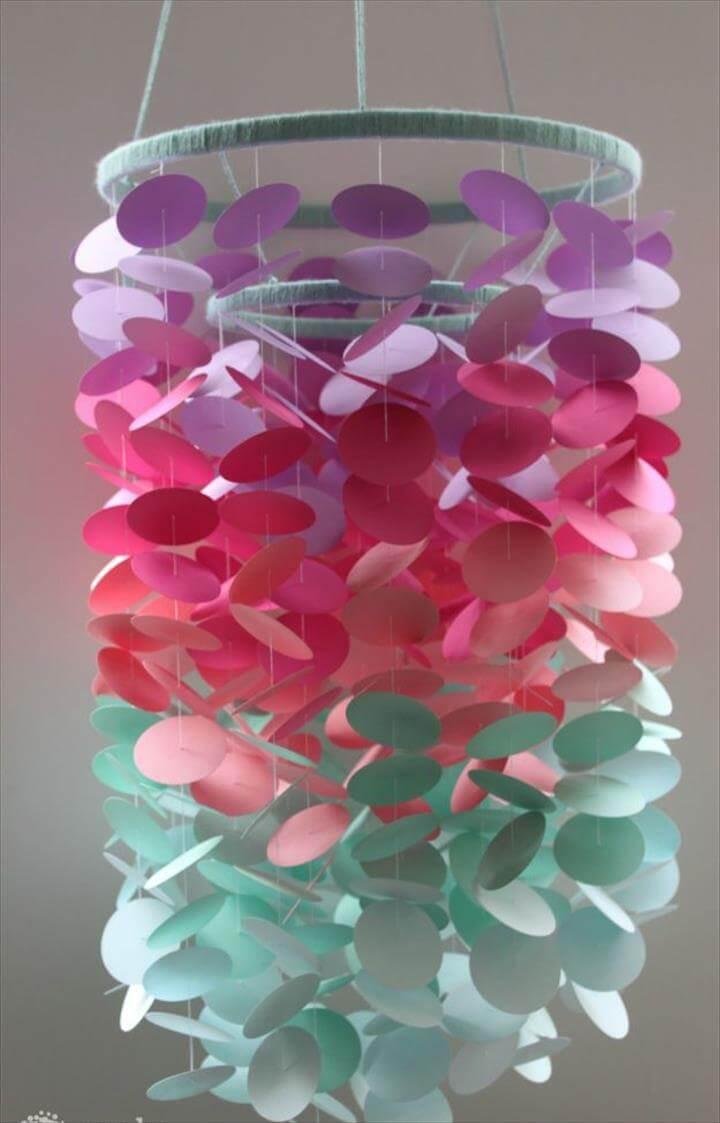 A nursery is so undone without a lovely mobile in the room. So here is the idea of making this super cute and colorful paint chip birthday mobile. Using the colorful paint chip sheets you need to cut circles out of each using the punch. Then with the help of the thread and embroidery hoops, you can easily install this cute mobile.
Image: evieandsarah
String Heart Yarn Cards

: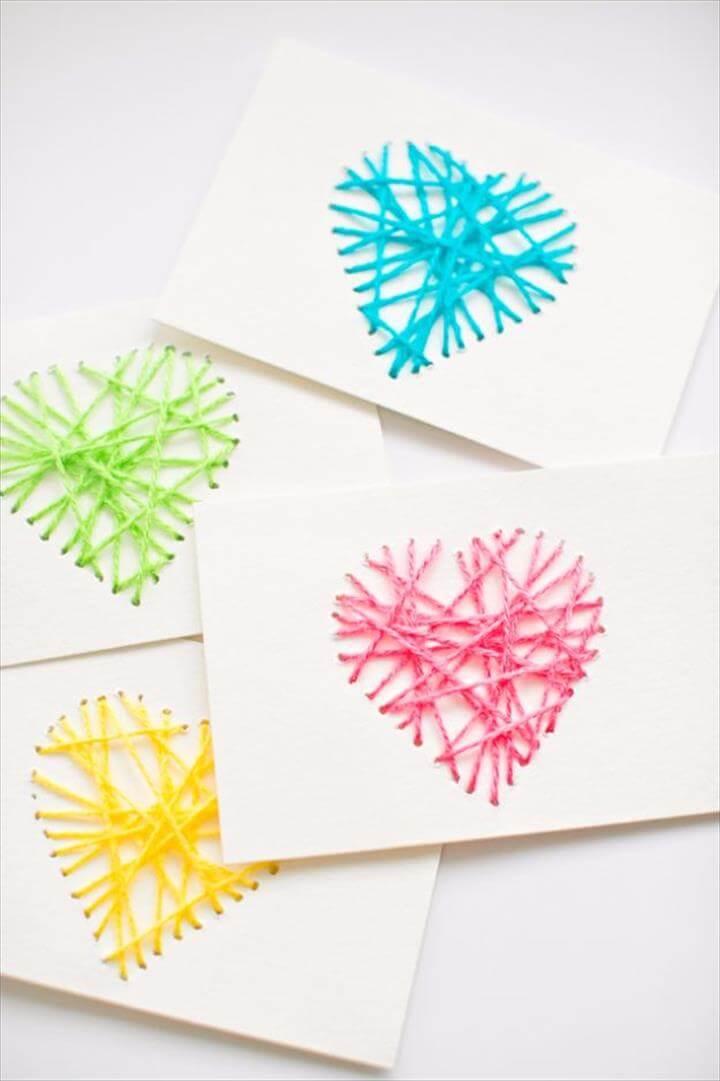 Bring back the tradition of cards and add more value to it by making them with your own hands. So grab some thick cardstock in white and trace a heart shape using a template with holes. Then using the colorful threads you can easily create a yarn heart and your card is ready to be written with wishes and messages and give away.
Image: hellowonderful.co
String Heart Art Valentine's Day: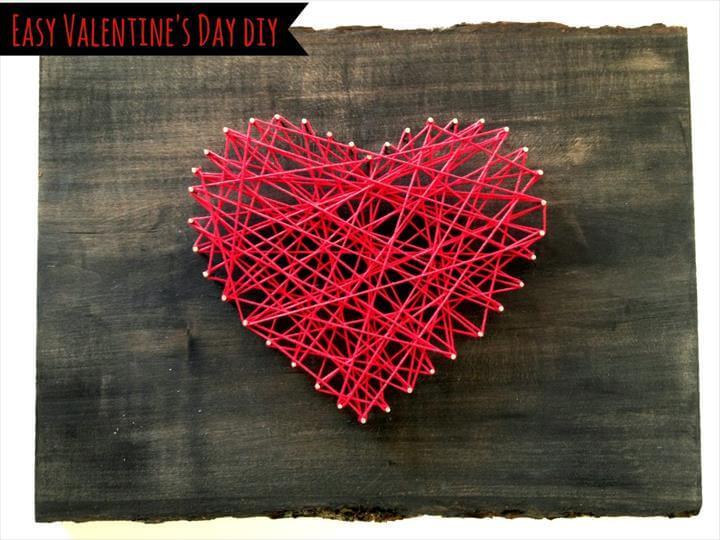 Make something out of your hands for the valentine and this lovely string heart art is the best. Get your hands on rustic wooden board and then create a heart shape on it using the nails. Grab the red colored yarn and create a lovely heart with easy string art. Even the kids can do this project.
Image: savageseeds