Get ready to enjoy these 22 DIY Top Handmade Jewelry Ideas. All of these are less expensive ideas for making jewelry. All of these ideas are so cool that you will find it difficult to decide which one to try first.
See these amazing wooden bangles made with the wooden beads and elastic string. These tassel earrings are probably the easiest and yet the most DIY pretty handmade jewelry items of all time. Grab some large round golden rings and attach some threads to give a tassel look to it. Also, you can make a tassel necklace with this idea. These are map earrings that are unusual in their own way.
Enjoy some other earring ideas below and try making at least one if not all of these. This is a beaded necklace that is elegant and trendy at the same time. This is a pair of bead flat triangle earrings in yellow and blue color. You can also use an aluminum wire which you can find from a crafting store and use it as a string for your necklace. This is a silver anchor charm bracelet and it's so cool to ignore. This is a brooch ribbon necklace that is unique and classy and can go with your formal designer tops. Also, try this triangle paper necklace suitable for a daytime outing. These are Piccadilly drop earrings, made for the formal dinners lined up for you this weekend. So try making them for satisfying your own jewel cravings. A ribbon and pearl combination is something new to the jewelry ideas and it's also handmade. This is a funky combination.
Enjoy various other ideas of making DIY handmade jewelry for not only yourself but also for gifting them to your friends and others in the family. The handmade items are seriously priceless and their only worth is love and respect.
Handmade Wooden Bangles: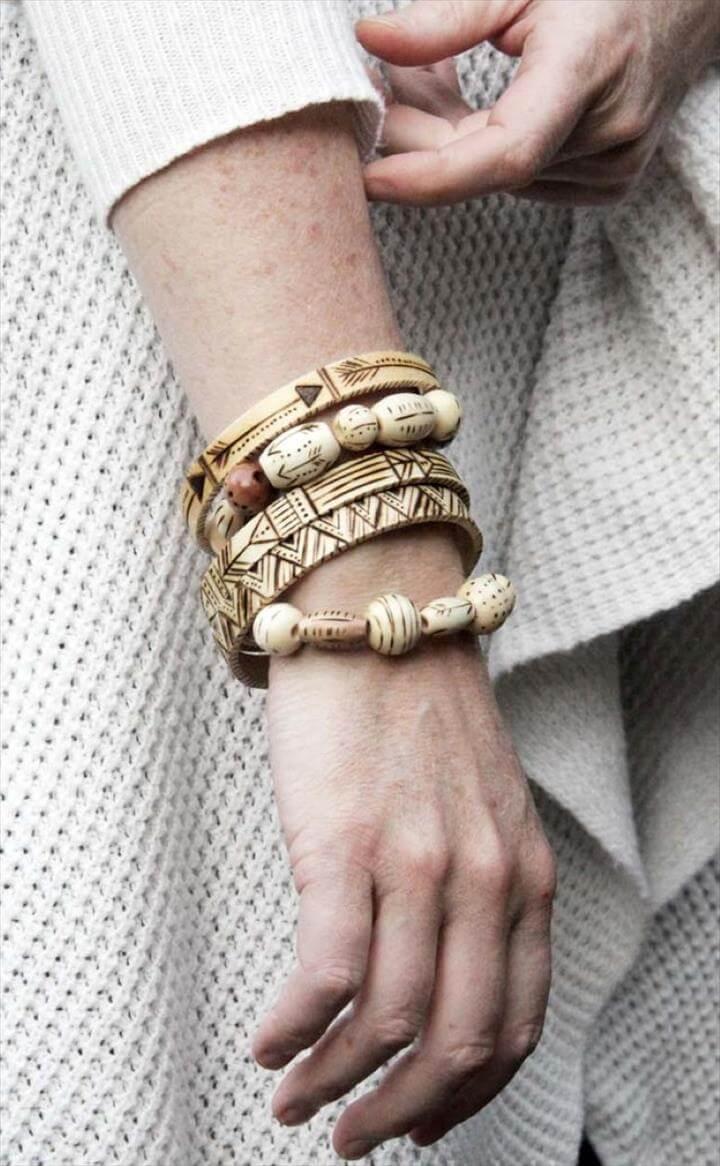 Give your dear and near ones the best of the gifts with these handmade wooden bangles. The lovely wooden bangles are etched with some fun wood-burning and look just so tempting and cool. You can make plain bangles and the bangles with wooden beads and wear them at the same time.
Image: alisaburke.blogspot
Tassel Earrings: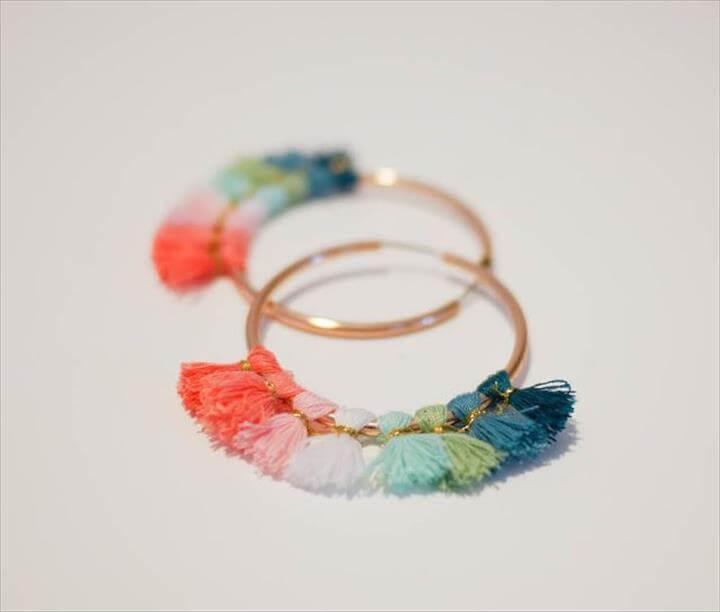 Make your simple and plain hoops look funky and fun with these adorable tassel earrings craft.  All you need to do is just grab some colorful yarn and then make some cute tassels to bind over the hoops. You can choose your favorite yarn hues to make the tassels so that these funky earrings match up to your tanks and tops.
Image: madeupstyle
Noodle Bead Bracelet With Sliding Knot Tutorial

: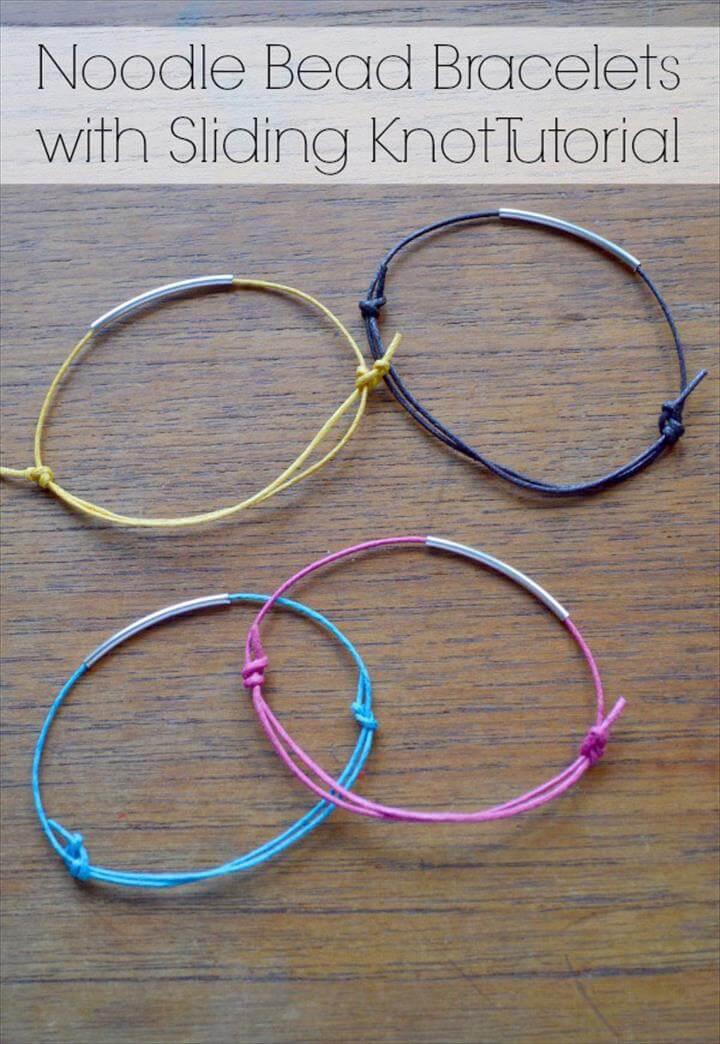 If you are not a fan of something heavy in your wrists then make these lovely noodle bead bracelets with the sliding knots. They are super thin and minimalistic in design that you can make them in minutes. All you need is some noodle beads and the colorful cording to make these super funky and fun bracelets.
Image: ambersimmons
Tassel Necklace: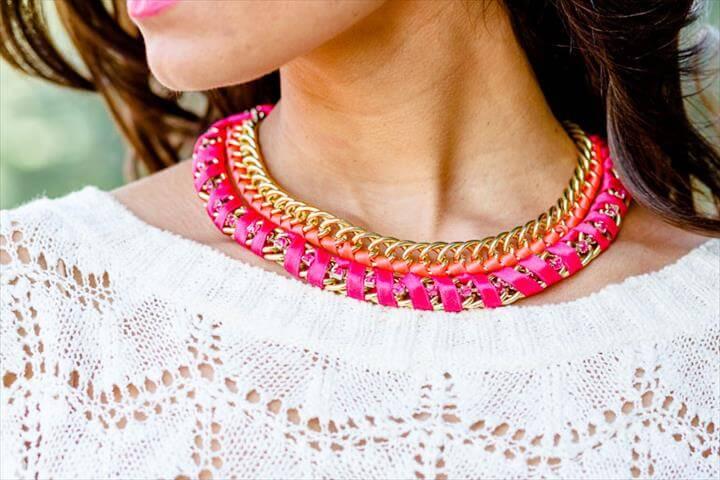 Image: brit.co
Decoupage Map Earrings

: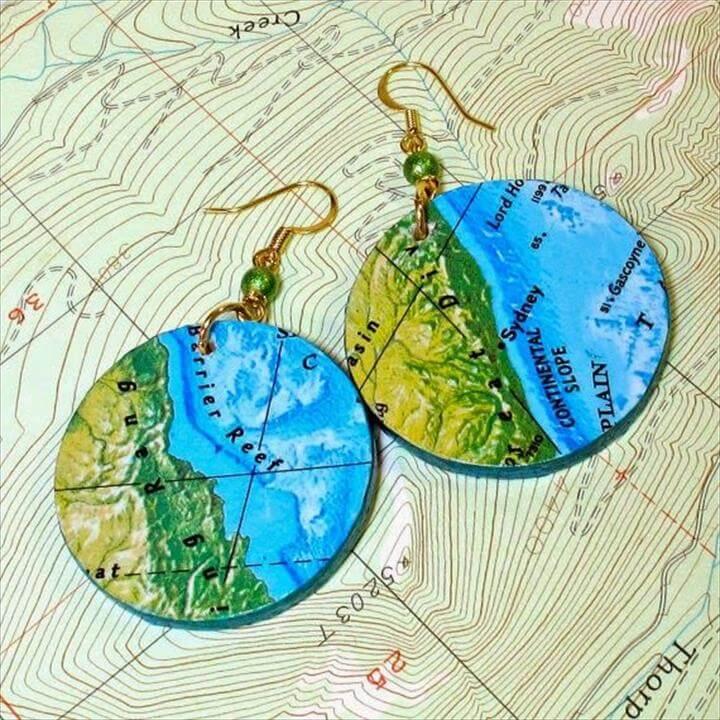 Add more to your traveling spirit with this decoupage map earrings and you are going to love making them on your own. Just grab your old earrings and decorate them with the map decoupage paper and they are ready to rock your travel look. Also, they make the perfect gift for the travel lovers too.
Image: blukatkraft.blogspot
Coronet Bracelet Knockoff

: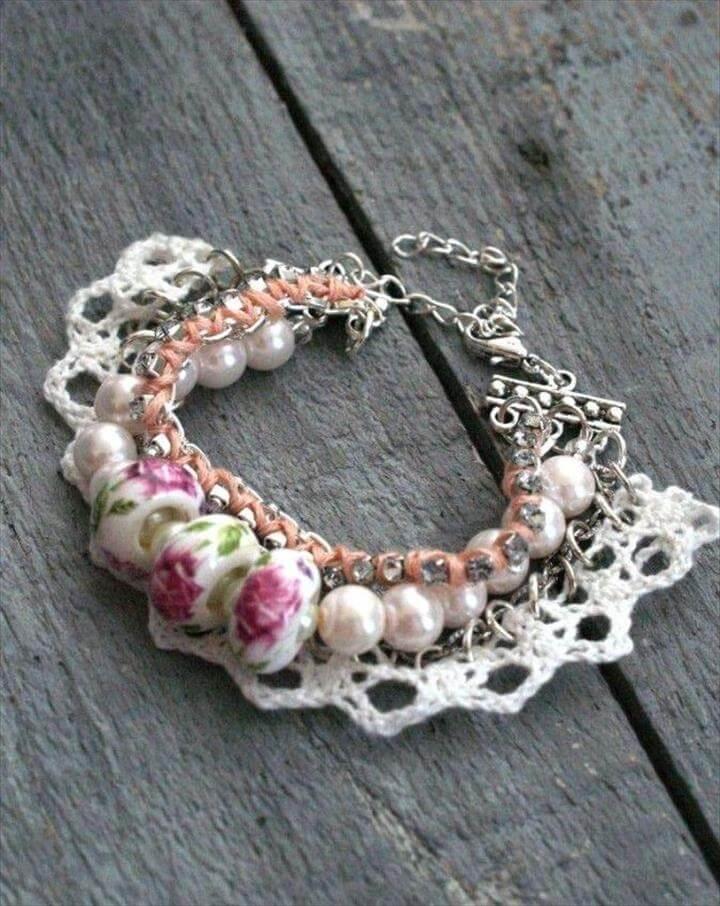 This gorgeous coronet bracelet looks super expensive but has been DIYed at home. The bracelet looks so petty having so many interesting details. You would need lace pieces, colorful beads, and the bling to shape up these lovely coronet bracelet knockoff. This pretty bracelet would make the best Mother's day gift too.
Image: flamingotoes
Beaded Statement Necklace: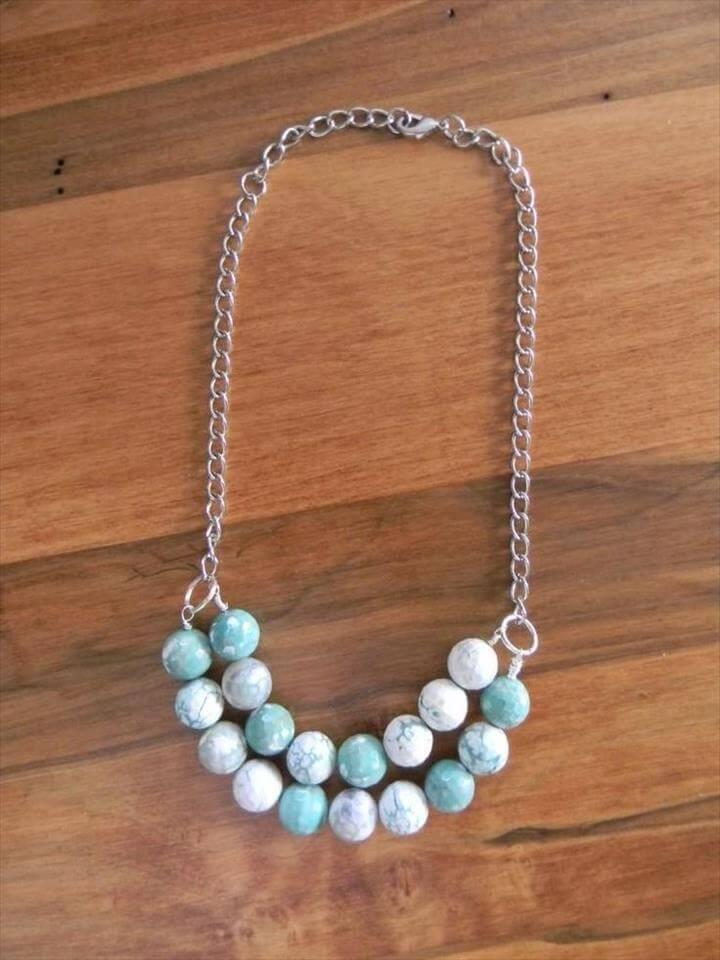 This beaded statement necklace is so rich in style that no one can believe that you have had made it at home. All you need is some of your favorite colored beads and the chains to shape up this lovely beaded statement necklace on your own. You can pair it up with so many of your dresses to enhance your glam and charm.
Image: flamingotoes
Bead Flat Triangles Earring: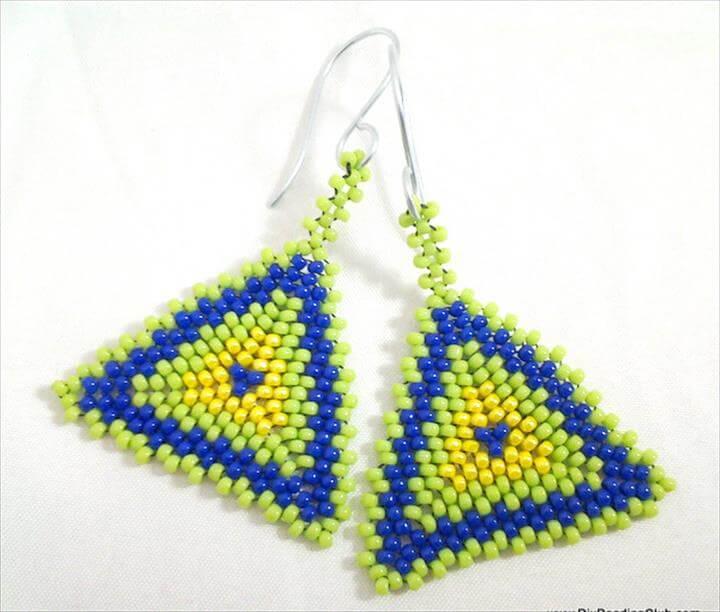 Look funky and chic this season of summer with some handmade jewelry and these bead flat triangles earrings are the best to make. Using some earring wire and the colorful seed beads you can easily work up these pretty triangle earrings on your own. These would make a great gift idea too.
Image: seasaltandchambray
Necklace With Aluminum Wire Rings

: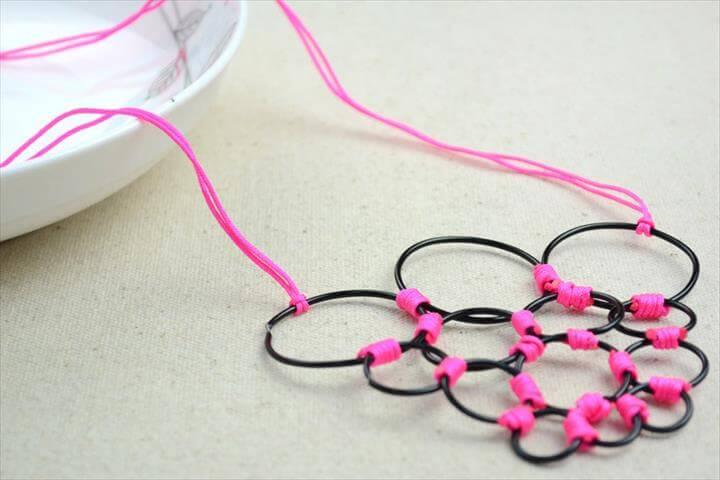 Experiment with your crafty skill this summer by making this adorable necklace with aluminum wire rings. So grab some black and the pink aluminum wire and some of your jewelry making tools to make this quirky and cool necklace with rings.  The necklace is best for the little girls. Check out the details here!
Image: cutoutandkeep.net
Chain Bracelet: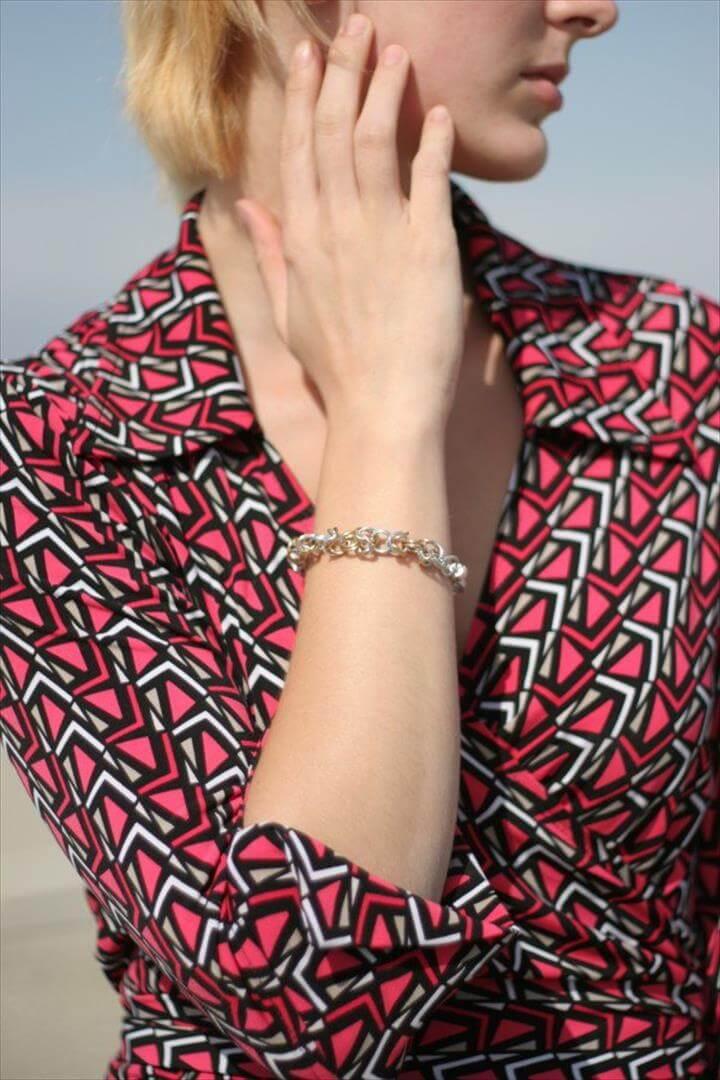 You can now make the most simple and the most cutest bracelets and this chain bracelet is the best for the purpose. Using the regular jewelry items for this chain bracelet you can cheaply and simply work it up. Just get your hands on the jump rings, wire, clasps, and the pliers to make some of the lovely chain bracelets.
Image: diyprojects
Silver Infinity Anchor Charm Bracelet: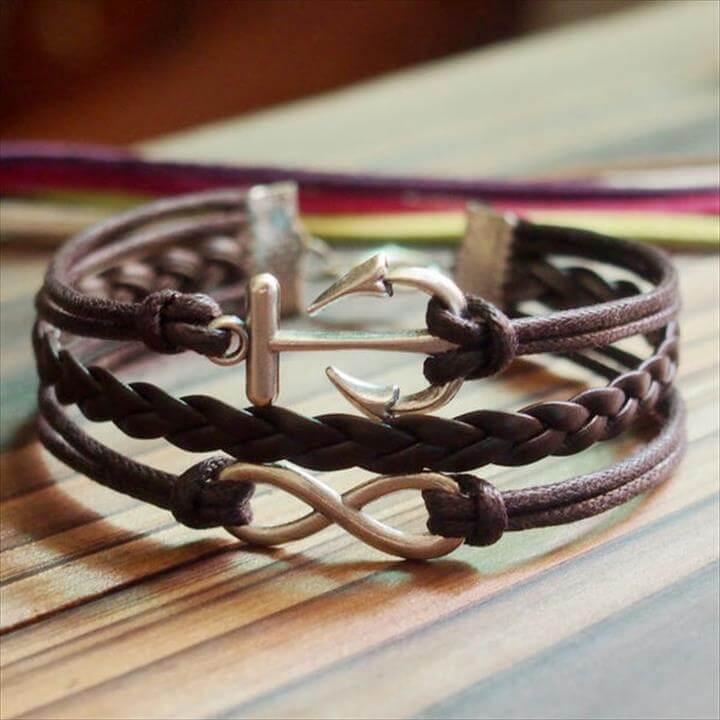 If you have boho fashion lovers in the house then make these silver infinity anchor charm bracelets for them. Yes using the leather cords, braids, and the anchor charms you can easily work up these amazing bracelets. These bracelets are going to make your look so funky and cool for a party look.
Image: turntopretty
Triangle Paper Necklace

: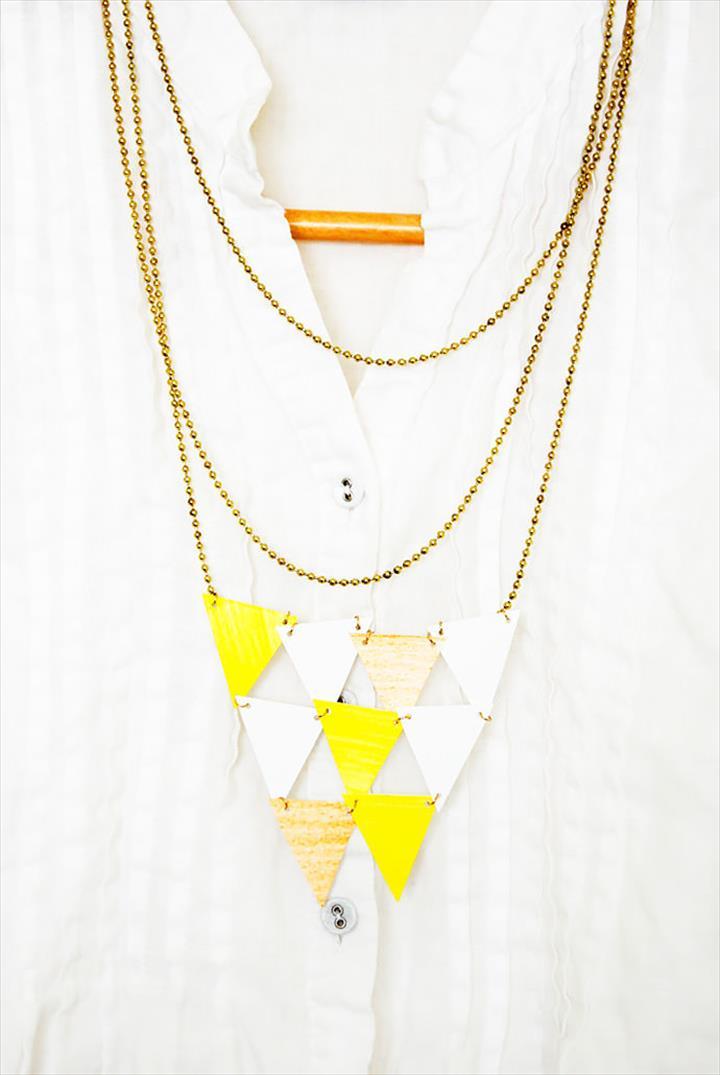 This triangle paper necklace is going to add some rich and modern vibes to the look of yours for the summer. You just need to make triangles with the plain card, color them with colored pencils and then join them to a chain using the jump rings. Make many of them use as pretty gifts too.
Image: oheverythinghandmade
Silver Rings: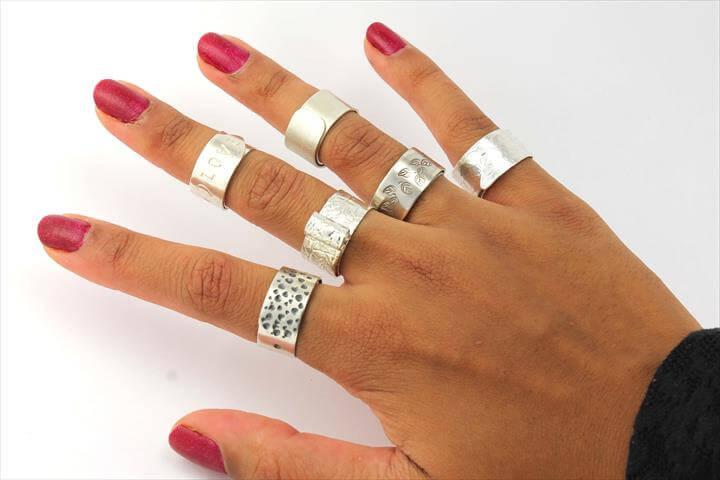 Those gorgeous silver ring bands that you see in a jewelry shop and lose your heart can be now made at home. Yes, here the complete easy and fun tutorial has been shared to let you the know-how and using what you can make the pretty and etched silver rings on your own.
Image: youtube
Piccadilly Drop Earrings

: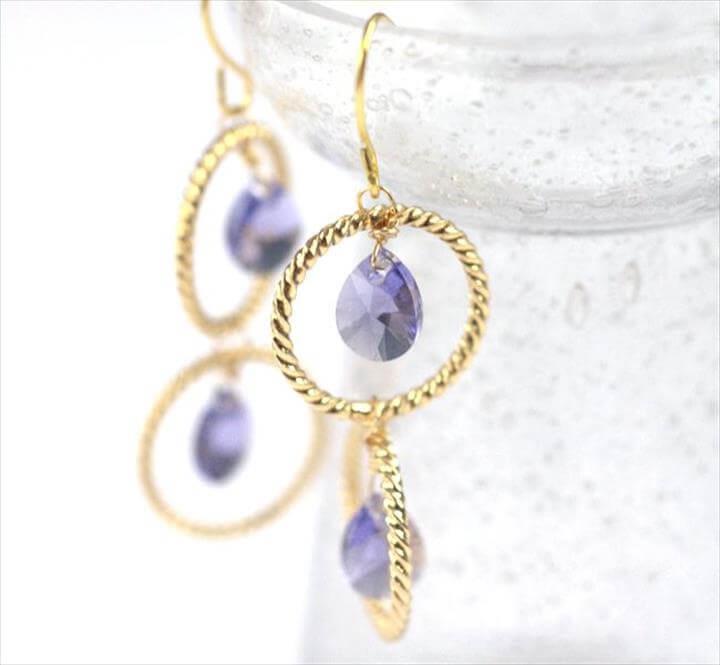 The teardrop earrings are the most favorite things to make by the jewelry crafters and here is a pair with a twist. Yes, these Piccadilly drop earrings are the best things to make this weekend. They look so rich in style that everybody is going to take them as the branded pieces.
Image: allfreejewelrymaking
Ribbon Pearl Necklace

: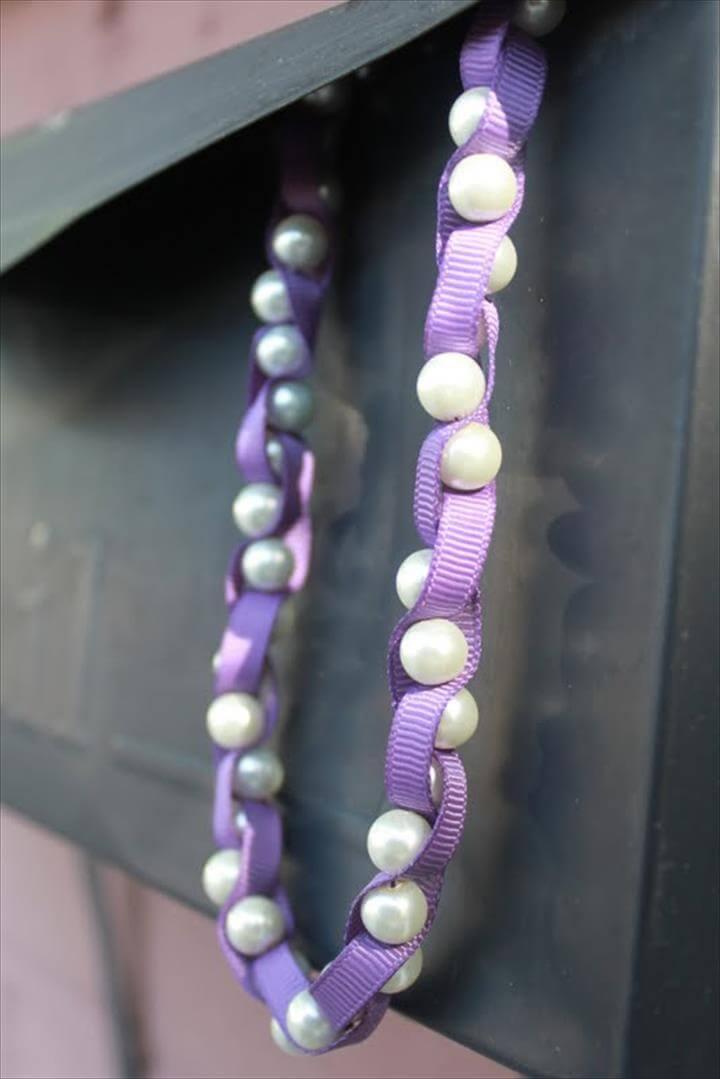 Enhance the glam of your simple dressing with this easy and fun handmade ribbon pearl necklace. You need fewer of the things to make these quirky and cute ribbon pearl necklaces. So grab two strands of the ribbon and some pearls to shape up this really unique and fun looking necklace.
Image: thecraftyblogstalker
Wrapped Peach Aventurine Ring

: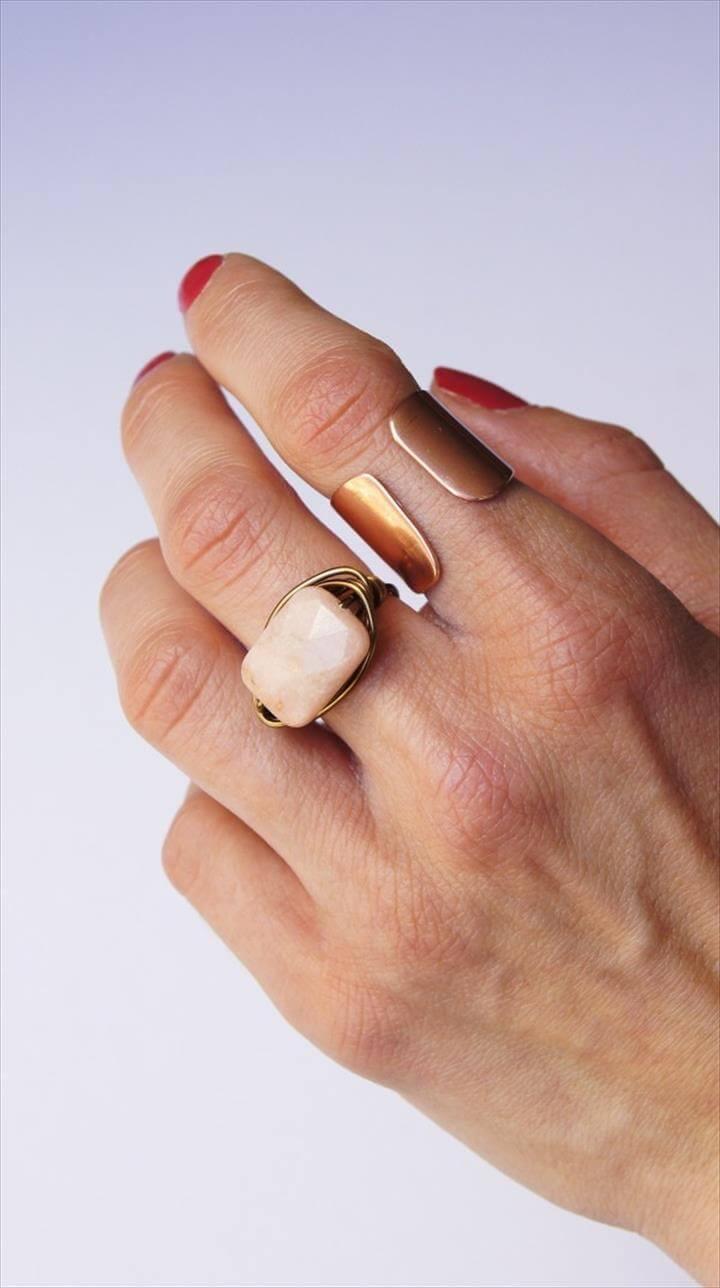 Now you can make your favorite stoned rings on your own. Here is this wrapped peach aventurine ring to charm up your fingers like never before. The best thing is that this lovely ring is super easy and cheap to make on your own. Just get your hands on the bead, pliers set, jewelry wire and start working up this ring.
Image: oheverythinghandmade
Shibori Cuff Earring Tutorial

: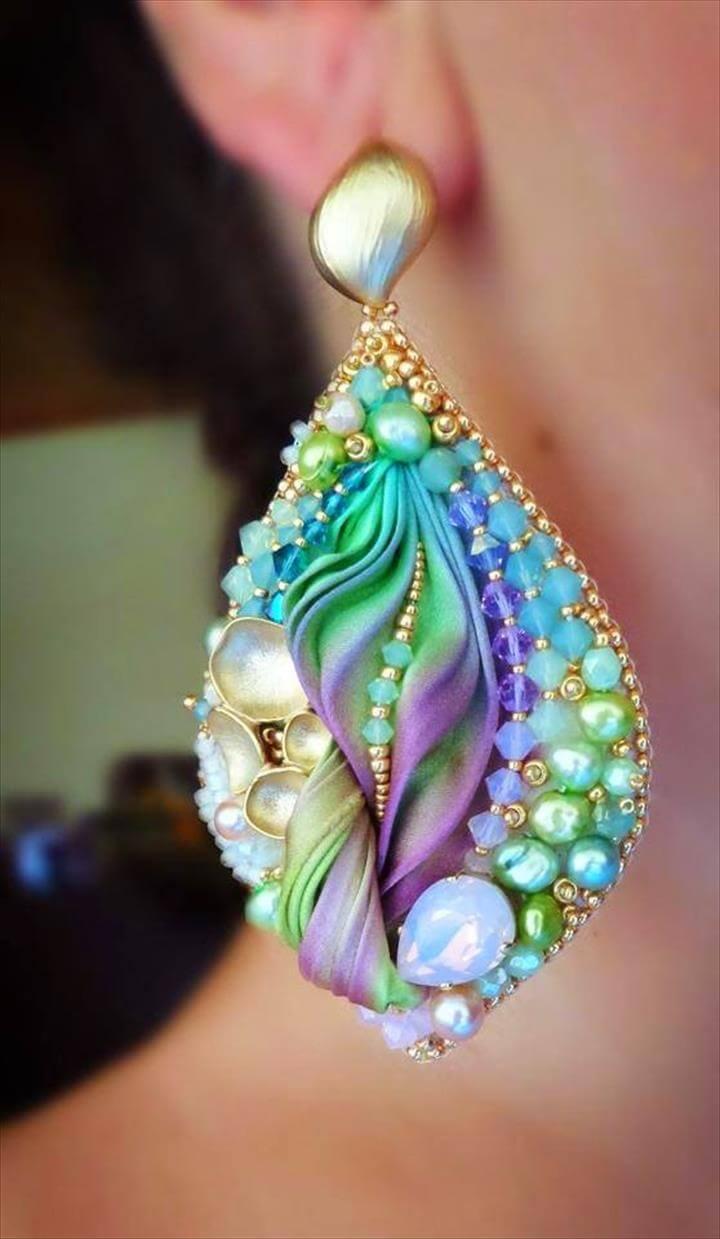 These shibori cuff earrings seem to come out of a fantasy film for having the magical combination of the colors and the variety of embellishing used to decorate them up. From seed beads and diamond beads to pearls and stones, there is everything on these shibori cuff earrings. Learn to make them here!
Image: de-cors
Teardrop Bead Statement Necklace

: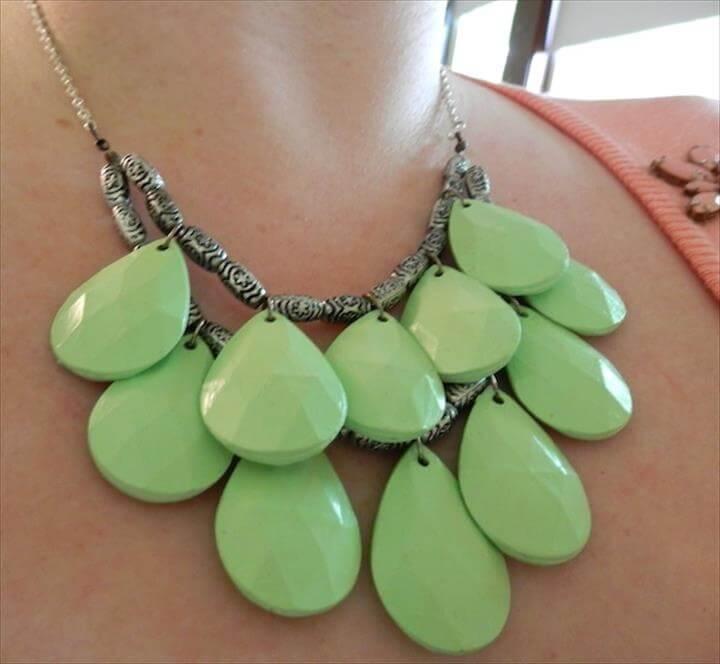 If you see a set of the teardrop beads on a store then grab those all as you can make this lovely teardrop statement necklace piece with it. Along with these teardrop beads you need jump rings and the metal beads to complete it up as a high boho and chic kind of statement necklace piece.
Image: neonrattail
Teardrop Link Handmade Bracelet Chain

: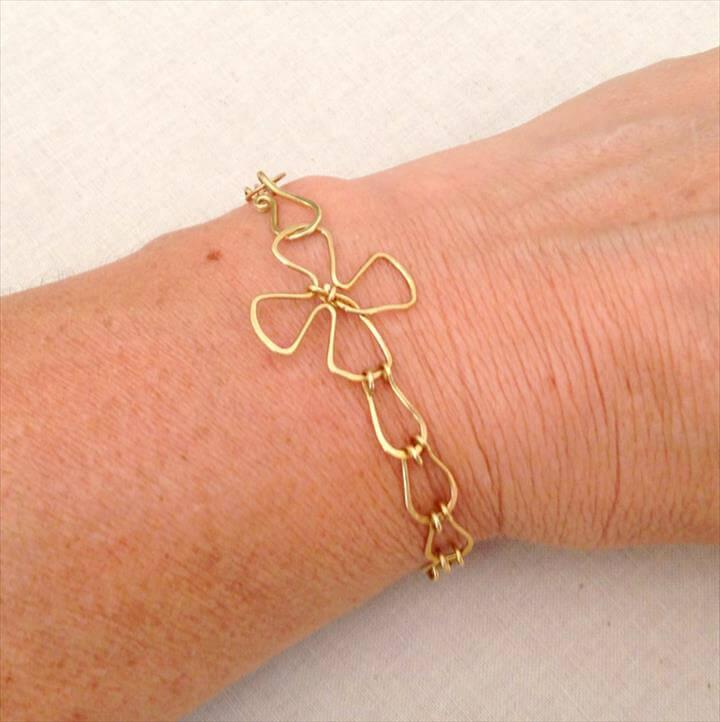 There is a certain kind of charm and beauty in the simplistic designs and patterns just like this lovely handmade chain bracelet. The bracelet has a lovely teardrop like flower shape in the center and the chain links up on both sides to form a complete bracelet chain. You can grab the details here!
Image: lisayangjewelry
Shibori Cuff

: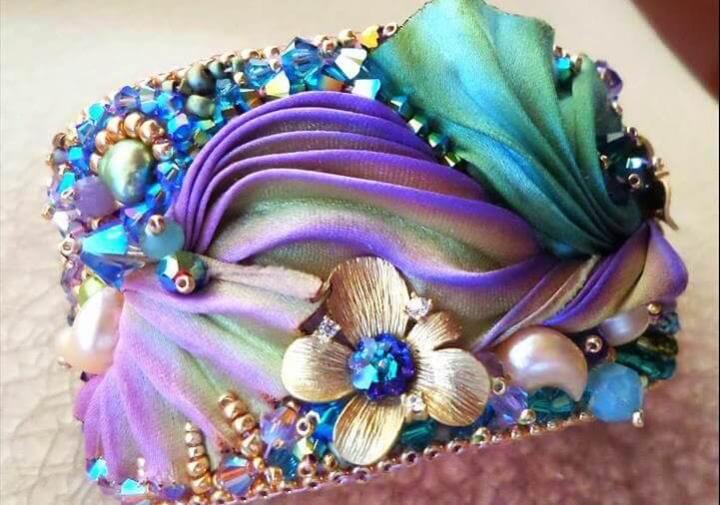 This is the fanciest and the most eye-catching cuff you would ever witness. From colors to the embellishing this shibori cuff is loaded with everything one can ever yearn for. It has colorful ribbons, pearls, seed beads, stones, shells and so much more to look just so royal and pretty. Follow the tutorial here!
Image: de-cors