Home decoration is basically an art. Its enjoyed by many people and some have a hobby of doing it. We have some incredibly amazing ideas of decorating your houses that you can do in no time and in very little expense. These ideas are all crochet based.
This is a crochet storage box that you can use to store many items and it looks adorable. You can use different colors of yarns for this purpose and some basic skills for crochet. Following this, you can see the floral patterns of crochet for curtains. This is a wall art done with crochet and its perfect for your boring walls. Furthermore, there are many other interior decoration ideas. T
hese mason jar hangers are so good that they not only look beautiful but also can help you a lot for storage purposes. These crochet stars are also done with the basic crochet skills and can be used for keeping the hot coffee or tea mug. You can also make crochet dishcloths by the same methods and can hang them in your kitchens in order to add some spice to your kitchen walls. Have you ever seen something like these crochet hot air garland balloons? I don't think so. Try making this most adorable thing in the world by following some simple instructions. This DIY crochet hanger can help you keep your plants safe from animals who can destroy them.
These are some adorable and lovely crochet frames that you can make using some of your creative skills. Why not make something for the bedroom with the crochet? This crocheted pillow idea is actually the best. All these Top 20 Crochet Home Decor Ideas are so amazing that you will definitely want to try these soon in your spare time. This is one of the unique ideas related to crochet in which you can see the ottoman covered with the crochet pattern. Cover your decorative river stones with small crochet pockets and place them for the decoration purpose.
Similarly, you can also make rugs, baskets, mini hanging baskets, mason jar covers, and much more out of crochet for decorating your home in a beautiful manner to amaze friends and family this winter.
Crochet Storage Basket Free Pattern: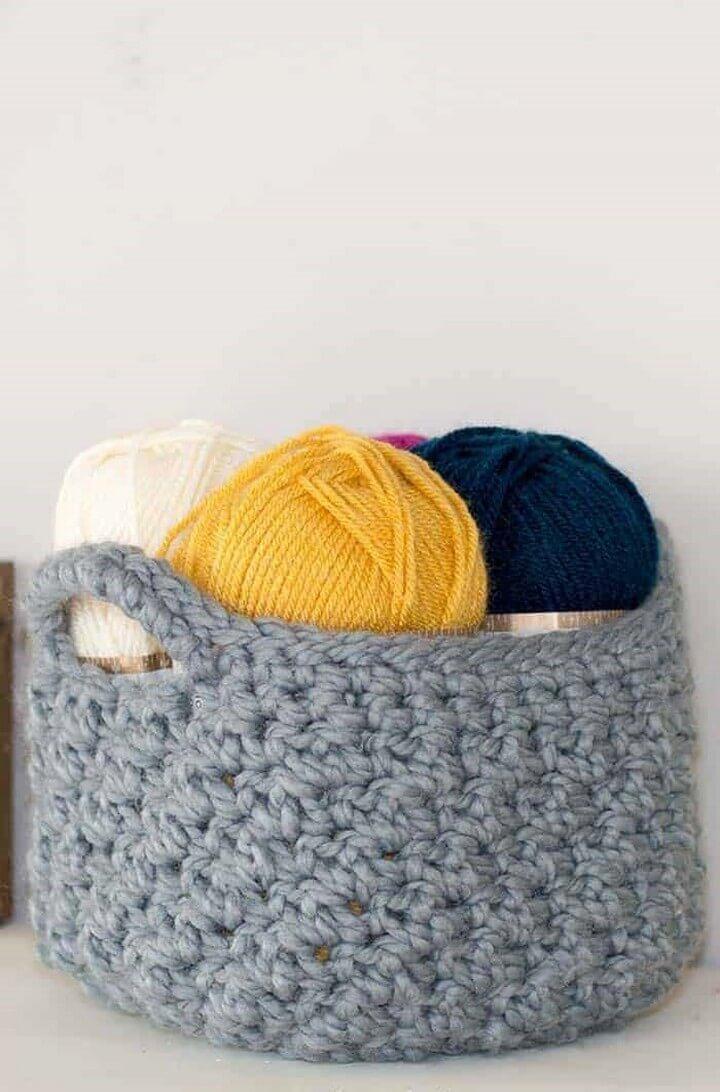 Help yourself in the storage of your crochet yarn when crocheting is your passion and you have loads of yarn skeins. So grab some thick and bulky yarn to crochet up this lovely crochet storage basket with free pattern. You can store all your extra yarn skeins from your crochet patterns with this lovely yarn basket. Grab the pattern here!
Image: easycrochet
Crochet Big Bold Chevron Curtain: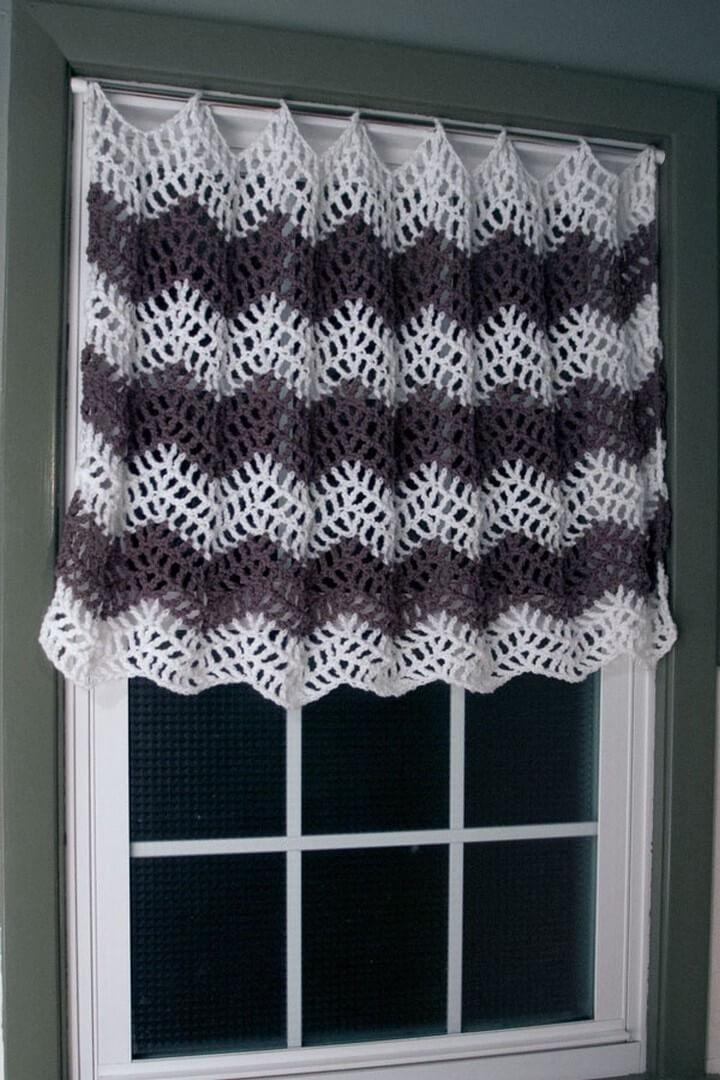 Make the most out of your yarn stash by making this lovely crochet big bold chevron curtain. The gorgeous curtain is going to look so pretty over your windows. You can use it in the summers to avoid the sun into your rooms. Also, the lacy pattern of the curtain is going to oodles of charm to the home décor too.
Image: mooglyblog
Crochet Wall Art: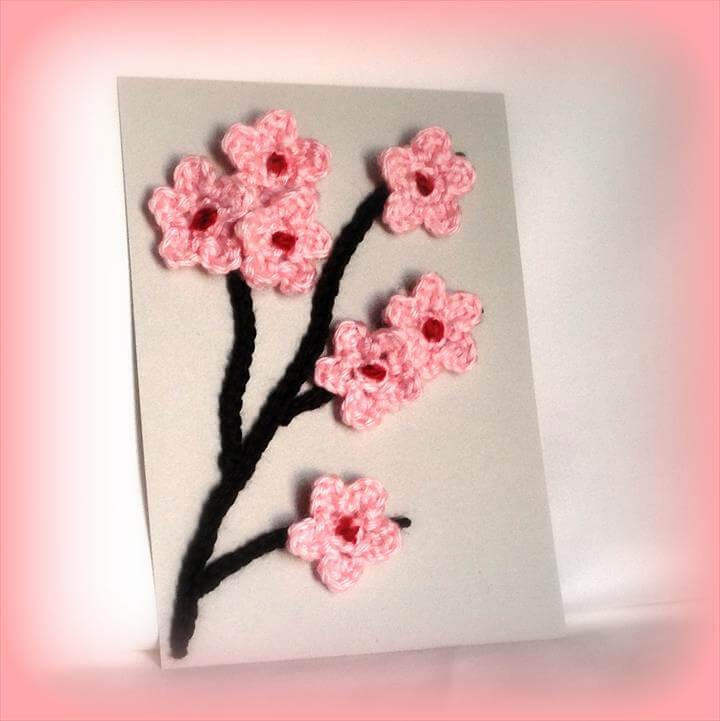 Bring some colorful wall art to your summer home with this lovely crochet wall art. The lovely wall art is super easy and fun to make on your own. Just grab some lovely pink yarn to crochet up the flowers and some brown yarn to crochet up the stem of these lovely flowers. Paste these lovely flowers on canvas and your art is ready to create a fantastic display.
Image: ravelry
Interior Decorating With Crochet Items: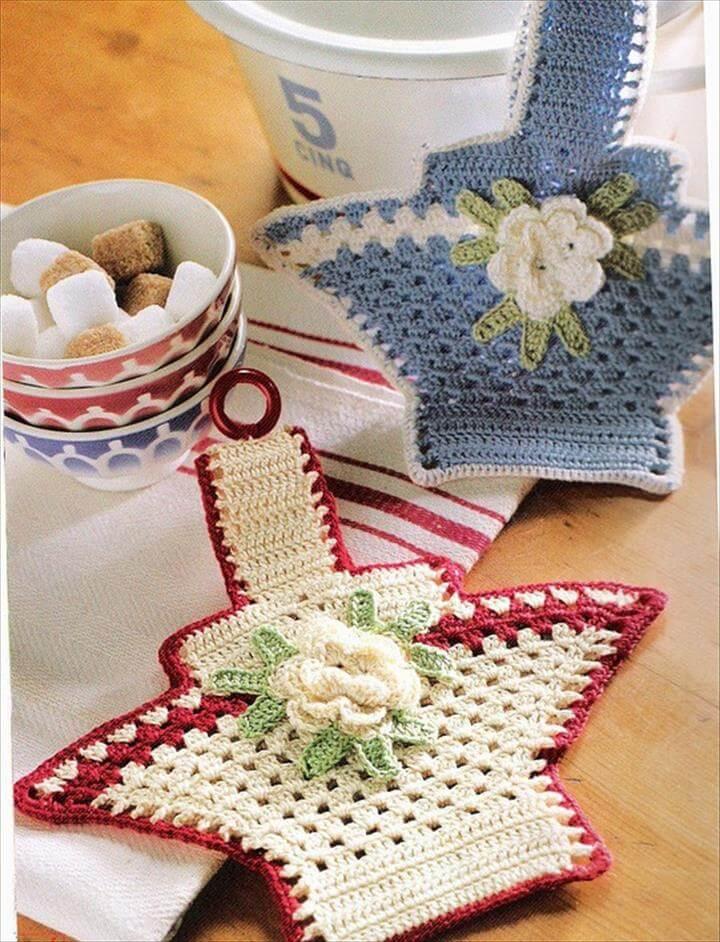 Bring some décor and fun to your kitchens with these lovely interiors decorating with the crochet items. These lovely and floral interior decorations can be used as the perfect pot holders or just the simple and cute kitchen crochet wall hangings. You can make them in any of the color combinations you like. Free pattern here!
Image: bestinnternet.blogspot
Crochet Lace Mason Jar Hangers

: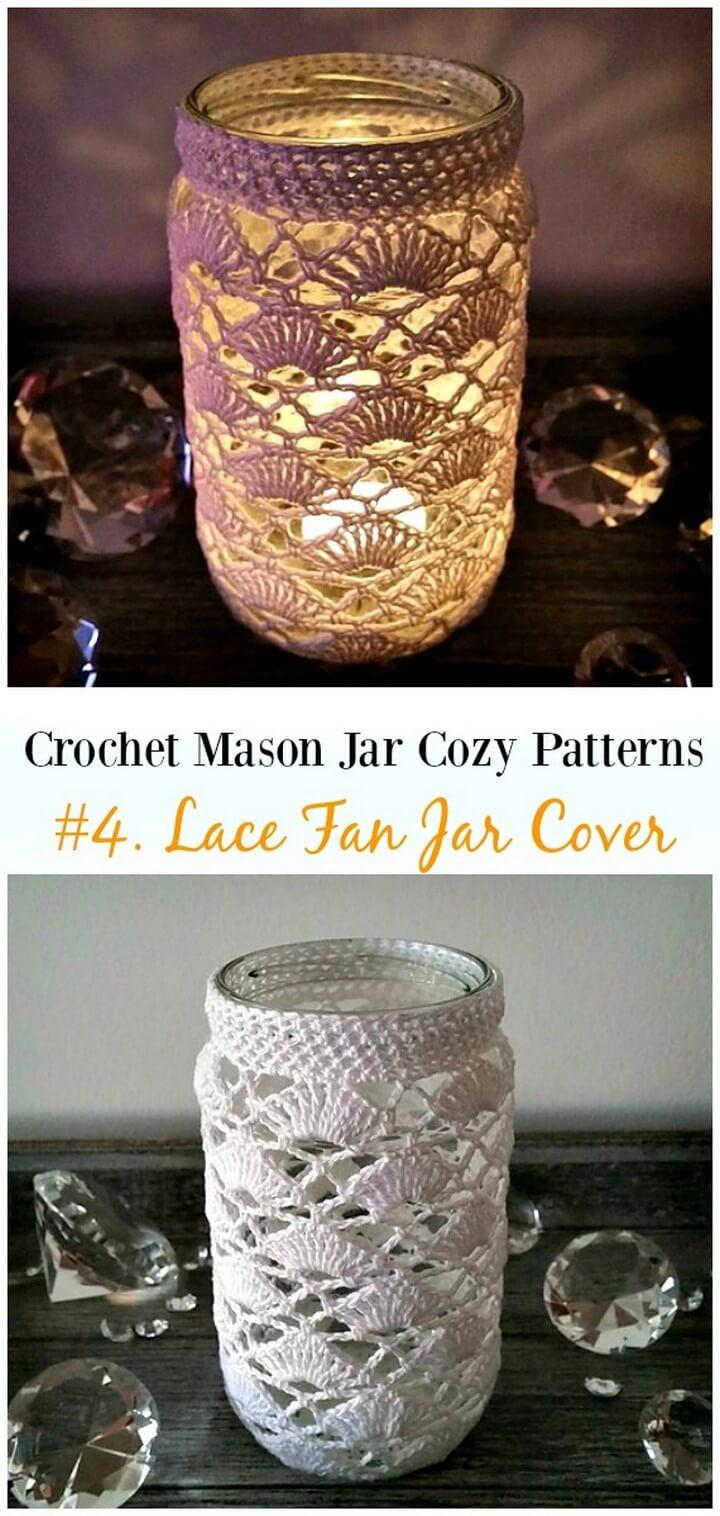 We love Mason jar crafts and we also love the crocheting and now you can combine both of your love together. So here is the idea of making these lovely Mason jar lace covers. The dazzling white lace cover is made out of the shell pattern to look so cute. You can use these crochet lace Mason jar hangers as the lanterns.
Image: fondrari.blogspot
5 Stat Crochet Coasters – Crochet Sun Coasters For Summer Parties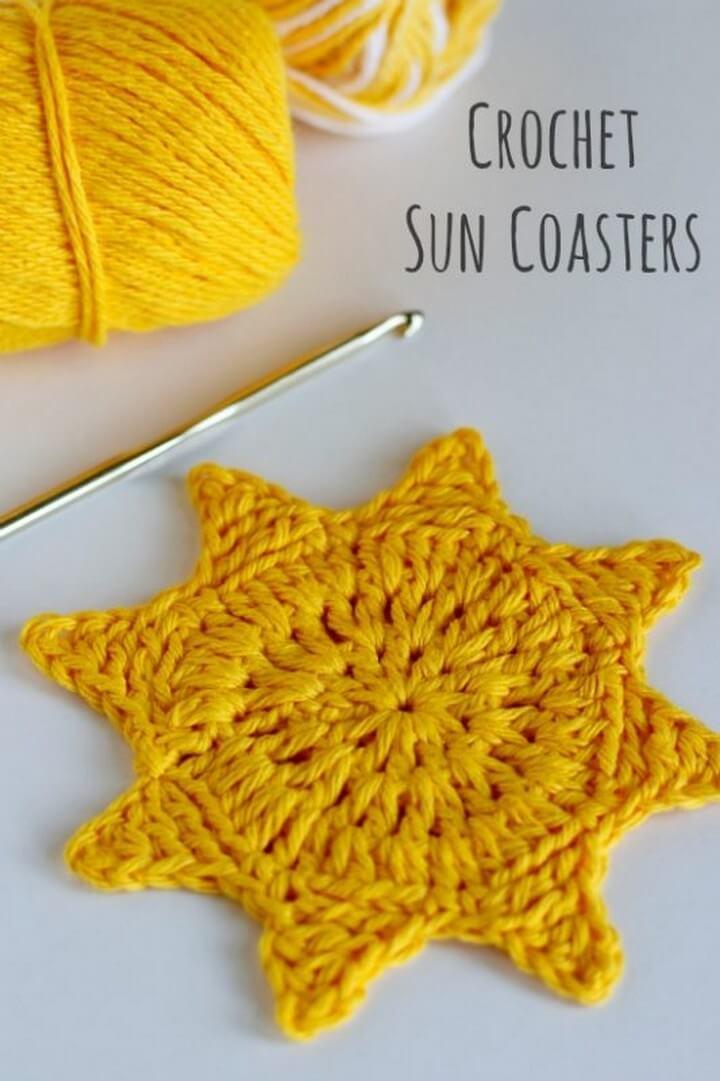 Summer means lots of and lots of parties and now you can bring some crochet fun to your summer party décor with these crochet stars. So use the yellow yarn and make these lovely and thick crocheted stars that you can use as the perfect coasters. A set of these crochet coaster would make a great gift idea too.
Image: makeandtakes
Breakfast Dishcloths

: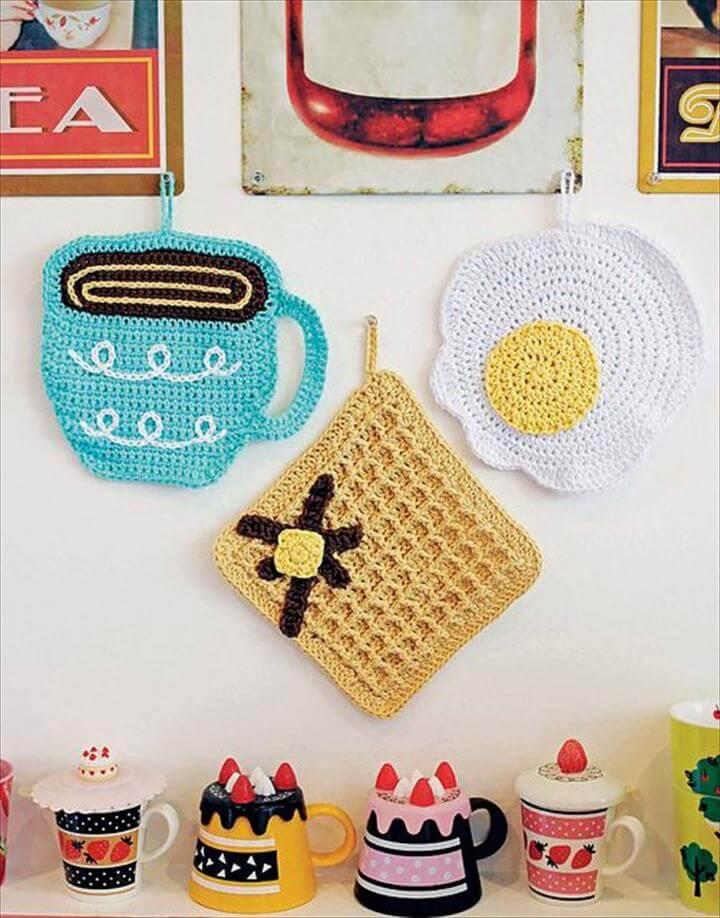 Make your mornings more beautiful and fun with these easy breakfast dishcloths which look so cute and drool-worthy. That mighty waffle, fried egg, and the coffee mug really add beauty as the decoration pieces for your kitchen walls too. Or else you can use them as the pretty dishcloths for your kitchen too.
Image: ravelry
Circle Crochet Garland: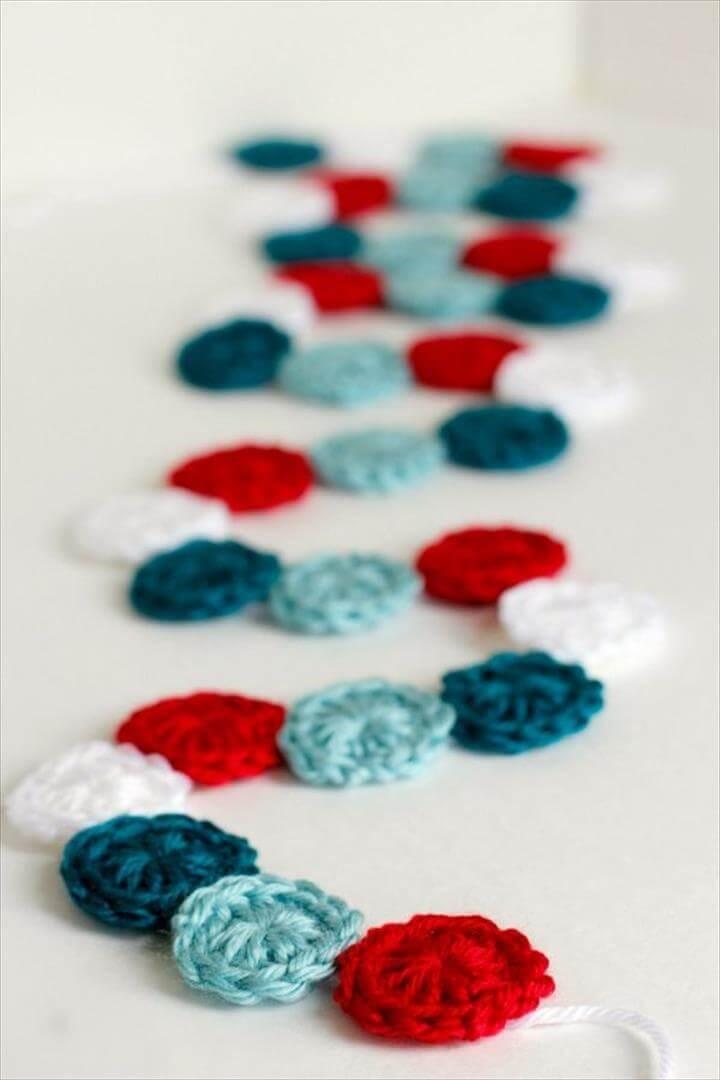 Make your festive season more beautiful and fun with these gorgeous circle crochet garland which is super easy and fun to crochet up. So grab some colorful yarn along with the white to crochet up these pretty round circles or say flowers. Then stitch this bunch of the crochet circles on a crocheted string and your crochet garland is ready.
Image: makeandtakes
Crochet Pattern Hanging Air Planter: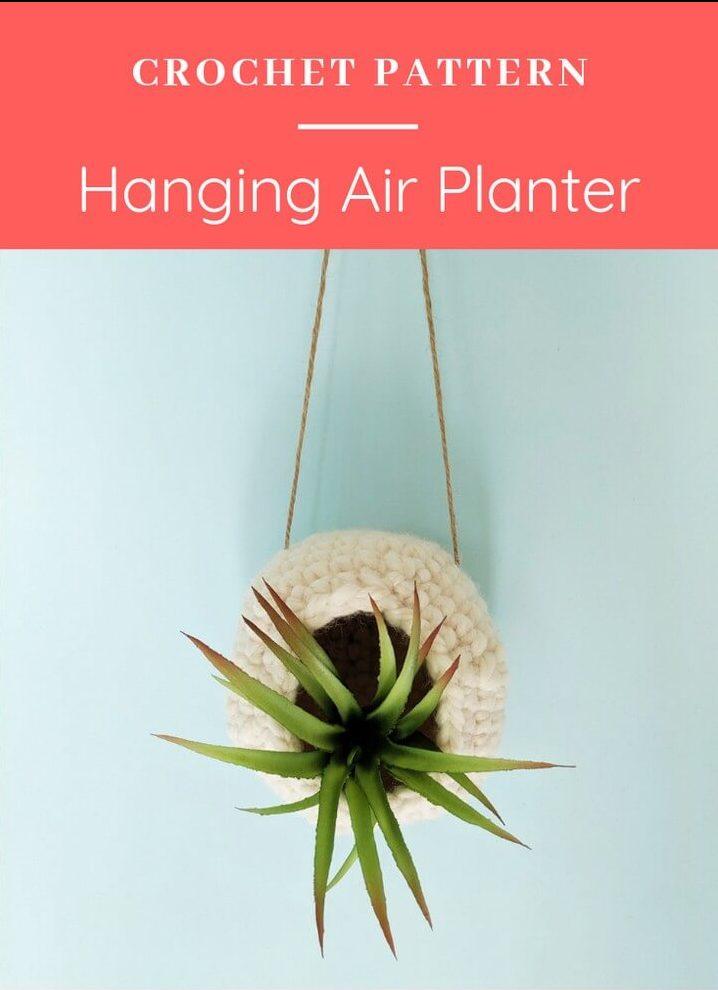 Bring more décor to your summer home with these crochet hanging air planter. Using some white bulky yarn and the 5 mm hook you can easily shape up this simple and round-shaped crochet planter. Also, you would need some rope to hang your planter in this crochet planter holder. Details here!
Image: hellohappy
Crochet Frames: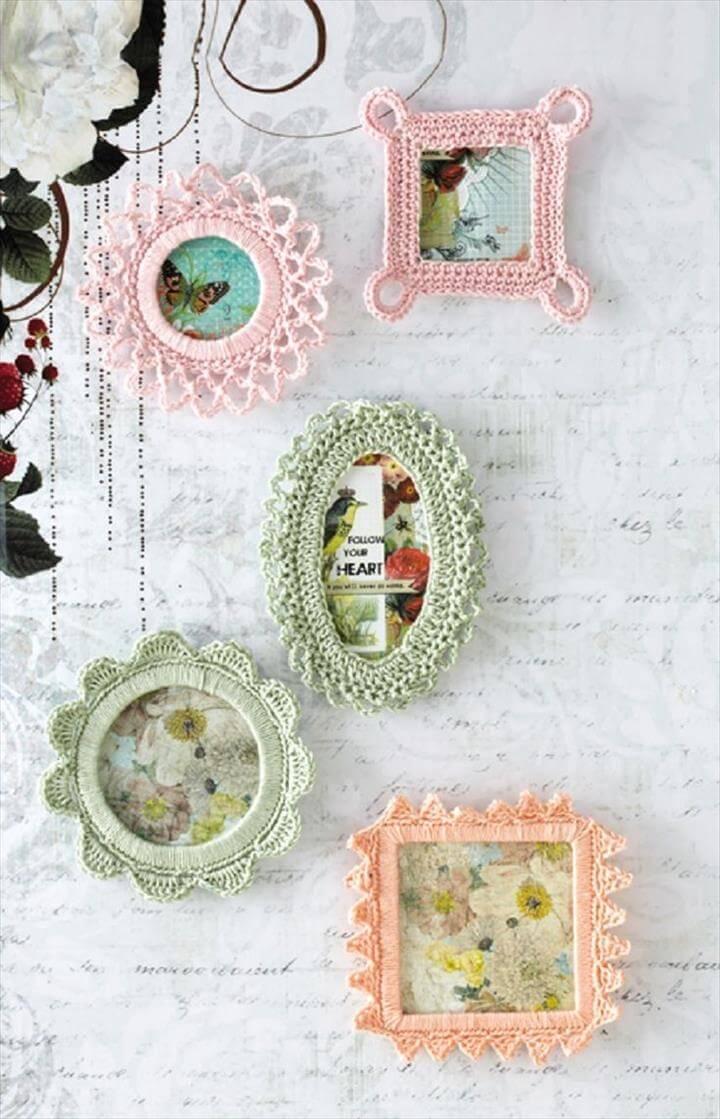 Bring some gorgeous hues of the yarn to your summer walls with these adorable and cutest crochet frames. They are made in multiple shapes like round, oval, square, and rectangular and that too using pretty colors of cotton yarn in moss, peach, and pink. Also, you would need cardboard for the framing base. Display your favorite photos with these crochet frames for a really cool and quirky display.
Image: web.archive.org
Crocheted Pillow: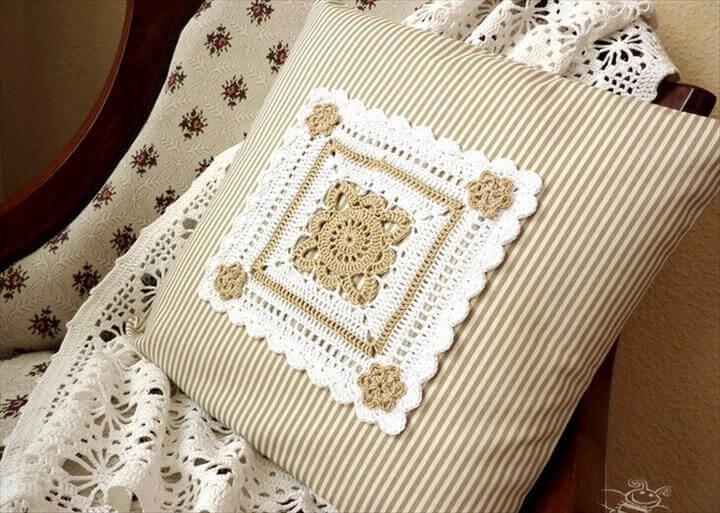 Add more beauty and charm to your pillows with these crocheted pillow appliqués. The gorgeous white and brown crocheted pillows are super cute to use on your simple fabric pillows and make them look extraordinary. You can crochet these pillow appliqués in your favorite yarn hues for the complementary details.
Image: bestinnternet.blogspot
Crochet Owls: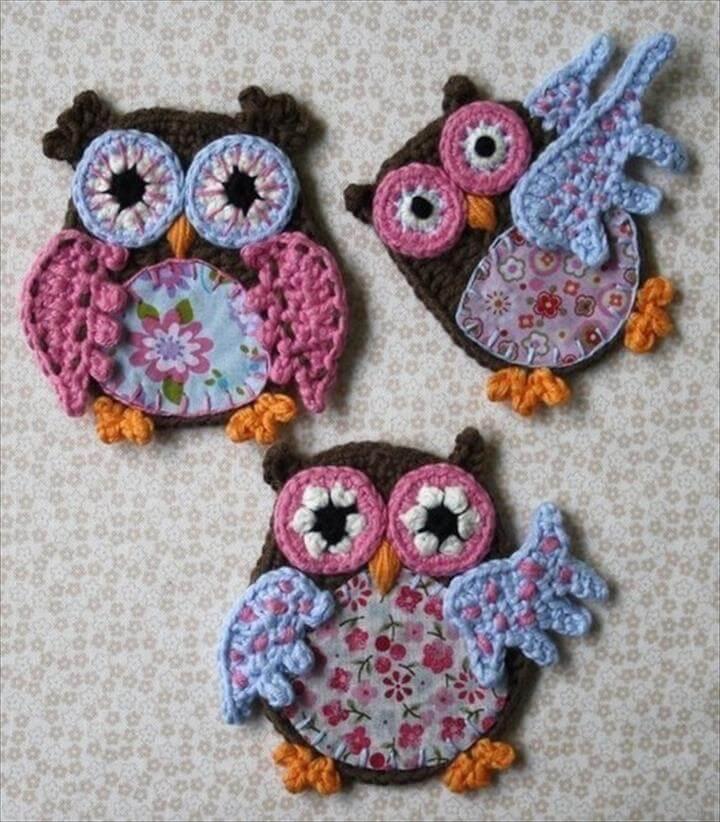 Fall brings the owl crafts for us and now you can make them out of your crochet fabric and yarn scrap. The body of the owls is made out of the cutely printed fabric pieces having a crochet base and the face and the feathers of the owls are crocheted with the matching yarn. They would make the best fall appliqués and also the pretty wall arts.
Image: homedecoratingideasphotos.blogspot
Free Crochet Bean Bag Pattern: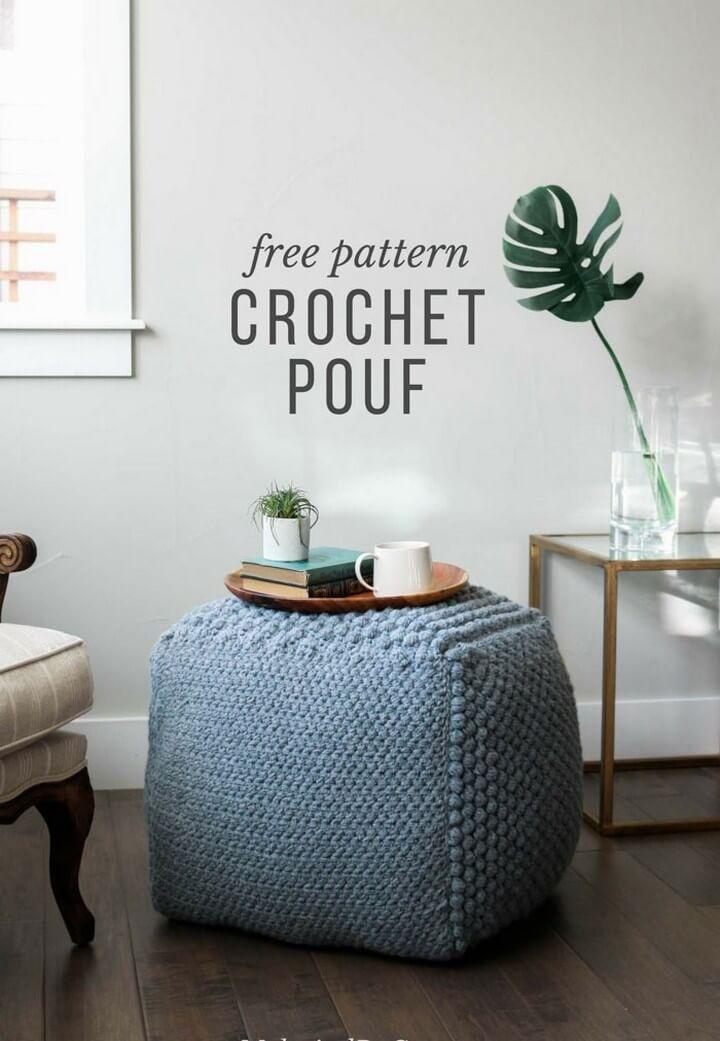 Why waste money on the bean bags when you can make them on your own. This gorgeous crochet bean bag pouf has the lovely bobble stitches on two sides to look just extra cute and fun. It can be used in kid's room to let them read their books on it or you can keep it in the living room to rest your feet on.
Image: makeanddocrew
Crochet Stones Pattern: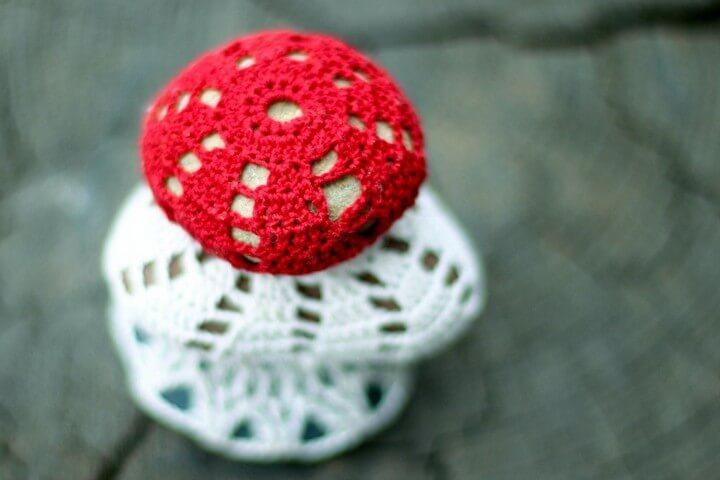 We love using stones and seashells in our home décor for summer and you can touch them with your crochet hooks and yarn. Yes, making these adorable crochet stones would really be a fun idea to bring some quick and fun touches in your summer home décor. Grab your yarn and stones and crochet up these stones.
Image: flaxandtwine
Crochet Rug: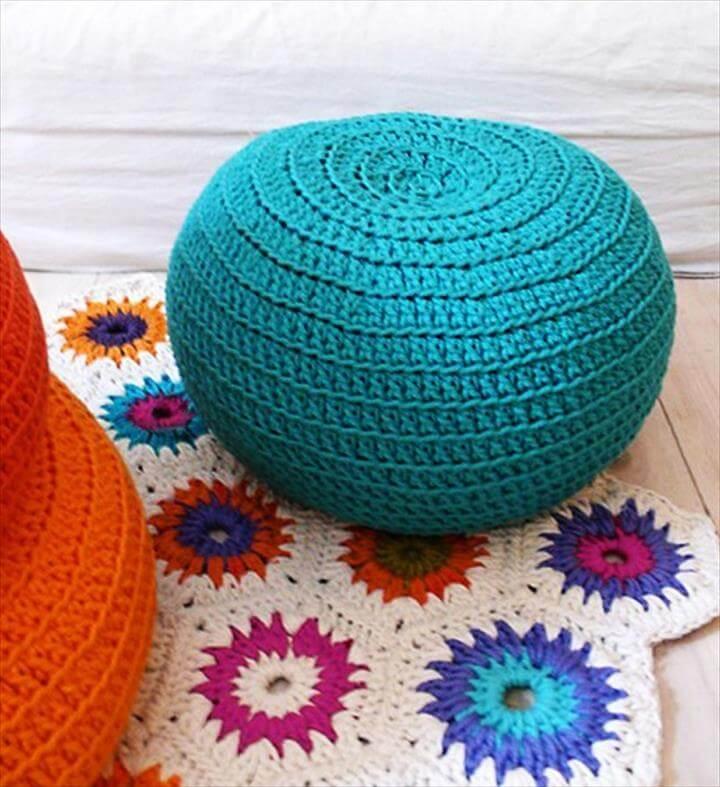 Bring some crochet beauty to your floors with these adorable crochet rugs. Using the crochet granny hexagons you can easily shape up this lovely rug to lighten up your room décor. The base of the rug is made out of the white yarn and the centers are crocheted with the colorful yarn hues. Check out the hues right here!
Image: homeideasmag
Mega Bulky Crochet Baskets: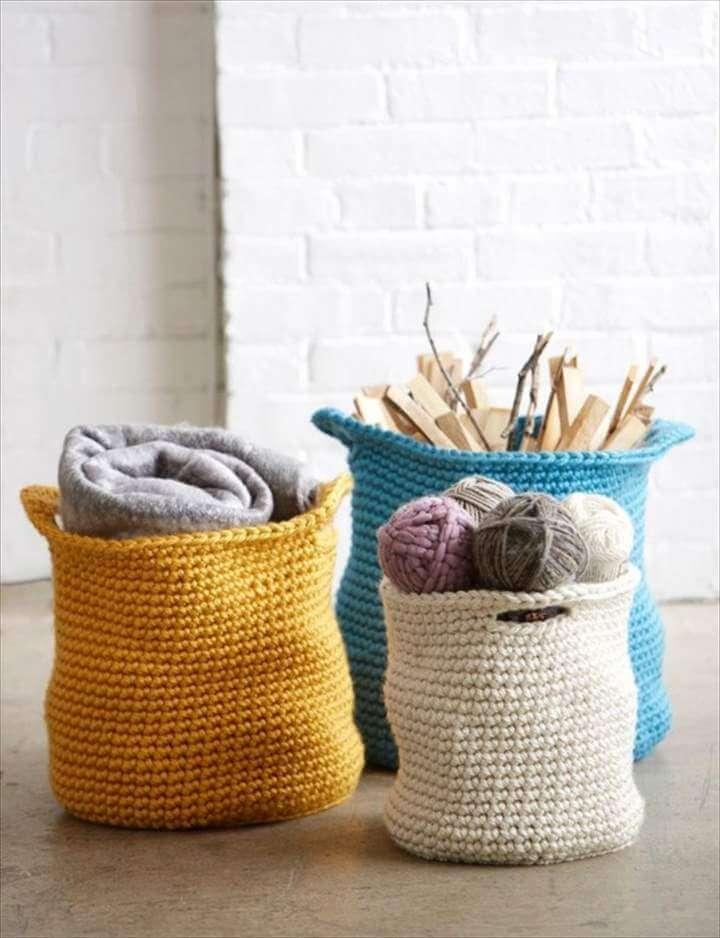 Grab the bulky yarn to make these gorgeous crochet baskets that you can use to make to store your knick-knack items. The bulky crochet baskets would be strong to hold even heavy items in them too. So get your hands on the bulky yarn to make these so adorable and fun looking crochet baskets. Free pattern details here!
Image: allfreecrochet
How To Make Dream Catchers: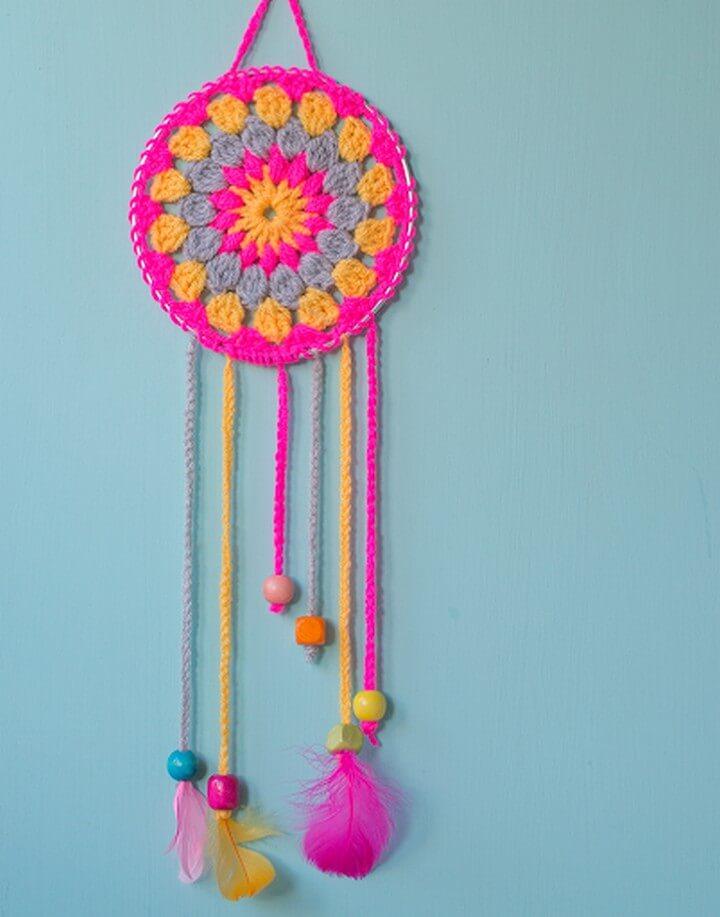 These adorable cute dream catchers are the best things to make and charm up your walls with. Using colorful and bright colored yarn to make these lovely dream catchers. The hanging feathers with the catcher strings look so cute and fun. You can be super creative with the dream catchers embellishing and the yarn colors.
Image: letsdosomethingcrafty
Pattern Crochet Hanging Basket: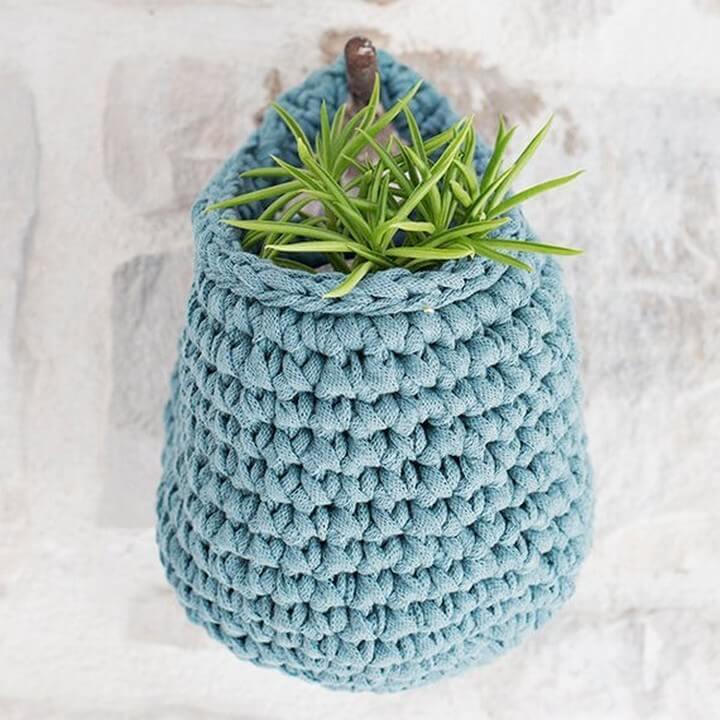 Bring some natural and aesthetic summer home décor with this lovely hanging crochet basket. The oval-shaped crochet hanging basket is the best thing to make with a pineapple-like a shape to look just so quirky and cute. Use bulky yarn so that it turns out to be strong enough to hold your pots inside.
Image: soulmadeblog
Crochet White Rug: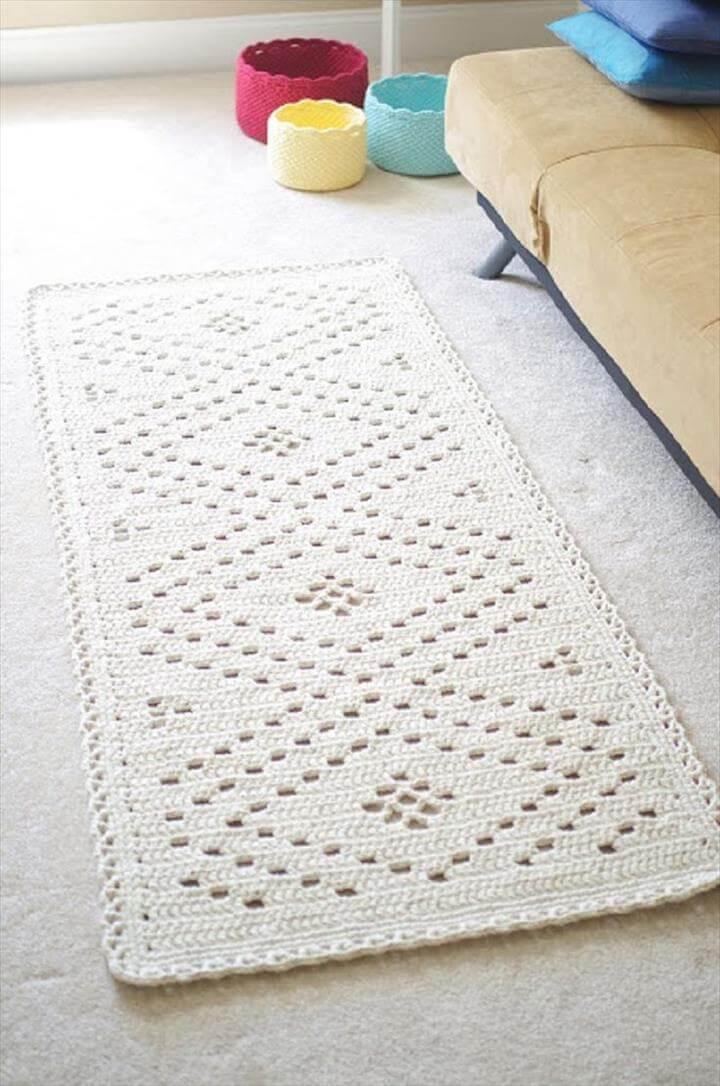 Image: handycrafter.blogspot
Mason Jar Crochet Cozy: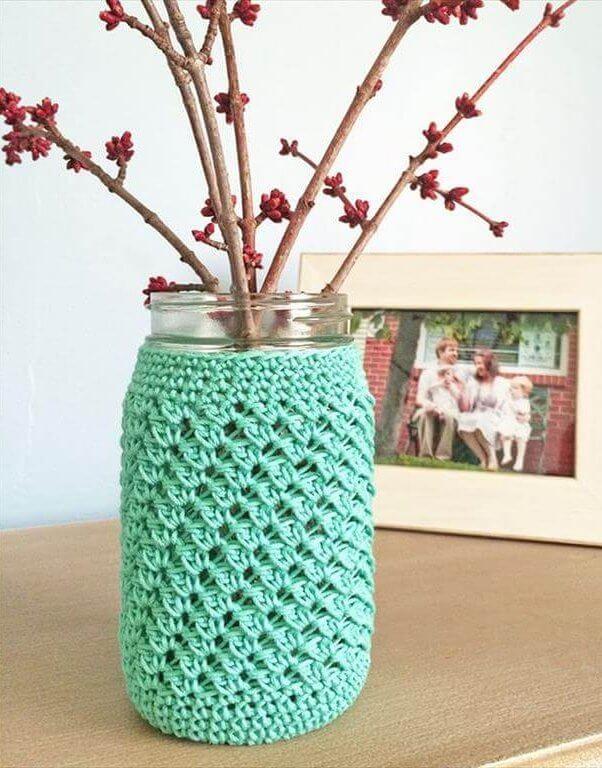 We love Mason jar projects and now you can spice it up with your crochet skills. The gorgeous crochet cozy is made out of the lovely mint green crochet cotton yarn. You need a 5 mm hook to crochet this thick crocheted cozy. This project is great for the fall home décor when you are doing a home makeover.
Image: littlemonkeyscrochet