Wine bottles can be a source of great temptation even when the wine is out of it. Yes, the wine bottles are one of the most repurposed and upcycled items in a ton of fun and functional ways. Today, we are focusing on the contribution of the wine bottles to the decor department only. So, here we have brought to you this quirky and cute round-up of 20 DIY Crafts With Wine Bottles – Decor Wine Bottles or you can say decor with wine bottles. An empty wine bottle values zero but with some gorgeous crafting work on it, you can totally add a lot to their worth. You can more interesting DIY crafts on diycraftsy.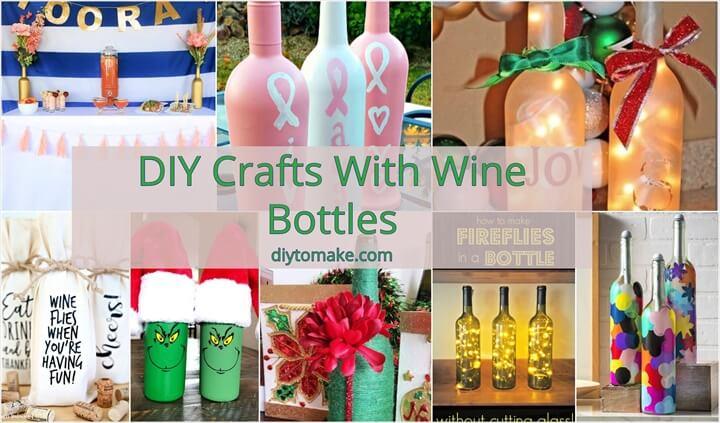 Due to its multiple sizes and shapes, the wine bottles make the best handmade vases for your home decor. Also, a cluster of wine bottle vases can yield a lovely centerpiece for your Holiday or festive decor. There are countless ways to dress up these empty wine bottles using paint, glitter, and twine. Just imagine how pretty those painted vases are going to look on your mantles and those glittery wine bottle centerpieces on the dining table. In addition, you can quirk up the decor and fancy appeal of these vases with flowers, beads, pearls, and some lettering too. Get tutorials of each right below!
You May Also Like:
Painted Wine Bottles: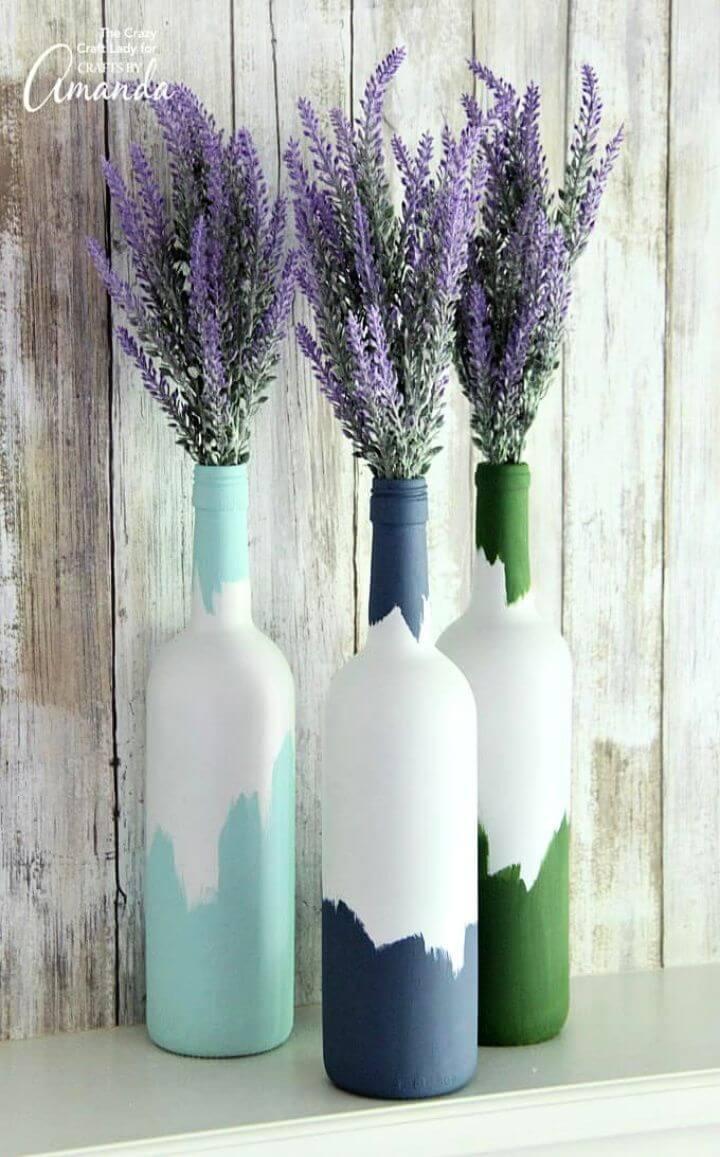 Bring some modern and chic decor value to your tables or the mantle spaces with these stunning painted wine bottles. Acrylic paint is used in multiple hues to cover paint the bottles and white spray paint adds a lovely charm on the top. You can pain the upcycled bottles the way you want.
Tutorial: craftsbyamanda
Wine Bottle Decor Ideas: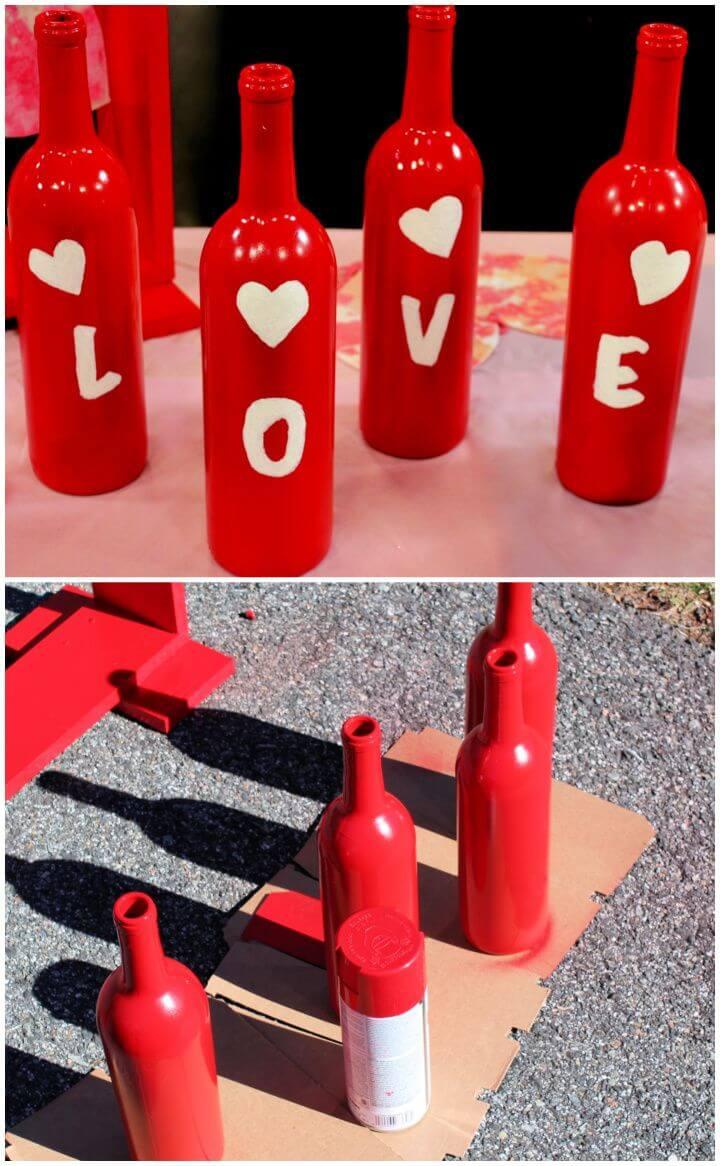 Make your valentine day more special and full of more love with this lovely wine bottle decor idea. Yes, the wine bottles here are recycled with red and white paint saying LOVE to make a lovely display on your table or the mantle spaces. So grab bottles, red spray paint and white acrylic paint to do this project.
Tutorial: charlotteparent
Wine Bottle Crafts: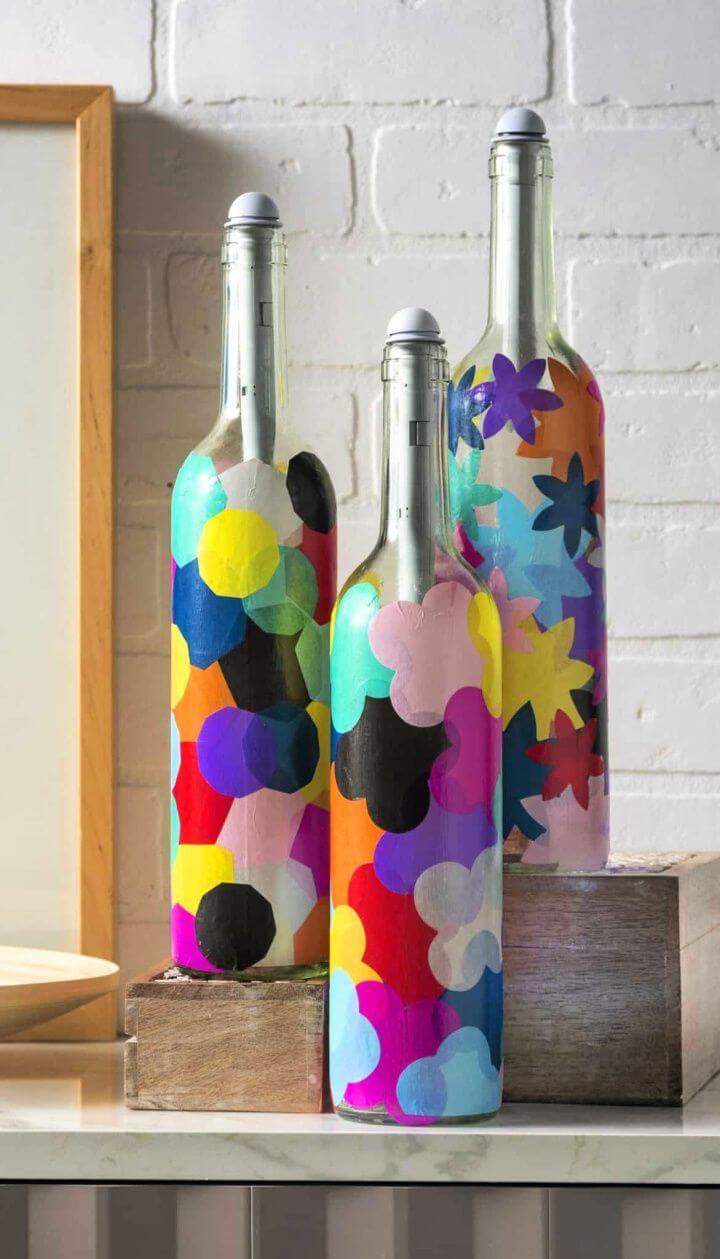 Enjoy some super cute and romantic glow in your porch during the summers with these lights up wine bottle craft. Clear wine bottles are glued with colorful tissue papers of various shapes. Also, the lights have been added to the bottles to give you a gorgeous and decorative replacement of the candles.
Tutorial: modpodgerocksblog
Spray Painted Wine Bottles For Fall Decorating: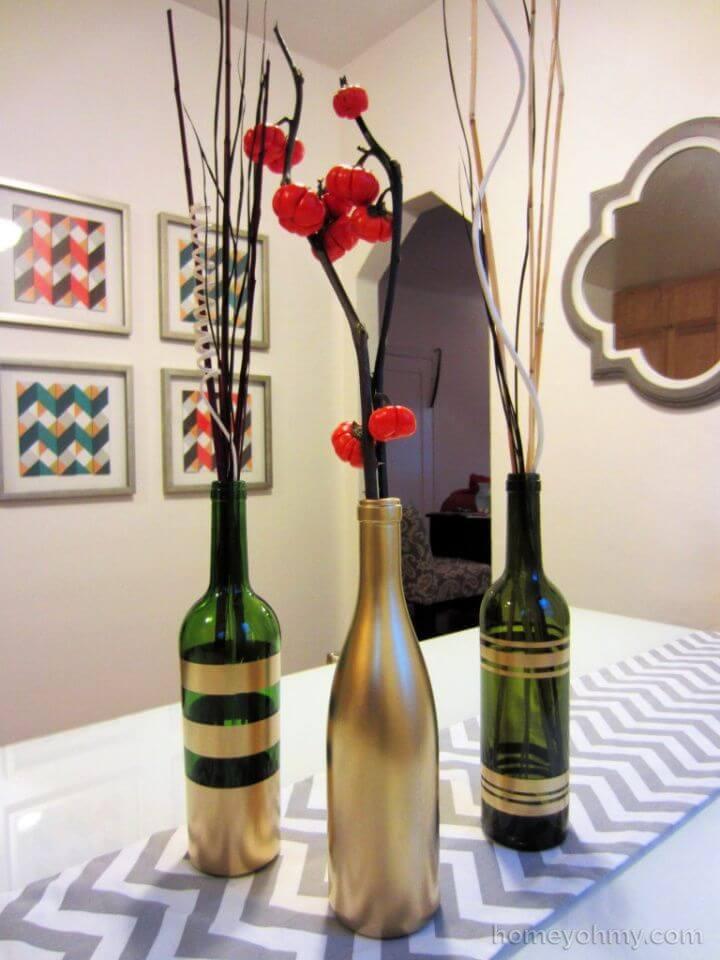 Make some customized decor arrangements for your dining table with this lovely spray painted wine bottle fall decoration project. Empty wine bottles are painted in gold spay using the duct tape for designing. You can add some tree branches to each bottle and your table centerpiece is ready.
Tutorial: homeyohmy
Holiday Crafting With Wine Bottles: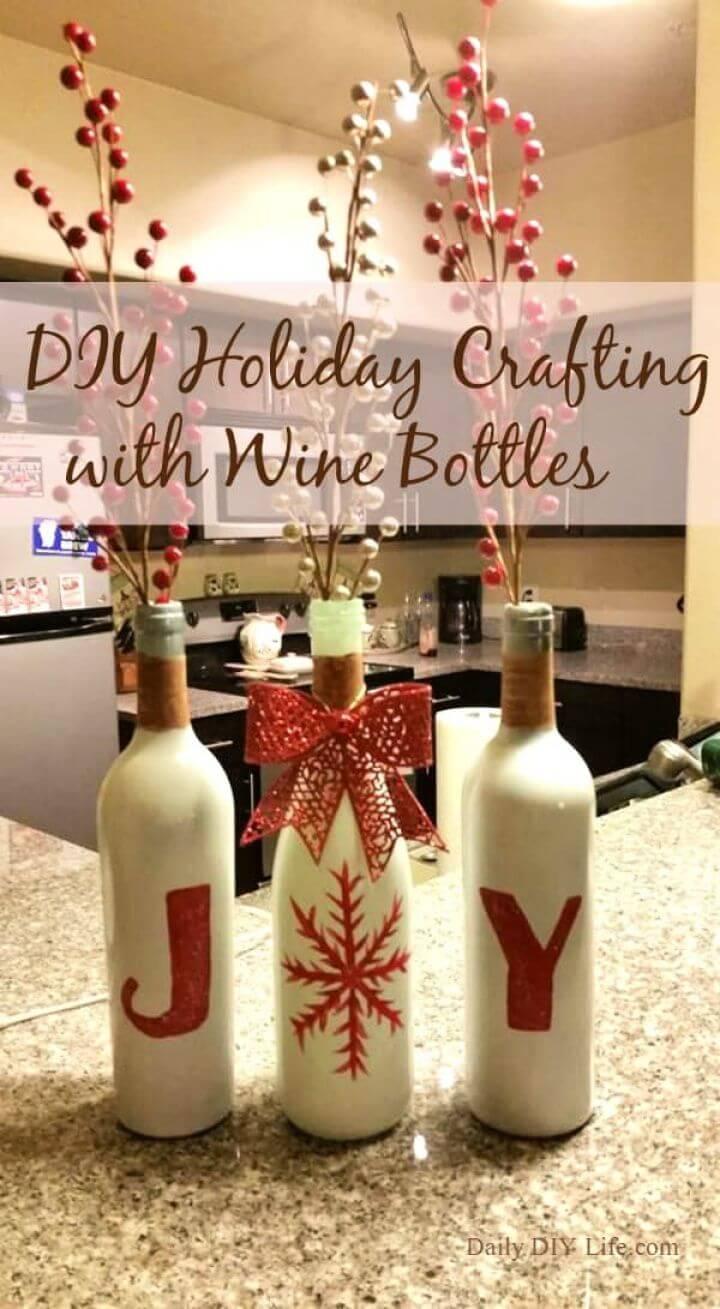 Save yourself a lot of money over the Holiday decor b crafting with the wine bottles. These gorgeous painted wine bottles with name initials on two and a snowflake decal on the third are looking gorgeous to be your holiday decor centerpiece. So grab paint, yarn, paint, and bottles to create this lovely Holiday decor.
Tutorial: dailydiylife
Halloween Decorations, Using Your Empty Wine Bottles: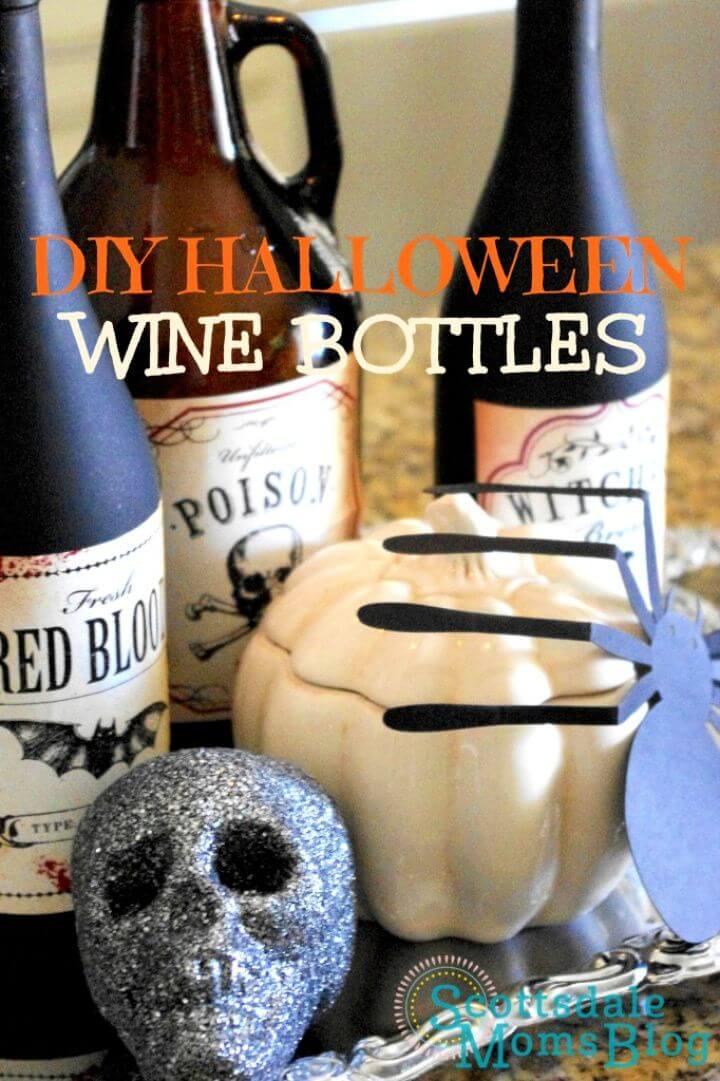 Empty wine bottles can be the free cost supplies for your Halloween decor this time. First of all, spray paint the bottles in black and then add some Witch, Red blood, Spider and Poison printable to each. Place these bottles with your rest of Halloween decor pieces over the tables or mantles. Details here!
Tutorial: scottsdale
Breast Cancer Awareness Wine Bottle Crafts: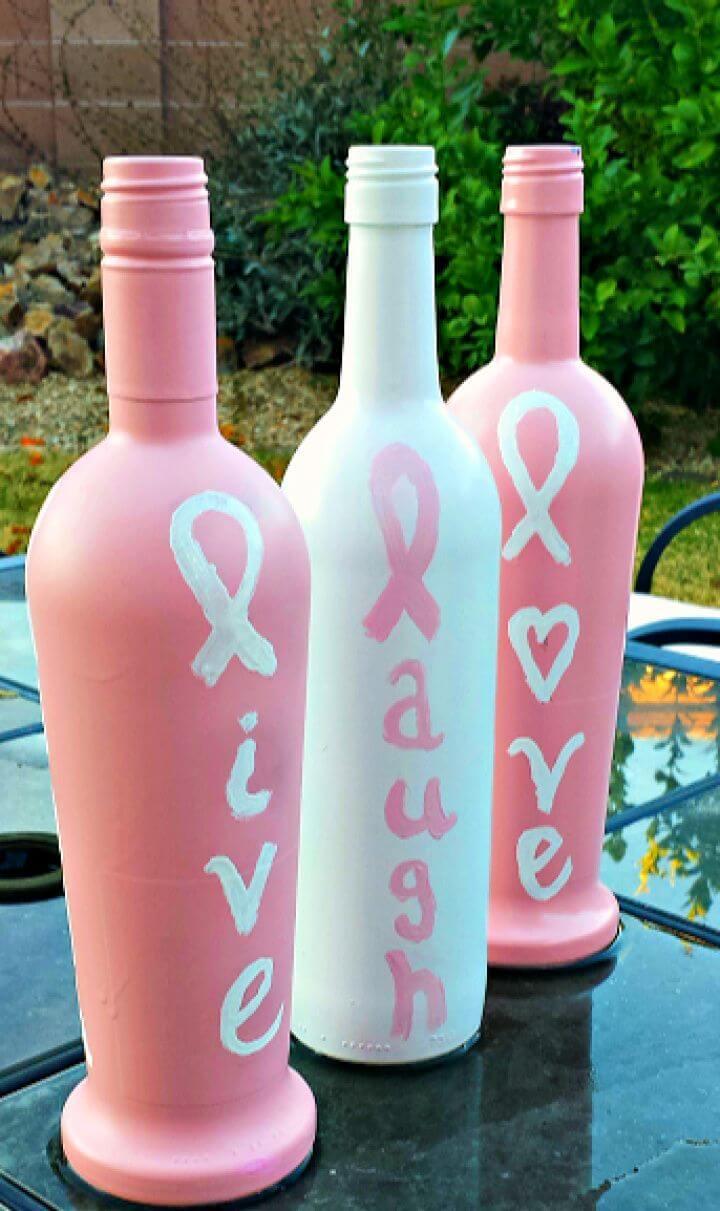 Recycle the empty wine bottles for the best of cause with this project of breast cancer awareness wine bottle craft. The bottles are painted in white and pink to look just perfect for the theme. You can make and sell these bottles to raise some money for a breast cancer patient around.
Tutorial: craftymorning
Christmas Wine Bottles Are So Fun And Easy To Make: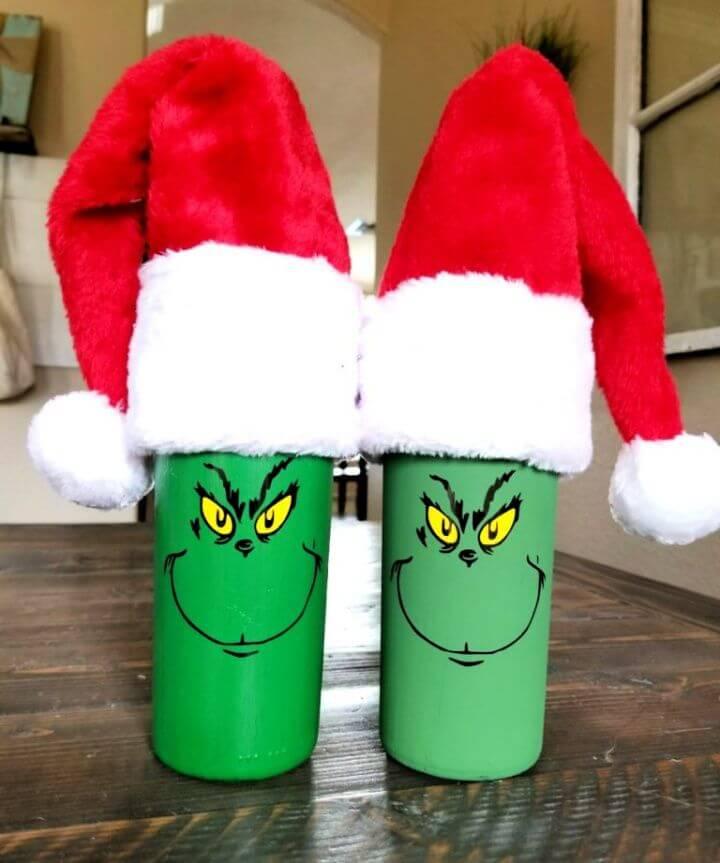 Get quirky with your home decor this time for Christmas with this super fun wine bottle idea. The wine bottles have been painted green and then featured with Grinch face using the sharpie markers. In addition, the bottles are made to wear the Christmas hats to look more fancy and decorative.
Tutorial: leapoffaithcrafting
Glittered Wine Bottles: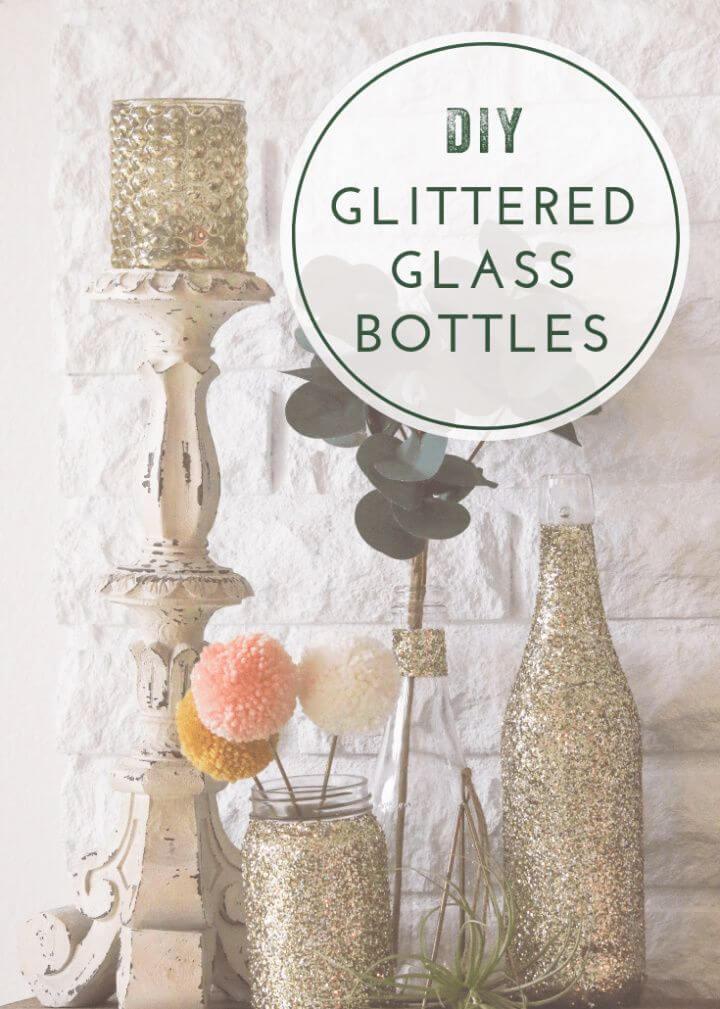 Let your decor spark up for a party or for a Holiday preparation with these glittered wine bottles. Just grab your empty wine bottles and give them a coat of mode podge all over. Then pour a mixture of silver and gold glitter all over the bottles and once dry they are ready to rock your decor.
Tutorial: jennyonthespot
Wine Bottles – Christmas Display: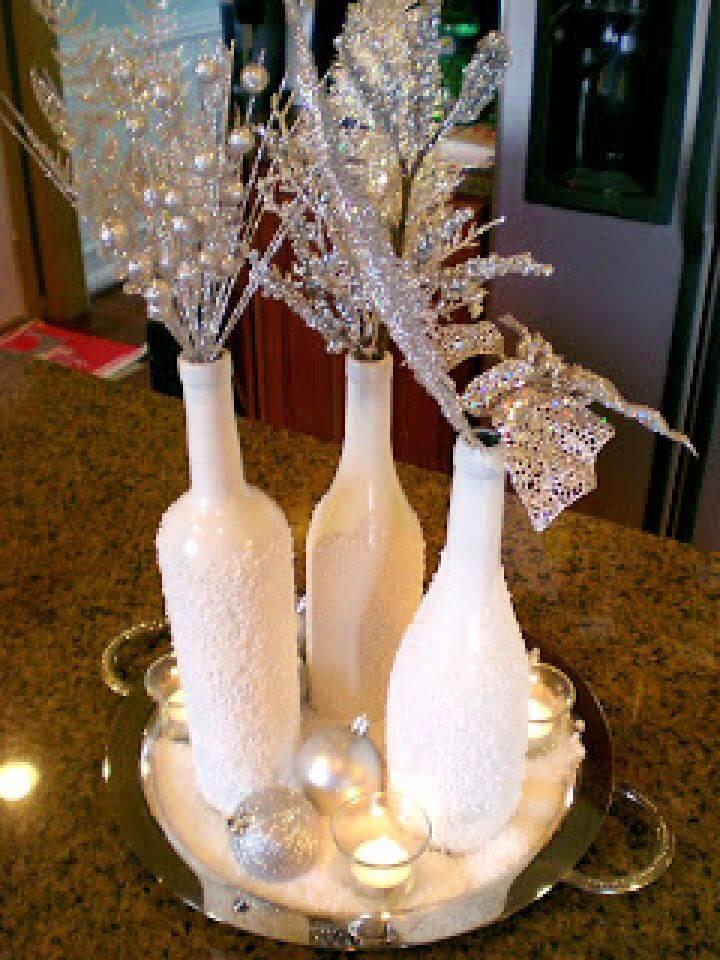 Bring some sassy details to your Christmas dinner table with this wine bottle centerpiece. The gorgeous Christmas display is super easy and fun to create with empty wine bottles, Epsom salt, glue, and some primer. You can use them separately as vases or combine them in a plate for a centerpiece.
Tutorial: cleverlyinspired
Gold Glitter Centerpiece Bottles: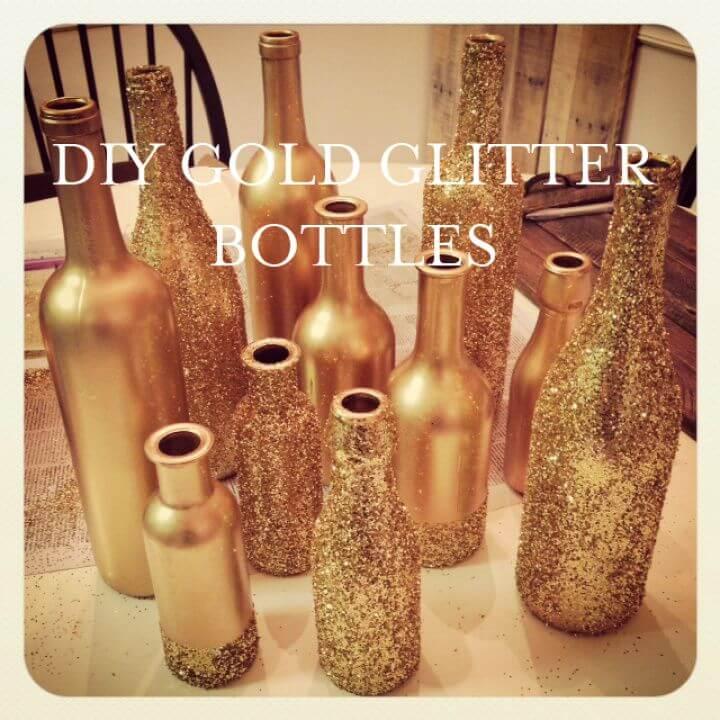 Make a gorgeously glowing and sparkly centerpiece for your Holiday dinner tables with these gold glitter centerpiece bottles. Just get a bunch of empty wine bottles in multiple sizes and treat them with gold spray paint and the gold glitter. This centerpiece is surely going to look so catchy and cool. Details here
Tutorial: libertypartyrental
Decorate Your Own Wine Bottle Gift Bags: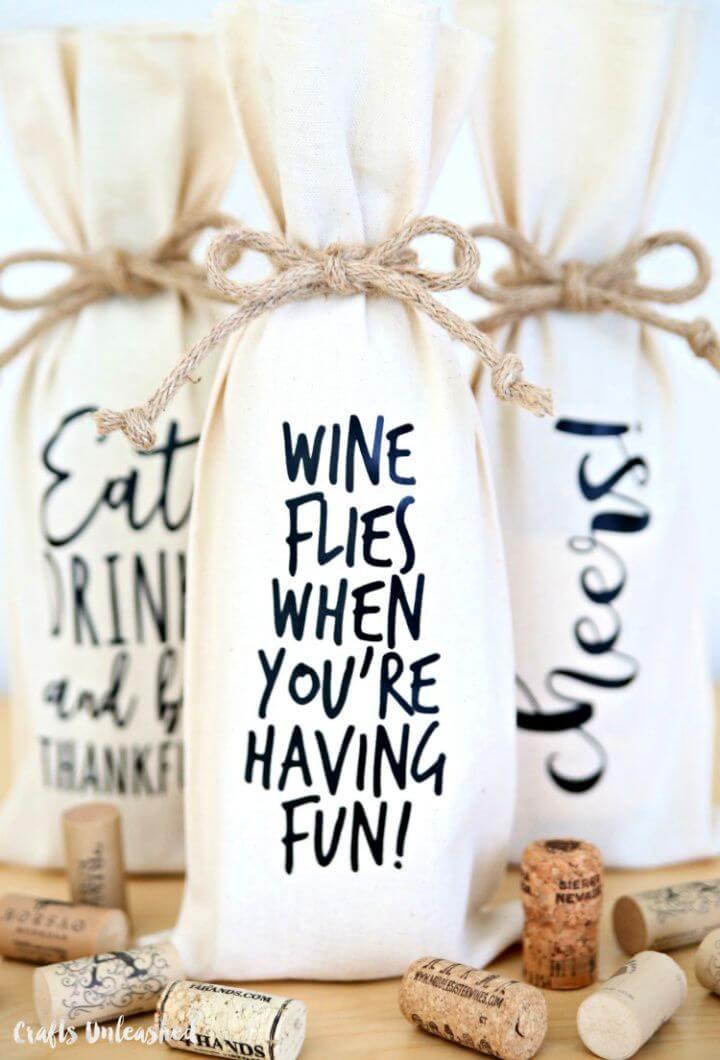 We all love wine bottles as the best hostess gifts around the Holiday season and now you can take this gift game up with this wine bottle gift bag craft. Yes, the gorgeous wine bottle bags with lovely quotes and sayings are just adding more to the worth of the gift inside. Check it out all here!
Tutorial: consumercrafts
Decorative Twine Wrapped Wine Bottle: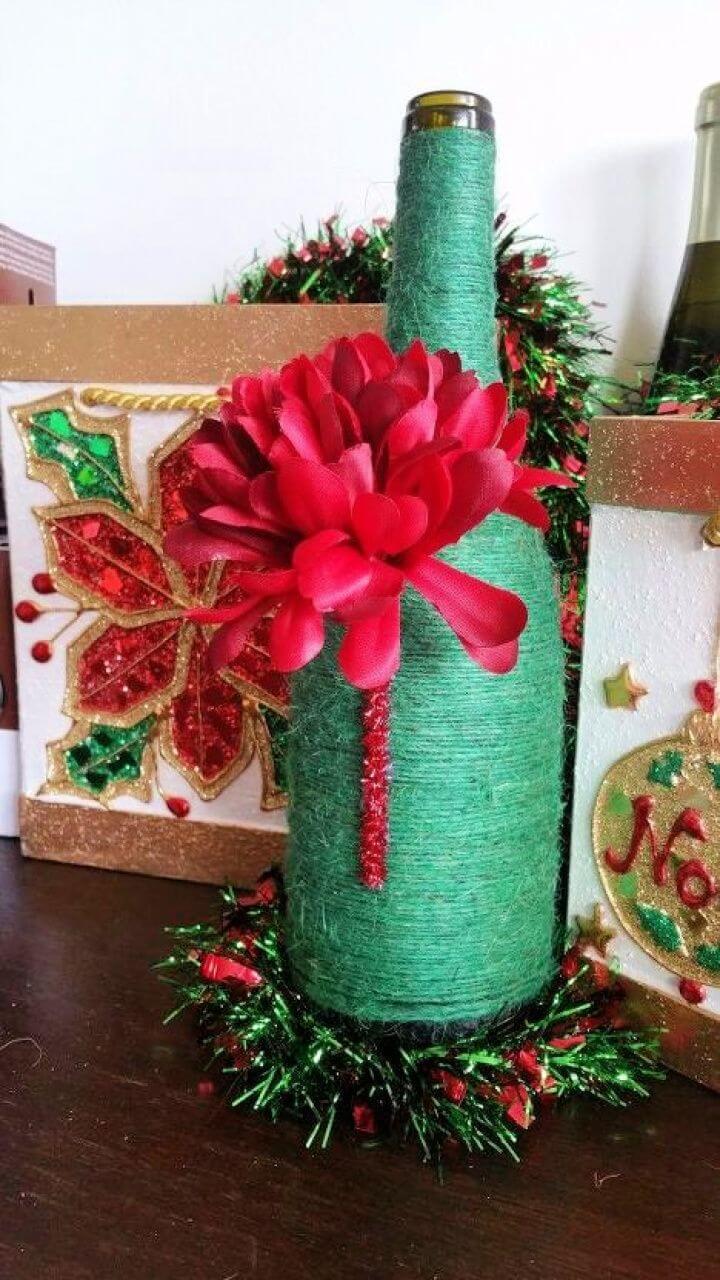 Get smart with decor for the Holiday with some easy and cheap ideas like these decorative twine-wrapped wine bottles. So grab a wine bottle and wrap around a twine in your favorite color. Secure it with glue and add some embellishment items like jingle bells, pearls, and flowers for a more groomed look.
Tutorial: hometalk
Wine Bottle Craft Vase: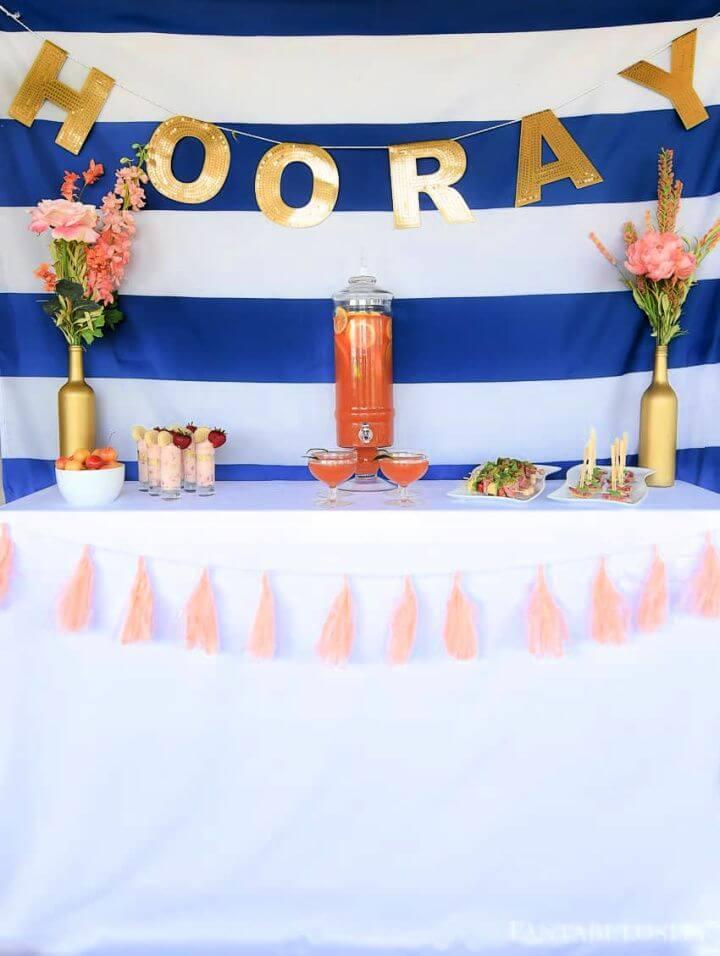 We need some pretty vases for our table decor for a party and also for regular home decor. Here is this easy and fun wine bottle craft vase to help you out. Just paint empty wine bottles in gold and they are ready to spark up the decor of your party table or simply jazz up the beauty of a coffee table.
Tutorial: fantabulosity
Wine Bottle Crafts – DIY Chalkboard Vas: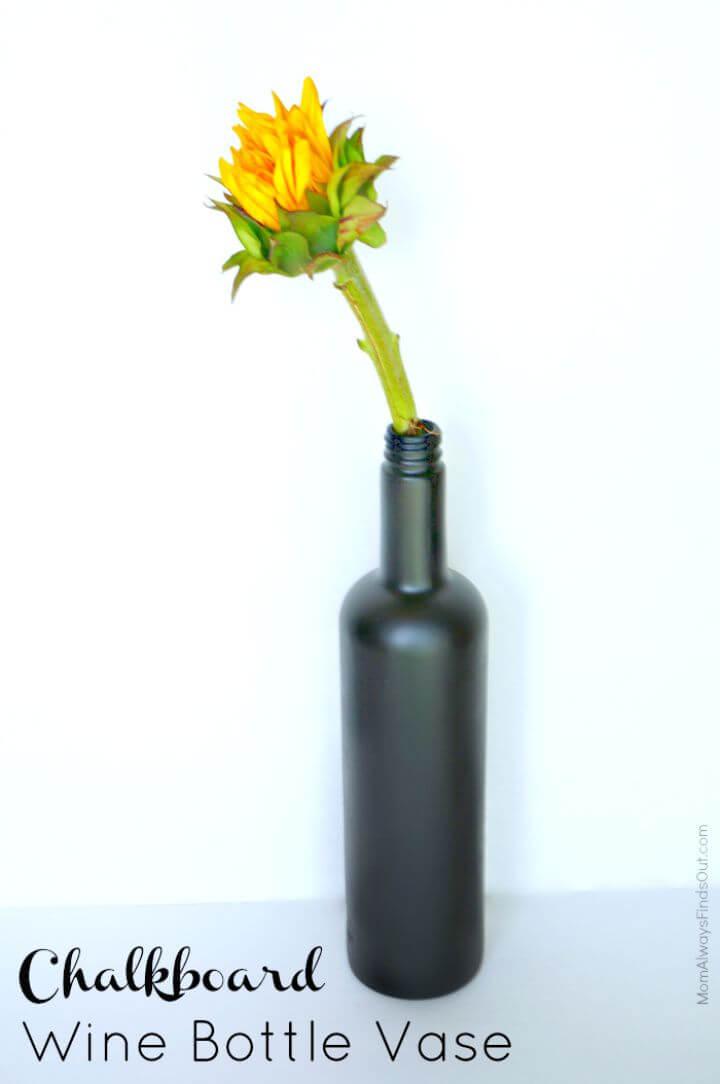 It's time to have some fun with the chalkboard paint with these wine bottle crafts. Just grab an empty wine bottle and paint it nicely with chalkboard paint. You can use these lovely painted bottles as the cute vases for your tables. Also, write off some adorable messages and quotes using chalks or chalk markers.
Tutorial: momalwaysfindsout
Frosted Luminary Wine Bottles: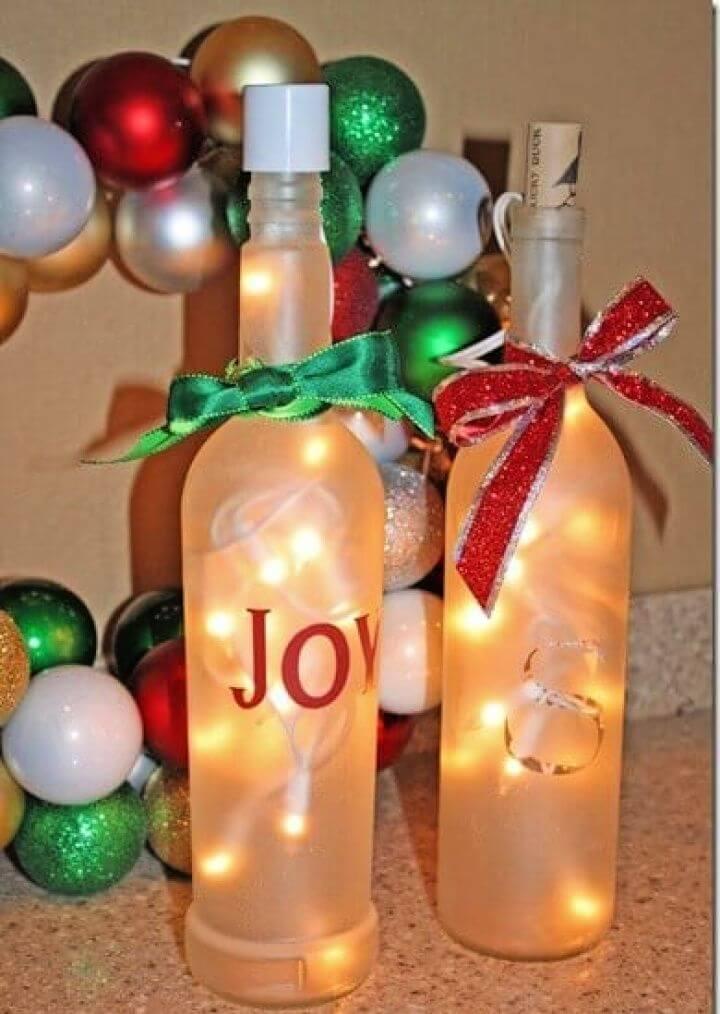 These frosted luminary wine bottles are perfect for any occasion held in the winters. The frost paint sprays on the bottles and the cute little Christmas lights inside really make these luminary wine bottles perfect for the evening decor. Also, you can add some scrapbook letters saying Joy or Love. Details here!
Tutorial: thatswhatchesaid
Make Fireflies In A Bottle: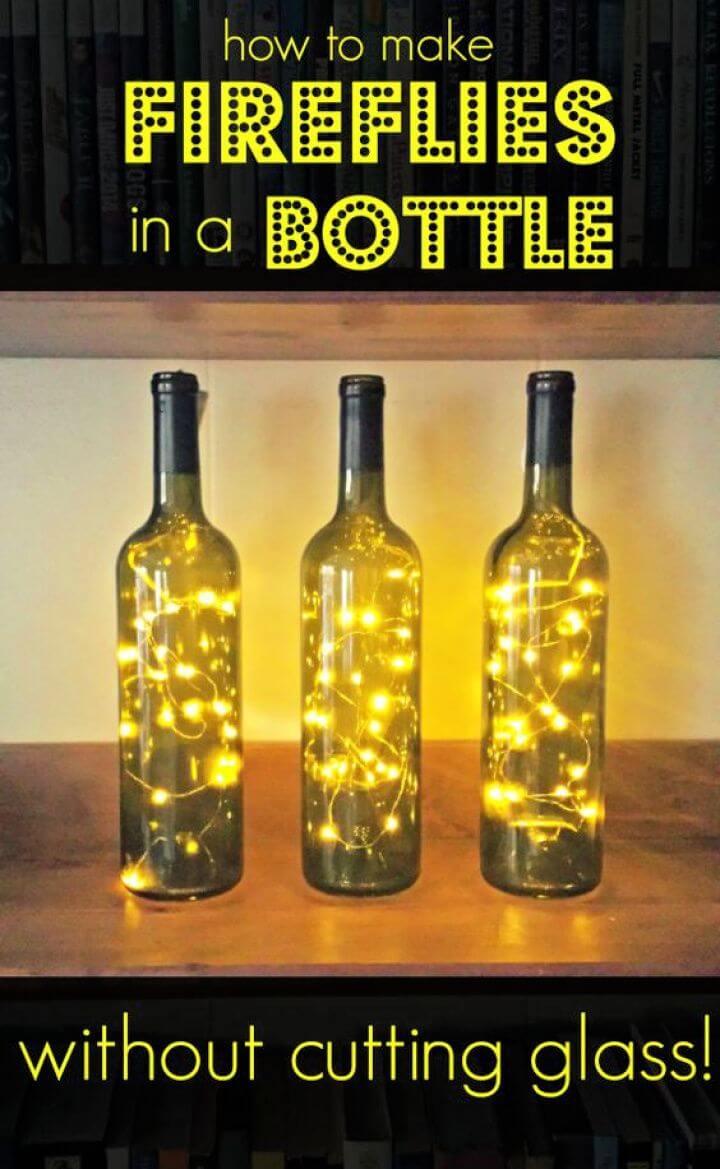 Charm up your patio or porch this summer with these lovely and adorable looking fireflies in a bottle craft. Just get some empty wine bottles and feed them with micro string lights and just wait for the darkness to prevail and let these bottles glow up your spaces in a purely adorable way. How to here!
Tutorial: thewannabehomesteader
Painted Wine Bottles For Watering Indoor Plants: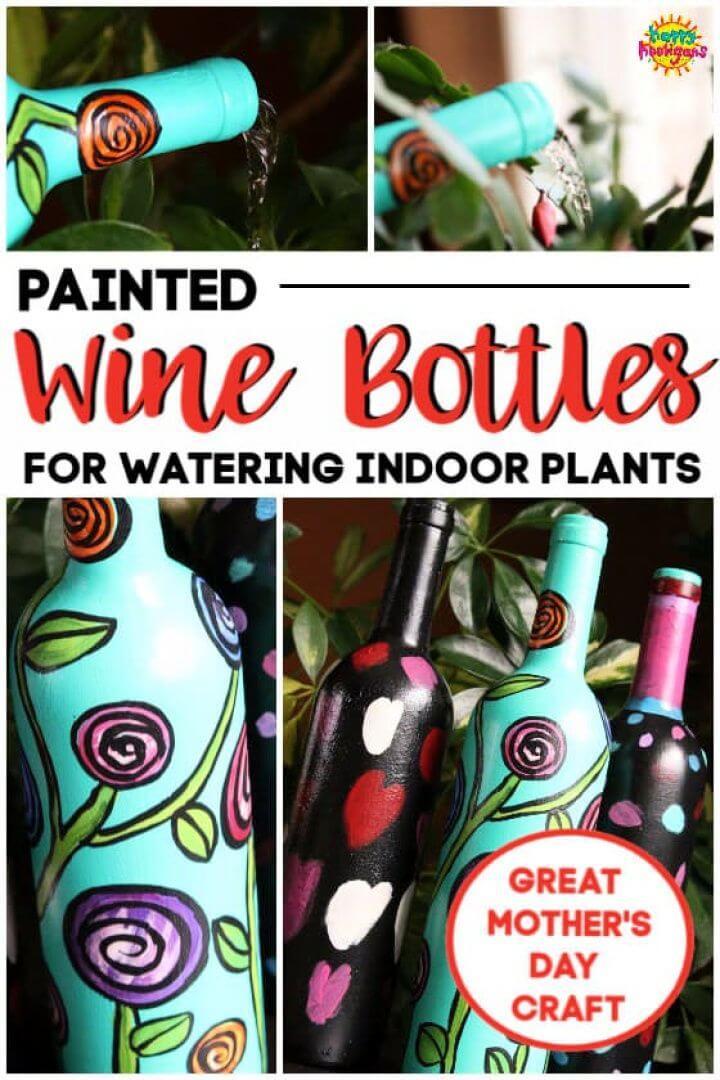 Make your watering the plants task much more interesting and fun with these painted wine bottles craft. You can keep the bottles on window standstills so that you remember watering the plants. The gorgeous paintwork on the bottles makes them an enchanting work of art to spruce up the decor.
Tutorial: happyhooligans
Twine Wrapped Wine Bottle Centerpieces Tutorial: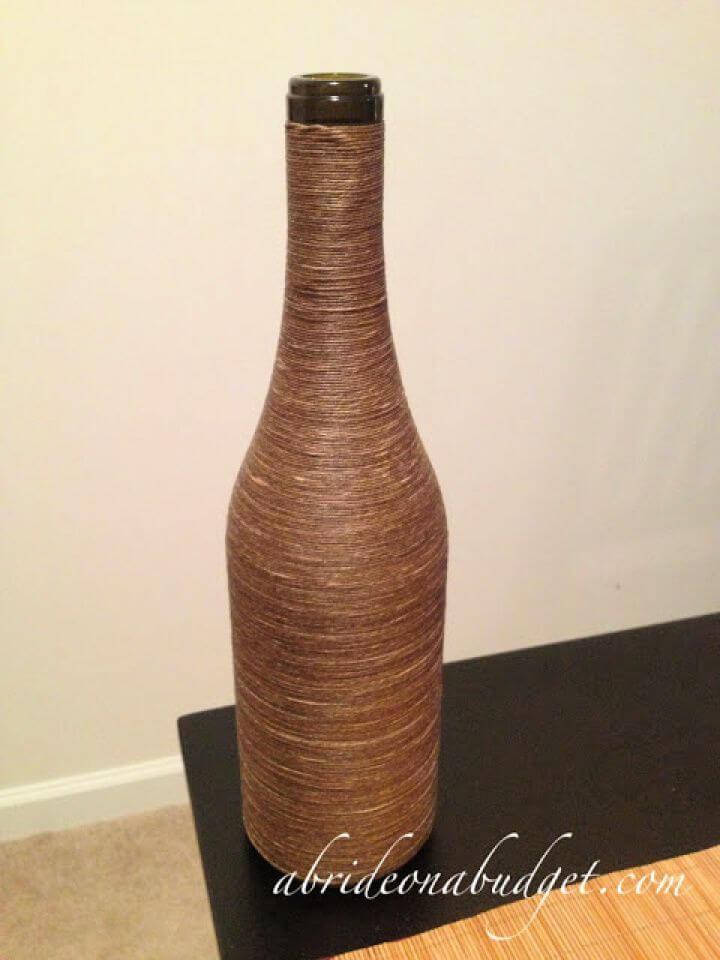 Rusticate your home decor a bit with this twine-wrapped wine bottle piece tutorial. Get a brown color twine to wrap around the bottle and you can repeat it on more than one bottle to form a lovely and country-styled centerpiece. Also, you can use these twine-wrapped bottles as table vases and gifts.
Tutorial: abrideonabudget
Glitter Wine Bottle Centerpieces: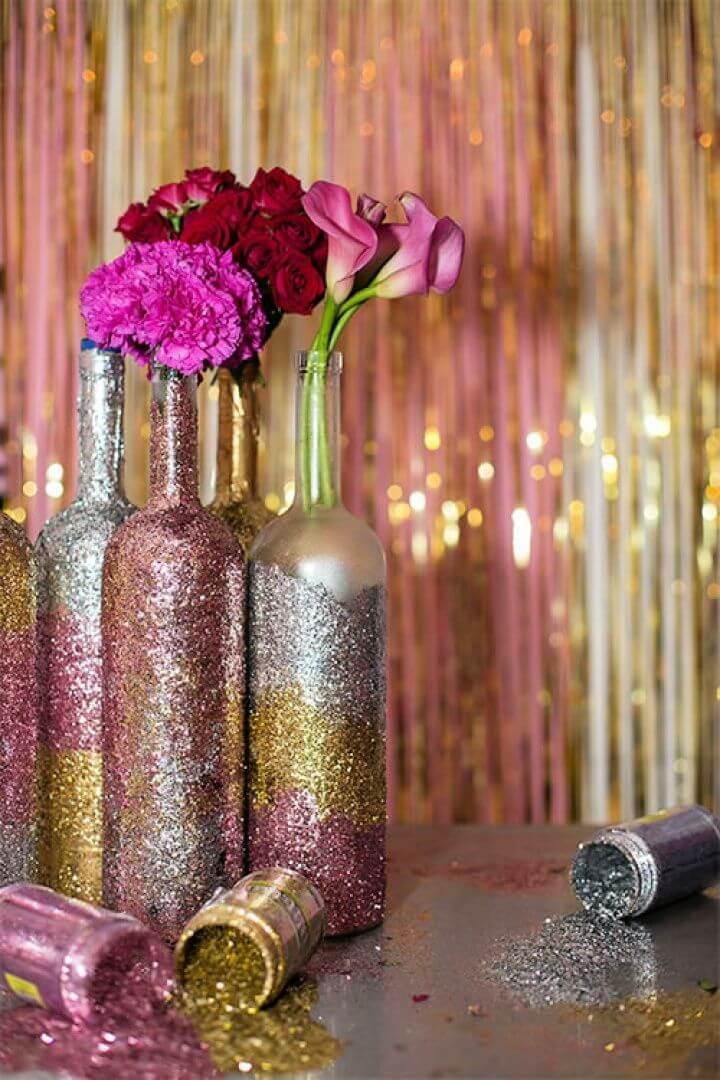 Rock your party decor more with these glitter wine bottle centerpieces. What makes these wine bottles look so sassy and cool is the combination of three glitter hues at a time. The layers of gold, pink and silver glitter turn out to be so catchy and cute on these bottles. You can use these glittered bottles as vases too.
Tutorial: chabad