Coffee is something that most of us are fond of and when it comes to the coffee mugs am sure that the coffee lovers are obsessed about them too. To enjoy the coffee I think the mug also has to be something that we like. It always happens that we want some kind of a mug but cannot find them in stores. So here we have come up with 14 DIY Handmade Coffee Mug Ideas where you can design your own mug and personalize it.
The first one here is a customized coffee mug with a letter or symbol on it which you can do with the help of spray paints and stencils. Next are the watercolor coffee mugs. The process is very simple where you only need water and watercolors and will have to dip the mug inside and abstract art would be there on your mug which is totally surprising and astonishing, also you can find a tutorial below to learn how to do this with paint as well as with nail color.
The next here can also be done simply it a gold spray paint and a stencil which you can make yourself, just a little concentration and your gold polka dot mug are there in your hands. This is another nail polish coffee mug with an abstract art done on it. This is something that most of the people would want a here its simply written coffee with a cute pink heart. You can also make coffee mugs symbolizing special occasions such as mother's day, father's day, valentine's day, etc. you can also do simple painting and crafting on your mugs like you can see over r here. Also, try some crazy and funny texts for your coffee mugs where you can write whatever you want to read every morning.
So do not forget to transform your coffee mugs before the winter arrives. Note all these DIY coffee mug ideas and try them out.
Personalized Coffee Mug: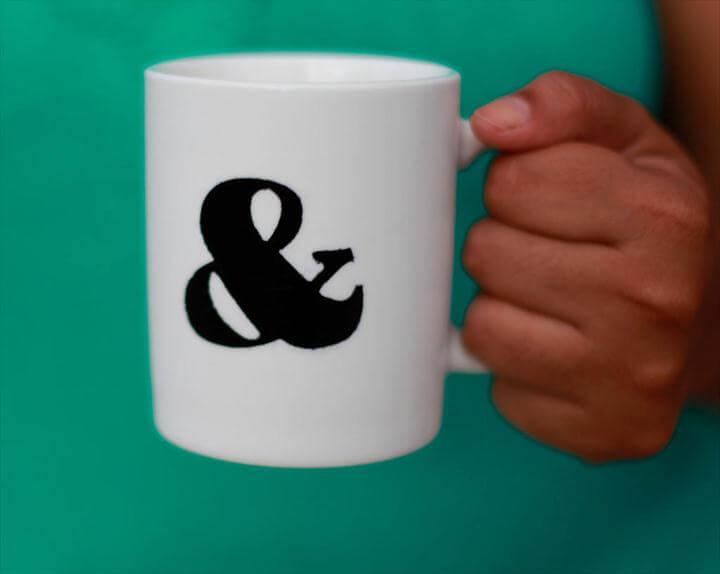 You can make your coffee mug look all personalized so that no one uses it. You can add any of the letters or the sign to your coffee mug using the paint markers. Here the mug has been written off with an apostrophe S to turn out so quirky and cool. This custom coffee mug can make a lovely gift idea too.
Image: fiskars
Watercolor Coffee Mugs

: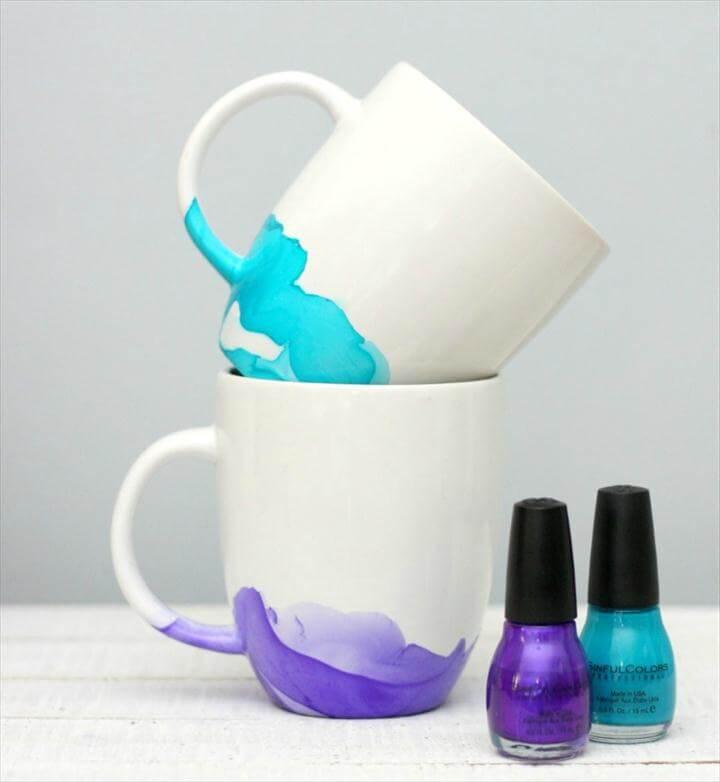 If you find your white mugs boring and dull then it's time to jazz up their beauty and charm with a makeover at home. So you need your favorite nail polishes and some water in a bowl. Put the nail polish in the water and then dip your mug in this water to let your coffee mugs turn out marbled like.
Image: happygoluckyblog
Marbled Nail Polish Coffee Mugs Tutorial

: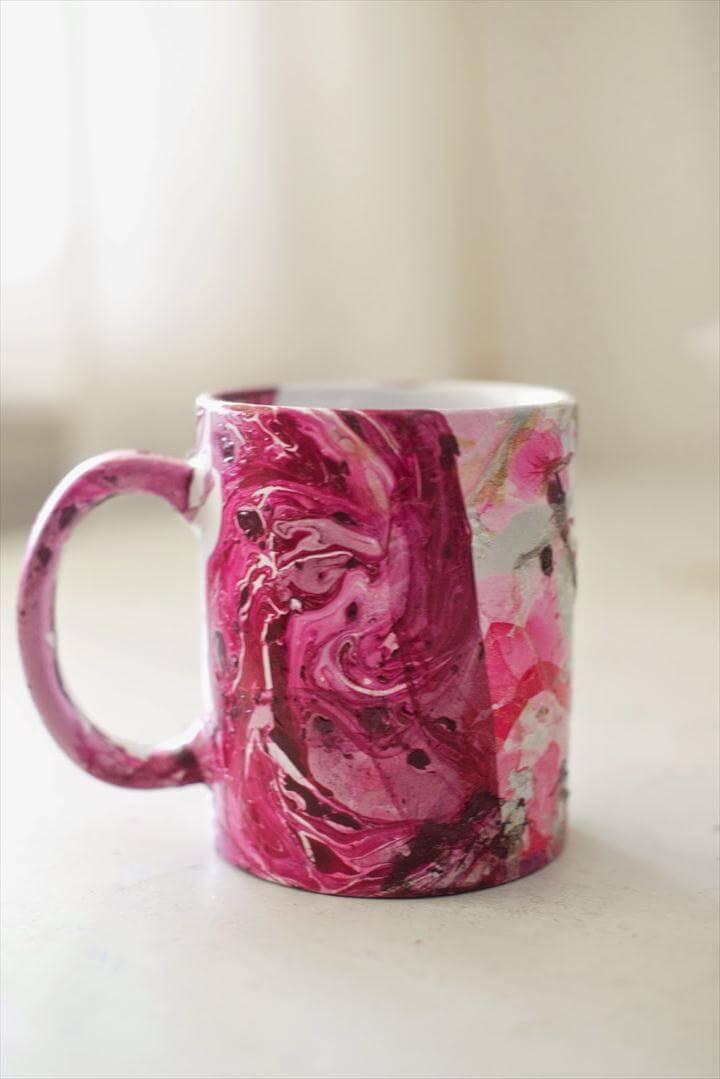 We love marbles for their lovely colors, patterns, and textures. Now you can create that pretty marble effect on your white coffee mugs. All you need is a few drops of your favorite nail polish in a bowl of water. Then take your coffee mug and dip it in this solution to let the nail polish transfer on the mugs and create the marble effect.
Image: domesticfashionista
Gold Polka Dot Coffee Mugs

: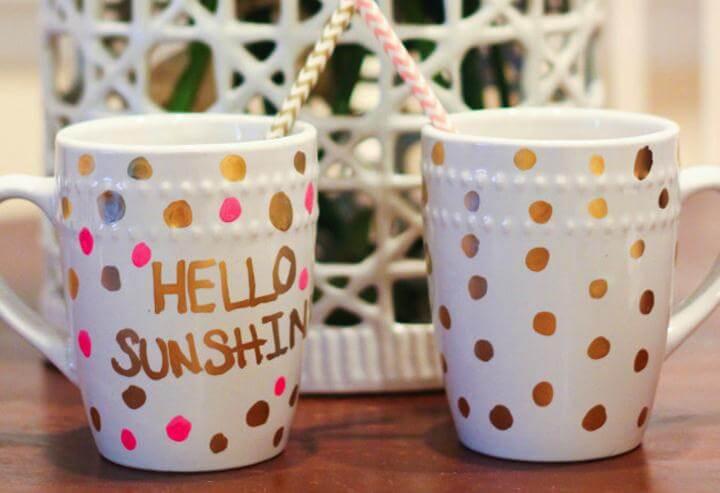 Make your coffee times much more fun with these gold polka dots coffee mugs. You just need coffee mugs in white from the dollar store and the sharpie marker in the metallic gold. Cover the entire coffee mug with the polka dots in gold and make it look jazzed up. Details of the idea right here!
Image: thediyplaybook
Nailpolish Coffee Mug: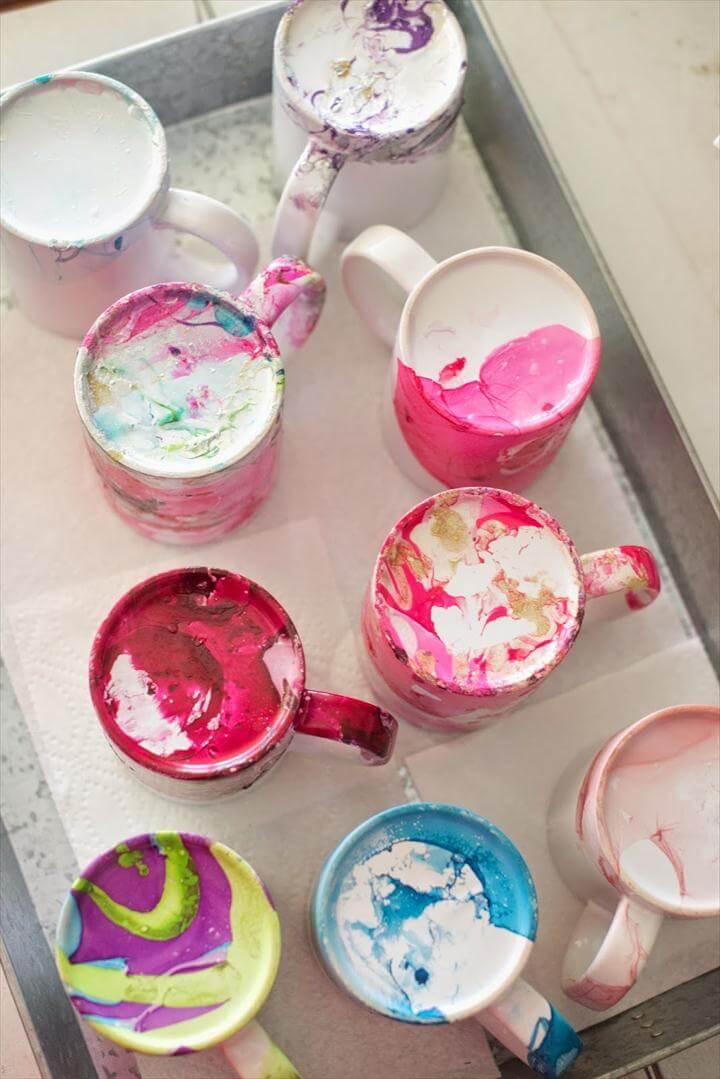 Give your plain and simple coffee mugs a pretty and colorful look with this nail polish coffee mug project. Get yourself some plain coffee mugs and grab your nail polishes from your dresser. Drop the multiple nail polish drops in the water bowl and then give your coffee mugs a dive into this. Details here!
Image: domesticfashionista
Coffee Love Mug – Heart Mug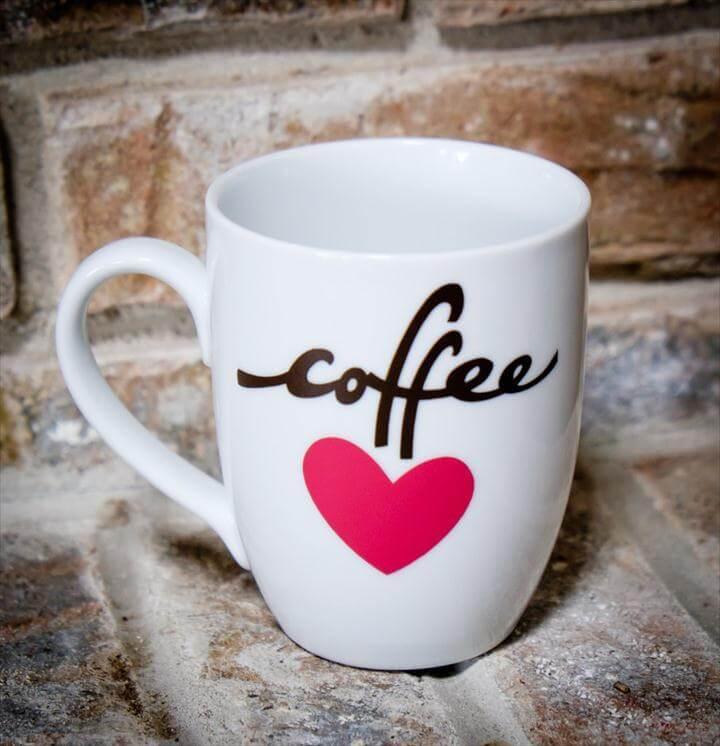 Give your coffee mugs the perfect custom look with this coffee love mug template. Grab your coffee mugs and add the word coffee to your mug with a lovely red heart under it. Using the vinyl and your electronic device you can easily create this pretty coffee love mug and use it as a pretty gift too.
Image: albiongould
Keep Cozy With DIY Coffee Mugs: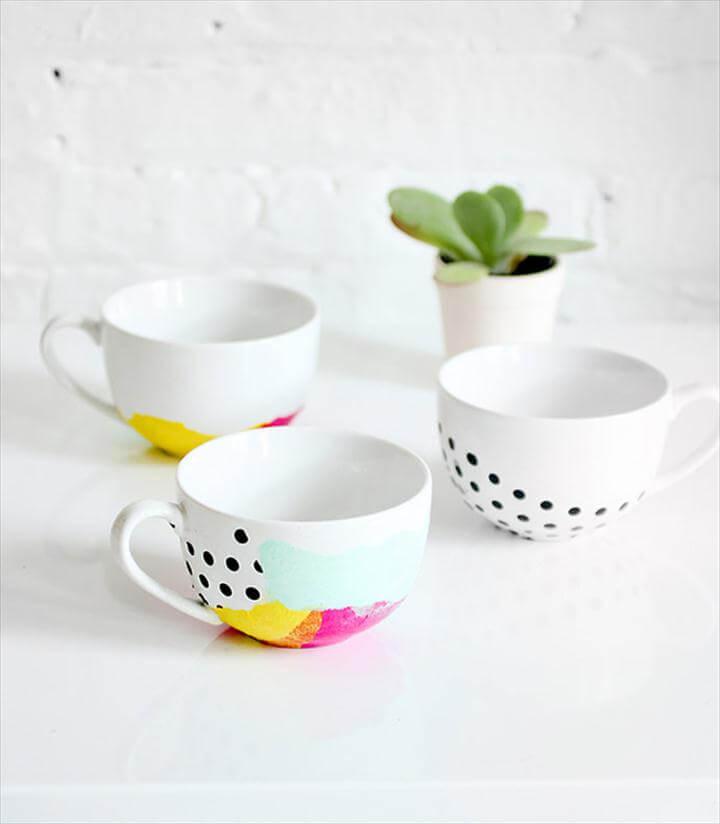 Make your coffee mugs look the most quirky and cute with your own hands. Here is the simple and plain coffee mug made to look so chic and extraordinary by adding some bright paint hues to it. Also, grab a paint marker and add the dots over the painted bottom to make it look more exciting. Details here!
Image: handmadecharlotte
Watermarble Mugs: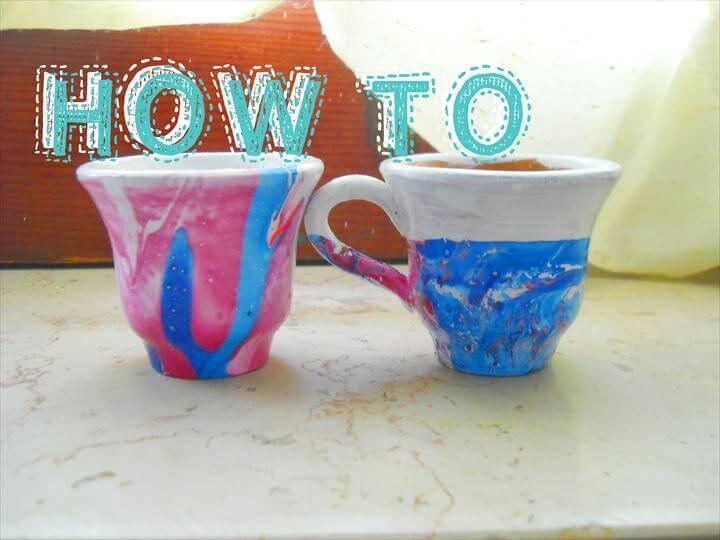 Why are you sitting idle at home as you can get indulged in the fun craft with this watermelon mug project? You need colorful nail polish and the water in a bowl to create a solution. Then give your mugs a dive into this water and they are going to come out as the marbled ones. Check out the details here!
Image: youtube
Cute Mother's Day Coffee Mug: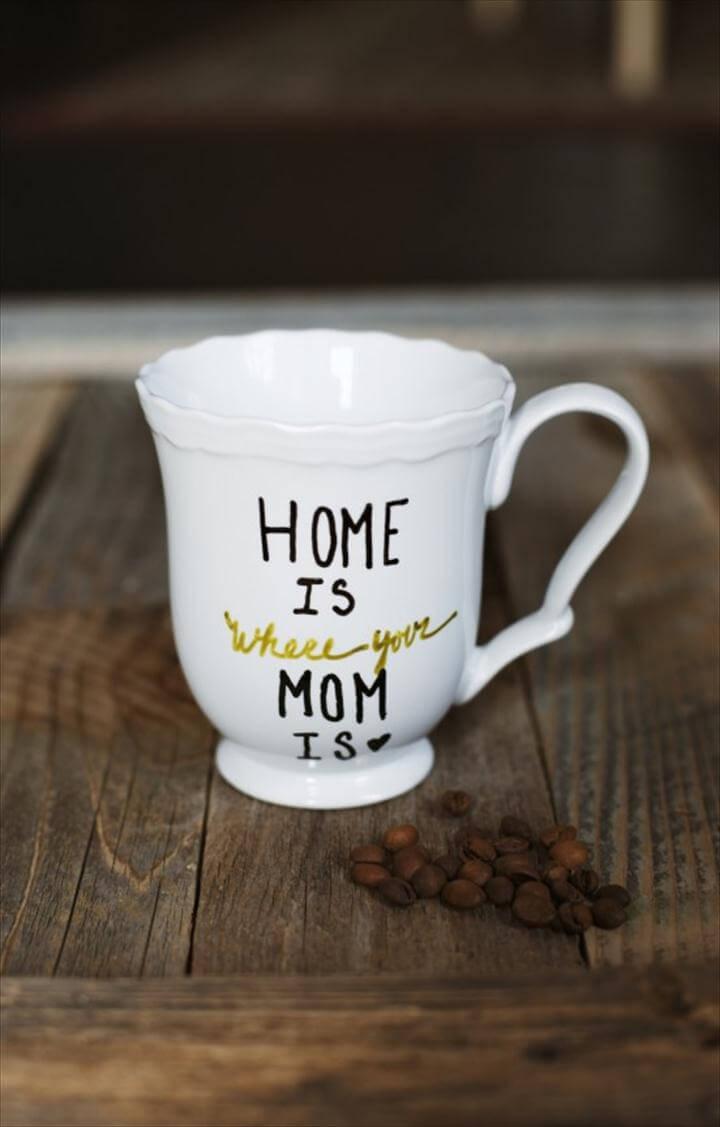 Handmade gifts are always the best and for your mother, this cute mother's day coffee mug is the best. Get your white ceramic mugs and the paint markers in black and the gold. Write some lovely mother's day quotes over the mugs and then bake the mug in the oven for the long-lasting effect. Details here!
Image: gimmesomeoven
Simple Coffee Mug Painting: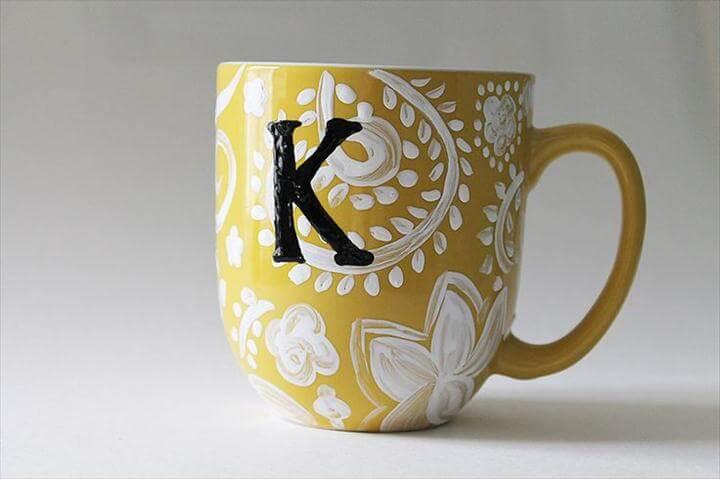 It's time to give your coffee mugs the perfect artistic look with this adorable simple coffee mug painting. Using the Martha Stewart paint and the stencils you can create the floral design on the mug and then personalize it with the painted initials of your name. These would make pretty gift ideas. Grab step by step details here!
Image: morenascorner
Sharpie Coffee Mug: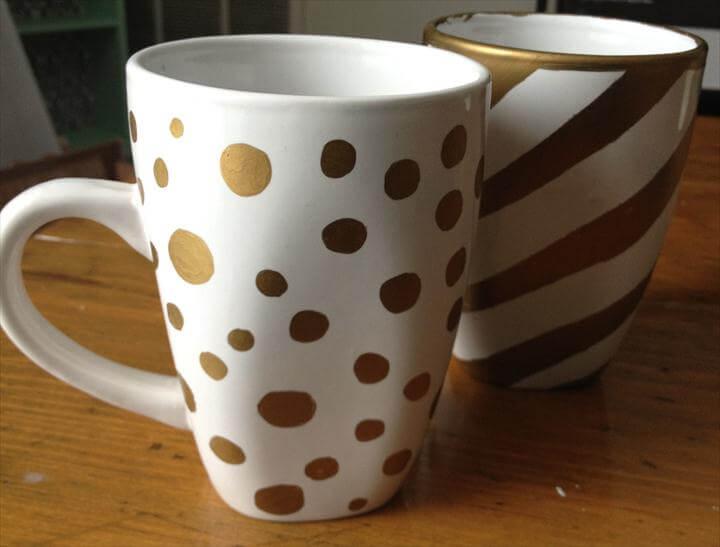 One of the best and the easy way to make customized gifts are making these sharpie coffee mugs. Take the metallic gold markers and start adding designs and patterns to your white ceramic mugs. It can either be simple polka dots or the lines all over. Follow the easy details of the idea right here!
Image: creativebug
Sharpie Coffee Mugs

: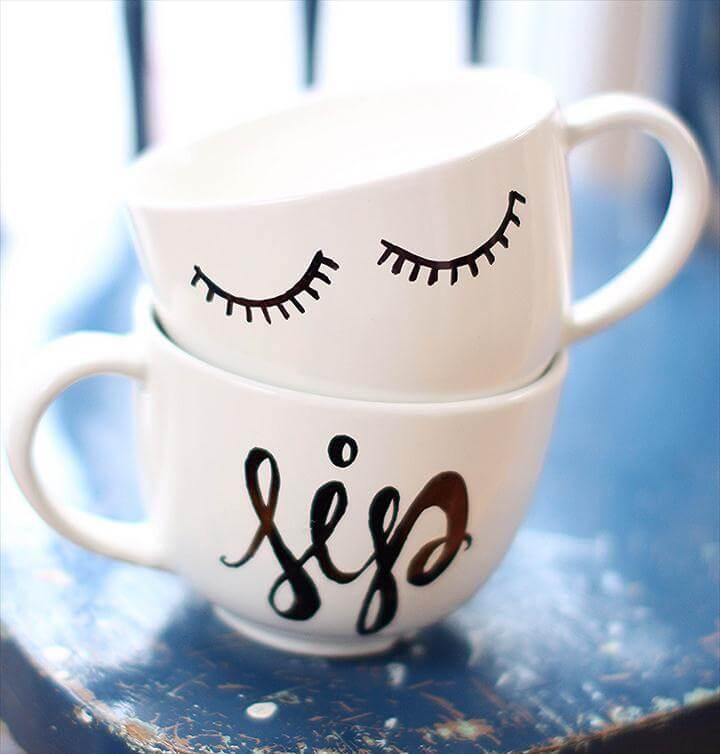 Make your sister this cute Siso coffee mug and get the best gift ready for her. Using the paper stencils and the sharpie markers you can create the siso words or any other shape like closed eyes on the mugs.  This is the best way to create instant and custom gifts for the dear and near ones around.
Image: olioiniowa
Fun Coffee Mug: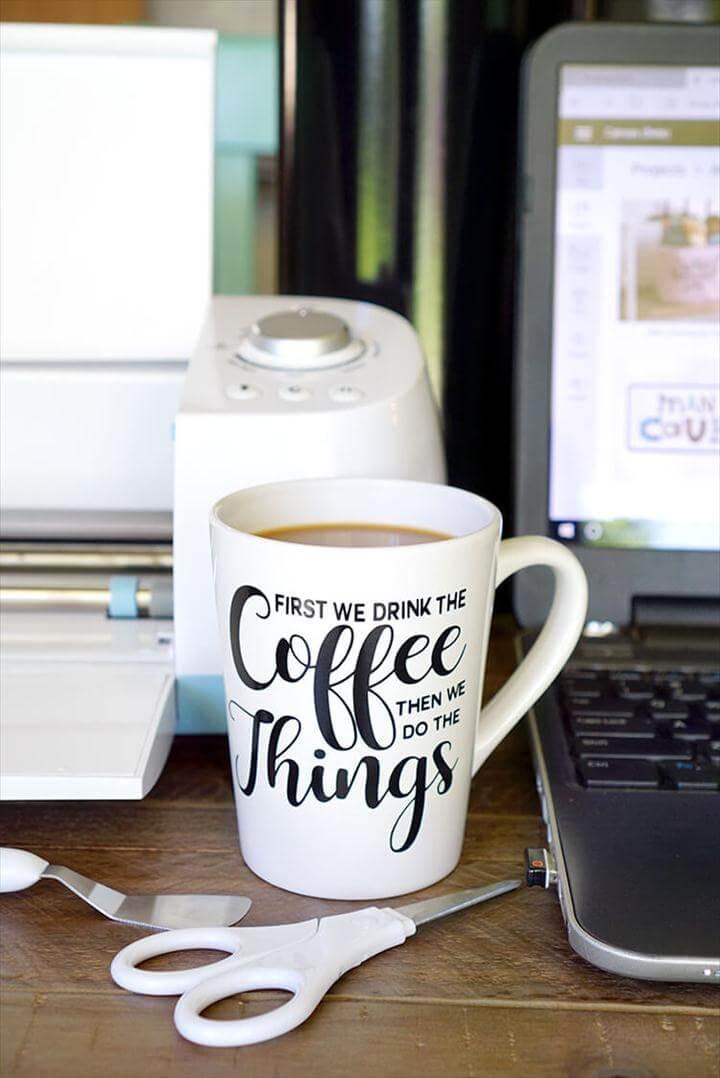 Some people have feelings of love for coffee and one of the best ways to show this love for coffee is to make these fun coffee mugs. Using the vinyl and the electronic device you can create your favorite coffee quotes on the mugs. These fun coffee mugs would make lovely gifts for the coffee lovers too.
Image: happinessishomemade.net
Irish Coffee Mugs: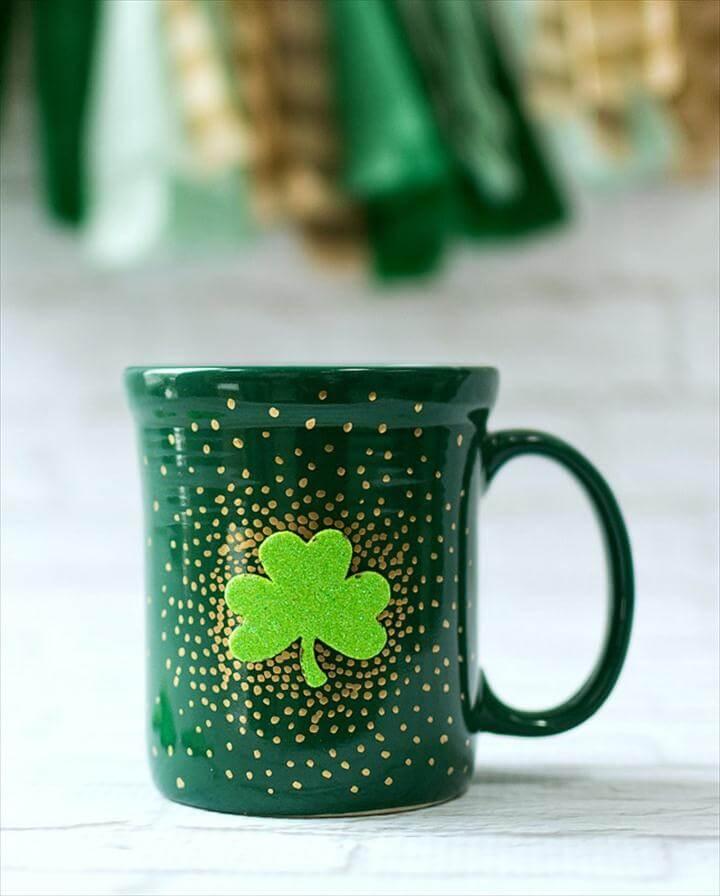 Coffee mugs are the personal favorite possessions of everyone and now you can decorate them for the festival too. Here is the Irish inspired coffee mug to make your coffee mugs look so special and fun. Paint the mug in green and insert a shamrock leaf of the glitter sheet in the center. Spice up the mug looks more with glitter marker dots all over.
Image: itallstartedwithpaint