Anniversary is one of the best days of everyone's life. And for every special day, there is a gift. So here we have brought to you these 30 handmade anniversary gifts so that you have the most creative and interesting gift to give out. Either it is the anniversary of your parents, your own, or of your friends these lovely gift ideas are going to make you a gift that you will fall in love with. Being handmade these anniversary gifts are surely going to low in cost too so ought to be checking them all out right here! You can also gift a handmade painting to your loved one. It turns your picture into handmade painting – 100% handmade (No Digital Technology involved).
There is a huge variety of the ideas collected here to let you make the best gifts for the anniversary couples. Making a lovely card would be a great idea if you are in search of a cute yet simple gift. If your partner is the travel lover then there are so many gift ideas with frames that include maps and travel scrapbooking as the gifts. Also, you can bring in use your crafty skills to create gifts like using silhouettes, working with wood, and doing some embroidery work. There are gift ideas with wedding dates and photos bring back memories on the anniversary. Check out each of these lovely anniversary gift ideas with tutorials by clicking on the links attached.
You May Also Like Previous Posts:
Conversation Heart Macarons: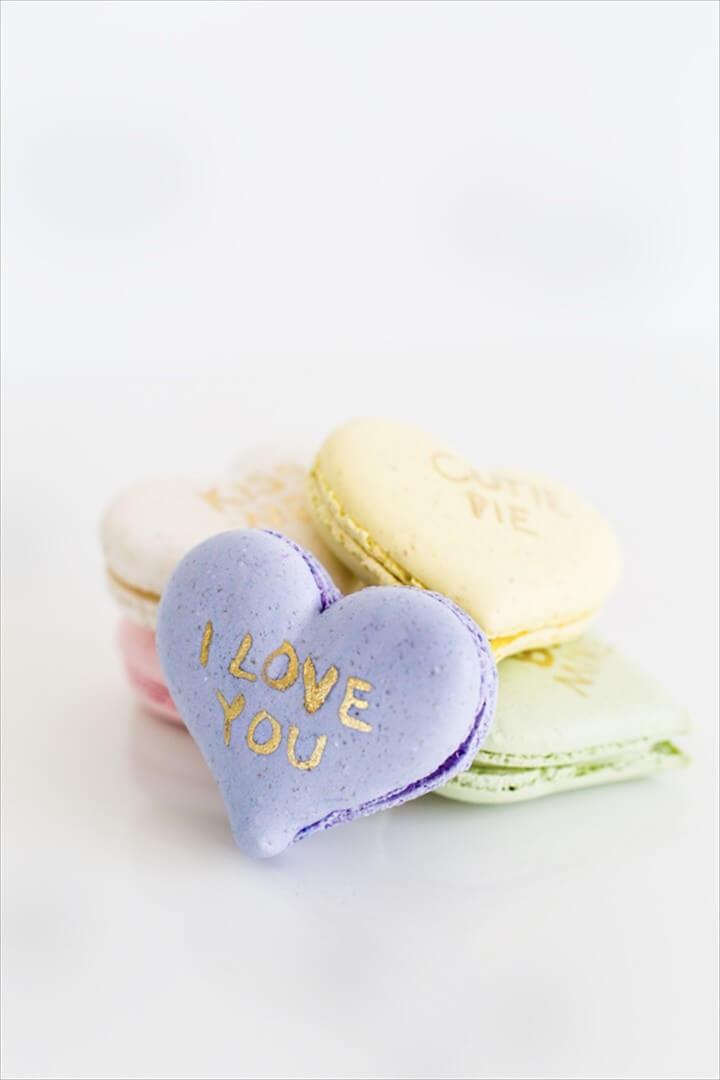 Make your partner smile at the coming anniversary with these adorable and colorful conversation heart macarons. Just take colorful macaron hearts and some edible gold dust. Take the thinnest brush and write some love quotes and words on these hearts to add in your anniversary treat. Your partner is surely going to love these yummy and cute conversation heart macarons.
Tutorial: sugarandcloth
DIY One Year Anniversary Scrapbook: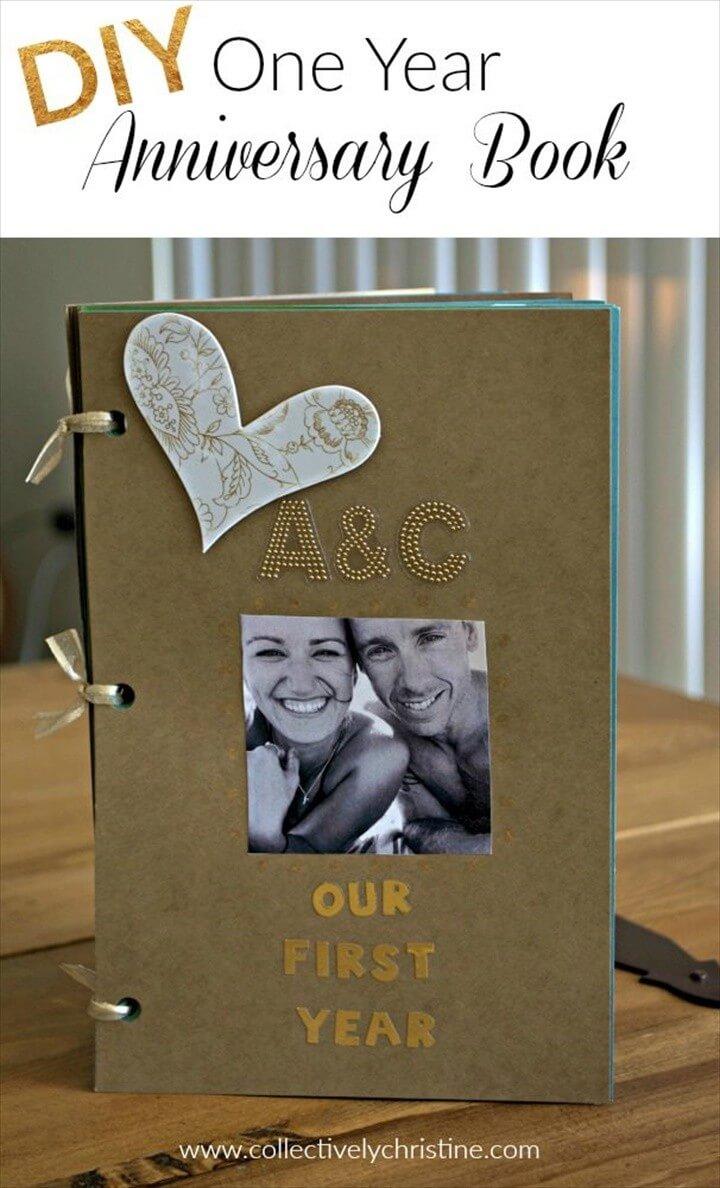 The best gift for your first anniversary would be making this one-year anniversary scrapbook. Get the best and memorable pictures of your first year and create a lovely anniversary scrapbook out of it. You would need card stock, metallic markers, scrapping book stickers and the ribbons to create this lovely anniversary gift on your own.
Tutorial: collectivelychristine
Pinboard Travel Map for Your Anniversary: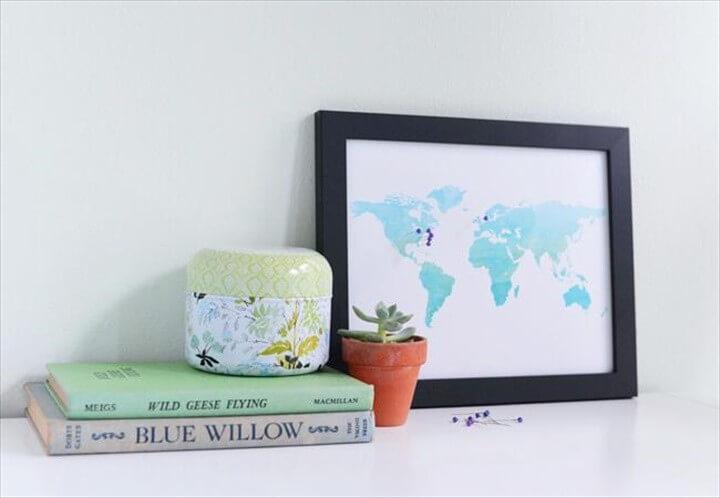 If your partner is a travel enthusiast then making this pinboard travel map is the best anniversary gift. You need a print of the world map, a wooden frame, and the corkboard to shape up this passionate gift. This travel map frame is going to look so lovely for creating a pretty display over the walls or tables.
Tutorial: thenest
DIY Wedding Picture Silhouette: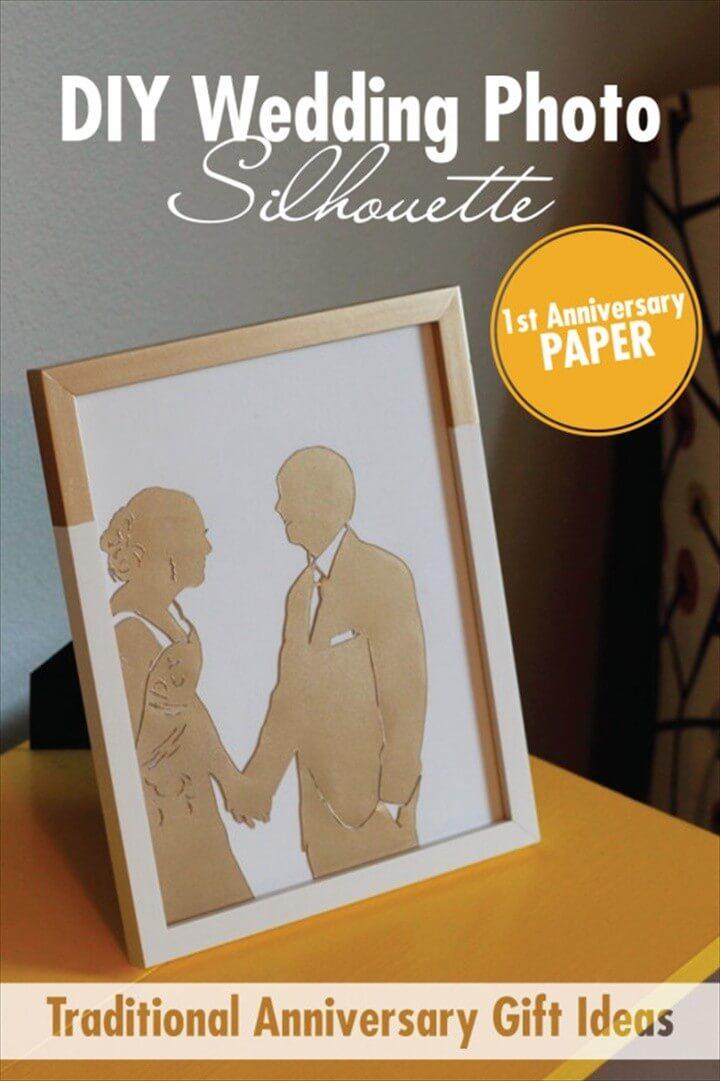 Celebrate your anniversary in a crafty way with this DIY wedding picture silhouette frame of you and your husband. You need a frame, a silhouette machine, and your favorite picture of you and your husband. This would be a pretty gift for both to celebrate the anniversary. Check out the details here!
Tutorial: acraftedpassion
Glitter Love Sign: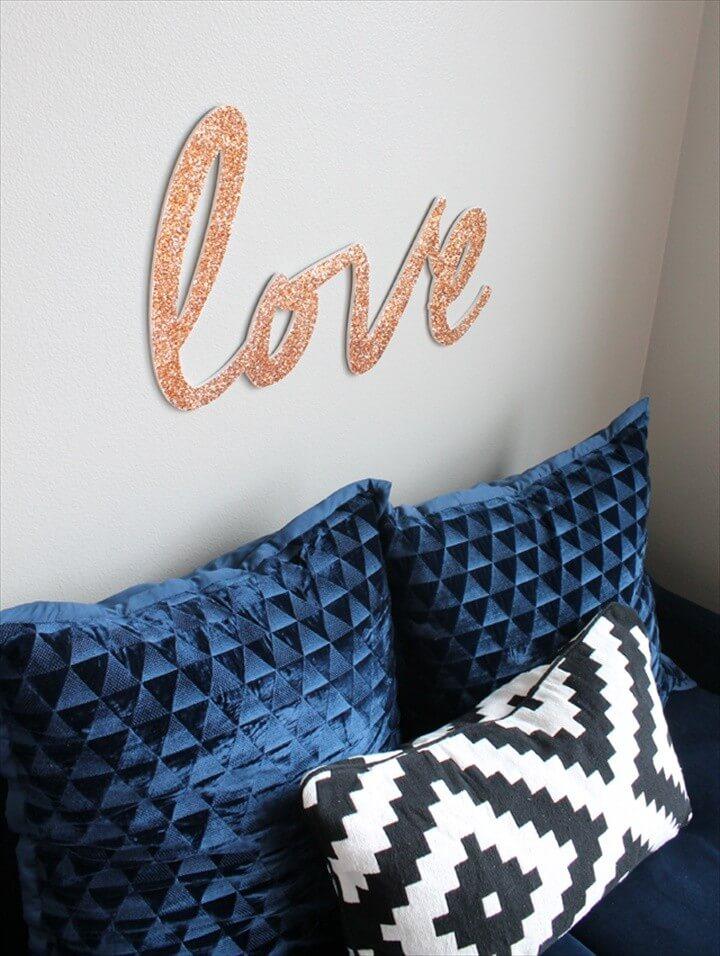 Here is how you can make your anniversary decoration so tempting and fun with this handmade love sign. Firsts of all grab the LOVE sign of wood or the cardboard and then paint it up and glitter up in your desired hues. Put it on a display over your walls in the living and you are ready to celebrate your anniversary at home.
Tutorial: sisterssuitcaseblog
Spooning Since Frame: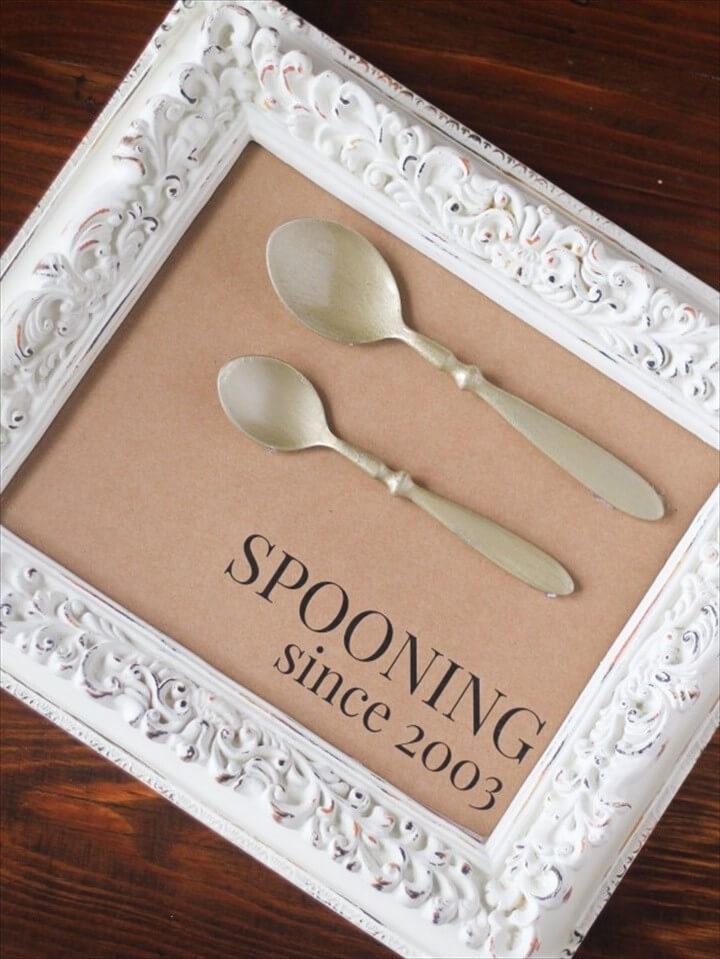 Here is the idea of creating this lovely spooning since frame which is going to be the pretty anniversary gift and the décor too. A simple wooden frame is painted and glued with two spoons. Then using the cardstock the frame has been made to say Spooning Since 2003. You can customize the frame by changing the year number.
Tutorial: confessionsofacookbookqueen
Stamped Textured Keychain: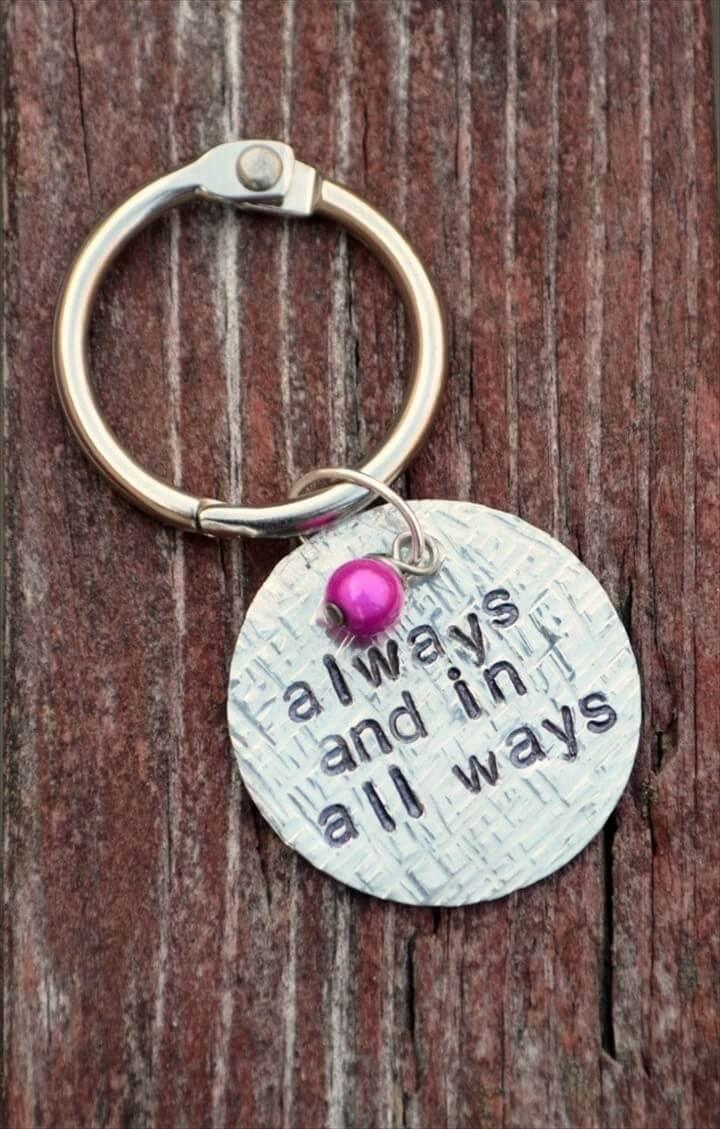 Here is this lovely gift that you can make for your partner as a simple and cheap anniversary gift. The round wooden keychain has a lovely wooden texture with a paint coat. Then the keychain has been stamped with a lovely quote saying Always and in All Ways. You can customize the keychain with a changed quote that is your favorite.
Tutorial: amylattacreations
Today I Have Loved You For Card: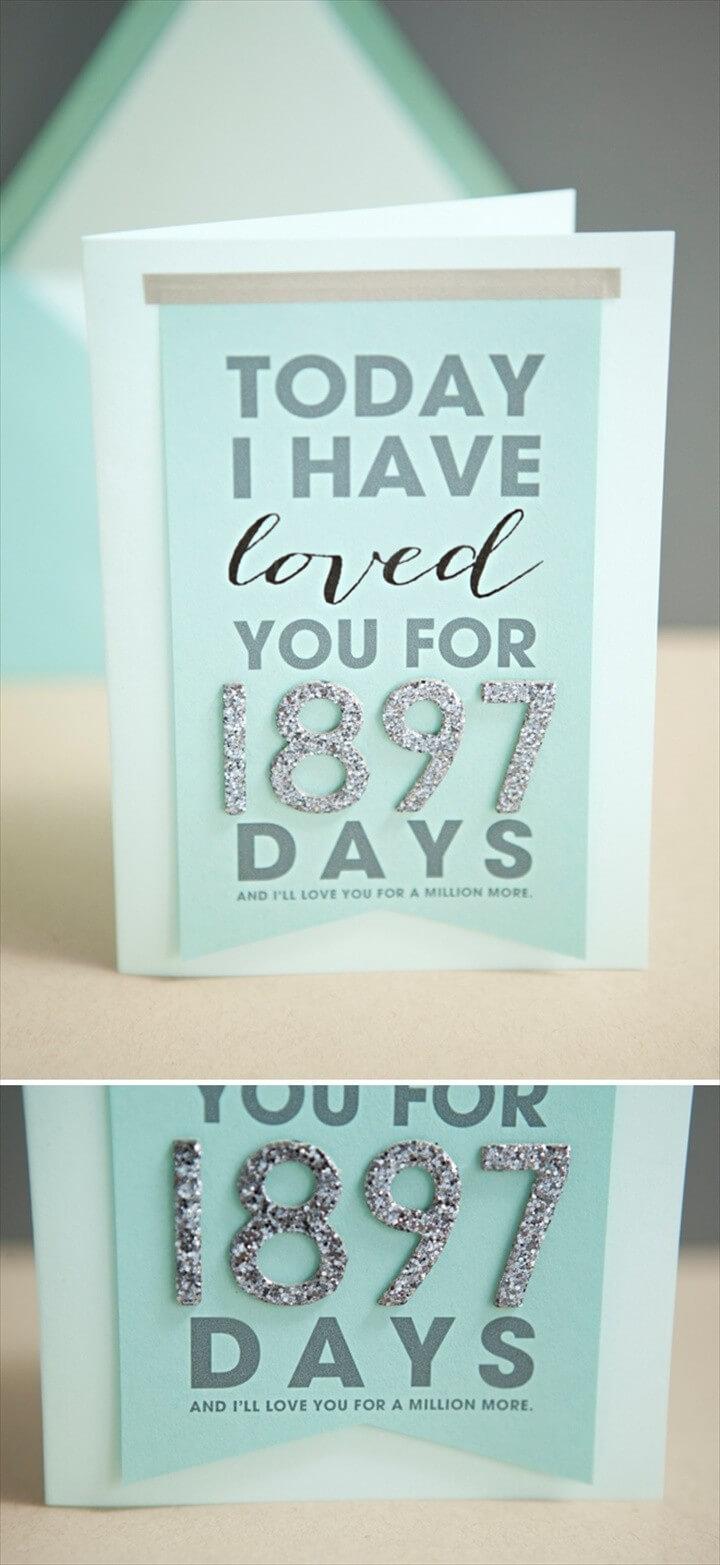 Bring back the tradition of giving out cards to each other on happy occasions. So at your next anniversary, you can make this pretty today I have loved you for a card for your partner. The pretty card is easy to make and decorate with cardstock, stickers, and glitter. Also, you have to turn the years into days to write on the card.
Tutorial: somethingturquoise
50th Anniversary Marquee Love: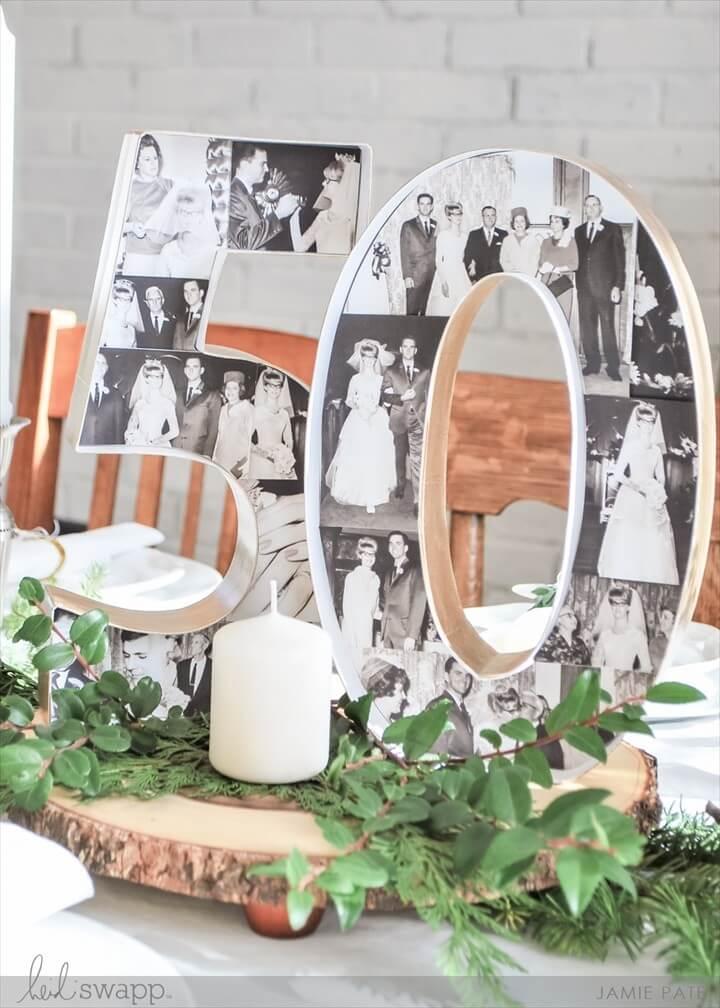 If your parents are celebrating their 50th anniversary then make them this lovely 5oth anniversary marquee love. The wooden sign is decorated with all the years collected pictures and looks just so stunning as table décor. This would be a pretty gift from you to the couple. Check out details here!
Tutorial: heidiswapp
Anniversary Gifts for Him: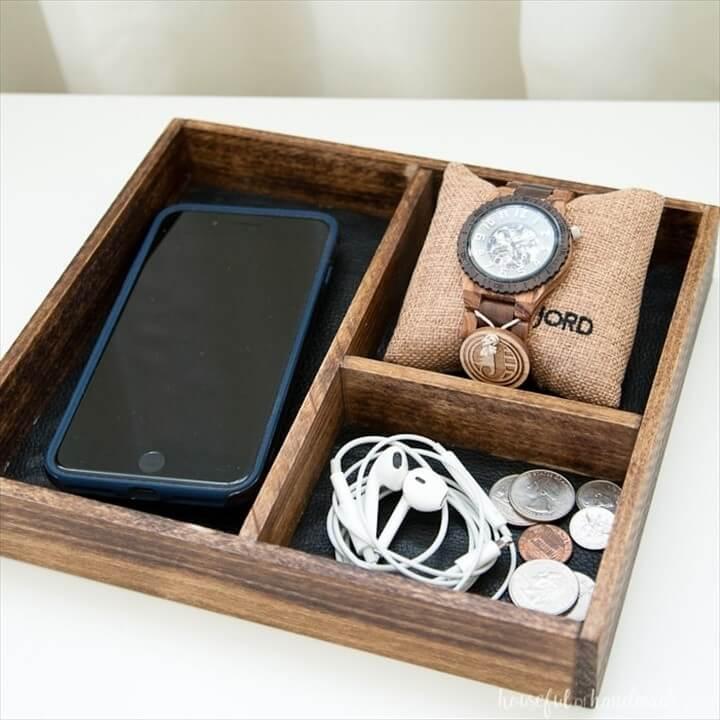 If your husband is not so organized then here is the perfect anniversary gift for him this time. You can create a wooden box with sections to create the best gift for him. Keep a phone in one section, his earphones and coins in other and a lovely watch in the third section would complete the gift.
Tutorial: housefulofhandmade
Chocolate Bouquet: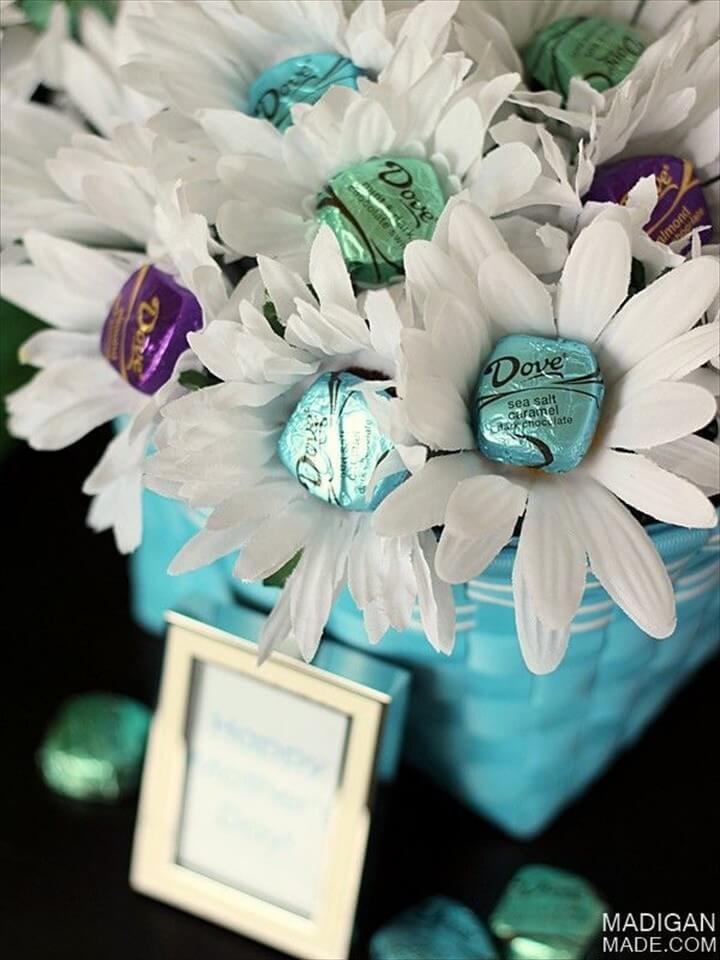 For the anniversary of your mom and dad, you can make this chocolate bouquet. Take the flower baskets and add the yummy chocolate candies to the center of this basket's flowers. Along with this chocolate bouquet, you can make some cute little frames with lovely quotes for the mom and dad. Details here!
Tutorial: rosyscription
DIY Copper And White Succulent Planters: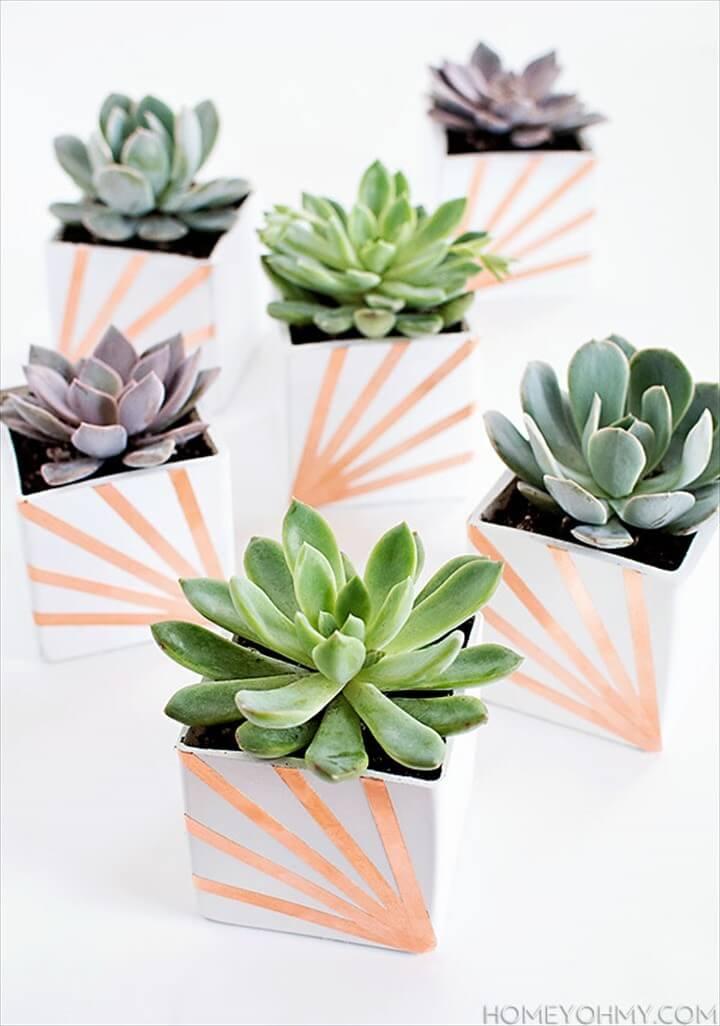 What can be a pretty gift for a plant lover than these DIY copper and white succulent planters? So take the square planters and plant the cute succulents in them. Paint the planter pot and then add the copper foil on it. These adorable and decorative succulent planters are the best things to make as the anniversary gifts.
Tutorial: homeyohmy
DIY Date Night Lottery Tin: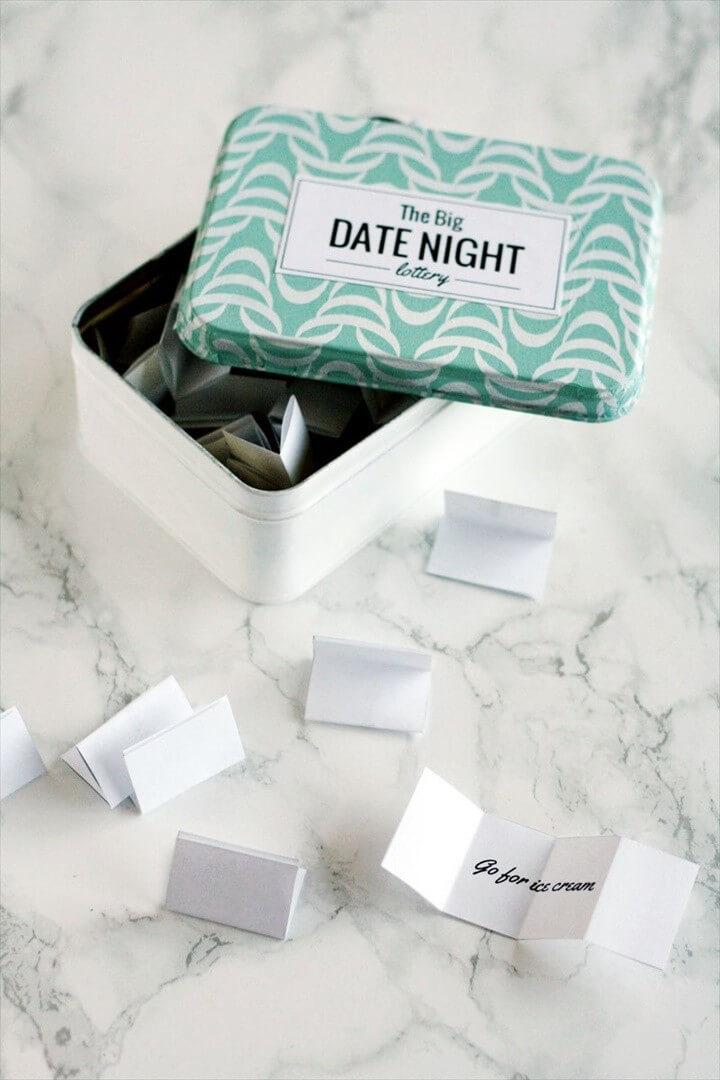 Make your anniversary super special with this idea of date night lottery tin. You need a simple tin box for the purpose and then paint it to make it look like a DIY gift. Then print out the label of the Date Night Lottery to glue on the tin lid. Lastly, print out a bunch of the tasks and then twice fold them to put in the jar. This is a fun gift idea for the anniversary and valentine too
Tutorial: bywilma
DIY His & Her Mugs: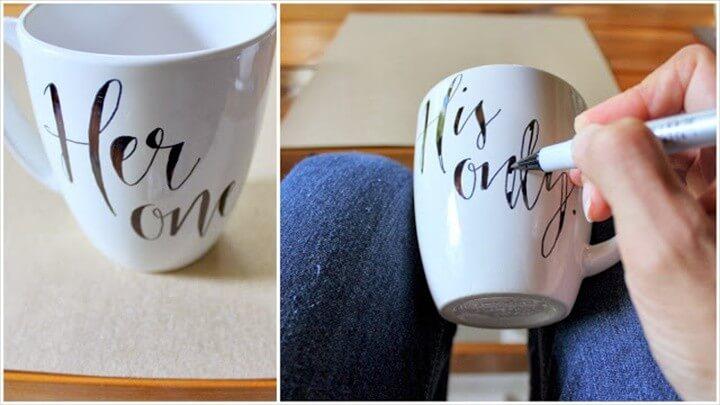 Make the best anniversary gifts for the lovely couples in the family or friends with this idea of DIY His and Her mugs. Just get your hands on the pebeo porcelain 150 pens to draw some cute couple sayings and quotes on the mugs and bake them in the oven. You can customize them with your own favorite words and sayings.
Tutorial: dreamstateinspiration
DIY Rough Quartz Mirror Frame Tutorial: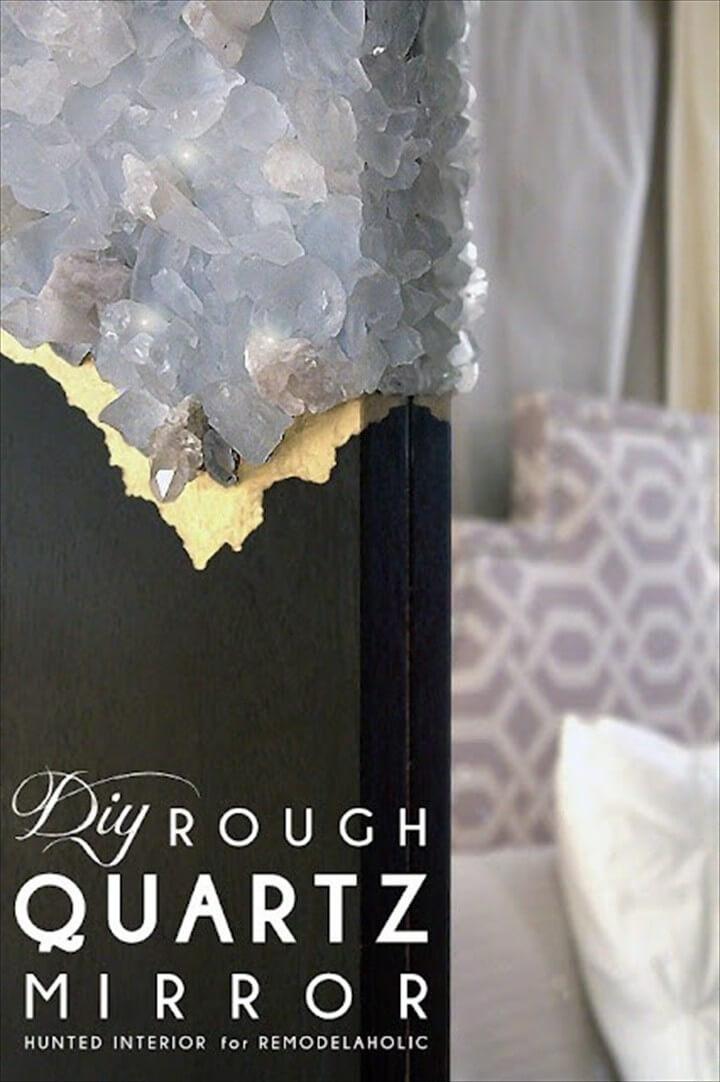 Make your favorite couples the best anniversary gift with this DIY rough quartz mirror frame. Just grab a pack of these rough quartz crystals and then decorate your lovely mirror frame with it. This pretty handmade rough quartz mirror frame is going to look so pretty and fun over the walls and tables.
Tutorial: remodelaholic
Pretty Lace Vase: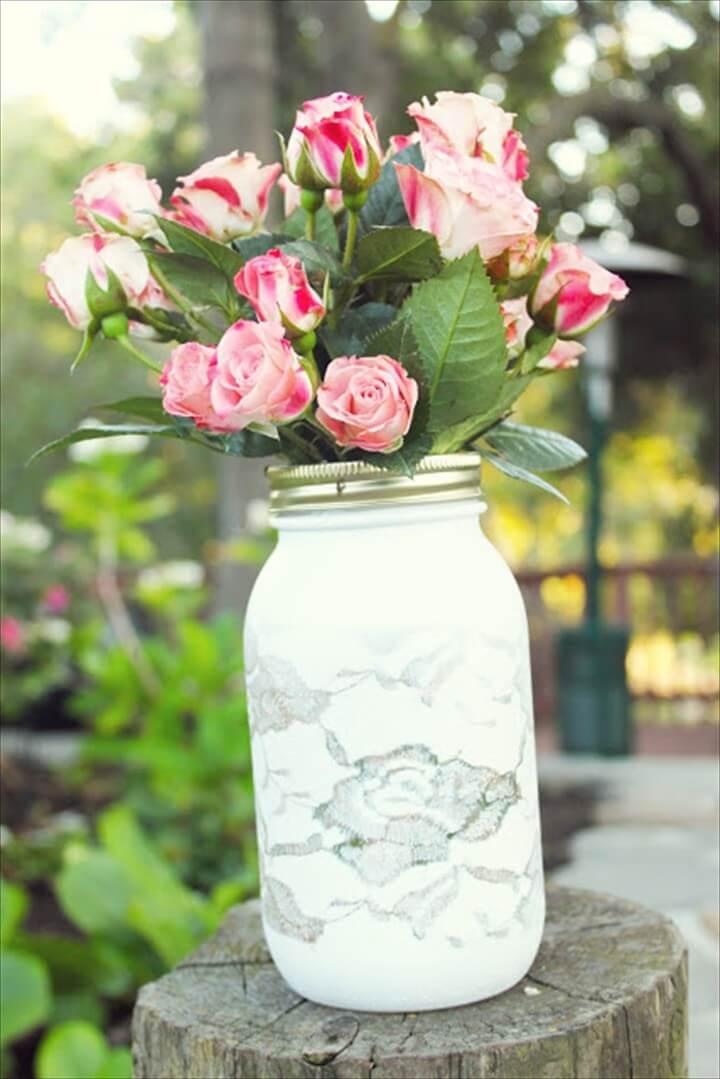 Make this lovely pretty lace vase and use it as the perfect gift for the anniversary of your friend. Take an empty mason jar and a piece of your favorite lace design. Put the lace on the jar and then spray paint it with your favorite hues and your pretty lace vase is ready to use as the gift.
Tutorial: michaelanoelledesigns
Spool Of Love: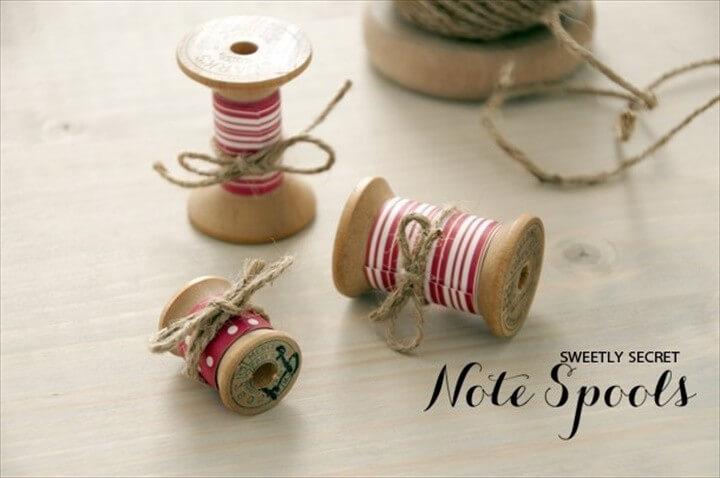 Here is another cute idea of showing love to your partner in the most adorable way. Get a bunch of the spools to create these lovely spools of love messages. Take the spools and wrap around them the love messages written on the patterned paper. Tie some jute twine on each for a decorative look. Once these spools are ready, hide them here and there and let your hubby find, read and smile. Details here!
Tutorial: earnesthomeco
$0 Anniversary Gift: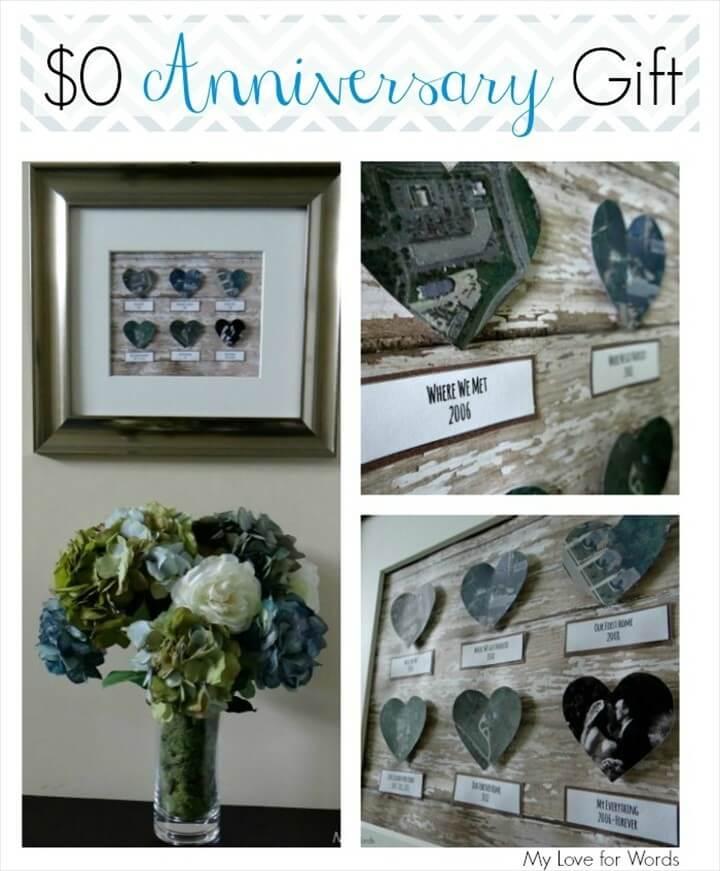 Instead of buying something this year, you should make something special to celebrate your anniversary. Here is the idea of a 0 dollar anniversary gift to make and cherish together. This is a frame with cardstock hearts having the printed map location of the places which are special for you both. Put these hearts on a frame and label the places with the reason for being special. Put this frame on the walls and the gift is ready.
Tutorial: happyorganizedlife
Anniversary Art: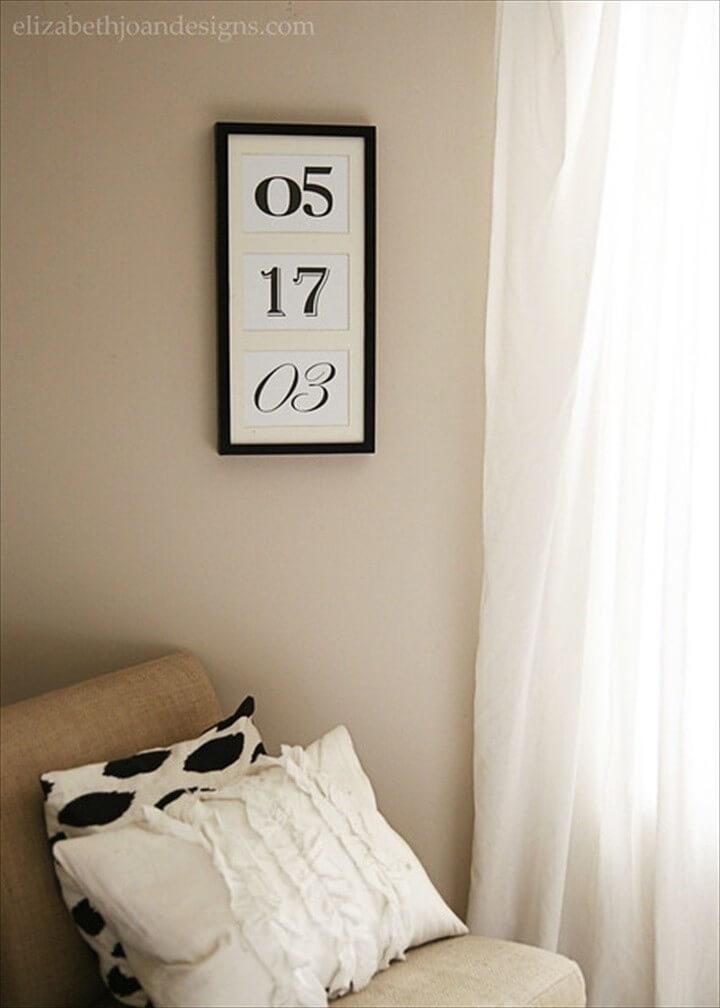 Make yourself this lovely anniversary art as a pretty gift for you and your hubby this year. Just print out the date of your wedding and frame it up and your anniversary art is ready. This is the best gift as it is not only emotional and special but also super decorative for your walls too. Check out more here!
Tutorial: elizabethjoandesigns
DIY Heart Map Art: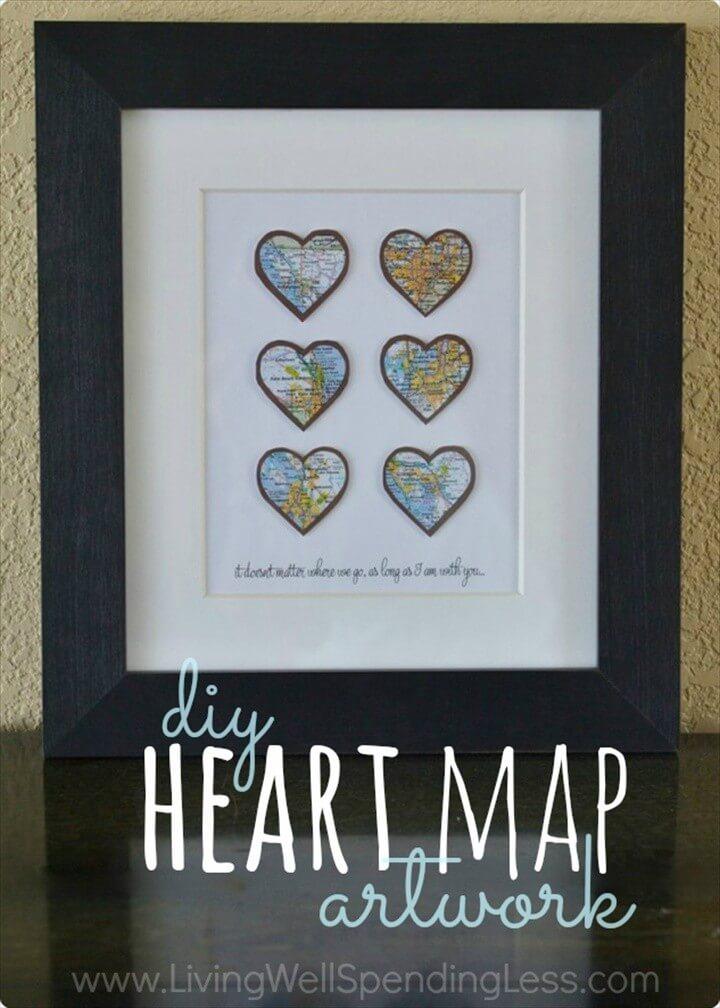 Make this lovely DIY heart map art as the best gift for you and your husband on your coming anniversary.  Trace the cute little hearts on the acid-free cardstock and then trace it on the location of the maps that you want to explore together. Lastly cut these hearts out from the cardstock and frame-up these three-layered hearts.
Tutorial: livingwellspendingless
DIY Valentine Logs: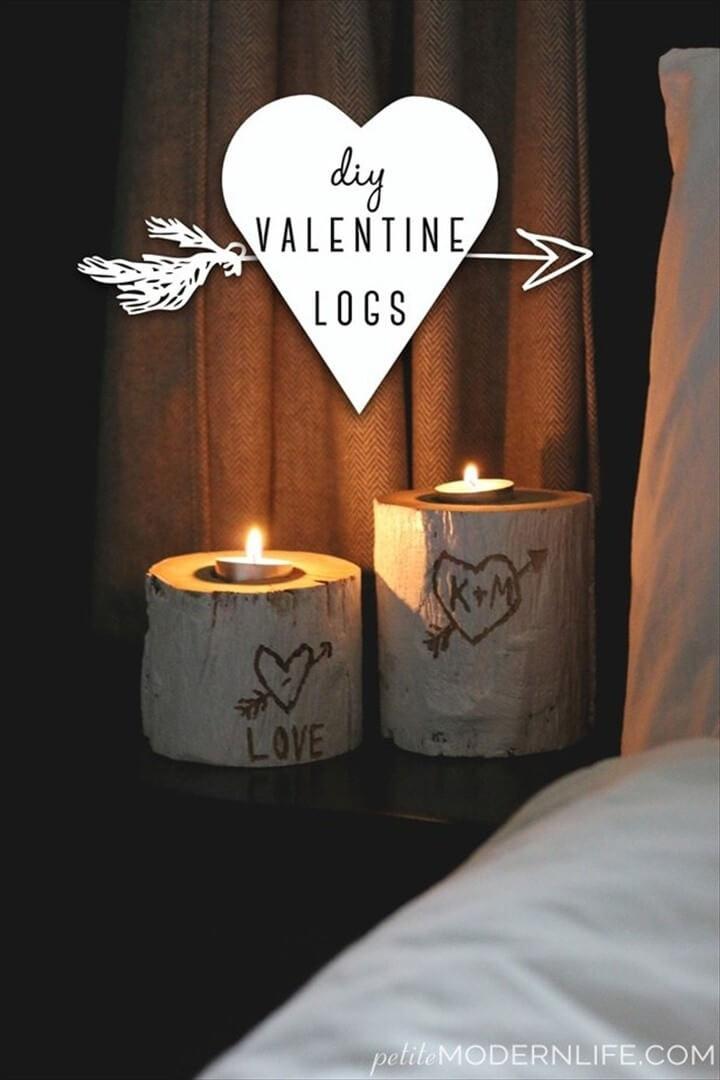 Celebrate your anniversary at home and make these DIY valentine log candles to add in the romantic vibes of your anniversary celebrations. Cut out wooden logs into the desired size with drilled holes on the top to hold the tea lights. Then carve the wood with hearts, the couple name, and some love-filled words. Not only for your own self but these valentine logs are the best gifts for the couples around you too.
Tutorial: petitemodernlife
Passport To Love And Travel Scrapbook Ideas: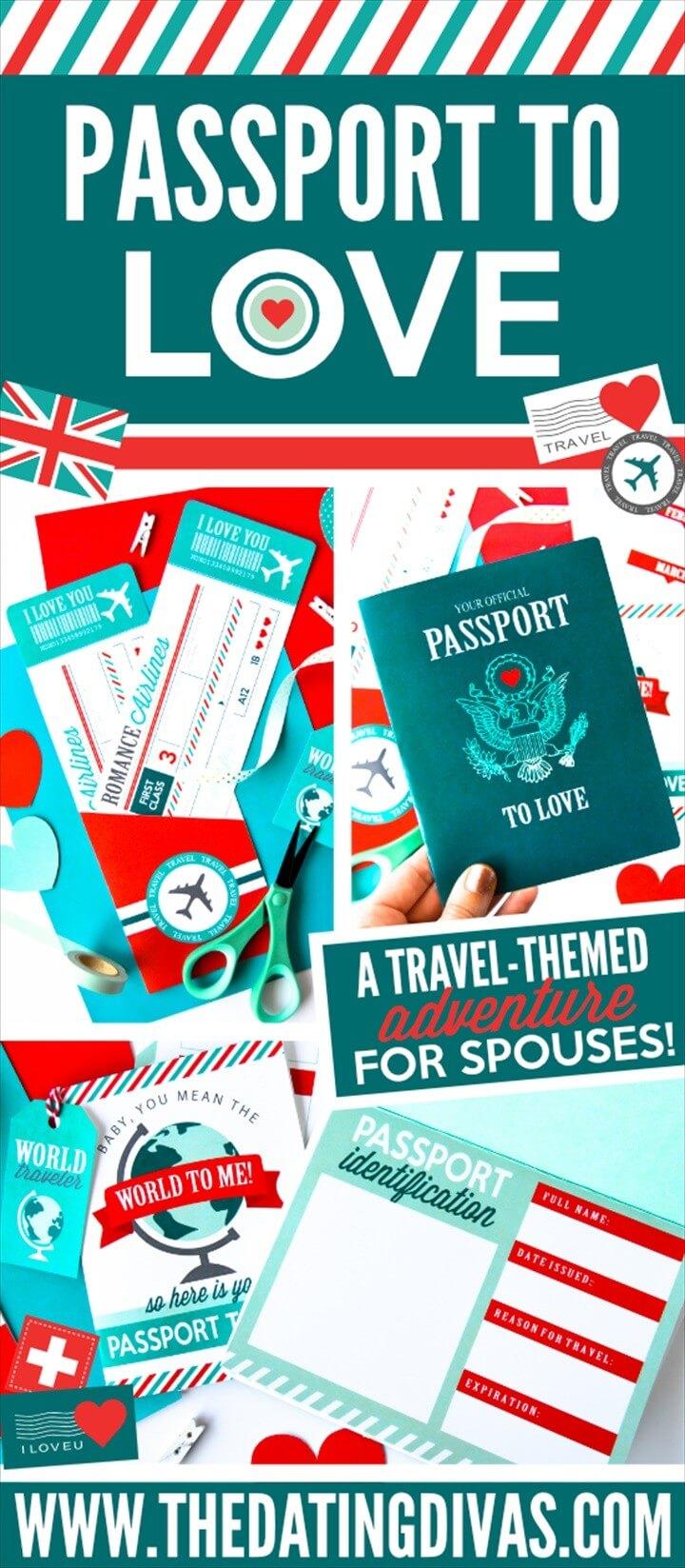 Every travel lover is going to fall in love with these passports to love and travel scrapbook ideas. Using colorful cardstock paper, passport stamps, and printable you can easily make this lovely passport to love and travel scrapbook with your favorite destinations. This makes a pretty gift idea for the anniversary of your own or anyone around.
Tutorial: thedatingdivas
Best DIY Anniversary Gift: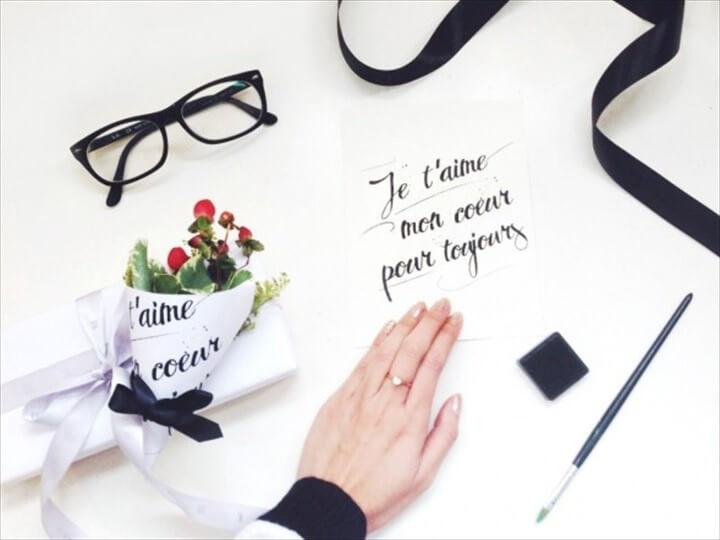 Now you can make the best DIY anniversary gift for your partner with this idea of the best DIY anniversary gift. This is a cute little handmade bouquet and the handmade card that is really going to win the heart of your partner. The bouquet is made out of the faux flowers and the vine leaves with a handmade bouquet cone. So print out the cards using your favorite anniversary quotes and create the instant and best gifts.
Tutorial: esperanza
DIY 40 Anniversary Gift: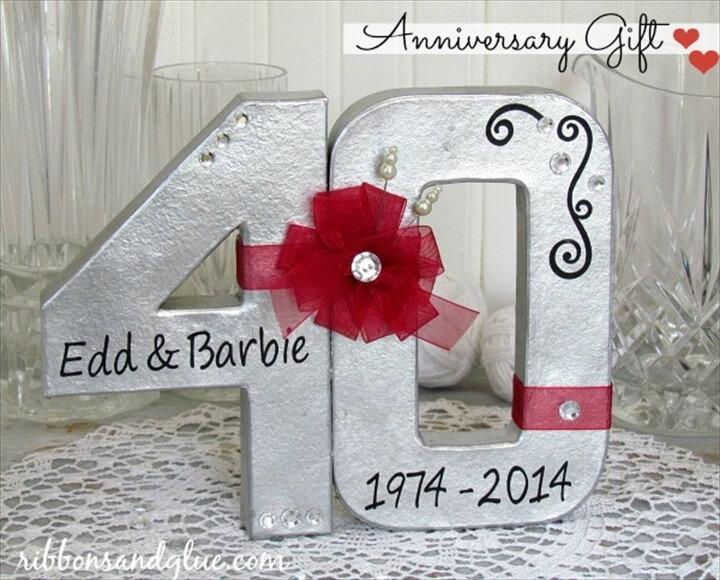 Get your hands on this idea of the DIY 40-anniversary gift to make for any couple reaching out to these milestones? Grab the number of the anniversary and spray paint it with your desired colors. Then write off these numbers with the markers with the wedding date to look more special. It would make a gift and the anniversary décor too.
Tutorial: thecountrychiccottage
DIY And Low-Cost Anniversary Gift Ideas: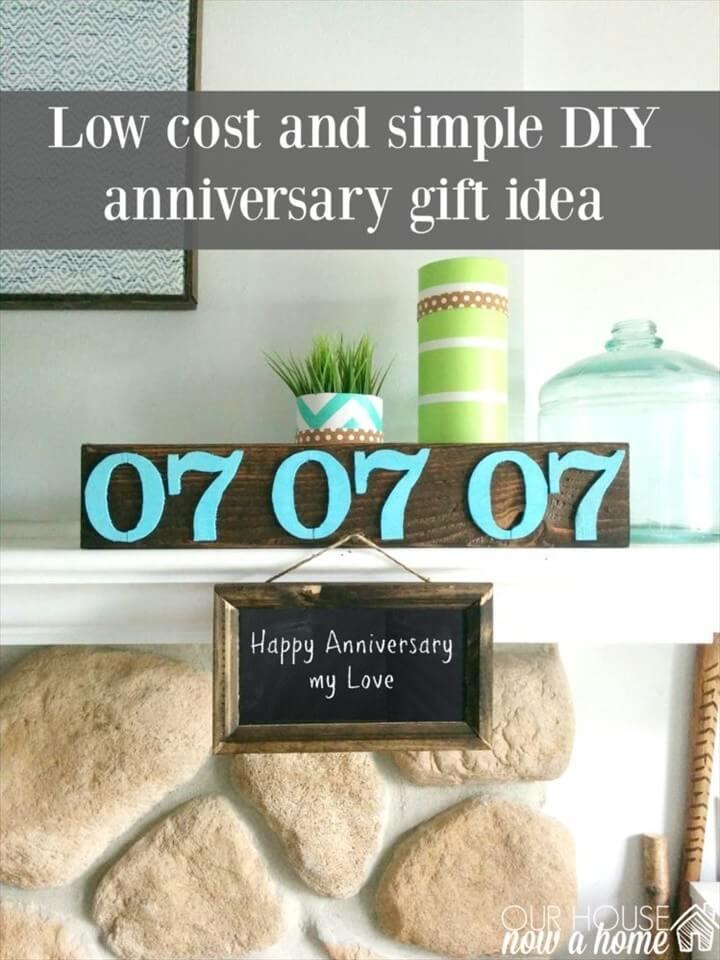 If you are looking for the low-cost anniversary gift ideas then here is the perfect plan for you to work on. Here is a wooden anniversary gift with a wooden slate with the wedding date and attached wooden slate with chalkboard paint. You can write Happy Anniversary of any other love quote while this gift is resting on your mantle.
Tutorial: ourhousenowahome
Anniversary Gift For My Husband: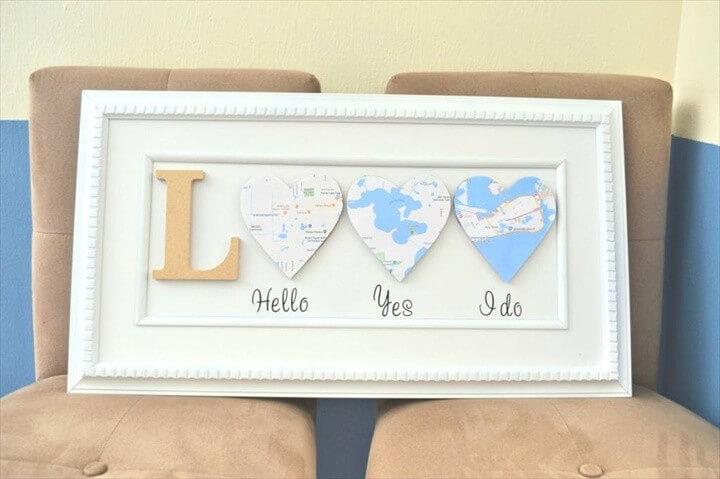 Here is another amazing idea for the anniversary gift for the partner. This is a lovely frame with LOVE and having the map pieces on the heart shapes with the special locations. The three hearts of the LOVE has places of the map, were first met, where purposed, and where the wedding happened. The Letter L with the three map hearts are attached to a frame and look just so gorgeous.
Tutorial: themrsinglink
DIY Anniversary Gift For Parents: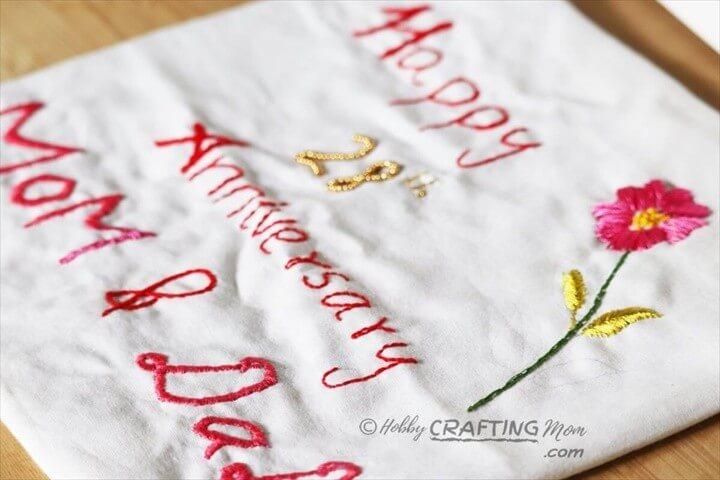 wish your mom and dad the best anniversary with this lovely handmade gift. Simple cotton cloth has been embroidered with a lovely happy anniversary wish with colorful yarn hues. First of all, trace your wish on the cloth and then do your embroidery work. Not only for parents but this idea can work for every couple around.
Tutorial: hobbycraftingmom
DIY Anniversary Gifts: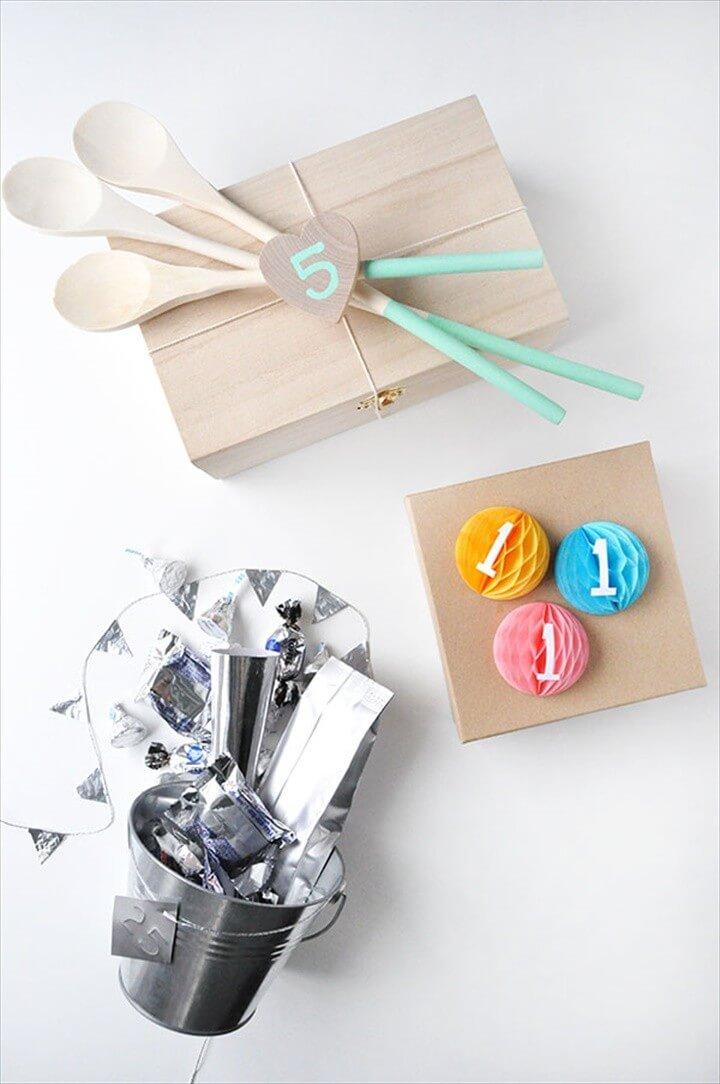 If you are a person who prefers the DIY gifts then here is the best anniversary gift for you to work on. This gorgeous anniversary gift is made with the three unique and fun materials like wood, silver, and the paper and has turned out so gorgeous. You can easily hack this gift idea so grab the details here!
Tutorial: ohhappyday
Wedding Anniversary Gift: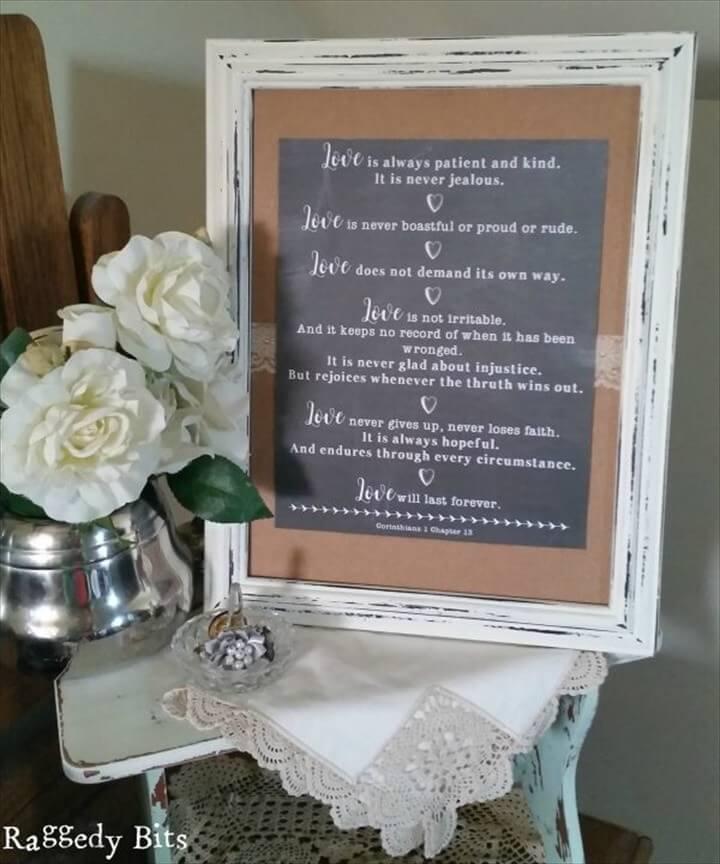 Using an A4 white card, Pic Monkey, and the wooden frame you can easily make this heartfelt and adorable wedding anniversary gift. You can use your favorite quotes and saying while creating this gift and even can write up your own poem. This lovely frame would make a cute display on your walls or tables even after the anniversary.
Tutorial: raggedy-bits
How to Make Embroidered Felt Gift Tags: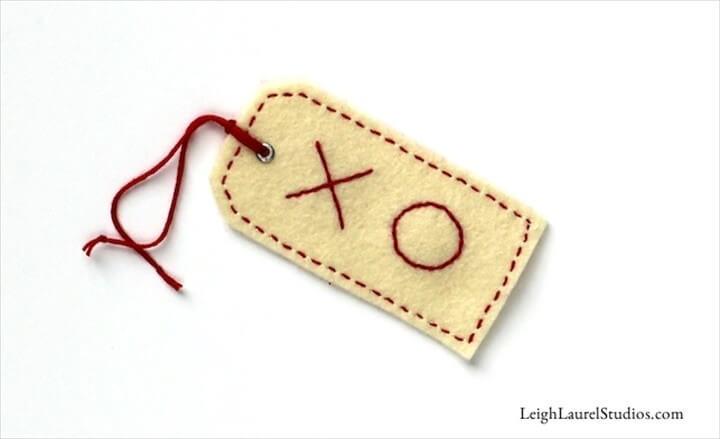 Not only gifts but you can make your own custom gift tags to add more value to the gifts. Here is the easy idea of making this embroidery felt gift tag in an easy and fun way. Cut out a piece of felt in the shape of the gift tag with a hole to get it tied. Then get the contrasting color of yarn to create some lovely embroidery impression on it. More details here!
Tutorial: leighlaurelstudios