Since donuts are most people's favorite dessert, we have come up with some exciting and unique 15 DIY Donuts Craft Ideas. The appearance of this dessert is so tempting; the doughnut inspired crafts are so amazing and attractive.
The first idea that we have here is a DIY doughnut piñata which is huge in size and can be easily made. What about giving a doughnut touch to your outfit? So here is a doughnut collar idea where the collar has been specially designed keeping the colors in mind. You can also do a makeover of your sunglasses with a doughnut inspired theme like you can see over here. Next is a doughnut beach umbrella also done in doughnut inspired colors and themes? You can also try to make some doughnut style balloons which will surely be loved by the kids at the home. You can do this project when there is a party at your home.
Next is a doughnut nail art idea where the nails are decorated keeping in mind the doughnut decoration. Here are some doughnut pumpkins which can also be made very easily by following a simple technique. Also, you can find here the technique and process of making a doughnut soap which is so amazing that you cannot resist trying. Besides this, you can also decorate your walls according to a doughnut inspired theme. Next here is a doughnut felt sheet sunglasses cover. Next are some doughnut friendship necklaces, doughnut inspired bouquet, doughnut soft boards, and a doughnut inspired outfit.
Don does not forget to try any of these super easy ideas this summer as all of them are exciting and inspired by one of the favorite desserts of all time.
Donut Pinata: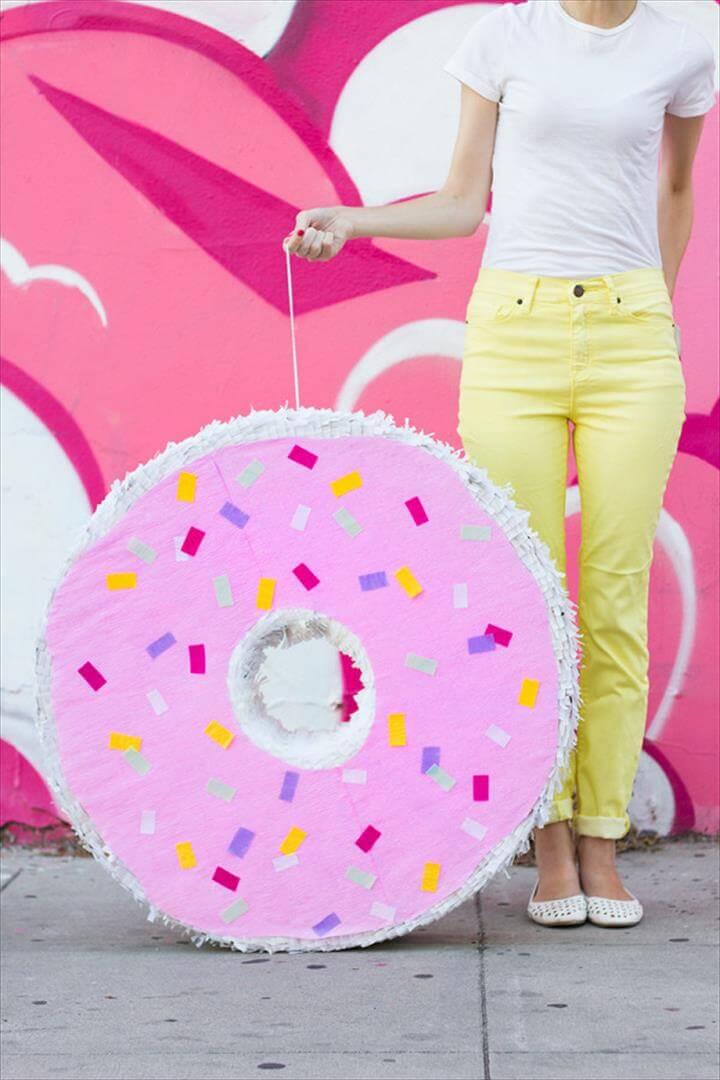 Make your kid's birthday party super fun with this adorable and cute donut piñata. You can work up the whole birthday theme with donut or you can simply make just the donut piñata. This donut piñata is made out of the cardboard, crepe papers of a variety of colors, and some basic crafty tools.
Image: studiodiy
Dount Collar: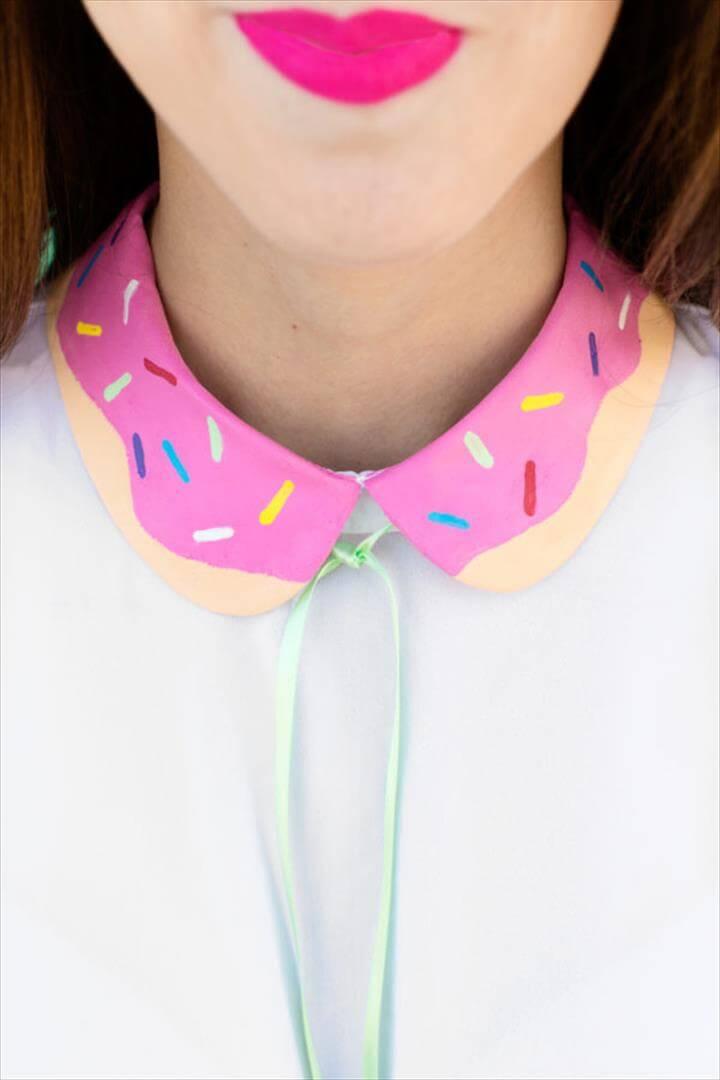 Using the fabric paint in the donut colors you can spice up a simple and plain t-shirt of yours with this donut collar idea. This donut collar would be a great party to wear to your pool and beach parties. This would be a cool DIY project for the little ones to award a funky makeover to the old tees and tanks.
Image: studiodiy
Donut Sunglass: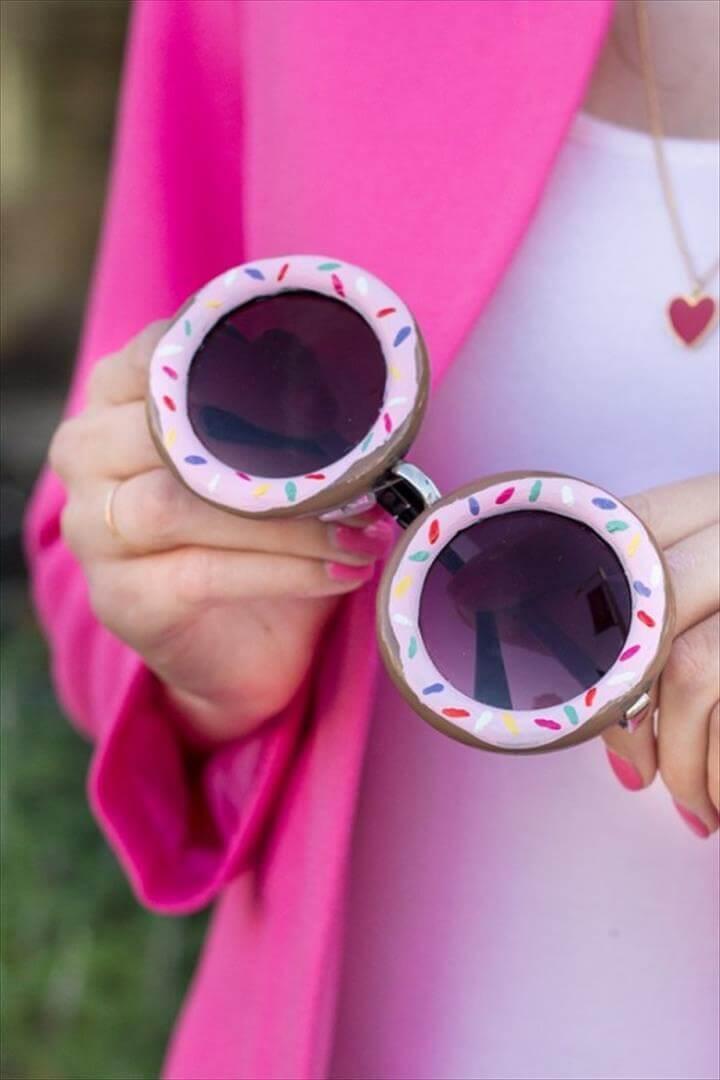 If you are no more using your sunglasses then turn them into these funky and adorable donut sunglasses. The lovely donut sunglasses would instantly make you look rocking. Just grab some colorful nail polishes and paint them like the donuts with the lovely colorful sprinkles and look just fun.
Image: studiodiy
Donut Beach Umbrella: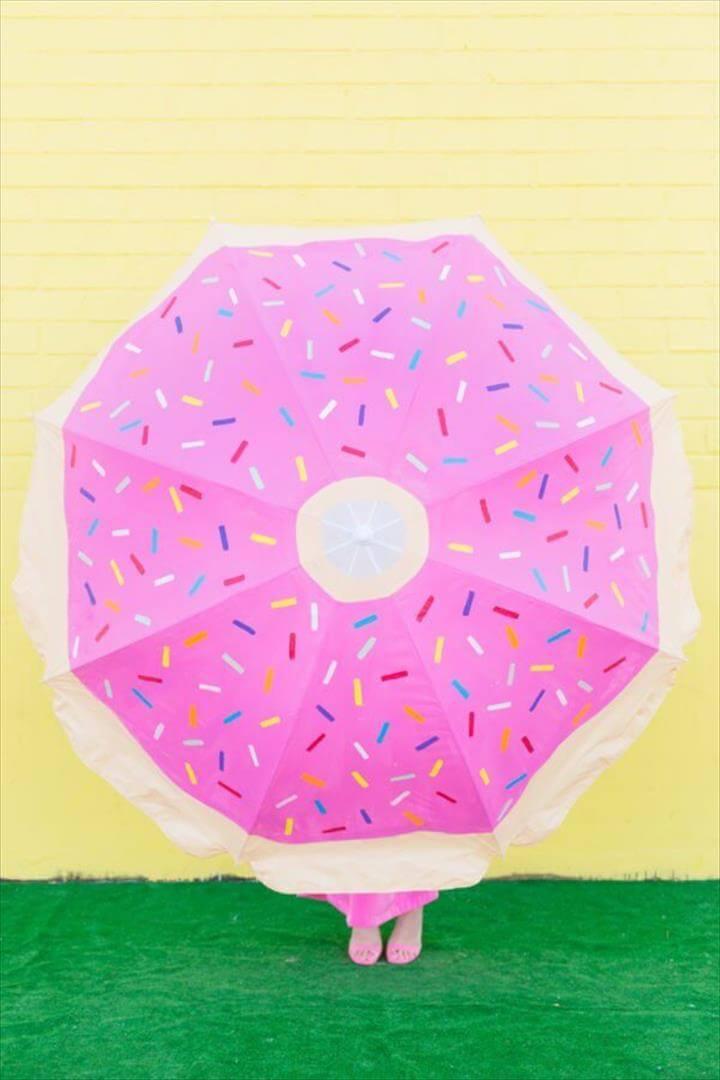 Make your beach trips funkier and cool with this donut umbrella. This quirky and cool donut beach umbrella is going to add so much fun and happy vibes to your beach visits. You need a beach umbrella, fabric paint, and brushes of multiple sizes to make this lovely and totally eye-catching beach umbrella.
Image: studiodiy
DIY Donut Balloons

: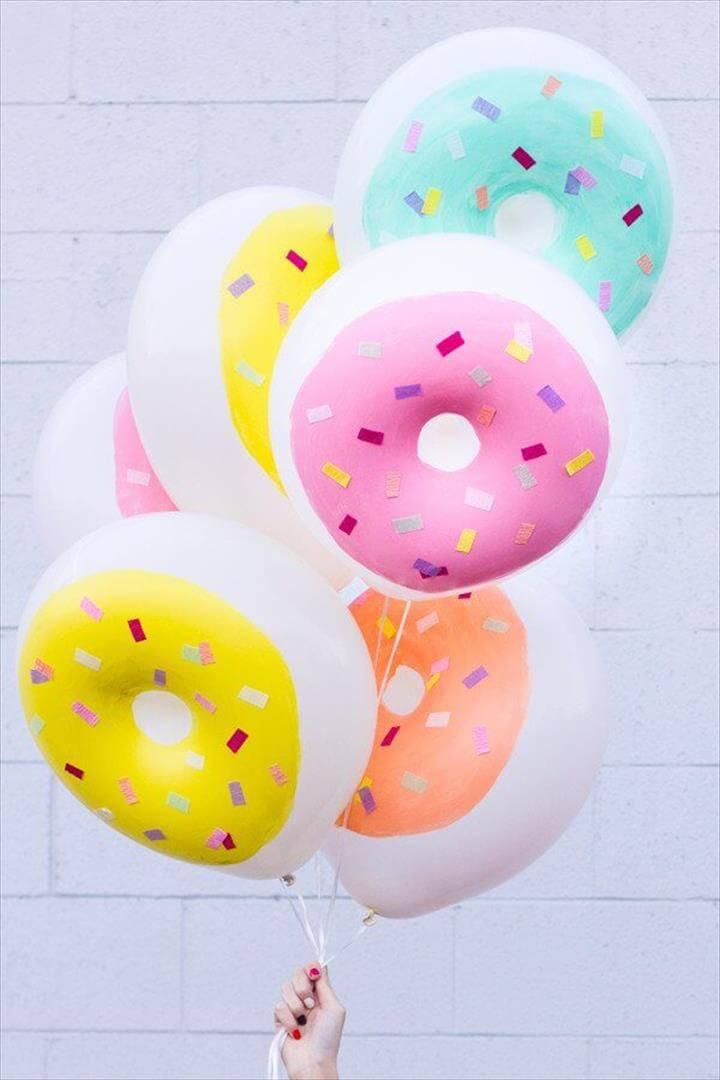 Bring some yummy donut fun to your summer parties or the kid's birthday bash with these DIY donut balloons. The lovely simple donut balloons are painted first and then glued with the colorful crepe paper cut sprinkle to look just super tempting and sweet as the donuts. Kids are really going to love these balloons.
Image: studiodiy
Donut Nail Art

: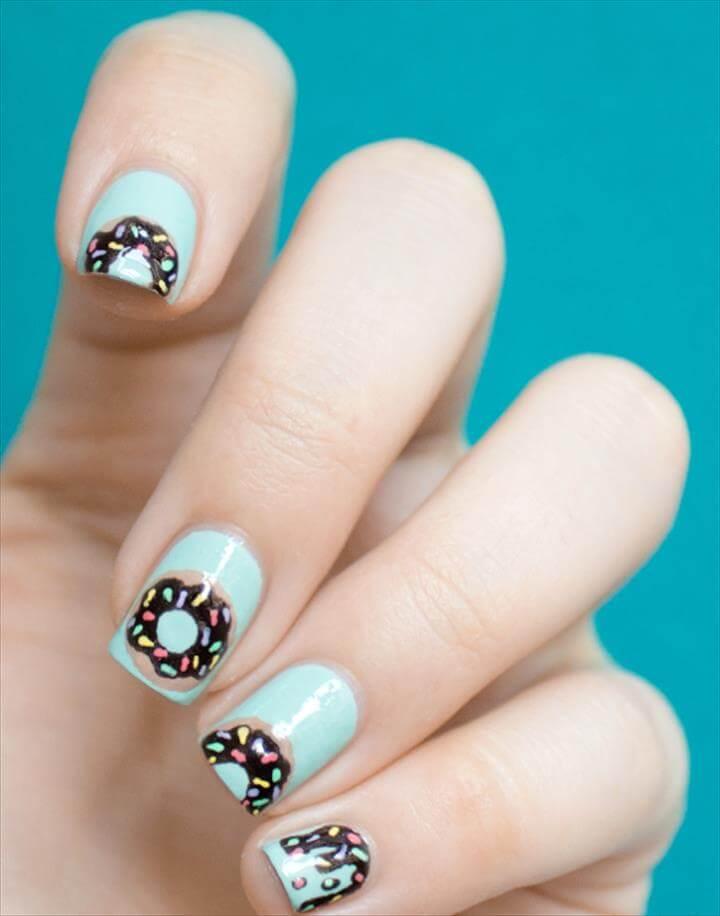 Nail art is quite an in trend these days and here is these donuts nail art to funk up your summer nail fun. Either you are just getting bored at home or you are just prepping up for a fun summer party, these donut nails are really going to funk up your look. These donut nails are going to complement each dress.
Image: youtube
Donut Pumpkins

: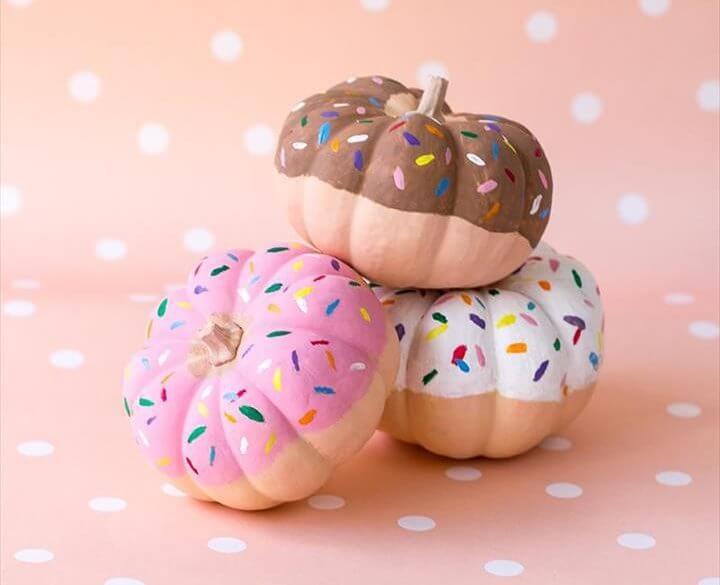 Bring some chic and colorful fun to your summer table décor with these adorable and cute donut pumpkins. You need acrylic paint colors of three types to make these super fun looking donut pumpkins. Use one color for the base, one for the frosting, and a bunch of the colors for the sprinkle.
Image: studiodiy
Watermelon Donuts For Summer

: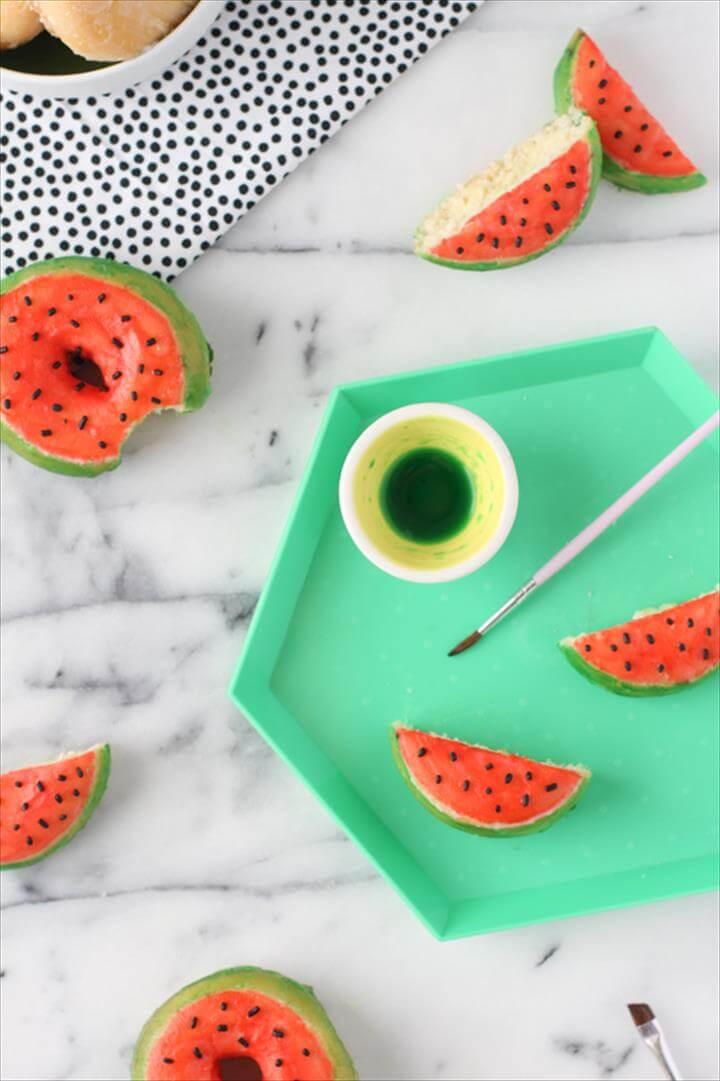 Here is a kind of craft that you are going to have so much fun making. Yes, these watermelon donuts are perfect for the summer delights. The real donuts have been painted like the watermelons using the gel food colors in green, red, and black. So confuse your guests with these watermelon donuts in the serving tray.
Image: papernstitchblog
Sprinkled Donut Soap

: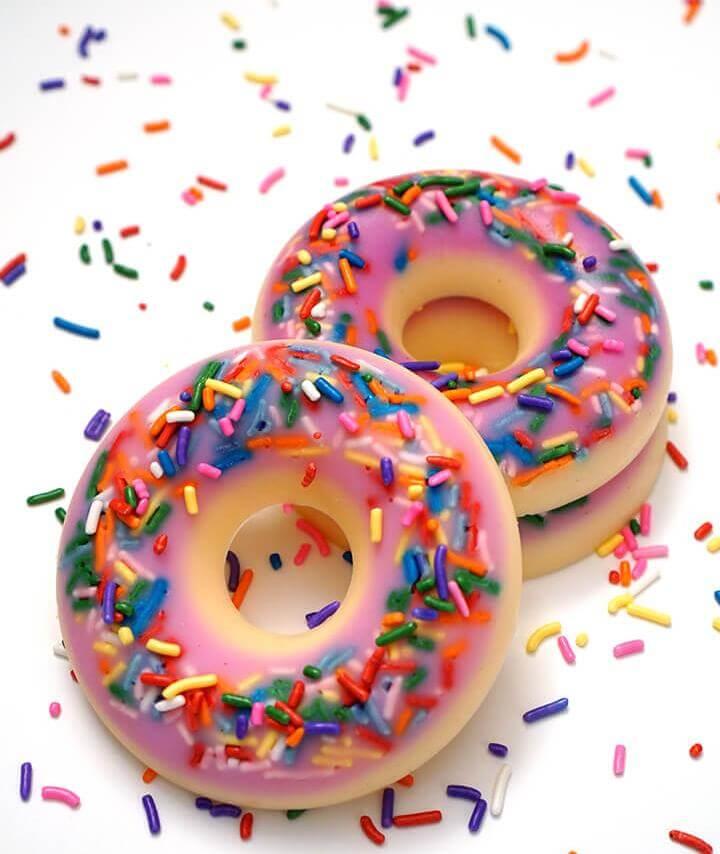 We love making soaps as the gifts around the holidays and now you can make them in the most awesome and cute shapes of these sprinkled donuts. So you need a gel-based soap, fragrance oil, rainbow sprinkle and the donut molds to make these tempting and eatable looking sprinkled donut soap.
Image: happinessishomemade.net
Felt Doughnut Sunglasses Case

: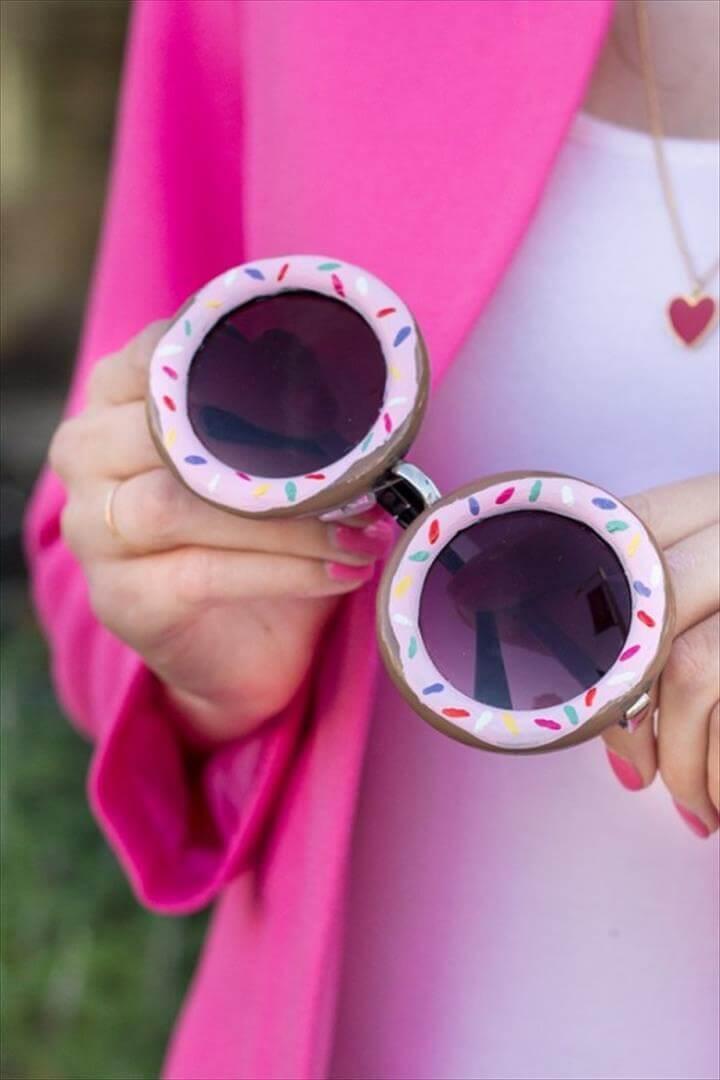 You can make these lovely felt doughnut sunglasses case to put some fun twist to the sunglass safety. Using the colorful felt pieces, you can easily cut and sew up these adorable felt doughnut sunglasses cases. You can make a bunch of them use as the perfect gifts for the family and the friends around.
Image: akailochiclife
Donut Wall Decor: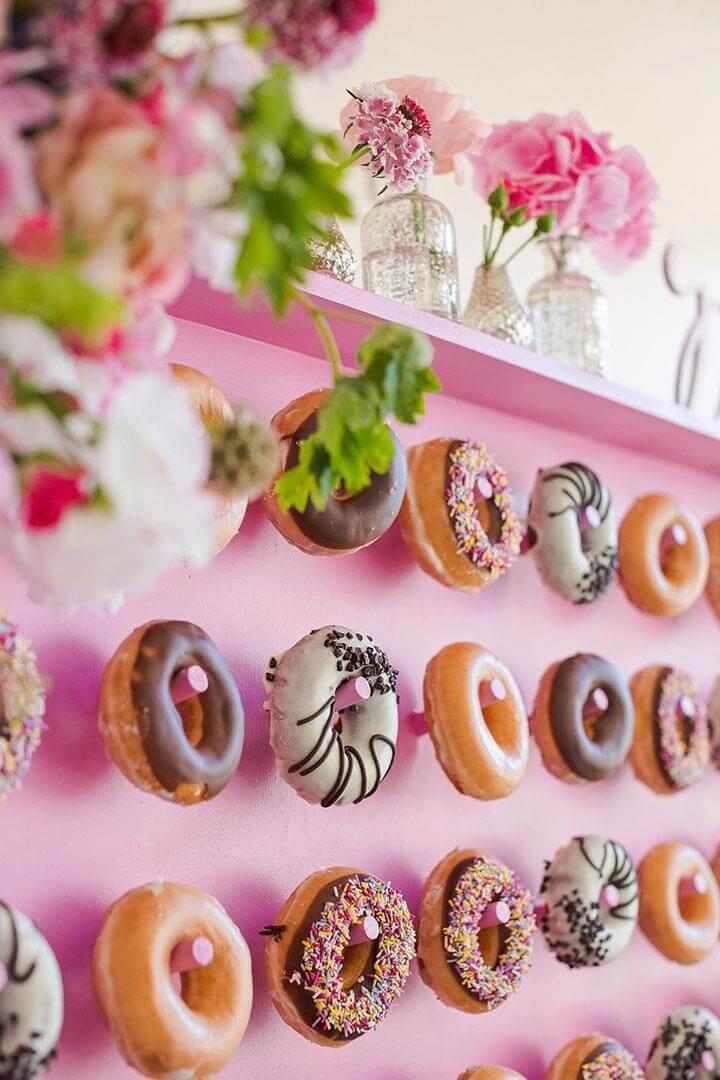 Celebrate the donut day with this lovely donut wall décor art and you would love it. So make some yummy and delicious donuts and hang them on the wall to let your kids and family members choose their favorite donuts and eat from. This delicious and lucrative donut wall art is going to look so amazing and fun on the walls.
Image: moncheribridals
Donut Friendship Necklaces Outfits

: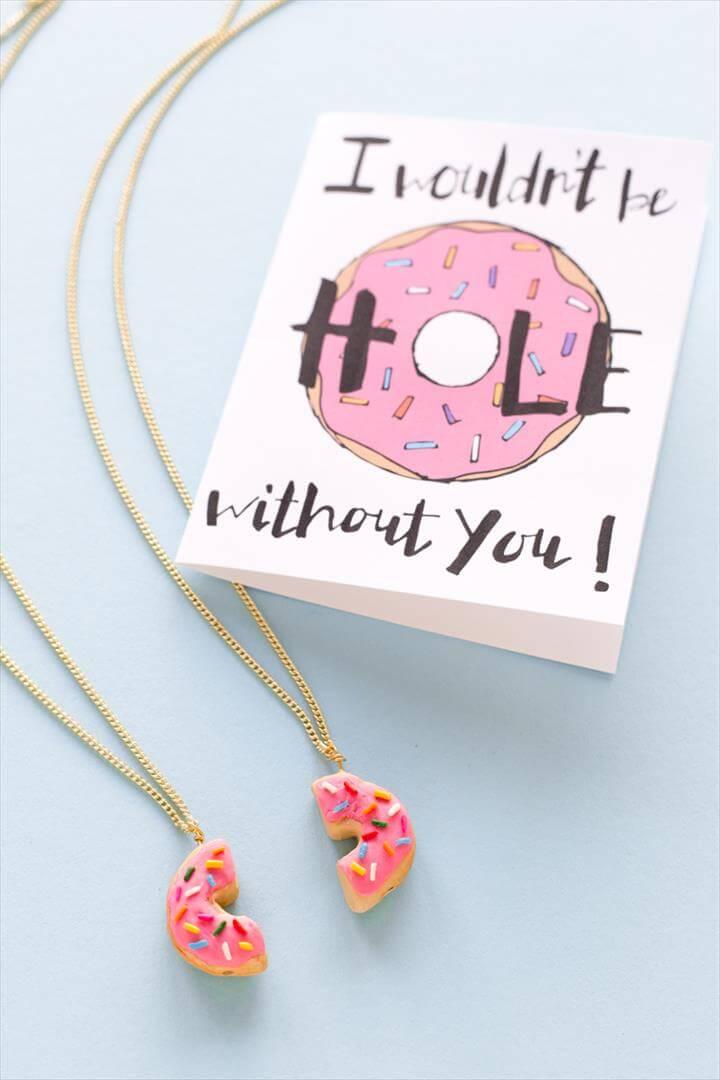 This is the time to make the most unique and fun gifts for each other. So either it is your partner's birthday or you are celebrating valentine you can make these adorable donut friendship necklaces for both. Just get some clay and paint to make the donut, cut into halves and then chain them up.
Image: linesacross
Donut Bulletin Board

: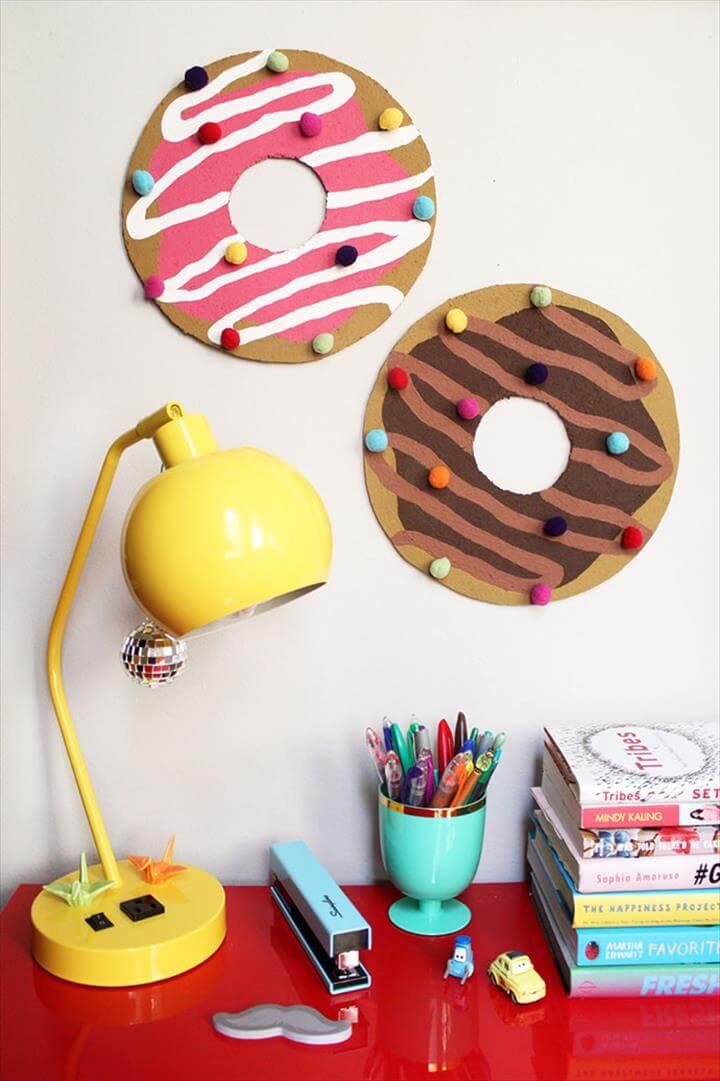 It's time to bring some fun and excitement to the study room with this colorful and cute donut bulletin board. You need a round corkboard, a lot of crafty paint and the colorfully cute pom pom push pins to make these lovely and enchanting donut bulletin boards. They are instantly going to stun up your walls.
Image: paintthegownred
Donut Bouquet

: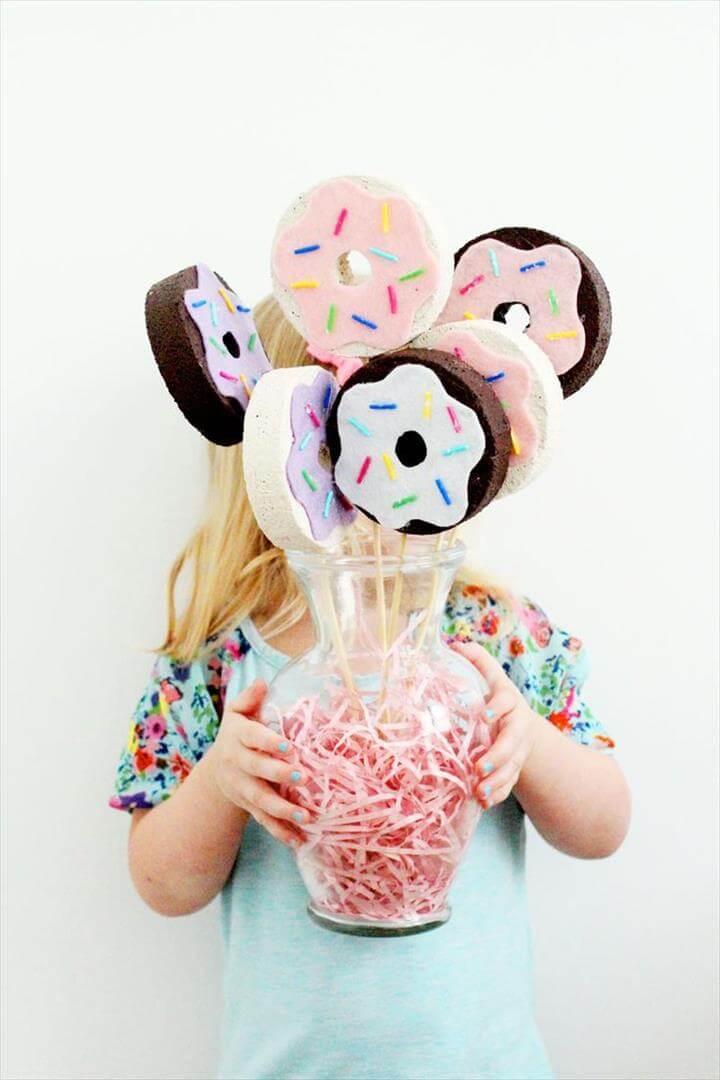 If you are looking for a good and cheap gift idea for your parents or either your kids then making these donut bouquets is the best thing to make. To make this cute and colorful looking donut bouquet and get them in a jar and your gift is ready. You can easily and instantly make this cute donut bouquet at home.
Image: eastcoastmommyblog
Coffee & Donut Costume

: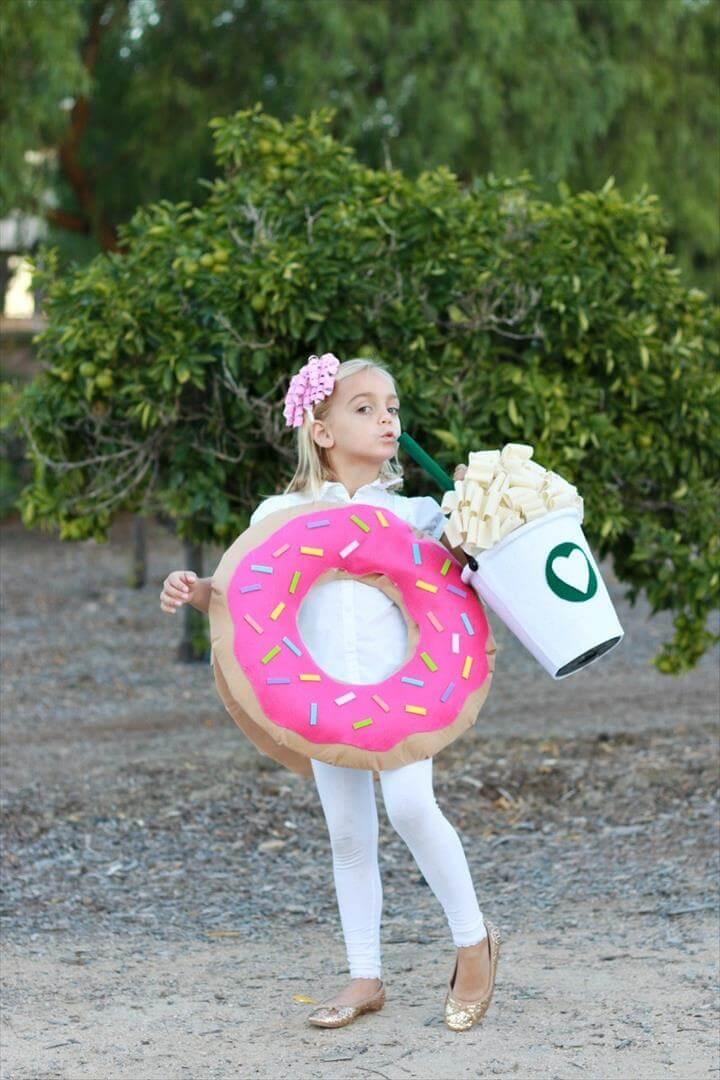 If there is a costume party and your kids want something fun and unique then making this coffee and donut costume for them would be the best. You need some colorful tan felt, foam felt and sheets to make this super awesome and cute coffee and donut costume. Your kids are going to love this awesome costume,
Image: athoughtfulplaceblog