This one is for all the watermelon lovers out there. Be ready to see some of the most exciting projects with the watermelon theme. Here you will see 20 DIY Watermelon Inspired Project & Ideas inspired that you will definitely want to try these. All of them are so unbelievable that you might never have thought of making or trying them. Have a look at this watermelon pinata keepsake which is so easy unlike its name. Amaze yourself with this watermelon flower centerpiece as its too cool not to try.
These are watermelon wedges which are prettier than you may think. If you are about to plan a birthday party in the near future, and you are confused about the theme, why not do a watermelon theme? So grab some crafting materials and make watermelon themed DIY hats for the party and let the kids enjoy to their fullest. This is a stamped watermelon door mat which can be done easily and it's cheap method. Why not print some of the napkins with the same stamps. They look so fresh and summer friendly. Make some paper watermelon fans also as shown in the picture by following simple instructions in no time.
These are DIY fragrant watermelon candles which are exactly as amazing as they seem to be. Are you a baking fan like me? Try this DIY watermelon themed cake for the family this weekend and get a whole lot of appreciation from everyone. These are the watermelon drink stirrers. And after these, you can see the watermelon mason jars which are seriously a made for summer deal. Enjoy wearing some cool watermelon bags as well. These serving trays are one of our favorite DIY watermelon inspired project. These are pretty watermelon doily garland for decoration purposes or a themed party. Also for the theme party you can make these super easy watermelon paper plate purses. Last but not the least this is a watermelon clock which you can make at home easily by putting a little bit of effort and going a little extra mile in your creativity.
Use all your creative skills that you have to follow your creative dreams and make them come true. Play with all the crafting materials you have in the world and try something new every time. Get latest ideas from the links that we have shared over here.
Mini Watermelon Pinata Keepsake: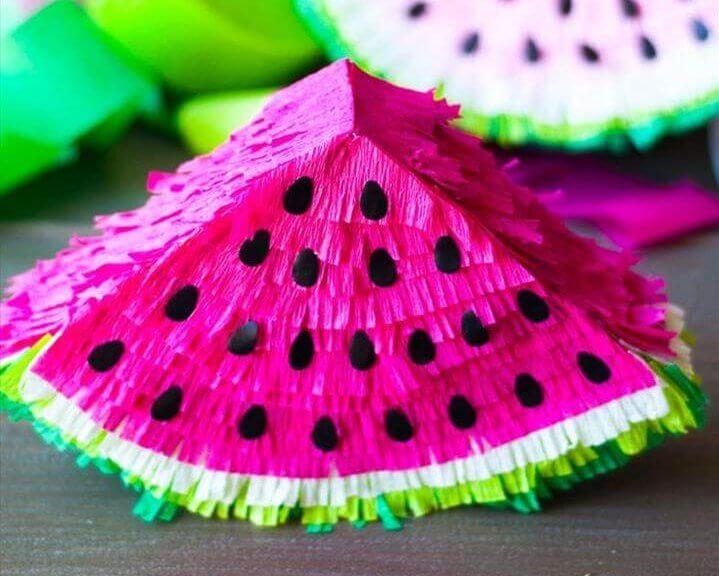 There are so many fun themes to work for a birthday celebration when it is happening in summer. Here is the idea of making this lovely mini watermelon piñata keepsake. The cute watermelon piñata is perfect for a summer party and kids would love it so much. Learn to make it from the link here!
Image: orientaltrading
Watermelon Flower Centerpiece

: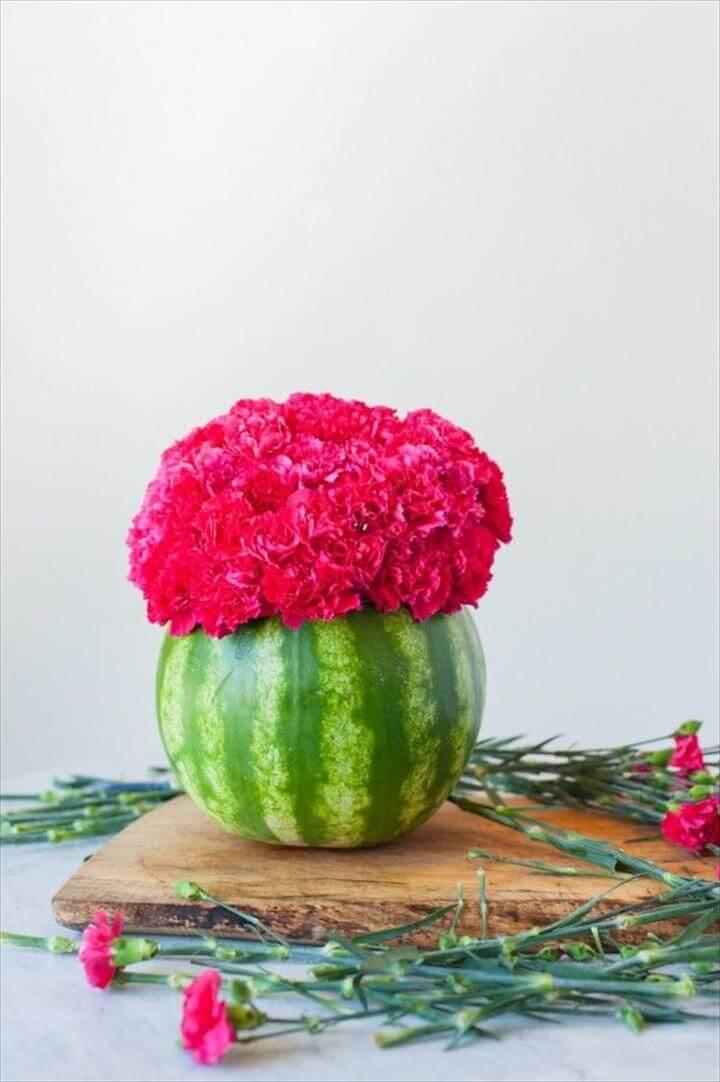 Work on the fun fruity themes when you need to work upon some decorative projects for the summer home. Here is this watermelon flower centerpiece for your tables to bring the cool summer vibes in the home décor. A round medium shaped watermelon has been emptied and used as the lovely centerpiece for the flower holding.
Image: thesweetestoccasion
Watermelon Wedges

: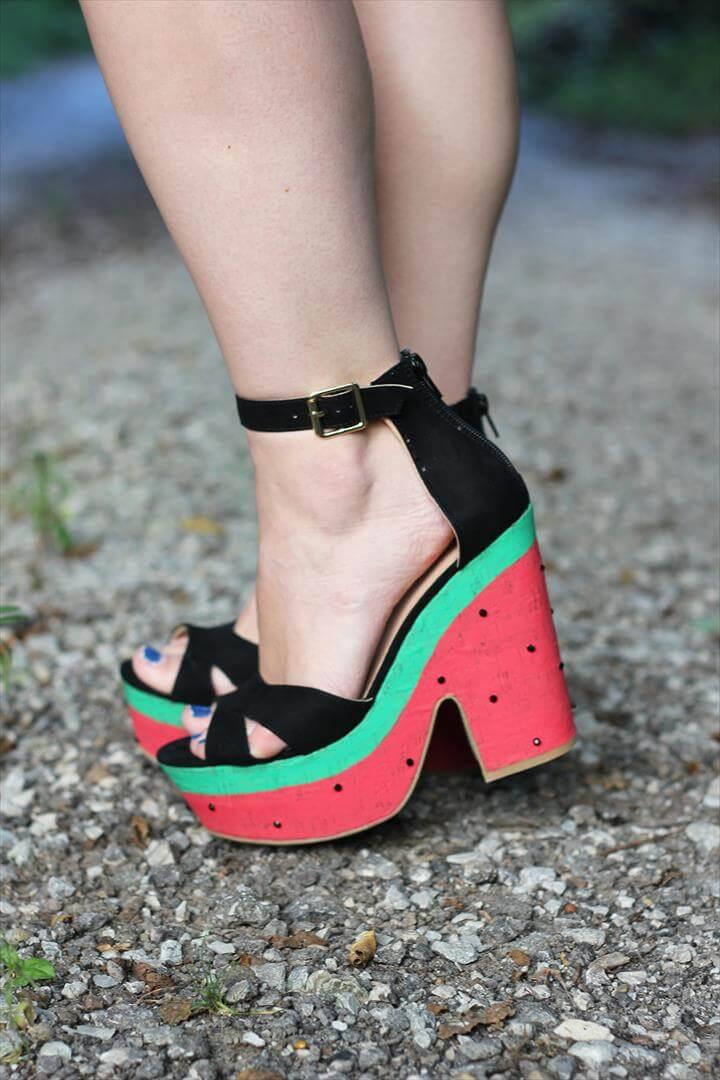 Paint your wedges in watermelon this summer and they are going to look so fun for party wear. Just take acrylic paint in the hues of watermelon which are red and green. For the seeds, black rhinestones have been glued scattered all over the wedges. Check out the details of the idea here!
Image: homemadebanana
Watermelon Themed DIY Birthday Party Hats

: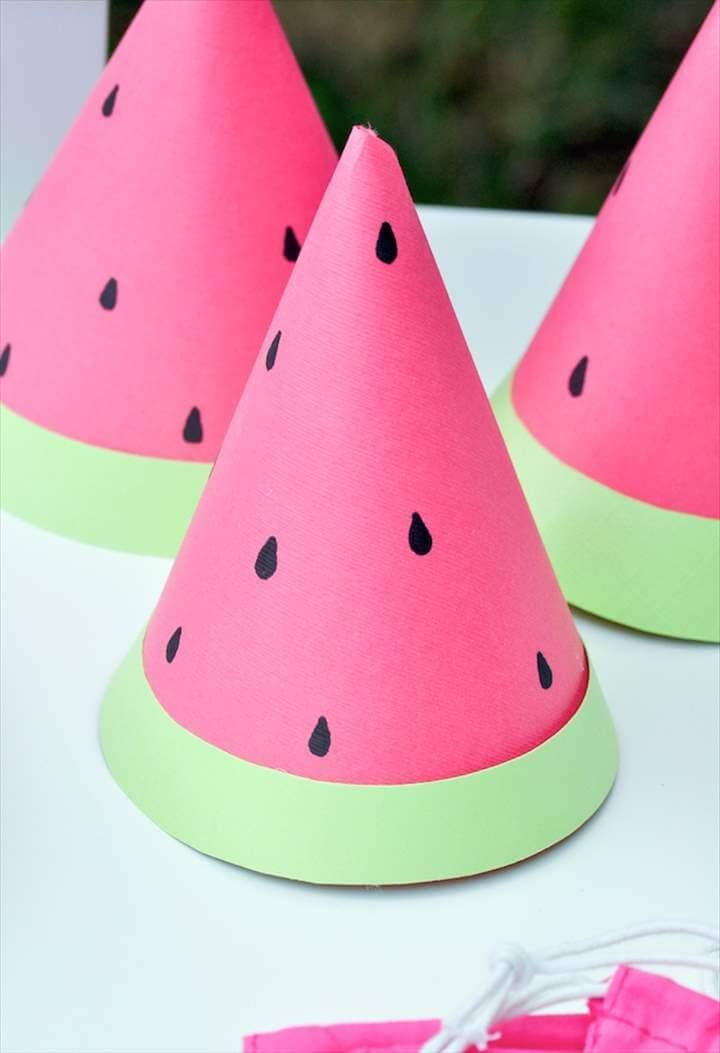 Here are these super cute and fun looking watermelon themed DIY birthday party hats. The pretty hats look so fun and cool for any of the summer parties but they are best for a watermelon theme party. They are super easy to make out of the green and pink scrapbook paper and some black marker for seed dots.
Image: karaspartyideas
Stamped Watermelon Doormat

: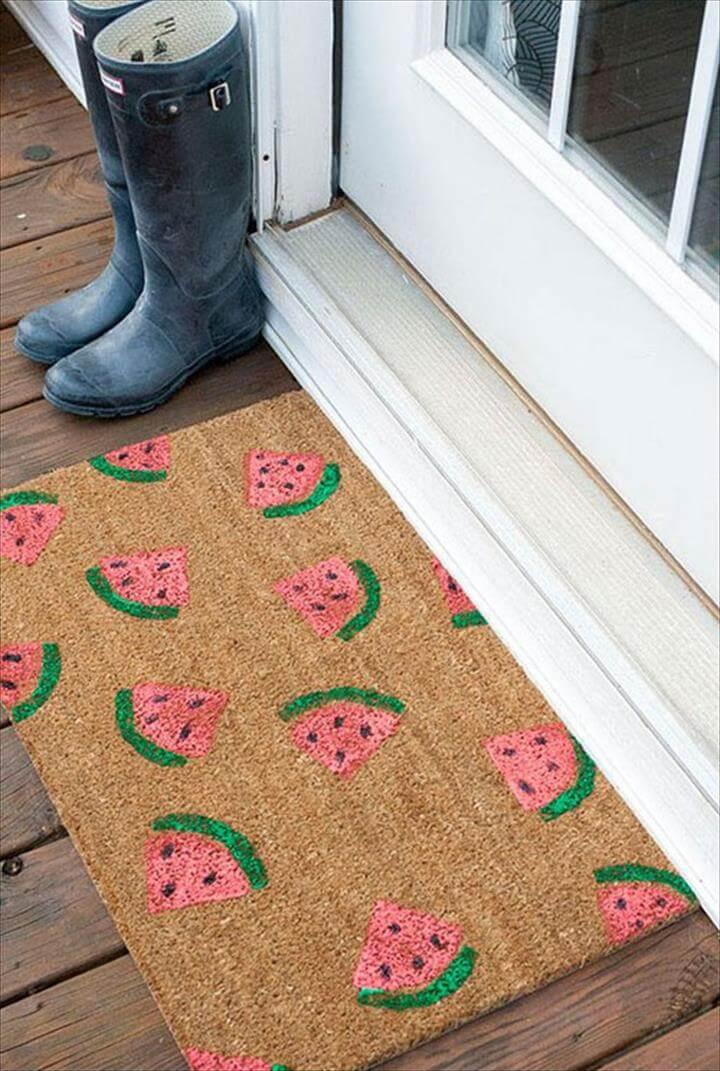 Bring some fruity fun of the summers to your home décor with this stamped watermelon doormat. The doormat is super easy and fun to make in just a few minutes. Just take a sponge and cut it out in the shape of a watermelon piece. Dip it in the pink paint and stamp the whole doormat. Then take green and black paint to complete the watermelon look of the doormat.
Image: ohsolovelyblog
Watermelon Print Napkins

: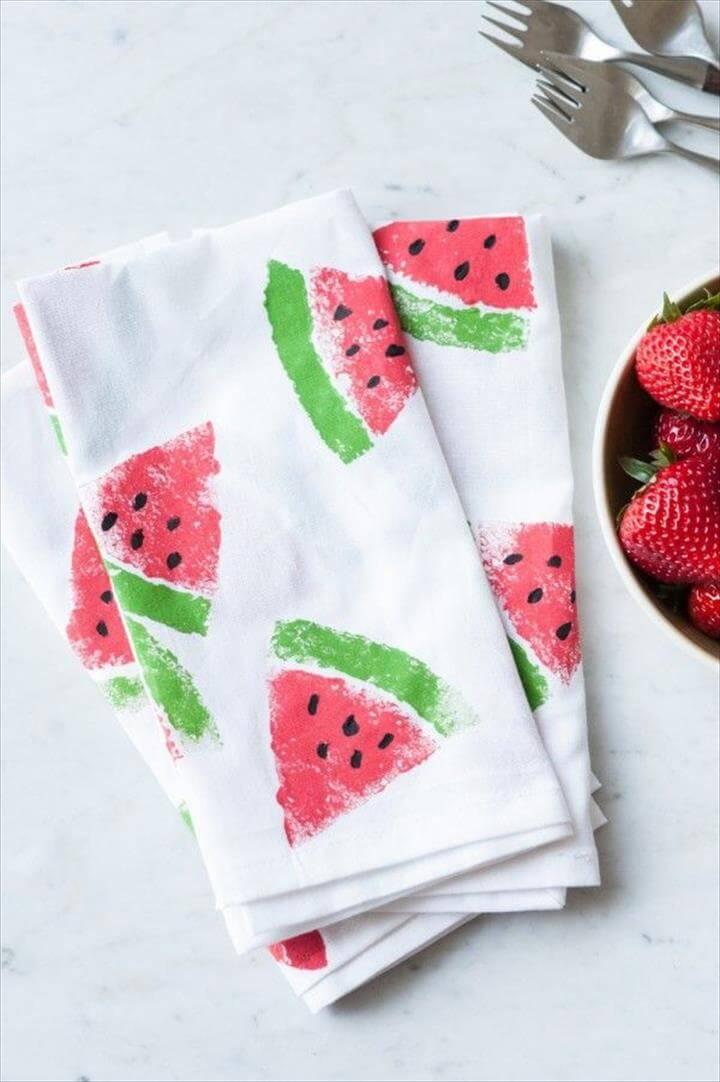 Get your kitchen a fresh summer décor look with the projects like this watermelon print napkins. Just take a sponge and cute out stamps out of it in the shape of a watermelon triangle piece. Then using the red and green paint you can create the watermelon print on the white plain napkins. Complete the look with black seed dots and they are ready.
Image: thesweetestoccasion
Paper Watermelon Fans: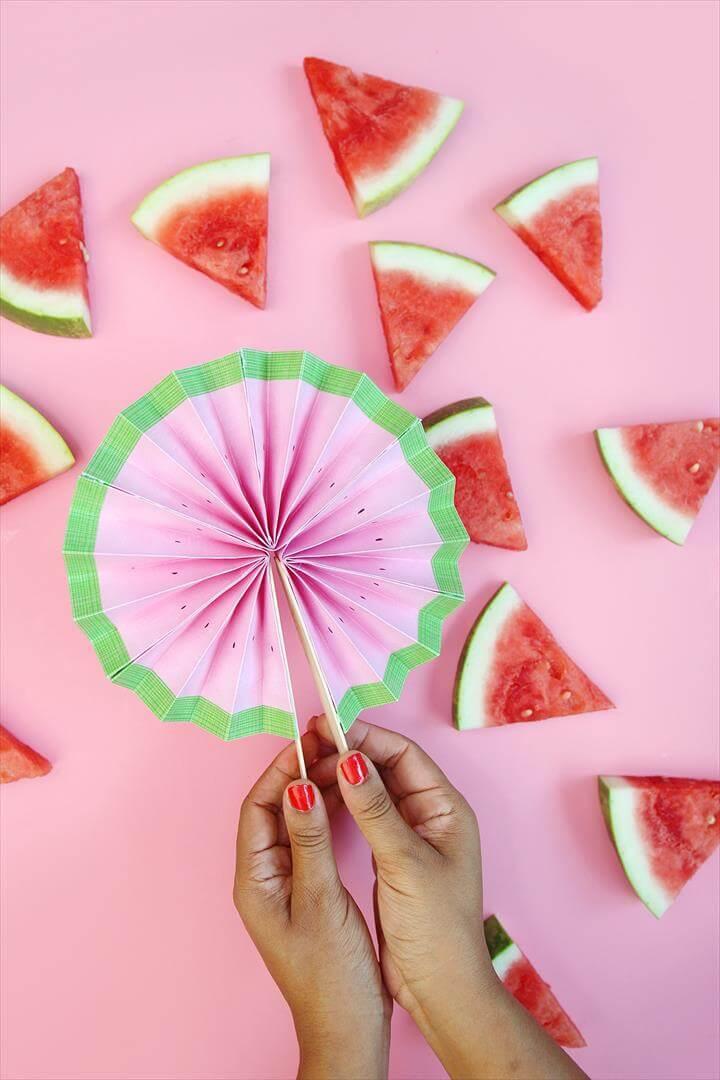 Watermelons are so much fun for the summer décor theme and so much more. Here are these paper watermelon fans to make and enjoy your summers more. The pink paper has been given green edges with the washi tape. Then fold the paper like a fan and then add Popsicle sticks to complete your cute little watermelon fan.
Image: damasklove
Fruit Welcome Mat: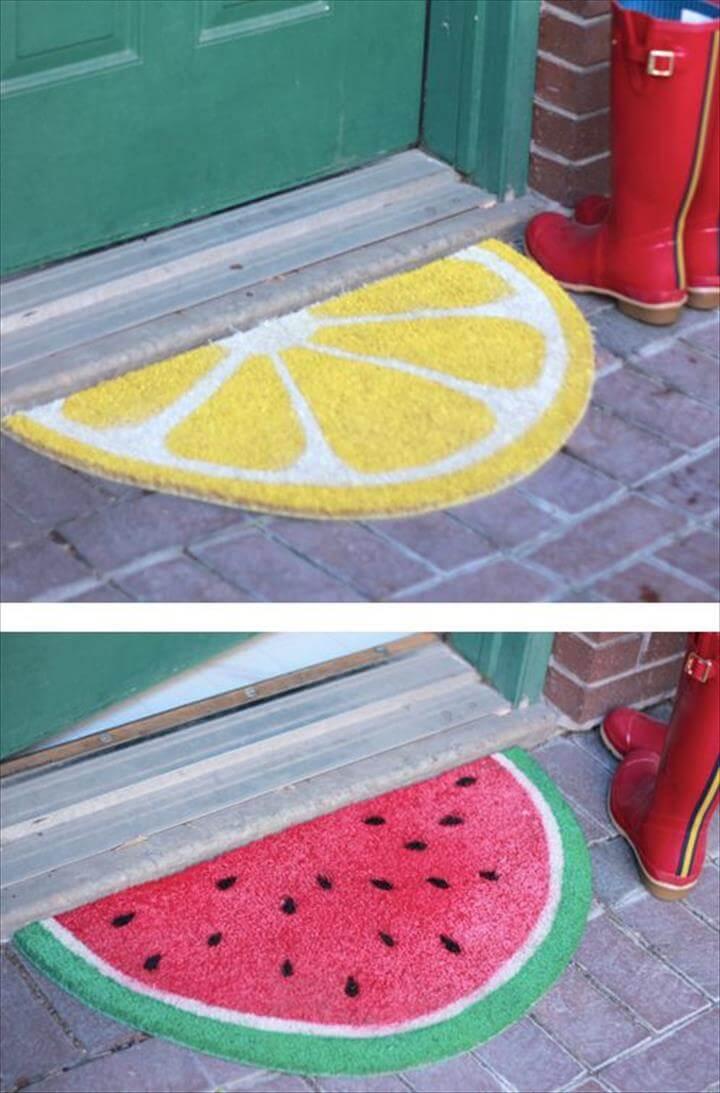 Fruits offer you a fun theme for a summer party and here are these cute fruit watermelon mats. You can make citrus and watermelon fruit welcome mats to give every visitor a smile while entering your spaces. Take a round-shaped map and cut it into halves. Then spray paint these halves as the citrus and the watermelon mats.
Image: thehousethatlarsbuilt
Wooden Watermelon Coasters

: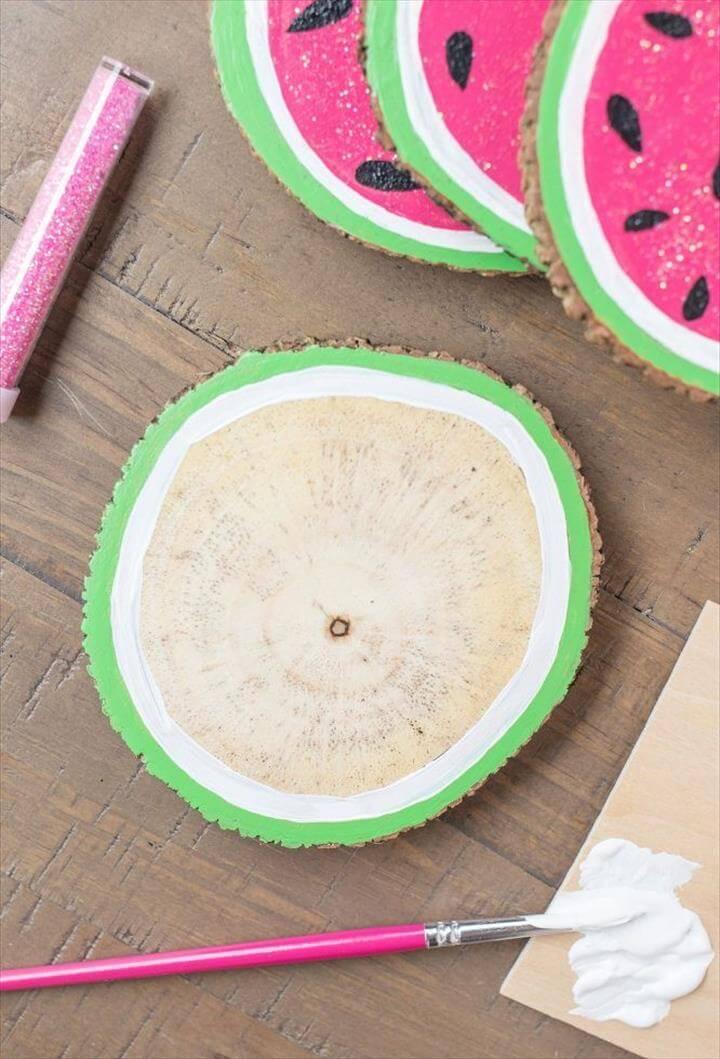 Celebrate your summer parties with more fun when you have these super cute and cool wooden watermelon coasters. Take a wooden log and cut these thin coaster slices out of it. Then grab the paint hues in the watermelon theme and paint up these coasters to turn super summery and adorable.
Image: kittenhood.ro
Fragrant Watermelon Candle

: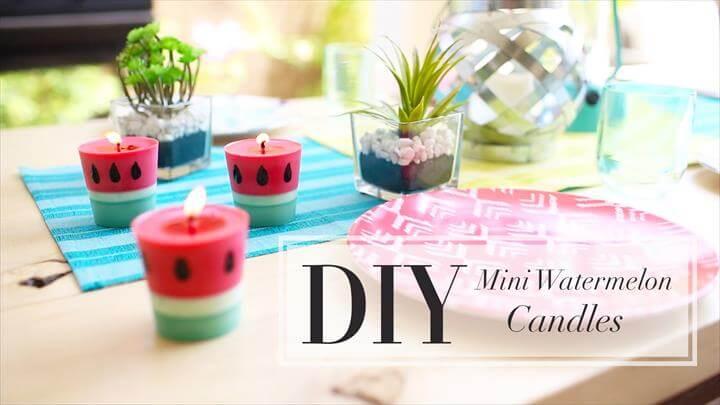 Make your summer tables look super cute and refreshing with these fragrant watermelon candles. The wax that is used to make these candles has been divided into these three parts and each of them has the watermelon colors. Pour these three watermelon hued waxes in an ice cream one by one. Once the wax is frozen paint them up with black seeds and then take them out from molds to lit.
Image: youtube
Watermelon DIY Cake Kit

: Face Cake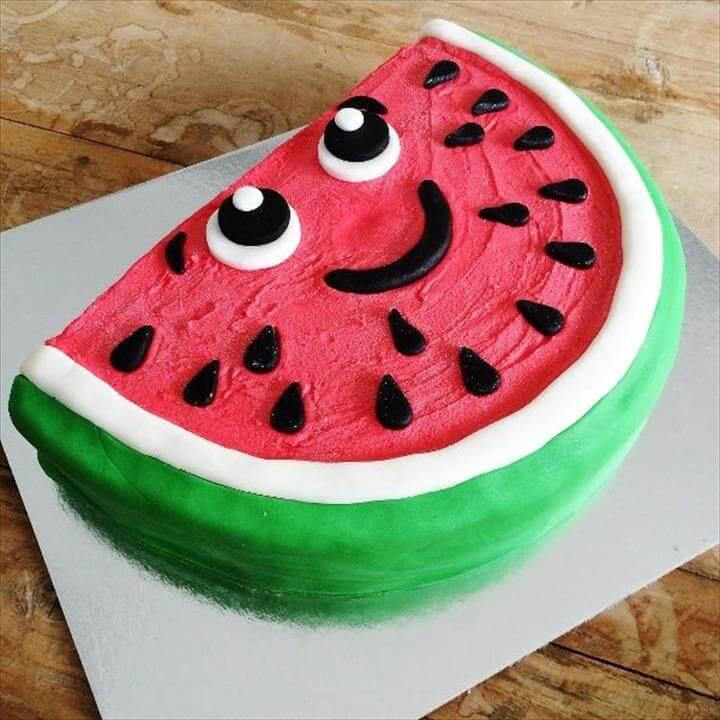 If there is a celebration coming in the summer days then make this super cute watermelon DIY cake with the face. Yes, you can make a cake and then dress it up like a watermelon using the cream in red, green, and black hues. Also, create some fun face features on the cake to make it look much more tempting and cool.
Image: birdonacake
Watermelon Drink Stirrers: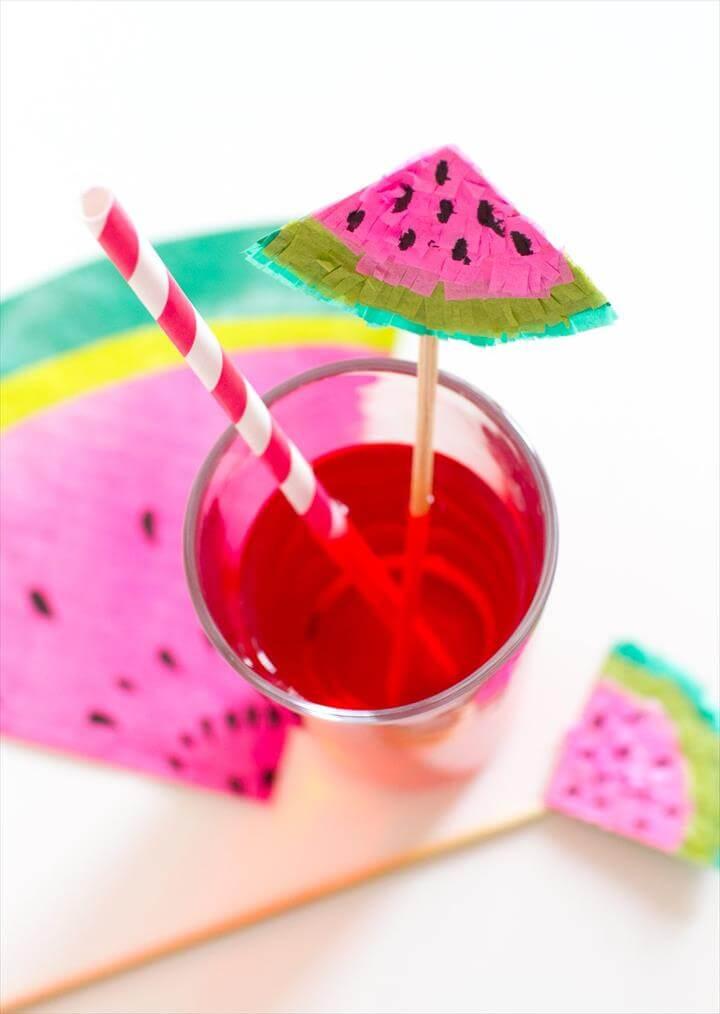 Summer means fun drinks and drinks mean some cute drink glass décor which includes the fun watermelon drinks stirrers too. So make this lovely watermelon drink stirrer to enjoy your drinks with the fun fruity theme. You need cards in the watermelon colors and then tissues to give that top fringed effect. Check out the details here!
Image: bespoke-bride
Watermelon Mason Jar Drinking Glasses

: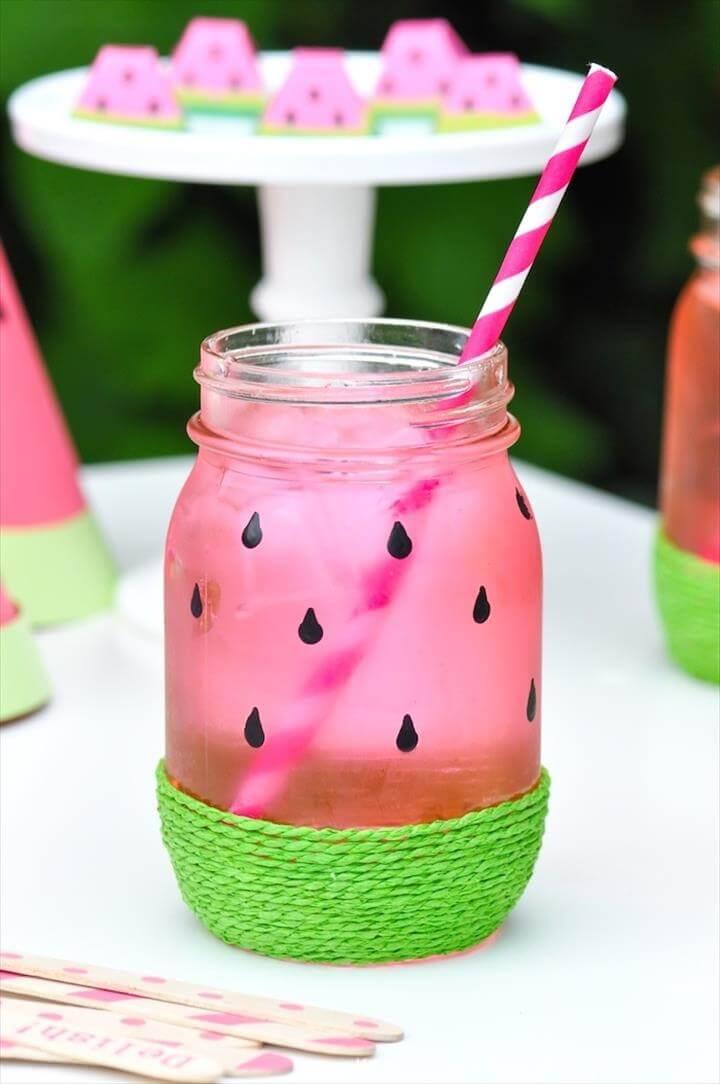 Make yourself the most awesome and cute watermelon Mason jar drinking glasses for a fun summer party or just enjoying your summer drinks at home. The Mason jar has been tinted in pink and painted with black seed dots. Then grab some green rope and cover the bottom of the Mason jar glasses with it. Complete details here!
Image: karaspartyideas
Watermelon Bag

: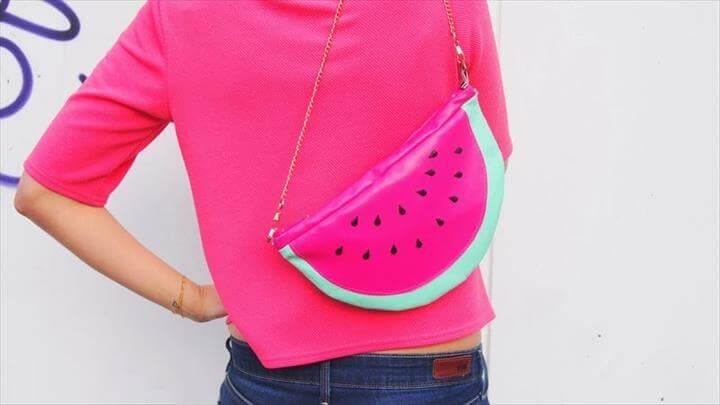 Give your summers fashion some DIY touch with this handmade watermelon bag. The cute bag has the shape of a lovely watermelon. You need leather or the fabric in the colors of the watermelon and the zipper and chain to make this watermelon bag. The bag is going to look so funky for your summer look. This would make a pretty gift idea too.
Image: chocodisco
Watermelon Serving Tray: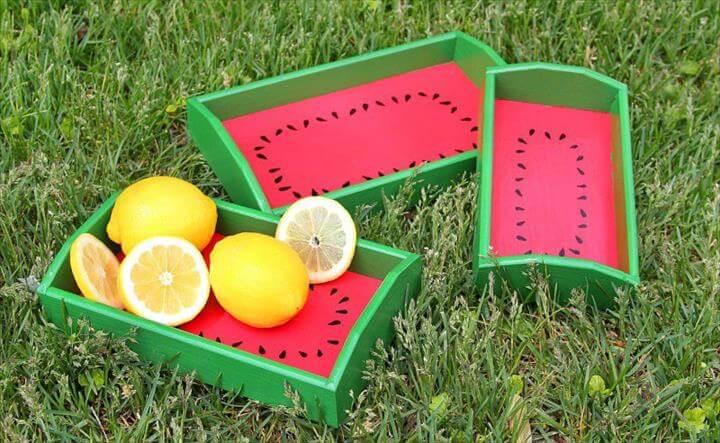 Make yourself these watermelon serving trays and bring so much fun and beauty to your summer kitchen. Take simple wooden trays in multiple sizes and then paint them with green and red colors of the watermelon. Then take some black paint and create the seeds in the trays. These trays would be so much fun using around the summer.
Image: consumercrafts
Watermelon Doormats:
Fruit-slice Mats.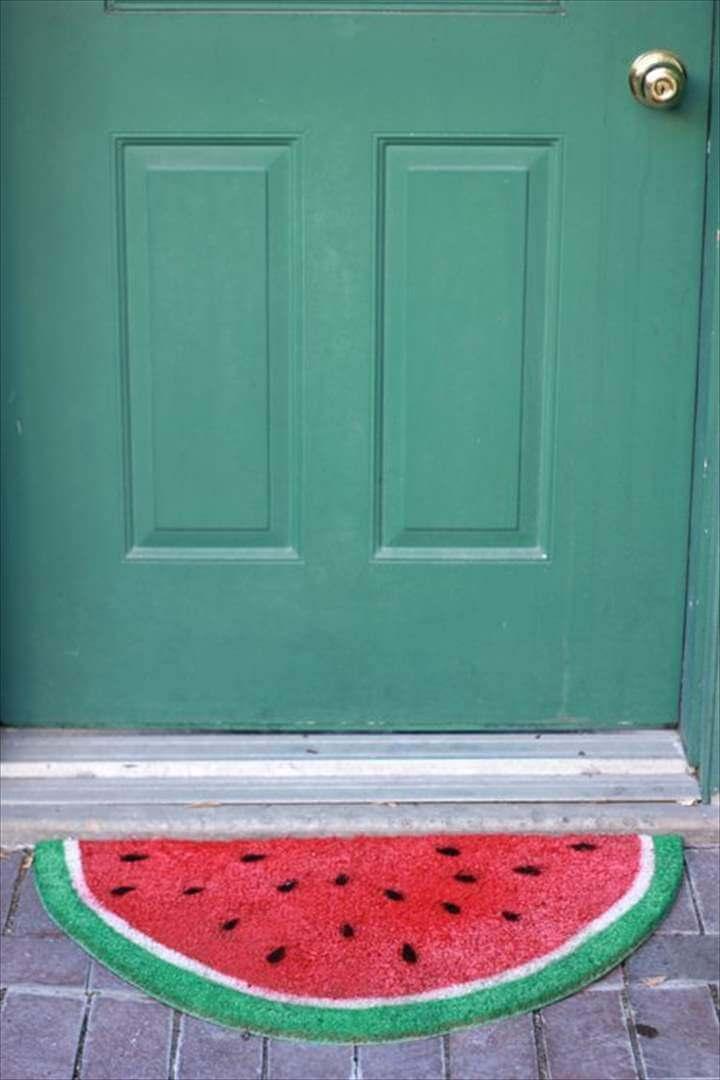 Make the pretty doormats of the fruity theme for the summers and freshen up your home décor. Take a simple doormat in the shape of a circle and then cut it out in the halves. These halves look like the slices of melon and the citrus and can be painted with the same fruity themes. Check out the details here!
Image: thehousethatlarsbuilt
Watermelon Themed Birthday Party Dessert

Treat: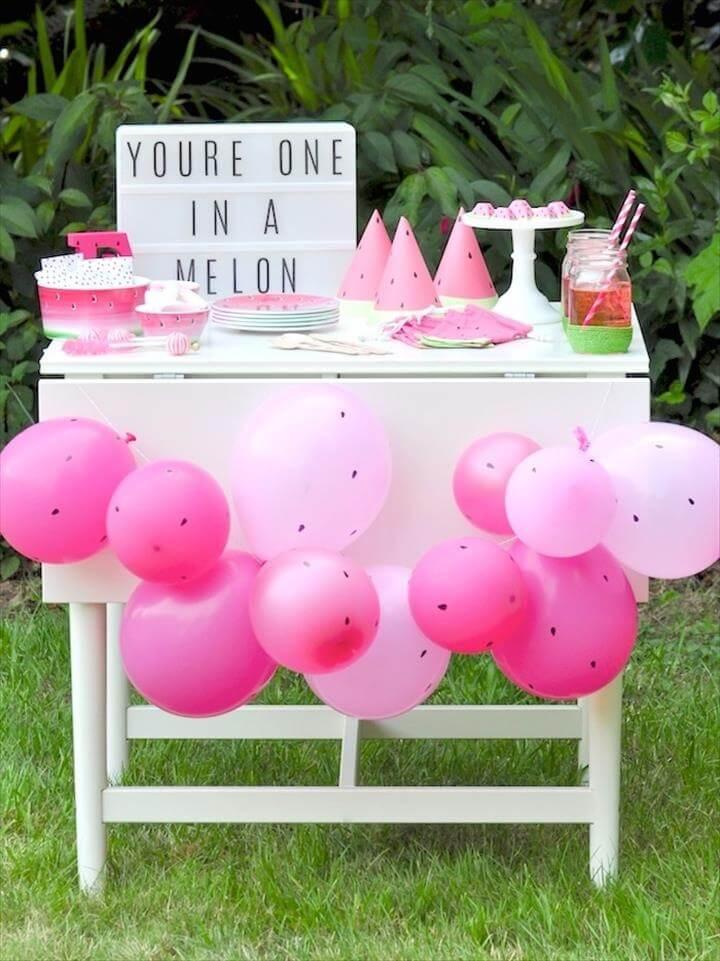 The summer parties can be celebrated with the fun fruity themes and what can be yummier than the watermelon. From the balloons, cakes, and treats to drink jars, hats and the banner, everything has been done in the theme of watermelon. The kids are really going to love these fun watermelon theme birthday party.
Image: karaspartyideas
Watermelon Paper-Plate-Purses

: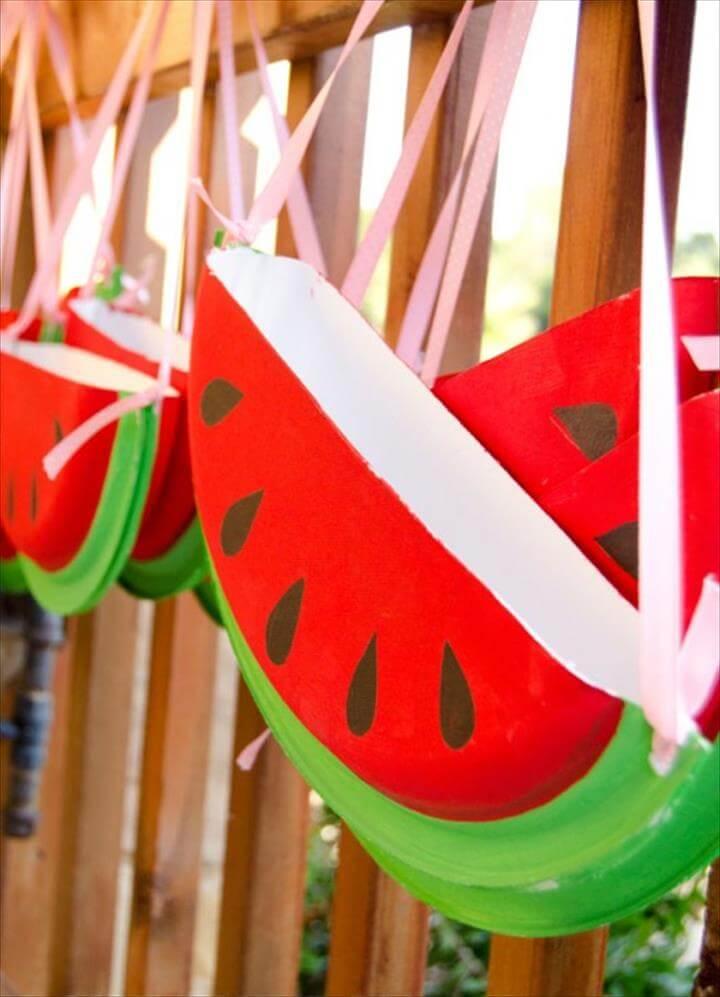 Using the paper plates you can make some really cute and cool things for the girls during summer. Here is the idea of creating these watermelon paper plate purses for the cute little girls. Firstly, paint the plates with green, red and black paint hues. Then cut out the plates in halves looking like watermelon slices and then string the two halves together to form a purse.
Image: love-the-day
Watermelon Doily Garland

: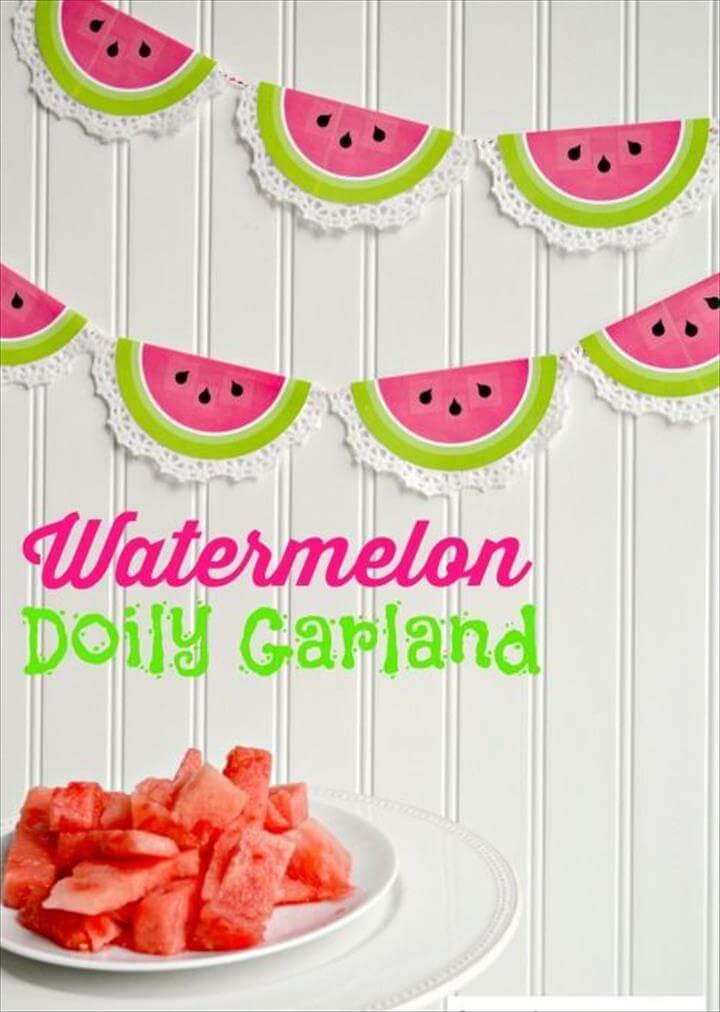 Celebrate the summers with the theme of the yummy fruits that it brings with it. Watermelon is our favorite summer fruit so here is the idea of making this lovely watermelon doily garland.  You need to paint up the white doilies with red, green and black hues. Then fold these doilies over a rope to create the lovely garland. Check out the details here!
Image: schooltimesnippets, iheartnaptime.net
Watermelon Clock:

If you have a simple plain white round shaped clock which looks boring and dull then turn it into this fun and fantastic watermelon clock. Using the paint colors in red, green, and black you can paint the clock just like a yummy watermelon is. Follow the details of the idea here to hack it.
Image: youtube