Watermelons happen to be the most favorite fruits of summer and are liked by almost everyone in the summer. As summers and watermelon make an amazing combination so why not try some creativity with the watermelon theme?
The first DIY watermelon project is a watermelon sunglasses pair. And you can also find a tutorial to learn how to make it. Here are some crochet coasters for you which are easy and interesting and can serve as your coffee mug mats.
These cool outdoor pillows are perfect for your backyard this summer. Do not forget to make a watermelon costume this summer for the weekend party. Here are Top 22 DIY Watermelon Summer Projects prop ideas for your kids if they are having a photoshoot at the summer party. They are way too easy to make. Also, make for them and for yourself some watermelon bags by simply painting the bags with fabric paints with a watermelon theme. This is a dip-dye skirt which is a perfect outfit for the watermelon themed party this summer.
Why not make something for the kitchen with the watermelon theme? Try making some potholders then. For the hottest summers, these watermelon popsicles are the best containing all of the watermelons in them. Also, make these table runners a part of your project to decorate your tables with them. This is a printable pom that can also be turned into a key chain or something. This fruit pot is also watermelon inspired and it looks amazing. There are various other fruit ideas inspired by watermelon and they include lemonades, ice-creams, and cakes… Other objects include gift boxes, cross stitch templates, floppy hats, piñatas, and whatnot.
So you are all set for the watermelon inspired projects this summer and they are all amazing to try as soon as possible. Invite your friends to help you out in doing the projects as they are too cool to handle alone.
 Sunglass Tutorial: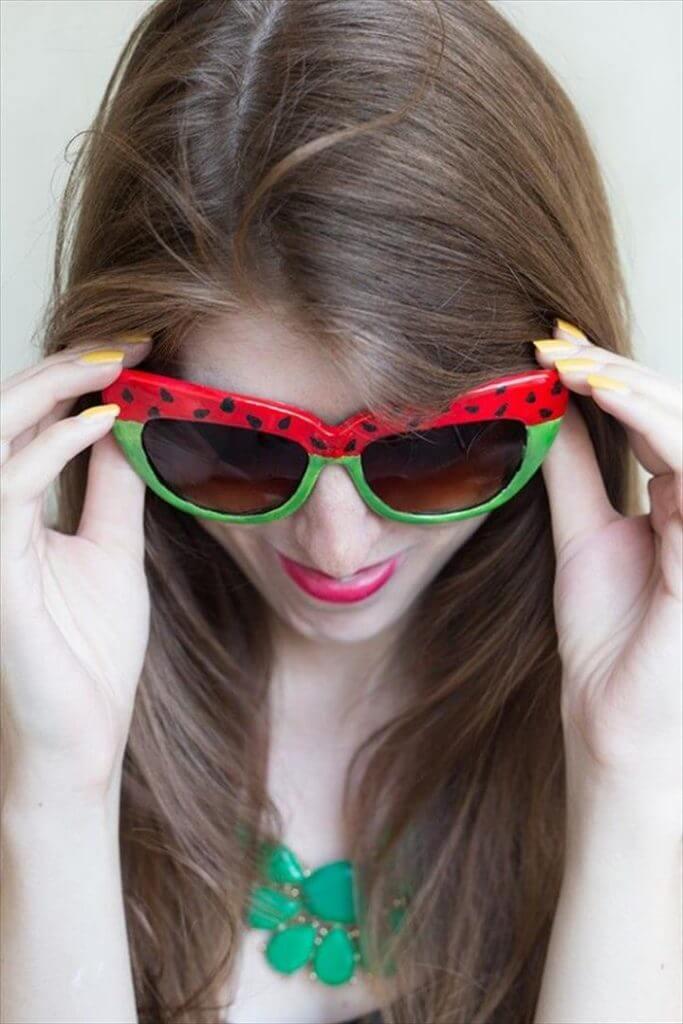 We love fruity themes for the summer and here are these cutest and adorable watermelon sunglasses. The lower rim of the glasses has been painted in green and the upper one with the red and black seeds. If you do not have paint you can use nail polish as well. Check out easy project details here!
Image: studiodiy
Crochet Coasters: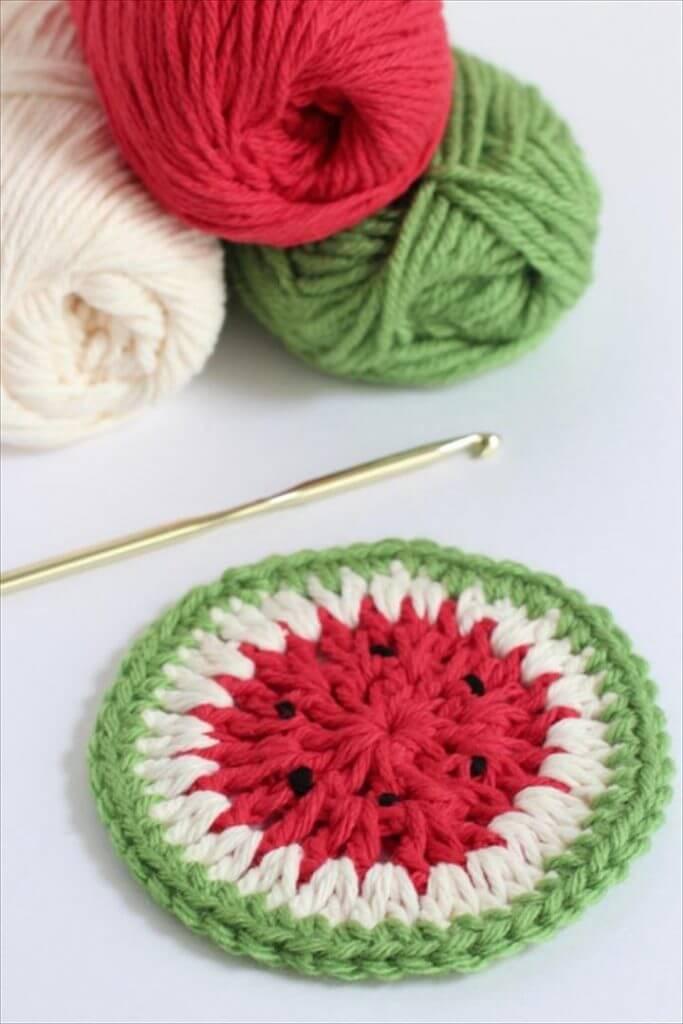 Crochet coasters are the best as they can soak a lot. As coasters are used the most in summers so here is the idea of making these cute and lovely crochet watermelon coasters. So grab some white, green, red, and black yarn to make these super pretty watermelon coasters to use all long the summers. Details here!
Image: makeandtakes
Watermelon Costume

: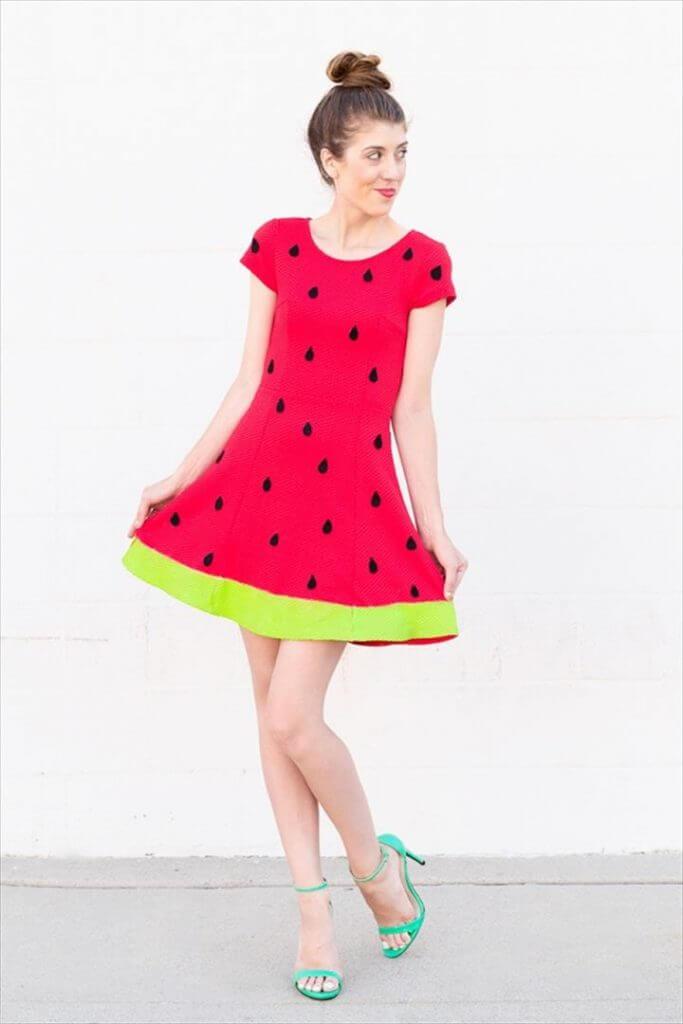 Go crazy with the fun and fruity summer theme crafts and making this lovely watermelon costume is a great idea. The gorgeous red dress has a green border at the bottom. You can create the black seeds with the help of fabric paint or you can use the felt pieces too. Grab watermelon costume idea and more here!
Image: studiodiy
Photo Shoot Props For Kid's Photo Shoot

: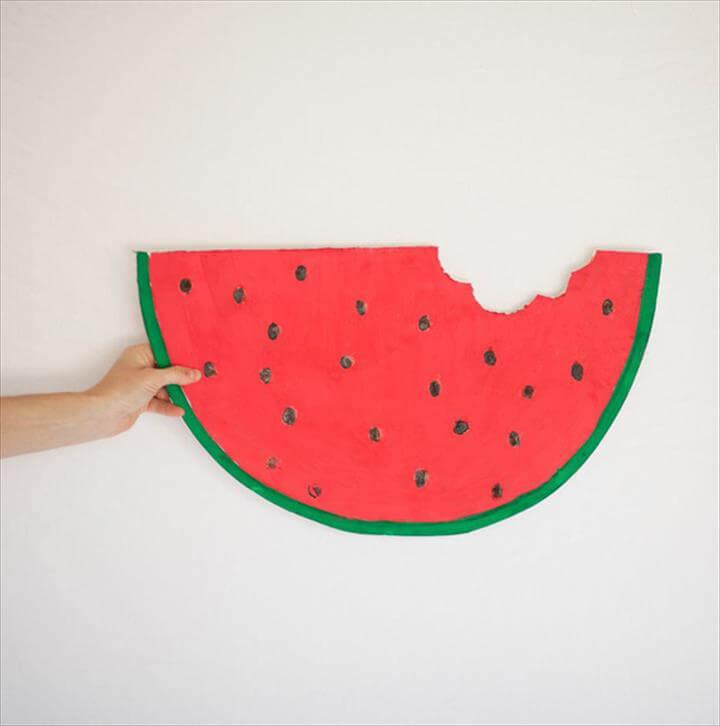 Summers mean parties and lots of fruits and yummy drinks so why not the party theme should be fruity too. So here are these lovely fruity watermelon shoot props for your kids to make their party photos turn out the bomb. This fruity prop would be so much fun to make and here are all the details shared.
Image: mericherry
Watermelon Bunting: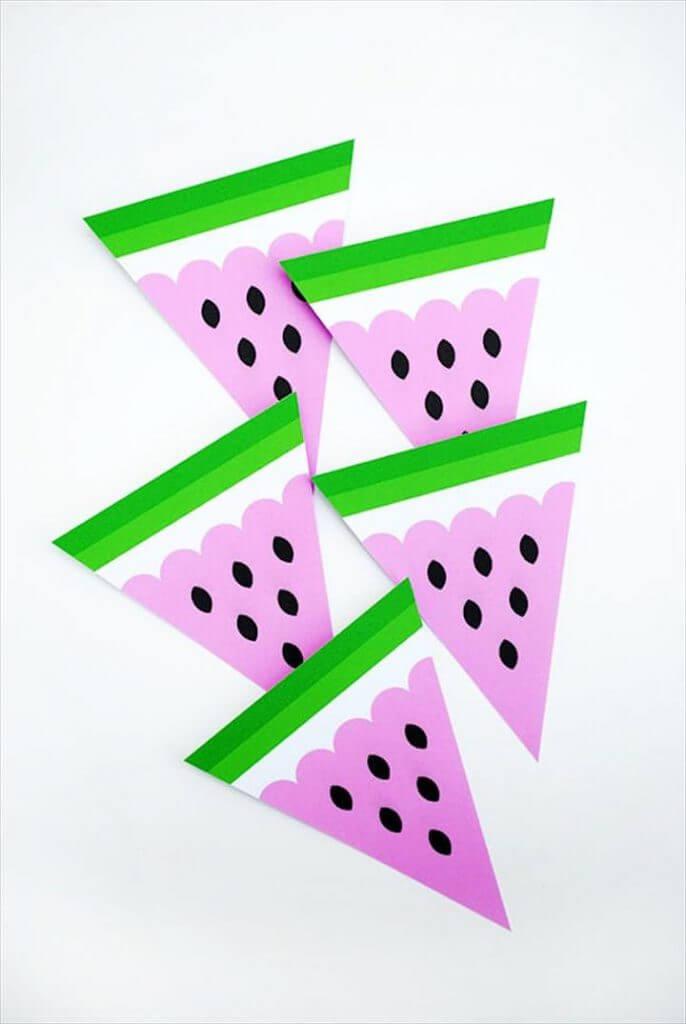 Party décor is so incomplete without a banner or the buntings. So here we have the idea of making these lovely and quirky watermelon buntings for your next party décor. These cute triangle-shaped buntings have the cute pink shade instead of white to look just so subtle and cute. Details here!
Image: minieco.co.uk
Watermelon Bag

: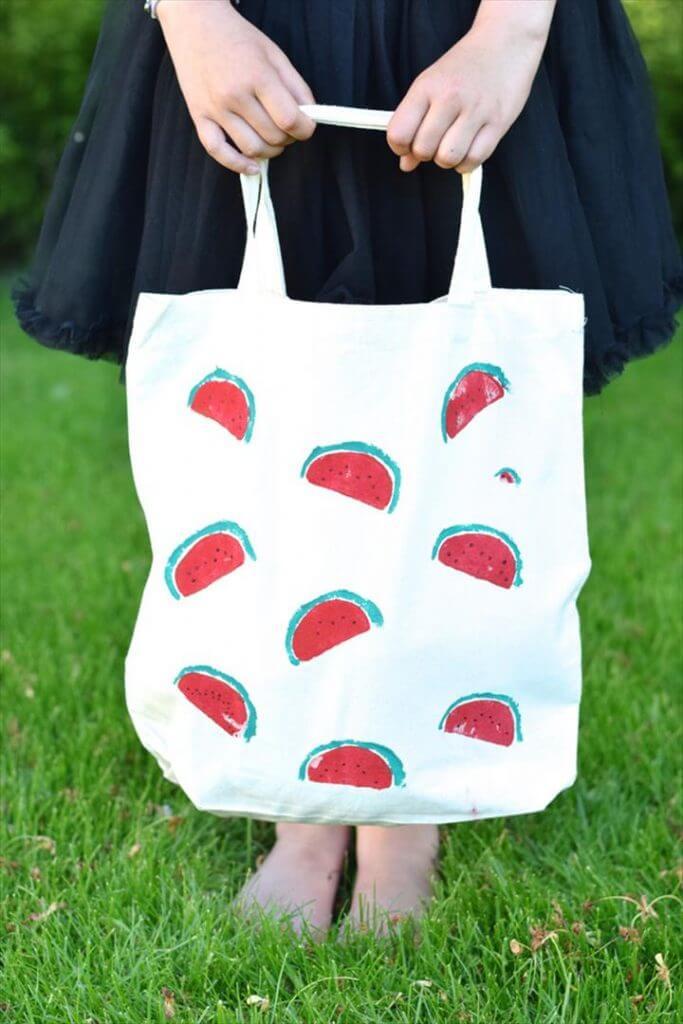 Make your simple white tote bags look the cutest with these adorable watermelon bags. Then this white canvas tote bag has been made to look super cute with the watermelon images on it.  Potato has been used as the stamps and the acrylic paint hues in red, green, and black to get the funky watermelon appeal.
Image: typepad
Dip Dye Skirt

: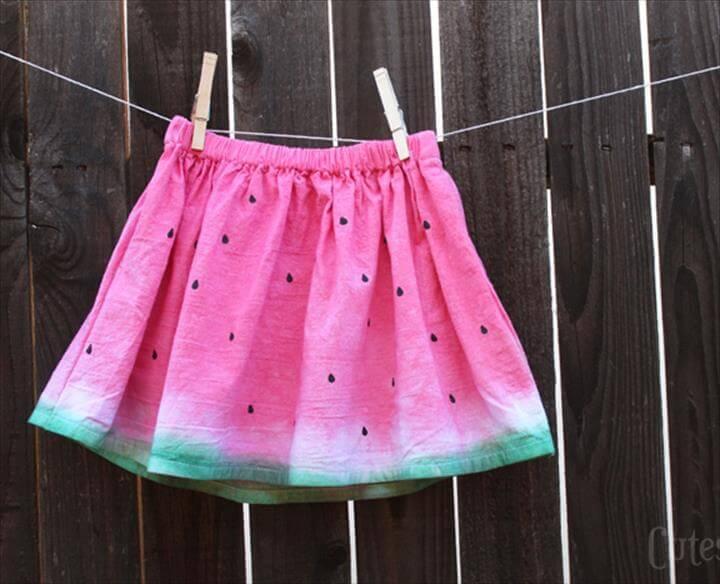 Make your old skirt look quirky and fun with this dip-dye skirt with the watermelon theme. You need some items from your laundry and the RIT dye in red, green, and black hues to make this dip dye watermelon skirt. The teen girls are surely going to fall in love with this cool and funky skirt.
Image: cutesycrafts
Watermelon Potholder: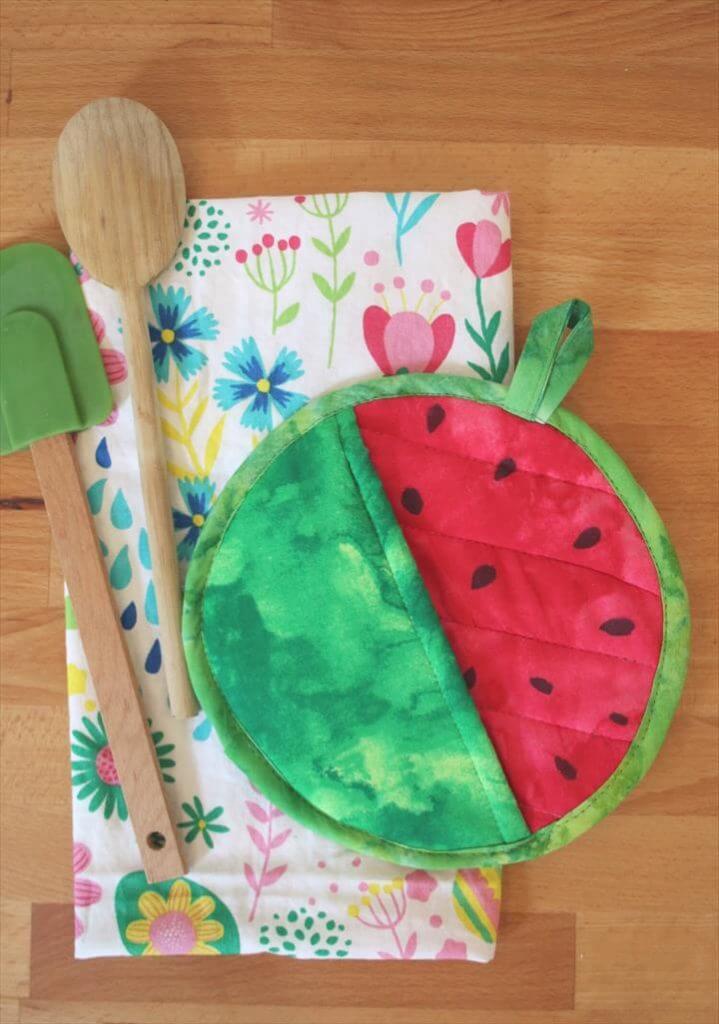 Bring some of the summer fun in your kitchen too and make this lovely watermelon potholder for the purpose. The lovely round shaped watermelon pot holder has quite rich hues of the watermelon in silky and soft fabric. You can easily sew it up on your own using the watermelon colored fabric. Sewing details here!
Image: abeautifulmess
Watermelon Whole Fruit Popsicle's

: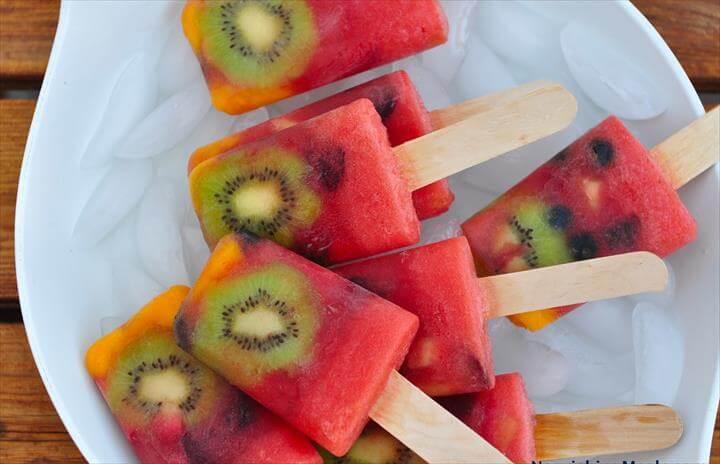 Watermelon is the best thing for the summers to sweetly hydrate eat and enjoy. Now you can make them in the form of these super yummy and eye-catching watermelon whole fruit popsicles. You can use watermelon puree along with fruits like berries and kiwi. Check out the complete recipe here!
Image: nourishingmeals
 Table Runner: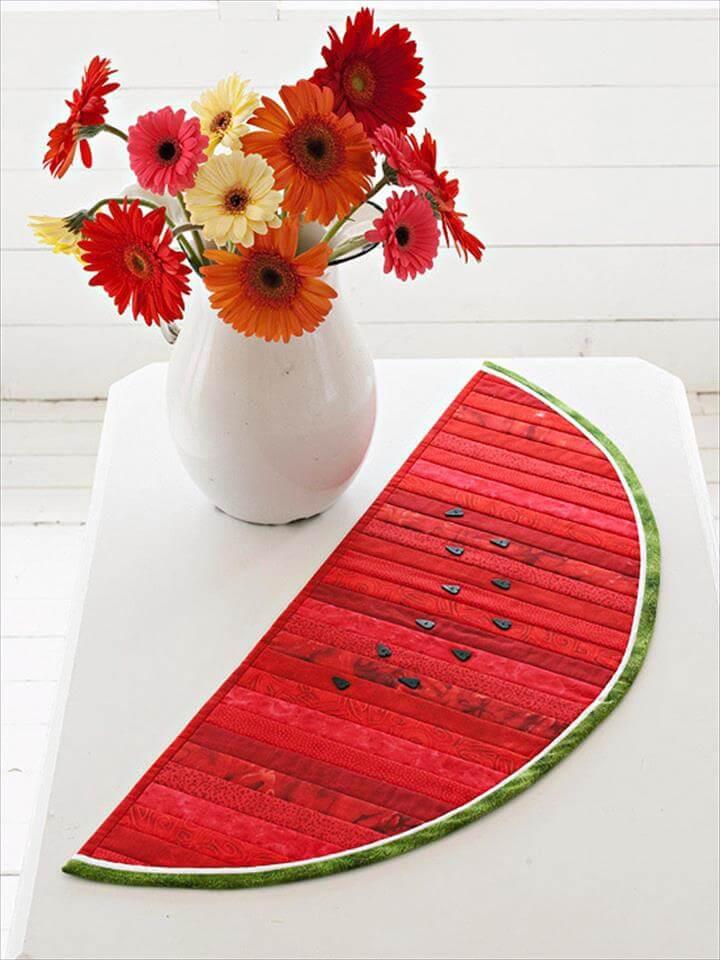 -Watermelon is so colorfully delightful so if you want to add summer hues in your house then making this watermelon table runner is the best thing to get your hands on. You need fabric in red, green, and black along with the batting to shape up this table runner in the shape of watermelon cut out piece.
Image: allpeoplequilt
Printable Pom Pom: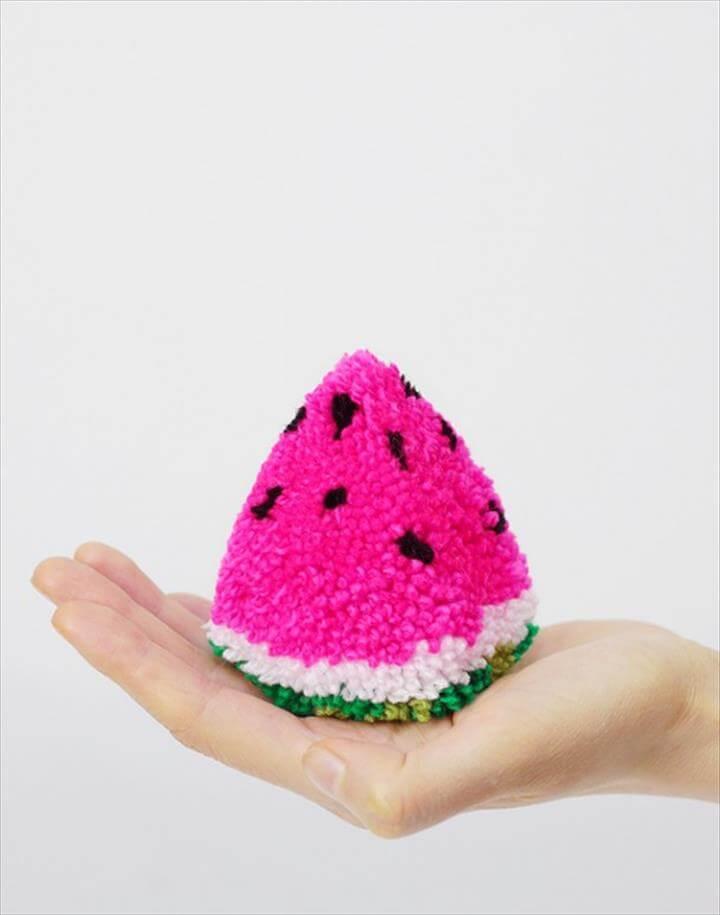 Nothing can be cuter to see today than this printable pom pom which has been made with the theme of the watermelon. So grab the yarn in all those hues that the watermelon has and make this super cute watermelon fruit pom pom to use in your summer home décor projects. Catch the easy details of the idea here!
Image: mrprintables
 Anthropologie Favorite Fruit Pot: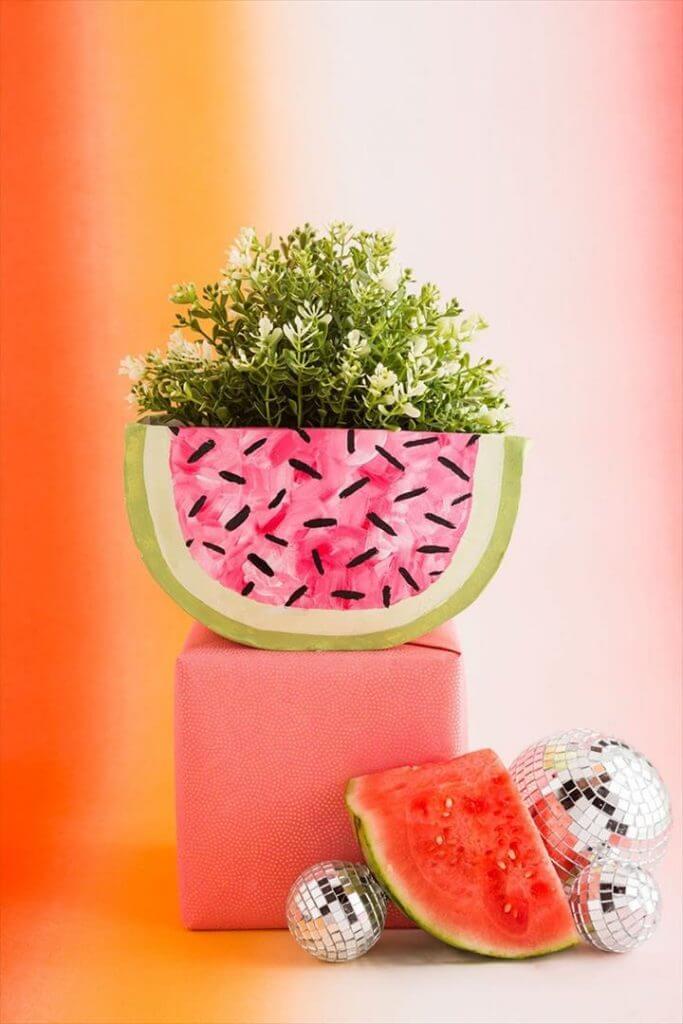 Nothing is a great idea to welcome summer in your homes than working on fruity themes. So make this adorable and super cute anthropology favorite fruit pot using 12 packages of white Sculpey, acrylic paint hues in the red, green, and the black to get to hold your flowers in this fruit pot.
Image: brit.co
Slushy Blended Watermelon Lemonade: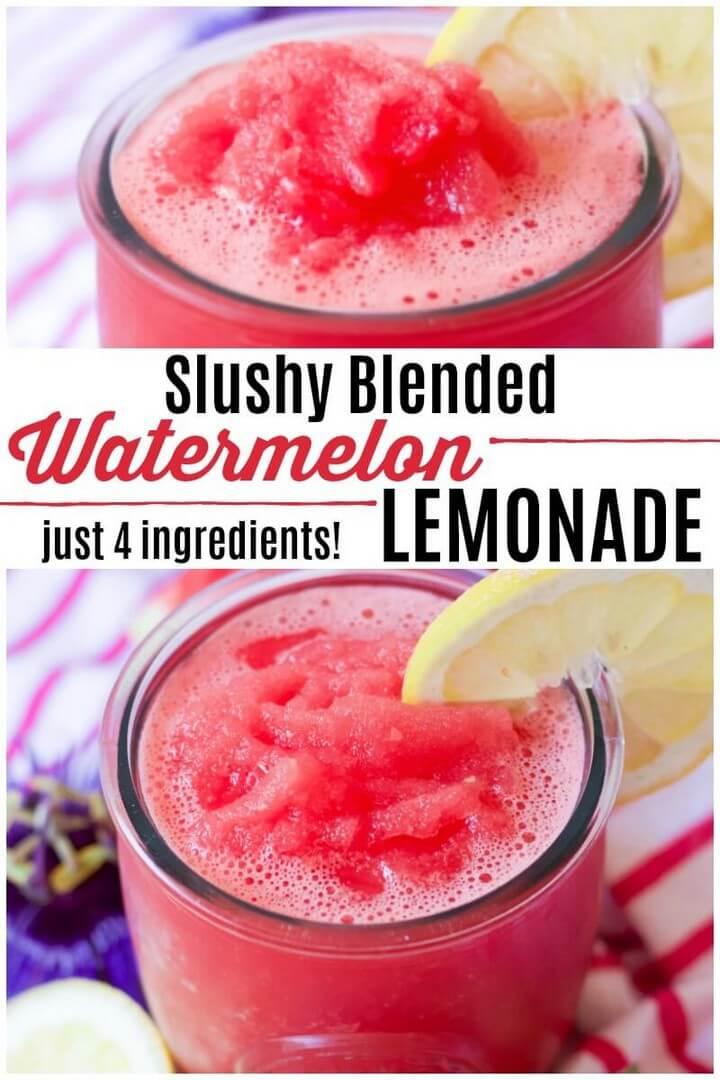 Nothing is a great idea to welcome summer in your homes than working on fruity themes. So make this adorable and super cute Anthropologie favorite fruit pot using 12 packages of white Sculpey, acrylic paint hues in the red, green, and the black to get to hold your flowers in this fruit pot. Easy details here!
Image: recipestonourish
Gift Boxes: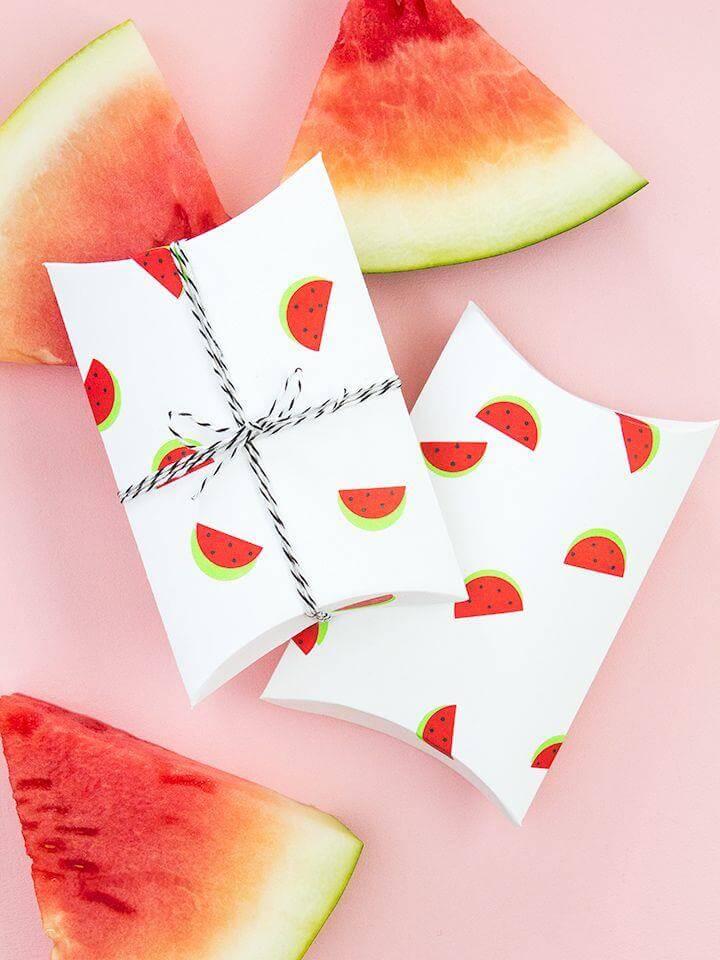 The summer parties need the summer-themed party favors so make these lovely gift boxes to get the most exciting gift packs ever. Use your printing skills and create a watermelon print to make these lovely and cute watermelon gift boxes. You can fill them with anything that you like and adore like candies and chocolates.
Image: sarahhearts
Watermelon Cake: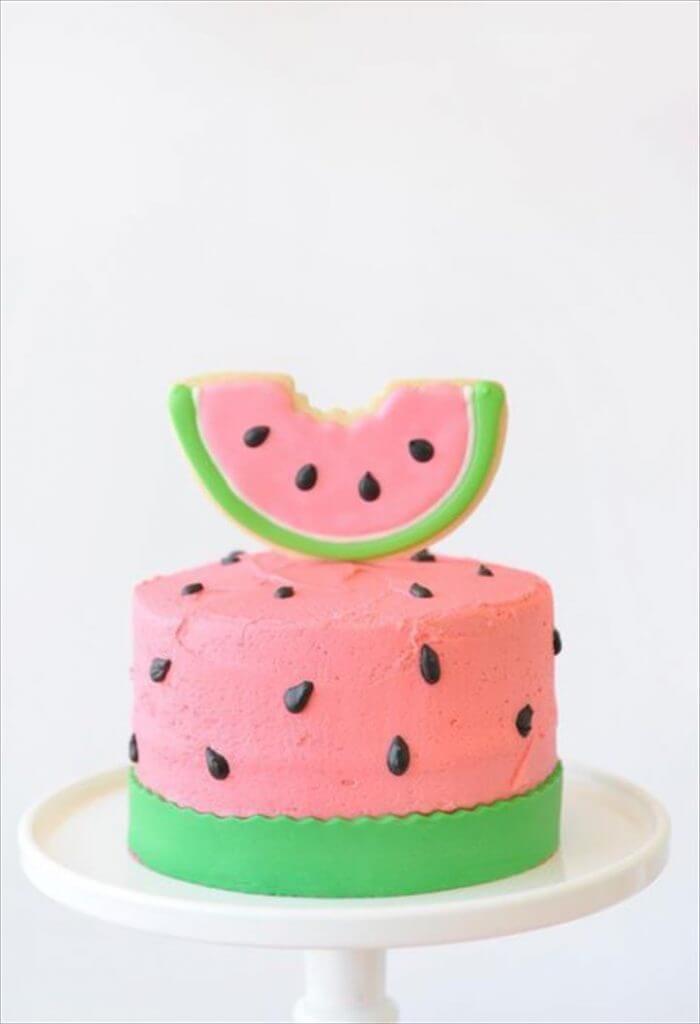 Make these adorable watermelon cake recipes to make the most out of your summer theme parties. The kids are going to love the watermelon theme party and especially this lovely watermelon theme cake. So you need to mix the watermelon colors in the cream to get that look. Details here!
Image: projectnursery
Watermelon Floppy Hat

: Sun Hat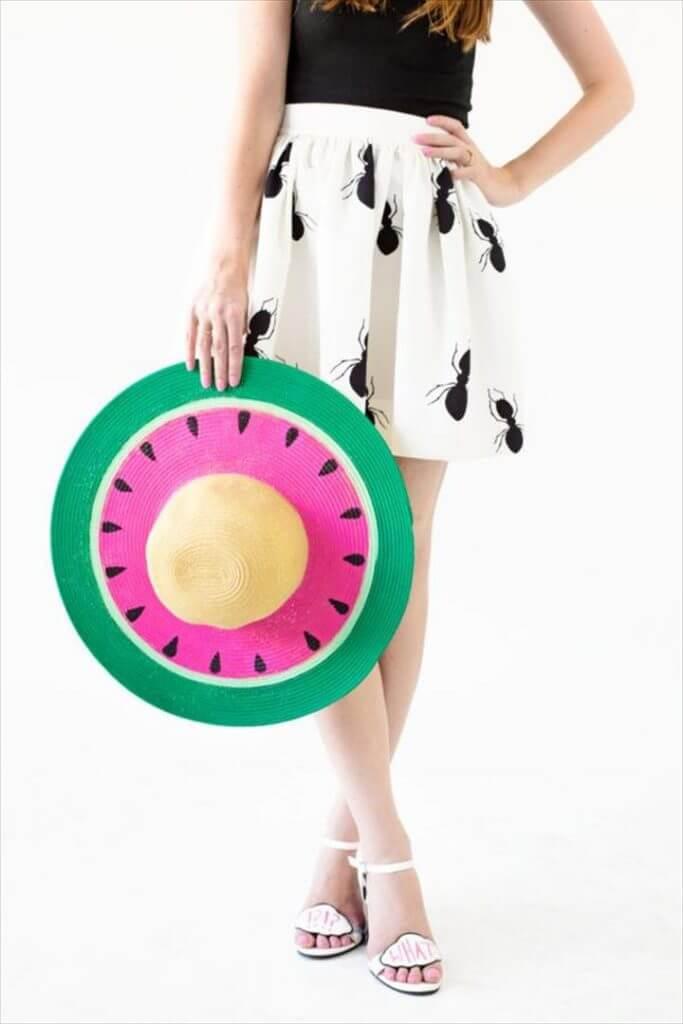 Make your boring and plain floppy hat look the funkiest and vibrant with the watermelon theme. So grab the fabric paint colors in pinkish red, green, and the black to make this super cute and fun looking watermelon floppy hat. This hat is surely going to make some heads go-round on yours. Details here!
Image: studiodiy
Mini Watermelon Piñatas

: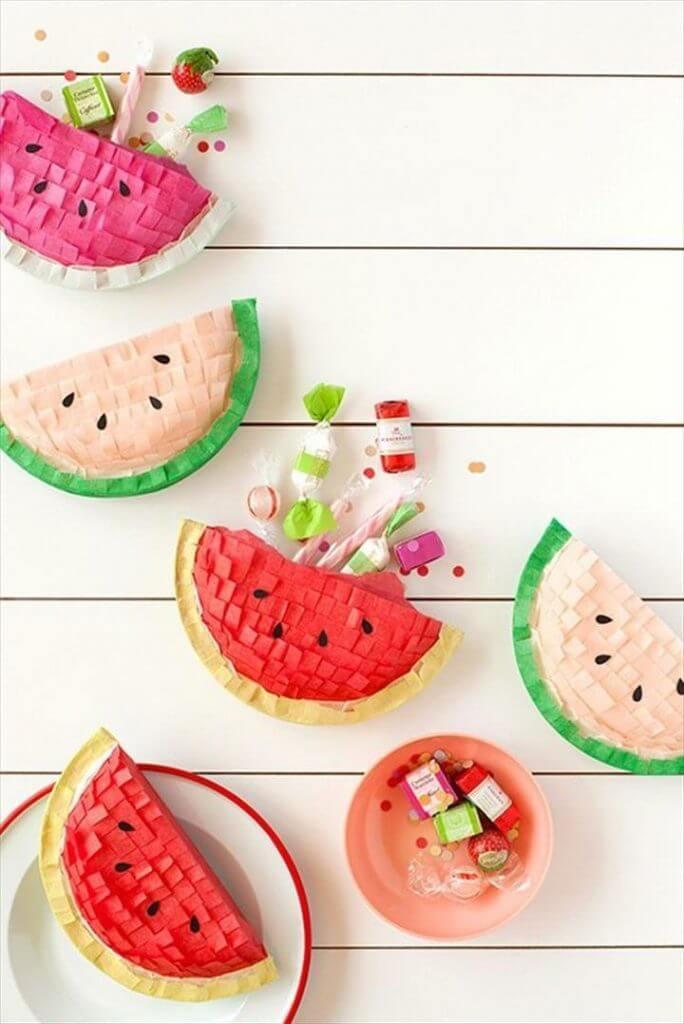 Bring some twist to the birthday party of your little one with this idea of the mini watermelon piñatas. Yes, you can make these adorable and fun looking half melon-shaped piñatas in multiple colors of the tissue paper to use as the lovely piñatas for the little party guests. Learn to make them here!
Image: minted
Party Hat

: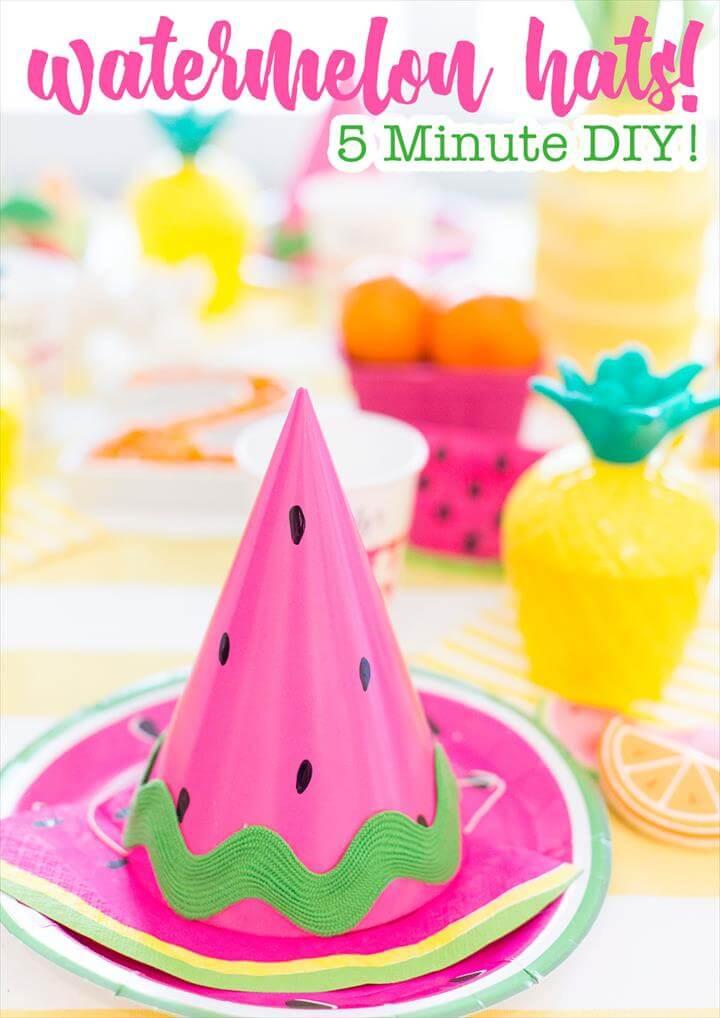 The fruity theme is so much fun to celebrate for a summer party and especially when it is for the kids. So make this lovely summer watermelon party hat for the little ones and they would be more than happy to have them over their heads. They are super easy to make some with watermelon paint colors, paper, and the green rick rack trim. Details here!
Image: pizzazzerie