Crocheting is so much fun when you keep trying the patterns which are different and versatile. We all know how hats are the favorite things to crochet for crochet persons. To enjoy some versatility in the crochet hat department we have brought to you these 20 Crochet Hat Free Pattern – Step by Step Tutorials. These gorgeous patterns are also so much easy and fun to get your hands on and end up with some really cool and pretty hats being a part of your winter closet. You are surely going to enjoy this adorable round-up of the crochet hats as it has a pattern for everyone in the family and the people you love around.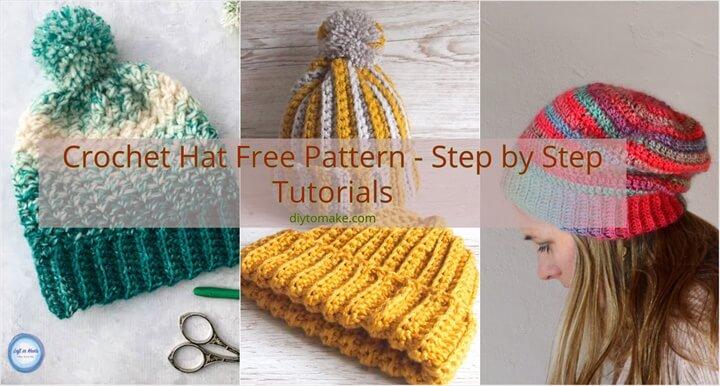 The very first cute pattern that you are going to come across has the tiny hats in between the pattern and thus looks so adorable and heartwarming. For a traditional beauty and appeal, there is a quirky hat pattern just like its name Chinook toque hat. Then there are hats with the ribbed pattern and that too with colorful yarn strips to look so extraordinary and beautiful. Also, there are the bun hats, slouchy hats, and hats with rainbow colors to satisfy the boho persons in the house. All the patterns have step by step tutorials attached!
You May Also Like:
Fair-Isle Crochet Hat Pattern: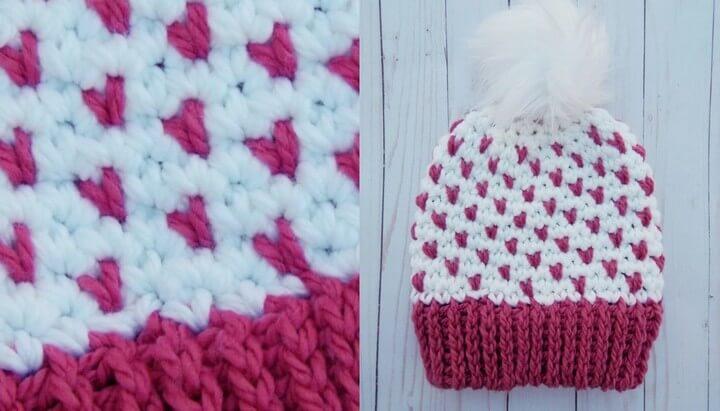 Just like it's this Fair Isle crochet hat is super gorgeous and unique in its design and the texture. The hat is made with a white yarn with cute reddish-pink hearts in between and the wide edging of the same yarn. The pom pom ball adds more the beauty and appeal of this lovely crochet hat. Follow the details here!
Tutorial: makergoodies
Chinook Toque – Free Crochet Pattern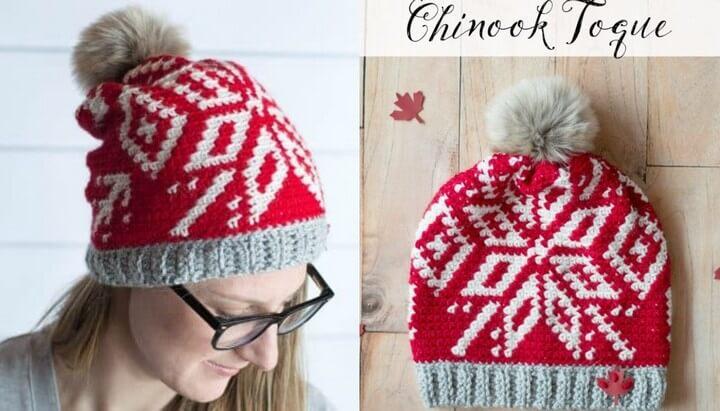 It's time to take your crochet hat game up and making this Chinook toque hat is the best pattern to do that. The red and white Is perfect for the Holiday season with that quirky design to catch so many eyes. So grab some yarn and your crochet hooks to create this lovely hat with the free pattern here!
Tutorial: whistleandivy
Pretty Pink Messy Bun Hat Crochet Pattern: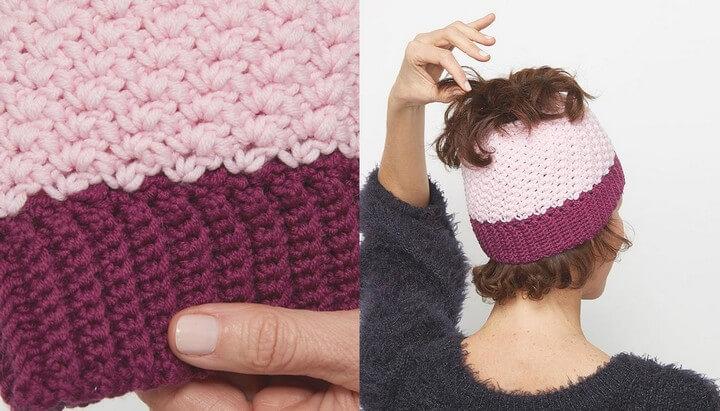 Now you do not need to hide your messy buns while keeping your head warm in the cold. With this pretty pink messy bun hat, you can proudly flaunt your bun hairstyles and look super stylish and cute with it. The lovely hat has been crocheted in pink and purple and you can choose any of your favorite color combinations for it.
Tutorial: simplycollectiblecrochet
Puff Stitch Hat Free Crochet Pattern: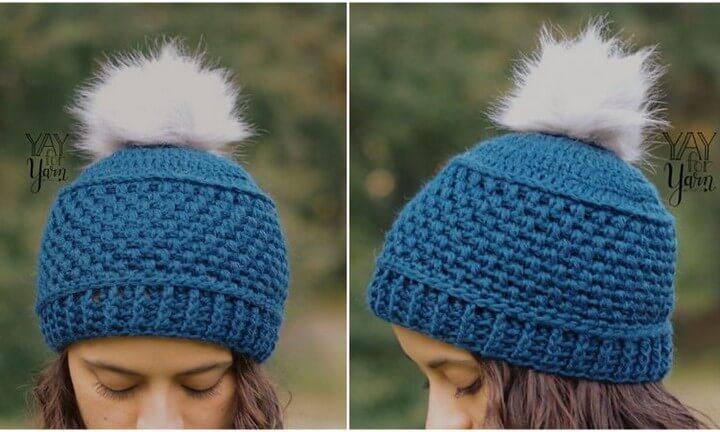 Do you like crochet hats with thick texture? If yes then making this lovely puff stitch hat is the best pattern to get your hands on. The puff stitch would give your hat the desired volume and texture. Also, the gorgeous blue hat with the white fluffy yarn ball looks an absolute beauty. Details here!
Tutorial: yourcrochet
Bead Stitch Crochet Hat: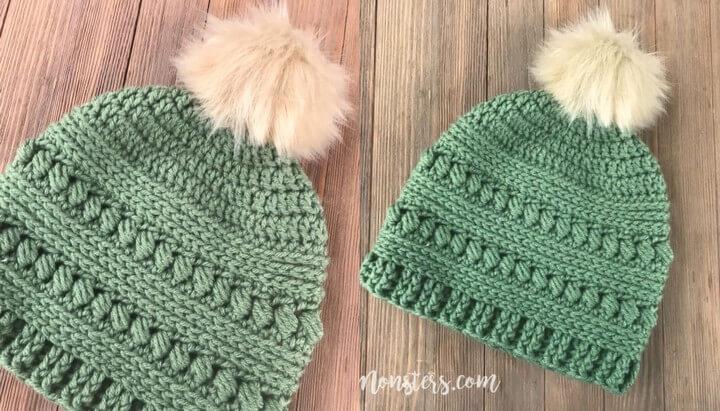 This bead stitch crochet hat looks just perfectly girlish and cute with the use of bead stitch in between with the simple crochet hat pattern. The icing on the cake of this beautiful and elegant hat pattern is the color combination of the green yarn hat and the white furry ball on the top. Pattern here!
Tutorial: 5littlemonsters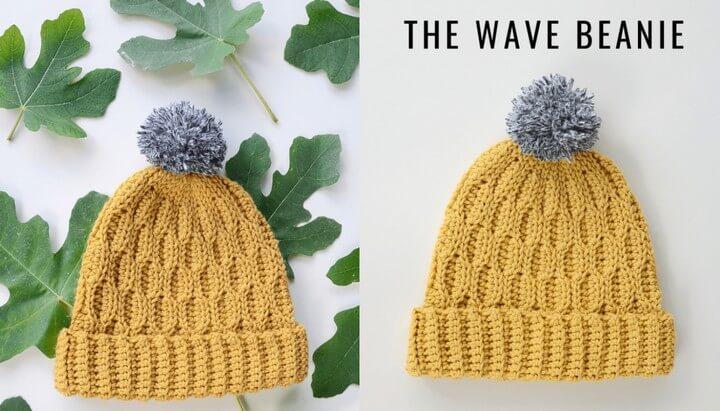 Need a beanie that is super cute yet totally sophisticated and pretty? Then this wave crochet beanie hat pattern is just the right thing for you to get your hands on. You need 5mm hooks to work on the mustard shaded worsted weight yarn to make this hat. The brown pom pom adds more its appeal. Free pattern here!
Tutorial: picotpals
Bubblegum Pop Beanie: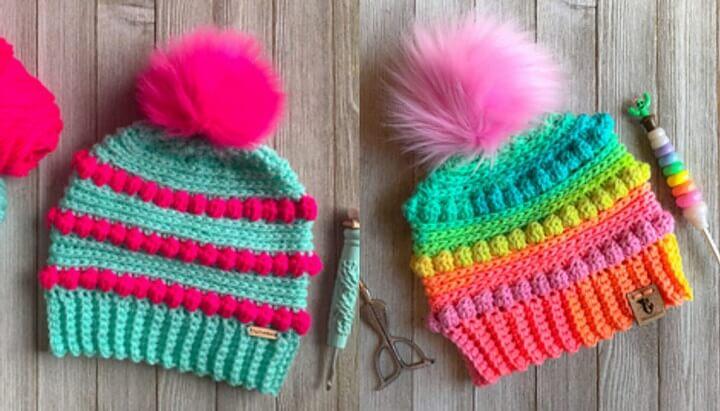 It's time to have come colored fun with your crochet hat projects and make these super cute and catchy bubblegum pop beanies for your kids. The combination of the bright hues of yarn especially the rainbow colors really makes these hats look fantastic with that bobble stitch. Check out the pattern here!
Tutorial: ravelry
How To Crochet A Toddler Hat Tutorial: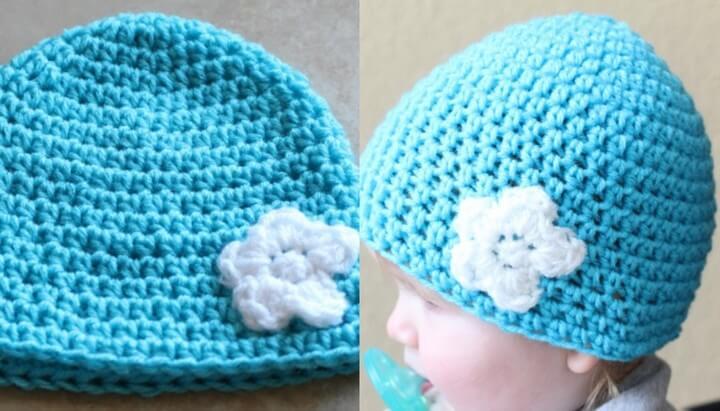 Here is this simplest yet the cutest toddler hat for you to make and adorn your little babies with. The thick texture and the lovely color combination of the blue hat with the white flower really make it look stand out. You can choose any of the color combinations for the hat and the flowers to match them with the baby dress too!
Tutorial: melaniekham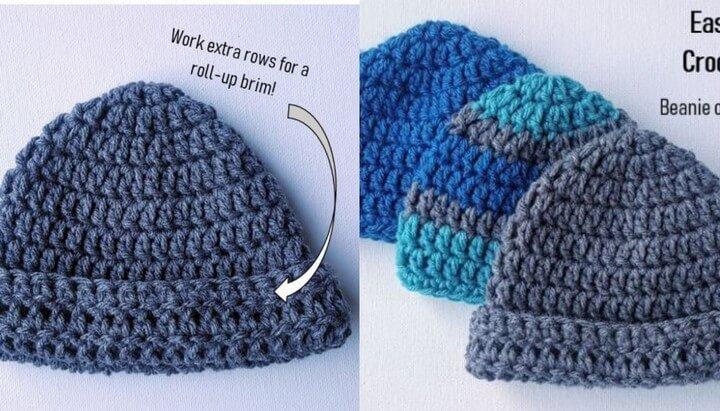 Start your winter crochet journey with this easy baby crochet hat. The hat pattern involves the basic working of the crochet rows to make these simplest yet the cutest hats for the kids.  You can either crochet up the hats in one color or you can combine hues to make a quirk hat piece. Details here!
Tutorial: jjcrochet
Easy Men's Crochet Hat Pattern For Beginners: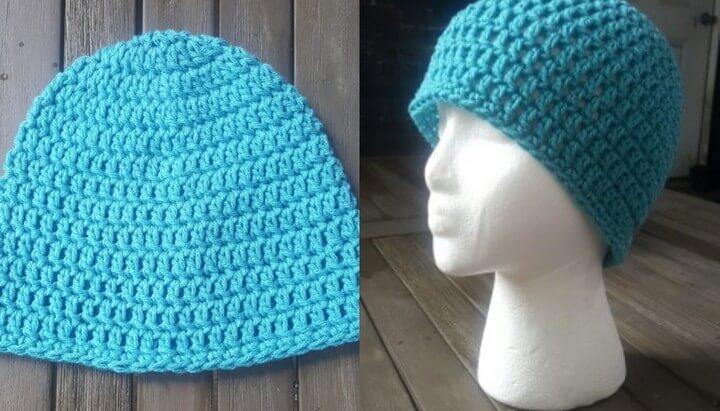 Here is this simple crochet men's hat without any complication of the pattern, design, and stitches as well. Using your favorite yarn hues and the crochet hook you can easily make this lovely crochet hat for any men in your life. Also, the pattern is woman-friendly so if you need a big hat you can easily make one.
Tutorial: jjcrochet
Puff Stitch Beanie Crochet Pattern: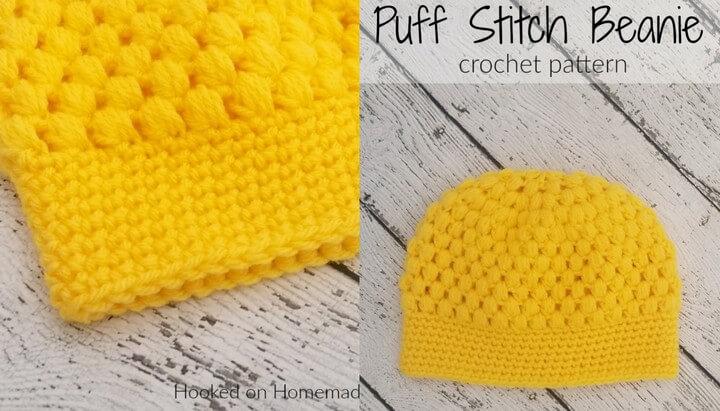 Puff stitch adds thickness and texture to any of our crochet possessions and here is this lovely puff stitch beanie crochet pattern. The lovely yellow crochet hat is the best thing to get your hands on this cold weather. You can easily make this hat within a few hours and that too for anyone in the house. Details here!
Tutorial: hookedonhomemadehappiness
Pink Pom Cable Beanie Crochet Pattern: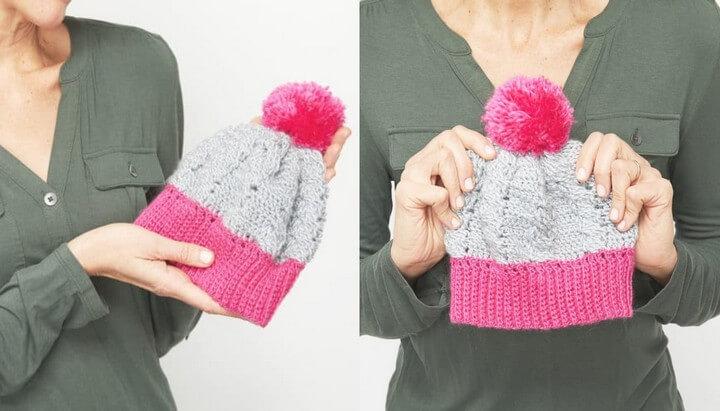 The cute thing about this lovely pink pom pom cable beanie crochet hat is the color combination that it comes with. The pink and grey color combination looks just so perfect and cute to make this pretty and girly beanie crochet hat. The cable stitch really makes this beanie hat look cute with that pom pom at the back. How to here!
Tutorial: idealme
Easy Crochet Chemo Cap Pattern: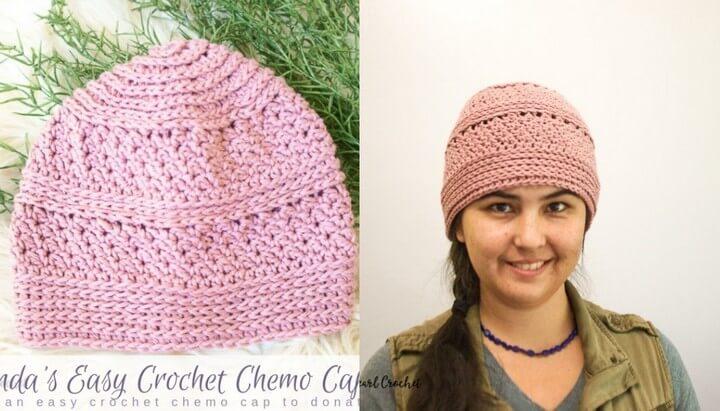 It's time to play your little part for someone who is battling with cancer. With this easy crochet chemo cap pattern, you can make and gift this super gorgeous and cute cap the cancer patient around. Make sure you use some soft cotton fabric for the purpose so that the person feels highly comfy and cozy with it.
Tutorial: saltypearlcrochet
Bean Stitch Beanie: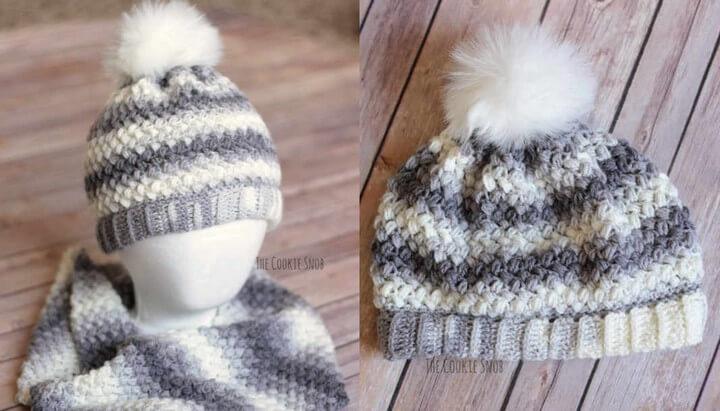 We all love beans and now we are surely going to fall in love with these bean stitch beanie hats too. The gorgeous bean stitch is adding so much to the beauty and style of the hat and making it look so pretty and cool. Also, the pom pom ball at the end is adding so much to its beauty and appeal. Details here!
Tutorial: cookiesnobcrochet
Striped Crochet Hat Pattern: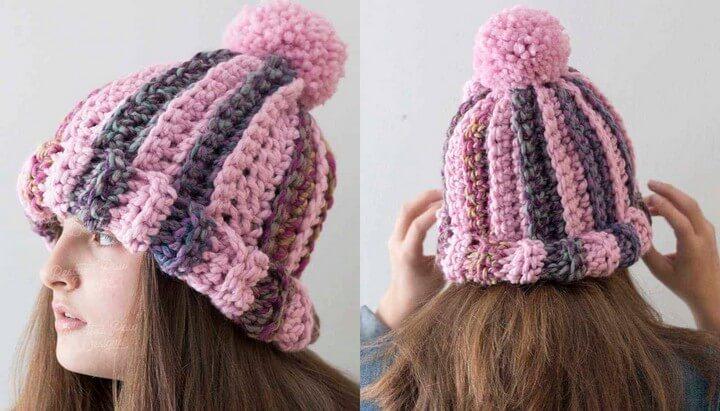 Look extraordinary on your casual winter days with this gorgeous striped crochet hat. The lovely pink hat has colorful strips to look just so pretty and cool for a girl. Also, the pattern has so much texture and appeal to attract crochet hat lovers. Check out the pattern details here!
Tutorial: rescuedpawdesigns
Chunky Cabled Hat: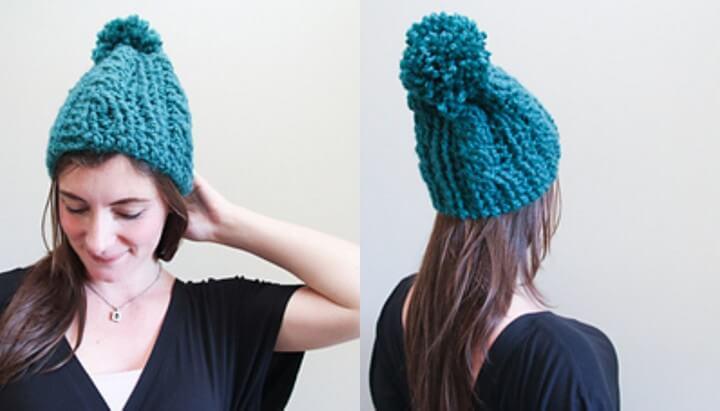 This gorgeous chunky cabled hat has everything that a girl looks for a crochet hat to look stylish and stay warm. The pretty chunky cabled hat is so pretty and fun to make with that thickness in the pattern.  That cute ball of the yarn at the top of the hat also adds oodles of charm to the hat. Details here!
Tutorial: ravelry
Winter Blossom Beanie Or Slouch: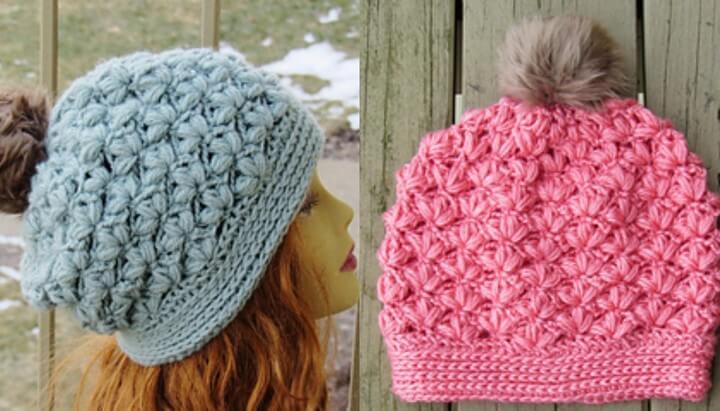 This beanie has everything that you are looking into a hat for the winters. It has a lovely design and a beautiful pattern to win your heart with. Also, you have the option to turn it into a slouchy hat if you want to look more stylish. The blossom beanie is sure to look so eye-catching so grab the pattern here!
Tutorial: ravelry
Crochet Colorful Stripe Hat: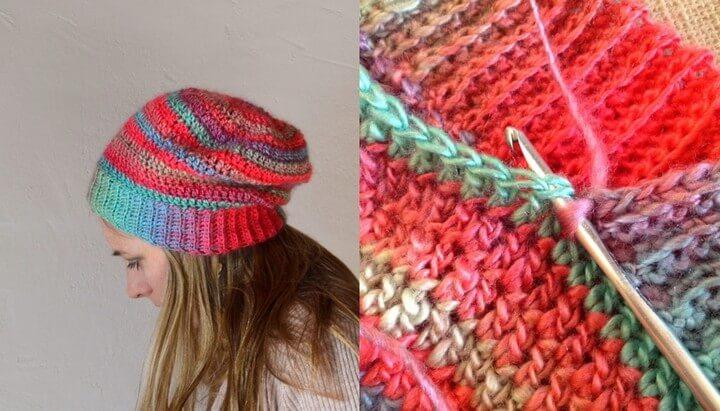 Make your hats look the prettiest and the coolest this winter season with hats like this crochet colorful stripe hat. The mixture of the adorable rainbow-like hues in the hat has turned out to be just so tempting and gorgeous. Also, this colorful hat can be used for the summers too. Check out the details here!
Tutorial: crochetincolor
Crochet Snowball Slouch Hat – Free One Skein Pattern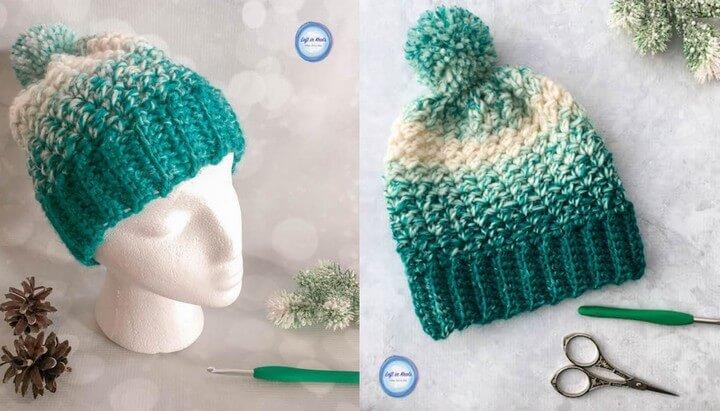 White hats look perfect for the snowy weather and this crochet snowball slouch hat is the best thing to make this season of snow. The white yarn hat has some twisty addition of the mint green yarn to look something really cool and extraordinary. Also, add the pom pom ball for a more cute and cozy look.
Tutorial: leftinknots
Ribbed Crochet Hat Tutorial: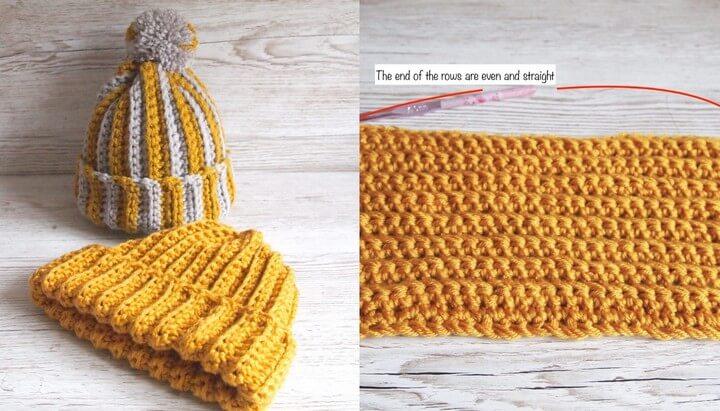 If you want a hat that has the perfect kind of texture and beauty appeal then making this lovely ribbed crochet hat is the best thing to make. The colorful mixture of the mustard and the grey hues look so tempting and gorgeous. The girls are going to fall in love with this beautiful crochet hat for sure. How to here!
Tutorial: thecraftyco